Looking for a quick and easy summer treat that has minimal ingredients, but maximum flavor? This 3-Ingredient Nutella Milkshake is for you.
Use a blender to make this homemade Nutella milkshake in just 5 minutes! Made with creamy vanilla ice cream, decadent hazelnut spread, and wholesome milk, this easy and delicious milkshake is quick to make, and full of flavor!
You can also easily make this chocolate hazelnut milkshake recipe dairy-free. Try this easy Nutella milkshake recipe for a tasty, cooling, and satisfying treat.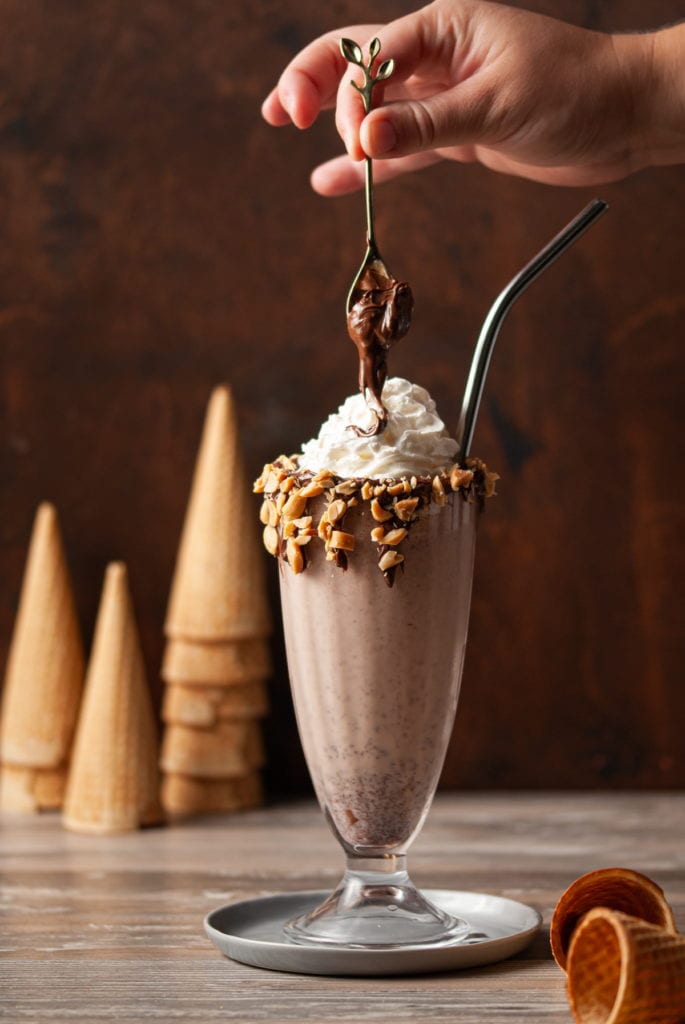 "Nutella" is a brand but has become a catch-all term for hazelnut spread. However, there are other options that are just as delicious. You can also opt to make your own Hazelnut Spread!
Green tip: Palm oil is a major driver of deforestation. Try using a palm-oil-free hazelnut spread to reduce your environmental impact.
Nutella Milkshake Ingredients
---
Here's everything you need:
Milk. Dairy or any unsweetened, unflavored plant-based milk.
Nutella or other hazelnut spread. It brings so much flavor to this homemade ice cream milkshake.
Vanilla ice cream. Again, you can use dairy ice cream or your favorite plant-based ice cream!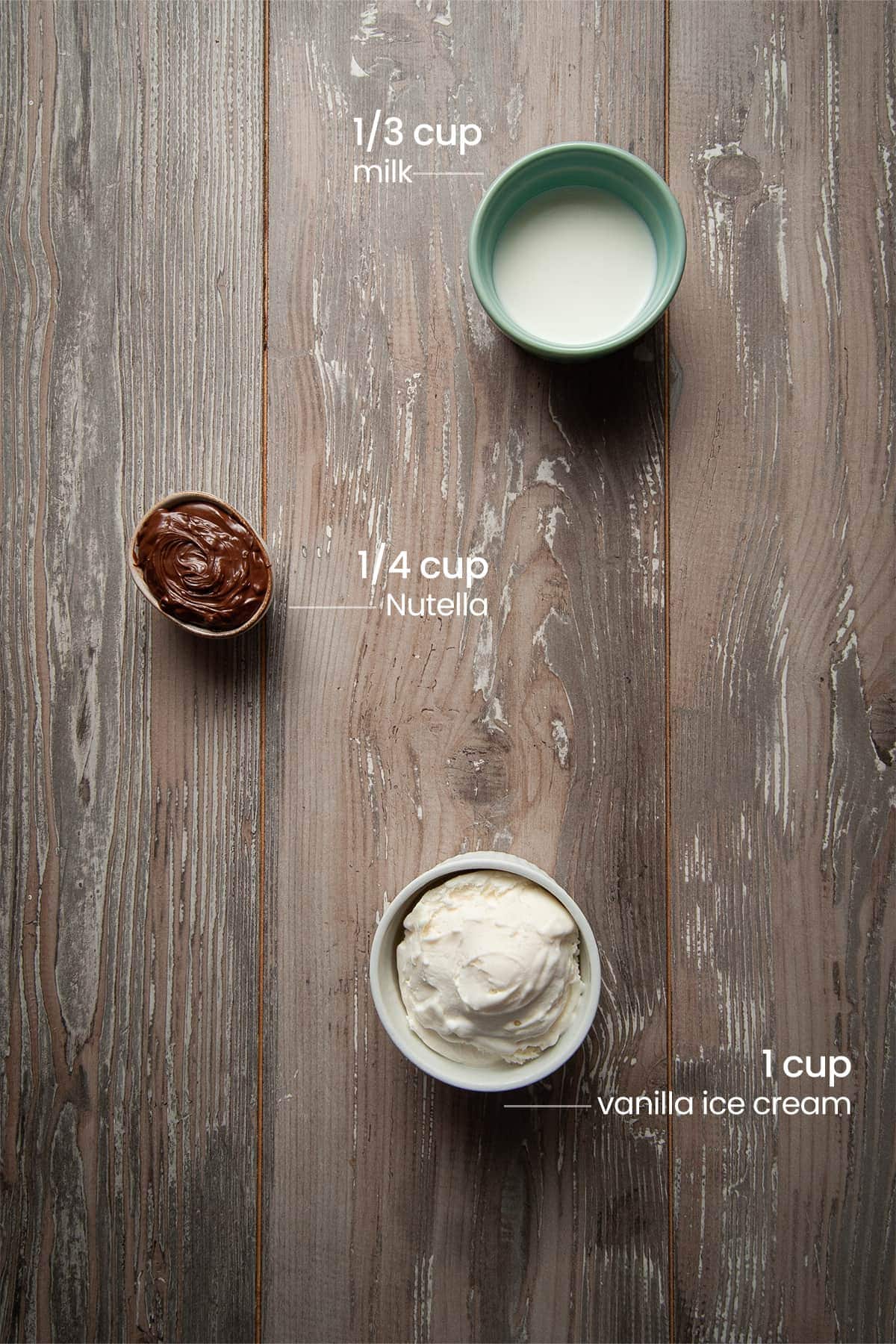 Nutella Milkshake Tips and Tricks
---
You'll Need a Blender or Food Processor
When it comes to easy dessert ideas, it doesn't get much simpler than 3 ingredients and one kitchen tool!
Get ready to shake and blend, my friend! Alongside your trio of ingredients, grab either a zippy blender or a sassy food processor – although I must say, a blender brings the real razzle-dazzle!
Personally, I'm all about this high-powered Ninja Blender; it's my partner in crime for all milkshakes including this Peanut Butter Milkshake. Talk about smooth operations – this gadget is pure magic!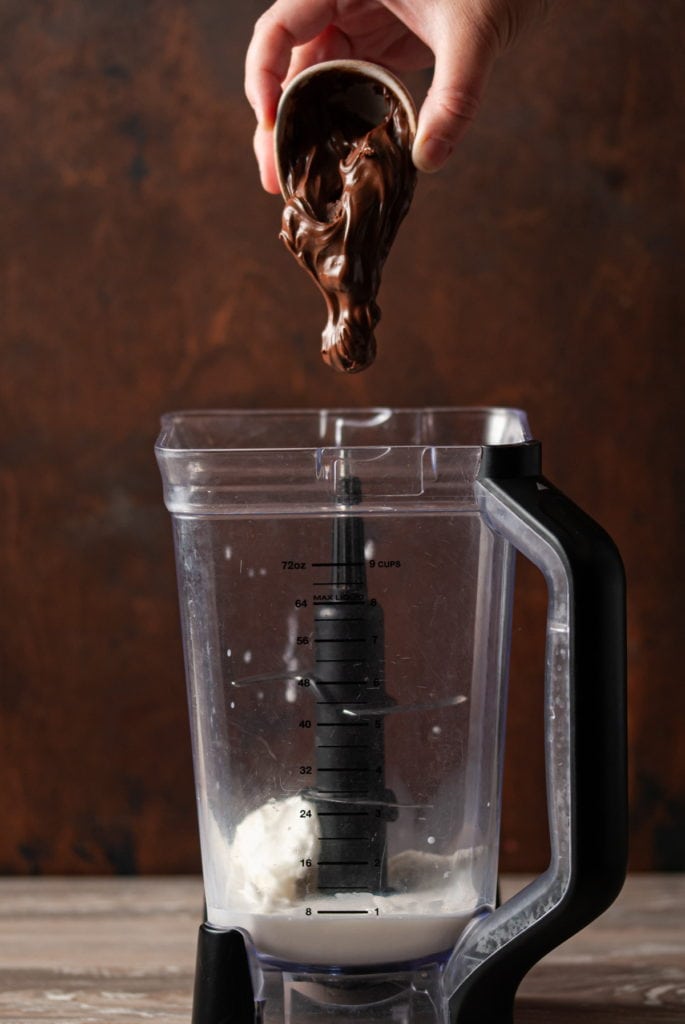 How to Get the Perfect Consistency in Your Homemade Milkshake
Here's the thing. Everyone has a different preference when it comes to the perfect thickness of a milkshake.
Plus, no matter how many times I make this, the amount of milk I add is never completely consistent based on how cold my ice cream is, and which brand of hazelnut spread I use.
That being said, it's important to add your milk slowly!
Add the Nutella, ice cream, and about 2 tablespoons of milk to start, and blend on high. Then, continue to slowly add more milk as you are blending, watching closely until you reach your desired consistency.
Bear in mind, this means you may not necessarily use all 1/3 cup of milk! Make this your own by tuning the texture into exactly how you like it. The ability to make it to your taste is the best part of making this delicious milkshake recipe at home!
Green tip: Industrial dairy production has a huge impact on the environment, especially because of the amount of land it takes to sustain and its high amount of greenhouse gas emissions. Reducing your dairy consumption is one great way to improve your ecological footprint.
Tested Substitutions and Nutella Milkshake Flavor Variations
Again, Nutella has become a catch-all term for any chocolate hazelnut spread, but you certainly do not have to use this specific brand. Additionally, this hazelnut spread milkshake can be made with dairy-free ice cream and plant-based milk and come out just as delicious!
You can also make this your own with flavor substitutions or additions. Here are some of my favorites:
Chocolate Nutella Milkshake. If you don't have vanilla ice cream, but do have chocolate ice cream, no problem! It's a great way to ramp up the cocoa in the hazelnut spread. Vanilla is just my preference because it really allows the hazelnuts to shine! Or, you can add about 1/4 cup of chocolate chips to the blender and blend that right into your milkshake.
Coffee Nutella Milkshake. You can substitute cold coffee, espresso, or cold brew for the milk, or simply add a dash of espresso powder to your milkshake to give it a hit of caffeine and a hint of coffee flavor. Alternatively, you can use coffee flavored ice cream! (See also: this delicious homemade coffee milkshake!)
Banana Nutella Milkshake. I love the flavor combination of Nutella and banana (like in these Nutella Banana Muffins!). Add a frozen banana to this milkshake to add the fruity flavor in with your hazelnuts and chocolate. Or, use banana ice cream!
Strawberry Nutella Milkshake. Similarly, you can use strawberry ice cream instead of vanilla ice cream or throw in 3-5 large strawberries into the blender with your ice cream, Nutella, and milk.
Green tip: Consider investing in reusable straws! They are easy to clean and will reduce your contribution to plastic waste that eventually ends up in landfills or makes its way into the environment and becomes microplastics. These stainless steel straws are my favorite!
Nutella Milkshake Topping Ideas
Whoa, hold onto your taste buds, because this Nutella milkshake is already a flavor explosion with just three ingredients! But, if you're in the mood to turn it into a gourmet masterpiece, I've got some topping ideas that'll make you do the cha-cha:
Whipped Cream Whirlwind: Plop on a cloud of velvety whipped cream and let it twirl and swirl like a sugar ballet on your shake's stage.
Sprinkle Fiesta: Shake on a rainbow of sprinkles – it's like confetti for your mouth, celebrating every sip!
Choco Loco Drizzle: Drizzle some extra Nutella goodness or chocolate syrup on top, because who can ever get enough of that chocolaty dance?
Cookie Crunch Extravaganza: Crumble your favorite cookies and let them dive into the milkshake pool for a crunchy surprise.
Fruit Frenzy Fusion: Crown your shake with slices of bananas, strawberries, or even a kiwi twist. It's like a fruity fiesta on a creamy dance floor!
Sugar Cone Shimmy: Why stop at a regular straw? Pop a sugar cone straw into your shake for a delightful twist and a bit of crunch with every sip.
So, whether you're groovin' with the original trio or adding a splash of fancy flair, this Nutella milkshake is your ticket to a taste sensation!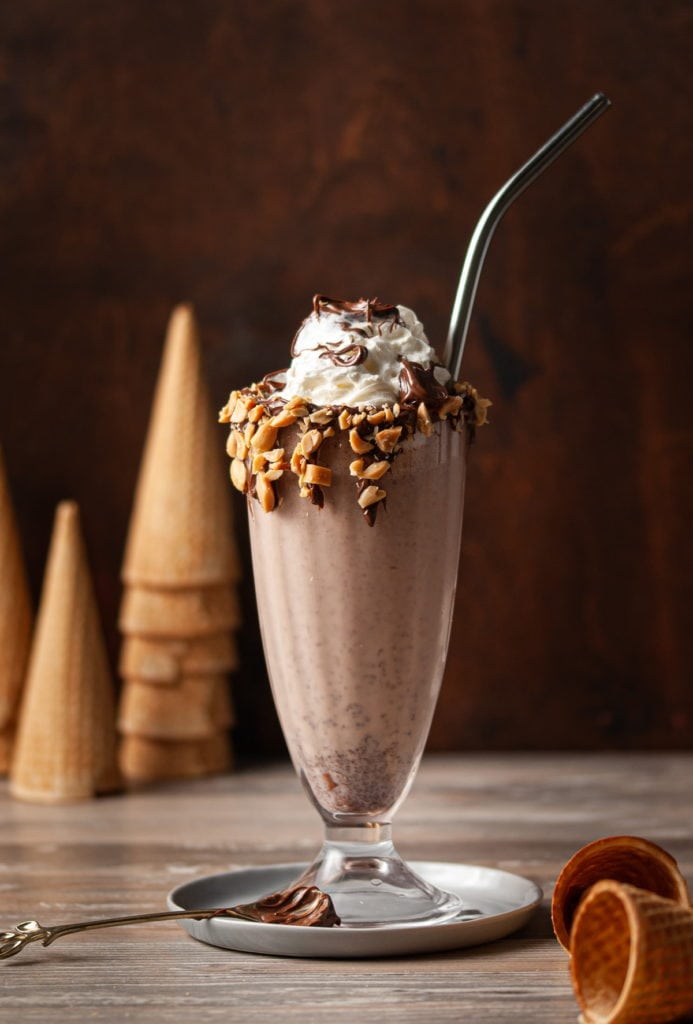 How to Store Leftover Homemade Milkshakes
If you have leftovers of this creamy, dreamy milkshake, no fear! There are ways to store it safely and save it for later. Make sure it is in a fully sealed container.
My favorite way to store leftover milkshakes is to stick it in the freezer. It will keep here pretty much indefinitely! Again, make sure it's completely sealed to avoid freezer burn.
When you're ready to enjoy, stick it back in the blender and blend to quickly get it back to that perfect texture.
If you'd rather not bother with re-blending, the easiest way to store it is in the fridge, where it will stay fresh for about 3 days. However, it will thin out and the Nutella will likely sink to the bottom, so make sure you stir it before slurping it up.
Green tip: Of the billions of tons of food wasted annually, 50% of food waste happens at home. Reduce your contribution to food waste by properly storing, reheating, and consuming leftovers.
Frequently Asked Questions
---
How do you make a milkshake in a blender?
To make a milkshake in a blender, add the ice cream and flavor enhancer (in this case, Nutella!), to the blender with just a dash of milk and blend on high. While the blender is on, slowly add more milk, watching closely until desired consistency is achieved.
Can you make this milkshake without a blender?
While a blender or food processor is certainly the easiest way to make a milkshake, it's not the only way! You can also easily make a milkshake in a bowl with a hand mixer or even a whisk!
If you are hand mixing your milkshake, it's best to allow the ice cream to thaw for at least 15 minutes at room temperature first.
Want to sharpen your kitchen skills?
Why You Should Make This Nutella Milkshake
---
It's simple. Three tasty ingredients are all you need.
It's creamy. The perfect consistency.
It's sip-able. Packed with rich flavor in every cooling sip.
If you're loving this Nutella Milkshake, check out this Banana Strawberry Milkshake and this Butterscotch Milkshake, too!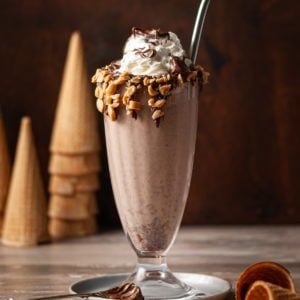 3-Ingredient Nutella Ice Cream Milkshake
PRINT
PIN
RATE
This 3-ingredient Nutella milkshake combines creamy vanilla ice cream and decadent hazelnut spread. Quick to make, it's a tasty, cooling treat!
Ingredients
Nutella Milkshake
1

cup

vanilla ice cream

(dairy or plant-based)

¼

cup

Nutella or any other chocolate hazelnut spread

⅓

cup

milk

(dairy or unsweetened plant-based)
Topping Ideas (Optional)
1

tablespoon

chopped hazelnuts

1

tablespoon

whipped cream

1

sugar cone

1

teaspoon

chocolate syrup
Instructions
Add ice cream, Nutella, and 2 tablespoons of milk to your blender and blend on high until smooth.

With blender on, continue to add milk slowly until desired consistency is achieved (you may not need all ⅓ cup!). Pour into a glass and garnish as desired. Serve cold.
Pro Tips
If you like your milkshake extra thick, use less milk! You can always add more.
Check out this delicious collection of my best milkshake recipes that are sure to bring all your friends to the yard!
Did you make this recipe?
Let me know by leaving a recipe rating below, or by tagging @marleysmenu on Instagram.