Looking for a protein-packed, flavorful, and filling meatless meal? This Mediterranean Quinoa Bowl is bursting with rich, savory flavor, balanced with acidity and tang and both creamy and crisp textures.
This vegetarian quinoa bowl comes together in just 35 minutes with ease, and aside from being flavorful, it is both filling and healthful.
In this recipe you will learn how to infuse flavor into your quinoa and make it extra fluffy. You'll also learn simple techniques for prepping and roasting chickpeas, onions, grape tomatoes, and garlic.
And just when you think it can't get any better? You'll top all of that deliciousness with either storebought or homemade hummus.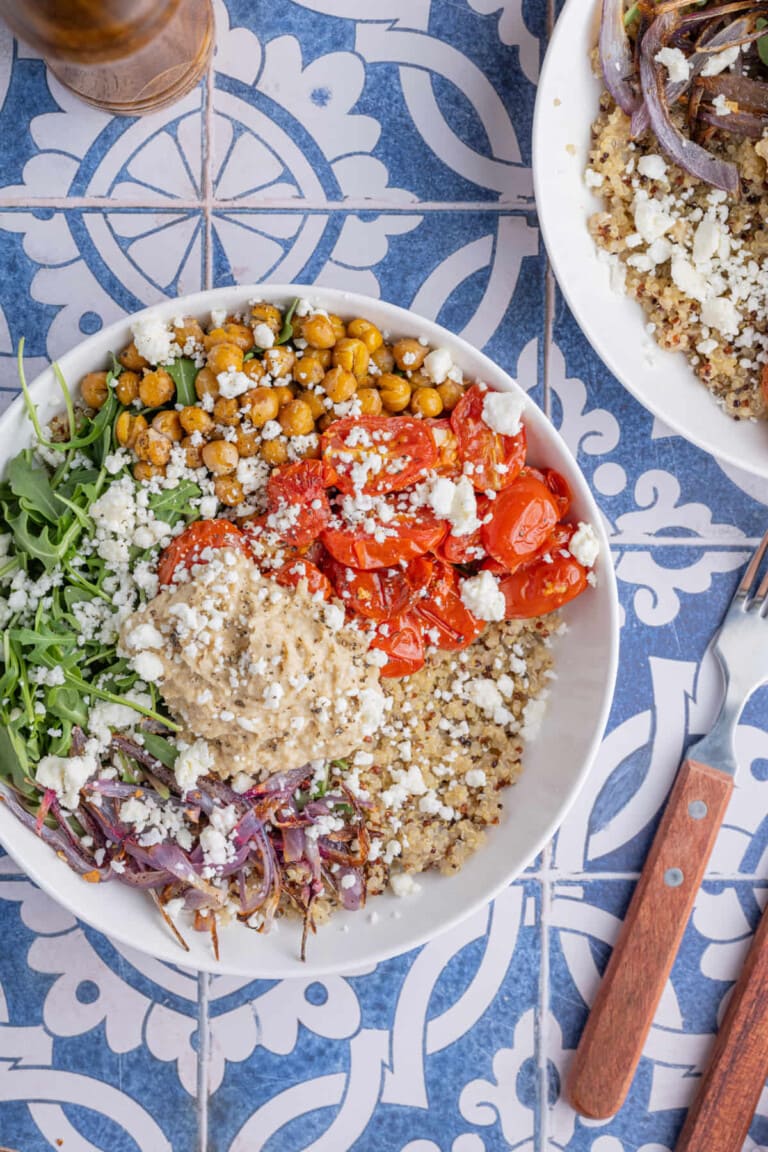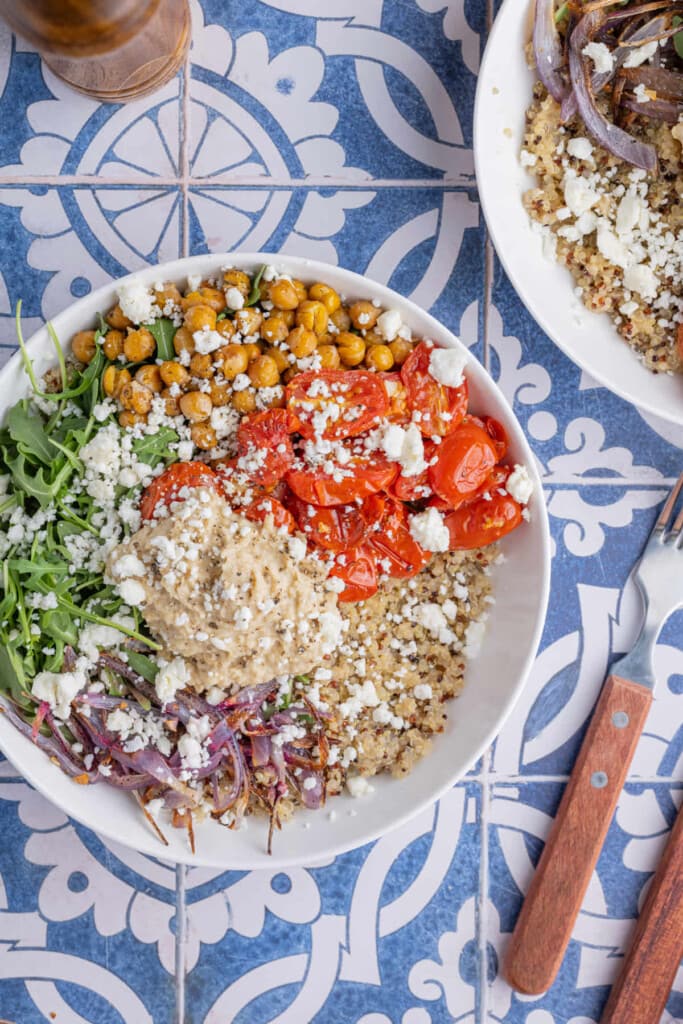 As an environmental scientist, I am always trying to make more eco-conscious food choices. One simple way to improve your ecological footprint is by finding ways to enjoy more meatless meals.
Quinoa, chickpeas, and hummus are a great source of protein, and a wonderful way to get an energizing and filling meal without relying on meat.
Green tip: Industrial meat production has a huge impact on the environment, especially because of the amount of land it takes to sustain and its high amount of greenhouse gas emissions.
Mediterranean Quinoa Bowl Ingredients
---
Here's everything you need:
Quinoa. You can use tricolor, white, black, or red quinoa.
Vegetable broth. To cook the quinoa in to infuse flavor. For a lower sodium option, you can choose to cook your quinoa in water.
Leafy greens. Like spinach, arugula, spring mix, water cress, or any other greens of your choice.
Red onion. One half of an onion is plenty to make 2 generous servings of this Mediterranean Quinoa Bowl.
Grape tomatoes. Or cherry tomatoes. For a burst of color, flavor, and acidity.
Chickpeas. For extra protein and crunch. Canned or pre-soaked chickpeas.
Garlic. For extra umami and earthy flavor.
Olive oil, salt & pepper. To roast the chickpeas, red onion, and grape tomato in.
Hummus. To flavor the bowl and add creamy texture.
Feta cheese. Optional for extra salinity and tang.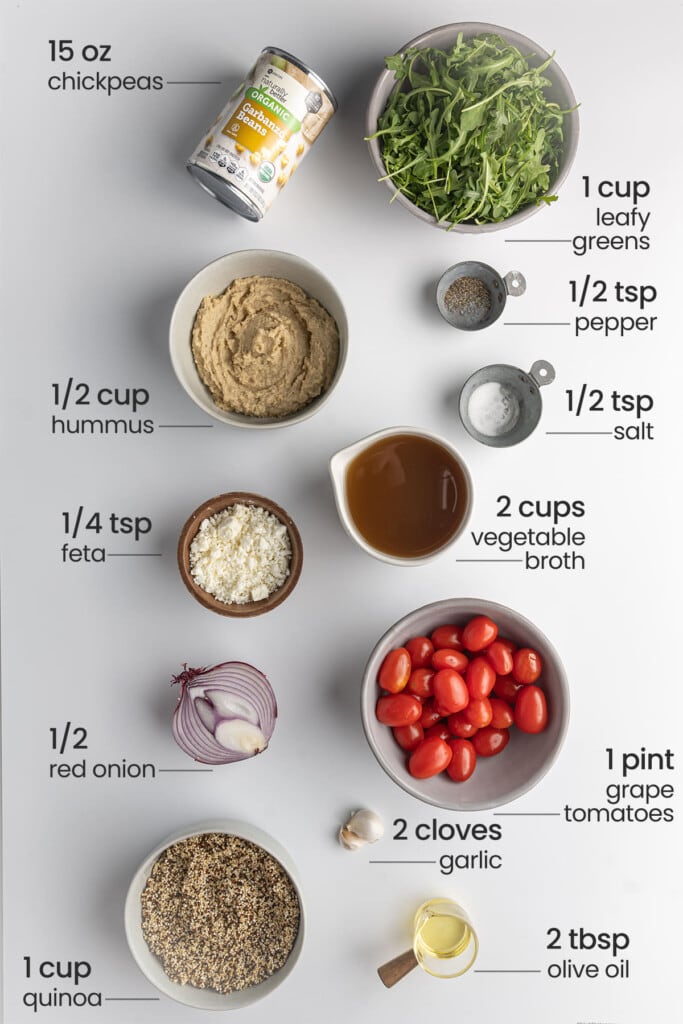 Mediterranean Quinoa Bowl Substitutions and Add-Ins
If you don't have some of the ingredients, or want to switch it up, or add another protein like fish, there are plenty of options!
If you want to add fish, here are my favorite fish recipes to add to this Mediterranean Quinoa bowl:
If you want to switch up the flavor profile, you could even opt to sub in a flavored hummus like one of the following:
Plus, here are some options for you that can be roasted with the chickpeas, tomatoes and red onion or in place of them (or left raw if you prefer):
Sliced cucumbers
Olives
Mushrooms
Snap peas
Tzatziki sauce
Fresh mint
Bell peppers
Shredded carrot
Corn
Avocado
Artichoke hearts
Nuts
Vegetarian Quinoa Bowl Tips and Tricks
---
How to Make Flavorful and Fluffy Quinoa
It's best to rinse your quinoa before you cook it. This both cleans it and rinses off the saponin, a naturally occurring insect repelling chemical, that can give your quinoa a bitter taste. I use a sieve to run clean water over the quinoa to rinse it.
Once rinsed, add your quinoa to a medium-sized pot with the vegetable broth. Alternatively, you can opt to cook your quinoa in water, but cooking it in vegetable broth will infuse tons of delicious flavor!
For the fluffiest quinoa, bring both the quinoa and veggie broth to a boil in a medium pot fit with a lid. Then, turn the heat all the way down to low and cover, allowing it to simmer for 15 minutes covered.
Then, remove the pot from the heat and allow it to sit for an additional 10 minutes, still covered.
Finally, fluff the cooked quinoa with a fork, lifting it from the bottom of the pot in an upward motion.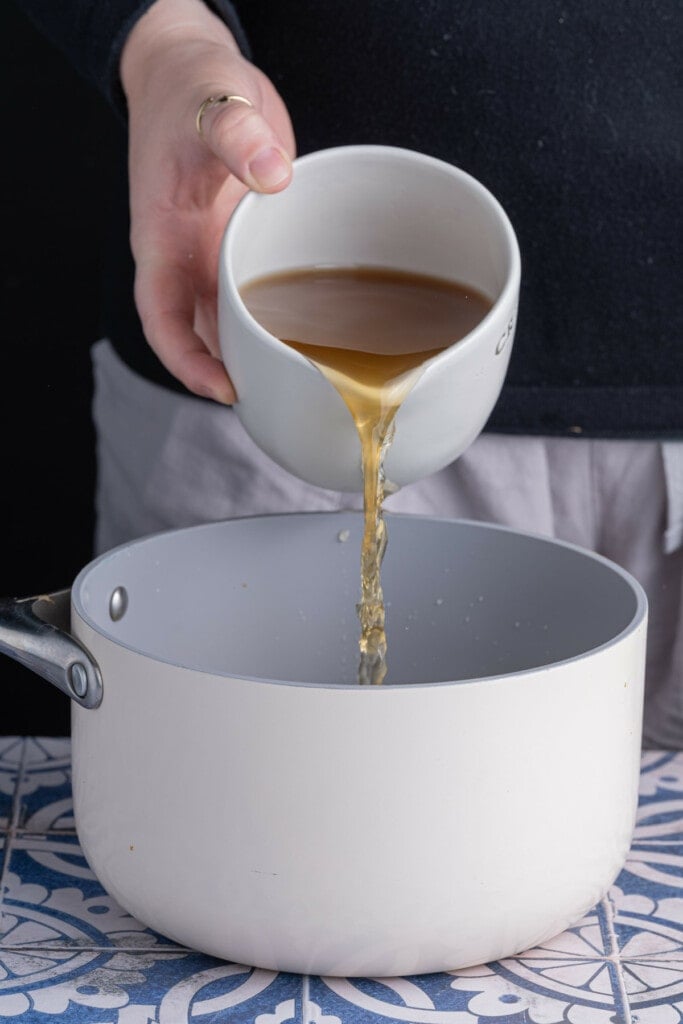 How to Mince Garlic
I find that the easiest way to peel the outer layer off my garlic is by crushing the whole clove first. Lay the garlic cloves down on your cutting board and use the flat end of your knife to press down on the garlic.
You'll hear a distinct crunch when the garlic crushes and the outer peel cracks.
Once the outer layer of the garlic cracks, it is much easier to peel it away from the garlic clove. Once peeled, you can easily use a sharp knife to chop it very finely until its minced.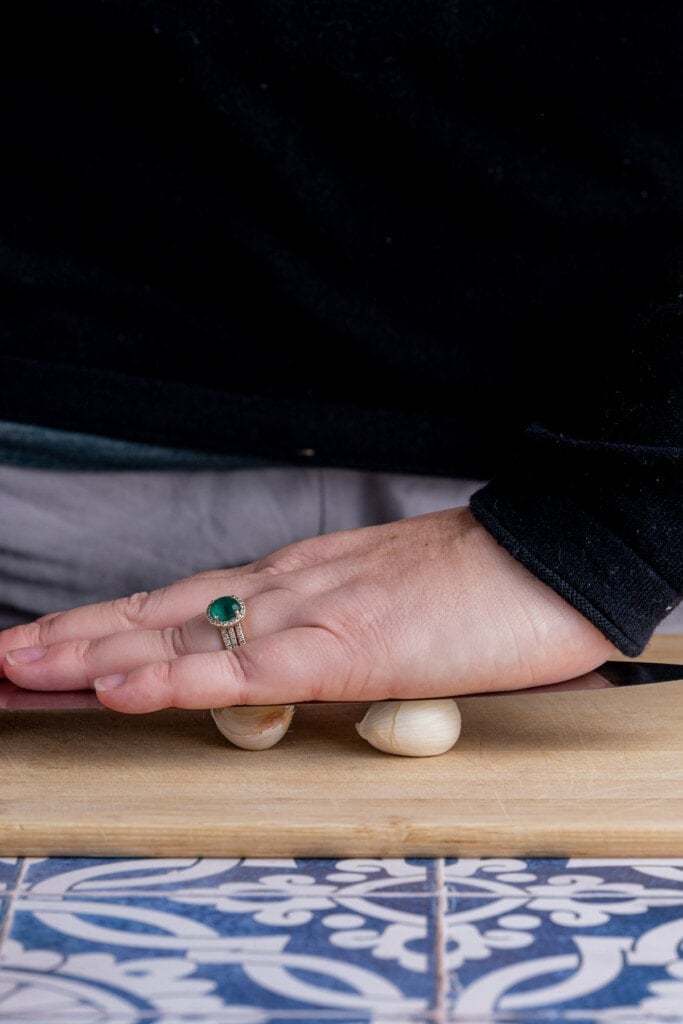 How to Thinly Slice Red Onion
This recipe calls for just half of a red onion. Once you slice your red onion in half next to the bulb, it's easy to slice it very thin. To easily slice the onion, start by chopping off both ends and discarding them.
Then, peel back the outermost layer of the onion and discard that, too. Next, lay the half of onion flat on your cutting board and slice it as thinly as possible.
Finally, separate the layers of the sliced onion until you are left with individual, thin slices for your salad.
Note that the peels and cores of your onions can be saved to make vegetable broth, or you can easily compost them.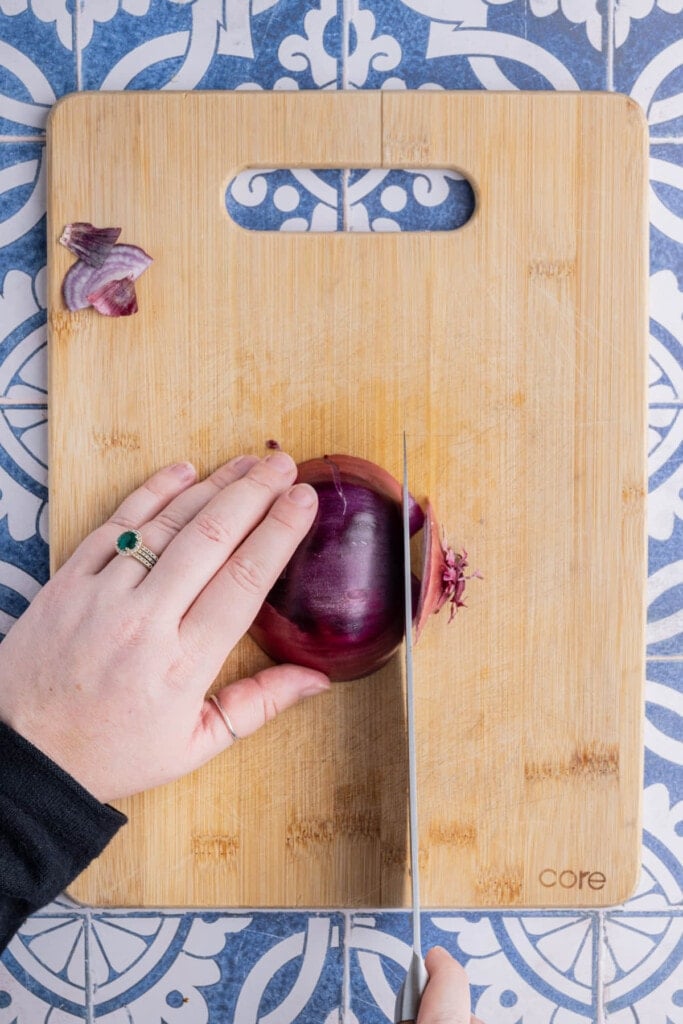 How to Prep Grape Tomatoes
After rinsing your grape tomatoes, all you have to do is slice them in half. When it comes to tomatoes, if your knife isn't extremely sharp, then it's probably best to use a serrated knife to more easily pierce the skin.
Slice the grape tomatoes in half lengthwise.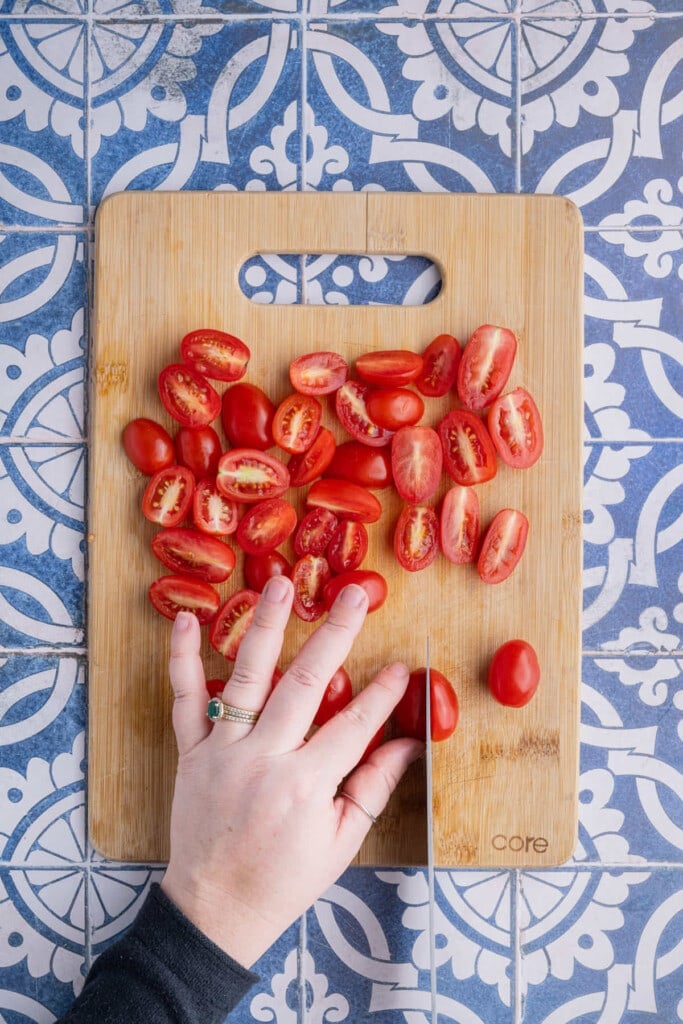 How To Rinse Your Chickpeas
To prep the chickpeas, just separate the canned chickpeas from the liquid they are soaking in. This chickpea liquid is called aquafaba and is a great ingredient that can be used in other delicious recipes. My favorite is this Rich Vegan Dark Chocolate Oreo Pie.
To separate the chickpeas from the liquid, I simply use a sieve or a pasta strainer. Hold or place the sieve/strainer over a large bowl and then pour in the contents of your canned chickpeas.
This way, the chickpeas will remain in the sieve and your aquafaba will fall through into the bowl. The dryer the chickpeas are, the crispier they will get.
If need be, blot the chickpeas dry with a paper towel or kitchen towel (check out these bamboo paper towels for a more sustainable option!).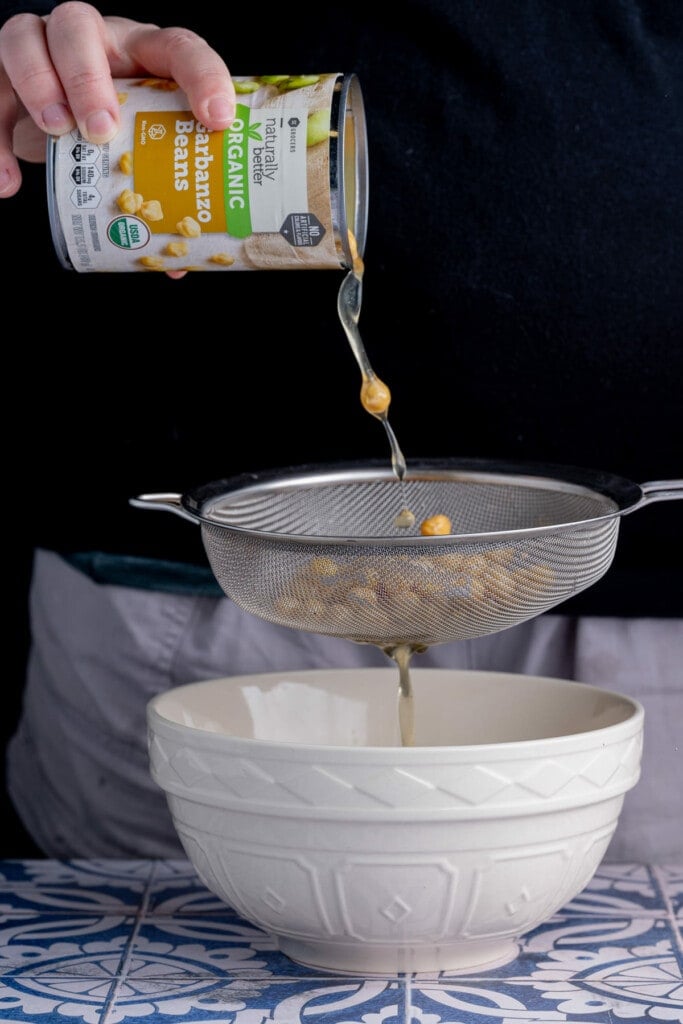 Prep Your Beans and Veggies for Roasting
Add the prepped, chickpeas, grape tomatoes, and red onion to a large baking sheet. Drizzle the olive oil on top.
Add the minced garlic, salt, and pepper and toss to coat the veggies evenly in the seasonings, garlic, and oil.
Spread them out on the baking sheet in a single layer, ensuring that nothing is overlapping.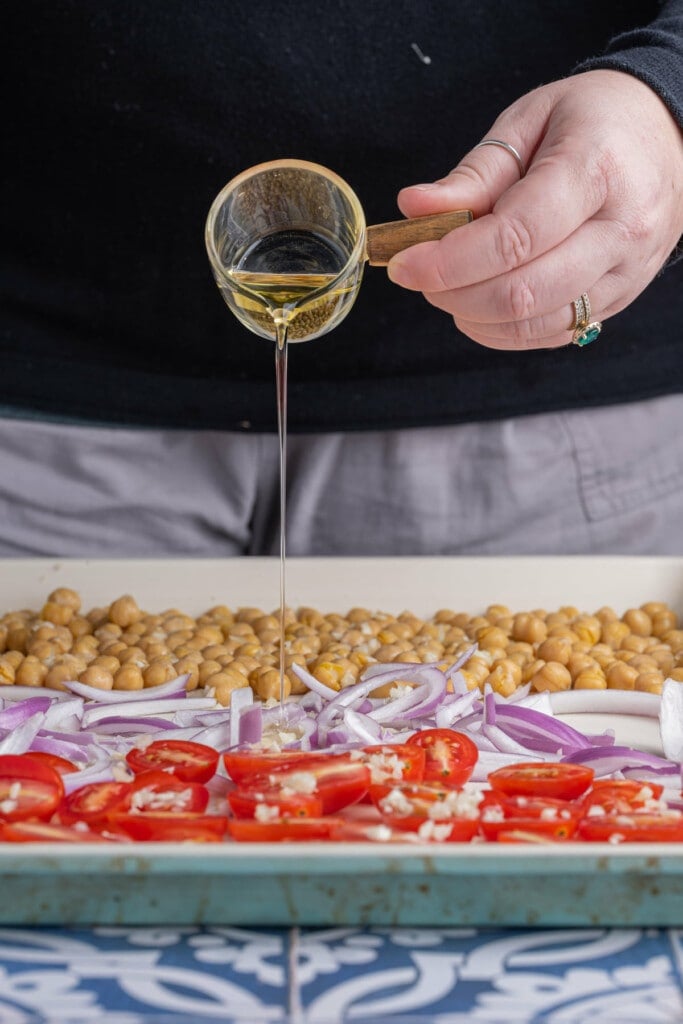 How to Roast Chickpeas, Grape Tomatoes, and Red Onion
Roast the chickpeas, tomatoes, and onions at 425°F for 15-20 minutes until the chickpeas are crunchy, the onion starts to caramelize and the grape tomatoes begin to burst.
The garlic will also be golden-brown and fragrant.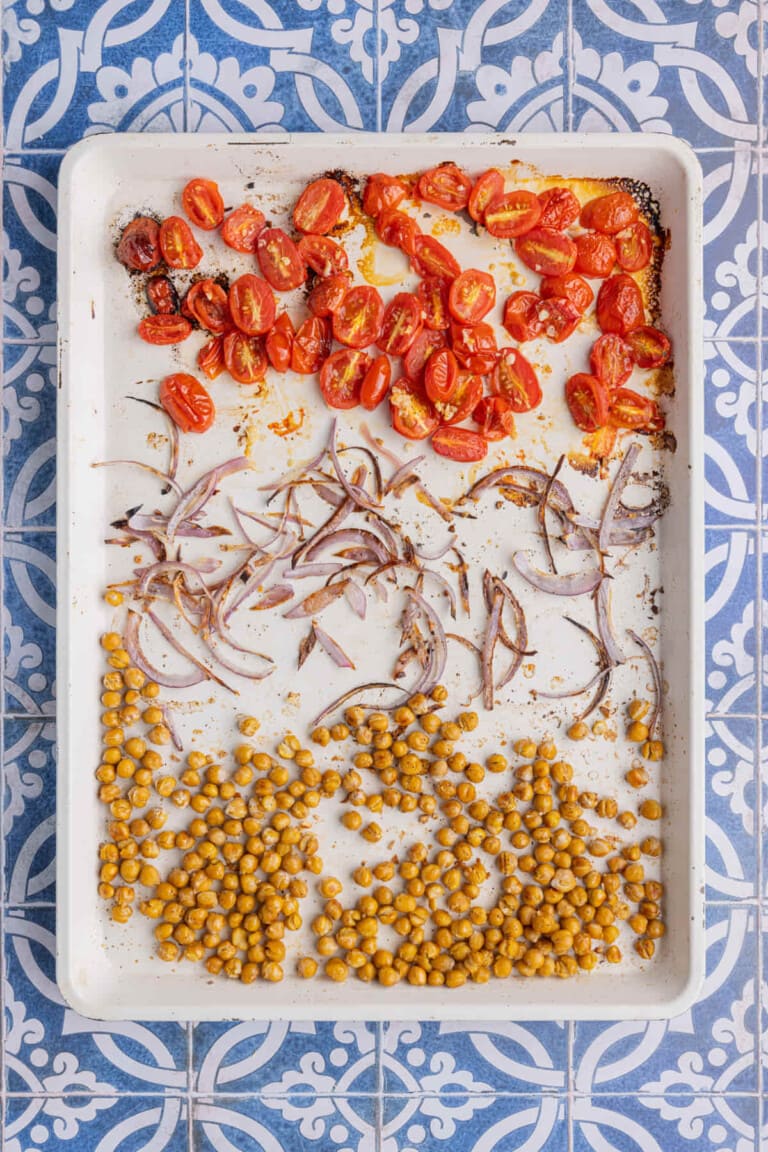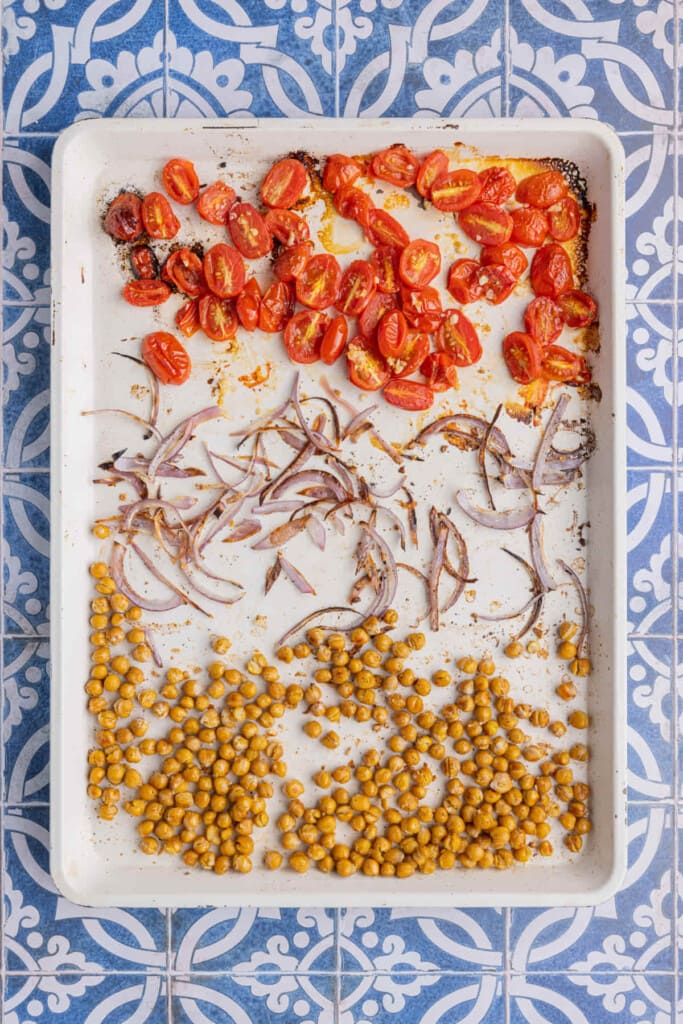 Assembling Your Mediterranean Bowl with Quinoa
Now for the best part! Start with your base of the flavorful quinoa. Then, load on your leafy greens, hummus, roasted beans and veggies, and Feta cheese (optional).
I like to toss it all together after assembling it to get each texture and flavor in every bite.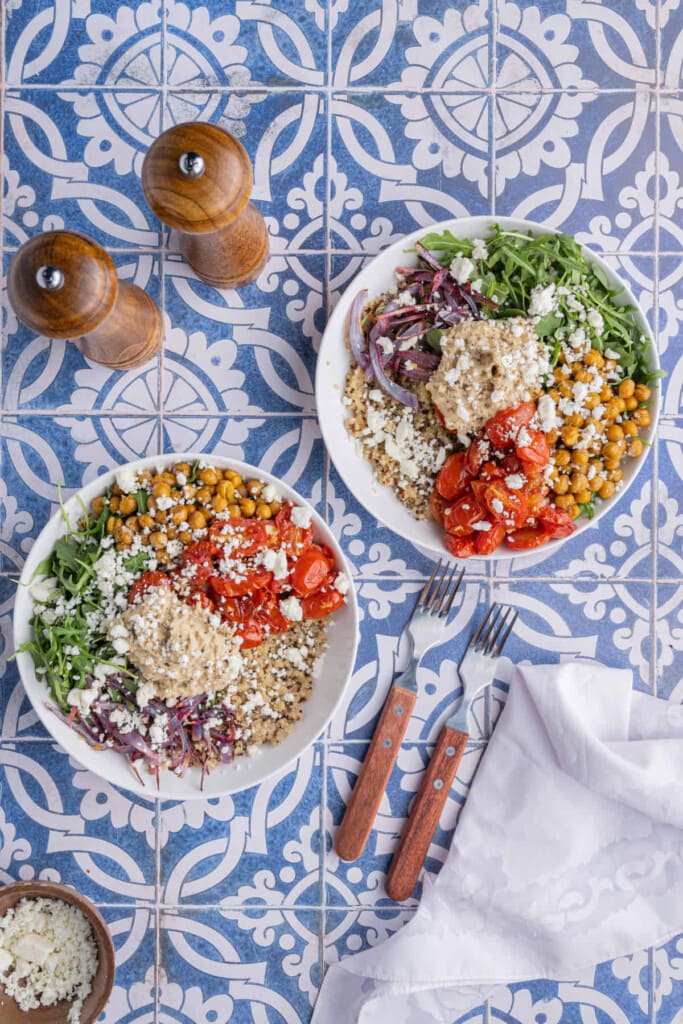 Storing and Reheating Leftover Mediterranean Quinoa Bowl
If you have leftovers of your assembled vegetarian quinoa bowl, you can store it in an airtight container in the refrigerator for up to 5 days. You can enjoy the leftovers cold (preferred) or reheat it in the microwave until thoroughly heated.
If you have leftover elements, you can store them, reheat them, and use them for other dishes.
Leftover roasted grape tomatoes, chickpeas and red onion will last in the refrigerator for 3-5 days in an airtight container. They are best reheated in the oven at 350°F.
Spread them out on a baking tray (no need to add any additional oil or seasoning). Reheat the leftover roasted vegetables in the oven for 10-15 minutes until heated through.
Leftover quinoa can be reheated in the microwave on high, covered, for about 3-4 minutes, until heated thoroughly. Quinoa itself stays fresh in the refrigerator for about 5 days and can even be frozen for up to 6 months.
You can add 1-2 minutes of reheating time for the microwave if the quinoa is frozen, or you can simply thaw it in the refrigerator overnight before reheating it.
Green tip: Did you know that of the billions of pounds of food wasted annually, it is estimated that 50% of it happens in our homes? Properly storing, reheating, and enjoying your leftovers is a great way to limit your contribution to food waste.
Mediterranean Quinoa Bowl Frequently Asked Questions
---
What is a serving size for a bowl of quinoa?
Typically, the serving size for quinoa is around 3/4- 1 cup of cooked quinoa. Keep in mind that 1 cup of raw quinoa will yield 2 cups of cooked quinoa.
Want to sharpen your kitchen skills?
Why You Should Make this Vegetarian Mediterranean Quinoa Bowl
---
It's quick. 35 minutes from start to finish!
It's filling. Between all the fiber and protein, this hearty bowl will keep you full for hours!
It's vibrant. In both flavor and color!
If you're loving this Mediterranean Quinoa Bowl and want more delicious ways to integrate protein-packed quinoa into your day, check out this Quinoa Arugula Salad and this Savory Quinoa Breakfast Bowl.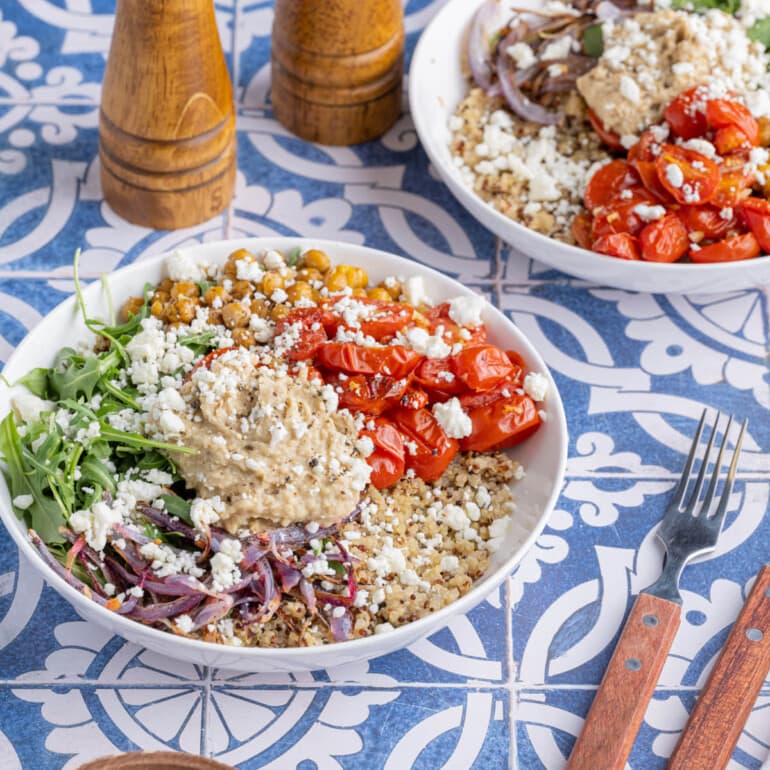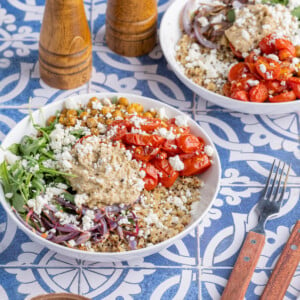 35-Minute Mediterranean Quinoa Bowl
PRINT
PIN
RATE
This Mediterranean Quinoa Bowl consists of roasted veggies, crispy chickpeas, and feta cheese all atop fluffy quinoa and finished with creamy hummus.
Ingredients
1

cup

quinoa

2

cups

vegetable broth

½

large

red onion

1

pint

grape tomatoes

(or cherry tomatoes)

2

cloves

garlic

15

oz

chickpeas aka garbanzo beans

(15 oz usually = 1 can)

2

tablespoons

olive oil

½

teaspoon

salt

½

teaspoon

ground black pepper

1

cup

leafy greens

(like spinach, arugula, or spring mix)

½

cup

hummus

¼

cup

Feta cheese

(optional)
Instructions
Preheat the oven to 425°F.

Rinse quinoa with clean water in a sieve and add it to a medium pot with the vegetable broth. Bring to a boil, then reduce heat to low and cover. Cook for 15 minutes, then remove from heat and let sit, covered, for an additional 10 minutes.

Meanwhile, prep your vegetables and add-ins. Drain your chickpeas, peel and slice your red onions, slice your grape tomatoes in half lengthwise, and peel and mince your garlic.

*The drier the chickpeas are, the crispier they will get. Pat them dry with a kitchen towel of paper towel if need be.

Add the chickpeas, red onion, and tomato to a large baking sheet and drizzle olive oil over top. Add the minced garlic, salt, and pepper and toss to coat.

Roast for 15-20 minutes until chickpeas are crunchy, red onions are caramelized, and tomatoes start to burst.

Assemble your Mediterranean Quinoa Bowl by starting with a fluffy quinoa base. Then, layer on the leafy greens, roasted chickpeas, onions, and tomatoes, and hummus. Top with feta cheese (optional) and enjoy hot!
Pro Tips
For a lower sodium option, or if you don't have any vegetable broth on hand, you can opt to make your quinoa in water instead. 
This is a great recipe to use leftover quinoa for as well! Just reheat your leftover quinoa (detailed instructions for reheating quinoa in post) and skip step 2.
For more recipes like this, check out this list of Quinoa Bowl Recipes. 
Did you make this recipe?
Let me know by leaving a recipe rating below, or by tagging @marleysmenu on Instagram.