Sick of the boxed stuff but want a loaf of fresh, homemade banana bread without all the fuss? This 4-Ingredient Banana Bread gives you that from-scratch taste with only 4 simple ingredients, making it the easiest, tastiest, most fragrant option out there!
This moist and light loaf relies on real bananas to lend an intense banana flavor without all the additives, making it an obvious choice for your go-to delicious banana bread recipe!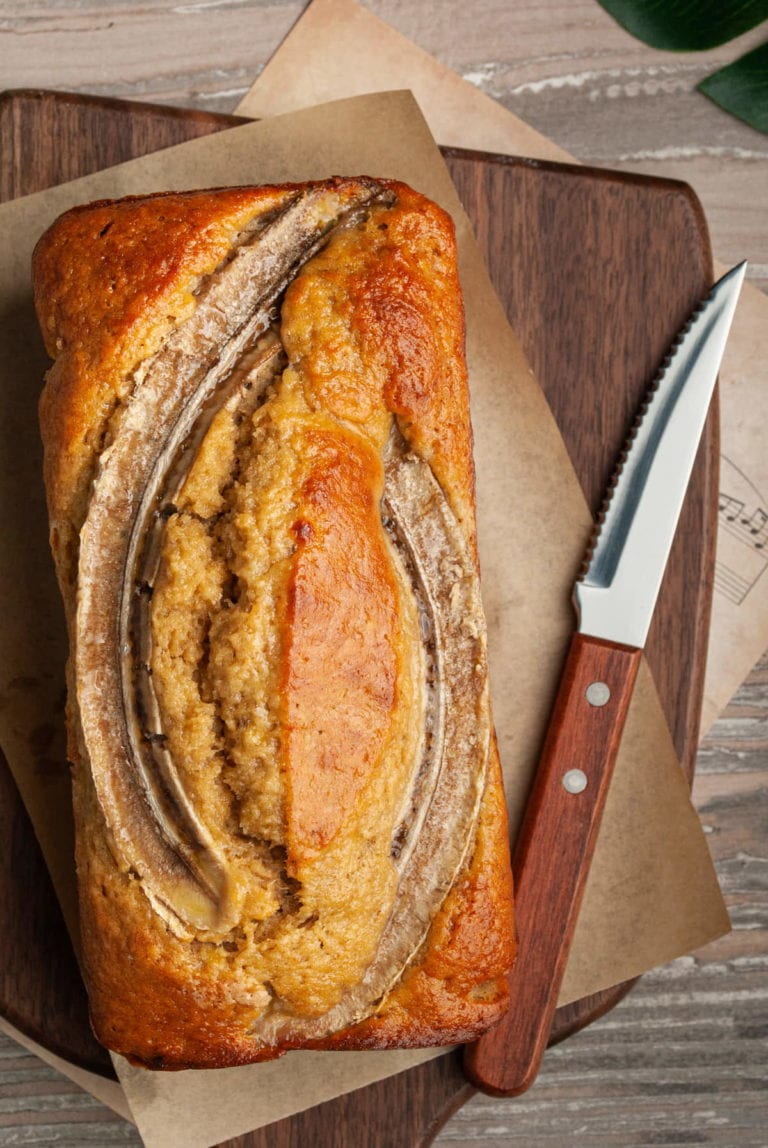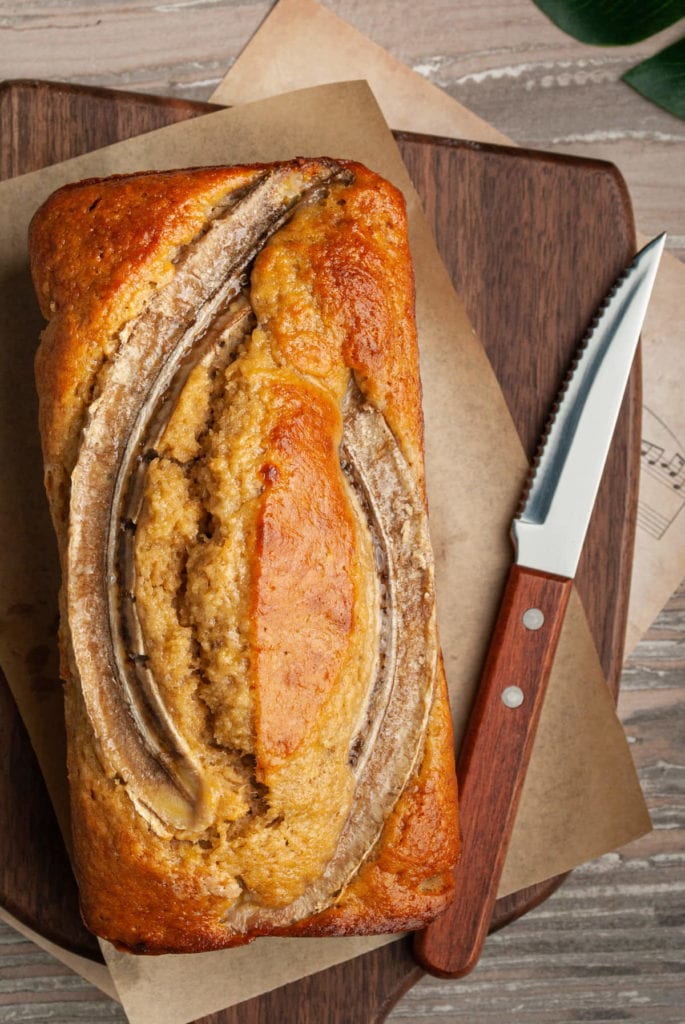 As an environmental scientist, I am always looking for ways to reduce food waste. Bananas are one of those produce items that go from perfect to entirely overripe seemingly overnight.
So, I'm always looking for fun ways to use up overripe bananas, and this incredibly easy loaf recipe is undoubtedly one of my favorites!
4-Ingredient Banana Bread Ingredients
---
Here's everything you'll need:
Overripe Bananas. For moisture and flavor.
Eggs. For leavening and to act as a binder.
Self-rising flour. To make this banana bread with just four ingredients, you absolutely need self-rising flour! If you only have all-purpose flour at home, you will have to add baking powder and salt. More on that later!
Brown sugar. For sweetness and flavor.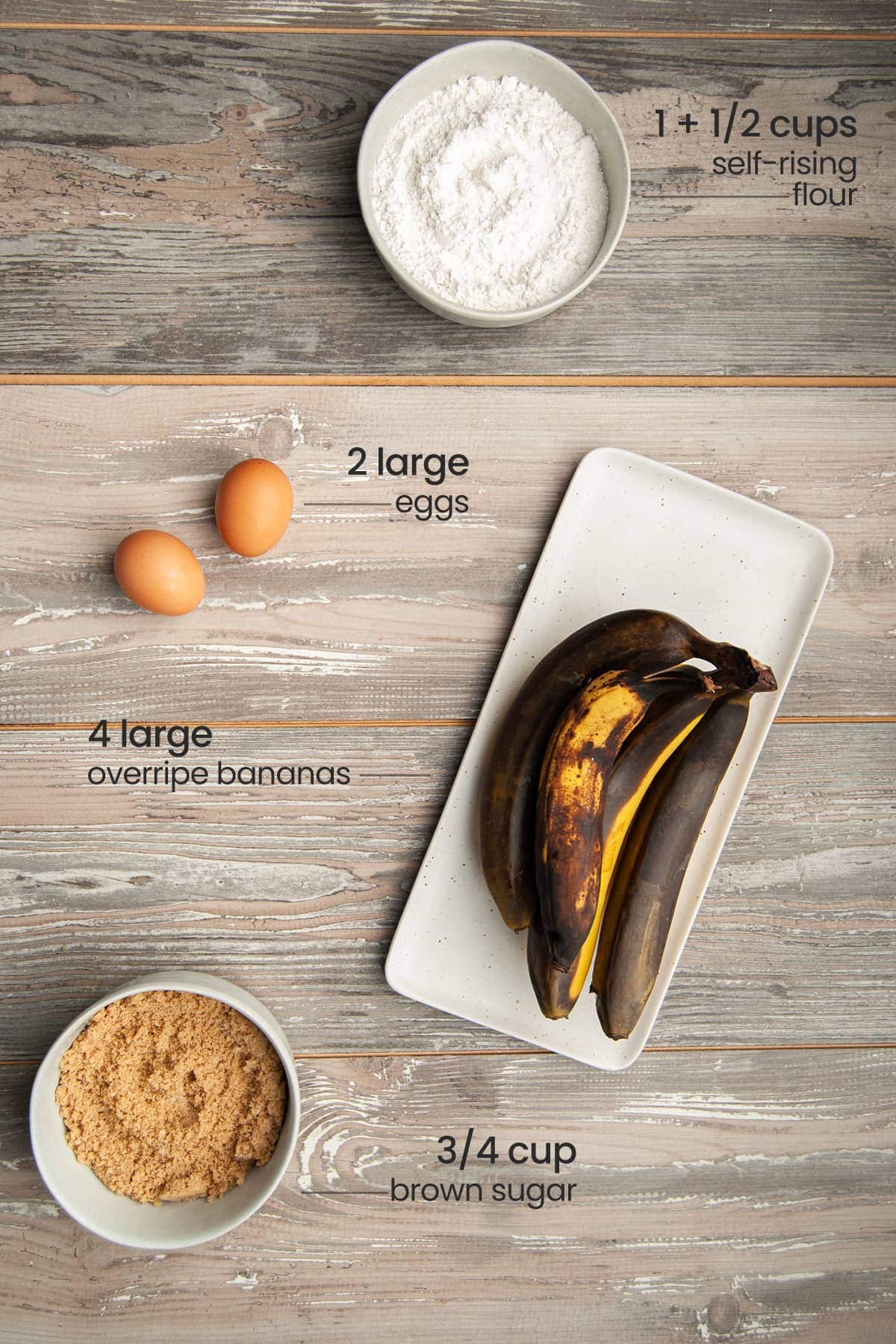 Optional Add-Ins
Though this super easy 4-ingredient banana bread is delicious on its own, here are some optional flavor boosters if you're feeling gourmet!
Cinnamon. For a little bit of spice. 1/2 teaspoon will do.
Nutmeg. For a slightly nutty, earthy, and aromatic addition. 1/4 teaspoon will do.
Vanilla extract. For a little boost in your bread! All you need is 1 teapsoon.
Chocolate chips. If you're a chocolate fiend like me. Stir in 1/2 cup – 1 cup, depending on how chocolatey you want it!
4-Ingredient Banana Bread Tips and Tricks
---
Use Overripe Bananas
As your banana ripens, it actually gets a bolder, more fruity flavor. So in order to get this bread, well, banana-y, it's best to use riper bananas.
In fact, if they are overripe and the peel is showing brown spots, they're perfect for this recipe! They'll be packed with flavor, and a little bit softer, which makes them easier to mash.
If you have some bananas that aren't quite overripe yet, you can quickly brown them in the oven. While your oven is preheating, stick the bananas in, still in their peels, on a tray for about 3 minutes or until the peel turns black as pictured.
Green tip: It is estimated that 50% of food waste happens at home. Instead of tossing overripe bananas, use them to make this delicious 4 ingredient banana bread!
Want to sharpen your kitchen skills?
Use a Fork
Step one is to peel those bananas and place them in a large bowl. Since they are overripe, it should be very easy to use a fork to crush them.
Continue to crush your bananas until they are broken down and liquefied. It's okay to have some clumps!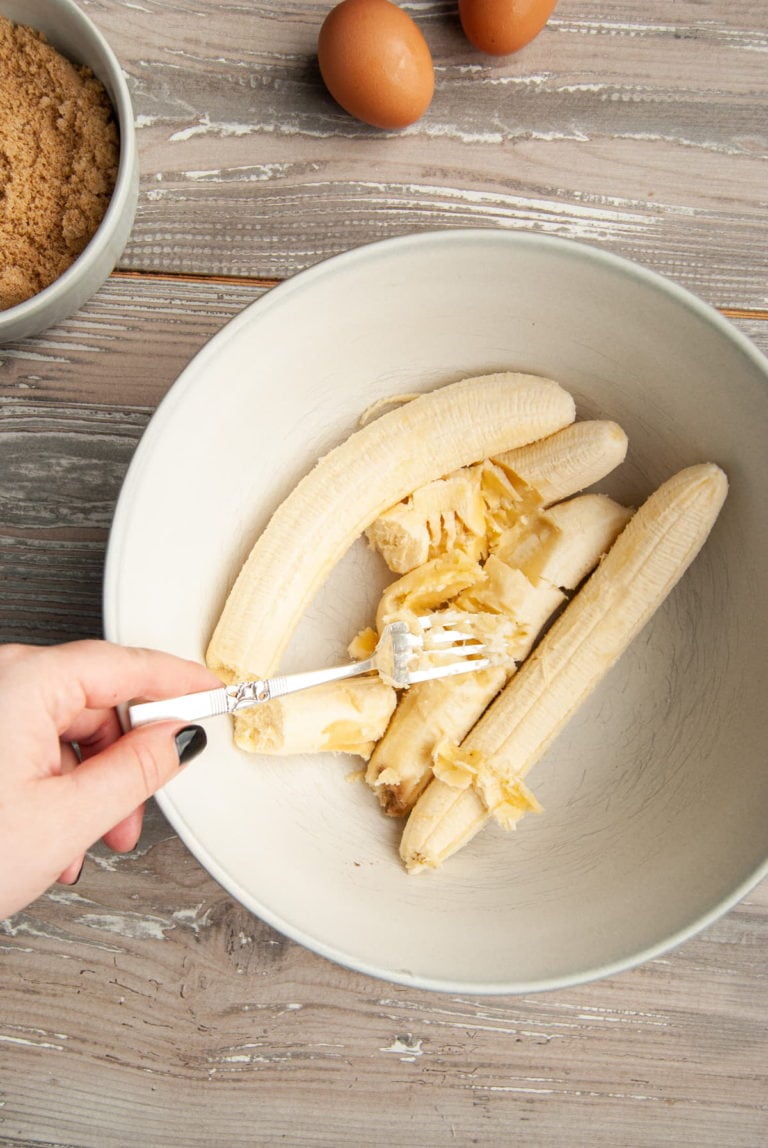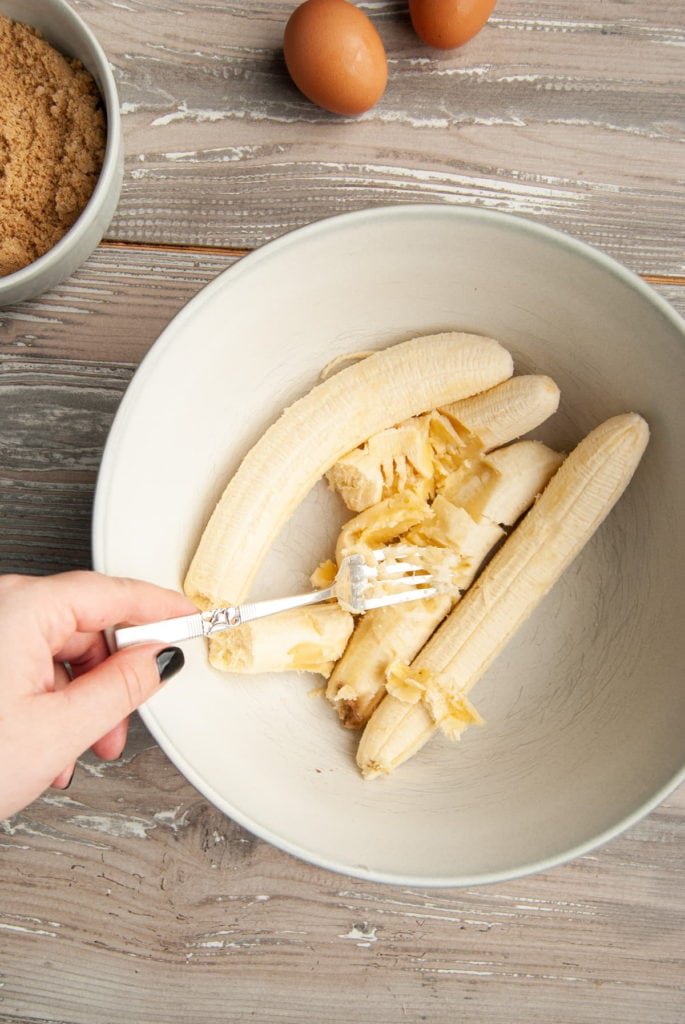 Add Your Eggs Next
Crack your eggs and add them to the mixing bowl with your mashed banana. Use the fork again or a whisk to combine the banana and the egg thoroughly.
You still may have some banana lumps, but that's okay! Just try to get your egg as smooth as possible.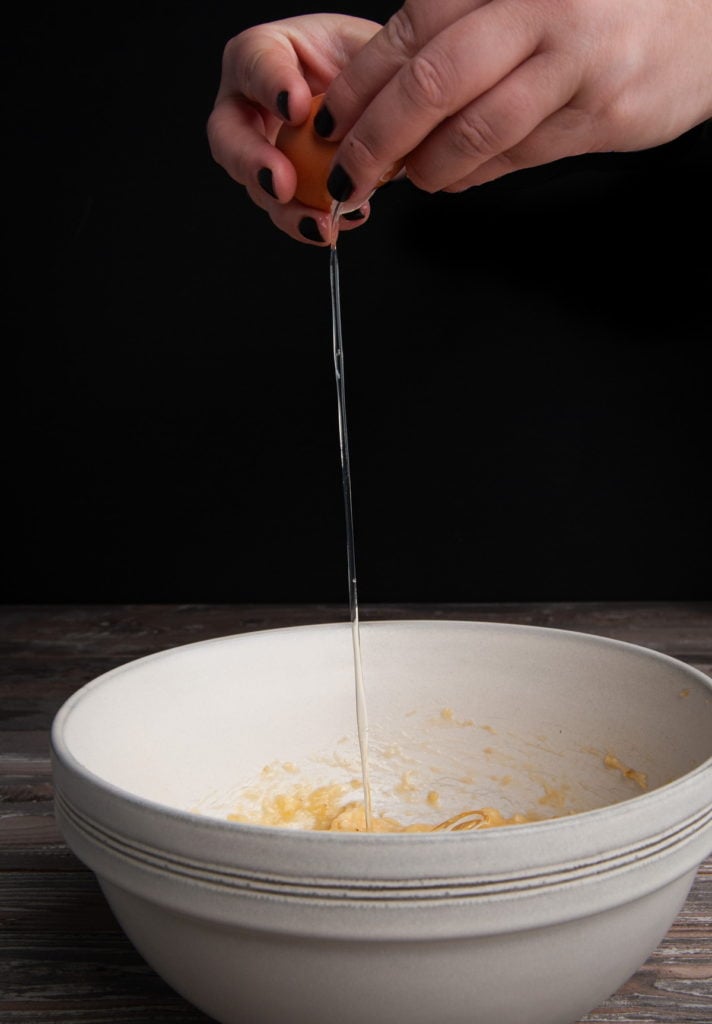 Your Dry Ingredients Come Next
Add the brown sugar and self-rising flour and stir again.
Use a whisk or fork to ensure you aren't left with any clumps of flour! You can also opt to sift the flour into your mixture to ensure a smoother batter.
Again, banana lumps are okay, but flour clumps—not so much.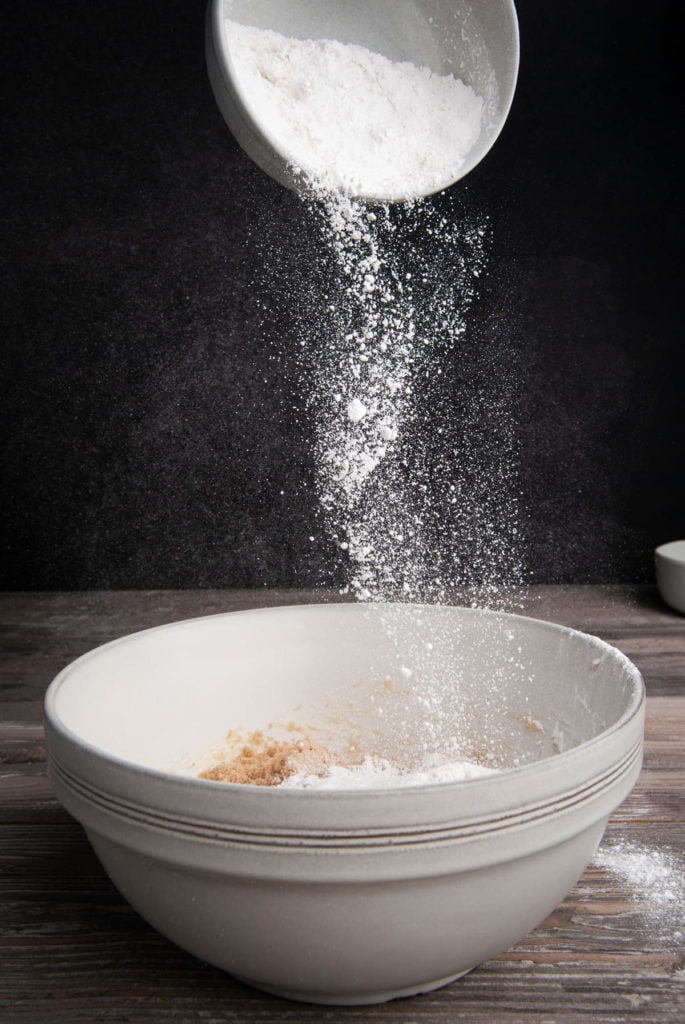 Spray or Line Your Pan
For easy removal!
You can use parchment paper, butter, cooking spray, or oil to make sure your banana bread doesn't get stuck.
Green tip: Consider filling your own reusable oil sprayer to avoid extra pesky aerosol cans, that aren't always recyclable.
Subbing All-Purpose Flour
If you don't have self-rising flour, you can substitute all-purpose flour, salt, and baking powder.
Instead of 1 1/2 cups self-rising flour, use 1 1/2 cups all-purpose flour, plus 1 tablespoon baking powder and 1/2 teaspoon of salt.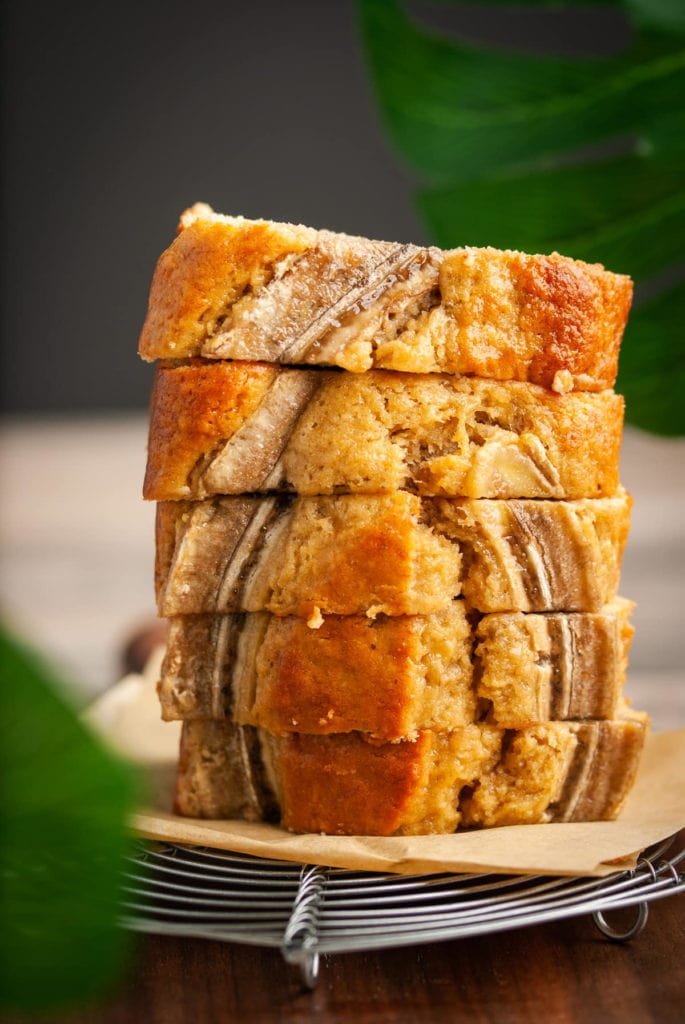 Optional Extra Banana
If you want to add a little pizzaz to your banana bread and an extra moist-maker at the top, consider a fifth banana!
You can slice it right down the middle and float it on top of your batter before you stick it in the oven. Sprinkle each banana with a tiny bit of extra brown sugar so it caramelizes while baking.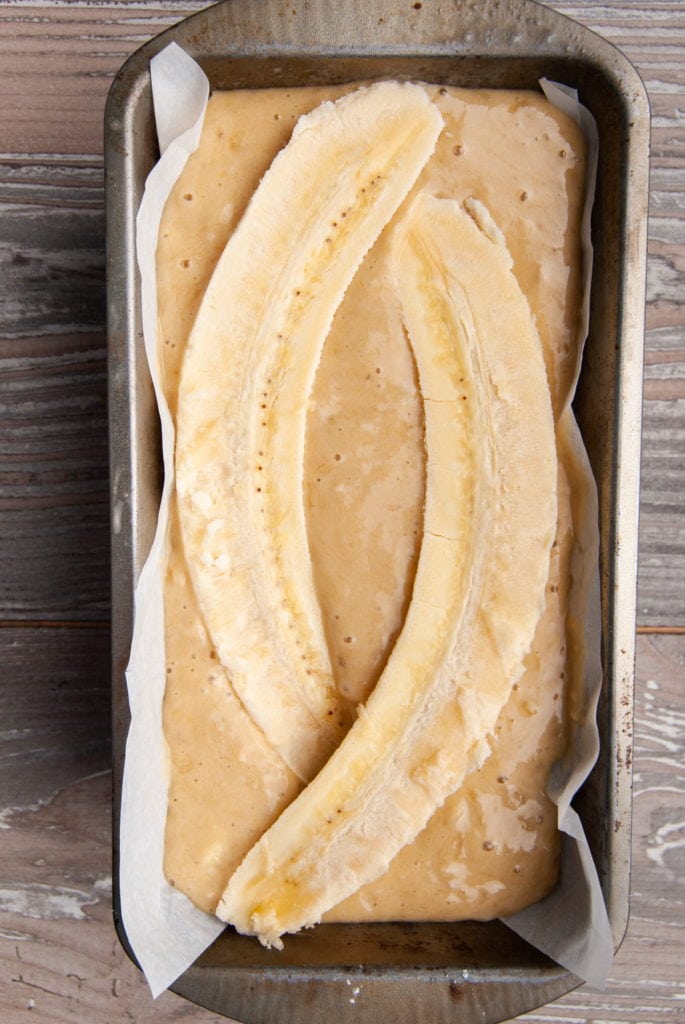 Storing Your 4-Ingredient Banana Bread
Banana bread should be covered or stored in an airtight container to get the most life out of it. It will stay fresh at room temperature for 3-4 days before it starts to dry out.
You can also opt to freeze banana bread for up to 6 months. Just allow it to thaw out before slicing into it.
If your banana bread does start to get stale, consider using it to make this Banana Bread French Toast.
4-Ingredient Banana Bread Frequently Asked Questions
---
Is banana bread healthy or unhealthy?
While banana bread does contain a high amount of potassium, fiber, and other nutrients from the bananas themselves, it also contains carbohydrates and sugar.
So deciding whether or not banana bread is healthy or unhealthy depends entirely on your health goals. Bananas do not lose their nutritional value when baked.
Can you substitute self-rising flour for all-purpose flour in banana bread?
1 cup of self-rising flour is equivalent to 1 cup of all-purpose flour + 1 1/2 teaspoons baking powder + 1/2 teaspoon salt.
So, if you're substituting self-rising flour for all-purpose flour in a baking recipe, you will also want to adjust the amount of baking powder and salt you are adding.
Why is my banana bread coming out dry?
As you may have guessed, dry banana bread lacks moisture. In a simple banana bread recipe that only contains 4 ingredients like this, it's easy to pinpoint the culprit of your dry bread.
It is most likely because your bananas are not ripe enough or you are using eggs that are small. Make sure you are using large eggs and ripened bananas for this recipe.
Can I use not-so-ripe bananas for my banana bread?
As bananas ripen, they actually become sweeter, making them the best for baking—especially in banana bread!
If you don't have time to wait for your bananas to ripen for this recipe, stick them in the oven while it's pre-heating, still in their peel on a baking sheet.
Keep them in the oven until the peel turns black (about 3-5 minutes).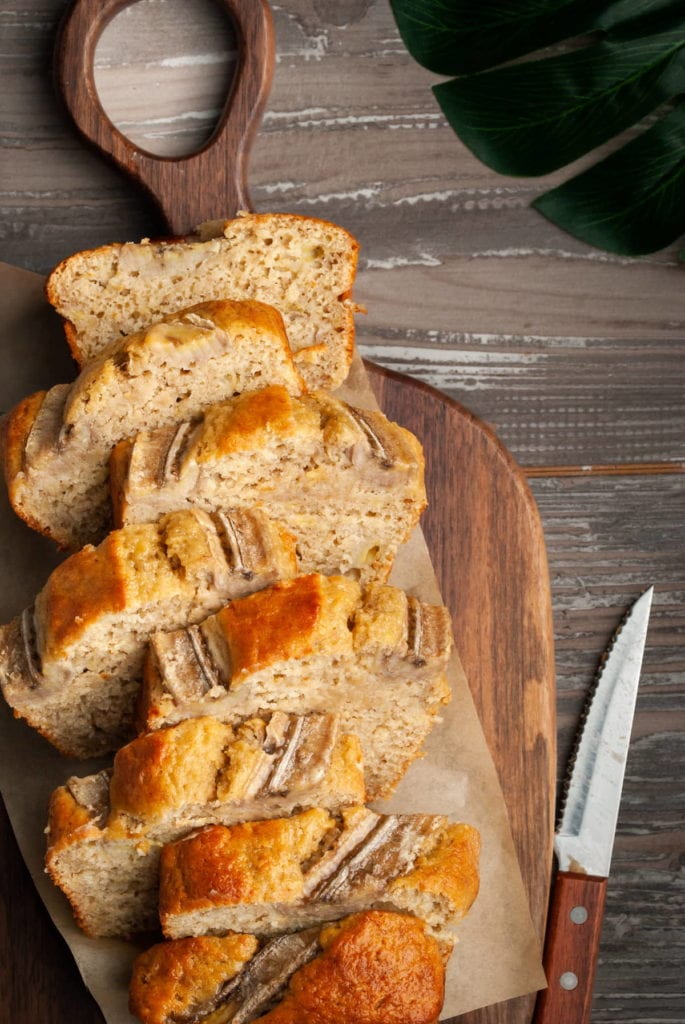 Why You Should Make this 4-Ingredient Banana Bread
---
It's super easy! 4 ingredients? Seriously!
The texture. It's very moist and light!
The flavor. The lack of extra additives and large amount of real banana in this bread makes it super fragrant and banana-y!
If you're loving this 4-Ingredient Banana Bread and want other fun desserts with 5 ingredients or less, check out these Whiskey Chocolate Truffles and Candied Cinnamon Sugar Walnuts!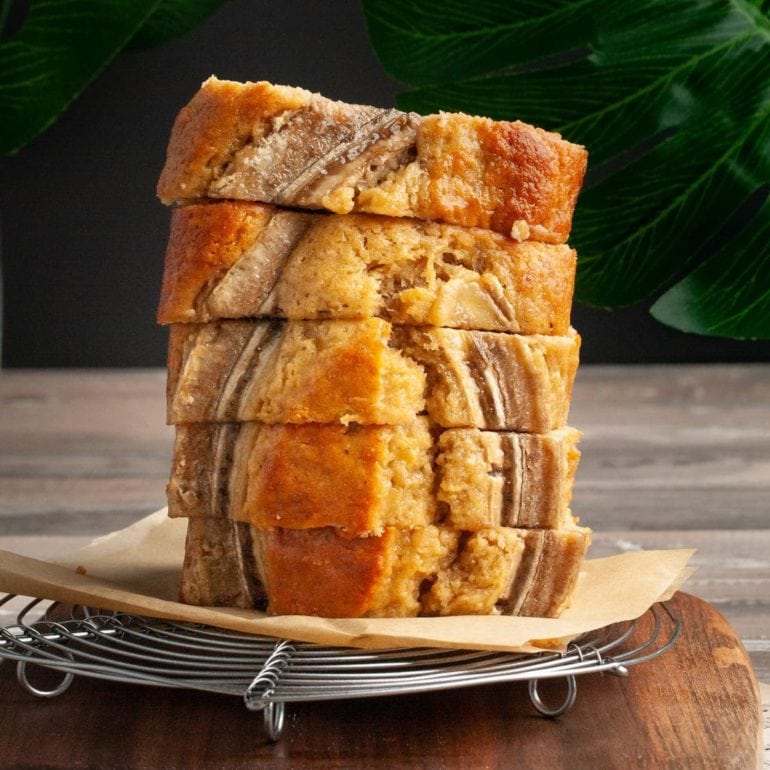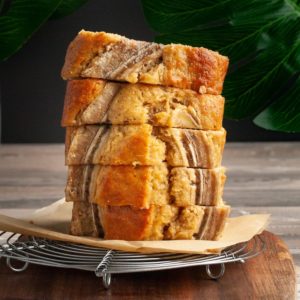 4 Ingredient Banana Bread
PRINT
PIN
RATE
With just 4 ingredients, you can have the very best from-scratch, moist, and light banana bread. This 4 Ingredient Banana Bread is a busy bakers dream!
Ingredients
4

large

overripe bananas

(+1 if you want to add one on top!)

2

large

eggs

¾

cup

brown sugar, tightly packed

1 ½

cups

self-rising flour
Instructions
Preheat your oven to 350°F and prep a standard 8.5-inch loaf pan by lining it with parchment paper or spraying.

Peel your bananas and add them to a large mixing bowl. Use a fork to mash the bananas until they are almost liquefied (some lumps are okay!)

Add the eggs and use a fork or whisk to blend with the mashed bananas.

Add the brown sugar and self-rising flour and mix to combine.

Pour the mixture into your prepped pan. Option to slice the 5th banana in half longways and float it on top of your batter. Bake for 55 minutes or until a toothpick comes out clean.

Allow it to cool completely before slicing. Enjoy!
Pro Tips
To substitute all-purpose flour for 1 and 1/2 cups self-rising flour, use 1 and 1/2 cups all-purpose flour + 1 tablespoon baking powder + 1/2 teaspoon salt.
If your bananas aren't overripe, stick them on a baking tray in their peel and let them sit in the oven while it's preheating until the peel turns black.
Bananas for bananas? Hate waste? You'll love this collection of the best ripened banana recipes!
Did you make this recipe?
Let me know by leaving a recipe rating below, or by tagging @marleysmenu on Instagram.