Ready to try your hand at hummus from your own kitchen? This 5-Minute Hummus is so easy and has quickly replaced my storebought hummus as a weekly staple in my house.
It's smooth and creamy, slightly zesty from the lemon, and brimming with nutty umami flavor from the tahini and garlic. I can confidently say that I will be making homemade hummus from this point forward!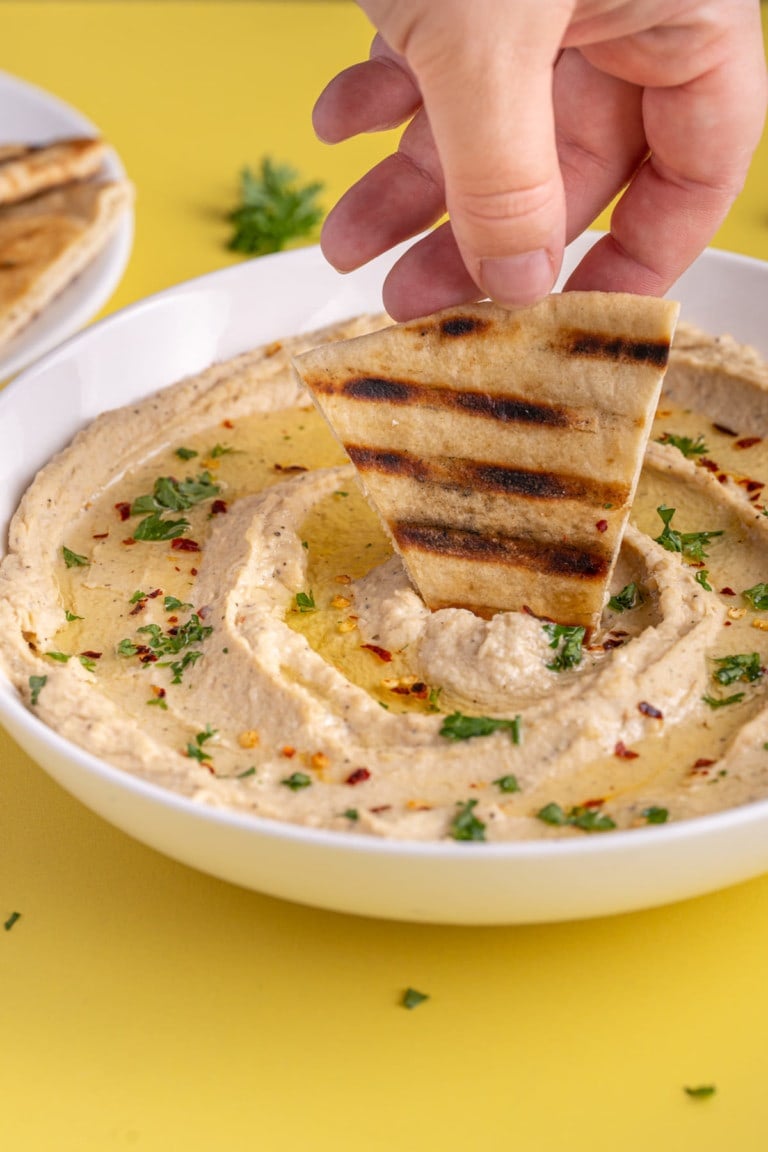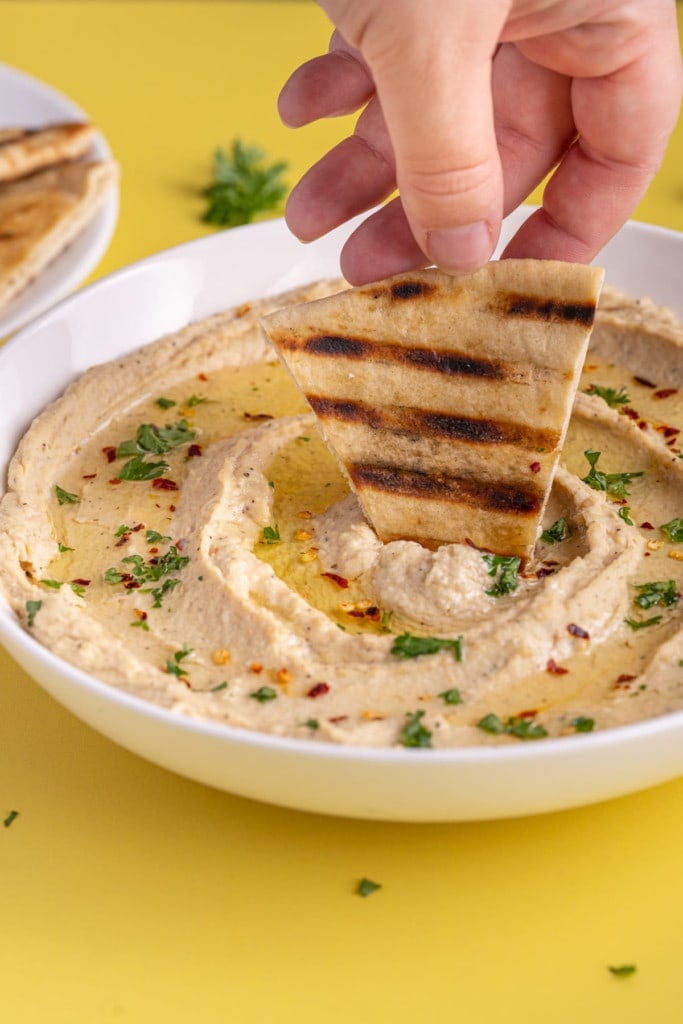 As an environmental scientist, I'm always trying to minimize my contribution to plastic waste. Making your own hummus does not only taste better and save you money, it's also a great way to avoid extra plastic.
Green tip: Making homemade spreads is a great way to avoid extra plastic packaging that eventually ends up in landfills or makes its way into the environment and becomes microplastics.
Hummus Ingredients
---
---
Here's everything you need:
Chickpeas. The star of this dish! You'll need a can of chickpeas, and you'll end up using all of the chickpeas and some of the liquid they are floating in.
Tahini. For creaminess and nuttiness, to give you that classic hummus taste.
Olive oil. The fat in the oil cuts into the chickpeas to give you an even creamier dip.
Lemon juice. Fresh lemon goes a long way in this recipe. 1/2 lemon should give you just enough juice for this recipe.
Garlic. It brings strong umami flavor to the hummus. You can leave it whole, just make sure you peel it.
Salt & pepper. To ramp up the other flavors and to season your hummus.
Crushed red pepper (optional). Add it for a little bit of spice.
Parsley (optional). Garnish with parsley for a fresh finish.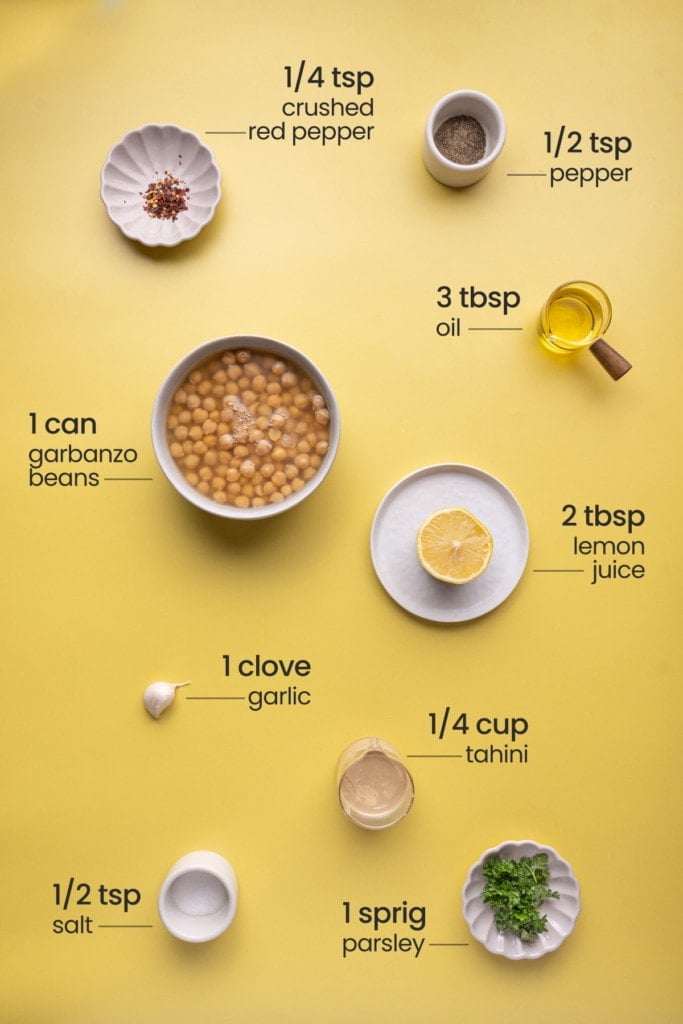 5-Minute Hummus Tips & Tricks
---
---
Save That Chickpea Water
The first step to making your 5-Minute Hummus is to separate the chickpeas from the liquid it is soaking in. This liquid is called aquafaba and will be partially used in your hummus to help you get the right consistency.
But don't chuck the rest! Aquafaba is a great ingredient that can be used in other recipes. My favorite is this Rich Vegan Dark Chocolate Oreo Pie.
Green Tip: Always avoid food waste when you can! Instead of throwing away your chickpea water, use some to make your hummus creamier, or use it in another recipe altogether!
To separate the chickpeas from the liquid, I like to use a sieve. Hold or place the sieve over a large bowl and pour the contents of your canned chickpeas into the sieve.
The chickpeas will remain in the sieve and your aquafaba will strain through, falling into the bowl.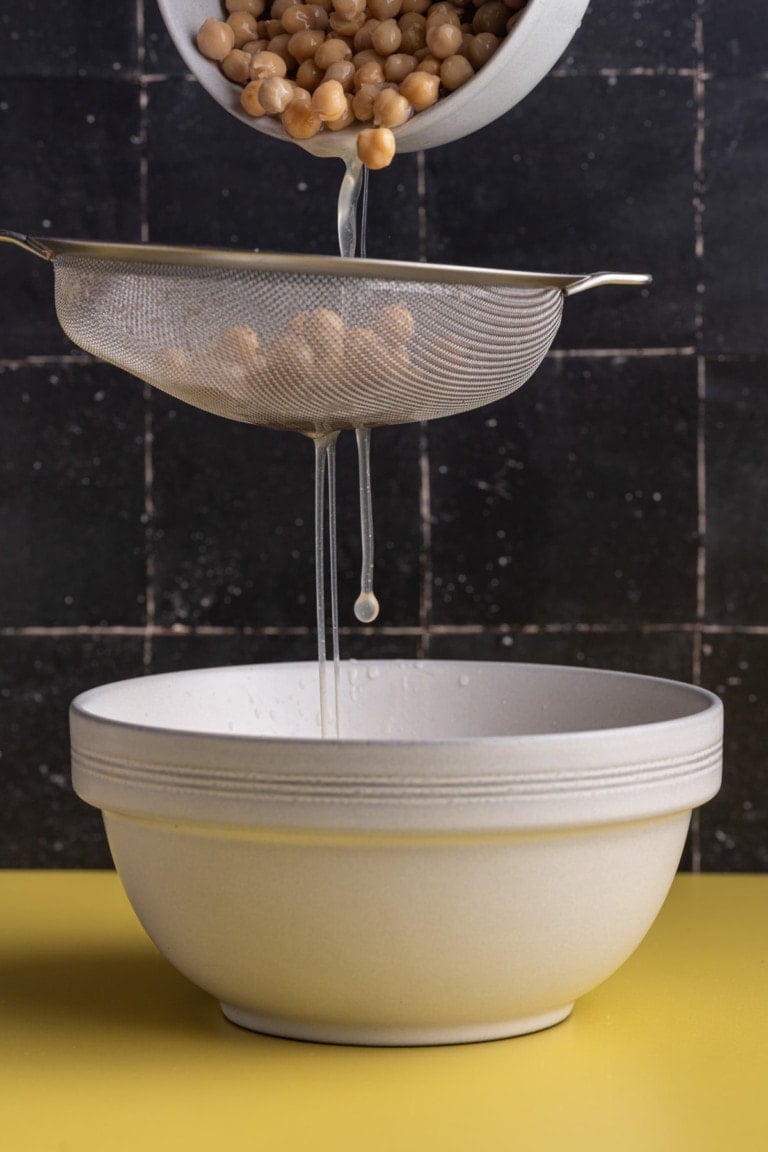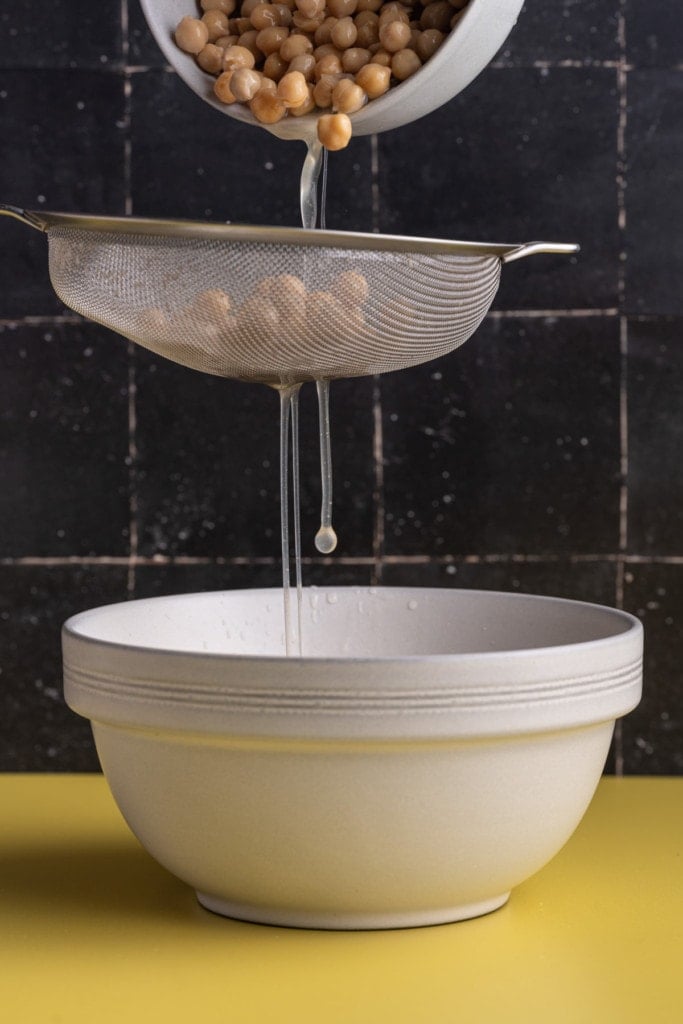 Use Fresh Garlic and Lemon
This hummus recipe is minimal, so it relies heavily on the Tahini, lemon, and garlic to bring strong flavors. Using fresh lemon and fresh garlic goes a long way in this 5-minute recipe!
It's always best to squeeze your lemon juice into a separate bowl before adding it to your hummus. That way, you can more easily extract any lemon seeds that may come out when you squeeze the juice.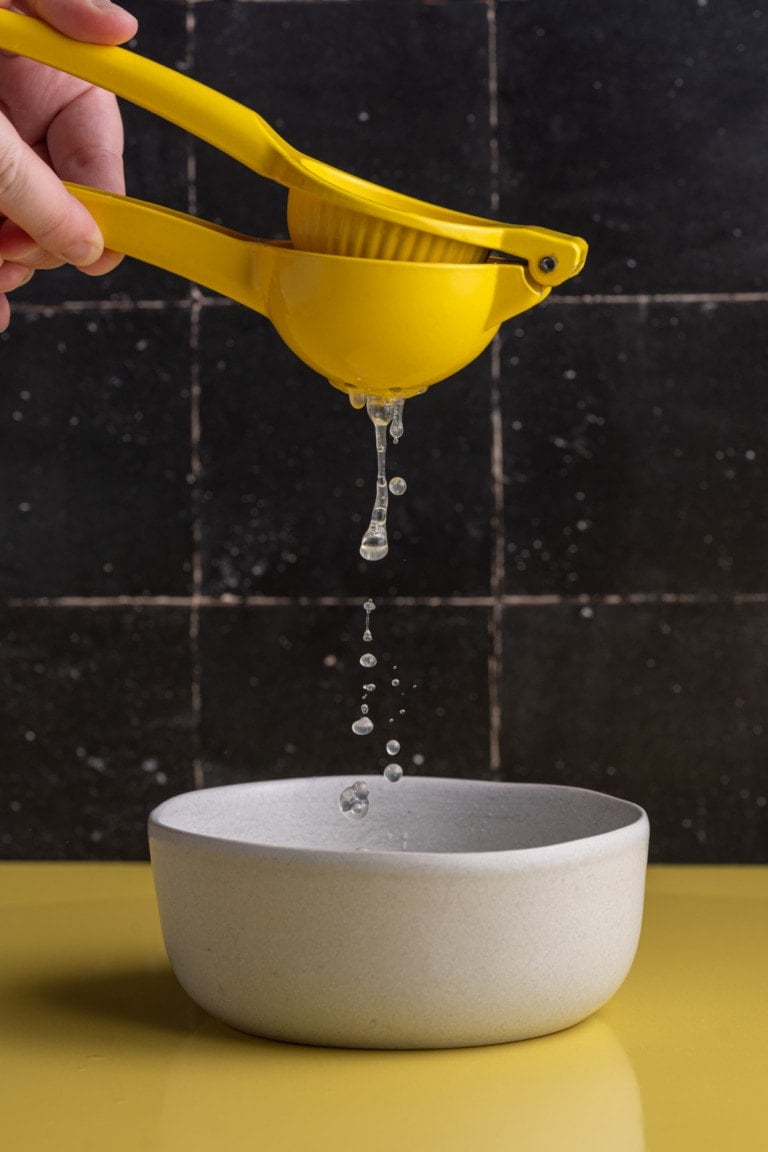 You'll Need a Blender or Food Processor
This hummus comes together in just 5 minutes because once you separate the chickpeas from the aquafaba, you basically just throw everything in the blender or food processor and blend.
Add the chickpeas, Tahini, olive oil, lemon juice, garlic, salt, and pepper. If you want a little spice, add your crushed red pepper flakes now, too.
You can also add any flavor enhancer of your choosing. Toasted pine nuts, roasted red pepper, and pesto are some of my favorite ad-ins when I'm feeling adventurous!
Blend on high until all the chickpeas are broken down and the hummus is smooth.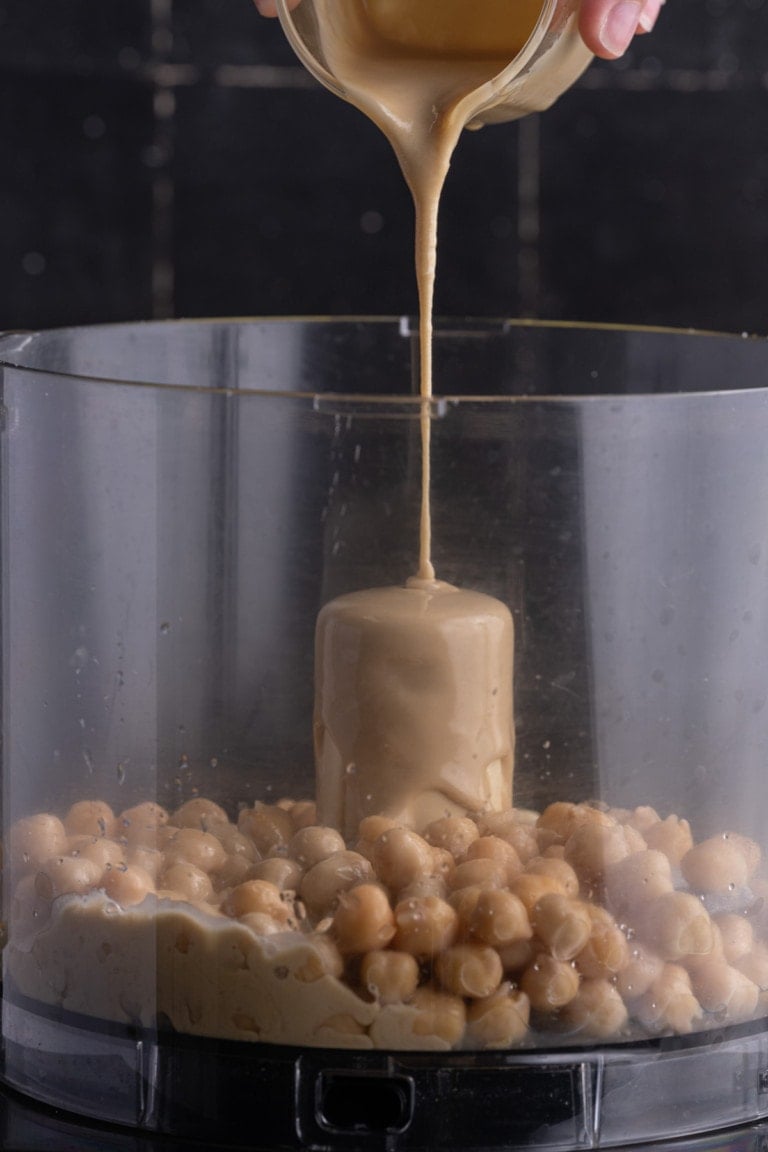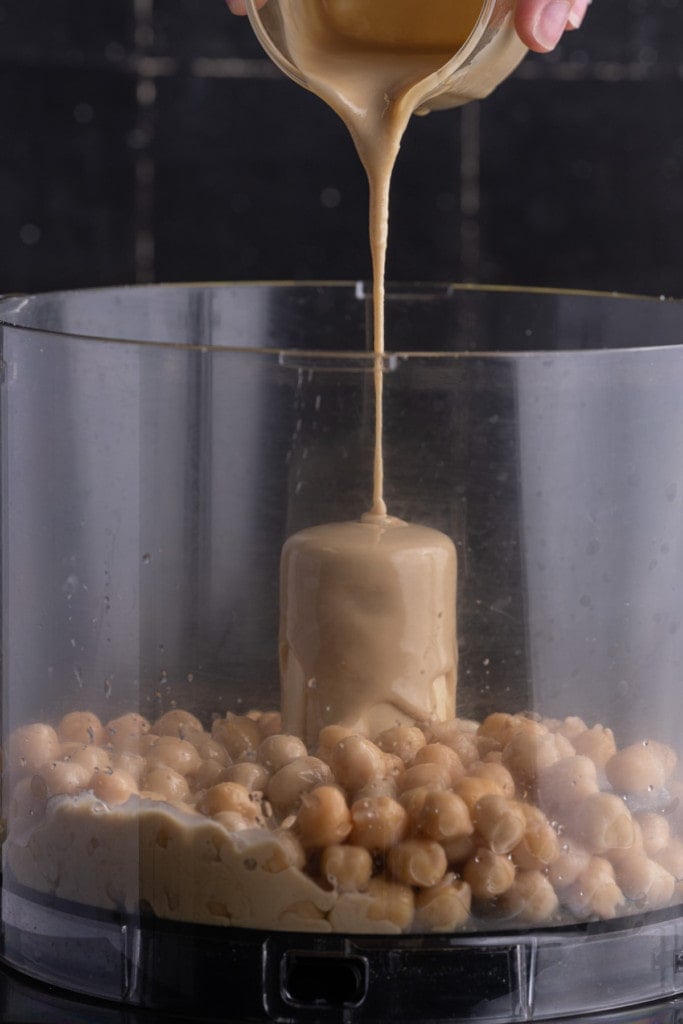 Loosen It
Next, assess the consistency of the hummus. I like my hummus thick and a little bit grainy, so I don't always add aquafaba to mine.
However, for the creamiest, smoothest hummus, you'll need to add up to 2 tablespoons of the aquafaba. It's best to add it while your blender or food processor is on.
Start with just 1 tablespoon. You can always add an additional tablespoon if you need.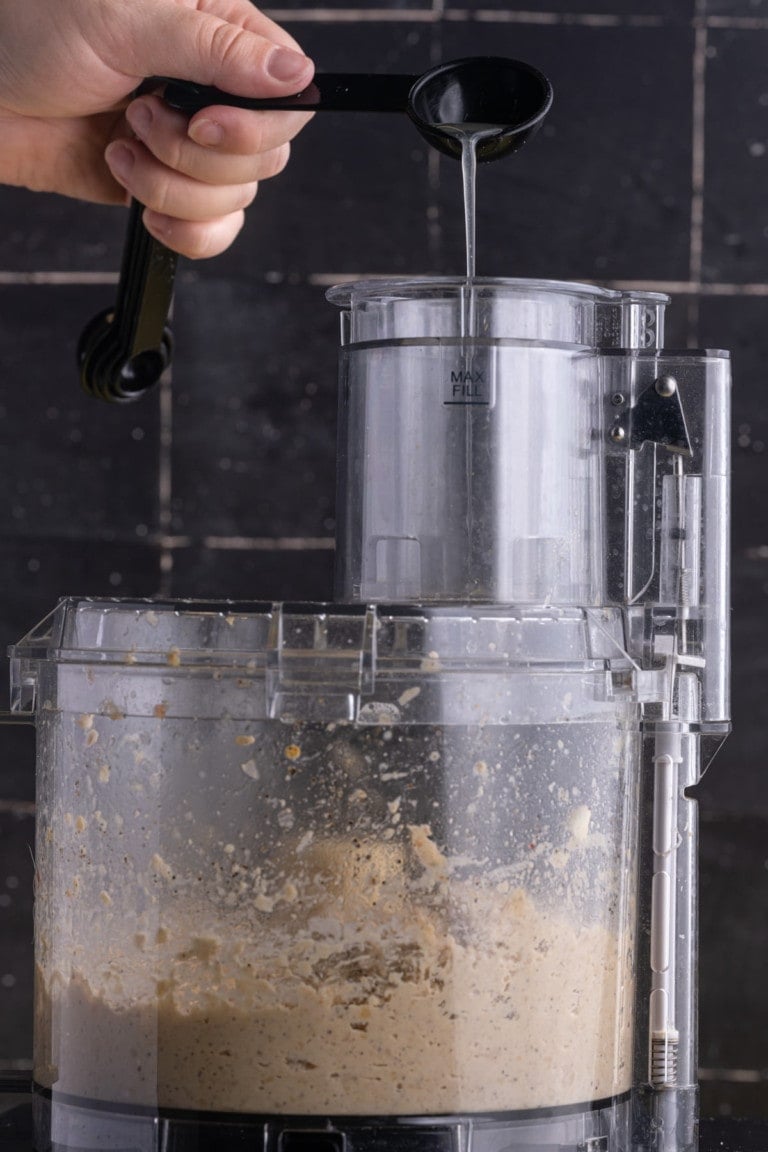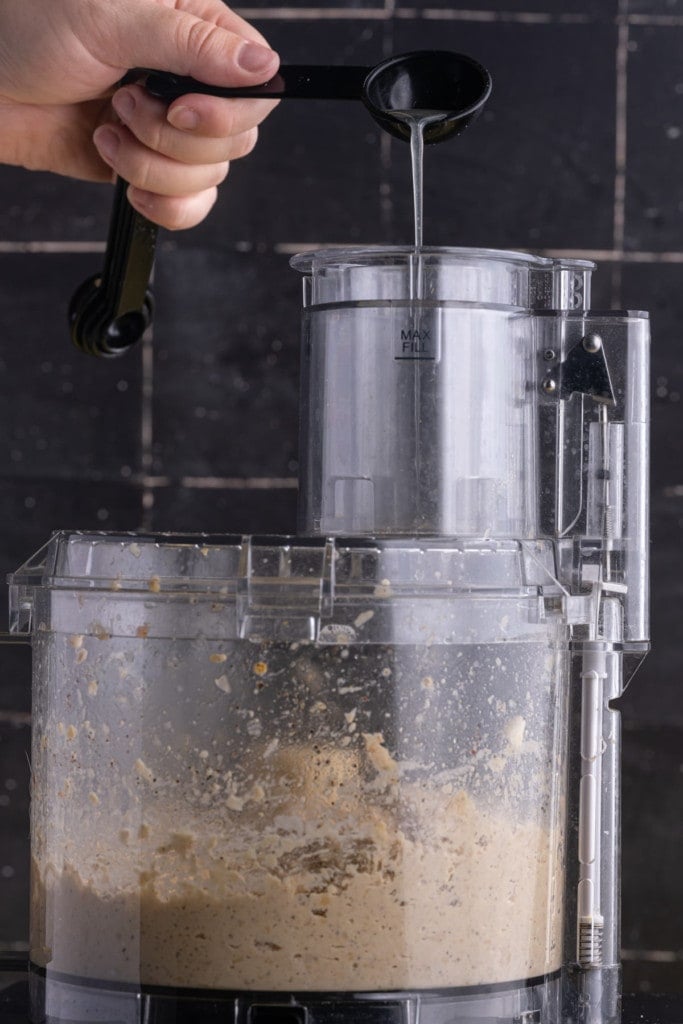 Should You Have Leftovers
This hummus stays fresh in an airtight container in the refrigerator for about 1 week.
To extend the life of your hummus, you can freeze it for up to 6 months. Thaw it in the refrigerator and then eat it within 5-7 days.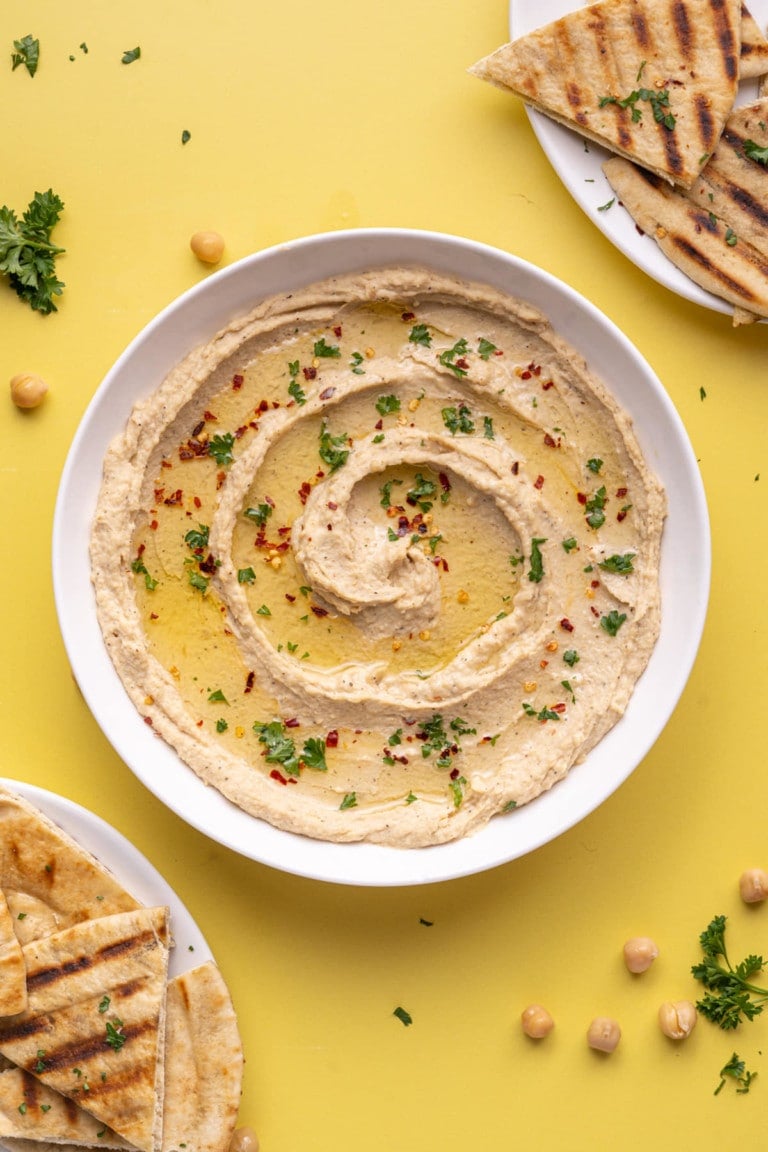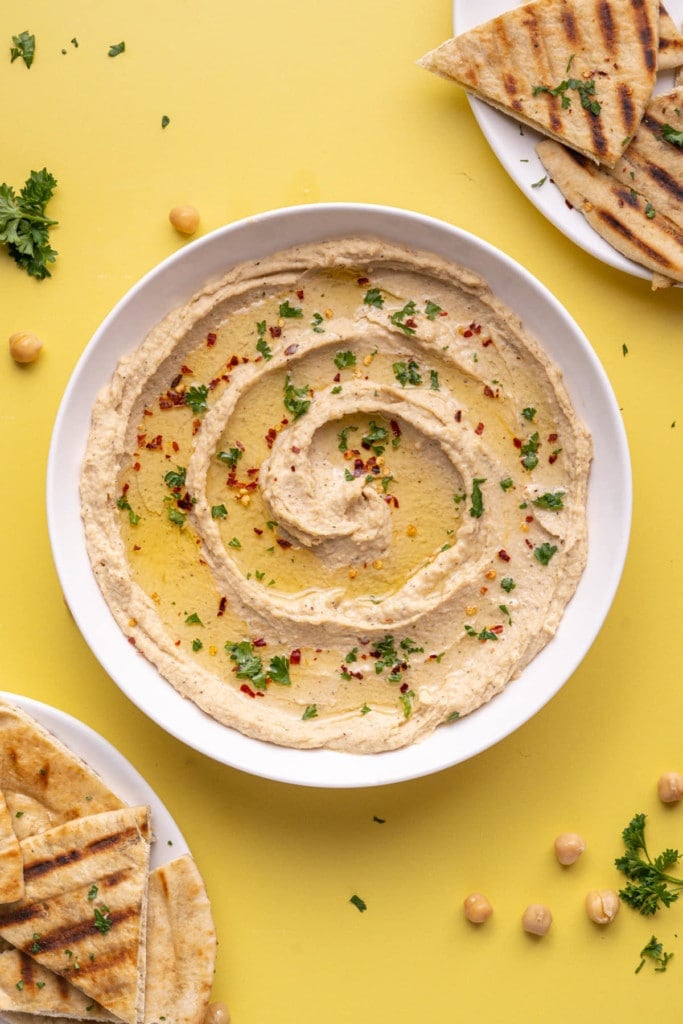 Hummus Frequently Asked Questions
---
---
Does hummus go bad?
Fresh hummus should be stored in the refrigerator and consumed within 3-5 days. Store-bought hummus often has extra preservatives and will contain a "sell by" or "best by" date and is usually safe to eat for up to a week after that date.
How can you tell when hummus goes bad?
When hummus goes bad, there is usually visible white mold on top and a strong sour smell.
Does hummus have gluten?
Hummus is naturally gluten-free, dairy-free, and vegan.
Can dogs and cats eat hummus?
No, dogs and cats cannot eat hummus.
While chickpeas are safe for dogs, most hummus contains garlic and oil, which are not.
As for cats, while a little bit won't harm them, chickpeas are hard to digest, so it may cause some discomfort.
Want to sharpen your kitchen skills?
Why You Should Make this 5-Minute Hummus
---
---
It's fresh! There's just no substitute for fresh and homemade!
It's quick. Ready in 5 minutes and with minimal ingredients.
The texture. So thick and creamy!
If you're loving this 3-Step Hummus and want more delicious dips, check out this Vegan Spinach Dip and this Beer Cheese Dip.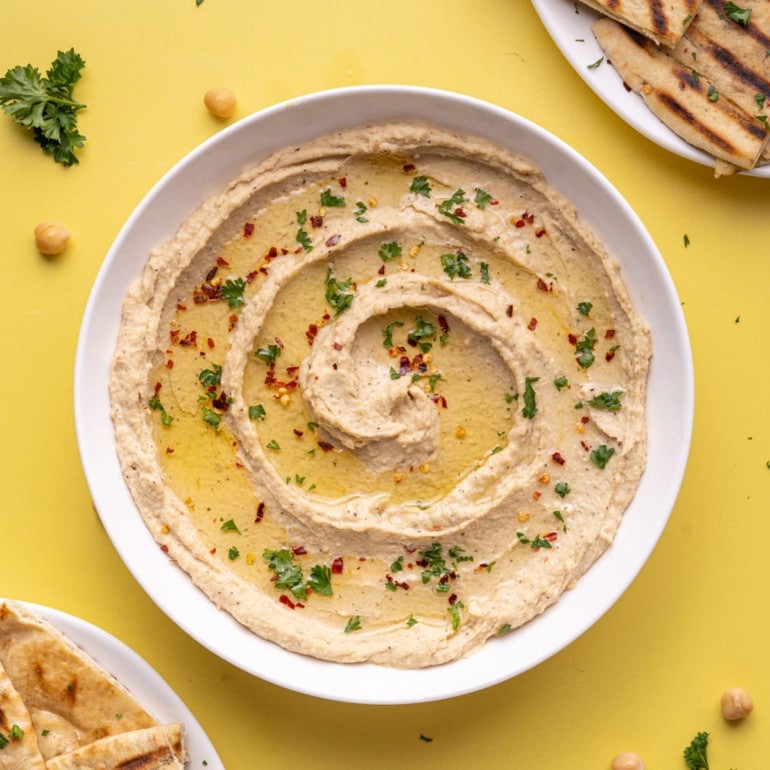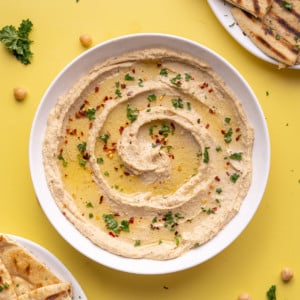 Addicting 5-Minute Hummus
PRINT
PIN
RATE
This 5-Minute Hummus combines the earthiness of Tahini, nuttiness of chickpeas, and freshness of lemon to make an addicting hummus that you just can't stop snacking on.
Ingredients
1

(15. 5 ounce) can

chickpeas aka garbanzo beans

(both the beans and the liquid)

¼

cup

tahini

3

tablespoons

olive oil

2

tablespoons

lemon juice

(½ lemon = approx. 2 tablespoons juice)

1

clove

garlic

(peeled)

½

teaspoon

salt

½

teaspoon

pepper

¼

teaspoon

crushed red pepper

(optional)

extra olive oil and parsley for garnish

(optional)
Instructions
Over a large bowl, use a sieve to strain your chickpeas, to separate the beans from the liquid (this liquid is called aquafaba, and you may use some later, so make sure to save it!).

Asses the consistency of your hummus. If it's too thick and chunky, add up to 2 tablespoons of aquafaba to loosen it. With the blender or food processor on high, add the aquafaba 1 tablespoon at a time until desired consistency is achieved.

Garnish with olive oil and parsley (optional) and serve as a healthy dip, spread, or sauce like in this Hummus Pasta.
Pro Tips
This recipe is a great base for any flavored hummus. Add roasted red peppers, pine nuts, pesto—it can handle anything!
Don't forget to save your aquafaba to use for this Rich Vegan Dark Chocolate Oreo Pie!
Did you make this recipe?
Let me know by leaving a recipe rating below, or by tagging @marleysmenu on Instagram.