Looking for an exciting new way to bake with apples? This Apple and Cheddar Quiche is the perfect fusion of sweet and savory!
With a buttery, flaky crust, cheesy rich filling, and beautiful cinnamon apple topping, this quiche has it all! The most delicious way to present a brunch dish that feeds the whole family.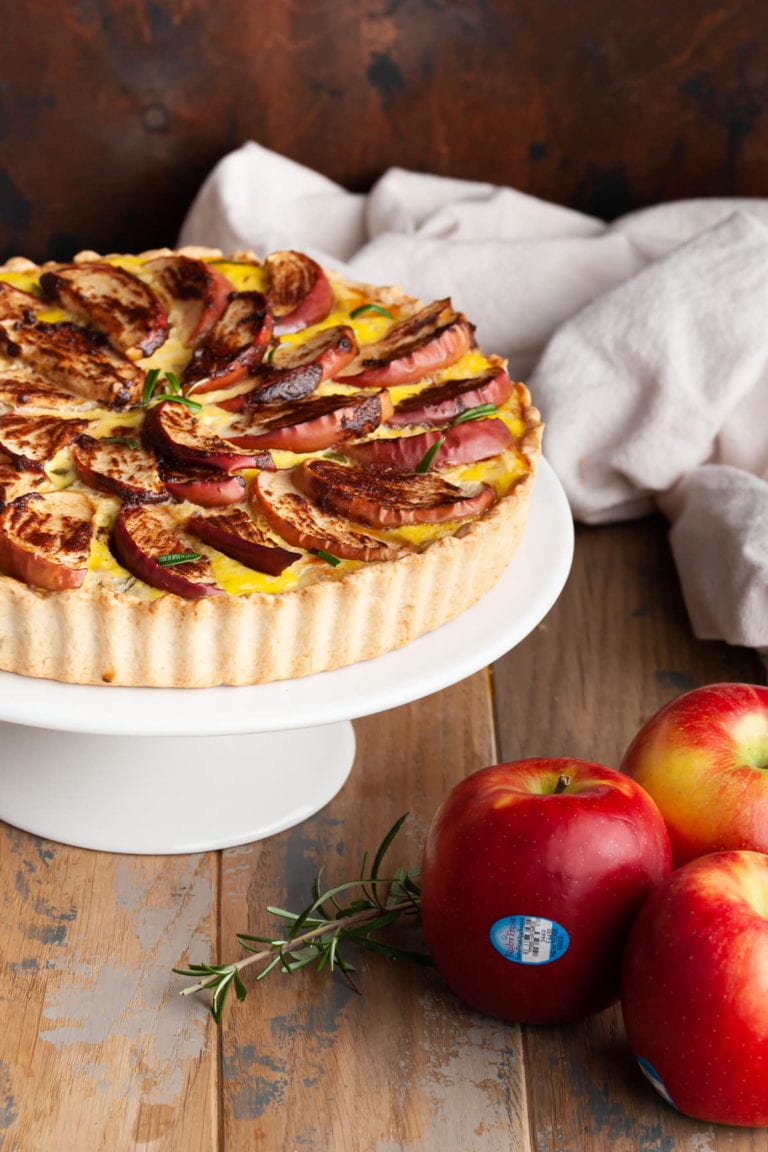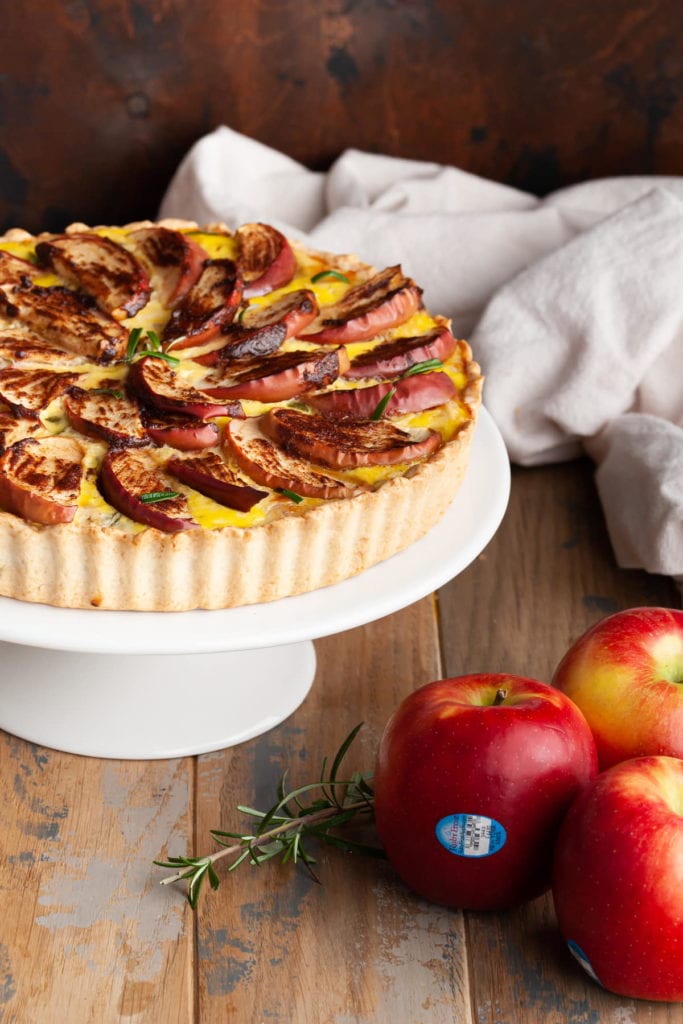 Apple and Cheddar Quiche Crust
---
---
Let's start with the base!
Gather Your Ingredients
This is my go-to 5-ingredient quiche crust. It's simple, easy to work with, and downright delicious.
Plus, you probably have most, if not all, of these 5 ingredients in your kitchen already!
Here's everything you'll need:
Unsalted butter. Freeze it to keep the blender from breaking it down fully.
Brown sugar. For subtle sweetness and flavor.
Flour. The base of your quiche crust.
Salt. To amp up the flavor.
Cold water. Keeping your dough cold is critical to having a buttery, flaky crust.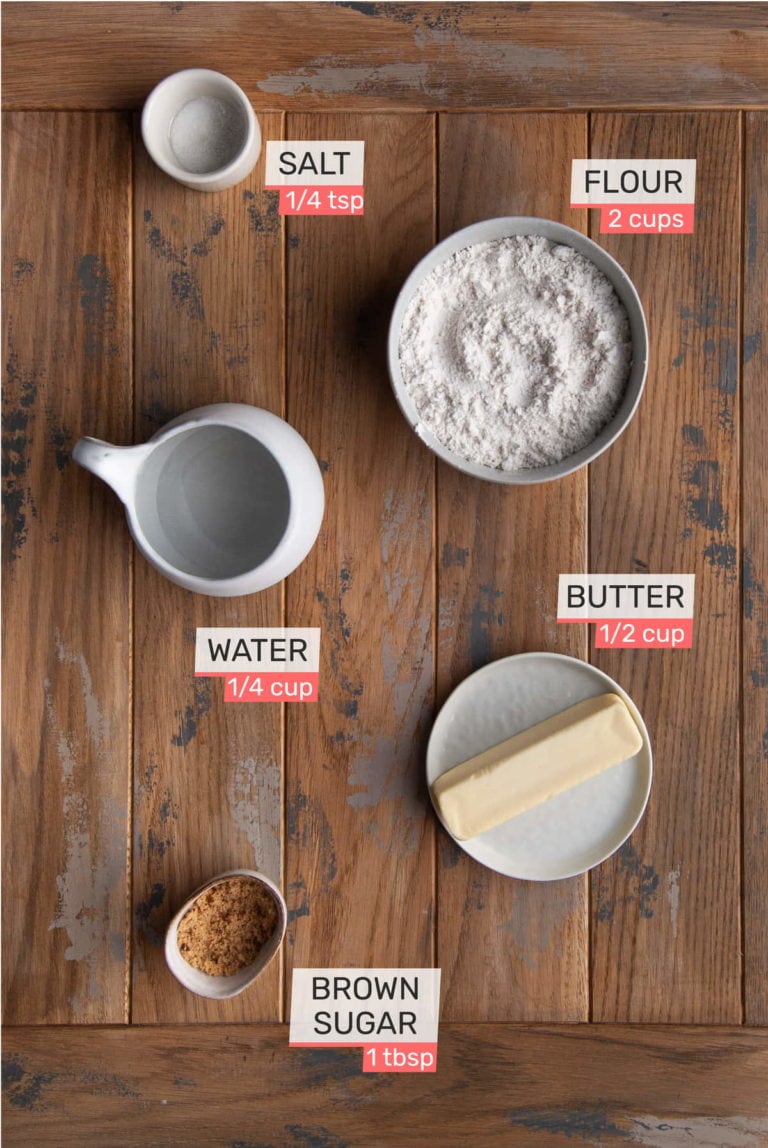 Use ice-cold water and ice-cold butter for best results.
Use a Blender
A blender is my favorite way to make this crust, but you can also opt to use a food processor! I use this Ninja Blender and highly recommend it!
Add your cold butter, flour, salt, and brown sugar to your blender. Process on high and add the ice water while the blender is on.
You'll see your dough come together rather quickly. Stop the blender as soon as the ingredients are well-combined.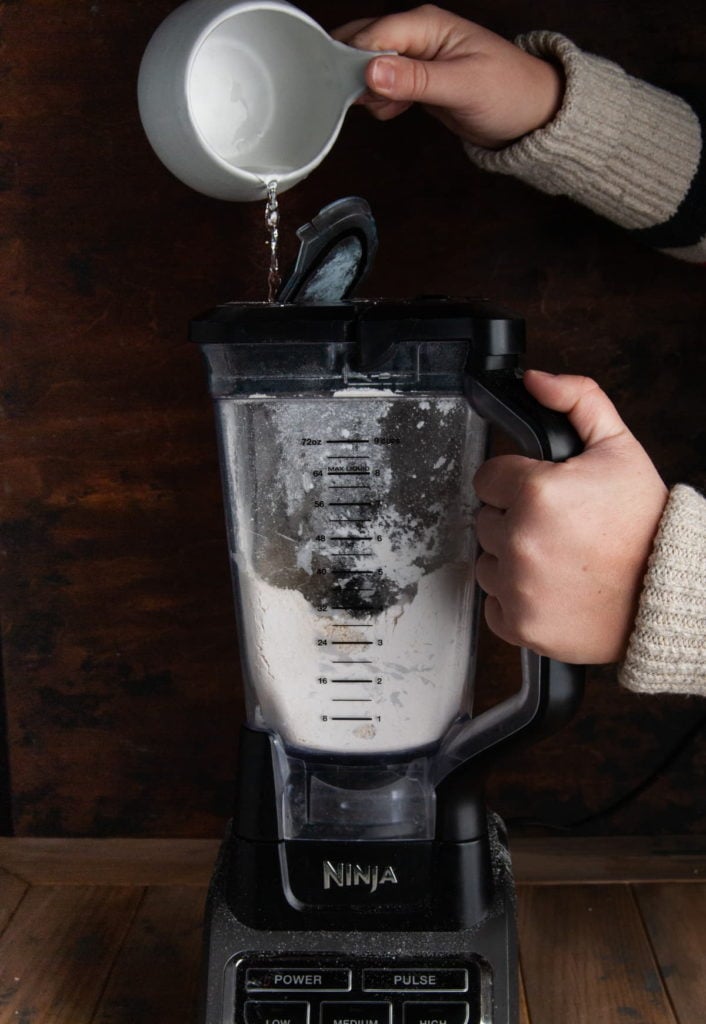 Press It In
Once your dough comes together, make sure to remove your blade, and then pour all of your dough into your baking dish.
Then, use clean hands to push into the dough, flattening it into the dish and pushing it out towards the sides.
When you get your dough out towards the edges, make sure to push it up the sides of the dish, too.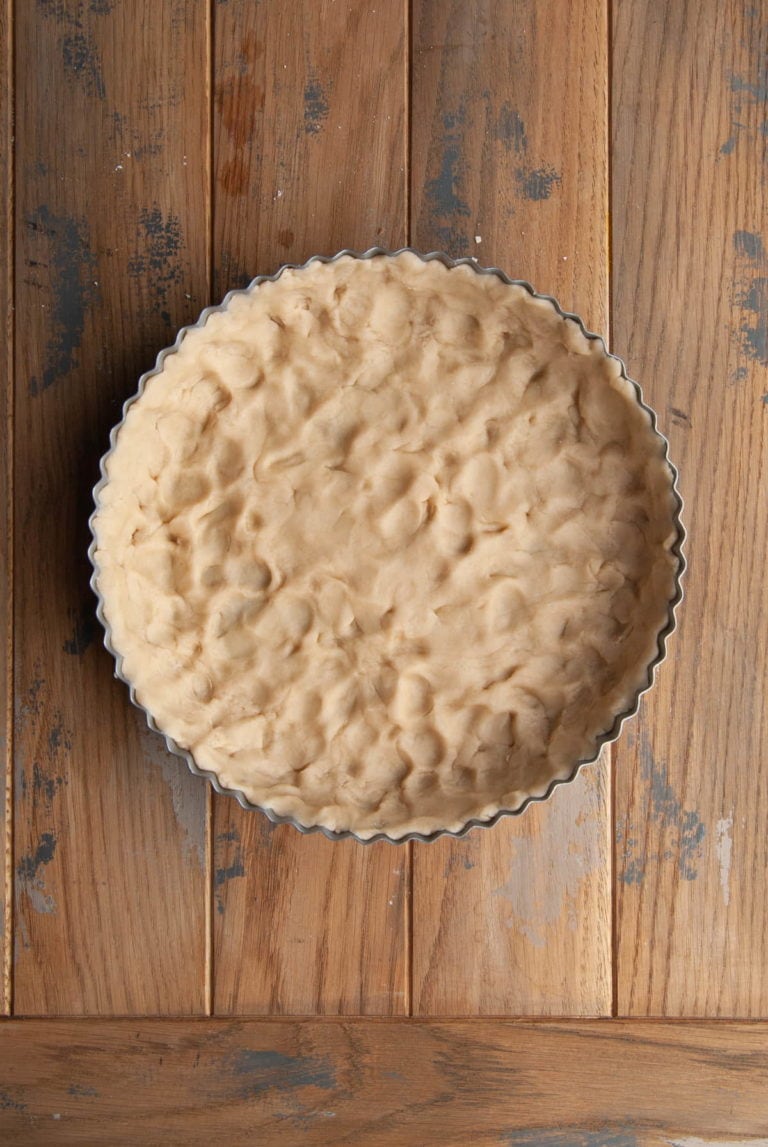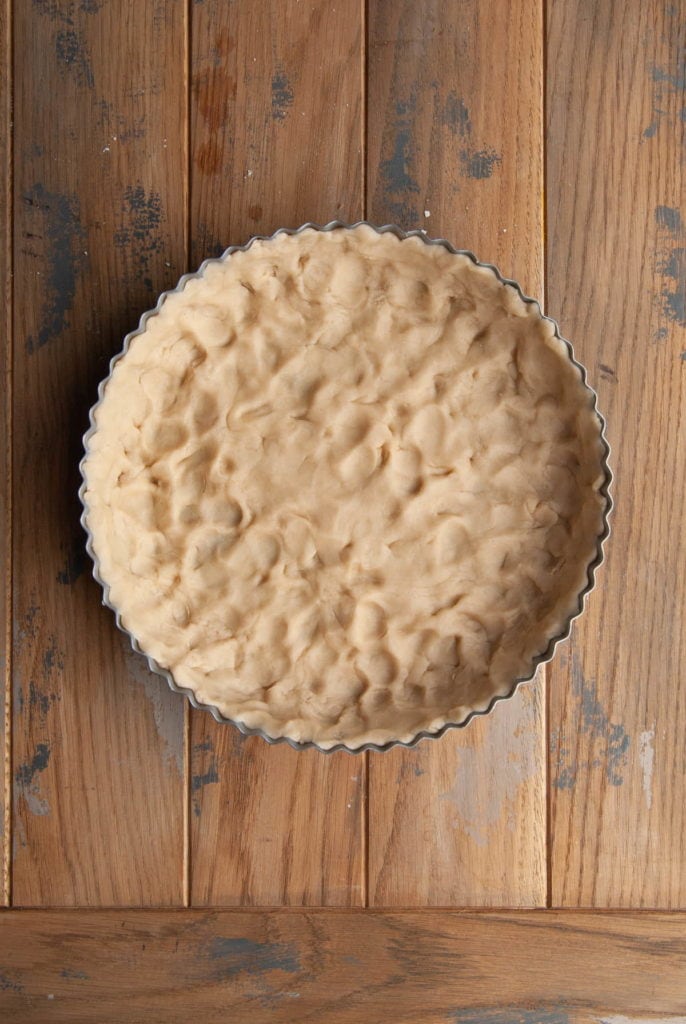 Blind Bake
Bake your crust without the filling to ensure that it stays buttery and flaky. This process is also known as "blind baking".
This process both allows the crust to bake for longer than the filling and also ensures that the filling doesn't permeate the crust dough and make it soggy.
Green tip: Look for organic and palm oil-free butter if you can. Buying organic means you are supporting farms that do not use damaging pesticides and fertilizers, and palm oil production is a huge driver behind deforestation.
Apple and Cheddar Quiche Filling
---
---
Grab the Filling Ingredients
This includes the ingredients for the quiche filling as well as the apple topping.
While choosing your apples, grab a variety that has a nice balance of sweet and tart. I would advise against something too tart (like Granny Smith) or too sweet (like Fuji).
My favorite varieties for this quiche are Ruby Frost, Honey Crisp, and Macintosh.
Here's everything else you'll need:
Eggs. Whisked until smooth.
Milk. For a creamier quiche.
Nutmeg. To seamlessly meld together the salty and sweet flavors.
Red onion. For flavor and crunch.
Rosemary. For earthiness.
White cheddar cheese. What's a quiche without cheese?
Apples. The star of this dish.
Butter, brown sugar, and cinnamon. To make a paste to brush on your apples for the perfect finish.
Prep Your Ingredients
Using a block of cheese and shredding it yourself may be worth the extra step!
Pre-shredded cheese has extra preservatives to keep the shreds from sticking together.
Green tip: Food preservatives, like pesticides, are harmful to the environment. They contain toxins that are harmful to plants, animals, and soil. Homemade food with all-natural ingredients that allows you to avoid preservatives lowers your ecological footprint.
Dice your red onion and your rosemary now, too.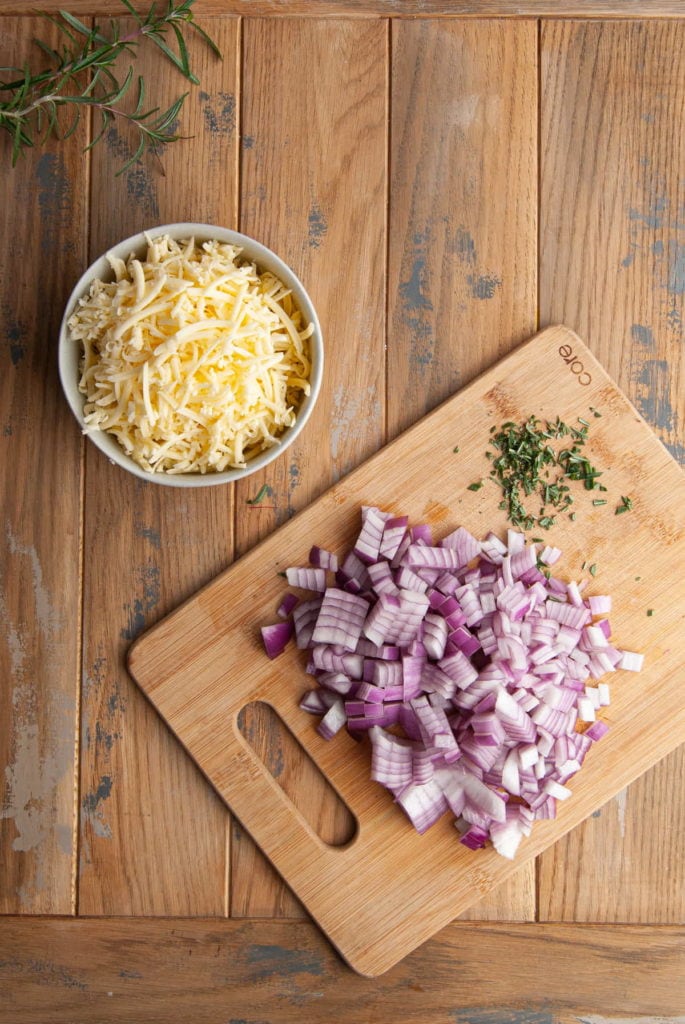 Use a Whisk
Combine your eggs and milk with a whisk. Beat until silky and smooth.
Starting off with a velvety egg mixture makes for a super-luxe quiche filling.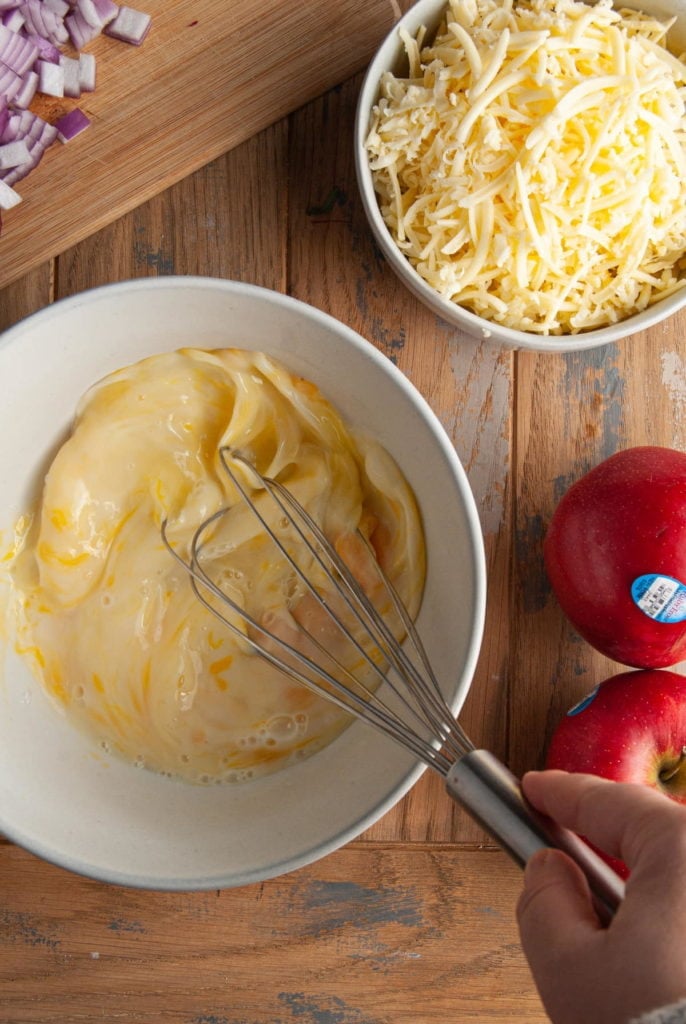 Throw Your Fillings In
Mix the nutmeg, shredded cheese, diced red onion, and diced rosemary to your egg mixture and combine well.
You want the flavorful fillings to be as evenly-distributed as possible throughout your quiche crust.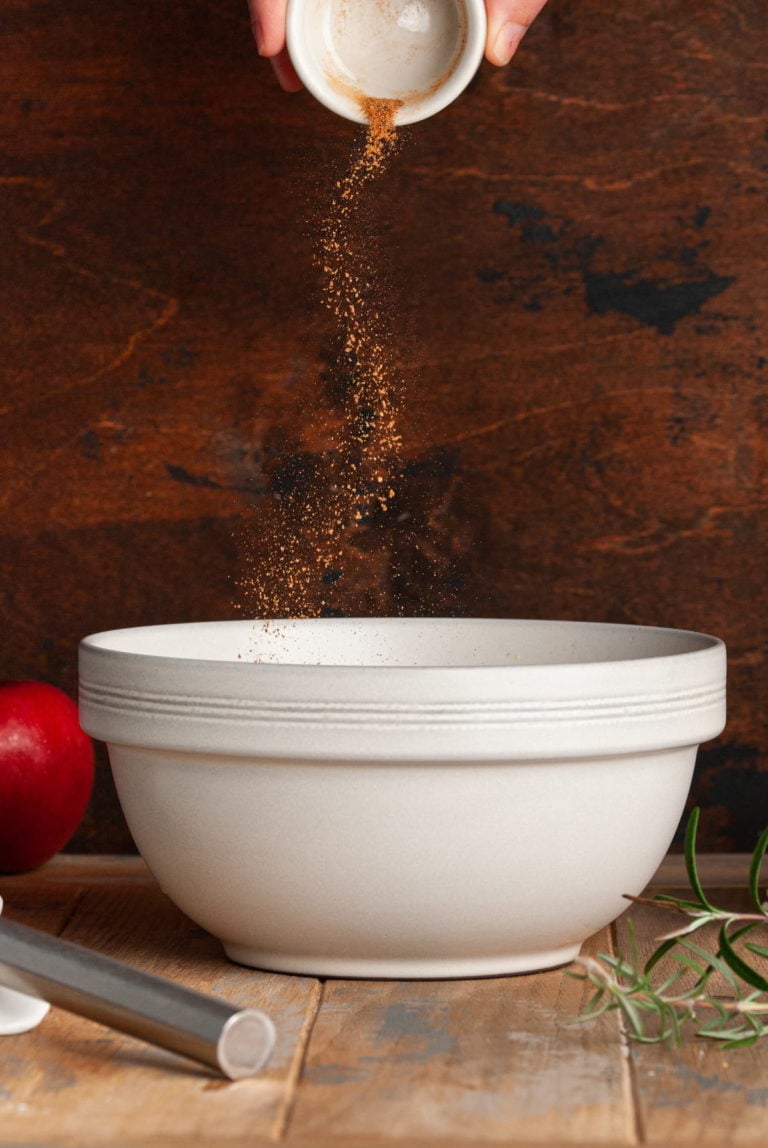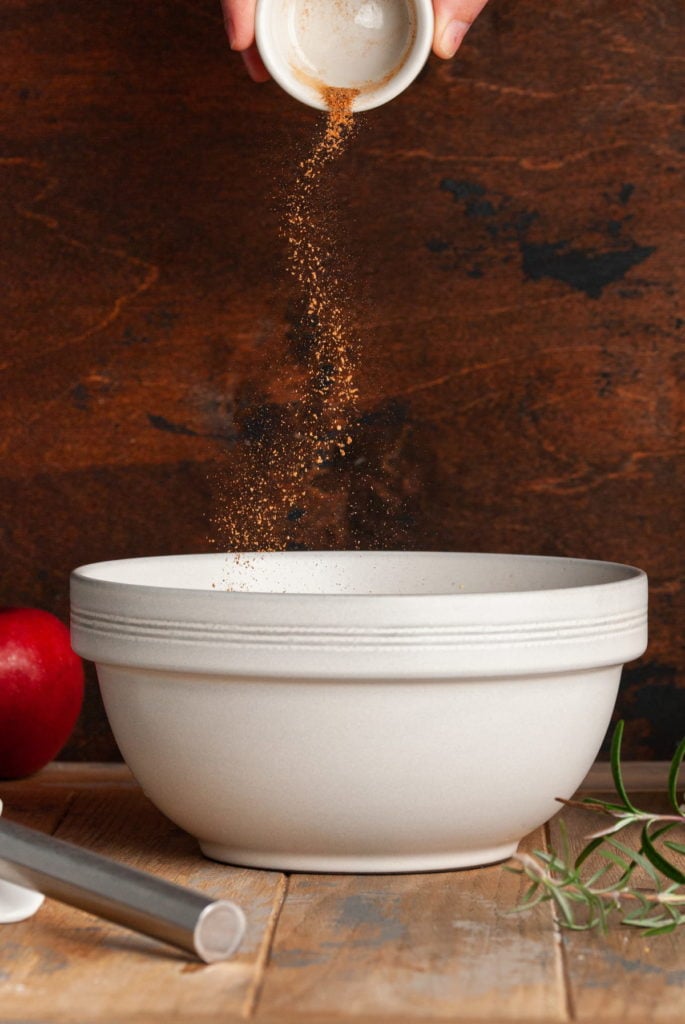 Fill Up Your Crust
Pour your loaded egg mixture into your blind-baked pie crust.
Lightly spread it around with a spatula or wooden spoon to evenly distribute the filling without disturbing the half-baked crust.
Apple and Cheddar Quiche Apple Topping
---
---
Slice Your Apples Thin
The easiest way to get those beautiful apple slices is by slicing the apple around the core into three parts.
Then, you can lay those three parts flat, peel the side up, and make thin slices, about 1/2 an inch thick.
Two full apples should provide enough slices to cover your quiche fully.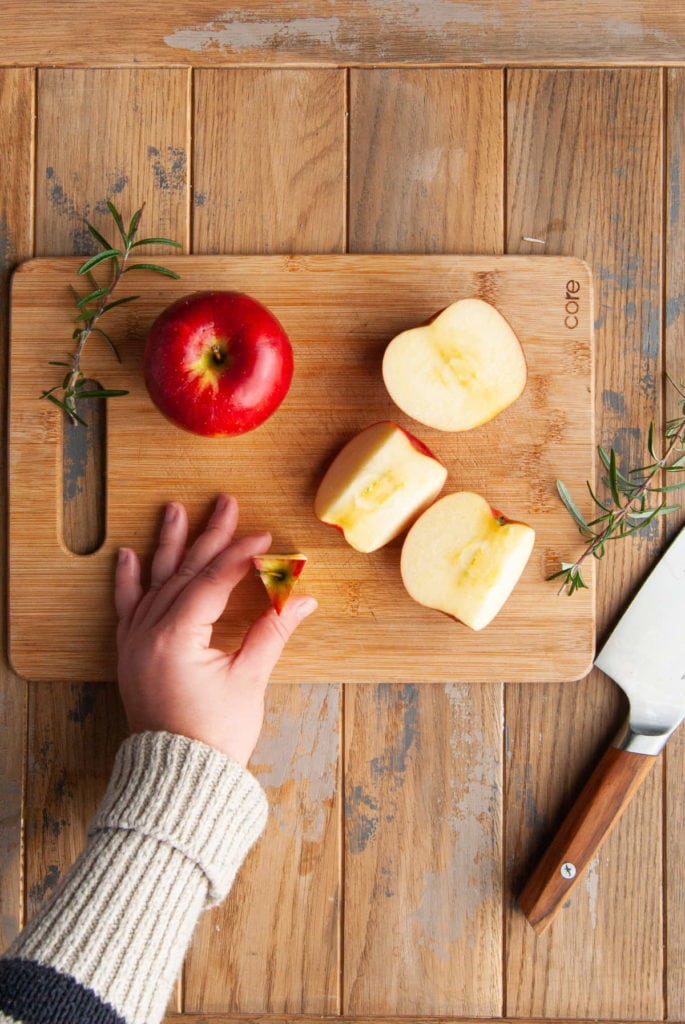 Arrange Your Apples
Start by laying a layer of apples on top of the quiche filling, fanning around the outermost circumference of your dish.
Then, lay your next row of apple silces towards the center, so that all of the quiche filling is covered by apple slices as pictured below.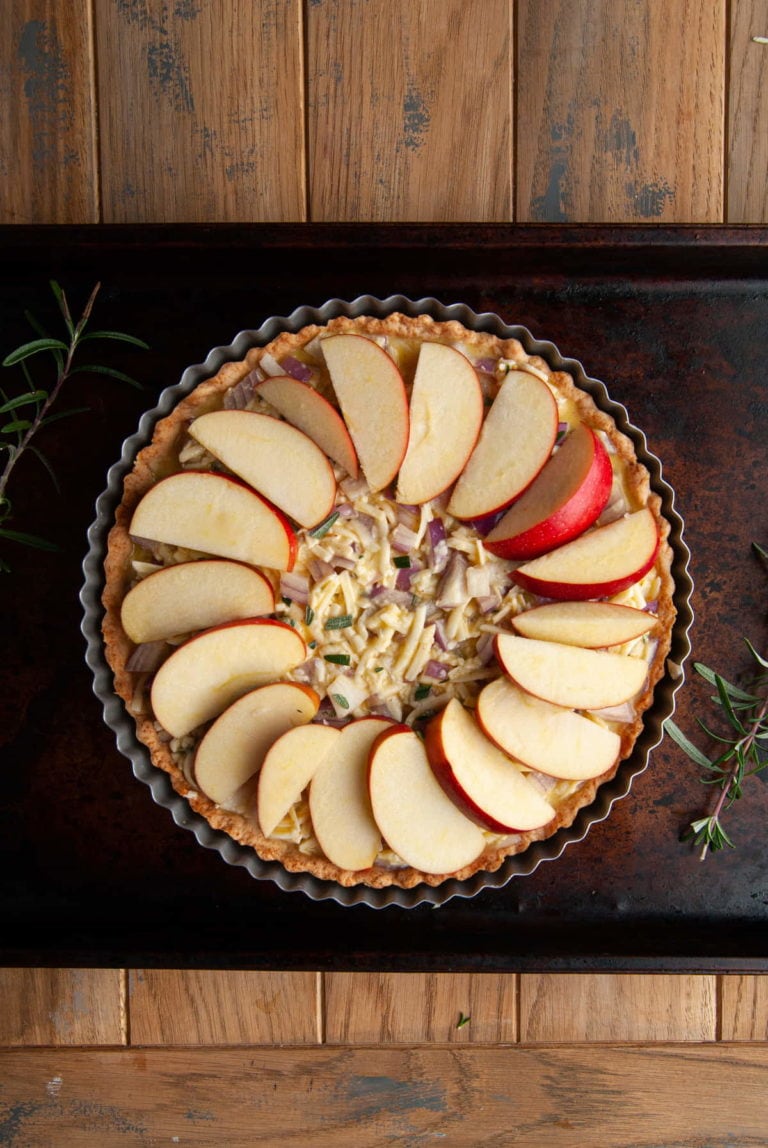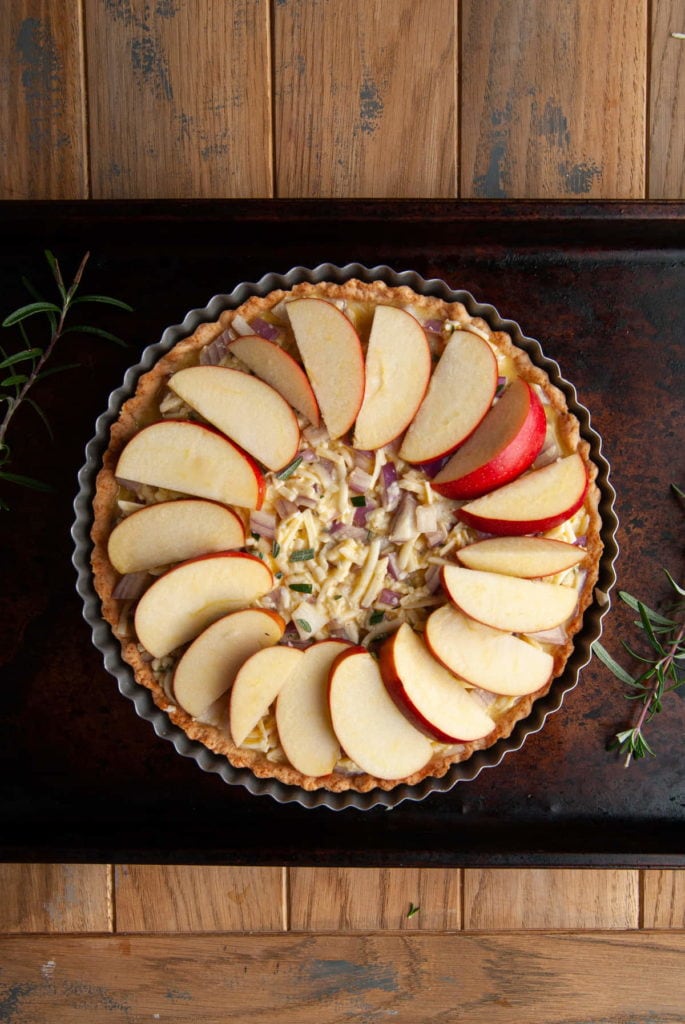 Add an Extra Touch of Sweetness
Mix together the melted butter, cinnamon, and brown sugar and brush the mixture on top of the apples.
This will soften the apples and bake them into the perfect cinnamon-y sweet topping.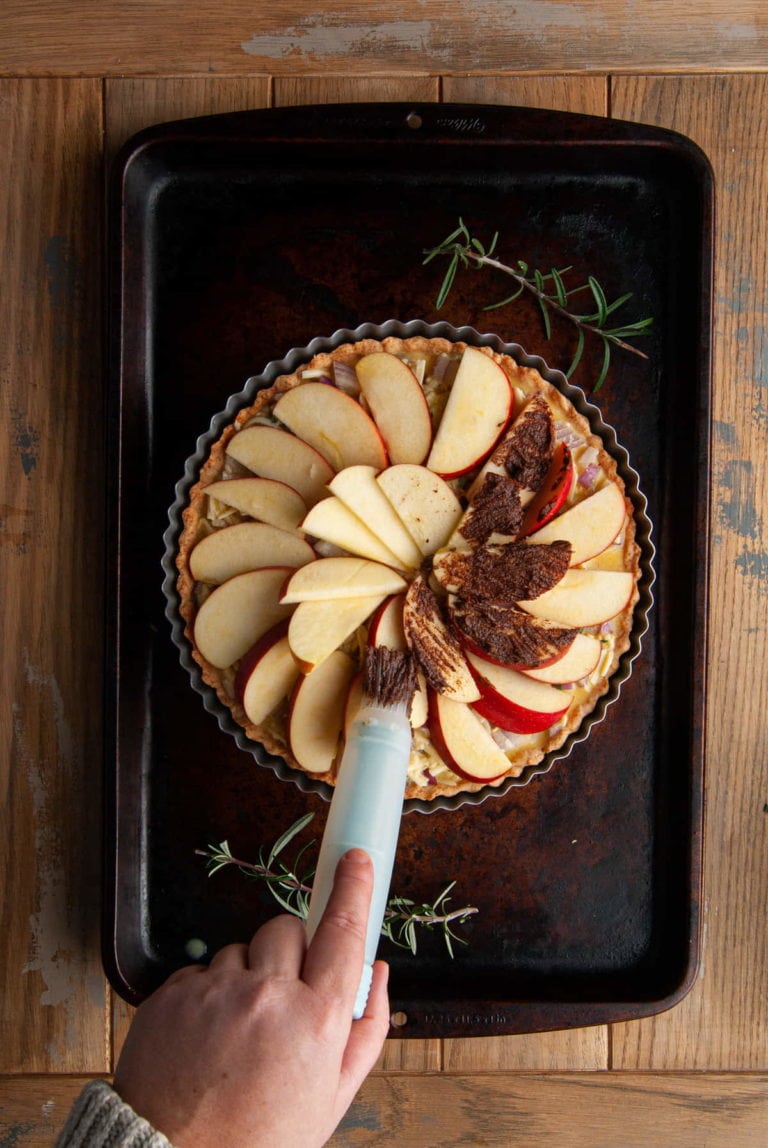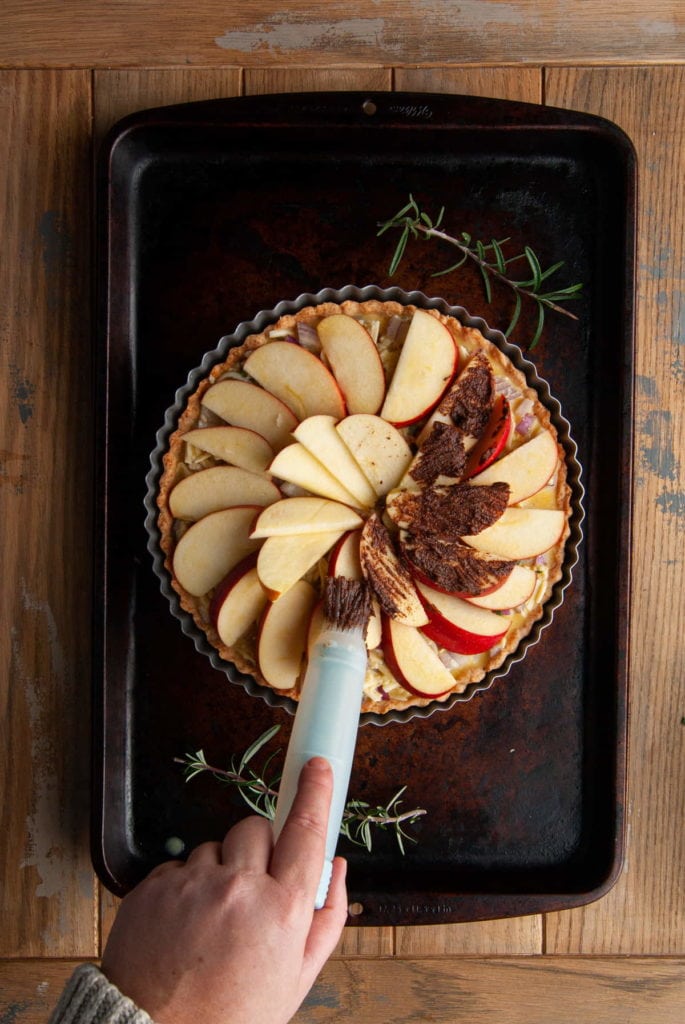 Bake it Again
If you are using a quiche or tart dish with a removable bottom, place it on top of a baking sheet to ensure there is no leaking. Otherwise, place your dish directly on the top rack.
Bake for 1 hour- 1 hour and ten minutes until filling is firm and apples are soft.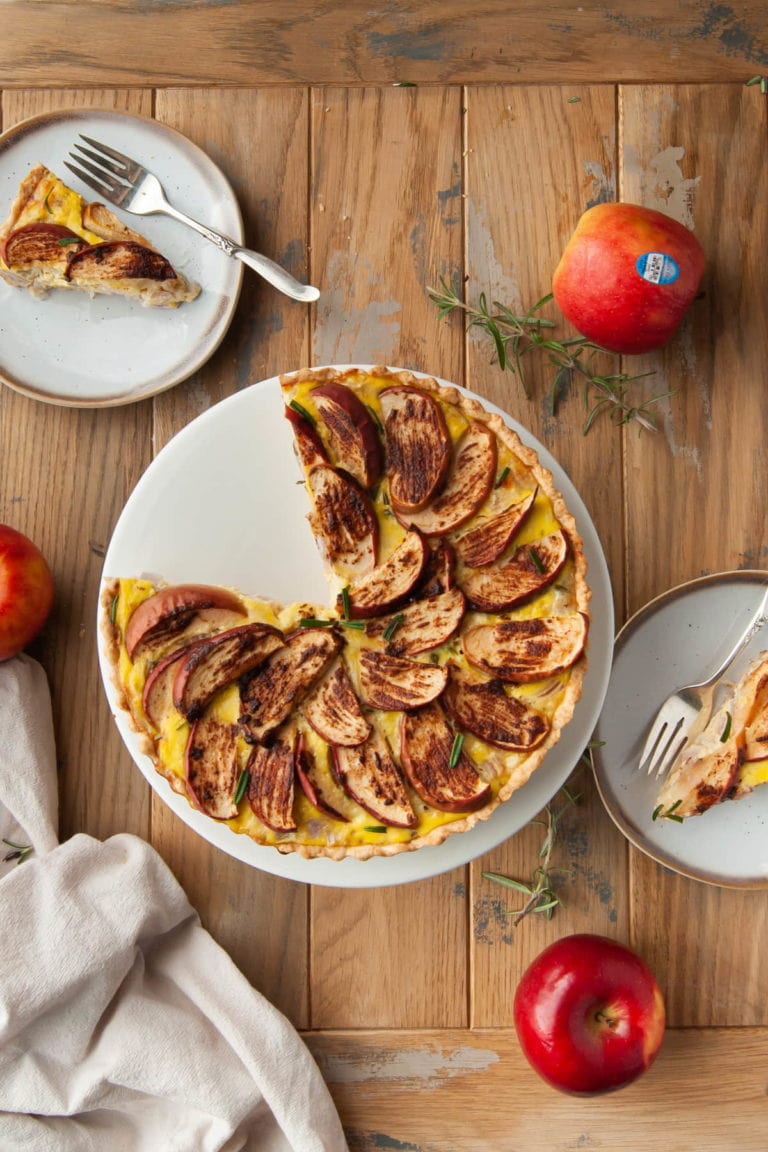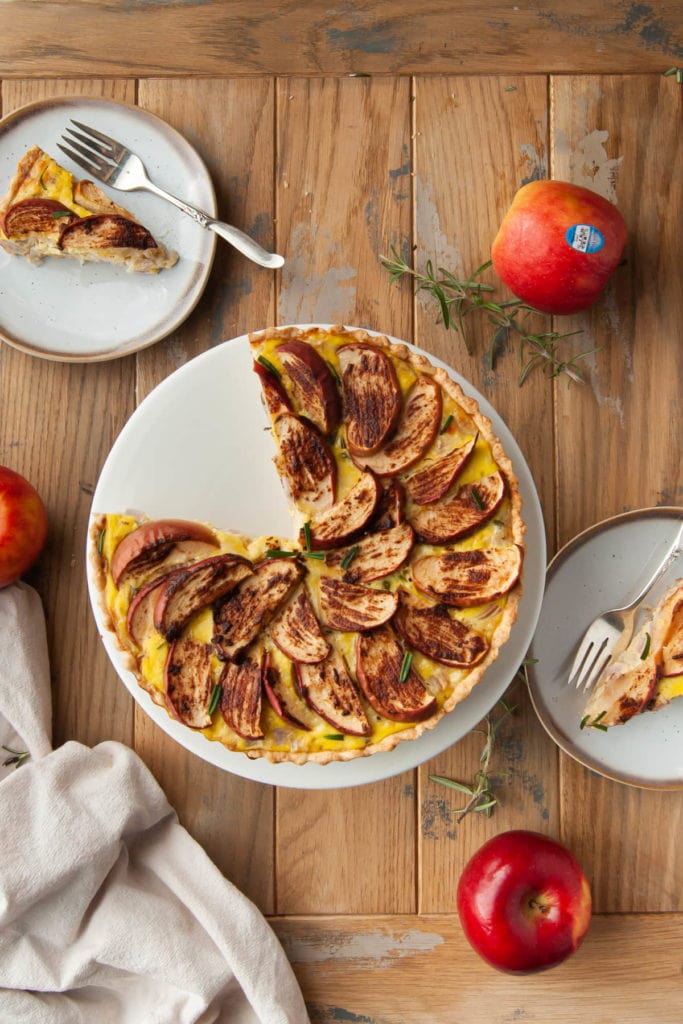 Should You Have Leftovers
This quiche feeds 8, so you may have leftovers! The great news is it will last covered in the refrigerator for 3-4 days.
You can reheat in the oven at 400°F for 10-15 minutes until heated through. If you want to reheat an individual serving, you can cover and microwave for 2-3 minutes, until heated through.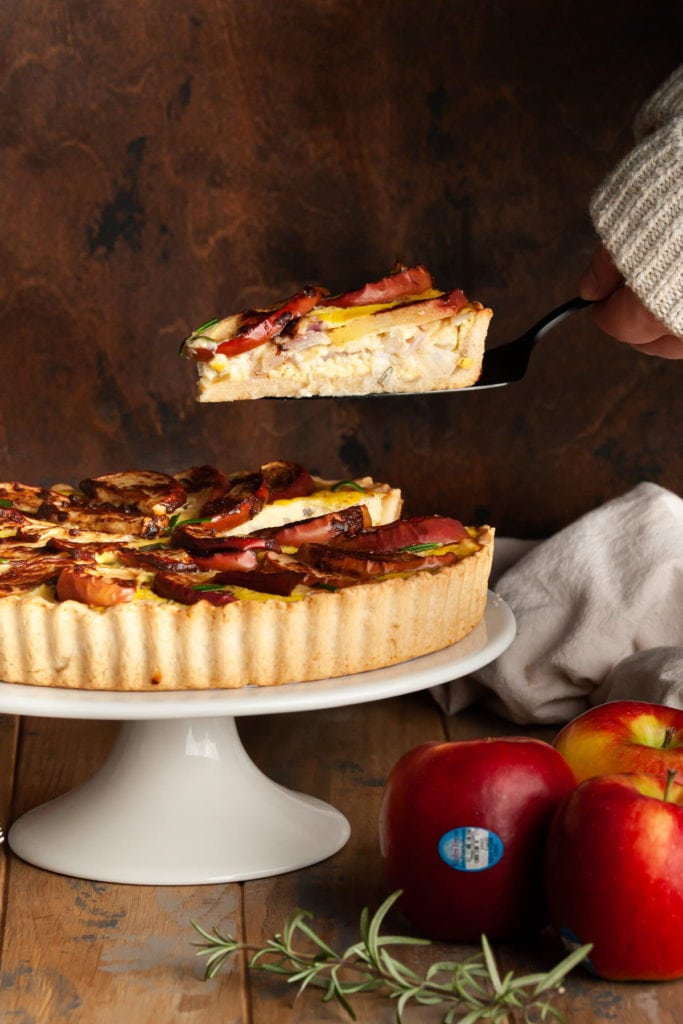 Apple and Cheddar Quiche Frequently Asked Questions
---
---
What cheeses are best for quiche?
Commonly, you will find cheddar, gruyere, gouda, and/or swiss in quiches. You can also create a delicious quiche with goat cheese and feta.
Can I use milk instead of heavy cream in a quiche?
Absolutely! Quiche recipes will generally call for cream, buttercream, or milk to make them creamier. They can all be used interchangeably with similar success.
Why You Should Make this Apple and Cheddar Quiche
---
---
It's unique. It may surprise you how well cheese and apple pair together.
It's balanced. The perfect balance of savory and sweet.
It's a showstopper. The beautiful topping will wow your eyes and your tastebuds.
If you're loving this Apple and Cheddar Quiche, and looking for another showstopper brunch idea that feeds the whole family, check out this Savory French Toast Casserole.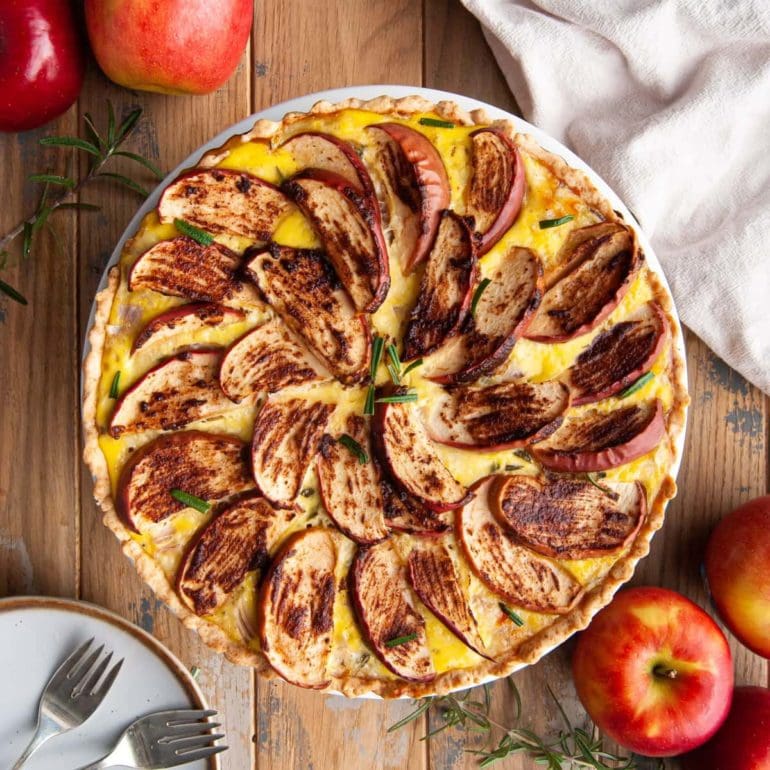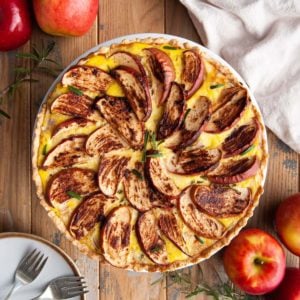 Showstopping Apple and Cheddar Quiche
PRINT
PIN
RATE
This Apple and Cheddar Quiche is the perfect fusion of savory and sweet atop a flaky, buttery crust. A true showstopper that will feed the whole family!
Ingredients
Apple and Cheddar Quiche Crust
1 ½

cup

all-purpose flour

½

cup

unsalted butter, frozen

(½ cup usually = 1 stick)

1

tablespoon

brown sugar

¼

teaspoon

salt

¼

cup

cold water
Apple and Cheddar Quiche Filling
4

large

eggs

½

cup

milk

(dairy or unsweetened non-dairy)

1

small

red onion, diced

8

ounces

white cheddar cheese, shredded

2

sprigs

fresh rosemary, diced

¼

teaspoon

ground nutmeg
Baked Apple Topping
2

large

apples, sliced (a variety that's both sweet and tart)*

(* see note below)

2

tablespoons

unsalted butter, melted

2

teaspoons

brown sugar

1

teaspoon

cinnamon
Instructions
Apple and Cheddar Quiche Crust
Preheat your oven to 400°F.

Add the flour, butter (make sure it's cold!), brown sugar and salt to a blender (or food processor) and process on high.

While the blender is on, add ice-cold water to the blender, and watch as your dough comes together. As soon as your dough is formed, turn the blender off.

Remove the blade and pour the dough into a 9.5-inch quiche, tart, or pie dish.

Use clean hands to press the dough into the dish, moving outward and up the side of the dish, keeping the thickness as even as possible around the dish.

Bake without the filling for 10-15 minutes until the crust is firm.
Apple and Cheddar Quiche Filling
Bring oven temperature down to 325°F.

In a large bowl, whisk together eggs and milk until smooth.

Add onion, cheese, rosemary, and nutmeg and stir to combine.

Pour filling mixture into crust, distributing as evenly as possible.
Baked Apple Topping
Slice the apple into three parts around the core. Lay the three pieces of apple flat, skin-side up, and cut into 1/2 inch thick slices.

Arrange the apple slices on top of the quiche filling, starting on the outside and then moving inward.

In a small bowl, mix together melted butter, brown sugar, and cinnamon. Use a pastry brush to coat each apple slice with cinnamon-sugar-butter mixture.

Bake for 60-70 minutes until the quiche is firm and the apples are tender.
Pro Tips
My favorite apple varieties for this quiche are Ruby Frost, Honey crispy, and Macintosh. Avoid too sweet or too tart.
Did you make this recipe?
Let me know by leaving a recipe rating below, or by tagging @marleysmenu on Instagram.