Looking for a Fall-flavored, but still refreshing way to kick back this season? Mix up this Apple Cider Spiced Rum Mocktail with Ritual Rum Alternative.
With a classic apple cider base, warming spices, fresh citrus, and non-alcoholic rum, the flavors in this mocktail culminate into the perfect sip. Warming, yet refreshing. Fall, but make it Florida. 😉
Apple Cider Spiced Rum Mocktail Tips and Tricks
---
So What Is Ritual Rum Alternative, Anyway?
Ritual Zero Proof is a beverage company that uses natural botanicals to create delicious tasting, non-alcoholic spirits to use in place of their alcoholic counterparts. It gives you the option to unwind with a refreshing drink, without the after-effects of drinking alcohol.
It's calorie-free, all-natural and downright delicious. The rum alternative uses warm vanilla, toasted spice, orange and toffee to capture the essence of dark rum.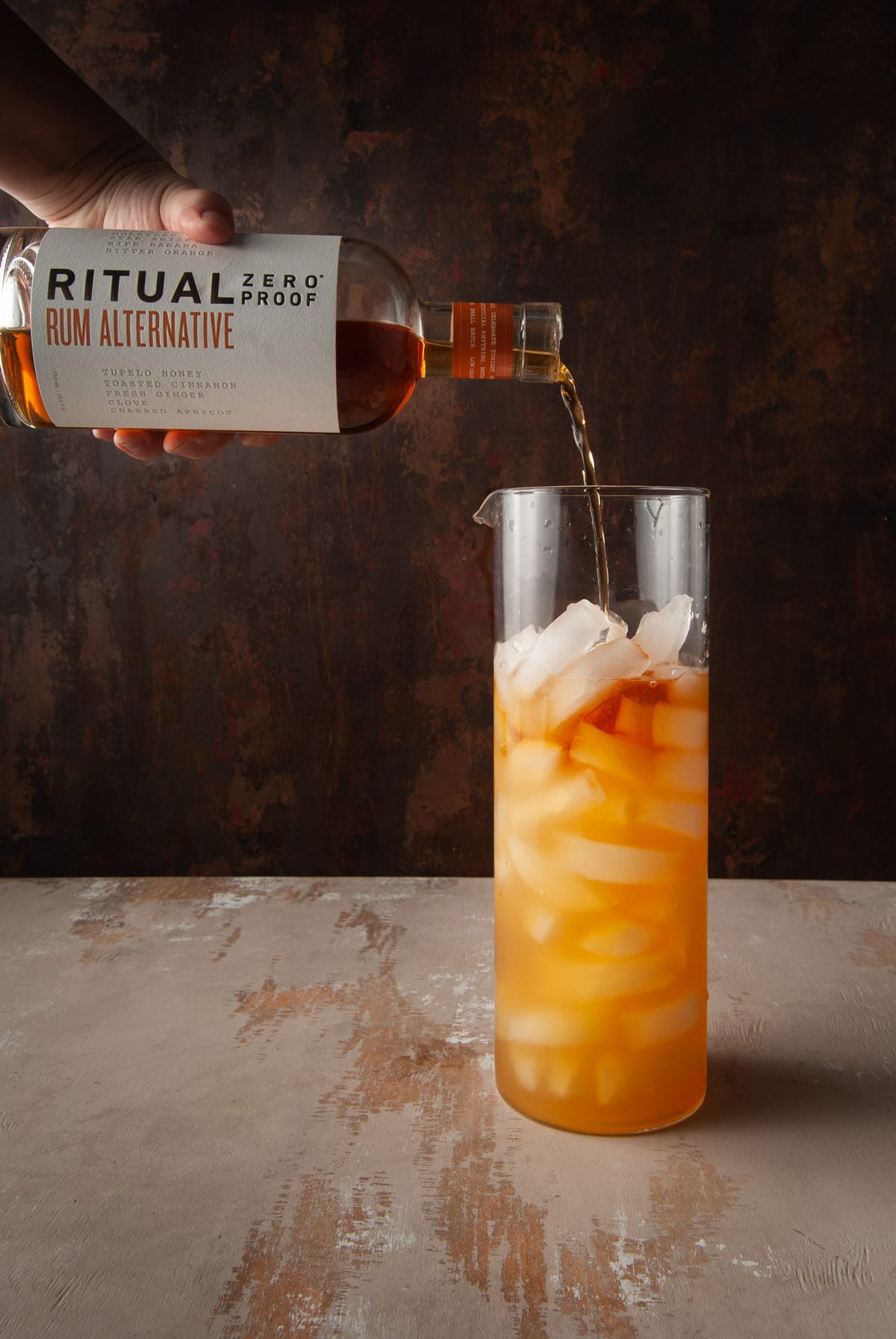 Gather Your Ingredients
Aside from your Ritual Zero Proof Rum Alternative, you'll just need a couple of Fall-forward spices and some fresh ingredients to make this delicious mocktail.
Here's everything else you need:
Consider Cinnamon-ing Your Rim
This part is optional, but if you want the ultimate mocktail experience, it's highly recommended! It's simple to do. Just slice your orange in half and use it to wet the rim of your glass.
Run the inside of the orange around the edge of the rim. Then, dip it into cinnamon, a combo of cinnamon + sugar, or pumpkin pie spice.
You can put the salt on a plate, in a shallow bowl, or easiest of all—use a cocktail rimmer. I like to serve these in an Old Fashioned glass.
Consider Making a Big Batch
This recipe is intended to serve two. I like to make a big batch so the spices and liquids can all blend together beautifully.
You can easily half the recipe to prepare a mocktail for one, but this concoction is easy to save for later, so may as well mix another one up for tomorrow!
Use A Fresh Orange
Sure, orange juice will work in a pinch. But the addition of fresh citrus here is a game-changer.
It adds a much-needed freshness to this otherwise super warming spiced cider mocktail. You can squeeze the juice into the pitcher and stir with the rest of the ingredients, or you can finish off your individual serving with a squeeze of fresh juice.
Should You Have Leftovers
This recipe makes about 2 large mocktails. If you have leftovers, don't chuck them out! Just strain the liquid out of the ice and cover or put it in an airtight container for about 2 weeks.
That way, the ice won't melt and water it down.
Green tip: Did you know that of the billions of pounds of food wasted annually, it is estimated that 50% of it happens in our homes? It's always best to avoid food waste as much as you can!
If you're looking for other ways to use Ritual Rum Alternative, check out this Blueberry Mojito Mocktail.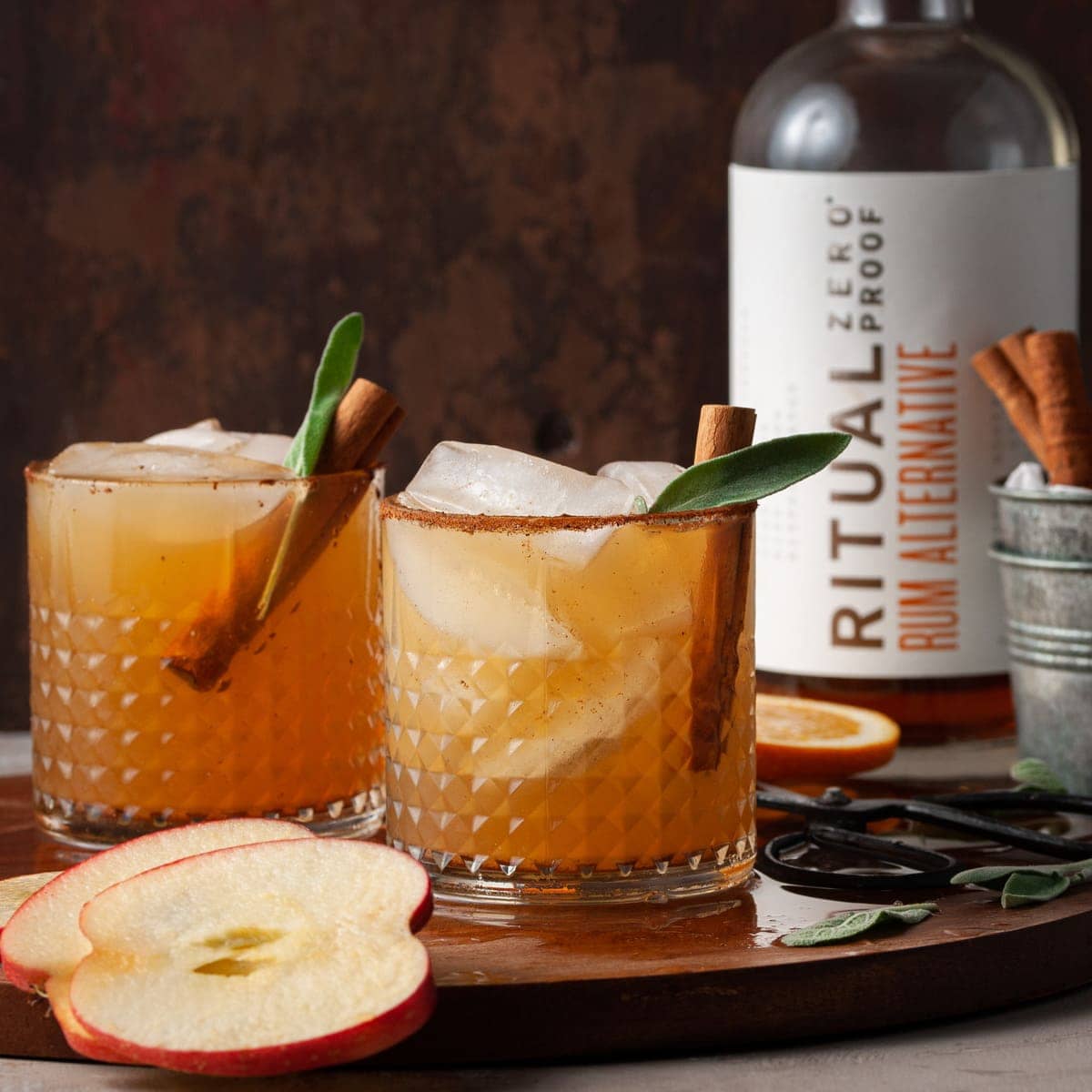 Why You Should Make this Apple Cider Spiced Rum Mocktail
---
It's Fall, but fresh. You still get those warming spices, but with a refreshing finish!
It's fun! All the benefits of your cocktail ritual without the lousy after-effects.
It's easy! Add all the ingredients together, stir, voila!
If you're loving this Apple Cider Spiced Rum Mocktail and looking for other mocktails using Ritual Zero Proof, check out this Strawberry Daiquiri Mocktail and Non-Alcoholic Hot Toddy with Ritual Whiskey Alternative.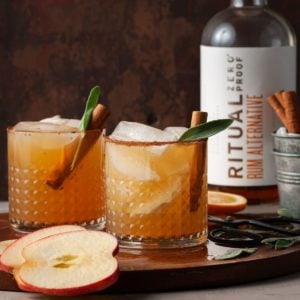 Apple Cider Spiced Rum Mocktail with Ritual Rum Alternative
PRINT
PIN
RATE
This Apple Cider Spiced Rum Mocktail uses Ritual Rum Alternative, fresh citrus, plus warming Fall-forward flavors to make the best ever Autumn mocktail.
Ingredients
2

cups

apple cider

¼

teaspoon

ground ginger

¼

teaspoon

ground nutmeg

2

cinnamon

sticks

1

large

orange

1

teaspoon

cinnamon or pumpkin pie spice for rim

(optional)

sage leaf for garnish

(optional)
Instructions
Add apple cider, Ritual Rum Alternative, ground ginger, ground nutmeg, and cinnamon sticks to a pitcher or extra-large cocktail mixer with ice and stir.

Slice orange in half and run the inside of the orange along the rim of two Old Fashioned glasses. Dip the wet rim into cinnamon or pumpkin pie spice (this step is optional).

Squeeze the fresh orange juice into your mocktail and serve in a prepared glass with ice. Garnish with sage (optional) and enjoy it cold!
Pro Tips
Using a fresh orange goes a long way in this mocktail!
Did you make this recipe?
Let me know by leaving a recipe rating below, or by tagging @marleysmenu on Instagram.
This is a sponsored post by Ritual Zero Proof. Check out more recipes using their Rum Alternative.