Looking for a gourmet salad that will impress? This Arugula Burrata Salad with a homemade Basil Balsamic Vinaigrette is absolutely bursting with flavor, texture, and freshness!
Plus, it comes together quickly, requires less than ten ingredients, and is extremely easy to whip up. This arugula-based salad will quickly become your go-to when it comes to gourmet-level salads at home.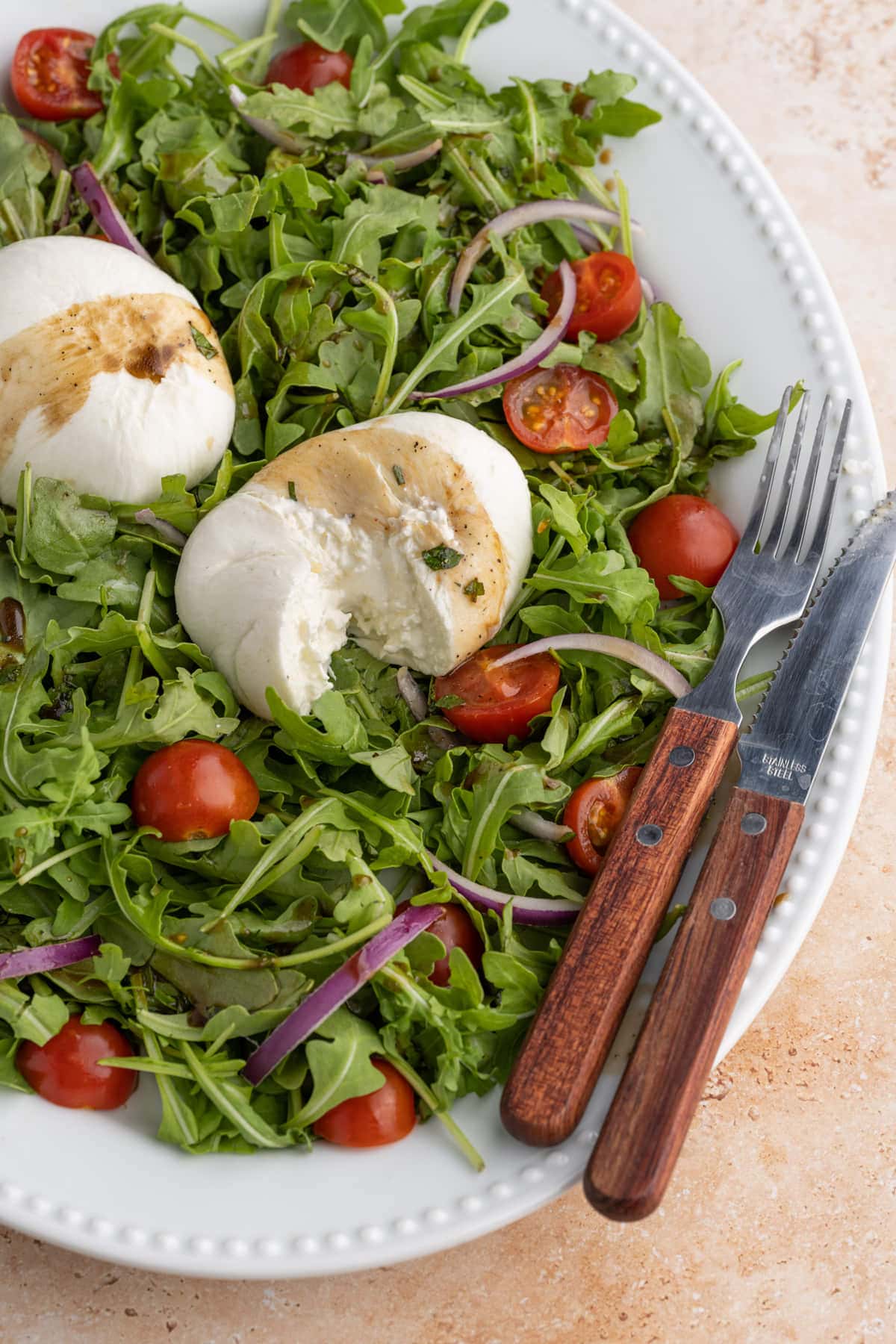 As an environmental scientist, I always try to stick to seasonal eating! It's one of the easiest (and most delicious!) ways to support local farmers and improve your carbon footprint.
Green tip: Seasonal and local foods have less associated transportation costs and fuel emissions. Check when arugula is in season in your area with this Seasonal Food Guide.
Arugula Burrata Salad Ingredients
---
Here's everything you need:
Arugula. It has a distinct peppery taste that works really well with the subtle sweetness from the vinaigrette and tomatoes.
Cherry tomatoes. They add so much flavor, color, and texture to this salad.
Red onion. For an earthy taste and distinct crunch that ties together the savory and sweet ingredients perfectly.
Burrata. The ultimate in texture for cheese lovers that elevates this salad to gourmet status.
Olive oil & balsamic vinegar. The base to your homemade vinaigrette.
Honey. Or maple syrup to lean into the natural sweetness of the vinegar.
Basil. It adds a freshness, brightness, and herbaceous taste to the vinaigrette.
Salt & pepper. To season and ramp up all the other flavors.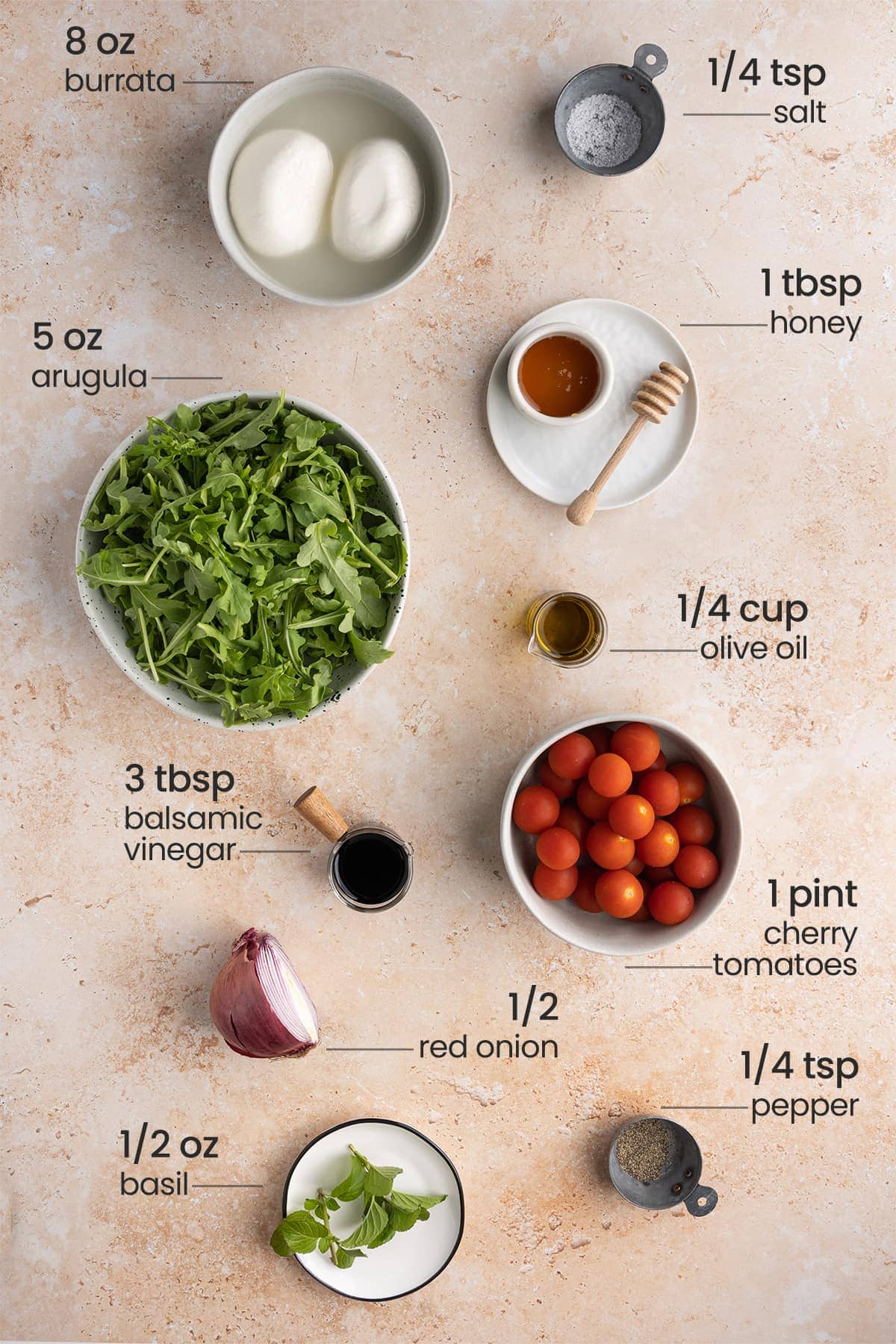 Additional Add-in Ideas:
Snow peas
Bell peppers
Raisins or Craisins
Sliced avocado
Sliced apple
Grapes
Olives or capers.
Hemp seeds or chia seeds
What is burrata?
Burrata cheese is mozzarella cheese wrapped around a rich cream that culminates into a super delicious cheese with contrasting textures.
When you slice into the outer layer of mozzarella, the center is exposed, lending the creamiest texture that cheese has to offer. Overall, the cheese has a mild flavor, making it a great cheese to pair with a zesty sauce or bold vinaigrette.
It generally comes suspended in a liquid to keep it fresh. This liquid is mostly just a mixture of water and whey and is completely edible. You can add it to smoothies, sauces or use it in place of water in your baking.
Burrata is best served at room temperature. Consider taking it out of the refrigerator 15-20 minutes before assembling your salad.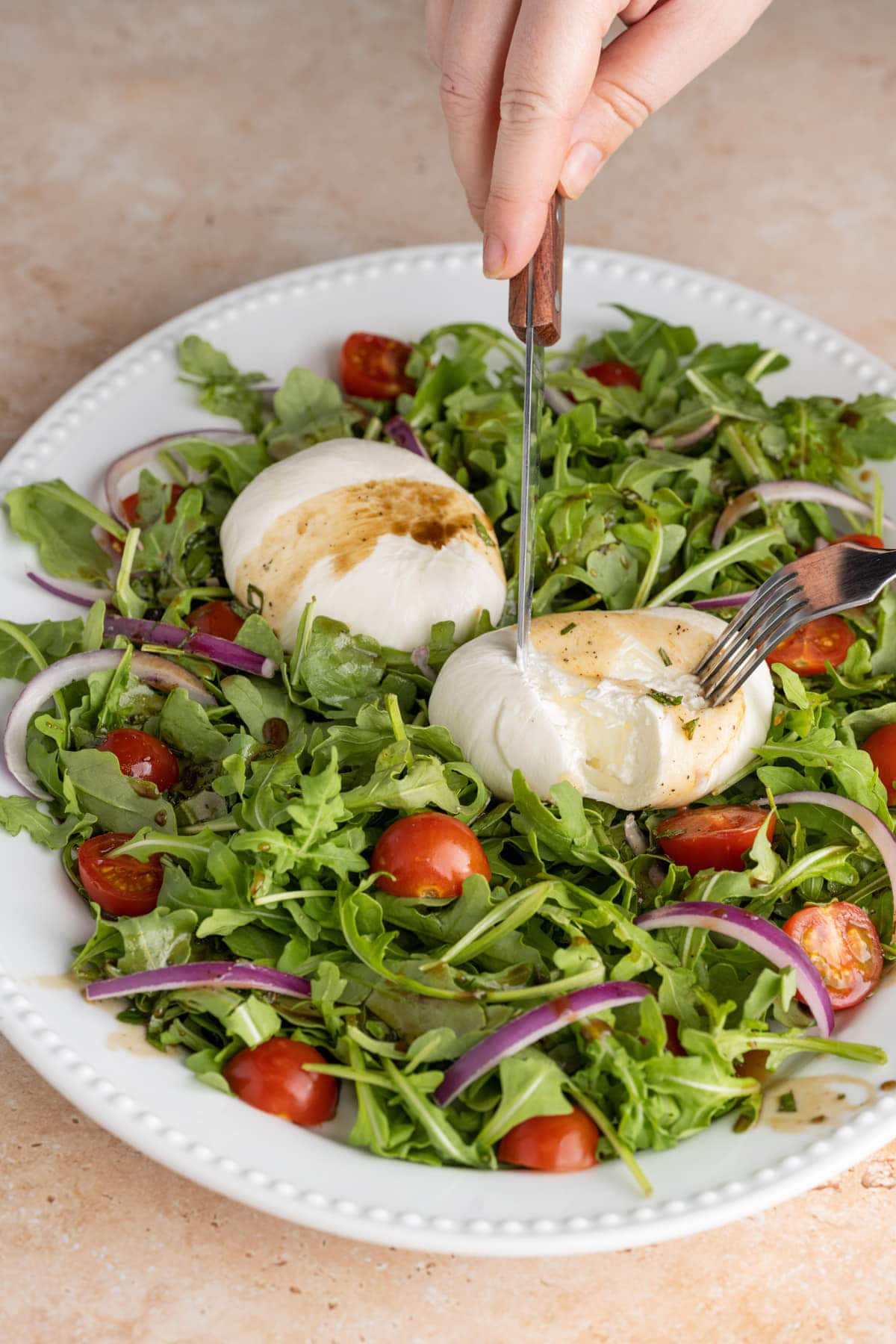 Burrata Arugula Salad Tips and Tricks
---
How to Easily Slice Red Onion for Salad
This recipe calls for just half of one red onion. Once you slice your red onion in half next to the bulb, it should be pretty easy to peel it and slice it thin.
Here's a simple step by step on the easiest way to slice your halved red onion:
Step 1: Chop both ends off the onion and discard them.
Step 2: Peel back the outermost layer of the onion and discard that, too.
Step 3: Lay the half of onion flat on your cutting board and slice as thin as possible.
Step 4: Separate all of the layers of the sliced onion until you are left with individual, thin slices for your salad.
Note that the peels and cores of your red onion can be saved to make vegetable broth, or you can easily compost them.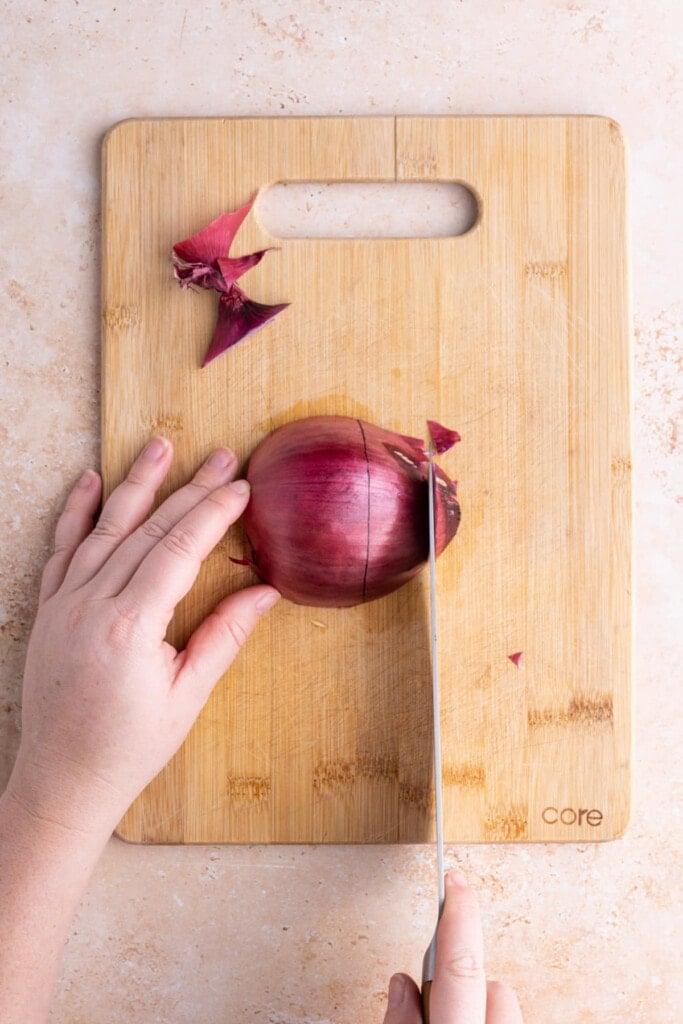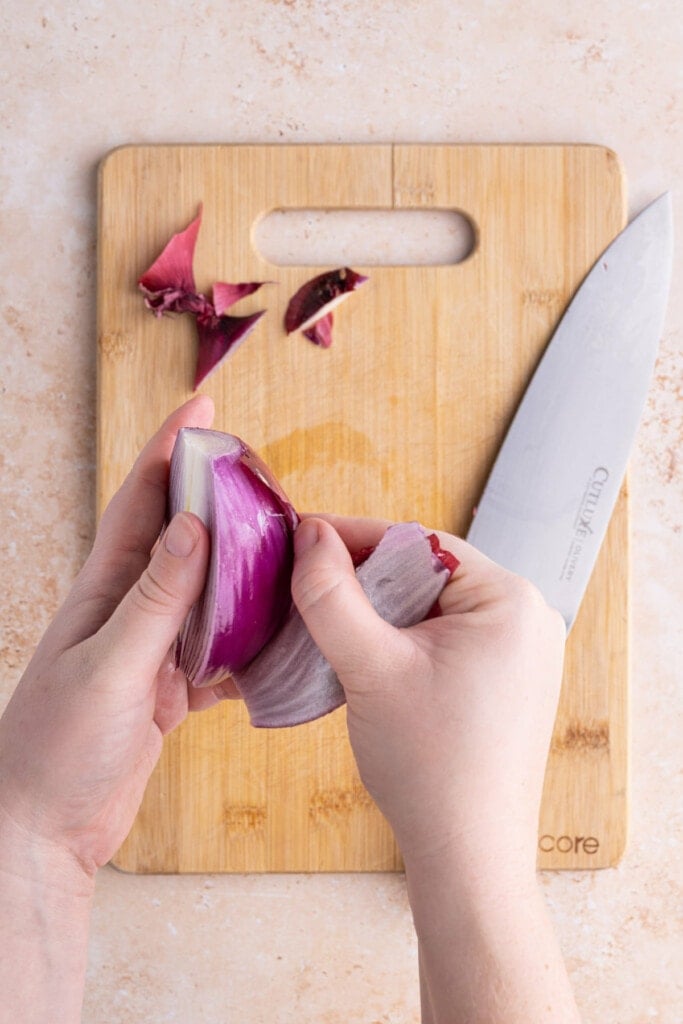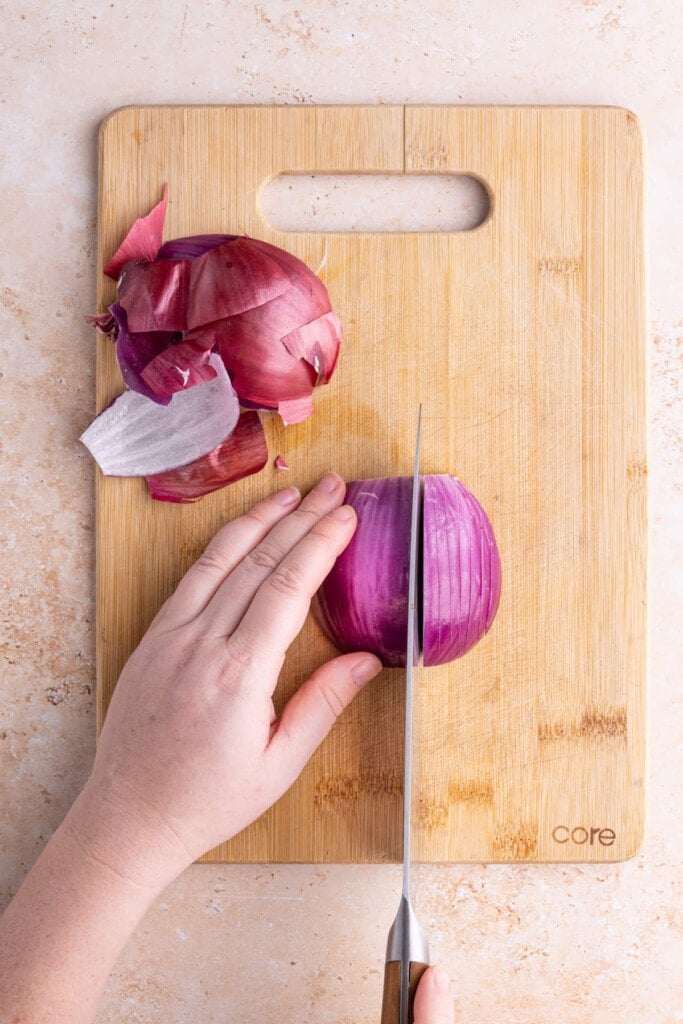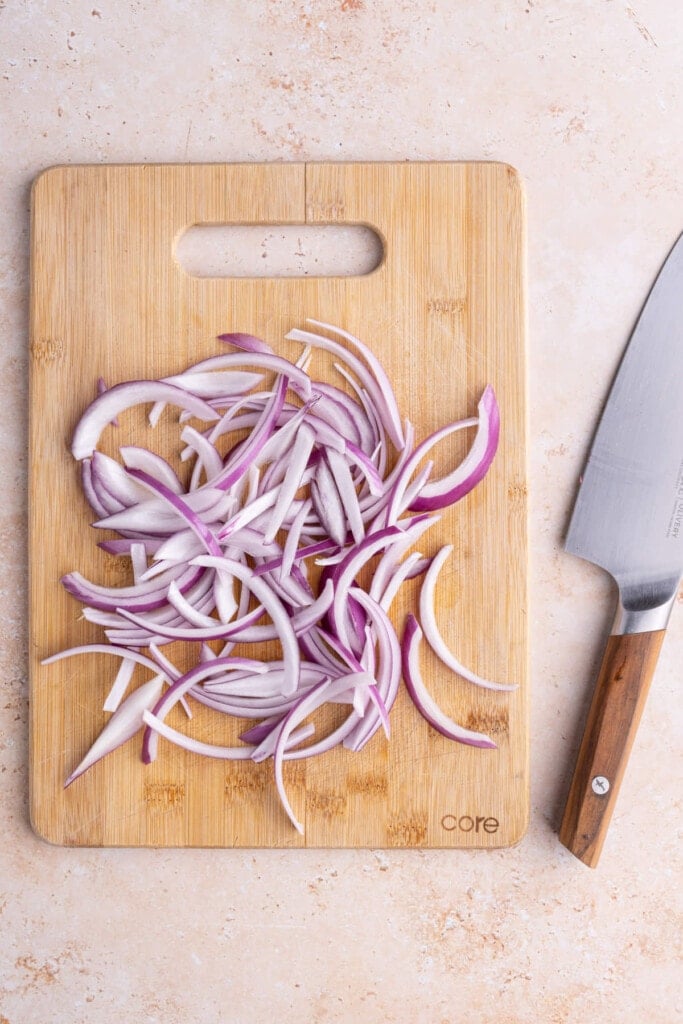 How to Prep Grape Tomatoes for Arugula Salad
After rinsing your grape (or cherry) tomatoes, all that's left to do is simply slice them in half lengthwise.
In order to easily slice tomatoes, you need your knife to effortlessly pierce the tough tomato skin. If your knife isn't extremely sharp, then it's best to use a serrated knife.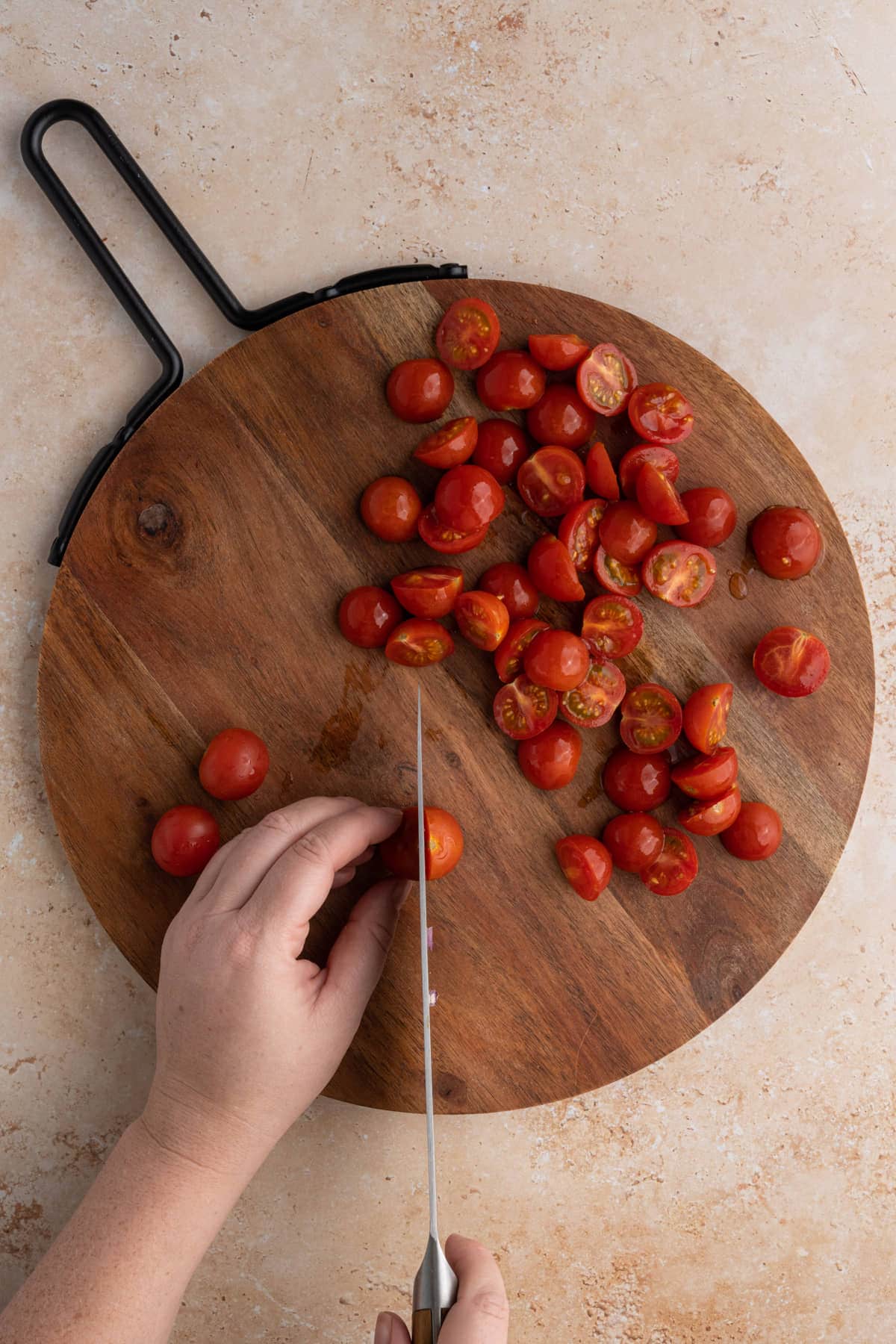 Assembling Your Burrata Arugula Salad
Mix your homemade arugula salad in a large salad bowl or serving platter. Start with the fresh arugula and add the sliced red onion and tomato.
Toss or spread the add-ins throughout the arugula. The idea is to get every flavor and texture in each bite.
As for the burrata, place it on top whole and intact. It's best to cut into the burrata just before serving.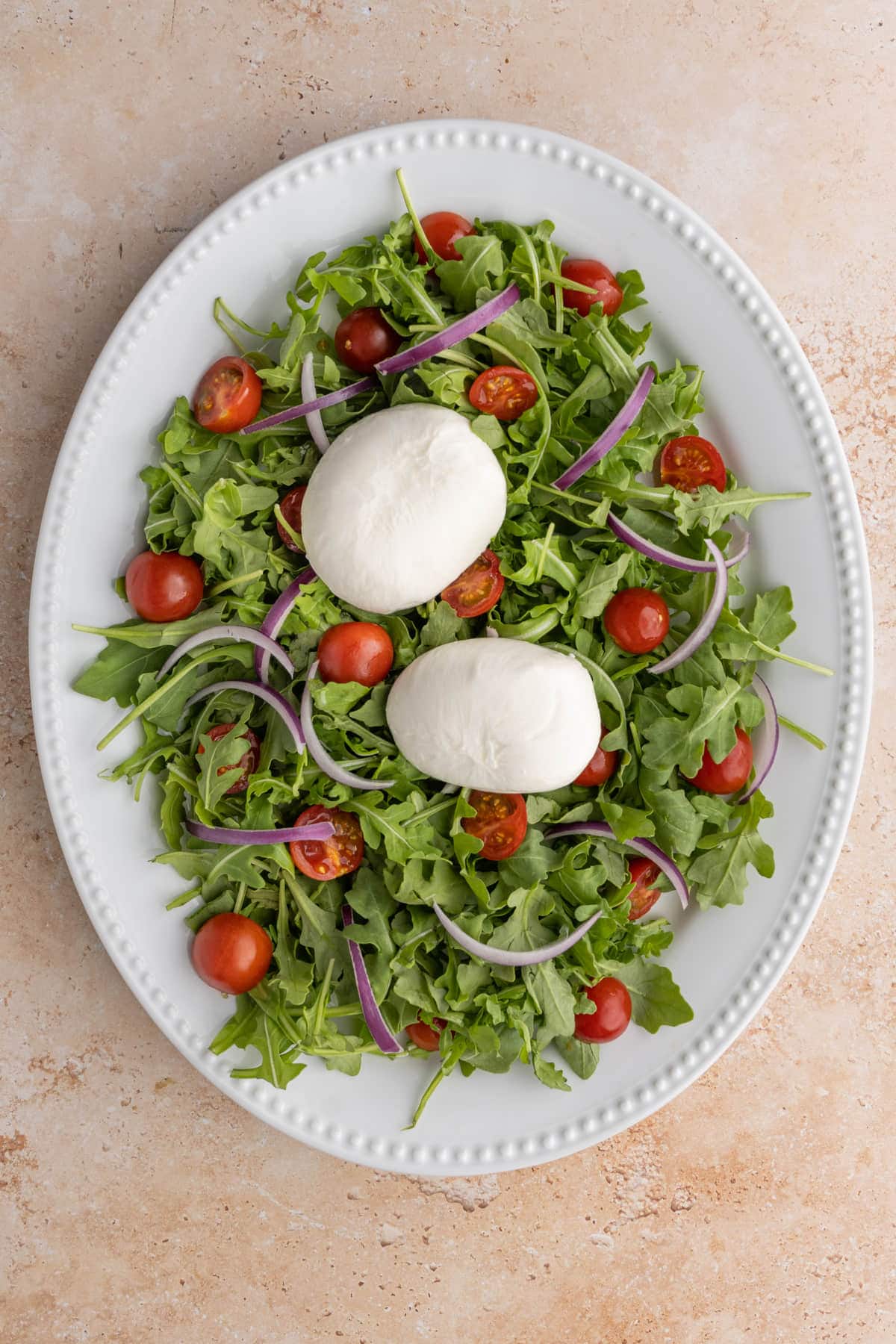 How To Easily Chop Basil for Vinaigrette
If need be, rinse your basil and set it aside to dry, or for a quicker dry, you can use clean kitchen towels to pat off the excess moisture.
Layer your basil leaves on top of one another. Then, roll the basil leaves up into a long cylinder. This just effectively bunches the basil together to make it easier to chop all at once.
Use a sharp knife to slice into the layered basil, chopping it into small pieces to add to the Basil Balsamic Vinaigrette.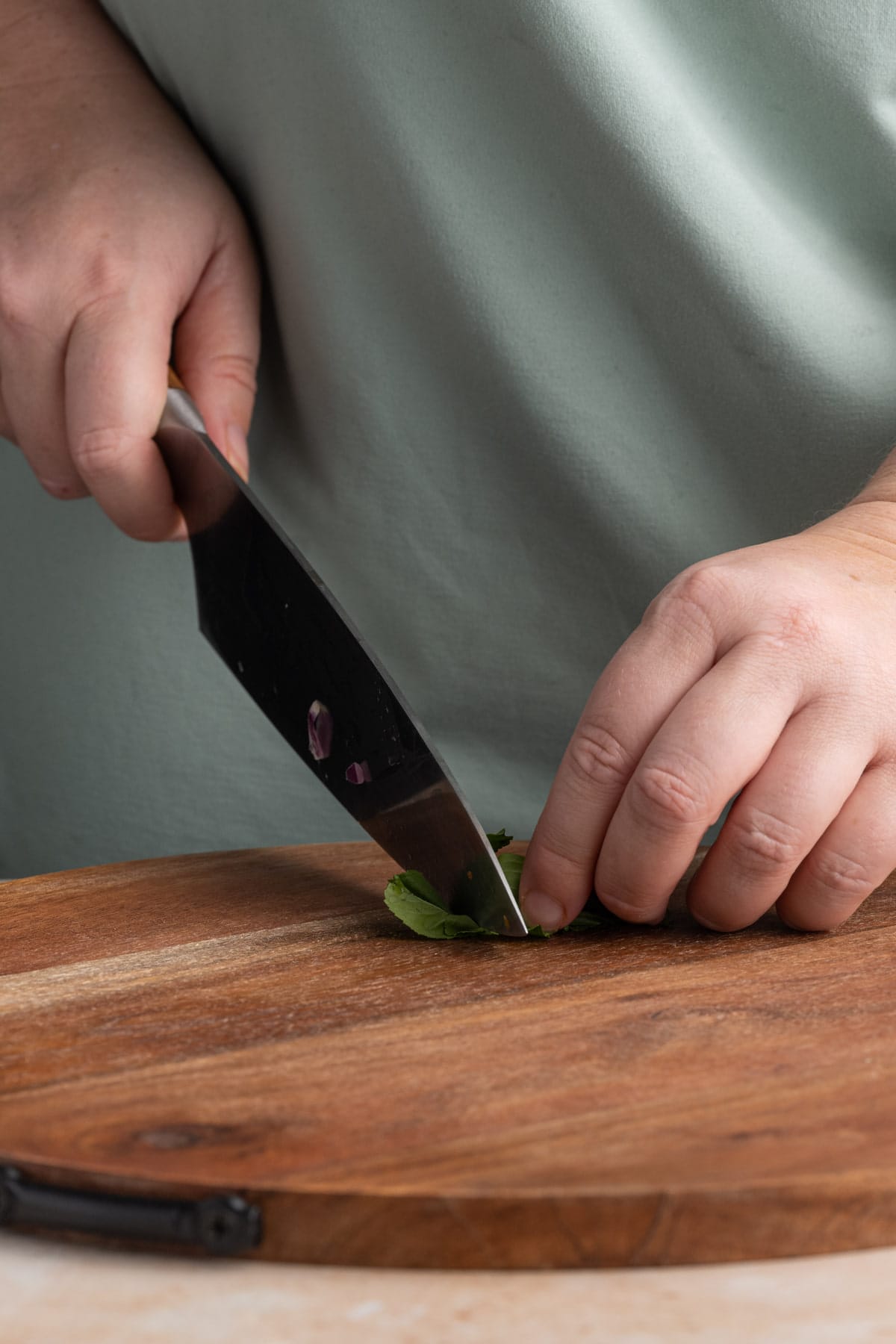 How to Emulsify Homemade Vinaigrette
As you may know, oil and vinegar do not combine easily. When they do mix, it creates an emulsion, which has a nice, thick, and almost creamy texture.
I find that the easiest way to combine the oil and vinegar is by adding to a glass jar that has a snuggly fit lid and shaking it until it emulsifies.
Add the freshly chopped basil, oil, balsamic vinegar, honey, salt, and pepper to your jar, secure the lid, and shake vigorously to combine.
Alternatively, if you don't have a jar, you can add your homemade vinaigrette ingredients to a mixing bowl and whisk to combine.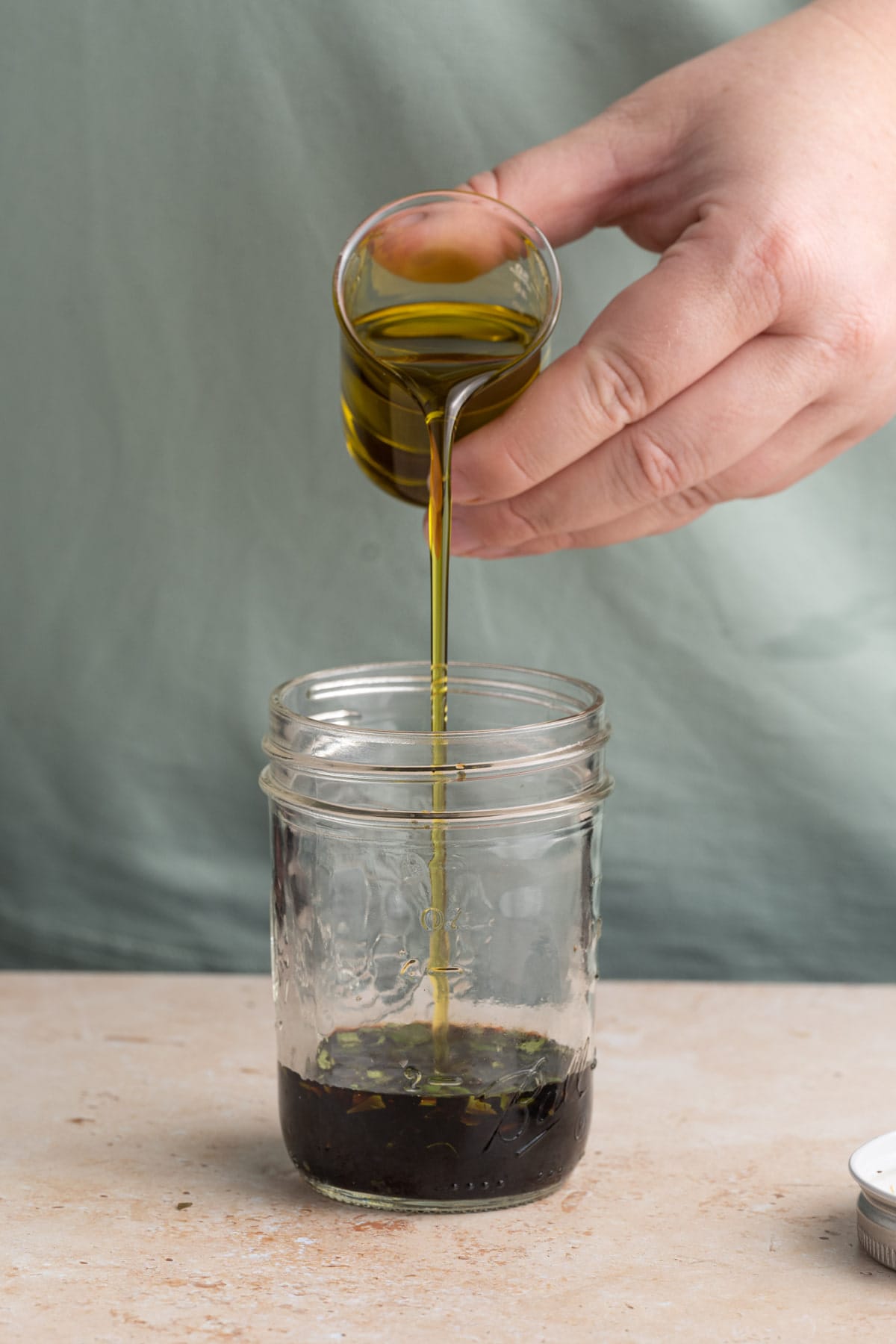 Always Dress the Salad Right Before Serving
I highly recommend serving the Balsamic Vinaigrette with Basil on the side and allowing each individual to dress their own salad. This is for a few reasons. One, some people may like more dressing on their salad than others.
Plus, the longer the salad sits with the vinaigrette on it, the more likely it is to get soggy.
And finally, leftover salad that is not yet dressed will last much longer in the refrigerator than salad that is already dressed.
If you do wish to dress the whole salad, you can use up all of the vinaigrette. This recipe is designed to make just the right amount for this salad recipe.
Additional Serving Ideas to Elevate Your Burrata Arugula Salad
This homemade salad is delicious enough as it is, but if you want to add some extra heartiness to elevate it to main dish status, consider adding roasted veggies or fish!
My favorite fish and vegetable recipes to add to this salad are: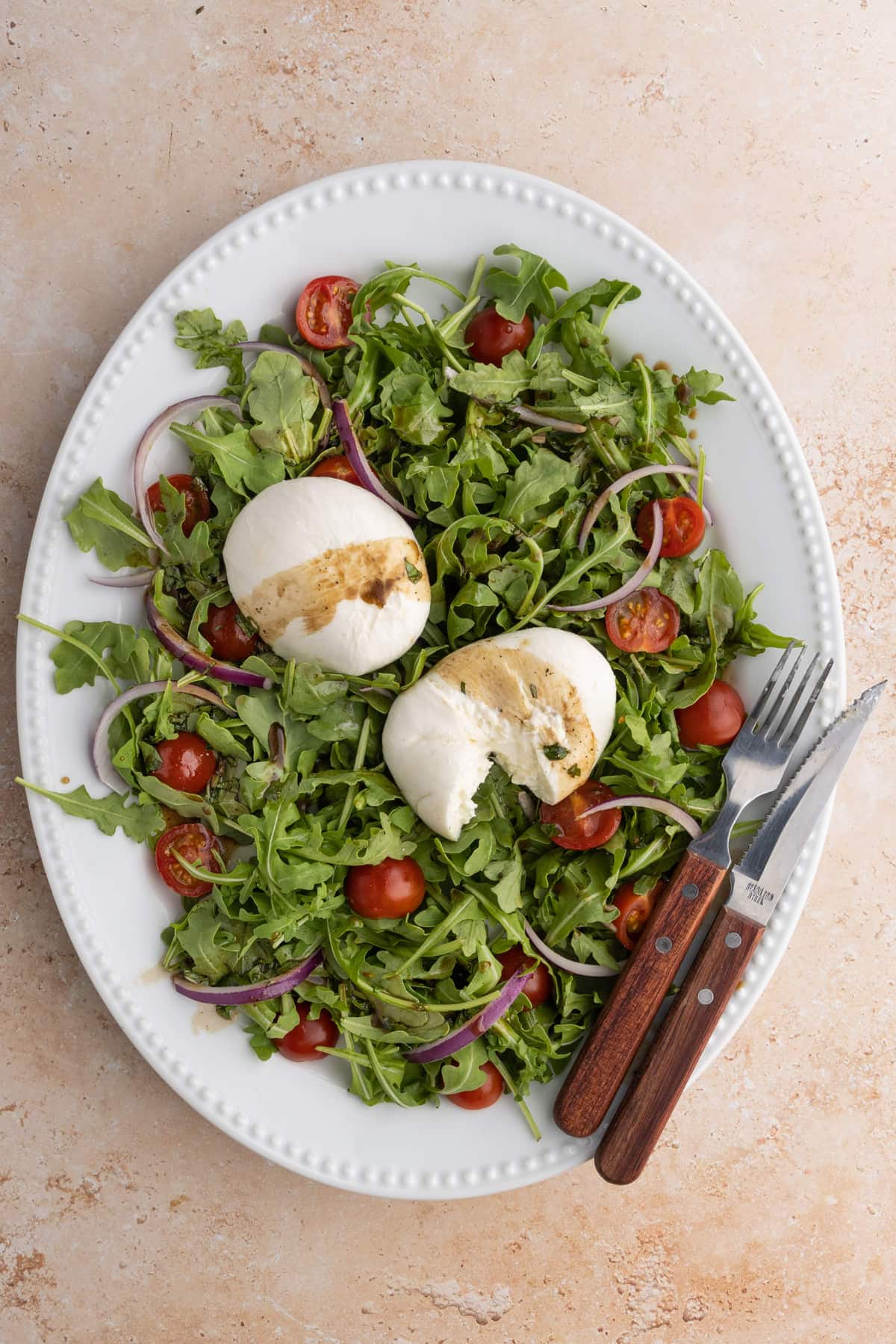 How to Store Leftover Arugula Salad with Burrata
Salad without vinaigrette will last on the counter at room temperature for up to 4 hours. In the refrigerator, it will last up to 3 days in an airtight container.
If you have leftover Basil Balsamic Vinaigrette, it can last in a sealed jar for up to 3 months.
If your salad does have vinaigrette or moisture from the burrata on it, it's best to enjoy it within a couple of hours before it gets soggy.
Green tip: Did you know that of the billions of pounds of food wasted annually, it is estimated that 50% of it happens in our homes? Reduce your contribution to food waste by properly storing and enjoying your leftovers!
Arugula Burrata Salad Frequently Asked Questions
---
What does burrata go well with?
Burrata goes well with Italian cuisine, and specifically pairs beautifully with olive oil, pesto, peaches, and tomatoes.
This Arugula Burrata Salad leans into some of these iconic pairings with a sweet basil vinaigrette and the use of fresh tomatoes.
Should burrata be served warm or cold?
Burrata is best served at room temperature, but it can also be served cold. Heating burrata dramatically alters both the taste and texture of the cheese, so it's best to avoid heating it.
To get the most out of your burrata, allow it to come to room temperature for about 20 minutes before serving.
Want to sharpen your kitchen skills?
Why You Should Make this Arugula Burrata Salad with Basil Balsamic
---
The textures! Between the crisp greens, crunchy onions, and creamy burrata, this salad has it all!
It's so fresh. Crisp salad finished with herbaceous basil vinaigrette really brings the freshness.
It's vibrant. Between the greens, tomatoes, and beautiful red onion, this salad is vibrant in both color and taste.
If you're loving this Arugula Burrata Salad and want more burrata, check out this 5-Ingredient Burrata Pesto Pasta and this Mouthwatering Rigatoni Burrata.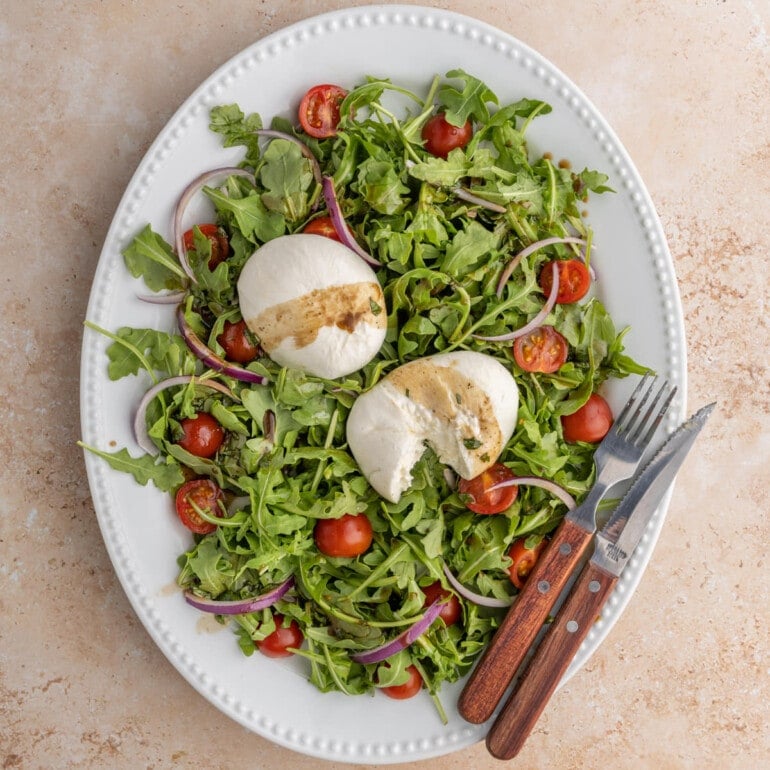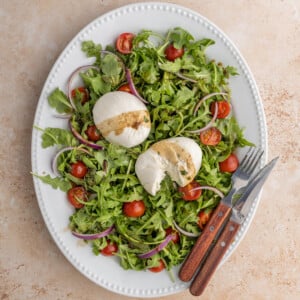 Arugula Burrata Salad with Basil Balsamic
PRINT
PIN
RATE
This Arugula Burrata Salad take a simple yet luxurious salad to the next level with a mouthwatering homemade Basil Balsamic Vinaigrette.
Ingredients
Arugula Burrata Salad
5

ounces

arugula

1

pint

cherry tomatoes

½

large

red onion

8

ounces

Burrata
Basil Balsamic Vinaigrette
½

ounce

fresh basil

¼

cup

extra virgin olive oil

3

tablespoons

balsamic vinegar

1

tablespoon

honey

(or maple syrup)

¼

teaspoon

salt

¼

teaspoon

black pepper
Instructions
Arugula Burrata Salad
Rinse and dry your leafy greens (if necessary) and grape tomatoes. Slice your tomatoes in half lengthwise and finely slice your red onion. You can also chop your basil now to use in your homemade vinaigrette.

Add the arugula, tomatoes, and red onion to a large salad bowl or large serving platter and toss to combine. Place the burrata on top and set aside until ready to dress and serve.
Basil Balsamic Vinaigrette
Add the basil, balsamic vinegar, olive oil, honey (or maple syrup), salt, and pepper to a jar fit with a lid. Close the lid tight and shake vigorously to emulsify.
Did you make this recipe?
Let me know by leaving a recipe rating below, or by tagging @marleysmenu on Instagram.