Looking for a fun tropical drink to enjoy year-round? This Bacardi Rum Punch is sweet, boozy, and perfect for any occasion!
With the tropical flavors of pineapple and rum at the forefront, this drink also utilizes orange juice, lime and grenadine to give you all the fruity punch flavors in one sip!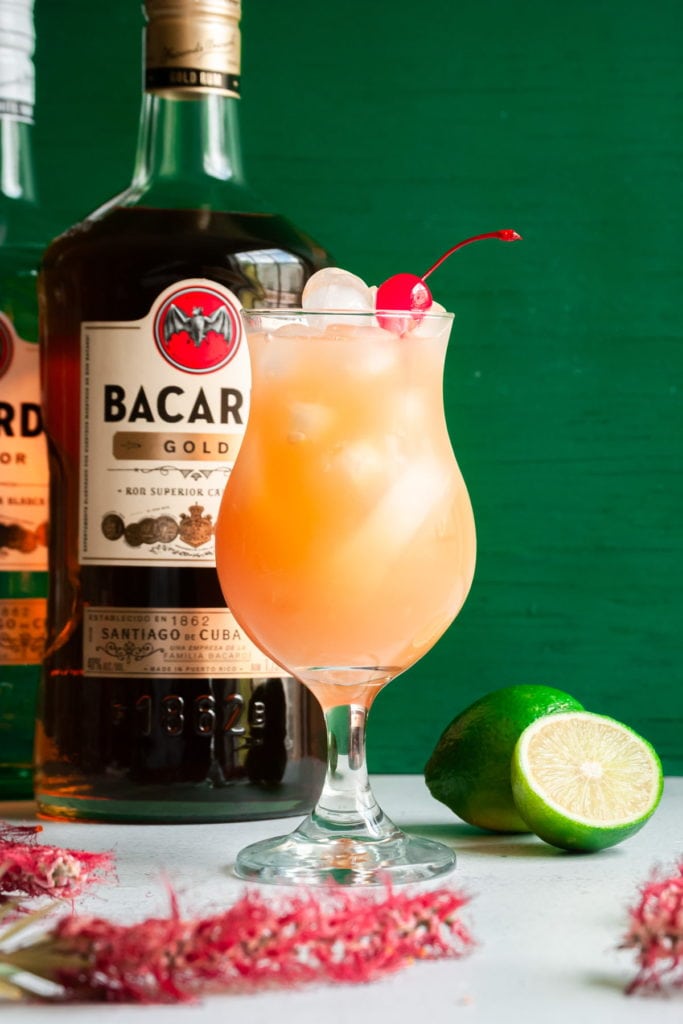 Bacardi Rum Punch Tips and Tricks
---
---
Grab Your Ingredients First
It's always best to make sure you have everything you need before you get going! Notice this cocktail recipe calls for two different types of rum.
The maraschino cherries are for garnish, so they are optional, but highly recommended for the complete experience! Here's everything you'll need: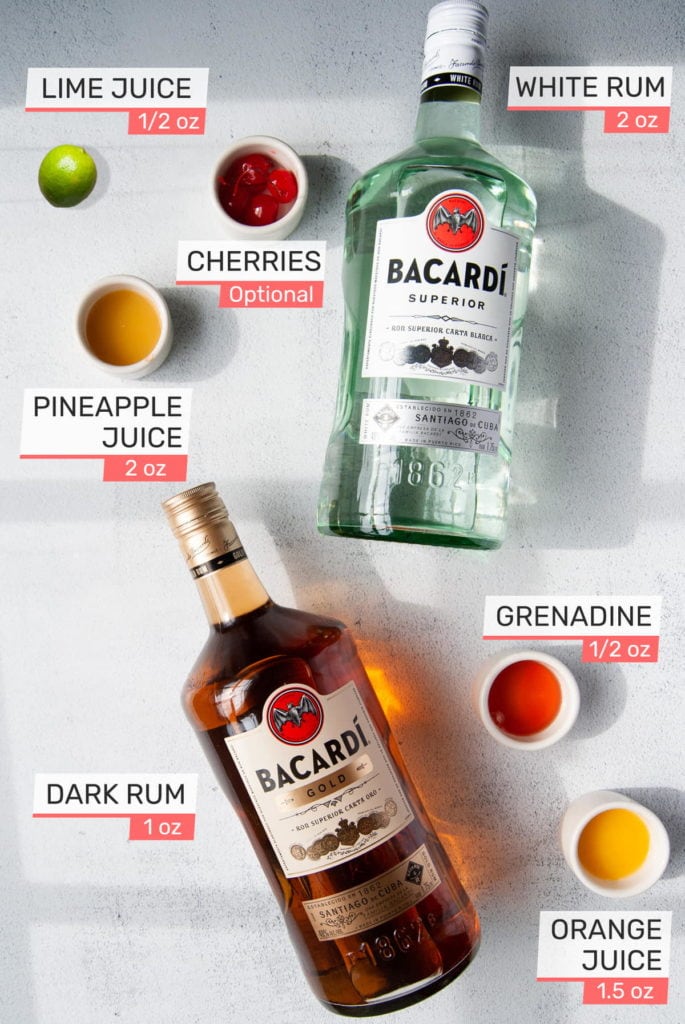 Use Two Kinds Of Rum
This Rum Punch is strong, thanks to the addition of both light and dark rum.
The major difference between dark and light rum is that dark rum is aged in oak, which gives it a deeper flavor with notes of vanilla and some nuttiness.
Green tip: Consider buying your alcohol in glass bottles to avoid extra plastic packaging, and always recycle your rum bottles!
Here, we use both because the oakiness of the dark rum adds a complex flavor to this punch. However, the addition of too much dark rum competes with the tropical flavors of the orange and pineapple.
If you are to use just one, go for the light rum, but adding both will give you a perfectly balanced cocktail!
Use A Mixer
Making this cocktail is as simple as adding all your ingredients to a mixing glass or cocktail shaker and mixing them together.
It's best to make this in a mixing glass or shaker. That way, when you transfer it to your serving glass everything is sure to be integrated. Pouring the ingredients directly into your glass will likely result in some separation.
The denser grenadine will sink to the bottom, the juices will sit in the middle, and the rum will float to the top. And while I love a beautifully layered drink, this one, in particular, tastes best if you get all the flavors in one sip.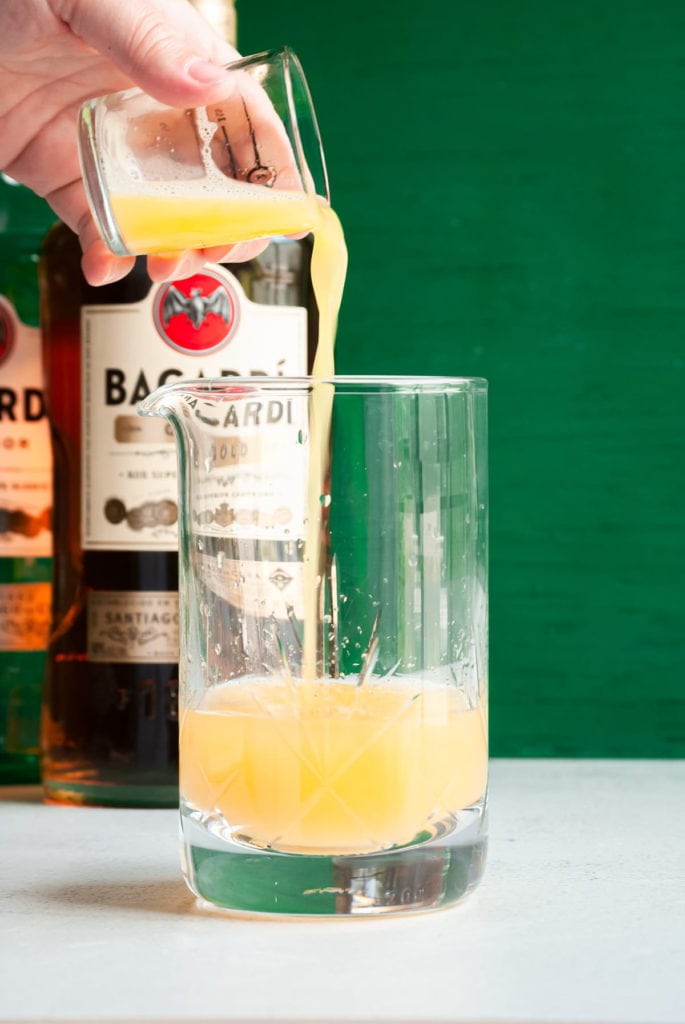 Serve Over Ice
This rum punch is best-served ice cold.
Once you've mixed up all your ingredients, fill a glass with ice. Then, pour your cocktail over top to serve it cold.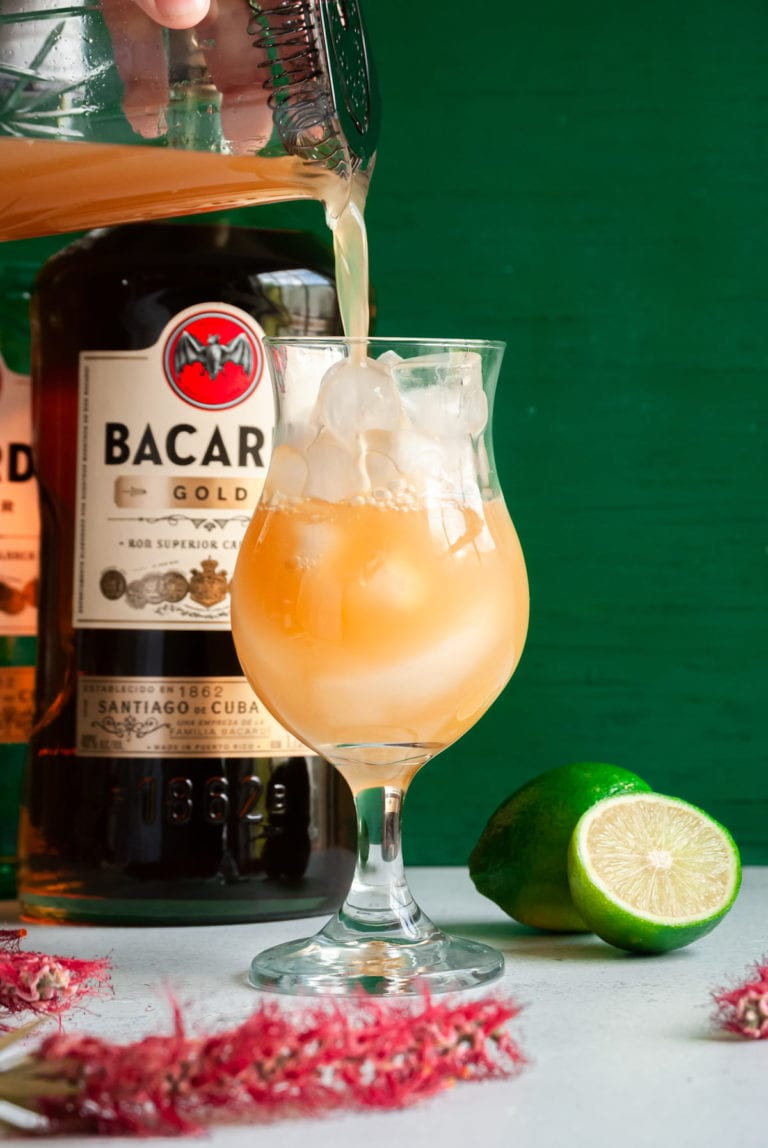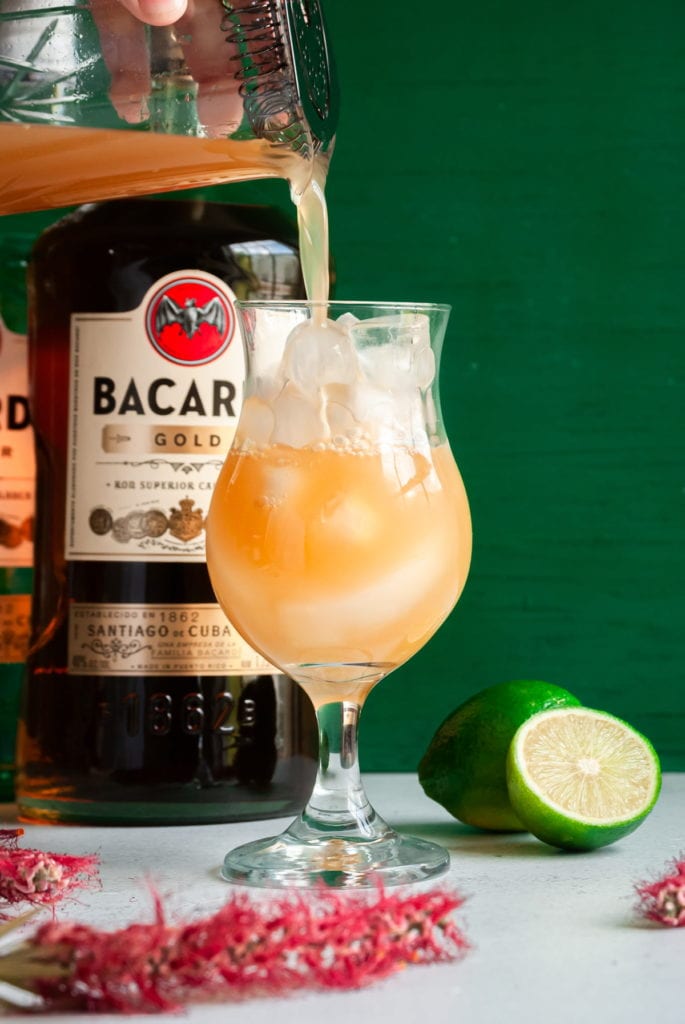 Why You Should Make This Bacardi Rum Punch
---
---
It's boozy. Two kinds of rum in one drink? Sign me up.
It's tropical. The pineapple juice really brings a tropical flair.
It's fresh. The fresh lime juice adds a refreshing citrus finish!
If you're loving this Bacardi Rum Punch and are looking for other fun cocktails, check out this list of Mixology Cocktails to Try at Home and these Best Sangria Recipes.