Ready for a boozy brunch at home? This Baileys French Toast is pillowy, chocolatey, buttery perfection. Plus, I've included an option to add Baileys Chocolate Drizzle for the ultimate next-level French toast.
It's such a simple recipe and relies on just a few delicious ingredients and great technique to get all the boozy Baileys & chocolate flavor and soft and fluffy texture you could dream of.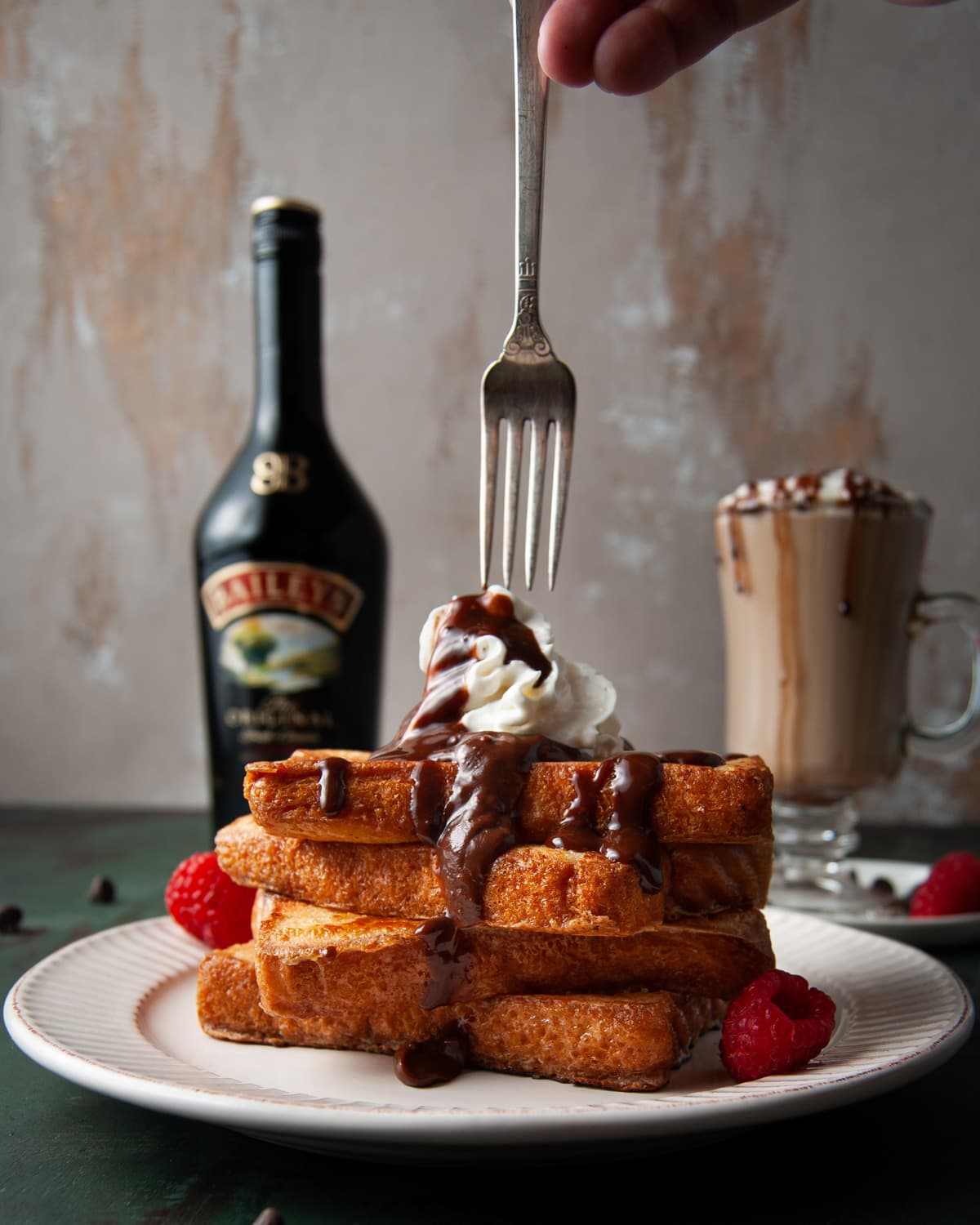 As an environmental scientist, I am always trying to find ways to combat food waste. And when avoiding food waste tastes this good, I think it's something we can all get behind.
Green tip: Bread is one of the most wasted food products in the U.S. because of our tendency to throw it out as soon as it's stale. Reduce your contribution to food waste by re-vamping your stale bread with this Baileys French Toast!
Baileys French Toast Ingredients
---
---
Baileys French Toast
Here is everything you'll need for your unique french toast:
Brioche, Challah, or even stale bread. Brioche and Challah are soft and porous. They'll soak up your egg wash and give you a pillowy inside with a crispy outside—ideal for French toast. That being said, this recipe is also a great way to revive stale bread.
Baileys Irish Cream. This recipe was created with Baileys Original Irish Cream but has also been thoroughly tested with Baileys Almande. Both work beautifully!
Eggs. The egg wash is what helps you get that crispy exterior.
Unsalted butter. To fry your French toast in. Non-dariy options also work well in this recipe.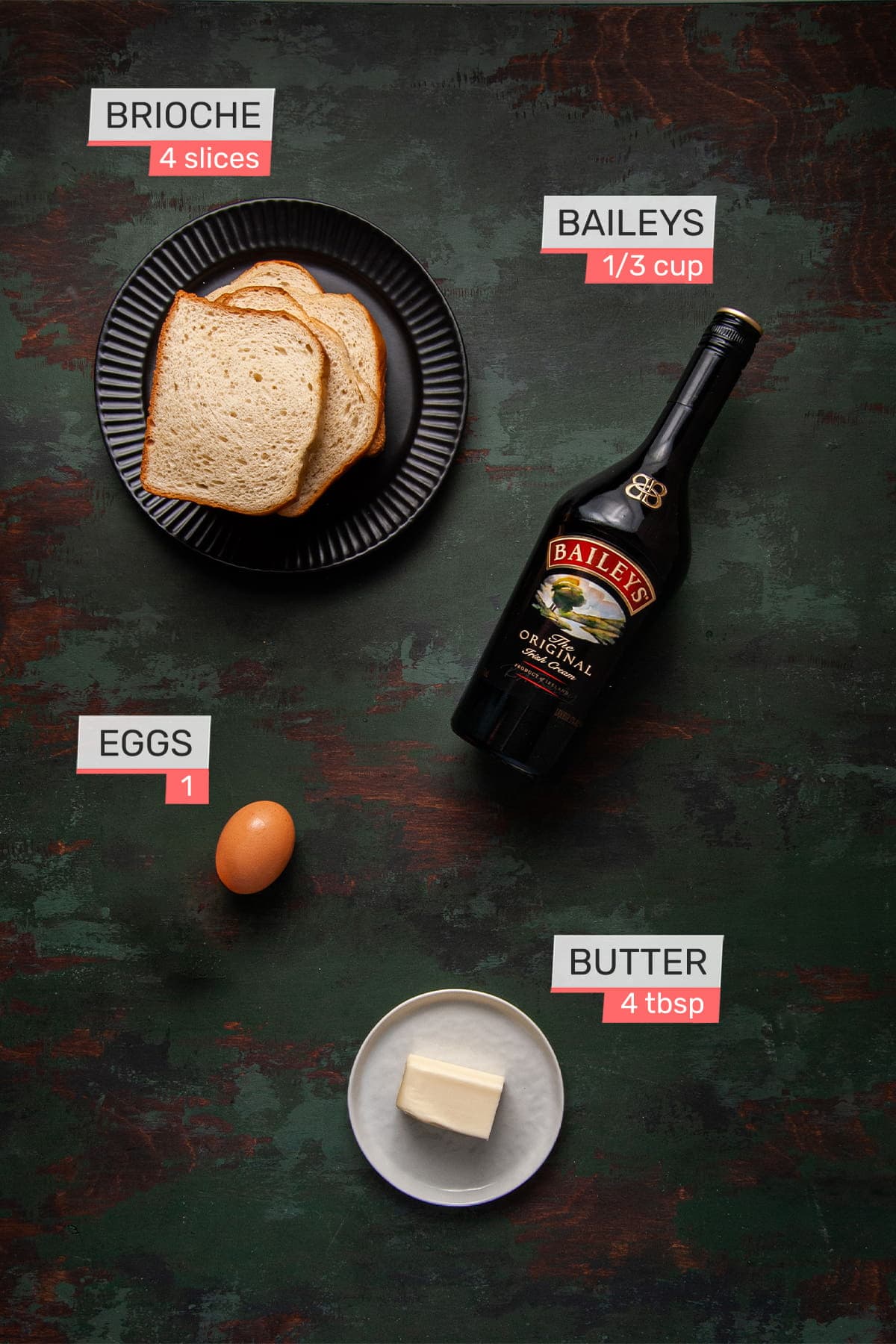 Baileys Chocolate Drizzle (Optional)
This optional Baileys Chocolate Drizzle is for those who really want a rich, treat yo'self kind of French toast. It's delicious without it, but this really brings it home!
Here's what you'll need:
Baileys Irish Cream. Again, you can use Bailey's Almande for a dairy-free option.
Chocolate chips. Dark chocolate chips are preferred, but semi-sweet works, too!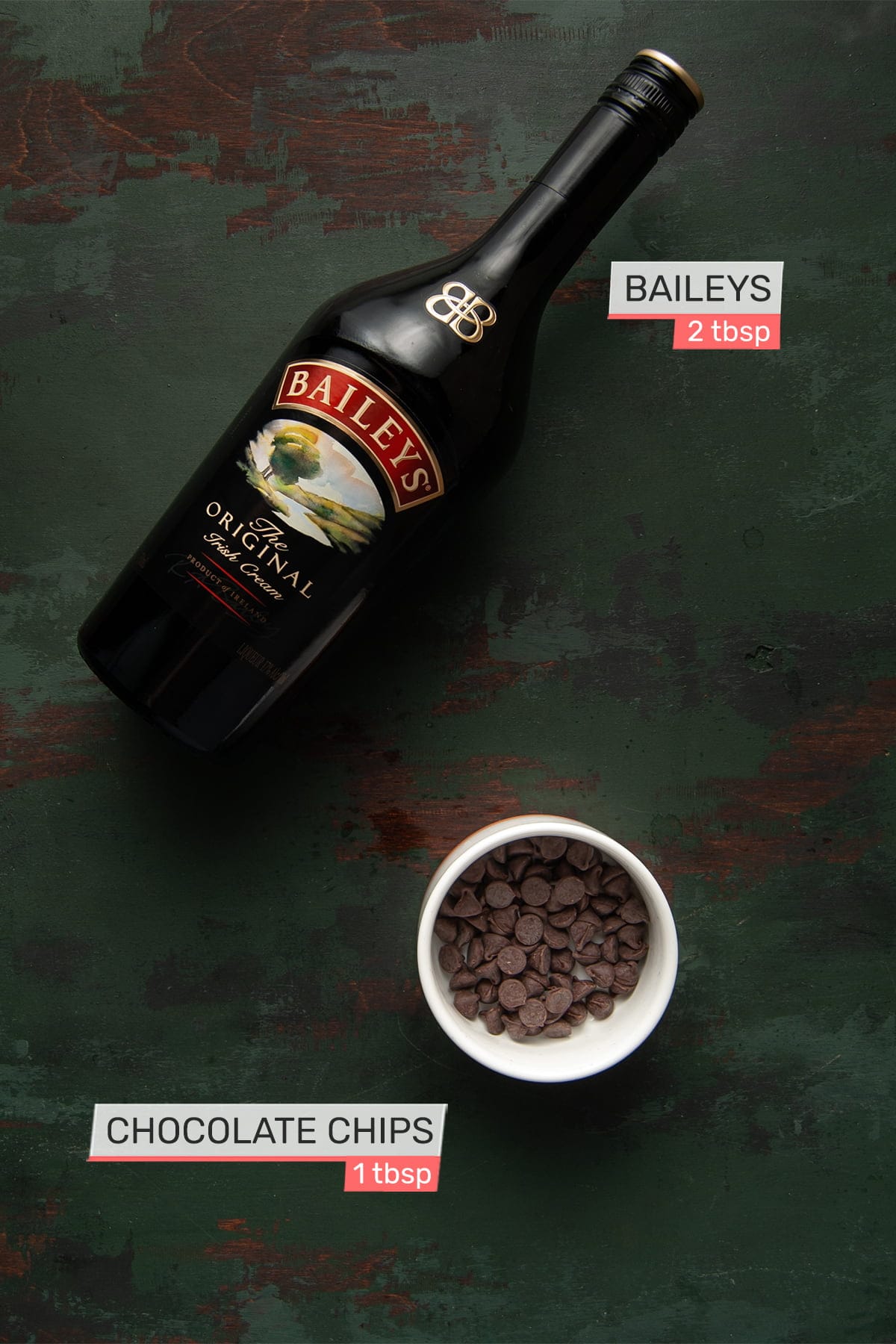 Baileys French Toast Tips & Tricks
---
---
Whisk Your Wash
Use a fork or whisk to whisk your eggs and Baileys until well combined.
These two ingredients will act as your eggwash for your French Toast.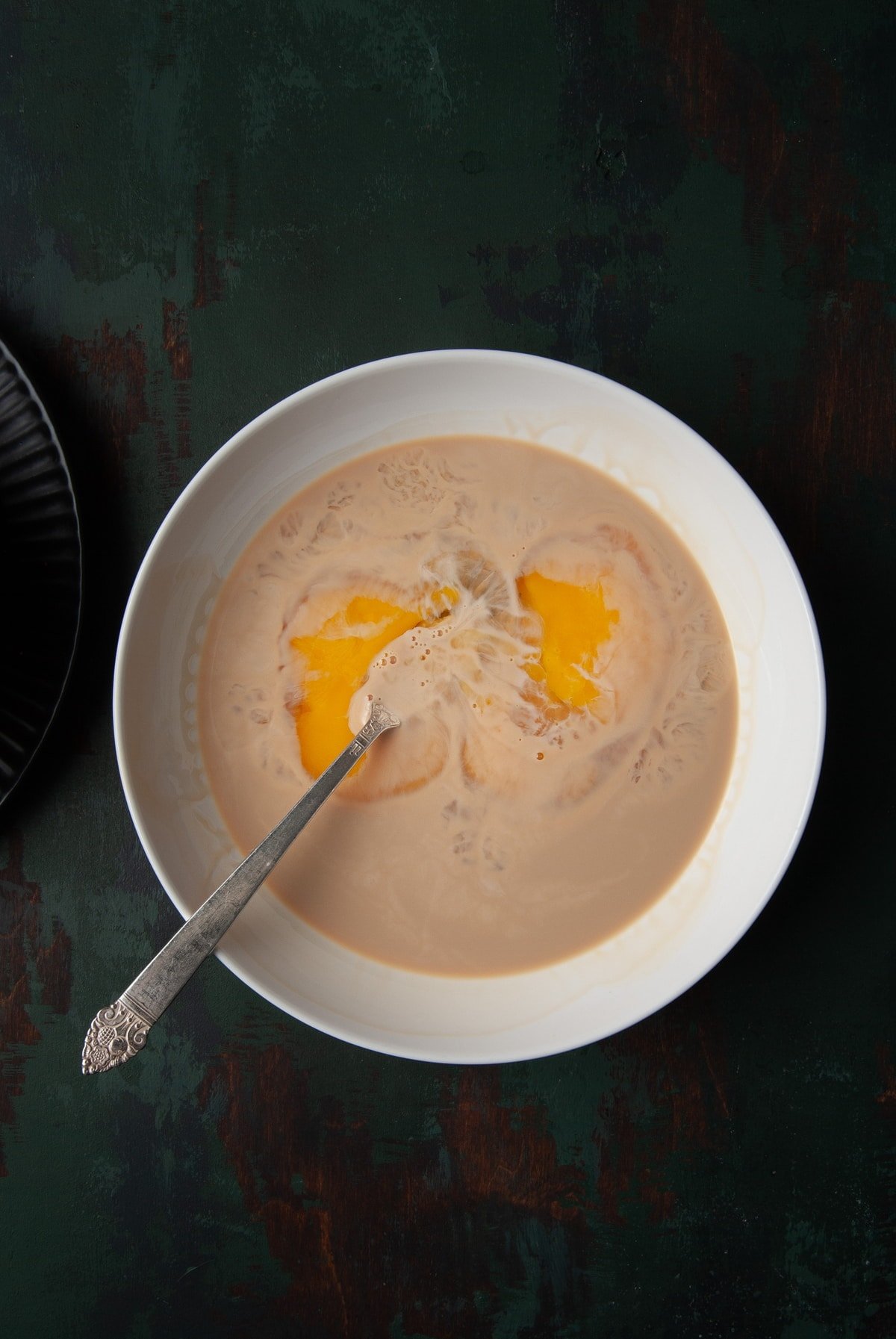 Start An Assembly Line
Set yourself up for success by prepping your ingredients and setting them up in a cute little assembly line.
Bread. Then, your Baileys egg mixture. Then your pan, with your butter melted and already hot. Easy as 1, 2, 3!
You should now be able to move your bread down the line pretty quickly. If you leave your bread in the egg wash for too long, it will make the middle of your French toast soggy. Womp womp 🤦‍♀️!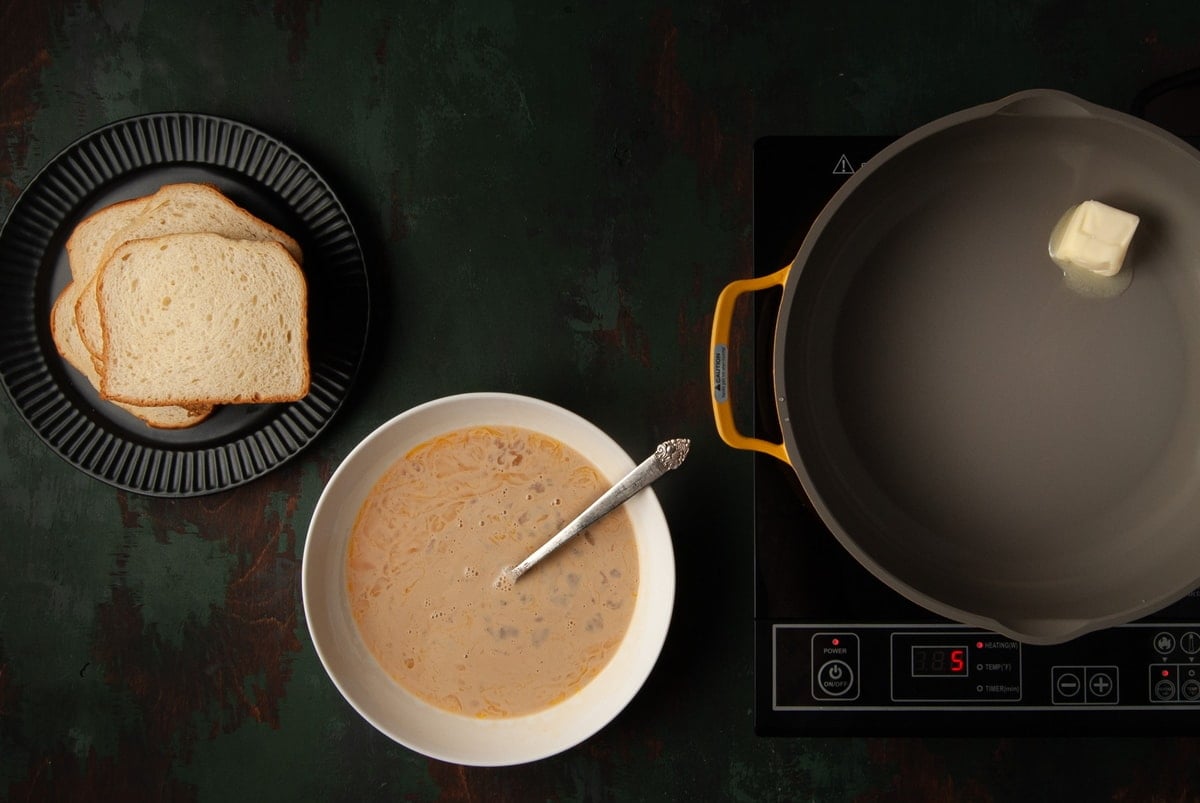 Get It Golden Brown
Your butter is already hot, so you should get that incredible sizzle sound when you place your egg-washed bread in it.
Give it about 5 minutes before peeking underneath. If it's golden brown, it's time to flip!
Avoid overcrowding your pan to allow enough room for easy flipping. I usually just cook two slices at a time.
Once you flip your French Toast, let it cook on the second side until golden brown. Again this should take about 5 minutes over medium heat.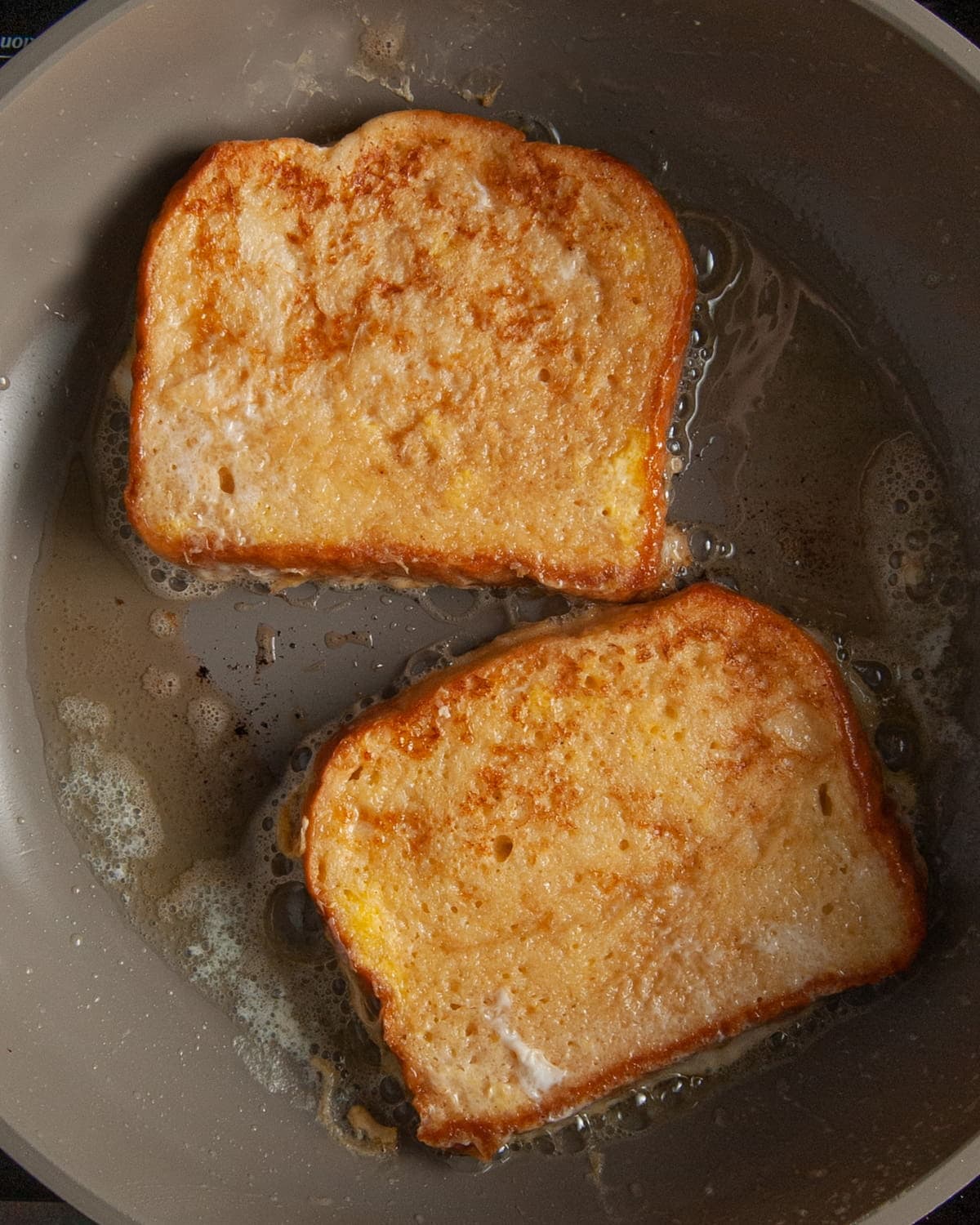 Whip up Your (Optional) Drizzle
Melt your chocolate first. You can melt your chocolate over a double boiler on the stove.
Just fill a large pot with about 2 cups of water and place either a large, heat-safe metal bowl or a second, smaller pot on top. You want the bowl or smaller pot to rest inside the larger pot, preferably without touching the water underneath.
Bring the water in the large pot to a boil so that the upper pot or bowl rises in temperature slowly from the hot water underneath.
OR. For a quicker melt, put your chocolate chips in a microwave-safe bowl and microwave on high in 30-second intervals, stirring in between until completely melted.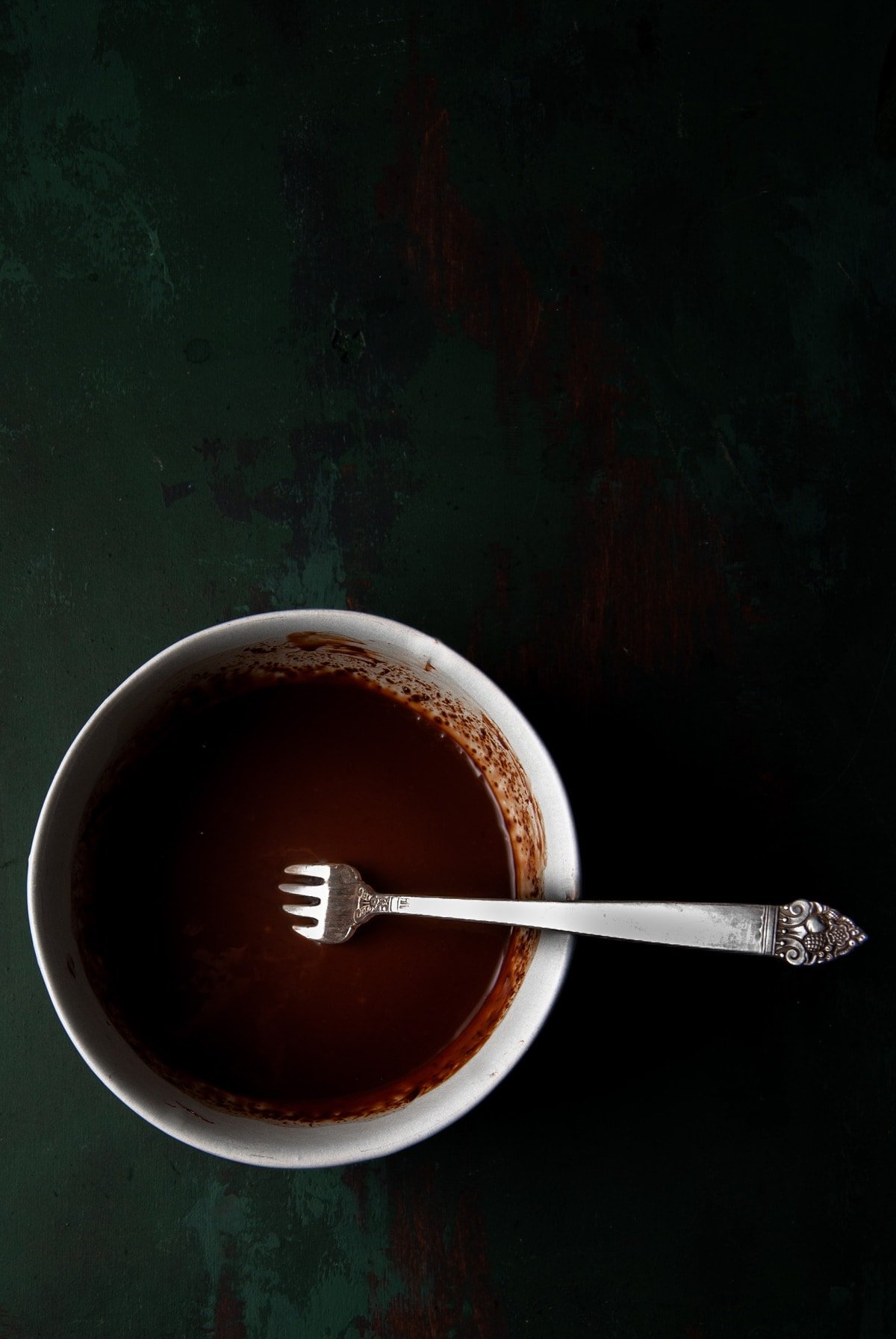 Once your chocolate is melted, use a whisk or fork to combine the melted chocolate and the Baileys. continually stirring until thick and smooth.
Green tip: Make sure your chocolate is sustainably sourced. Look for Fair Trade, Rainforest Alliance, or UTZ certifications as opposed to self-proclaimed sustainability labels that sometimes falsely advertise "sustainably sourced".
Serve it Up!
The longer your syrup sits, the thicker it will get. Serve it over your Baileys French Toast immediately for best results.
If it thickens too much, stick it back in the microwave for 15 seconds on high and stir.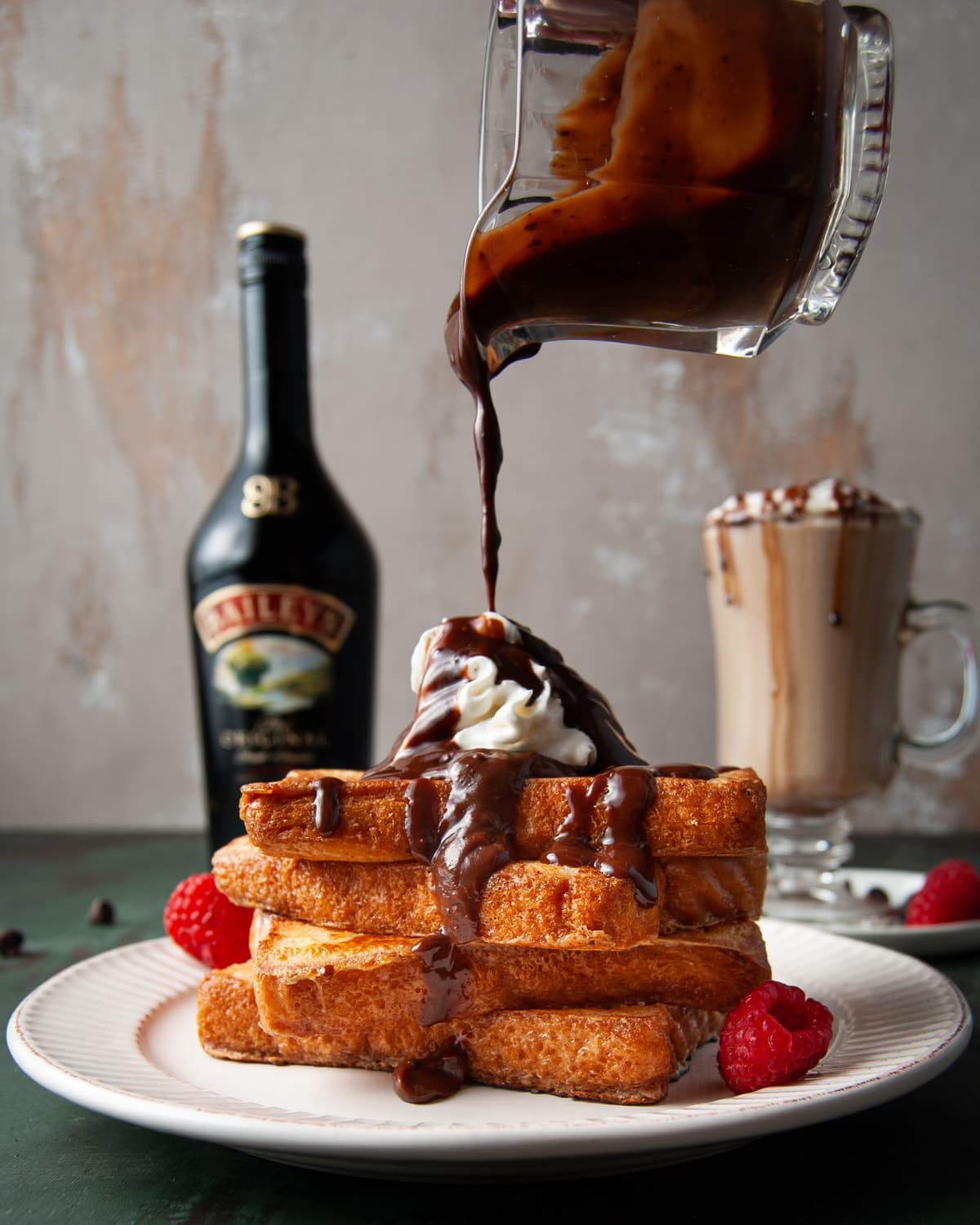 Should You Have Leftovers
French toast will stay delicious for 5-7 days wrapped and sealed in the refrigerator after preparing it. You can also freeze it for up to a month!
From the fridge, reheat on a frying pan for about 5 minutes on each side, until thoroughly heated through. You can also reheat it in the toaster oven or the oven at 375°F for 10 minutes from the refrigerator or 15 minutes from frozen.
The microwave will work in a pinch but does tend to make it a little soggy.
If you have extra egg wash, you can save that, too. Store it in an airtight container in the refrigerator to make more French toast over the next 2-3 days.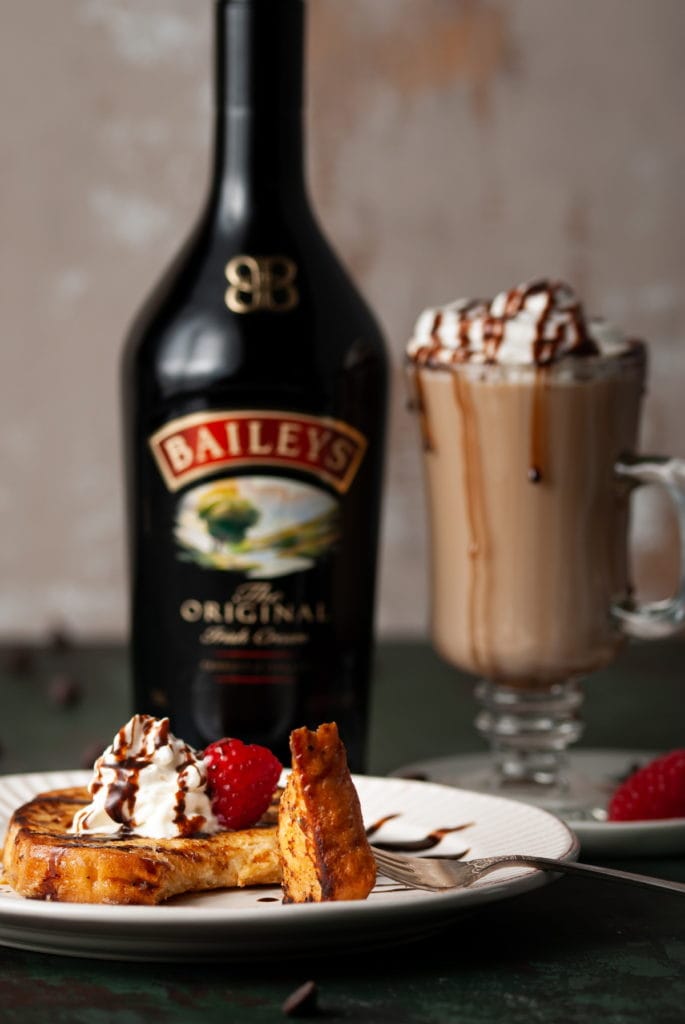 Baileys French Toast Frequently Asked Questions
---
---
Do you refrigerate Baileys?
Unopened, Baileys does not need to be refrigerated. After opening, its safest to refrigerate Baileys to keep it fresh and extend its life, since it should be kept below 77°F (25°C). Refrigerated, Baileys will last up to a year after opening.
Sign-up for the Meatless Monday Challenge
Get access to the 4-week-long Meatless Monday Challenge, with accompanying meal plans, grocery shopping lists, and more, sent right to your inbox!
Why You Should Make this Baileys French Toast
---
---
It's decadent. Butter and chocolate and Baileys—oh my!
It's boozy. The addition of Baileys is the perfect touch.
The texture! Soft and pillowy on the inside, golden brown and toasty on the outside.
If you're loving this Baileys French Toast and are looking for more inventive ways to use Baileys, check out these Baileys Hot Chocolate Bombs and Baileys Hot Chocolate Tart.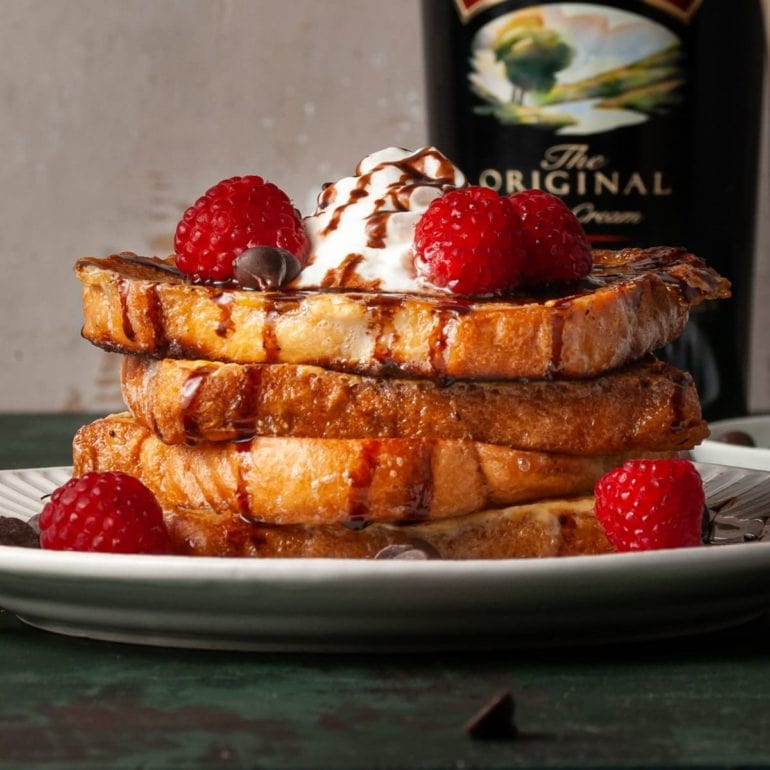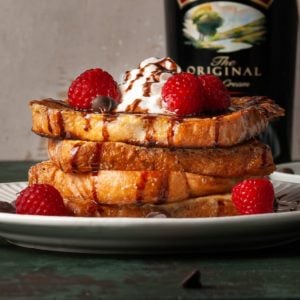 Baileys French Toast with Baileys Chocolate Drizzle
PRINT
PIN
RATE
This Baileys French toast is pillowy on the inside, toasty on the outside, and has the option to add Baileys chocolate drizzle for the ultimate boozy brunch.
Ingredients
Baileys French Toast
1

large egg

⅓

cup

Baileys Irish Cream

4

tablespoons

unsalted butter for frying

4

slices

brioche or challah

(or stale bread to revive it!)
Baileys Chocolate Drizzle (optional)
1

tablespoon

dark chocolate chips

2

tablespoons

Baileys Irish Cream
Optional Toppings
¼

cup

fresh berries

2

tablespoons

whipped cream
Instructions
Baileys French Toast
Whisk together egg and Baileys in a shallow bowl until well combined.

Over medium heat, get a large frying pan hot. Add about 2 tablespoons of butter and allow it to melt, tilting the pan to coat it with melted butter.

One slice at a time, dip your bread into the egg and Baileys mixture, coating both sides fully.

Carefully lower your coated bread into the hot butter, allowing it to fry for about 2 minutes before flipping. Your french toast should be golden brown on both sides.

Repeat for all four slices of bread. Add more butter as needed—the pan should always be buttery to get your outer layer crispy.

Keep warm in the oven at 200°F until ready to serve.
Baileys Chocolate Drizzle (Optional)
Melt dark chocolate chips in a microwave-safe bowl in the microwave on high in 30-second intervals, stirring in between until fully melted.

Allow the melted chocolate to cool for 1-2 minutes before adding Baileys and whisking until combined.

Pour over warm Baileys French Toast and add whipped cream and fresh berries. Enjoy hot.
Pro Tips
Baileys Almande works great in this recipe as well!
Can't get enough French Toast? Check out this list of my best French Toast Recipes—Ouh là là!
Did you make this recipe?
Let me know by leaving a recipe rating below, or by tagging @marleysmenu on Instagram.