Looking for a healthy way to use up those ripe bananas? This Banana Porridge is sweet, hearty, and comforting.
With fresh banana cooked into the porridge, this breakfast bowl has the subtly sweet base that opens up endless opportunities for toppings!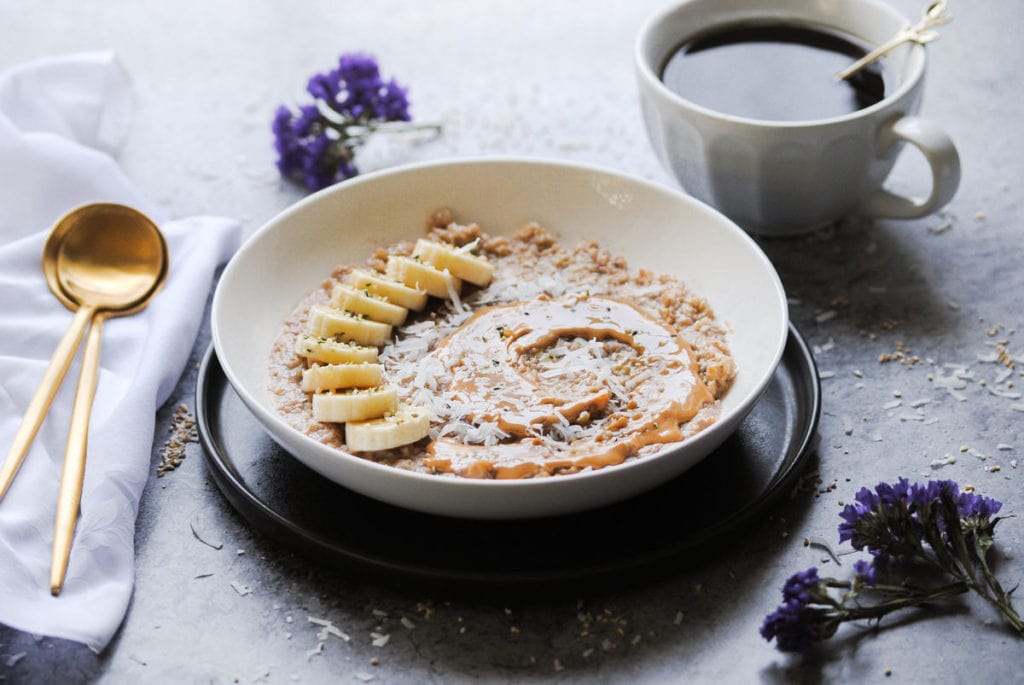 Banana Porridge Tips and Tricks
Don't Chuck Your Overripe Bananas
As an environmental scientist, I am always looking for ways to reduce food waste. Bananas are one of those produce items that go from perfect to entirely overripe seemingly overnight.
Green tip: Did you know that of the billions of pounds of food wasted annually, it is estimated that 50% of it happens in our homes. It's always best to avoid food waste as much as you can!
But the good news is, the riper the banana, the more flavorful! As a banana ripens it gets sweeter and sweeter, which means it becomes even better to bake or simmer into things like this Banana Porridge.
So grab that overripe banana and a couple other essentials and your on your way to a healthy and delicious breakfast!
Make it Your Own
This Banana Porridge base is subtly sweet with natural banana flavor, making it the perfect base to get creative with!
Go ahead and choose your own toppings. I've made it with all kinds of berries and other fruit, seeds, nuts, jams and spreads, and even chocolate! Whatever is in season or whatever you need to use up in your pantry.
Green tip: Eating seasonally is one of the best (and most delicious) ways to support local and decrease your carbon footprint. Local foods have less associated transportation costs and fuel emissions. Simply put, eating seasonally = less environmental impact. Check what's in season in your area with this Seasonal Food Guide.
Here are some topping ideas for you that I have tried and enjoyed:
Smash The Banana
The first step in this easy porridge recipe is to smash your banana. You'll be boiling it with the milk, vanilla extract, cinnamon, and salt to infuse flavor into your Irish oats.
You can opt to throw your peanut butter in there, too, but I like to add it on top to break up the texture a bit. You can also opt to sub the peanut butter for any other nut butter, or leave it out altogether!
Should You Have Leftovers
Once prepared, this porridge will stay delicious covered in the refrigerator for 3-4 days.
You can reheat it in the microwave or on the stove. In a microwave-safe dish, it should be hot after about 45 seconds on high in the microwave. Everyone's microwave is a little different, so just make sure it's heated all the way through before diving in.
If you're reheating it in a pot, cover and simmer over medium heat for about 10 minutes.
Why You Should Make This Banana Porridge
It's resourceful. The perfect dish to use up an overripe banana or clean out the fridge for toppings.
It's healthy. Whole grains, fruits, and whatever other healthful toppings you choose!
It's comforting. It's just so warming and cozy!
If you're loving this Banana Porridge and are searching for other healthy breakfast ideas, check out this Coconut Granola and these Whole Wheat Pancakes.