Looking for a delicious treat with all the decadence but none of the hassle? This Banana Strawberry Milkshake will bring out the kid in you with its fun color, delicious taste, and nostalgic classic diner feel!
It's super easy to whip up (three ingredients? yes, you read that right!) and comes together in under 5 minutes. Plus, it's a great way to use up your overripe bananas.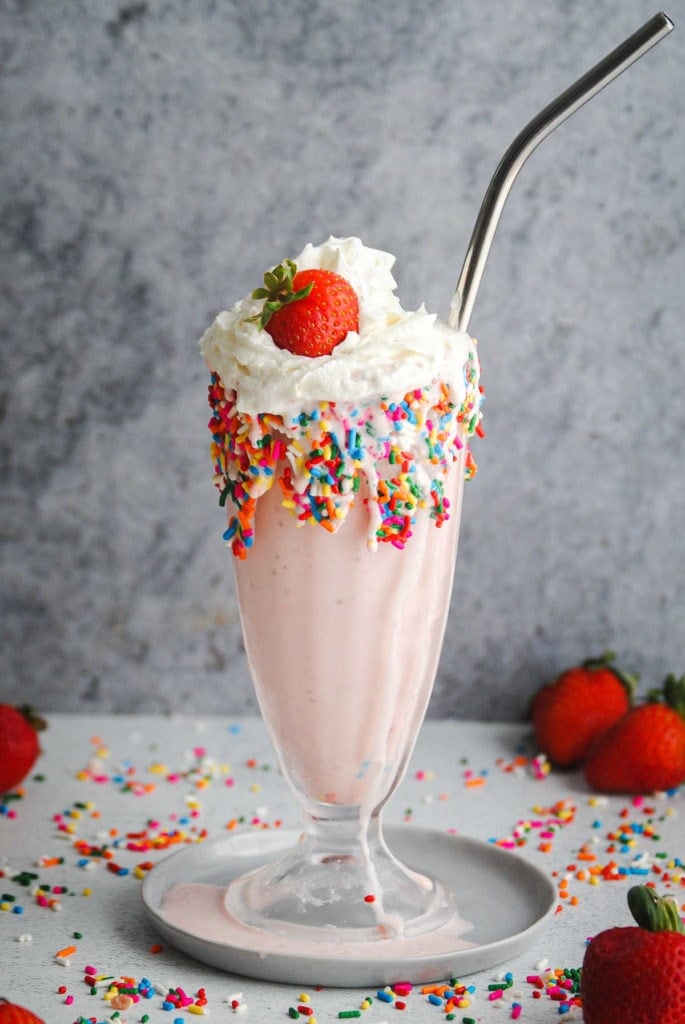 Banana Strawberry Milkshake Tips and Tricks
Don't Chuck Your Overripe Bananas
As an environmental scientist, I am always looking for ways to reduce food waste. Bananas are one of those produce items that go from perfect to entirely overripe seemingly overnight.
Green tip: Of the billions of pounds of food wasted annually, it is estimated that 50% of it happens in our homes. It's always best to avoid food waste as much as you can!
But the good news is, the riper the banana, the more flavorful! As a banana ripens it gets sweeter and sweeter, which means it becomes even better to add to a milkshake.
So grab that overripe banana and your 2 other other ingredients and your on your way to a delicious breakfast! Here's what you'll need:
You'll Need A Blender or Food Processor
In addition to your three ingredients, you'll also need either a blender or a food processor, preferably a blender! I use this Ninja Blender (affiliate link) for this milkshake and a lot of my sauces and vinaigrettes. It works like a charm!
Tested Substitutions
This milkshake can be made with dairy-free ice cream and milk and come out just as delicious!
If you don't have strawberry ice cream, but do have vanilla ice cream and strawberries, you can still make this milkshake! Just Use 1/3 cup vanilla ice cream instead of 1/2 cup strawberry ice cream, and add 3-4 large strawberries without their stems.
This Banana Strawberry milkshake, while having vitamins and nutrients from the fruit and milk, is more of a fun, nostalgic treat. If you're looking for something healthier, check out this Strawberry Banana Smoothie.
Getting the Right Consistency
I've found that 1/4 cup milk in this shake gets me a fantastic consistency. Just thick and creamy enough, but not too much to stop me from slurping it up through a straw.
Green tip: Consider investing in reusable straws! They are easy to clean and will reduce your contribution to plastic waste that eventually ends up in landfills or makes its way into the environment and becomes microplastics. These stainless steel straws are my favorite (affiliate link)!
That being said, if you find that your milkshake is a little too thick, you can add an extra tablespoon or two of milk to your blender. Add them one at a time, blending in between, and checking your consistency as you go.
Remember, it's much easier to loosen it when it's too thick than to make it thicker. If your ice cream is a little melted, start with 3 tablespoons of milk instead of 1/4 cup. Then check your milkshake and add more milk as needed.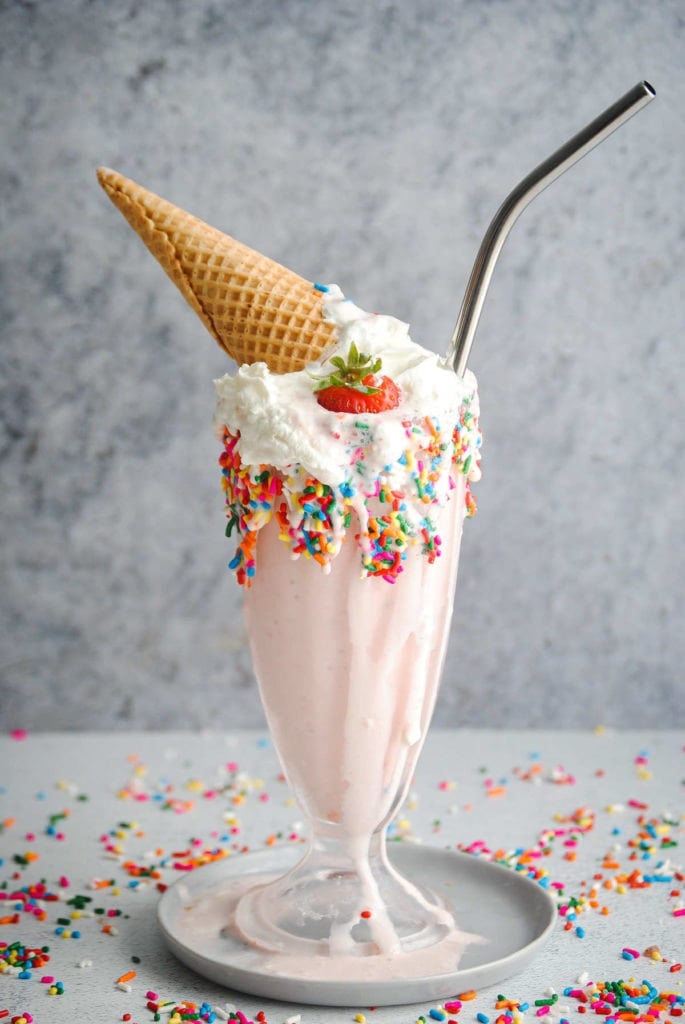 Why You Should Make This Banana Strawberry Milkshake
It's nostalgic. It'll bring out the kid in you!
It's balanced in flavor. The perfect amount of banana and strawberry flavor.
It's easy as 1, 2, 3! Three simple ingredients are thrown in the blender and voila!
If you are loving this delicious Banana Strawberry Milkshake and are looking for more quick and easy sweet treats, check out these Chocolate Chip Muffins and these Fudgy Brownies.