Want to sneak some extra veggies into your life? This Banana Zucchini Bread is deliciously moist, perfectly sweet, and easy to whip up.
The zucchini in this mouthwatering banana bread recipe not only adds tons of nutrients, fiber, and antioxidants, but also provides a lot of moisture for the perfect texture. Plus, it requires less than ten simple ingredients, and is naturally egg-free.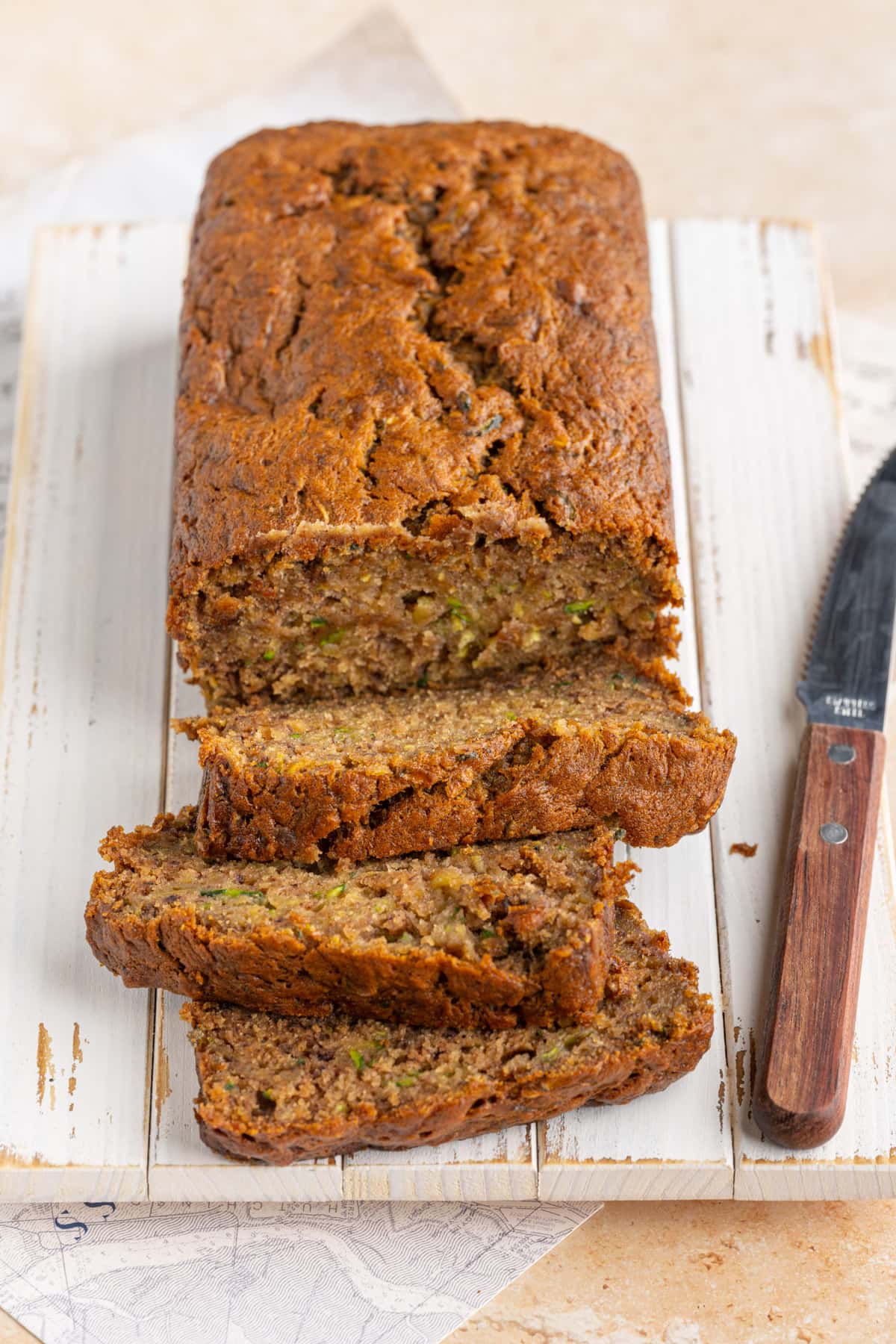 As an environmental scientist, I am always looking for ways to reduce my contribution to food waste. Bananas are one of those produce items that go from perfect to entirely overripe seemingly overnight.
So, I'm always looking for fun ways to use up overripe bananas, and this incredibly easy loaf recipe is undoubtedly one of my favorites!
Green tip: Did you know that of the billions of pounds of food wasted annually, it is estimated that 50% of it happens in our homes? Reduce your contribution to food waste by using up overripe bananas in one of these ripened bananas recipes.
Banana Zucchini Bread Ingredients
---
Here's everything you need:
Overripe bananas. Ideally your peel will have brown spots. If your bananas aren't yet ripe enough, you can place them on a baking sheet and stick them in the oven while it's preheating for about 5 minutes until the peels turn black.
Butter. Unsalted and completely melted.
Brown sugar. Light and dark brown sugar both work, but I prefer light brown sugar for this recipe.
Vanilla extract and cinnamon. For flavor.
All-purpose flour. The base of your loaf batter.
Baking soda. For rise.
Salt. To enhance all the other flavors.
Zucchini. Shredded and folded into the batter. One large zucchini is plenty.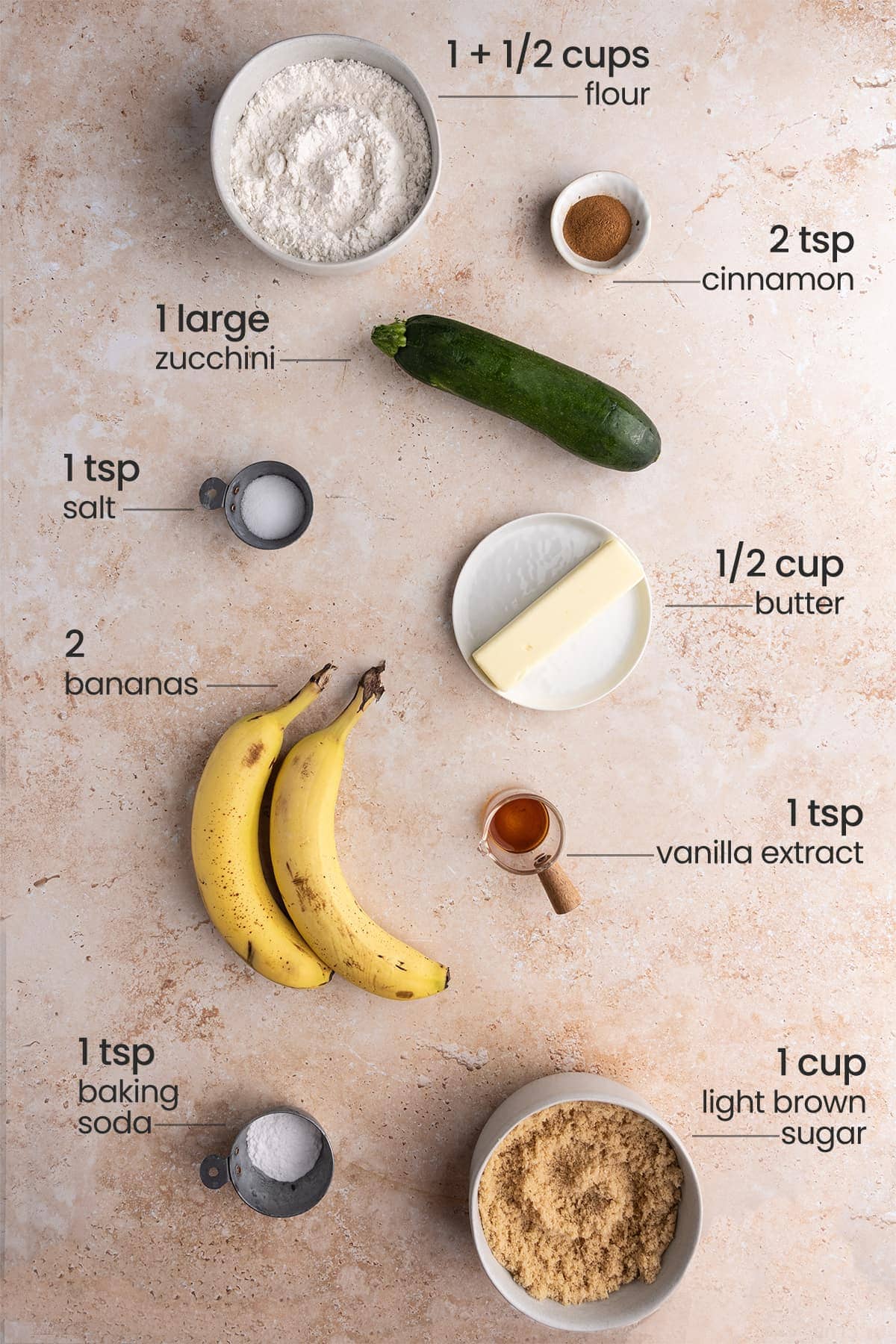 Zucchini Banana Bread Tips and Tricks
---
Use Overripe Bananas
As your banana ripens, its flavor gets bolder, sweeter, and fruitier. So, in order to get this bread, well, banana-y, it's best to use ripened bananas for this recipe.
In fact, if they are overripe and the peel is showing brown spots, they are perfect for this loaf! Not only will they be packed with flavor, but they will also be softer, making them easier to mash.
If you have some bananas that aren't quite overripe yet, you can still make this Zucchini Banana Loaf. Just quickly brown the bananas in the oven.
While your oven is preheating, stick the bananas in, still in their peels, on a baking tray. Keep them in there for about 3-7 minutes or until the peel starts to turn black.
Green tip: Organic farms rely on biodiversity to generate rich soil, avoiding the use of pesticides and fertilizers, which means no toxic runoff. Consider organic ingredients for this recipe.
Prepping is Key to a Successful Loaf
The first step to a perfect execution of this banana zucchini bread is properly prepping. Start by preheating your oven to 350°F and prepping a standard 9″ x 5″ loaf pan.
To prep your pan, you can add a thin layer of butter or oil to the pan, generously spray it with your favorite cooking spray of choice, or line it with parchment paper.
I like to both spray and half line my pan, adding parchment paper to the lengthier side, and then spraying the wider sides as pictured below.
The parchment paper will act as two little handles on either side to help you easily lift your loaf out of the pan once it's done baking.
Another little kitchen hack that I constantly use in baking is placing two clothes pins on either side to fasten the parchment paper in place, making it easier to pour the batter into the pan.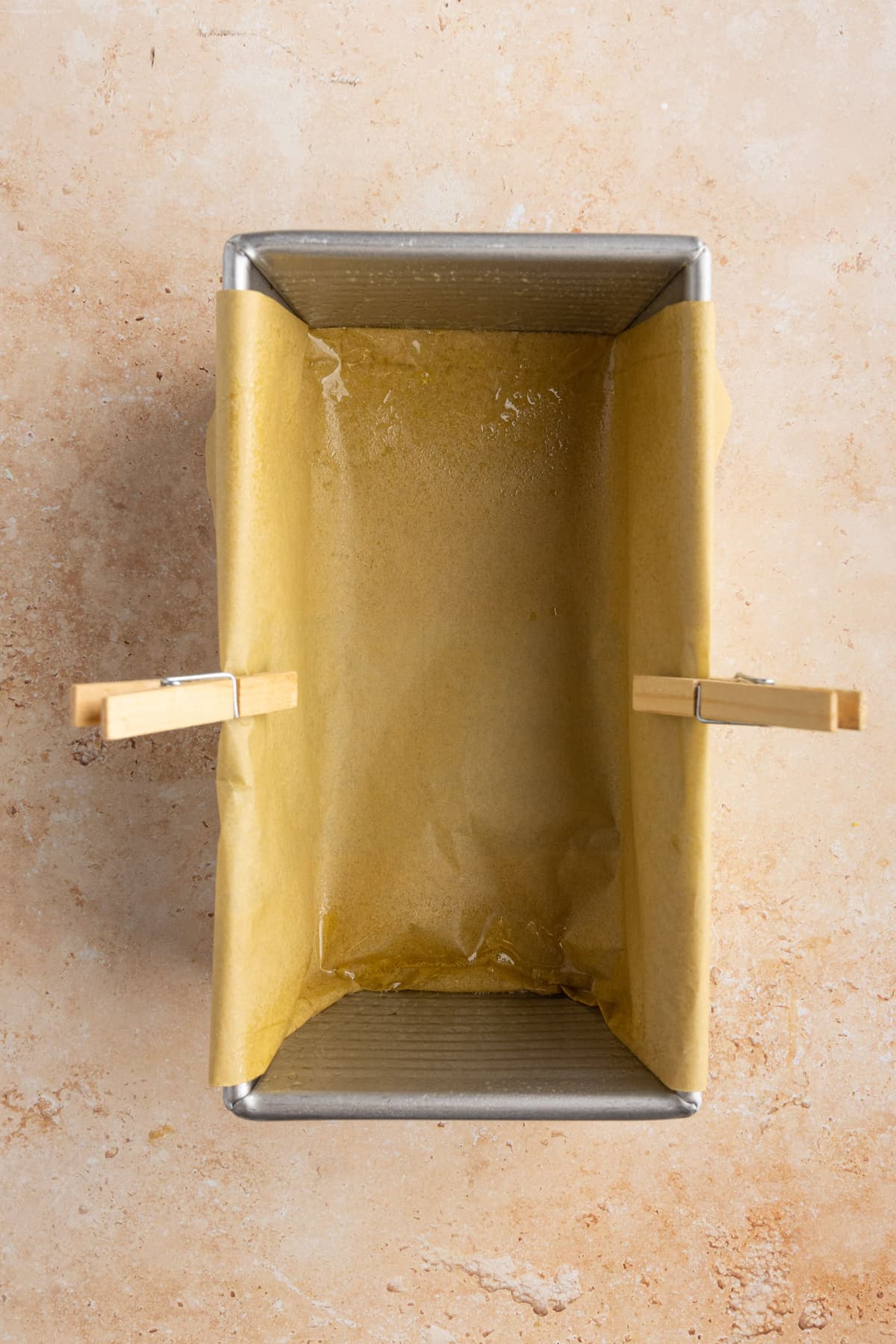 Use a Fork to Mash Your Banana
Once you are prepped and your oven is preheating, start making the batter for this zucchini banana bread recipe by peeling your bananas and placing them in a large mixing bowl.
Since they are overripe (or heated in the oven), it should be very easy to smash them with a fork.
Continue to crush your bananas with the fork until they are broken down and almost liquefied. It's okay (preferred, even!) to have some lumps left!
Add the Butter, Sugar, and Vanilla Extract
Melt your butter in a small pot on the stove over low heat or in a microwave-safe bowl in 20-second intervals, stirring in between, until completely liquefied.
Once your banana is smashed and butter is melted, add the butter, sugar, and vanilla extract to the bowl, too. Use your fork to beat until well-combined.
Beating the fat (in this case the butter) into the sugar will aerate it, making for the perfect batter base for an overall lighter fruity loaf.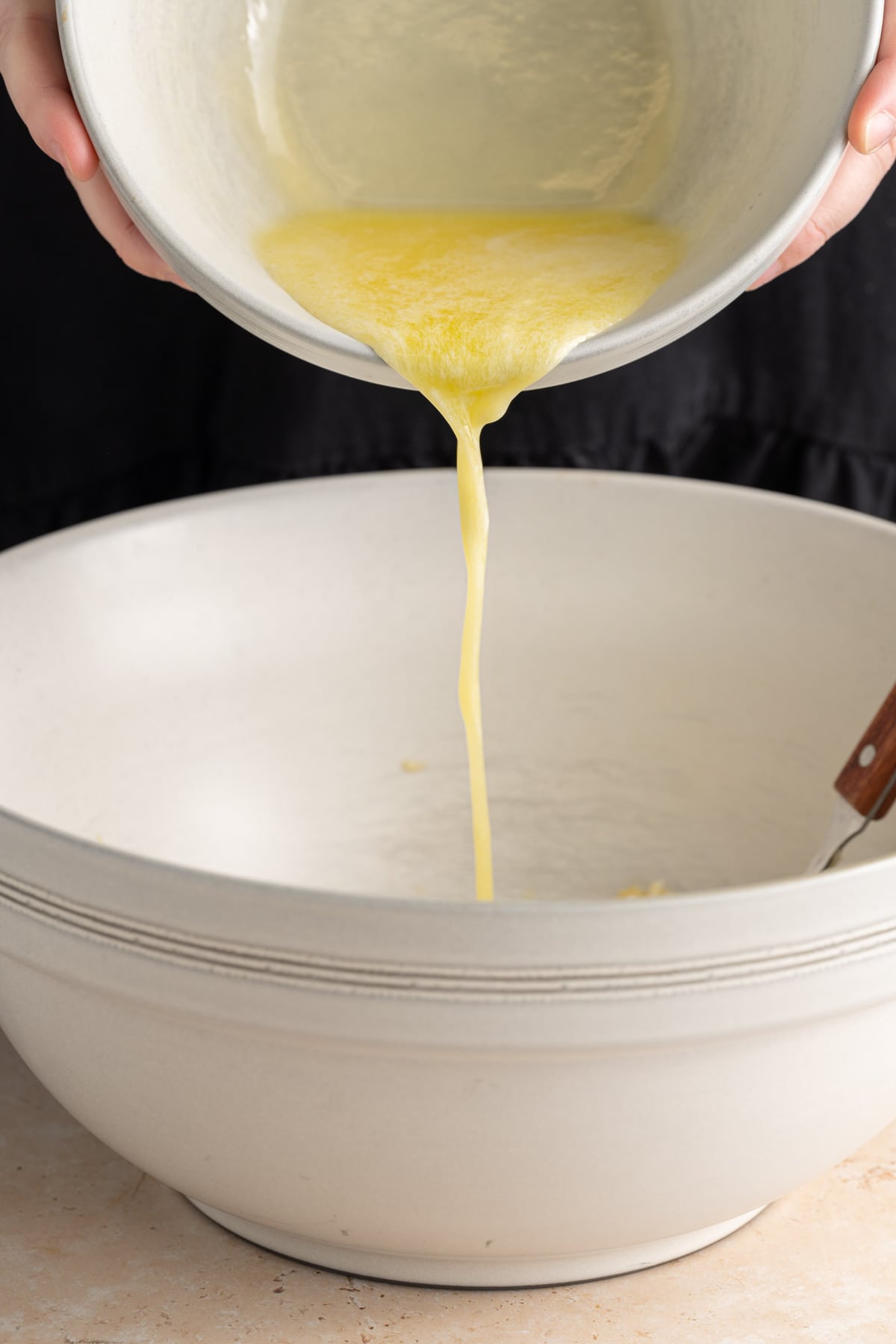 Add the Dry Ingredients Next
Now that your base ingredients are combined, it's time to add the dry ingredients. Add your all-purpose flour, cinnamon, salt, and baking soda.
Use a whisk, fork, or hand mixer on low speed to combine the dry ingredients into the loaf batter.
Use a rubber spatula to scrape down the sides of the bowl, ensuring that all of the dry ingredients are combined, and you aren't left with any clumps.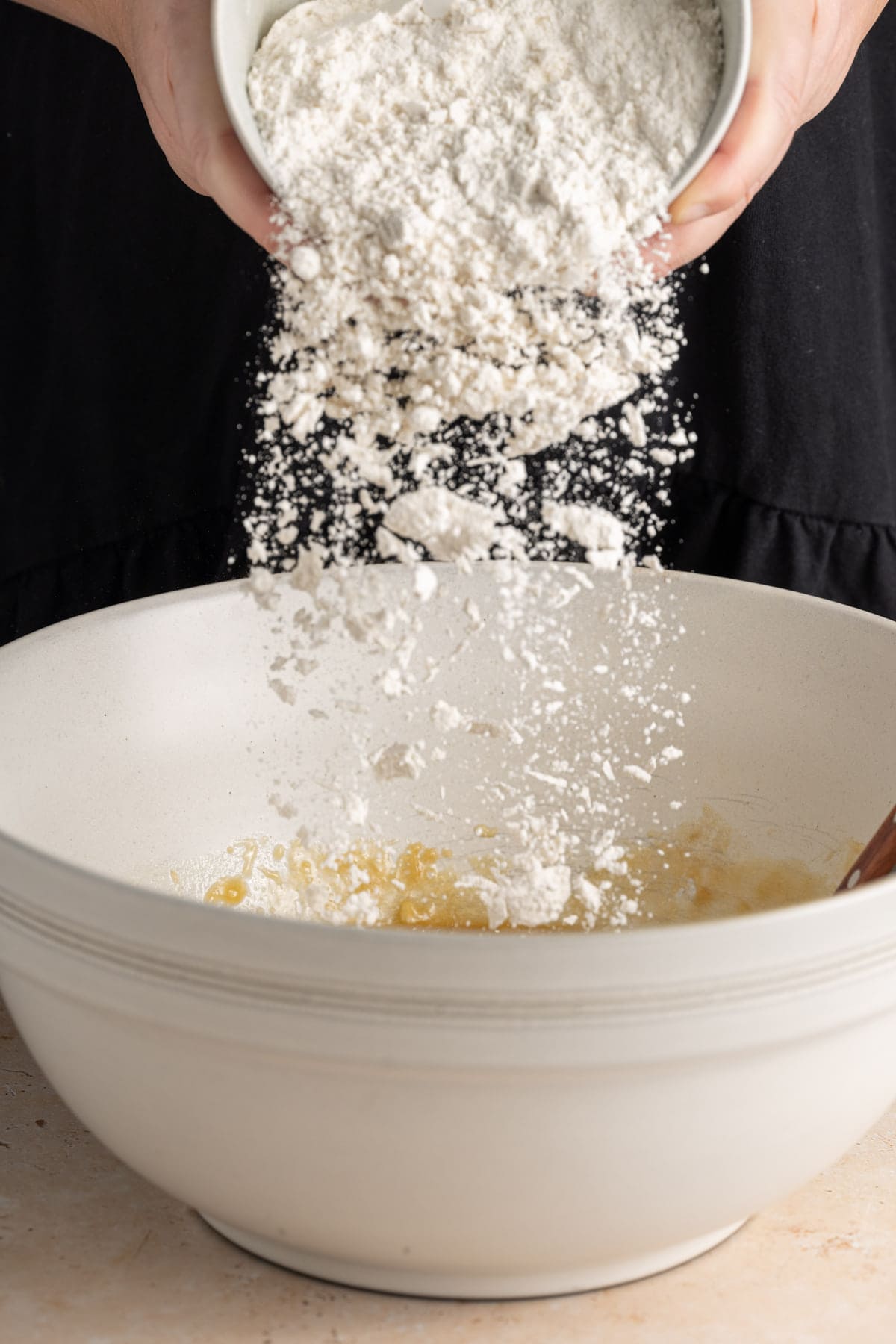 How to Shred Zucchini for Baking
Zucchini not only adds nutrients to this delicious banana bread, but it also adds tons of moisture. In order to seamlessly bake the zucchini into your loaf, it's best to shred it.
Rinse your zucchini and chop off both ends. The quickest and easiest way to shred the zucchini is with a food processor. This is my preferred method.
However, if you don't have a food processor, you can also shred the zucchini with a cheese grater.
Once shredded, use a rubber spatula to fold the shredded zucchini into the batter. One large zucchini typically yields about 1.25 cups of shredded zucchini. You can use anywhere from 1-1.5 cups and come out with a delicious loaf.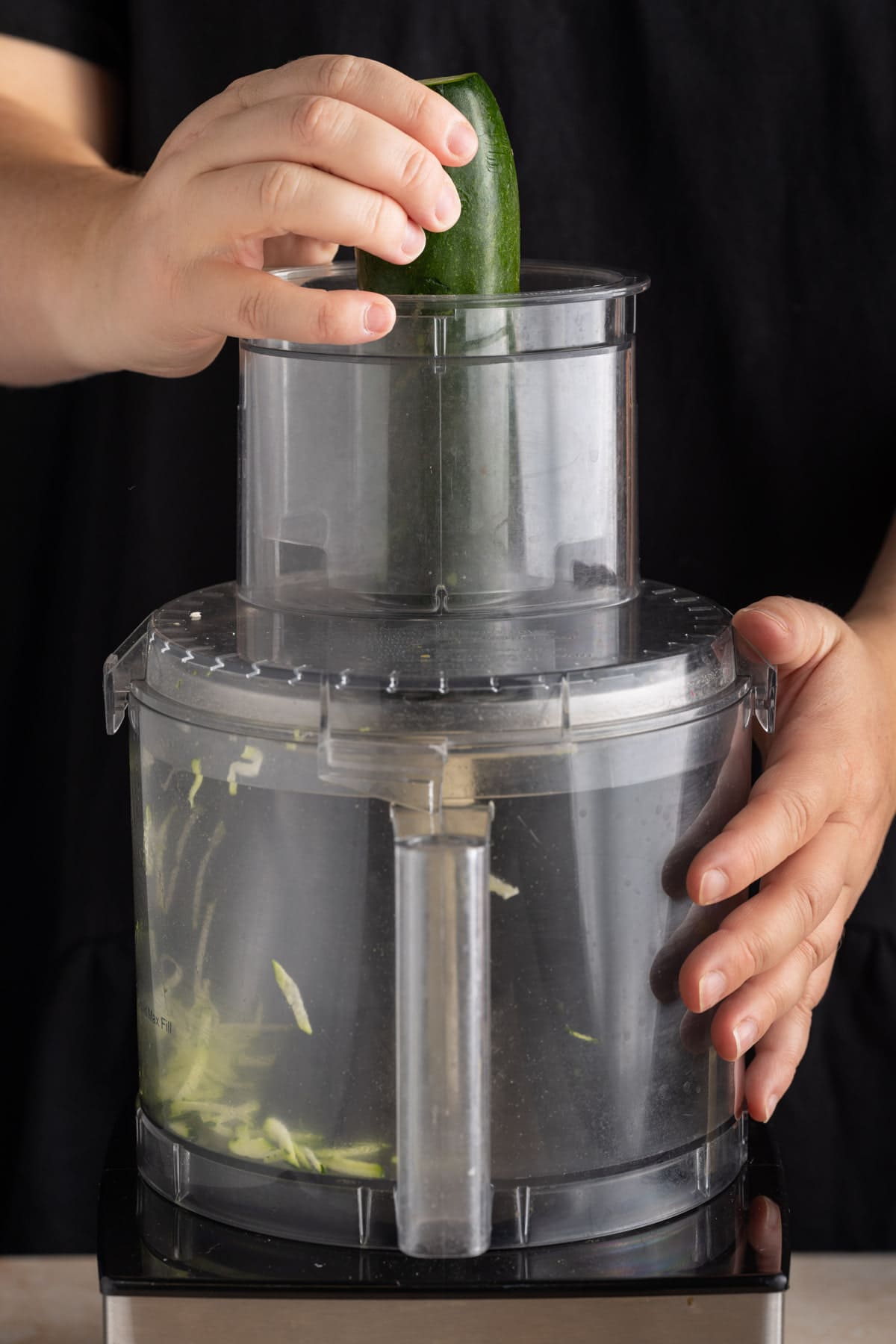 How to Perfectly Bake Zucchini Banana Bread
Use a rubber spatula to add the batter to your prepped pan. There should be at least an inch of space at the top of the pan to allow for the bread to rise.
Bake it at 350°F for 55-65 minutes until a toothpick comes out clean.
It is very common to have a crack on any bread baked in a loaf pan. Since the batter is nice and thick, and the pan is so deep, the outside of the loaf bakes before the center bakes.
As the center continues to bake, the moisture releases steam, which will push through the top of the already-baked outer top crust and forms a crack.
The good news is, the crack will have no effect on the overall texture or taste of your banana zucchini bread!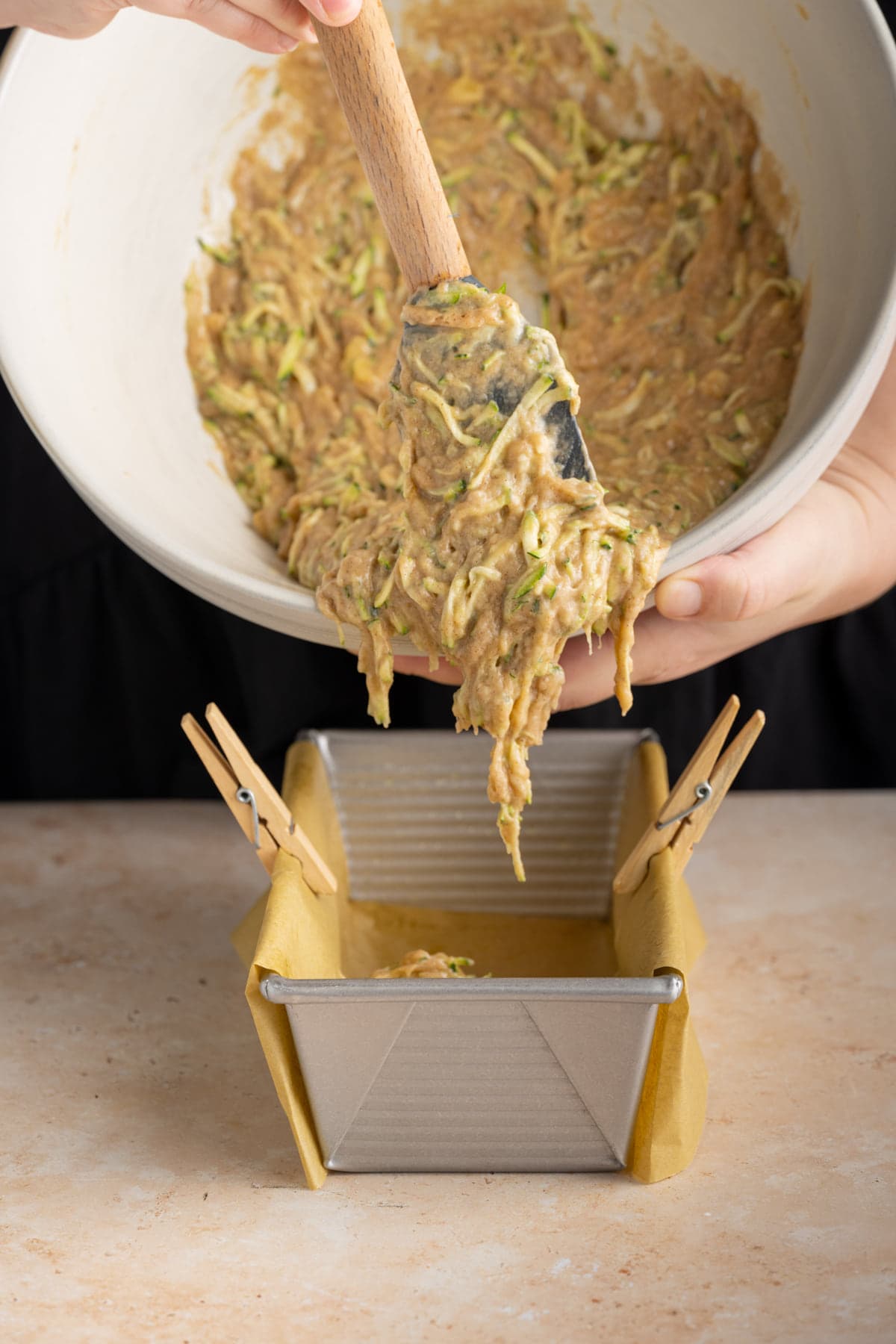 How to Properly Store Banana Zucchini Bread
Your zucchini and banana bread will stay fresh longer when it is covered or stored in an airtight container. This way, it will keep at room temperature for 3-4 days or up to 6 days in the refrigerator before it starts to dry out.
This loaf can also be frozen for up to 6 months. Just make sure to allow it to thaw out in the fridge overnight before slicing into it.
If your banana bread ends up getting stale, consider using it to make this Banana Bread French Toast.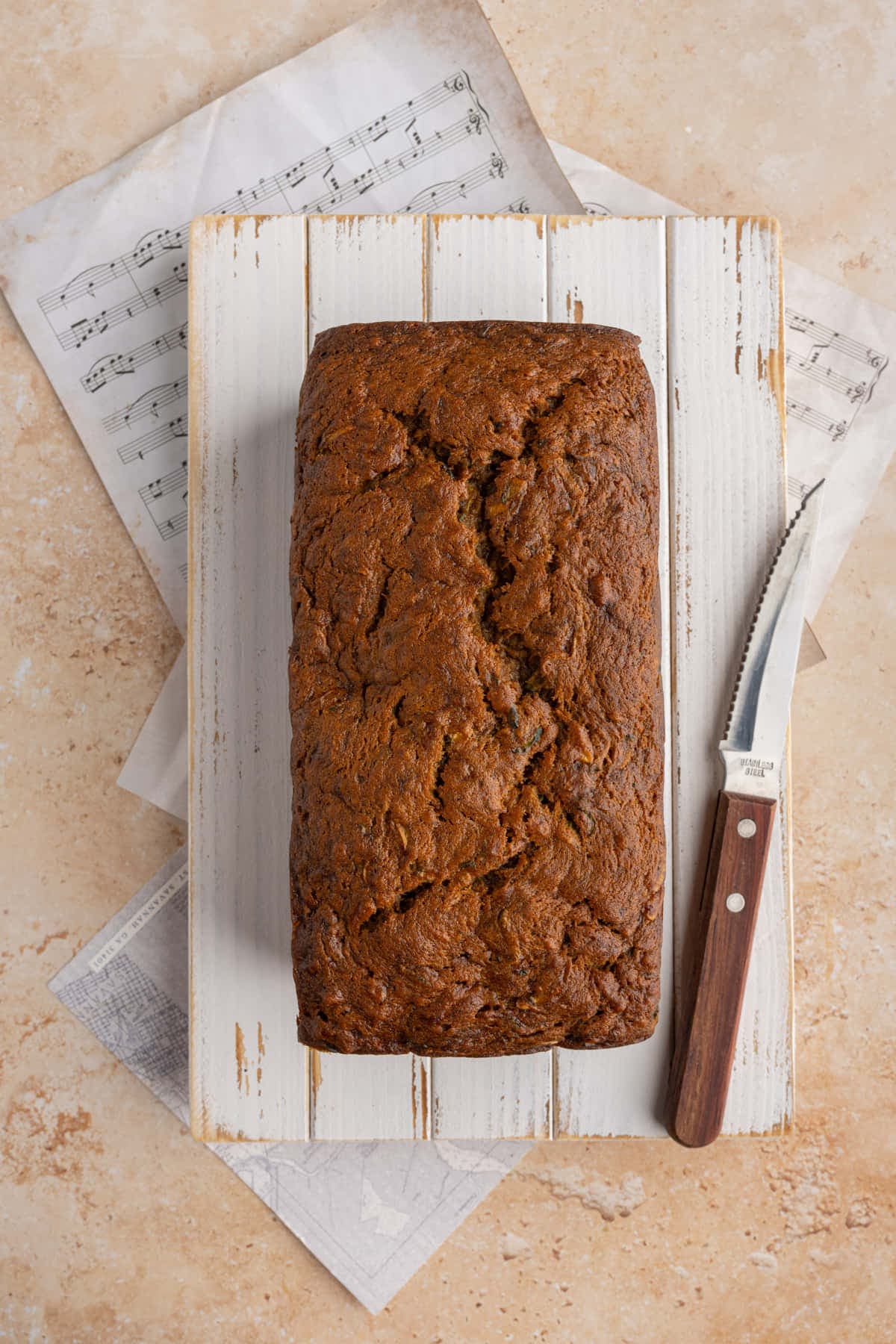 How to Serve Zucchini Banana Loaf
This Zucchini Banana Bread is delicious enough on its own, but if you want to spruce it up, here are some serving options:
Butter.
Peanut butter.
Nutella.
Jam.
Honey.
Whipped cream.
Fresh berries or sliced banana.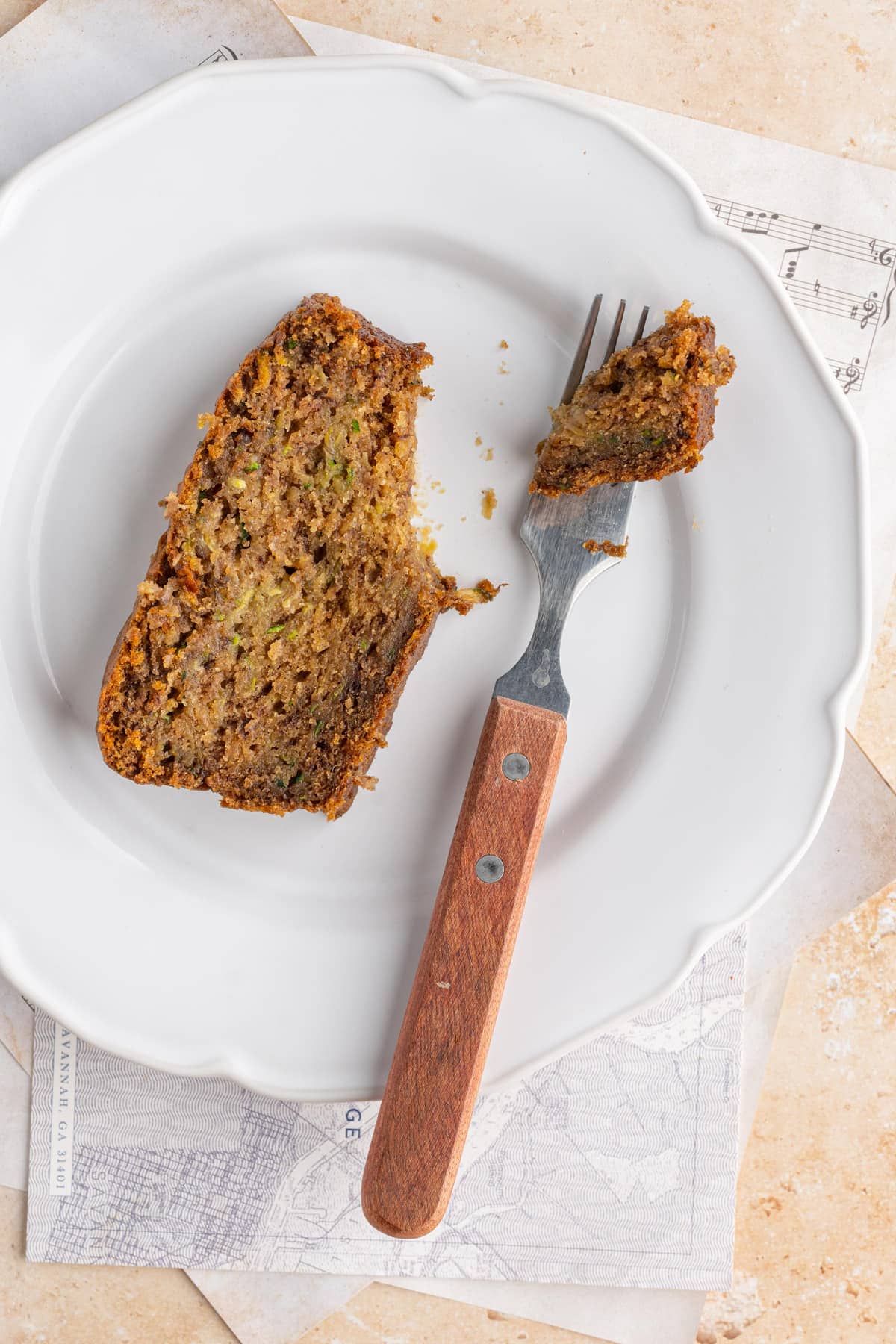 Banana Zucchini Bread Frequently Asked Questions
---
Should you squeeze water out of zucchini for bread?
Some recipes will instruct you to use a cheese cloth or clean kitchen towel to remove moisture from the fresh zucchini before adding it to your batter.
However, this recipe skips this step to retain all the liquid to make a super-moist bread.
Why did my zucchini bread come out dense?
Overbeating the zucchini into the batter can make the bread dense. It's best to add the shredded zucchini last and use a rubber spatula to gently fold it into the batter.
Want to sharpen your kitchen skills?
Why You Should Make this Moist Banana Zucchini Bread
---
The texture. This loaf is ultra-moist.
It's nutrient-dense. The best way to sneak in extra veggies!
It's easy to make! Less than ten simple ingredients and very little active baking time.
If you're loving this Banana Zucchini Bread, check out these Banana Bread Cookies and Sweet Potato Zucchini Fritters.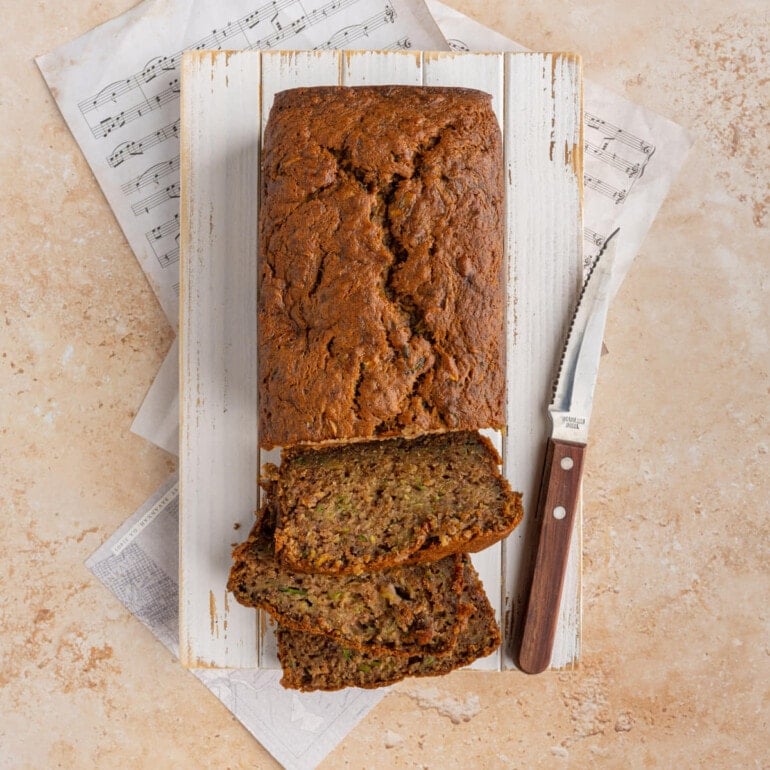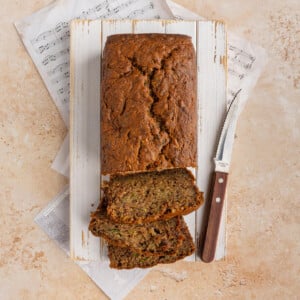 Moist Banana Zucchini Bread
PRINT
PIN
RATE
This Banana Zucchinis Bread is extra-moist and packs tons of banana and cinnamon flavor. The perfect way to sneak in extra veggies!
Ingredients
2

large

bananas

(preferably overripe)

½

cup

unsalted butter, melted

(½ cup = 1 stick)

1

cup

light brown sugar

(tightly packed)

1

teaspoon

vanilla extract

1 ½

cups

all-purpose flour

2

teaspoons

cinnamon

1

teaspoon

baking soda

1

teaspoon

salt

1

large

shredded zucchini

(approx. 1 ¼ cups)
Instructions
Preheat your oven to 350°F and prep a standard 9-inch loaf pan by lining it with parchment paper or spraying it with cooking spray.

Melt the butter in a small pot on the stove over low heat or in a microwave-safe bowl in 20-second intervals, stirring in between, until completely liquefied.

Peel your bananas and add them to a large mixing bowl. Use a fork to mash the bananas until they are almost liquefied (some lumps are okay!)

Add the butter, sugar, and vanilla extract to the mashed banana and use a whisk or fork to combine.

Then, add the flour, cinnamon, baking soda, and salt and combine until smooth. Use a rubber spatula to scrape down the sides as needed.

Gently fold the zucchini into the batter. Do not overbeat the batter.

Transfer the batter into your prepped pan, ensuring there is at least 2 inches of space left on the top.

Bake for 55-65 minutes on the top rack until a toothpick comes out clean. Allow to cool completely before slicing. Enjoy!
Pro Tips
If your bananas aren't overripe, stick them on a baking tray in their peel and let them sit in the oven while it's preheating until the peel turns black.
Bananas for bananas? Hate waste? You'll love this collection of the best ripened banana recipes!
Check out this list of all my best banana bread recipes.
Did you make this recipe?
Let me know by leaving a recipe rating below, or by tagging @marleysmenu on Instagram.