Looking for a shareable app that's a total crowd-pleaser? These BBQ Jackfruit Nachos are loaded with complex flavor and texture but without the meat!
Think pulled BBQ jackfruit laying on a bed of cheesy, crunchy chips, then finished with all your favorite toppings. Plus, it's super easy to whip up, making it my go-to vegan-friendly appetizer.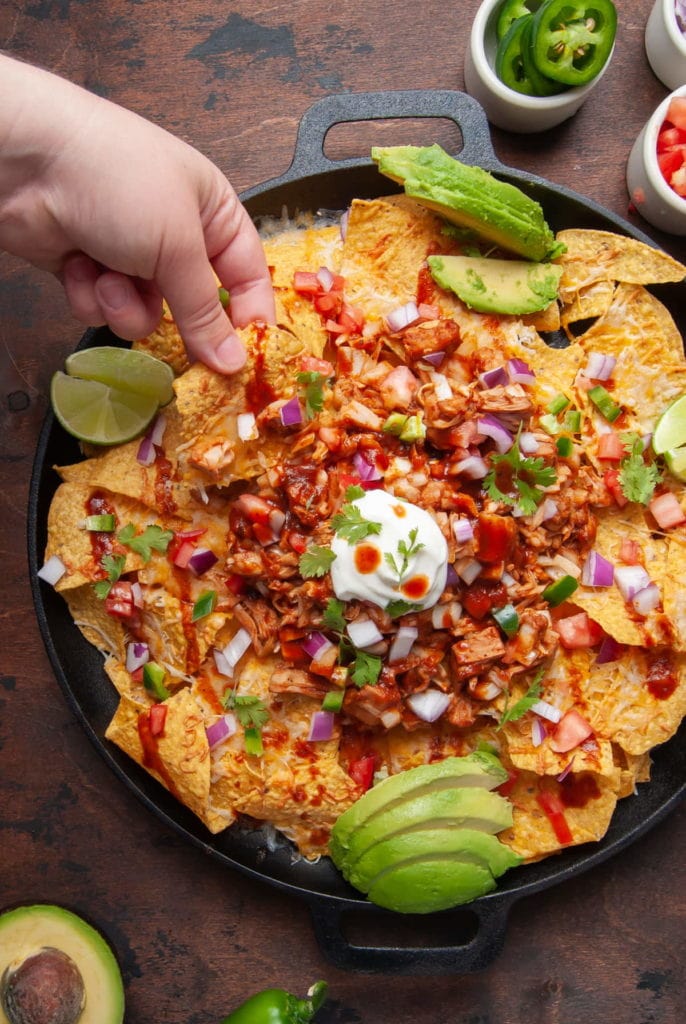 As an environmental scientist, I'm always looking for delicious meat alternatives to help me lower my ecological footprint, and these BBQ Jackfruit Nachos are at the top of my list!
Green tip: Industrial meat production has a huge impact on the environment, especially because of the amount of land it takes to sustain and its high amount of greenhouse gas emissions. Reducing your meat consumption is one great way to reduce your ecological footprint.
BBQ Jackfruit Nachos Tips and Tricks
---
---
Gather Your Ingredients

It's best to make sure you have everything you need before you get going! As for the jackfruit, you can use fresh jackfruit or canned. It's easier for me to get my hands on canned jackfruit, so that is what I generally use.
If you are using a whole jackfruit, check here for instructions on how to break it down.
Here's everything you'll need:
Make Them Your Own
Really, the possibilities are endless here!
Spice it up with some hot peppers, add some crunch with diced red onion, or add a creamy element with avocado. Whatever you fancy!
I highly encourage you to get creative here. Maybe even use this as a "clean out the fridge" meal to avoid waste. Whatever you choose, have fun with it!
Here are some of my favorite topping options:
Drain and Rinse
If you're buying canned jackfruit, it usually comes in brine. This is great to preserve and flavor it but does give it almost a bitter taste.
Make sure to drain and rinse the jackfruit before heating it on the stove, to start with the most neutral flavor, allowing you to have more control over the final product.
I use a sieve to drain and rinse and it works perfectly!
Get the Jackfruit Tender
In order to get that perfect meaty texture, it's important to give your jackfruit time to get tender on the stove.
Once you've drained and rinsed it, add it to a large pot with about 10 cups of boiling water. Over high heat, it should take about 35-40 minutes.
You'll know it's ready when you can easily shred it with a fork.
This brings us to the next step. Drain the boiling water out and add your jackfruit to a large plate or cutting board. Then, use two forks to pull apart and shred the pieces of jackfruit.
Then add your diced onions and BBQ sauce. Toss until everything is coated, and you'll be ready to bake it with your nachos!
Quick Bake Them
Down to the final step! Spread your tortilla chips out on a baking sheet or cast iron. I use my cast-iron pizza pan and they turn out great every time!
Then, load the chips up with cheese and scoop your BBQ jackfruit on top. If there are any other toppings you want warmed, you can add them now, too. I usually throw them on top once the nachos are out of the oven.
Now you'll bake them just until the cheese is melted. It shouldn't take longer than 5 minutes.
Choosing Your BBQ Sauce
I used a locally sourced, Florida-style BBQ sauce, which has some spice, vinegar, and citrus. Any traditional BBQ sauce will be out of this world on these nachos—think Texas, South Carolina, or Kansas City style.
You want something with a little sweetness, a little spice, and some vinegar if that's your style. Avoid mayonnaise-based BBQ sauces in this one, the extra fat is not needed with all the cheese!
If you're making these vegan, just read your labels. Some BBQ sauces have Werchestershire Sauce or Dairy products in them.
Green tip: Consider buying your BBQ sauce in glass bottles rather than plastic squeeze bottles to avoid extra plastic packaging, and always recycle your whiskey bottles!
Should You Have Leftovers
Cover the nachos up and keep them stored in the refrigerator for two days.
To reheat, bring your oven up to 375°F and stick them on the top rack until the cheese gets melty again and the jackfruit is heated all the way through. This should take 8-10 minutes.
Keep in mind, the chips may not get as crispy as they once were. It's best to store leftover BBQ jackfruit separately. It will last up to 5 days in an airtight container in your refrigerator.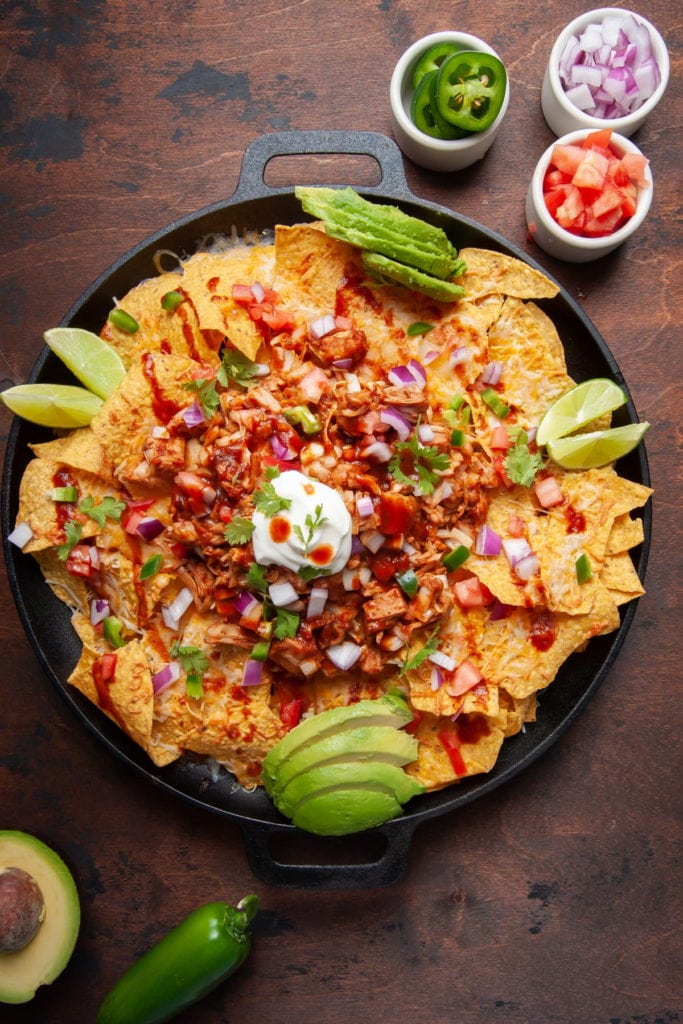 Why You Should Make These BBQ Jackfruit Nachos
---
---
They're shareable. Perfect for game day, happy hour, or even for a filling dinner!
They're fun. Vibrant colors and flavors on a bed of crunchy chips makes eating these so fun!
They're crunchy! And cheesey. And "meaty". So many delicious textures in every bite!
If you're loving these BBQ Jackfruit Nachos and are in search of more out-of-this-world shareable appetizers, check out this Caprese Bruschetta and Vegan Spinach Dip.