Looking for a tasty meatless sandwich? This BBQ Tempeh Sandwich is crunchy, tangy, hearty perfection in between two tasty buns.
It can be whipped up with as little as 4 ingredients and ten minutes, making it the easiest way to get all the deliciousness of BBQ without having to fire up the grill.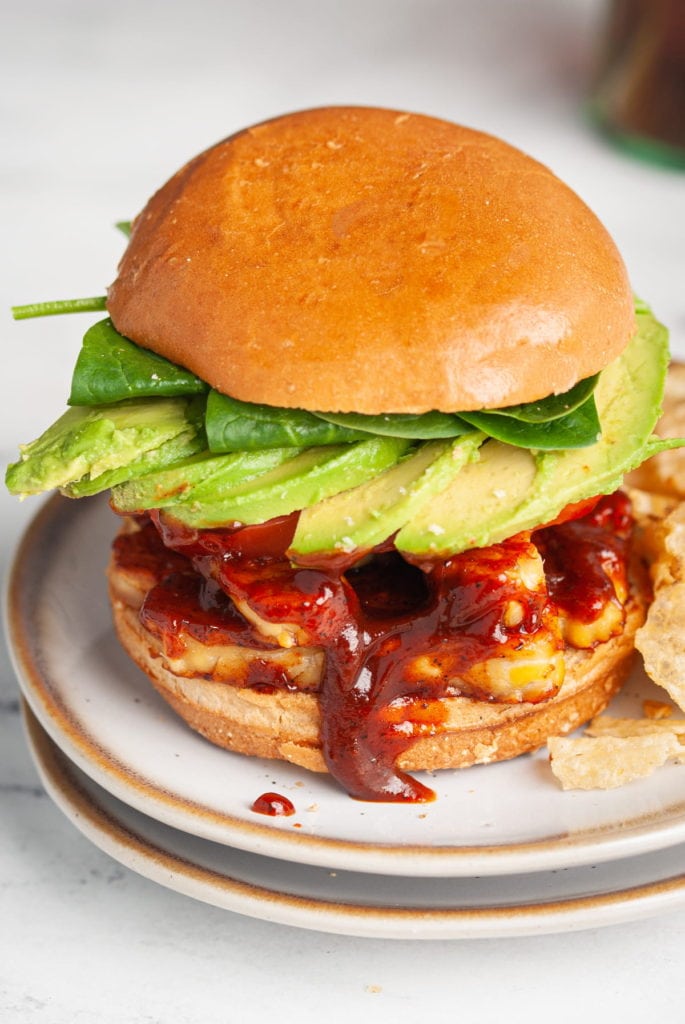 As an environmental scientist, I'm always looking for delicious meat alternatives to help me lower my ecological footprint, and this BBQ Tempeh is such an easy way to sub out meat in your sandwich.
Tempeh is a protein-rich food made from fermented soybeans. It's similar to tofu in that it has a similar ability to take on any flavor, but has a much denser, chewier texture.
BBQ Tempeh Sandwich Ingredients
---
Here's everything you need:
Tempeh. An 8 ounce pack will make more than enough for one sandwich. If you have leftovers, they will keep for 3-5 days.
BBQ Sauce. The most important ingredient! I highly recommend this Easy Vegan BBQ Sauce if you want to whip one up homemade!
Olive Oil. To fry the tempeh in.
Bun. To make it a sandqich!
Toppings of choice. I kept it simple with fresh spinach, sliced avocado, and tomato.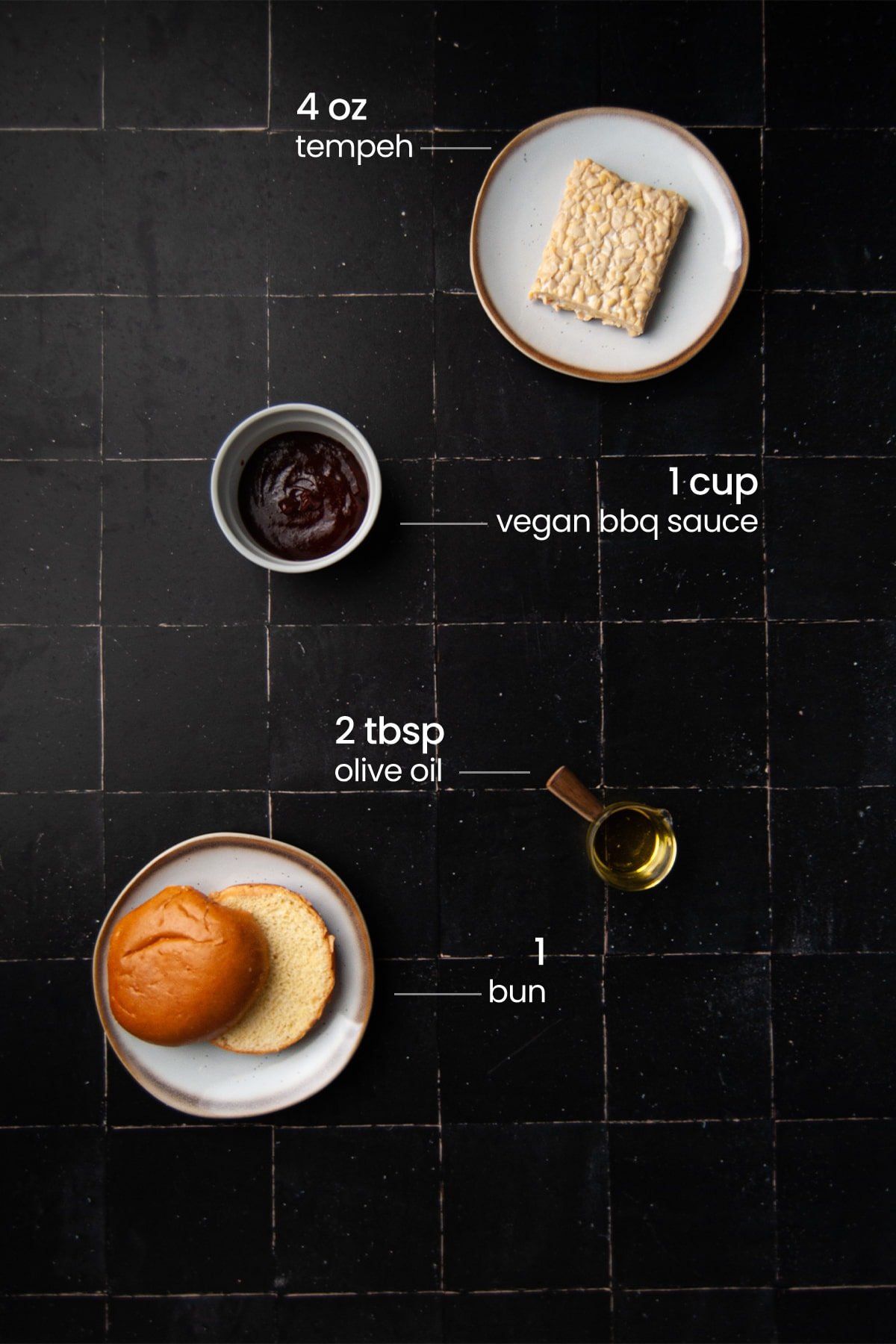 BBQ Tempeh Sandwich Tips and Tricks
---
Slice it Up
Start by slicing your tempeh into strips with a sharp knife. I keep each strip about an inch wide, but you can opt to make them even thinner if you want your meatless BBQ sandwich extra saucy!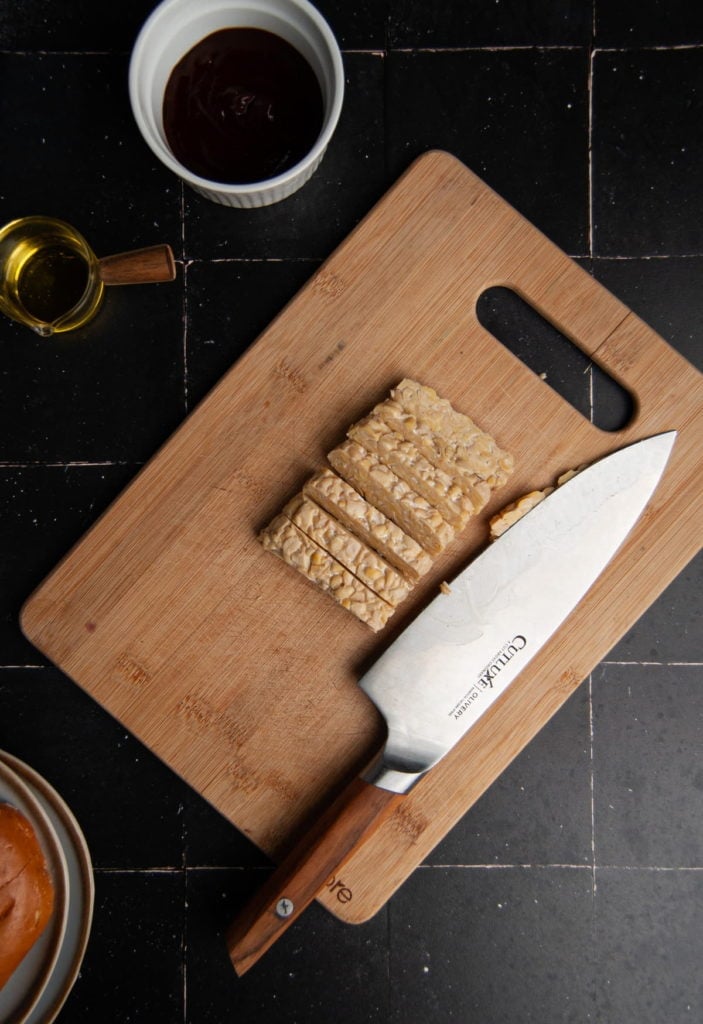 Fry It Til It's Golden
Get your oil hot in a pan over medium heat first.
Then, drop your tempeh in and fry it for about 5 minutes on each side. You should hear it sizzling.
You'll know your tempeh is ready when both sides are golden brown.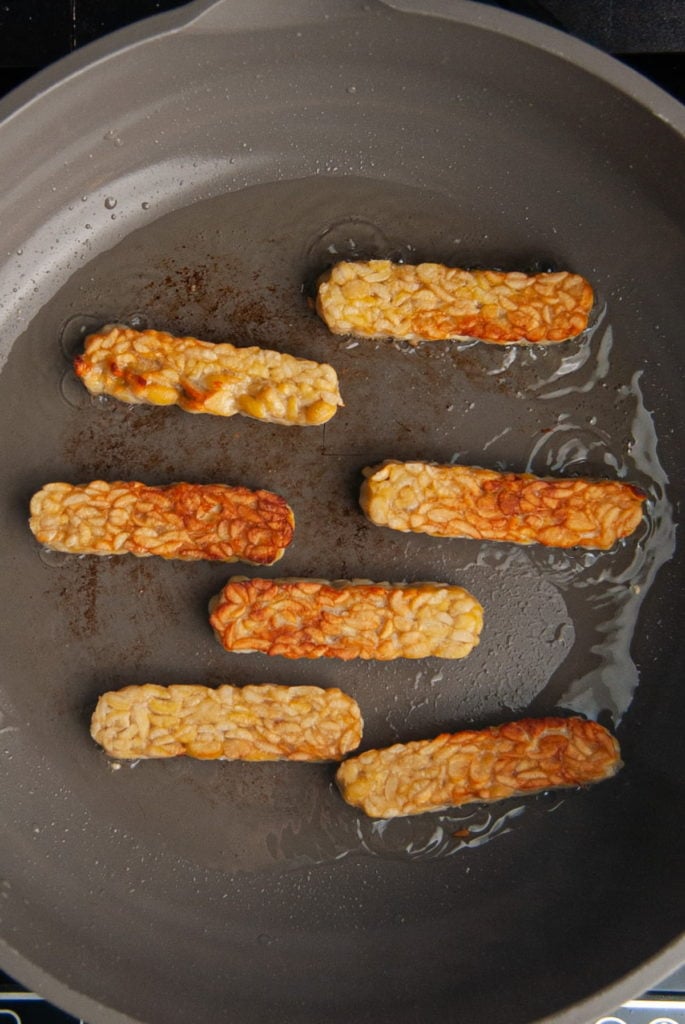 Soak Up Excess Oil
When you are happy with the color of your tempeh strips, remove them from the pan and transfer them to a paper towel.
Green tip: Paper products contribute to deforestation. Consider these bamboo paper towels! Bamboo naturally regenerates every few months, whereas trees cannot regrow once harvested.
Just beware, they're super hot! Give your tempeh a couple of minutes to cool down so you don't burn your fingers. Then, use a second paper towel to blot the top.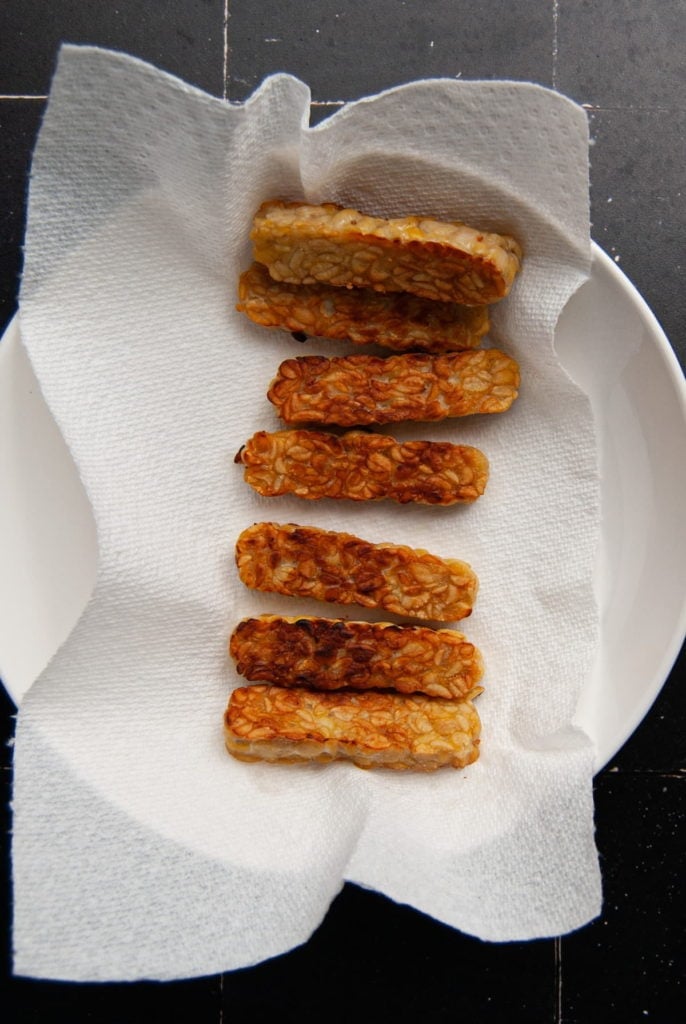 Smother It In Sauce
I like to use a pastry brush to brush the BBQ sauce evenly onto each strip of tempeh.
You can also toss the tempeh strips in the sauce in a large mixing bowl—whatever works for you!
Just make sure you generously coat the tempeh on both sides to give it that flavor-punch of BBQ sauce.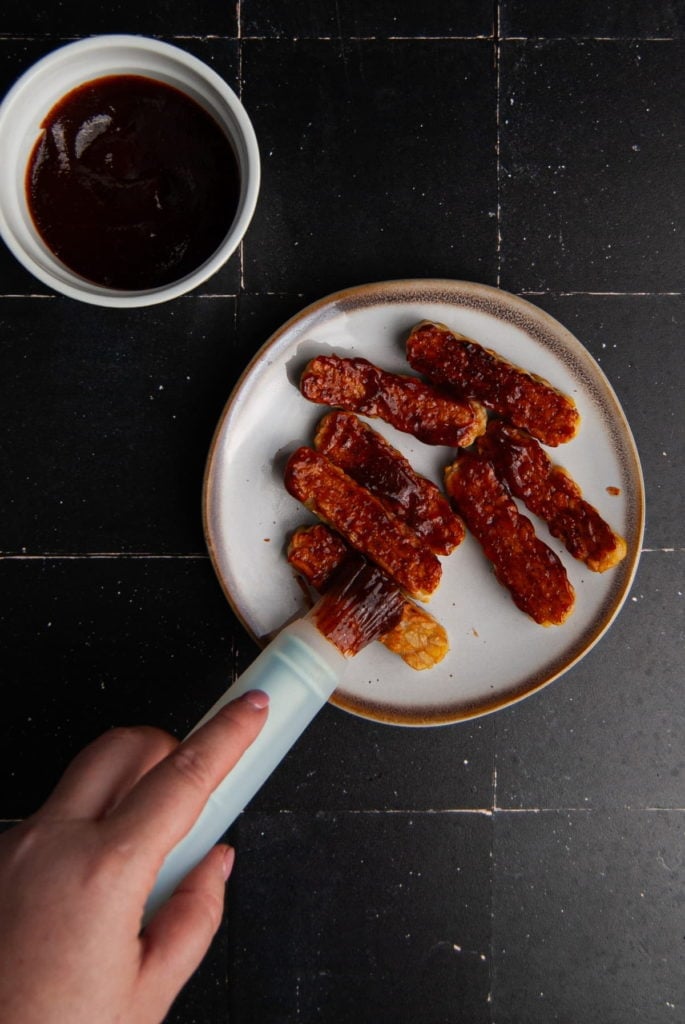 Stack It Your Way
Stack 6-8 slices of BBQ tempeh on your bun, followed by your toppings of choice!
Get creative and add your favorites. Caramelized onions and mushrooms, greens, tomato, avocado, pickles, cheese, coleslaw, all make great toppings, just to name a few.
You can also opt to toast your bun!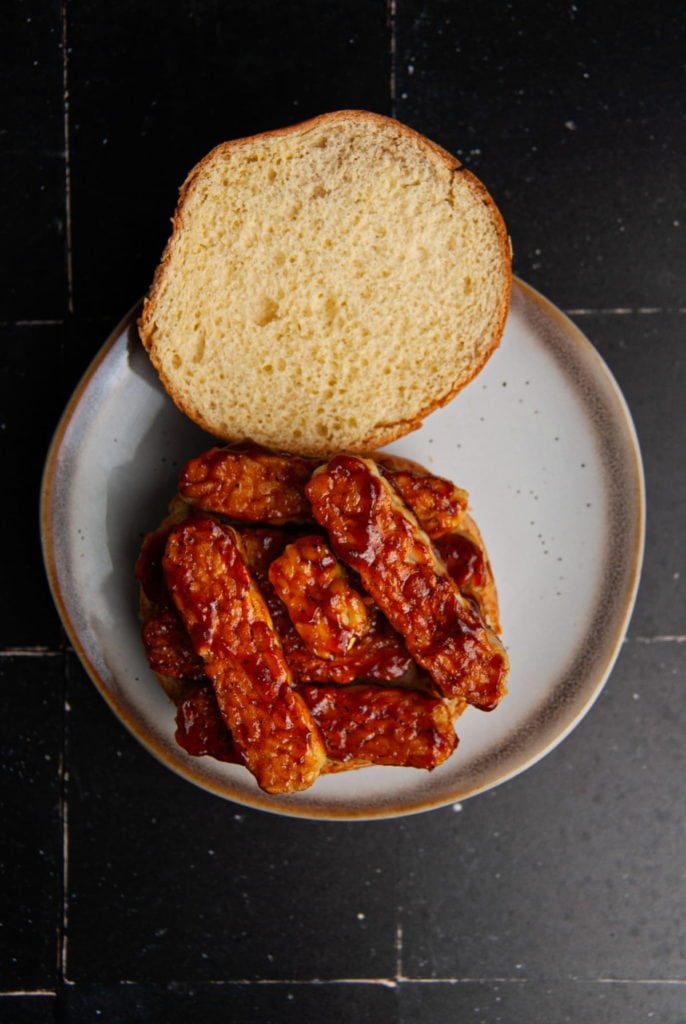 Should You Have Leftovers
The prepared tempeh will last 3-5 days in an airtight container in the refrigerator. I sometimes just eat these leftovers cold, but you can also reheat in the oven at 400°F for 8-10 minutes until heated thoroughly.
This BBQ Tempeh also makes for a great addition to a salad, rice, or quinoa bowl, or even just as a delicious vegan appetizer on its own.
Green tip: Did you know that of the billions of pounds of food wasted annually, it is estimated that 50% of it happens in our homes? It's always best to avoid food waste as much as you can!
What To Serve Your Sammy With
Aside from your toppings of choice, your meal can be customized by choosing your favorite sides!
To me, a BBQ sandwich is just begging for a side of Parmesan Truffle Fries or Baked Old Bay Fries, but it also pairs amazingly with roasted veggies.
Try this Purple Asparagus or Sweet and Salty Brussels Sprouts for a lighter option!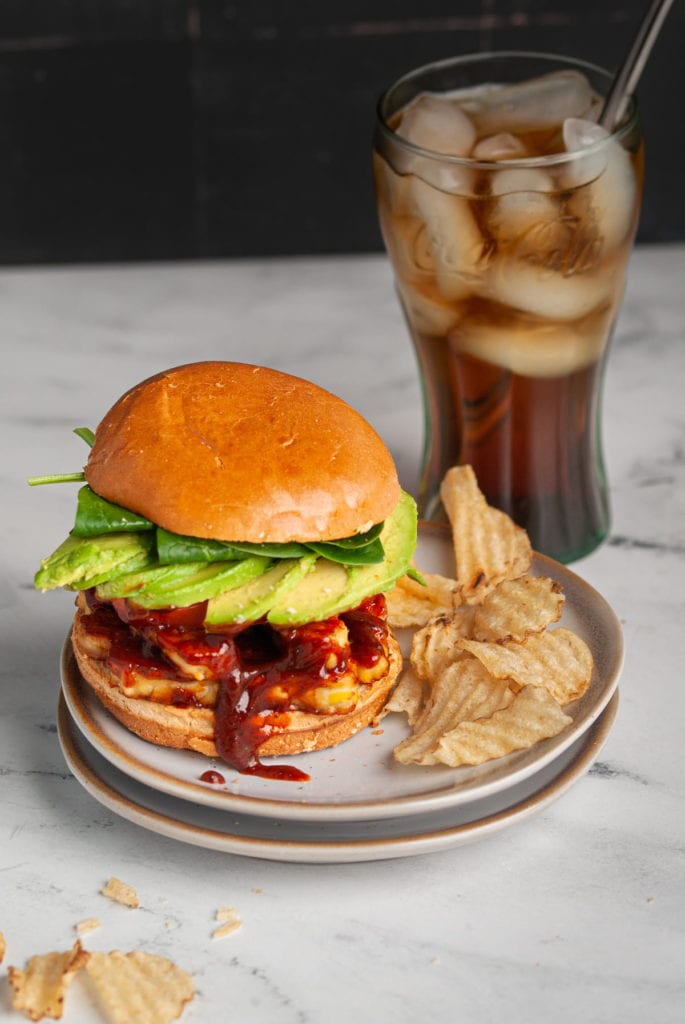 BBQ Tempeh Frequently Asked Questions
---
---
What Does Tempeh Taste Like?
Tempeh is a delicious protein made from fermented soybeans. It has a great "meaty" texture and a subtle nutty flavor.
It takes on flavor really well, and can easily be made to taste however you want it to!
Can You Marinate Tempeh?
Absolutely, yes! Tempeh takes on flavor very well, and loves a good marinade! Tempeh can be marinaded for up to 4 days in an airtight container in the refrigerator.
For a quicker meal, skip the marinade and add a sauce to it once its cooked.
Is barbecue sauce vegan?
Only sometimes. Always read the ingredients and note that ketchup and sugar are not always vegan.
Look for words like "certified organic" to indicate that the sugar is not processed with animal bone char.
Why You Should Make this BBQ Tempeh Sandwich
---
---
The texture. Crispy, meaty tempeh, with light and fresh toppings and a pillowy bun to hold it all together.
It's easy. Minimal ingredients, and ten to fifteen minutes to whip up!
It's versatile. Add any toppings and sides you like!
If you're loving this BBQ Tempeh Sandwich, check out this BBQ Tofu Sandwich and Buffalo Tofu, too!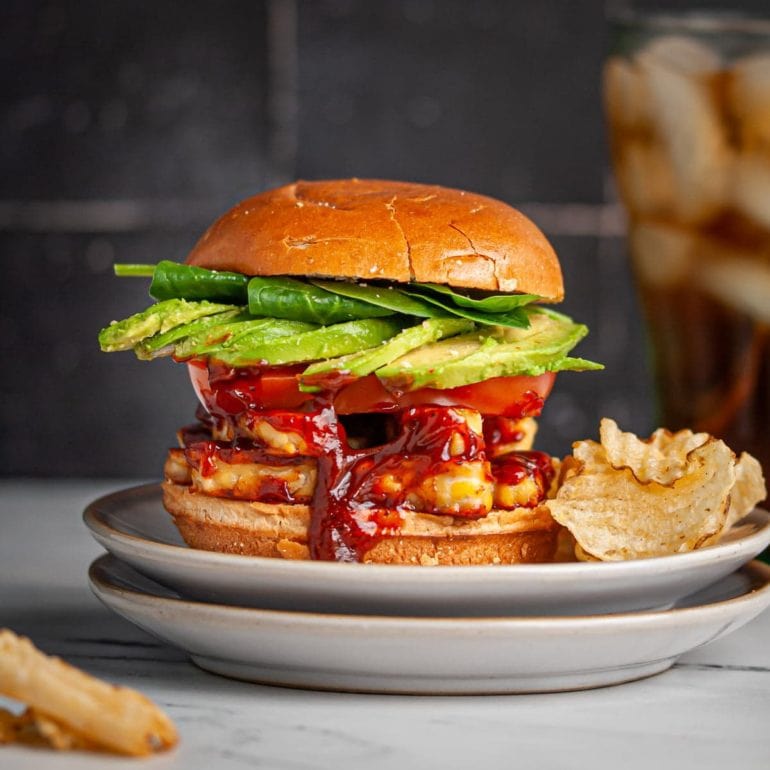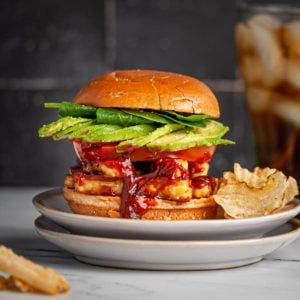 BBQ Tempeh Sandwich
PRINT
PIN
RATE
This BBQ Tempeh Sandwich is crispy, saucy goodness sandwiched between a bun with minimal ingredients and only 15 minutes required!
Ingredients
4

ounces

tempeh

2

tablespoons

olive oil

¼

cup

BBQ sauce

1

bun

toppings of choice
Instructions
Slice your tempeh into 1-inch wide strips.

Add olive oil to a large frying pan over medium heat and allow it to get hot (about 1 minute).

Carefully add sliced tempeh to the hot oil and fry for 3-5 minutes on each side until golden brown.

Transfer tempeh strips to a paper towel and allow to cool for a couple of minutes before using a second paper towel to blot any excess oil off the top of the tempeh.

Smother tempeh strips in BBQ sauce by painting on with a pastry brush or tossing the tofu in the sauce in a large mixing bowl.

Assemble your sandwich by layering BBQ tempeh on the bottom bun and stacking your toppings on top. Finish with the top half of the bun and enjoy!
Pro Tips
Leftover tempeh will last 3-5 days in an airtight container in the refrigerator.
I love using my own vegan BBQ sauce on this sandwich!
Did you make this recipe?
Let me know by leaving a recipe rating below, or by tagging @marleysmenu on Instagram.