Craving a classic BBQ sandwich but without the meat? This Crispy BBQ Tofu Sandwich has you covered!
With crispy crunchy tofu smothered in ooey-gooey BBQ sauce and endless topping options, this Meatless Sandwich is bound to curb your backyard BBQ cravings!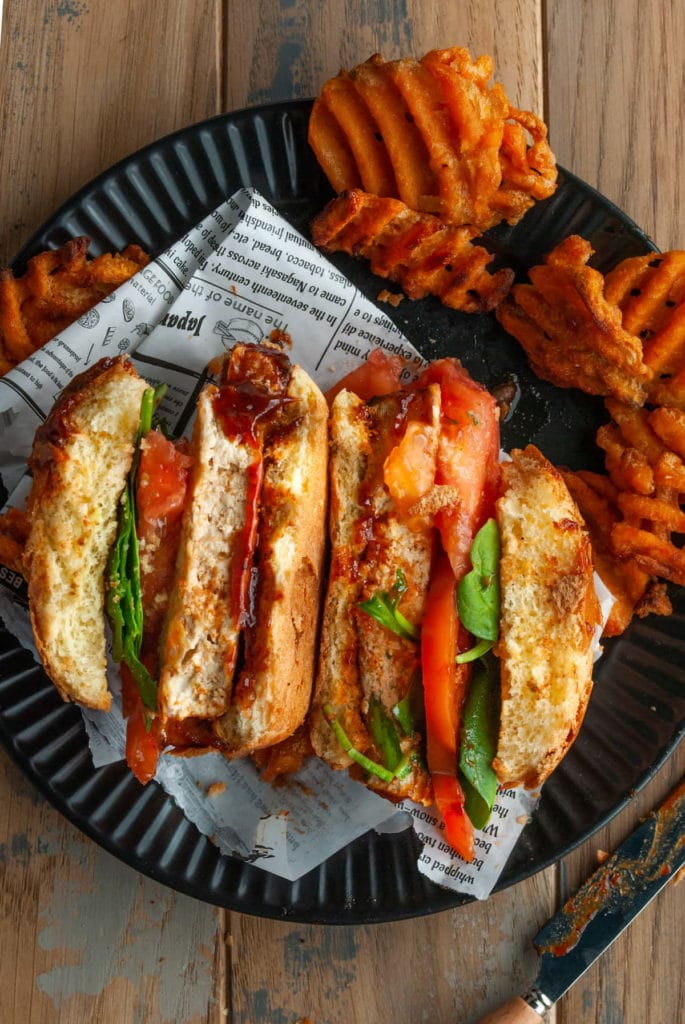 As an environmental scientist, I'm always looking for delicious meat alternatives to help me lower my ecological footprint, and this BBQ Tofu is the easiest way to sub out meat in your vegan BBQ sandwich.
Tofu is a protein-rich food made from condensing soy milk. It's a great addition to any meal because of its ability to take on any flavor.
BBQ Tofu Sandwich Ingredients
---
---
Here's everything you'll need:
BBQ Sauce. The most important ingredient! I highly recommend this Easy Vegan BBQ Sauce if you want to whip one up homemade!
Extra-Firm Tofu. Half of a 14 ounce pack will yeild more than enough for 1 sandwich. If you're making two or more sandwiches, double the recipe and if you have leftovers, they will keep for 3-5 days.
Olive Oil. To get that tofu crispy.
Cornstarch. To absorb excess liquid, allowing for an even crispier exterior on your tofu.
Toppings. Whatever you fancy. I keep it simple with tomato slices and some greens.
Bun. For serving.
BBQ Tofu Sandwich Tips and Tricks
---
---
Press Your Tofu
To avoid that infamous "spongy" texture that tofu sometimes gets a bad rap for, it's best to drain and press your tofu.
If you don't have a tofu press, no problem! Wrap your tofu in a clean kitchen towel and place a cutting board on top. Then you have an even surface to stack something heavy on top.
This will force excess liquid out of the tofu to be soaked up by the kitchen towel.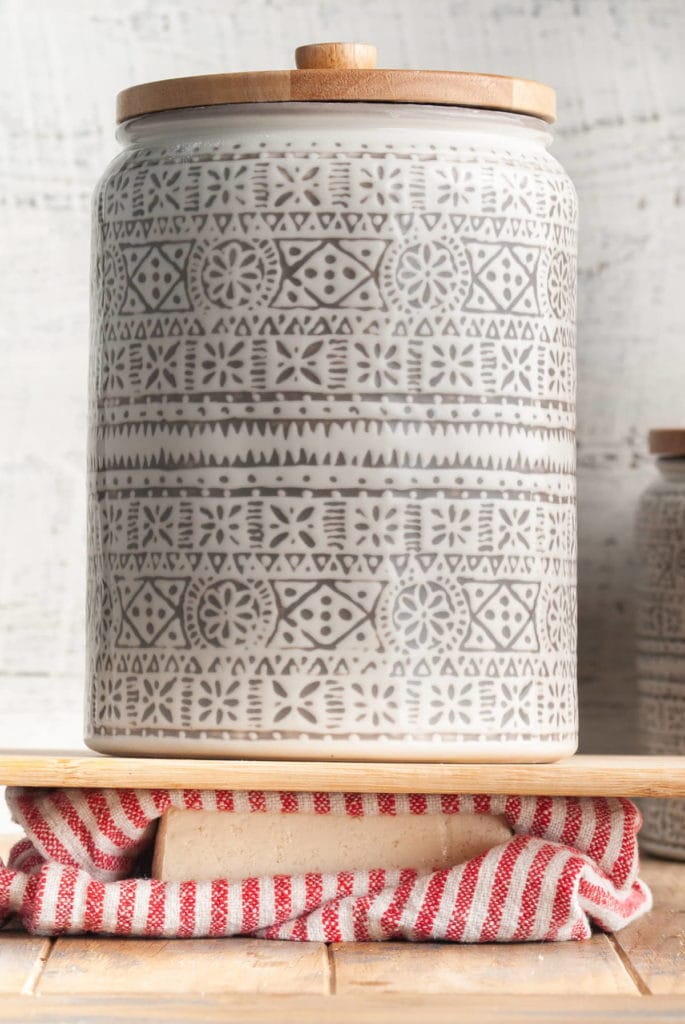 Slice the Tofu Evenly
7 ounces of tofu should be enough for each sandwich (you may even have leftovers, depending on how tall you like to stack your sandwiches). I like to slice my tofu in 4 thick, even parts, using two thick pieces per sandwich.
You could also opt for thinner slices if you really love sauce! This will make your sauce: tofu ratio a lot saucier!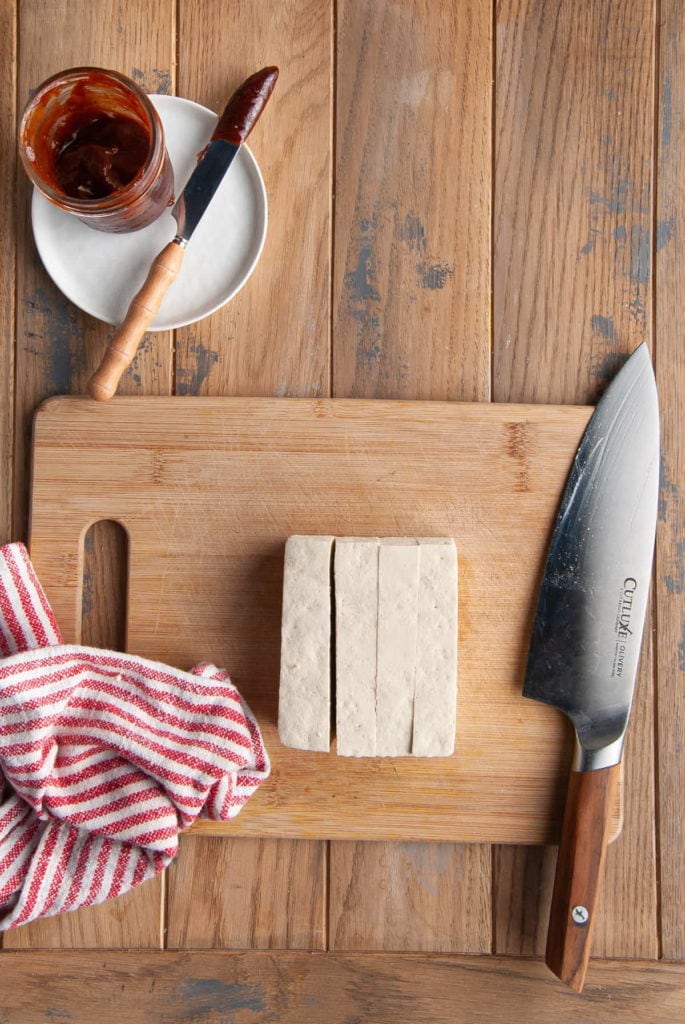 Coat Your Tofu
In order to get your tofu crispy, you'll need both olive oil and cornstarch. These two ingredients work together to get you that perfect texture.
Regardless of how much you press your tofu, it's likely there will still be some excess moisture. The cornstarch soaks up that excess liquid while the oil heats in the oven to essentially fry the outermost layer of the tofu.
For best results, we need an even layer of oil on each piece of tofu and just a sprinkle of cornstarch. Too much cornstarch can leave you with a bitter taste.
You can choose to toss the tofu in oil and cornstarch or you can use a pastry brush to add the olive oil to the tofu, spreading it evenly. Then, simply sprinkle the cornstarch on top.
Flip the tofu and repeat to make sure you get both sides.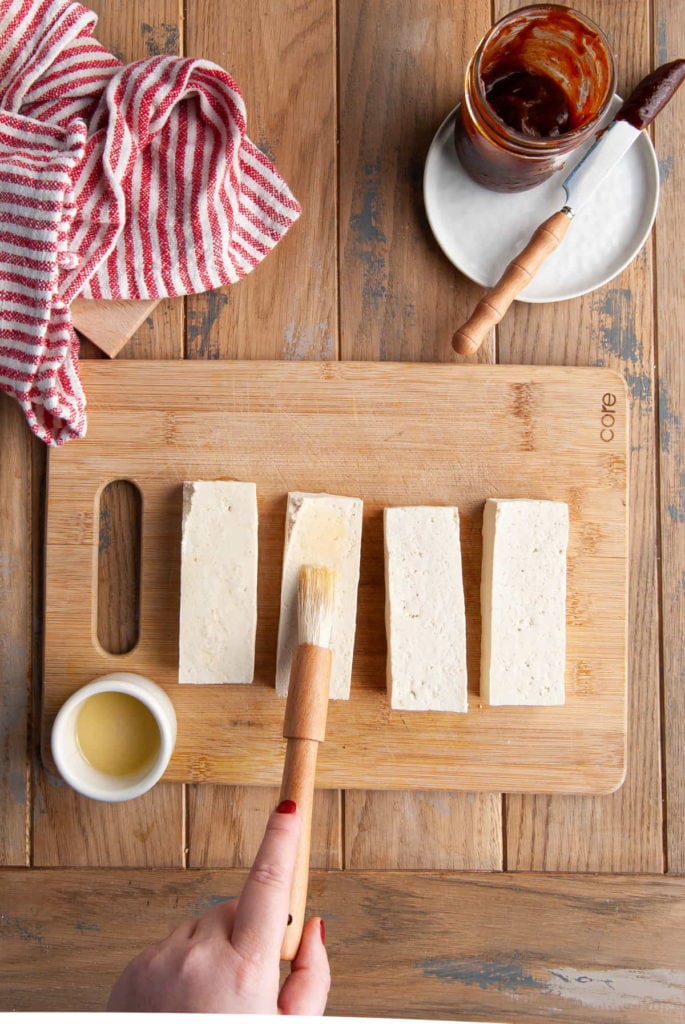 Bake Until Golden
Spread your tofu out evenly on your baking sheet. You can opt to use tin foil for less clean-up, but I find the tofu tends to stick to foil more than if you just place it directly on your baking sheet.
With your oven at 400°F and with your tofu on the top rack, it should start to brown within 25-30 minutes. Flip your tofu after 15 minutes and then watch it closely after 20. We want that perfect golden brown, so we have to catch it before it burns!
Green tip: Look for organic, non-GMO tofu to make sure it's sourced sustainably.
Sauce it Up!
I love to use my pastry brush to generously lather the BBQ sauce on that crispy tofu. It allows for even distribution. You can also opt to toss the tofu in the sauce!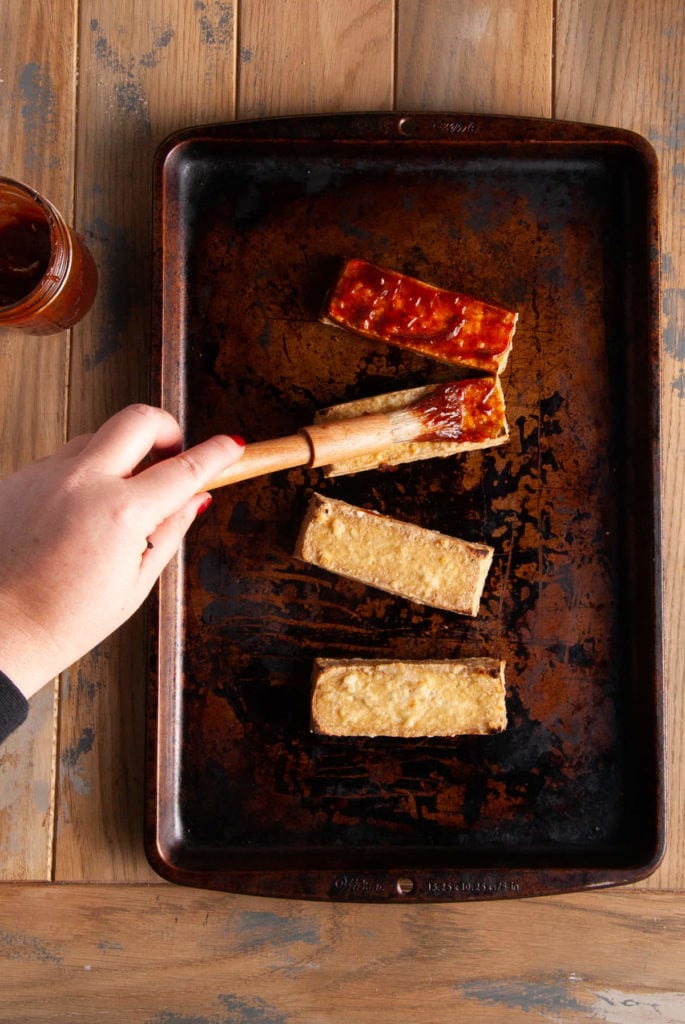 Serve it Your Way!
I kept it simple with some greens and fresh sliced tomato, but make it your own!
Green tip: Consider adding seasonal veggies! Eating seasonally is one of the best (and most delicious) ways to support local and decrease your carbon footprint. Check what's in season in your area with this Seasonal Food Guide.
This sandwich pairs perfectly with these Old Bay Fries or Parmesan Truffle Fries.
Storing Your Leftovers
The prepared tofu will last 3-5 days covered in the refrigerator. I sometimes just eat these leftovers cold, but you can also reheat in the oven at 400°F for 8-10 minutes until heated thoroughly.
This BBQ Tofu also makes for a great addition to a salad or quinoa bowl, or even just as a delicious vegan appetizer on its own.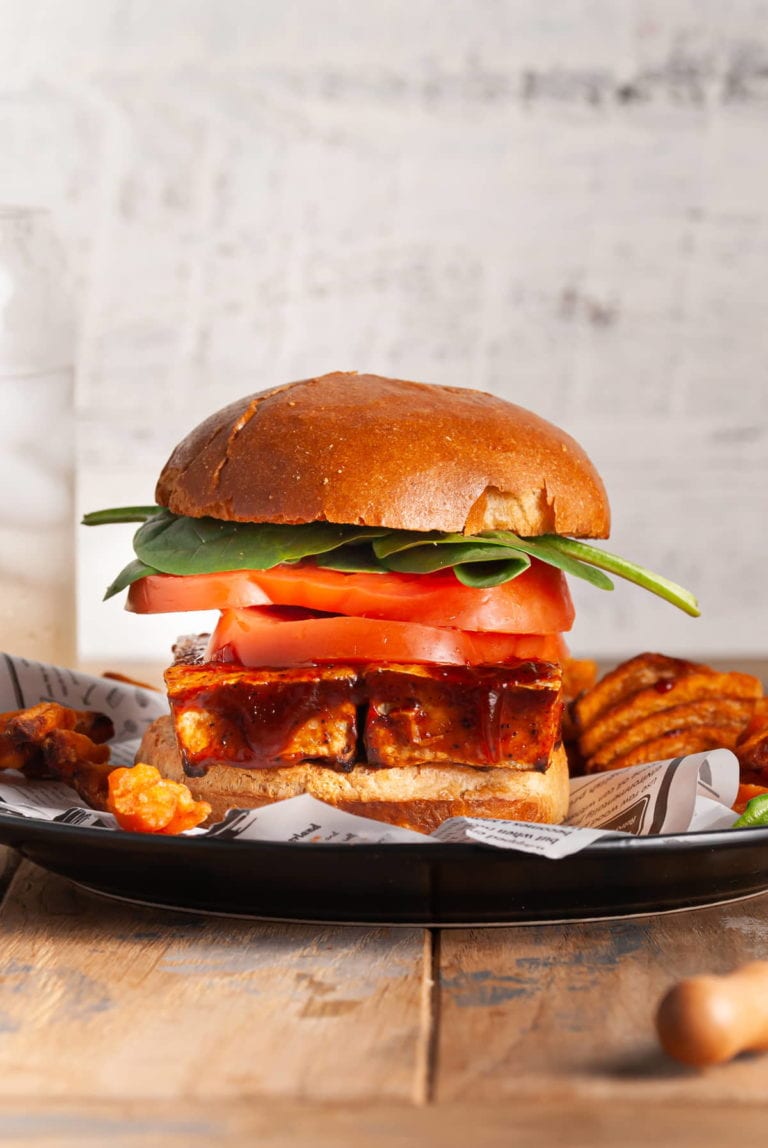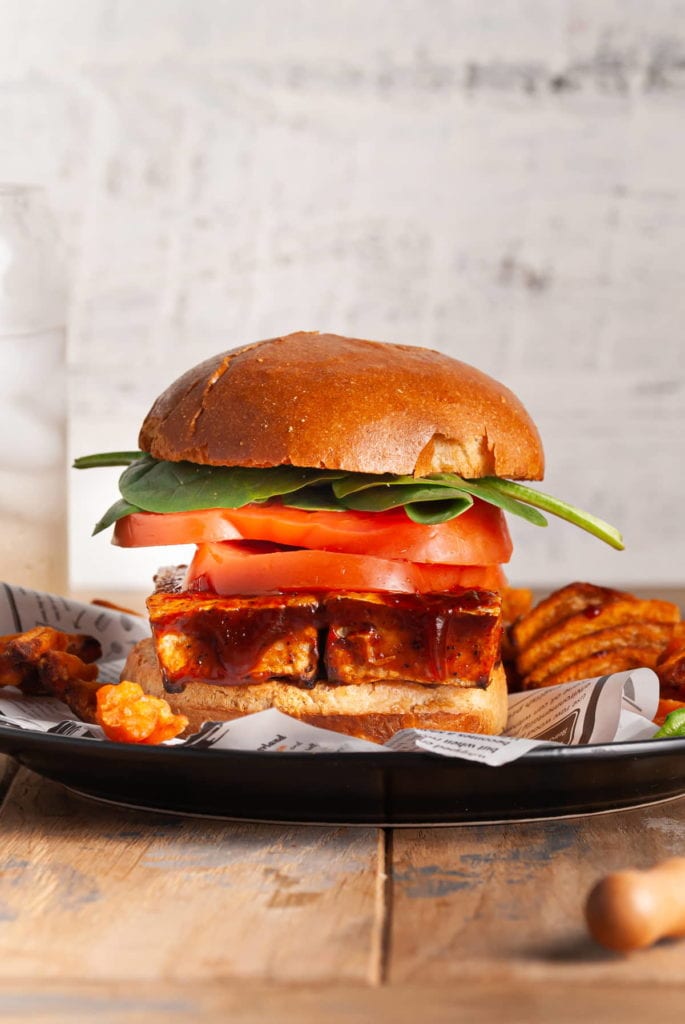 BBQ Tofu Sandwich Frequently Asked Questions
---
---
How long do you bake tofu?
At 400°F, pressed tofu that is dusted with oil and cornstarch should get crispy after about 30 minutes.
Can you cook tofu in a sandwich press?
Yes! Tofu can be made on a sandwich press! Make sure your tofu is pressed and coated in oil. Turn the press on highest setting and cook for about ten minutes before slowly trying to open your press.
If the tofu is sticking to the press, that just means it is not ready! Don't force it, when the tofu is cooked, it will form a crispy outer layer, that easily peels away from the tofu press.
Sign-up for the Meatless Monday Challenge
Get access to the 4-week-long Meatless Monday Challenge, with accompanying meal plans, grocery shopping lists, and more, sent right to your inbox!
Why You Should Make this BBQ Tofu Sandwich
---
---
The texture. The tofu gets crispy and adds a delicious crunch to your sammy!
The sauce. Just another excuse to smother BBQ sauce on somethin'.
It's better for you and the planet. 'Nough said.
If you're loving this Crispy BBQ Tofu Sandwich and looking for more delicious tofu recipes, check out these Tofu Fajitas with Onions and Peppers and this Vegan Spinach Dip.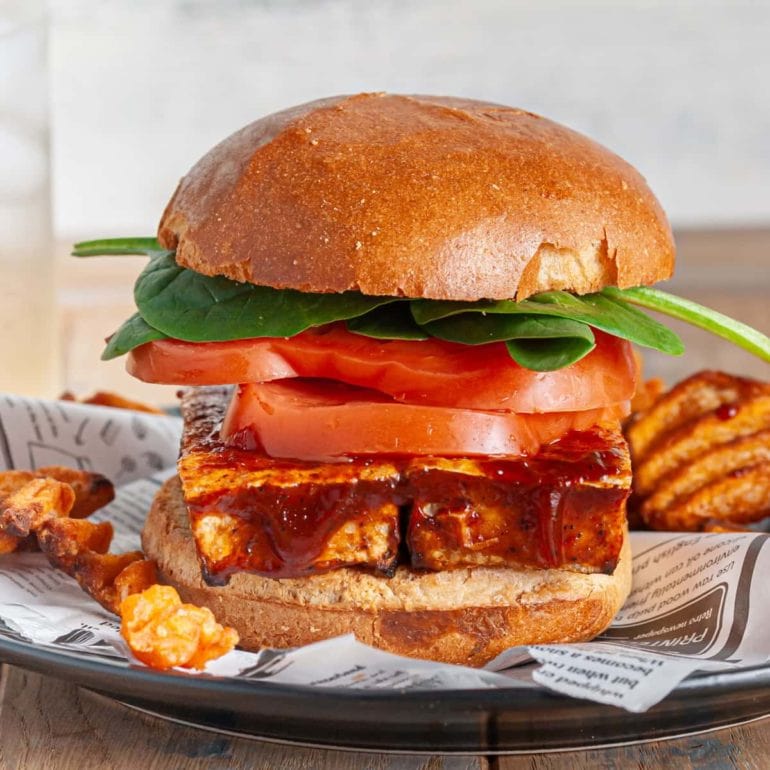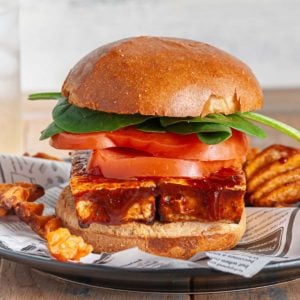 Crispy BBQ Tofu Sandwich
PRINT
PIN
RATE
This BBQ Tofu sandwich lathers sweet and tangy BBQ sauce onto crispy tofu for a meatless sandwich option that is packed with texture and flavor.
Ingredients
BBQ Tofu Sandwich
7

ounces

extra-firm tofu

(7 oz usually = ½ block)

1

tablespoon

olive oil

2

teaspoons

cornstarch

¼

cup

BBQ sauce

1

bun of choice
Optional Topping Ideas (choose your faves!)
2

slices

fresh tomato

1

handful

fresh spinach or arugula

1

piece

iceberg lettuce

1

slice

cheese

(dairy or plant-based)

1

sliced

jalapeno

1

sliced

dill pickle

¼

large

red onion, sliced
Instructions
Preheat your oven to 400°F.

Drain your tofu using a tofu press—or manually by placing it between a clean, folded kitchen towel and putting something heavy on top—for at least 5 minutes.

Slice your tofu into 4 thick strips and press one more time with a clean towel to absorb any excess liquid.

Use a pastry brush to coat all sides of the tofu with olive oil (or toss the tofu in olive oil).

Sprinkle cornstarch on both sides of your tofu strips and lay them out flat on a baking sheet, making sure they are not overlapping one another.

Bake for 15 minutes, remove from the oven to flip, and then bake for another 10-15 more minutes. Check on your tofu regularly. You'll know your tofu strips are done when they start to turn golden brown.

Remove the tofu from the oven and allow to cool for 2-3 minutes before coating with a generous amount of BBQ Sauce.

Assemble your sandwich by placing the BBQ tofu on the bottom half of the bun and stacking your toppings of choice on top. Add the other half of the bun and enjoy!
Pro Tips
You can toast your bun if you prefer.
Make sure to sprinkle the cornstarch on top of the tofu evenly. It will absorb excess liquid to make your tofu nice and crunchy, but too much can leave a bitter taste.
Find more delicious meat-free recipes in this collection of my best meatless meals!
Did you make this recipe?
Let me know by leaving a recipe rating below, or by tagging @marleysmenu on Instagram.