Looking for a quick and delicious way to prepare your fish? This Beer Battered Halibut is crispy on the outside, light and flaky on the inside, and packs a punch when it comes to flavor. Plus, it's ready in just 20 minutes!
The beer not only adds flavor to the batter but helps to aerate it to leave you with a thin, crispy outer layer. Combined with the seasoning and flash frying, this recipe comes together to give you out-of-this-world texture and flavor.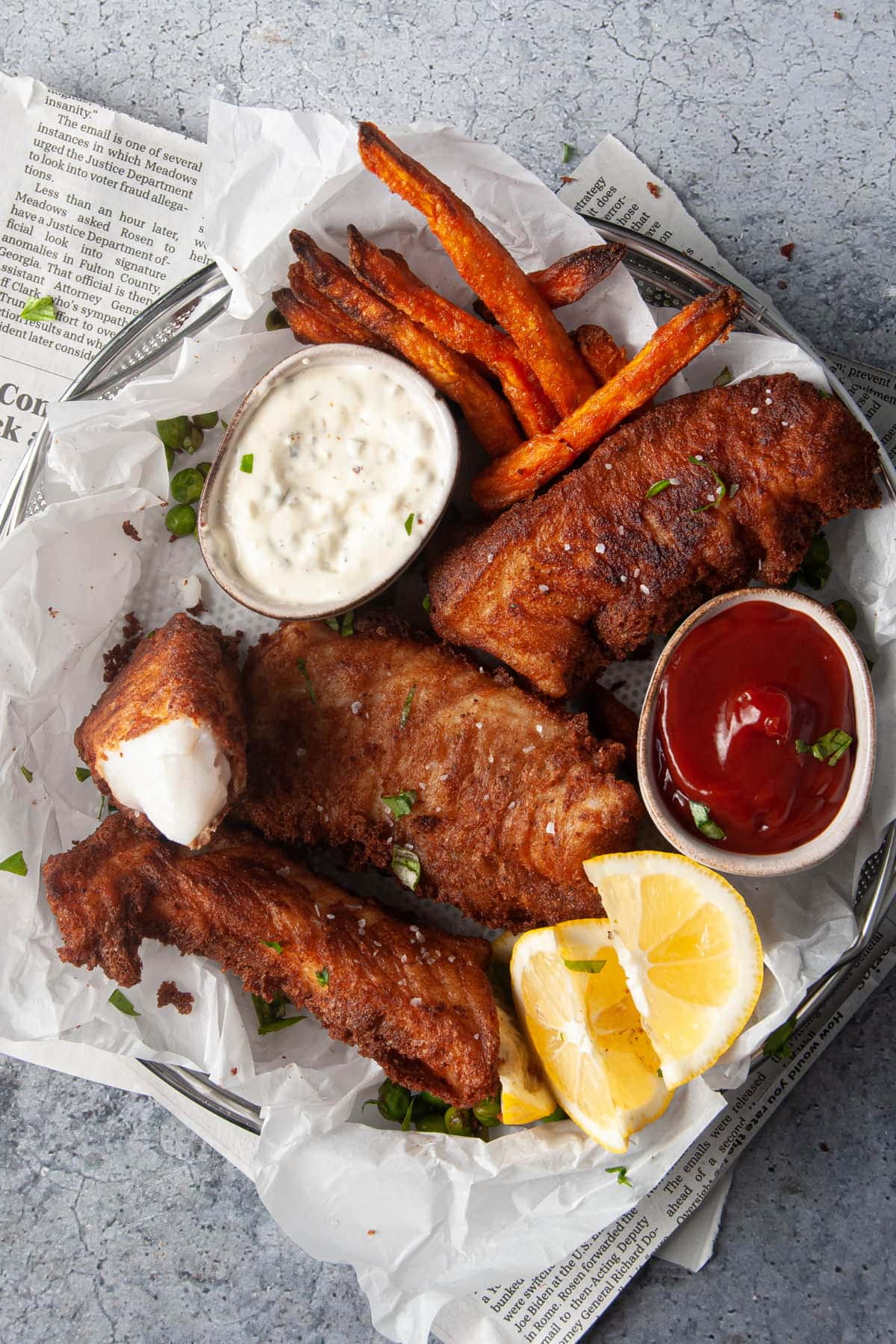 As an environmental scientist, sourcing sustainable seafood is always in the front of my mind. U.S. wild-caught Pacific halibut is sustainably managed and responsibly harvested, making it a smart protein option!
This halibut recipe is such an awesome way to allow this sustainable seafood to shine!
Beer Battered Halibut Ingredients
---
Here's everything you'll need:
Halibut. Boneless and skinless.
Beer. Any lager or pilsner will do.
Whole wheat flour. The heartier flour holds up to the hot oil to give you a crispy crust on the exterior of the flaky fish.
Egg. To help bind the batter.
Old Bay Seasoning. For a flavorful fish.
Vegetable oil. To fry the beer-battered halibut in.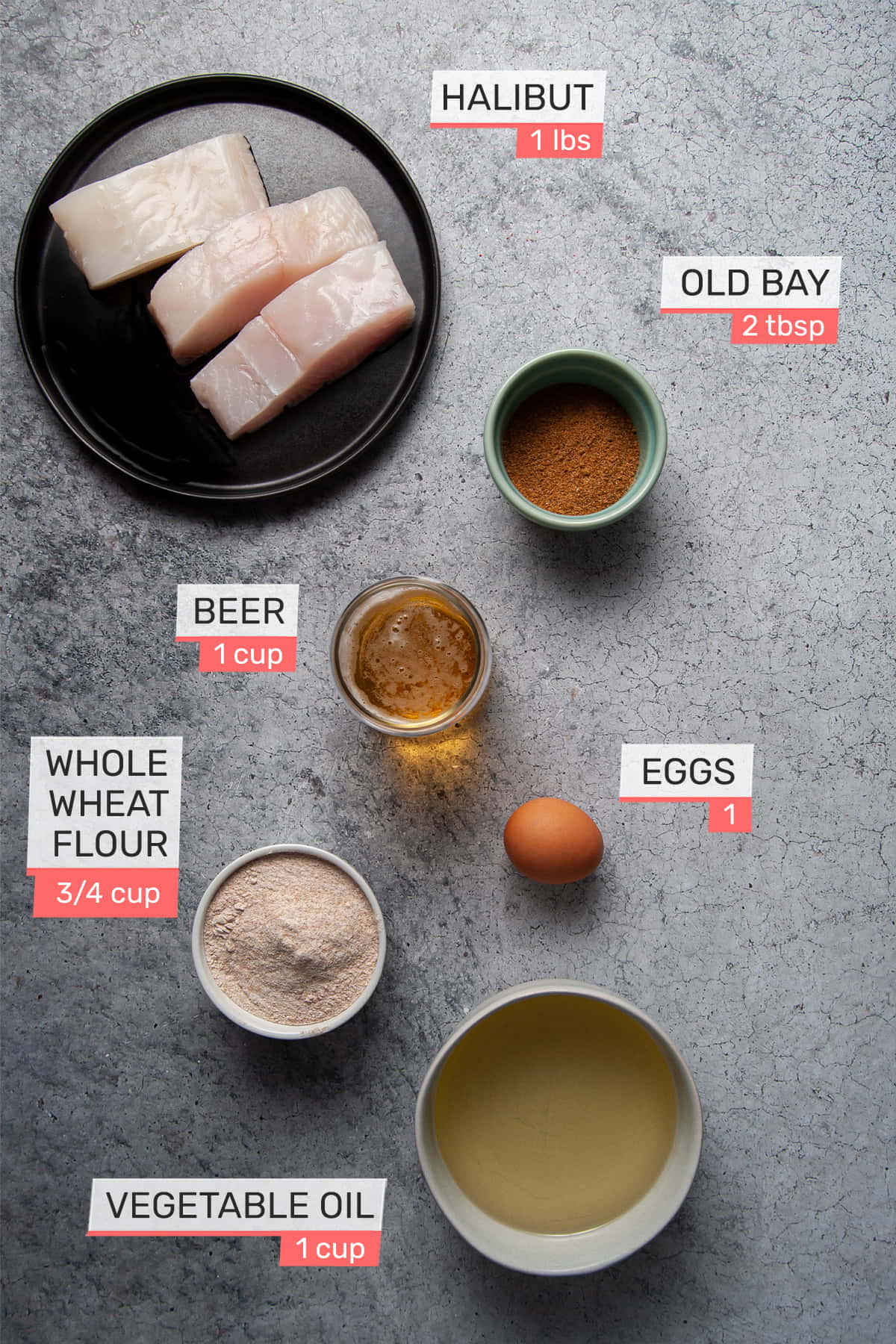 Beer Battered Halibut Tips and Tricks
---
Remove Your Skins
Since we are coating the fish in batter, we want to make sure we have fish that is completely free from skin and bones. While you can often buy it this way, a lot of fish comes with skin on one side.
You'll have to remove the skin first, while the fish is raw so that you can coat and fry the whole fillet.
For a demonstration on how to easily do so, check here.
Green tip: Don't ditch the skin! Check out these delicious fish skin recipes to avoid waste.
Choosing your Beer
Aside from its awesome flavor, beer is incredible to use in this batter because the carbonation helps aerate the batter to make it nice and crispy.
Using a lager or pilsner will give you the crispiest coating. I like to use Pabst Blue Ribbon for this recipe because it's light, bubbly, and won't break the bank.
Mix Up Your Batter First
Add flour and Old Bay Seasoning to a bowl. Crack your egg in first and give it a little mix. Then, add your beer and use a whisk or fork to combine, ensuring there are no lumps or clumps.
It should be pretty loose, bubbly, and fragrant. Set it aside to prepare your fish for coating.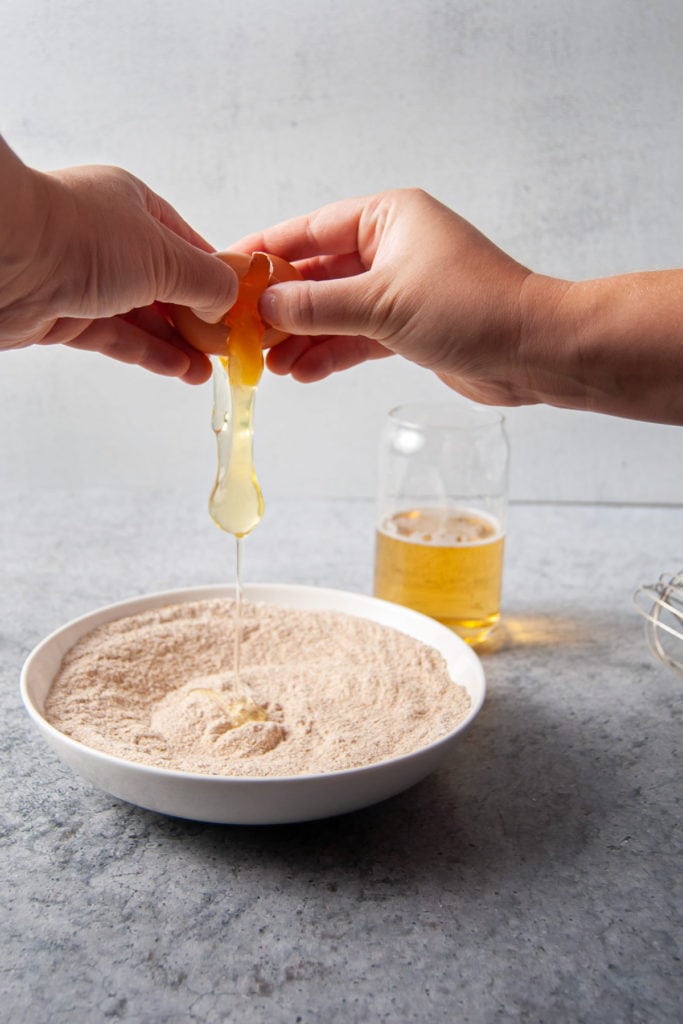 Dry Your Fish
In order to get the fish crispy, it's super important to get your fish nice and dry. Once your skin is removed, use paper towels to pat dry both sides of the fish.
Green tip: Paper products contribute to deforestation. Consider these bamboo paper towels! Bamboo naturally regenerates every few months, whereas trees cannot regrow once harvested.
Set Yourself Up For Success
Get a little assembly line going! You'll need the beer batter that you just made, but you'll also need extra flour to coat your fish before dunking it into the batter.
Line up your skinned and dry fish, a shallow bowl full of flour, and your beer batter.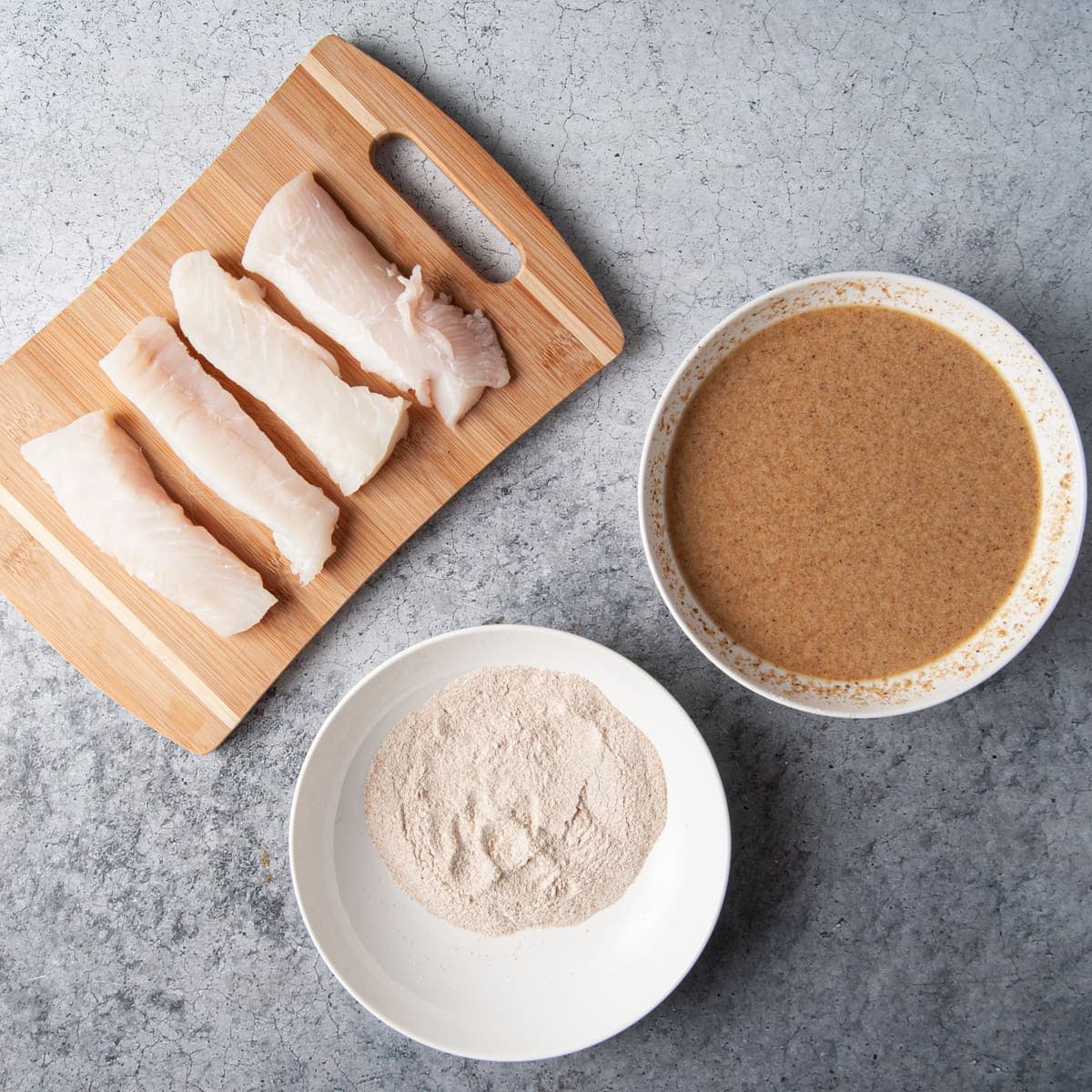 You'll Need a Thermometer
Before prepping your fish, you want to make sure your frying oil is nice and hot. Depending on the size of your pot, you will need anywhere from 1-3 cups of oil.
You want it to be about 3 inches deep so that the fish can be submerged in the oil. Put it over medium heat, add your thermometer, and monitor the temperature of the oil.
The oil needs to be right around 375°F before you add your fish. I use this affordable, multi-functional thermometer to monitor my oil.
Green tip: Did you know that vegetable oil is compostable? Allow it to cool completely and take any floating bits out before adding it to your compost bin.
Completely Coat
Once, you get your oil temperature right, it's time to prep your fish for frying! Coat your dry fish in flour first. This will help your beer batter stick evenly to your halibut.
Dunking one at a time will ensure that you are getting your fish fully coated before dropping it into your hot oil.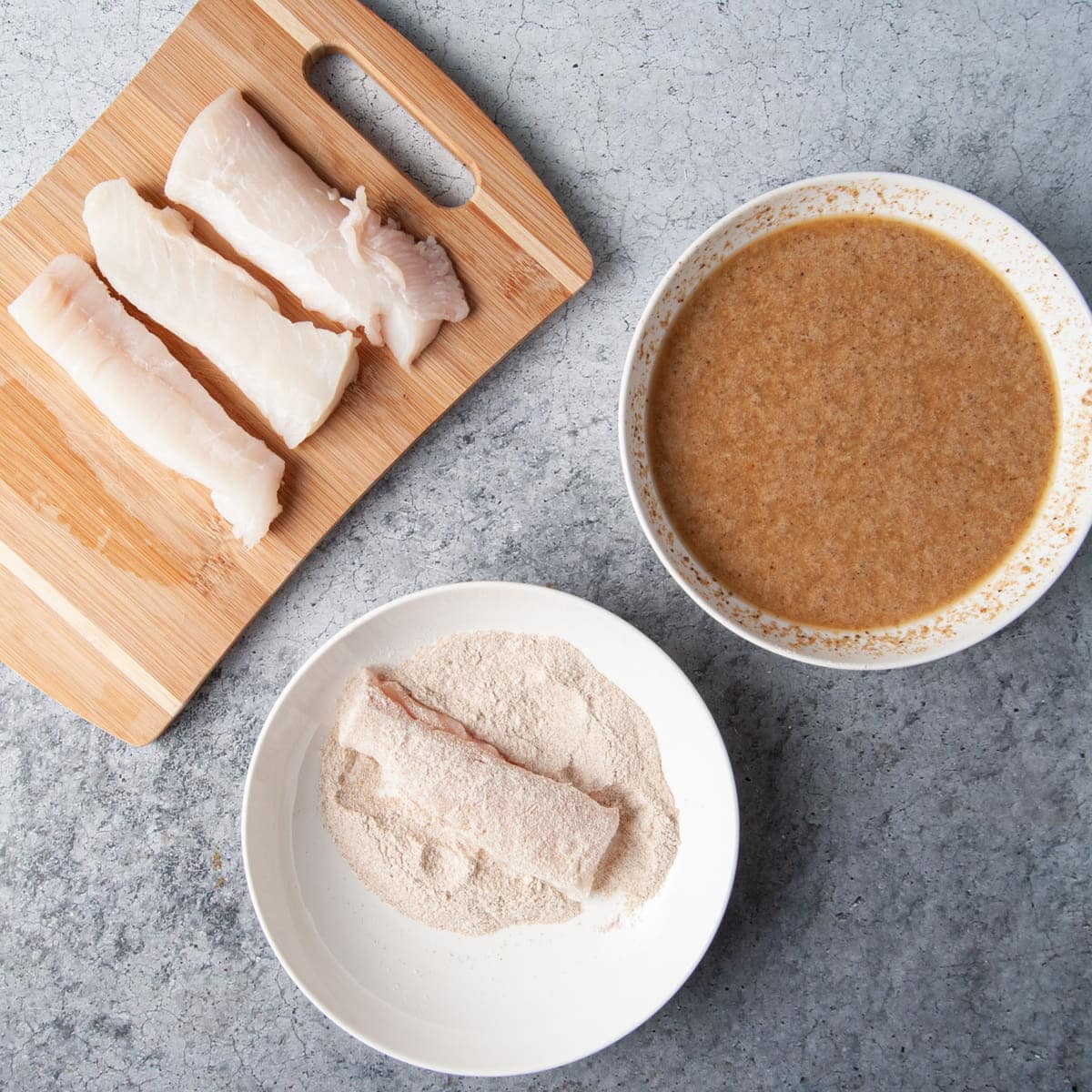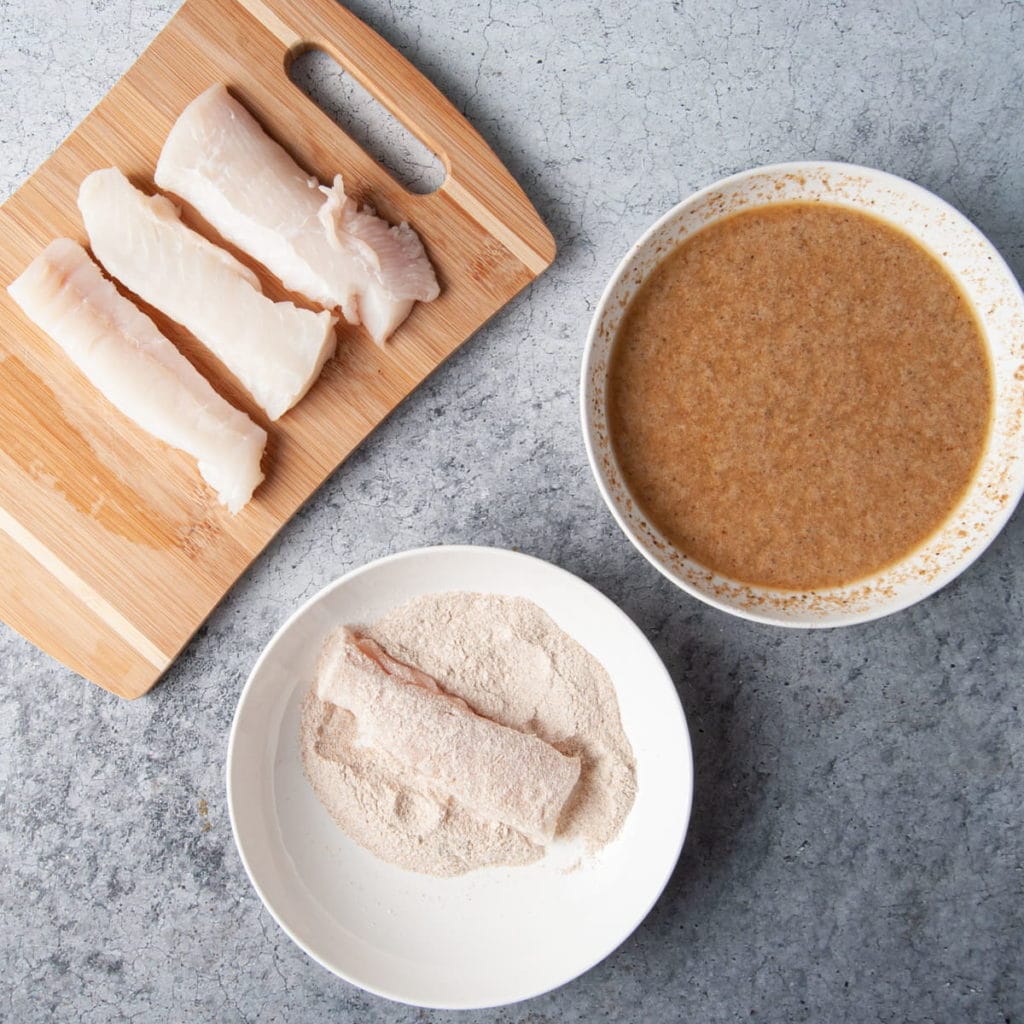 Paper Towels Are Your Friend
Not only are we using them in this recipe to dry the fish, but we are also using them to absorb excess oil after frying.
You'll fry your fish for about 4 minutes total with the oil at 375°F, flipping after about 2 minutes. Use a kitchen skimmer or sieve to remove the fish, and place it directly on a paper towel while it's still hot.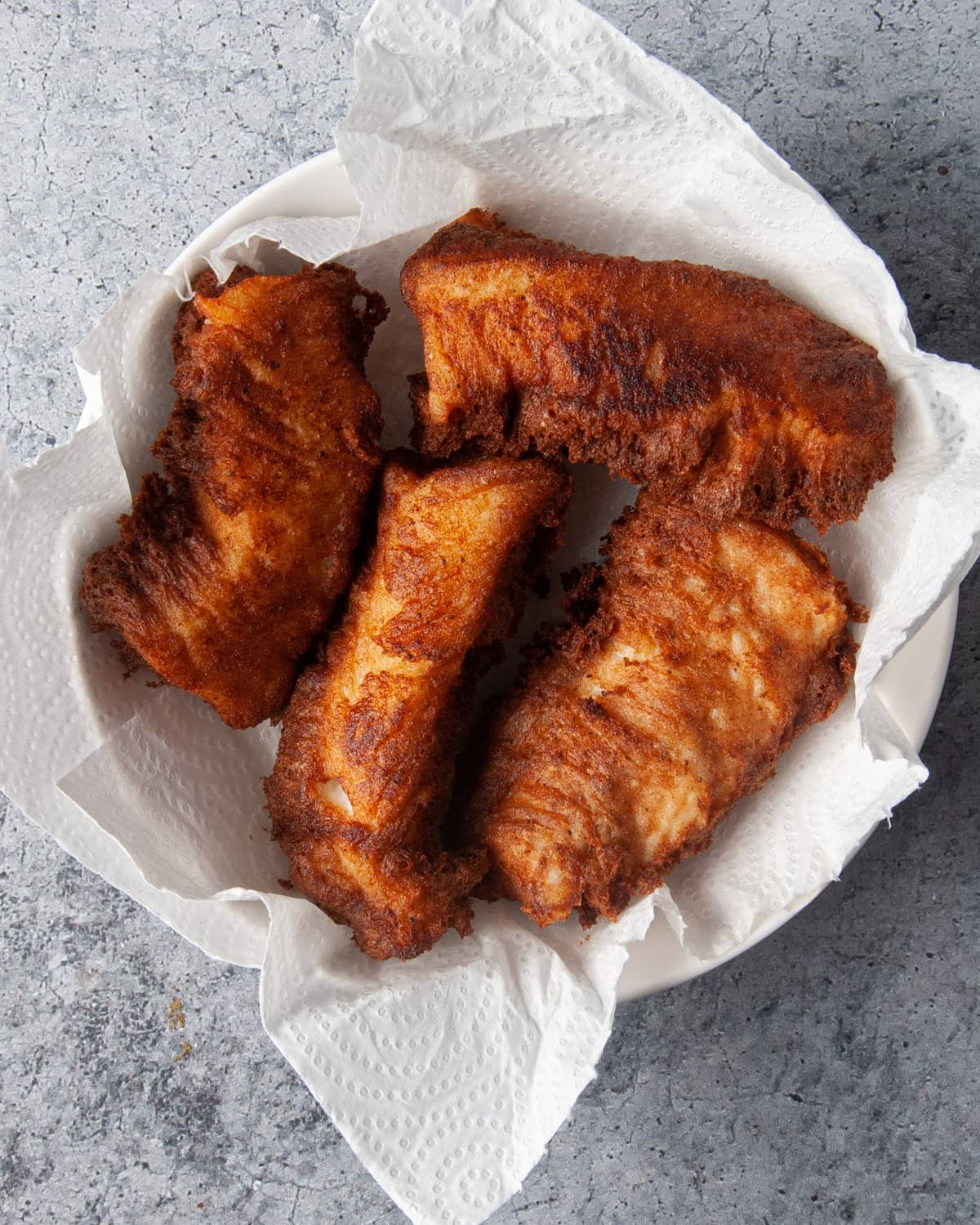 What To Serve Beer Battered Halibut With
This beer-battered halibut stands tall on its own but also loves a good sidekick. My go-to side for this dish is these Old Bay Fries with Quick Aioli (the fish in the aioli is top-notch!), with these smashed potatoes coming in a close second.
Outside of the Old Bay Aioli, some tartar sauce, ketchup, or even honey mustard makes for a great dunk! I also highly recommend squirting some fresh lemon juice on top or serving with lemon wedges.
For lighter side dish options, check out these Roasted Carrots and this Garlic Lemon Asparagus.
Should You Have Leftovers
Beer-battered halibut will last in an air-tight container in the refrigerator for 3-4 days.
To reheat, bake in the oven at 350°F for about 10-15 minutes, until heated through and the exterior starts to get crispy again.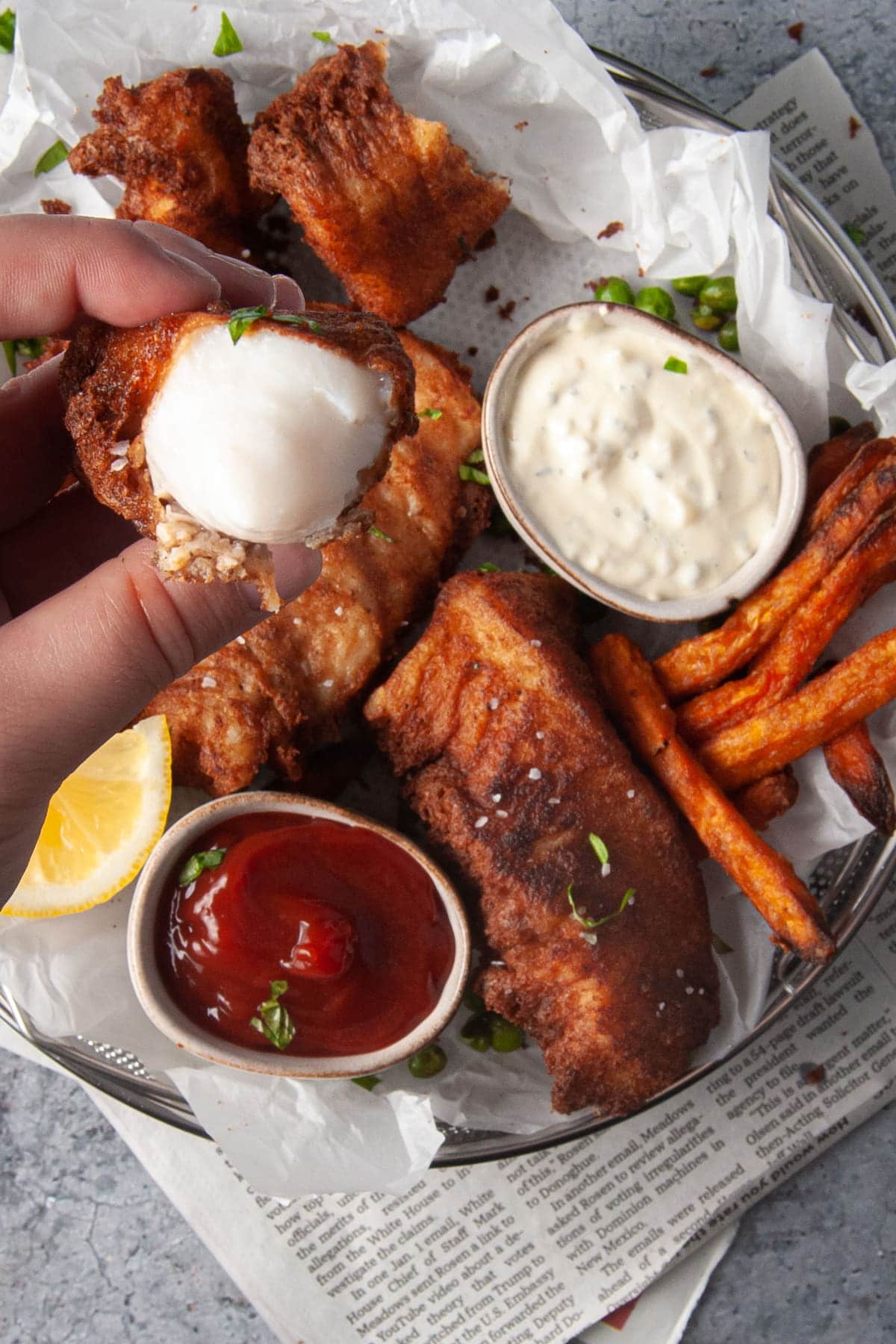 Sustainable Seafood
While this recipe is delicious with really any white fish, halibut gets deliciously tender and flaky. Plus, there are ways to source Halibut sustainably!
U.S. wild-caught Pacific halibut is a sustainable seafood choice as it is local and native to the Pacific ocean and responsibly harvested under close regulation.
Green tip: Look for Marine Stewardship Council and Friend of the Sea labels on your fish to ensure they were harvested sustainably.
Beer Battered Halibut Frequently Asked Questions
---
What beer is best for fish batter?
Pilsner or lager is best for a crispy coating for fried fish. It's bubbly and light which aerates your batter. I use Pabst Blue Ribbon because it works great every time and doesn't break the bank!
What does beer do to fish and chips?
Making your batter out of beer aerates the batter, making it thin and crispy.
Want to sharpen your kitchen skills?
Why You Should Make This Beer Battered Halibut
---
It's crispy! That beer batter gets super crunchy and golden brown.
It's flaky! The halibut gets tender and flaky inside that crispy batter.
It's flavorful. The beer and seasoning give this fried fish a complex flavor.
If you're loving this Beer Battered Halibut and are looking for more seafood recipes, check out these Fish and Grits and Blackened Mahi Mahi recipes!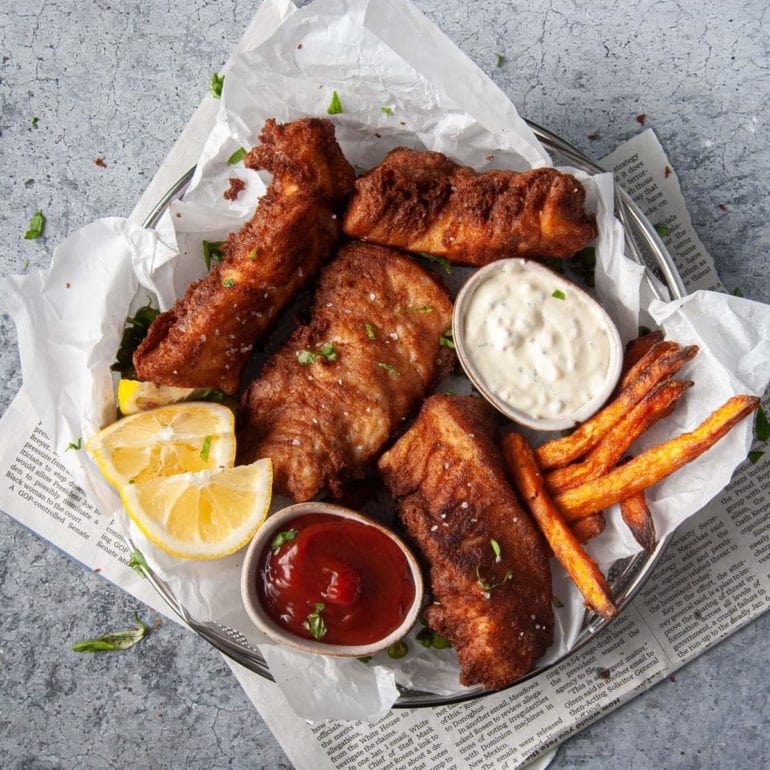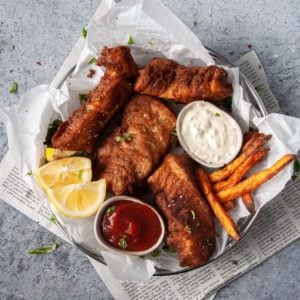 20-Minute Crispy Beer Battered Halibut
PRINT
PIN
RATE
This flash-fried Beer Battered Halibut is crispy on the outside, tender and flaky on the inside, full of flavor, and ready in under 20 minutes!
Ingredients
1

pound

Halibut, skinless

¾

cup

whole wheat flour

1

large

egg

1

cup

Lager or Pilsner beer

2

tablespoons

Old Bay Seasoning

1 to 3

cups

vegetable oil for frying

Lemon wedges for serving

(optional)
Instructions
Slice fish into rectangular fillets, roughly 6 inches by 2 inches. Remove skin if needed and pat dry with paper towels.

Prepare your batter by adding 1/2 cup whole wheat flour, Old Bay, and egg to a shallow bowl. Stir a couple of times to break the yolk. Add beer and use a whisk or fork to combine until smooth. Set aside.

Add vegetable oil to a large pot or saucepan, so that the oil is about 3 inches deep. Turn your heat source up to medium and monitor the temperature of the oil with a kitchen thermometer. Your target is to get your oil to 375°F.

In a second shallow bowl, add 1/4 cup of whole wheat flour.

Working with one fish fillet at a time, dip your fish into the flour first, coating completely. Then, take your flour-coated fish and dunk it into your beer batter, making sure you have an even layer of batter coating your fish.

Carefully drop your battered fish into the hot oil, frying for 4 minutes total. Use a skimmer or sieve to flip the fish after 2 minutes, to ensure an even cook. Repeat with all of your fish fillets, making sure to not overcrowd your oil—the battered fish will stick together if they get too close.

Carefully remove your fried fish from the oil and place it on a paper towel to absorb excess oil.

Serve immediately with lemon wedges.
Pro Tips
If you purchase fish with the skin on, check here for an easy skin-removing demo.
You can use peanut or canola oil in place of vegetable oil if you prefer.
If you don't have Old Bay Seasoning, you can substitute Seasoned Salt or Cajun Seasoning.
There's not much better than a quick fish dinner! Check out my collection of fish recipes ready in 30 minutes or less!
Did you make this recipe?
Let me know by leaving a recipe rating below, or by tagging @marleysmenu on Instagram.