Chocolate cake. Cookies. Cheesecake. Imagine a world where you can have the best of all three of your favorite desserts in one glorious, indecently decadent treat. Well, imagine no more friends—this Chocolate Cookie Dough Cake with Sour Cream Frosting is about to make your wildest dessert dreams come true!
This multi-layered beauty gives you moist chocolate cake, chewy and buttery cookies, slightly tart sour cream frosting, light and airy chocolate ganache, and drool-worthy raw cookie dough in every. single. bite.
It's the ultimate. The cake of all cakes. The triple threat fusion. The Chocolate Cookie Dough Cake with Sour Cream Frosting.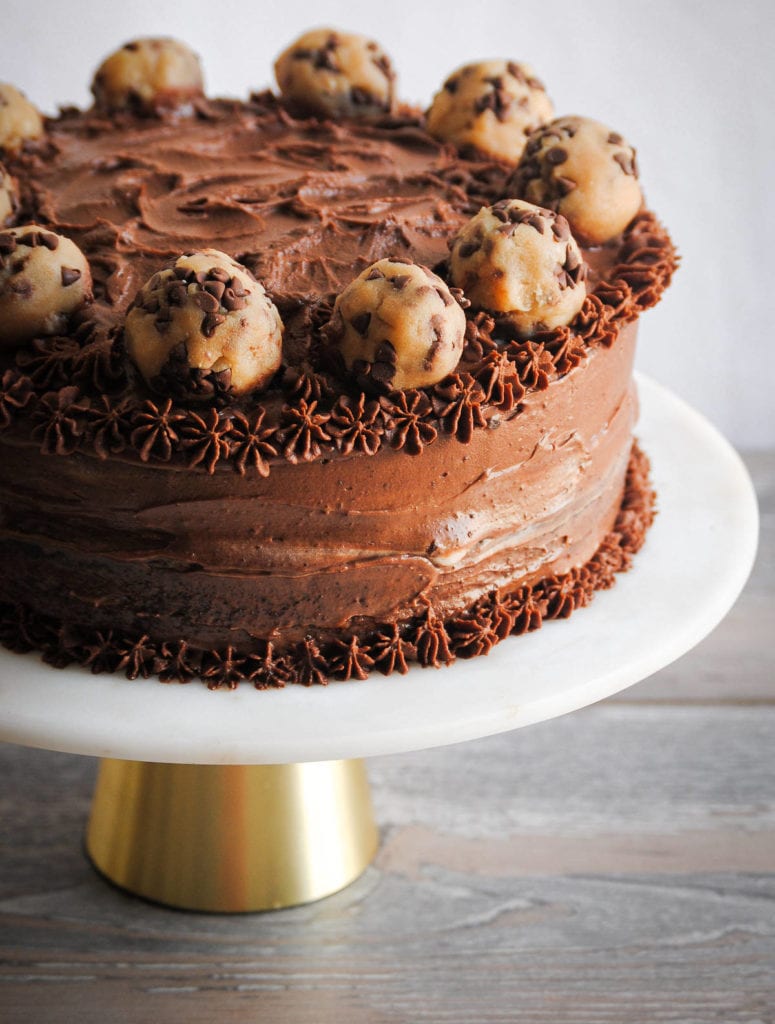 How To Make The Chocolate Cookie Dough Cake
---
---
Stay Organized
There's a lot of components here. But they are all delicious and very do-able.
So what's the breakdown of moving parts? There's cookie dough-some for inside and some for outside of the cake. There's the two layers of chocolate cake. There's the tangy buttercream frosting. And there's the chocolate ganache.
I know. It sounds intimidating. But take a deep breath. I'm going to walk you through it!
Set Yourself Up For Success
LINE THAT CAKE PAN! Yes, I typed it out in all caps because failing to do so will leave you with two delicious, but stuck-in-the-pan cakes. And as fun as it is to take a fork straight to your cake pan, we want to be able to frost and layer and ganache these bad boys.
Double-check your ingredient list. Give yourself a large, clean work surface. And make sure there is room in the refrigerator for the cake to set in between adding the frosting and the ganache.
Prep your ingredients first. If you don't have coffee on hand, make sure you brew it ahead of time so it can completely cool before you add it to your cake batter (you don't want to risk scrambling the eggs). Or use cold brew!
You'll also need a total of 3 sticks of butter, all at room temperature, so make sure to get them out of the fridge and softened in time to start baking your Chocolate Cookie Dough Cake!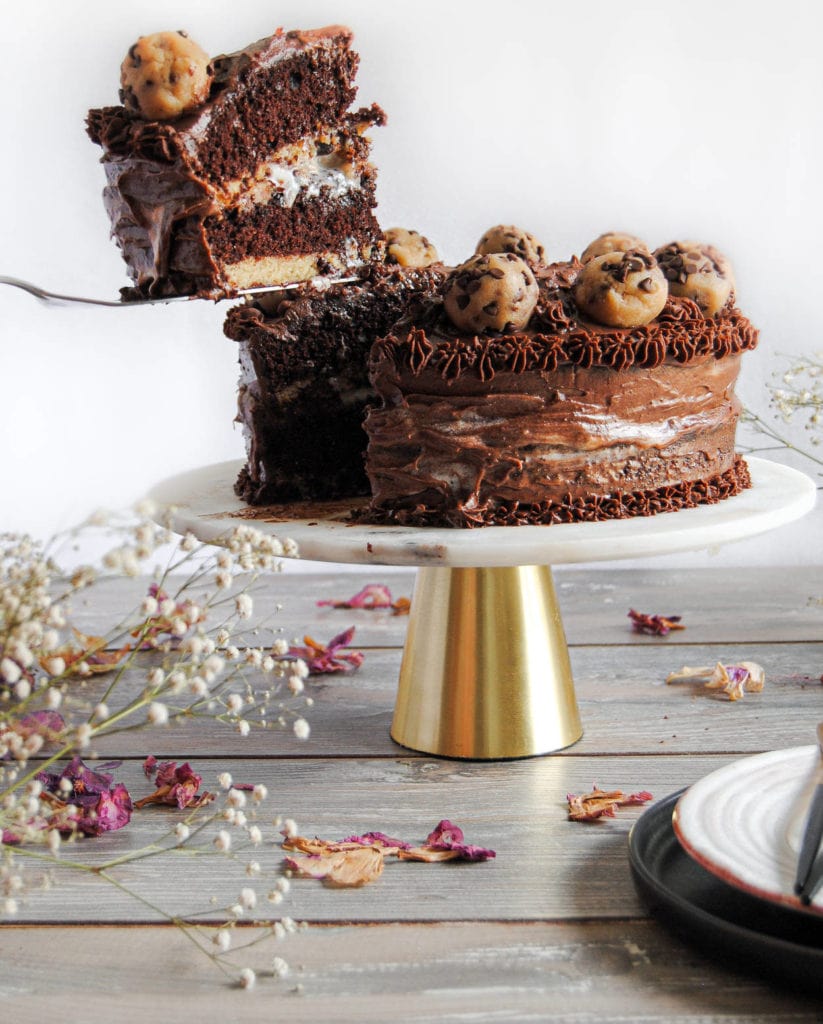 The Cookie Dough
It can't be a chocolate cookie dough cake without the cookie dough. It plays a huge role in this cake. It is in not one, not two—but THREE places.
You'll add globs of cookie dough directly into your cake, to cook and form a chewy cookie bottom layer.
You'll add balls of raw cookie dough both on top of the cake…
…AND in between your cake layers. I know, it's treading the line between ridiculous and genius.
The recipe for the dough both inside the cake and outside of the cake differs by only one ingredient in each. It's easiest to whip up the batter and divide it into two before adding their unique ingredient, rather than making two completely separate doughs. It saves time on mixing and clean up!
Since half the dough will be consumed raw, it's important that you treat your flour before using it in your cookie dough recipe. This just means you have to heat it enough to kill any bacteria hiding inside so that it's safe to eat.
Or, if you're a lick-the-batter-bowl kind of baker, you can continue to live on the wild side and just go for it raw. But treating it is super simple and takes just 5 minutes. Simply spread the raw flour on a cookie sheet and stick it in the oven at 350 Fahrenheit.
After mixing up all the shared ingredients to create cookie dough, divide it in half. The half that's going inside the cake will get an egg to help it rise.
The dough that will be eaten raw gets milk to give it the perfect consistency for you to shape it!
Take a tablespoon of cake-topper dough and use two hands to roll it into a ball. Continue to shape the dough until it's all used up. You should end up with about 18 little cookie dough balls—half for in between your cake layers, and half for on top.
And maybe a few in your mouth. Taste testing as you go is a rule in my house. For the sake of the recipe, of course.
Green Tip: When sourcing ingredients for this recipe, look for pasture-raised eggs (over free-range or cage-free) to support agriculture that is less reliant on chemicals and fossil fuels.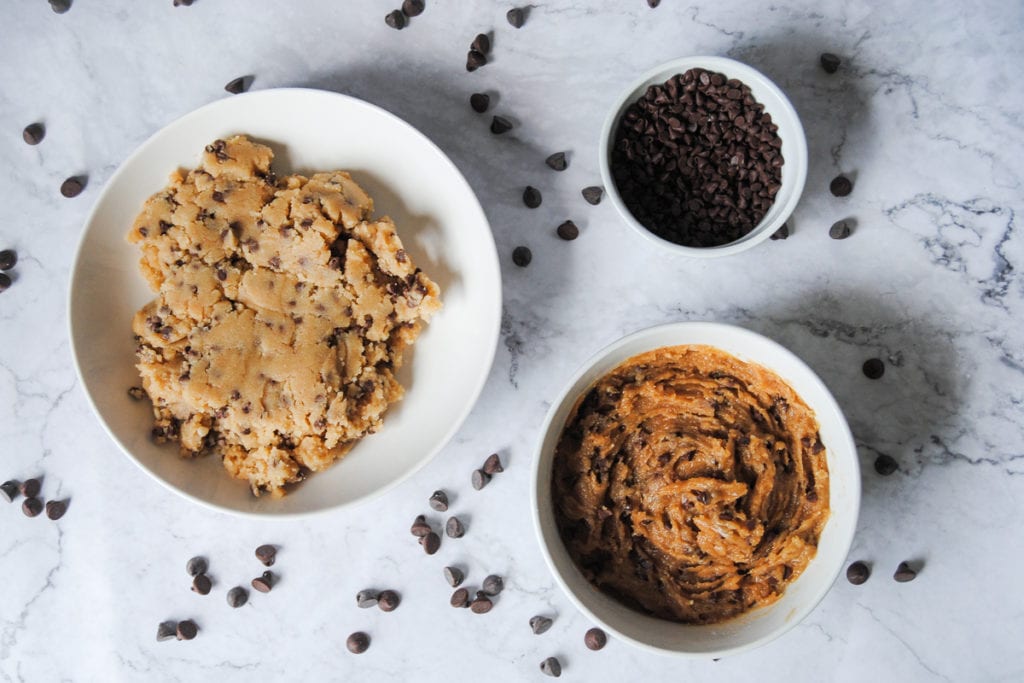 The Chocolate Cookie Dough Cake Batter
Once your cookie dough is prepped, it's time to start on your cake batter! You'll mix your sugar, eggs, vanilla, mayo, and oil in one bowl and your dry ingredients in another.
The coffee is the key to really emphasizing that chocolate flavor.
The best way to integrate the coffee into your batter is to do it in three separate pours. Add about 1/3 of your dry mixture into your wet mixture, combine, and then add 1/3 of your coffee.
Repeat this process two more times until all of your dry ingredients and coffee is integrated into your wet ingredients.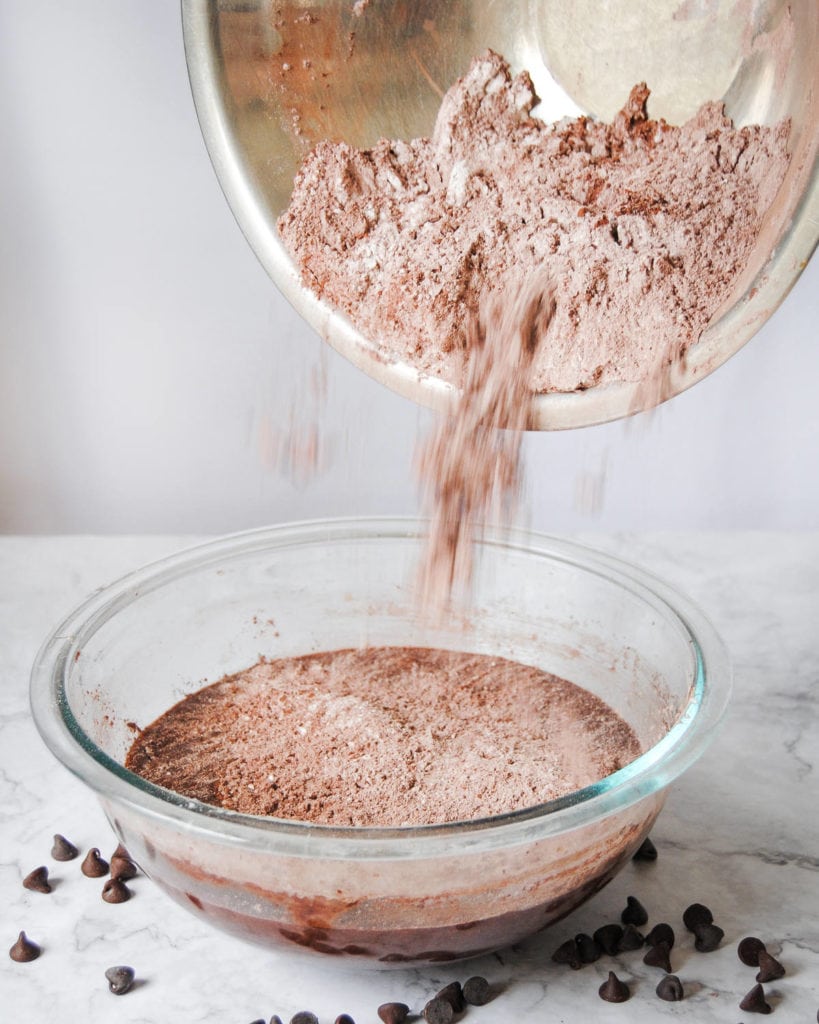 This chocolate cake is amazing on its own, but I promised you luxurious layers!
Pour even amounts of batter into two lined and greased 11-inch round cake pans.
Scoop out a heaping tablespoon of that in-cake cookie dough and plop it right into your cake batter, leaving an inch in between each glob. You should end up with about 6 globs of cookie dough in each layer of cake.
The cookie dough is a little bit denser than the cake batter, so while it's in the oven, it will spread and sink to the bottom to form a lower layer of cookie beneath your cake.
Green tip: Make sure your chocolate is sustainably sourced. Look for Fair Trade, Rainforest Alliance, or UTZ certifications as opposed to self-proclaimed sustainability labels that sometimes falsely advertise "sustainably sourced".
The Sourcream Frosting
Okay, I'm going to say something a little controversial. I am not a big fan of buttercream. I know it's a common go-to in cakes and cupcakes, but it's just so sweet and has a really oily mouthfeel.
So deciding what to frost this Best Ever Chocolate Cookie Dough Cake with was a decision I did not take lightly (it's got a big name to live up to).
After testing and tasting the richness of this cake, I knew it needed an element that was a little less sweet. The chocolatey cake and buttery cookie dough were screaming for a little bit of tartness, and so I landed on sour cream.
And the result is out of this world! Just when you thought it couldn't get any better than chocolate cake and cookies, this frosting steps the whole thing up a notch (or 2 or 3). It brings a cheesecake-like taste into the mix. Are you drooling yet?
Once you've combined all your ingredients, you'll end up with a sweet and tangy, beautifully textured frosting. When your cake is completely cooled, spread an even layer of the frosting on top of the bottom layer of cake.
Evenly distribute half of your raw cookie dough balls on top, and then add extra frosting in between each cake ball to create a roughly even surface for the top layer of cake to rest on.
Drop your top layer of cake on and evenly coat the top and sides of the whole cake in your sour cream frosting. Put the whole cake in the fridge to set and start working on your ganache.
The Chocolate Ganache
And now for the encore! Because after a layer of cookie, then cake, then frosting, then raw cookie dough, then more cookie, more cake, and more frosting, you have to have a layer of ganache, right?
The ganache really drives home that rich chocolatey flavor and adds some moisture to your bite in this Chocolate Cookie Dough Cake.
Heat your heavy cream over a double boiler until it starts to simmer. Remove it from the heat, and stir in your chocolate chips until they are completely melted and your ganache is smooth. Stick her in the fridge for 45 minutes or so, until the ganache is nice and cold.
Use a hand or stand mixer to whip your ganache up into a mousse-like texture. It should be super light and airy.
Use a spatula to spread an even layer of ganache over the top and sides of your cake until it is completely covered. Put any extra ganache into a piping bag for decoration.
Add your cake topper cookie dough balls and pipe chocolate ganache around them for a beautiful and downright delicious finish!
Why You Should Make This Chocolate Cookie Dough with Tangy Frosting
---
---
It's all your favorite things rolled into one. Can't decide between cookies, cheesecake, and a chocolate cake? Can't blame you. But no worries, this cake's got it all.
It's decadent. The chocolate flavor is amped up by the coffee and espresso powder, giving you that chocolatey deliciousness in every single bite.
The textures! Chewy cookie, moist cake, creamy frosting, and fluffy ganache.
It's a show stopper. The layers are beyond gorgeous, and what's a better cake topper than globs of cookie dough?
If you're a cookie junkie like me, check out these Cookie Dough Ice Cream Cups. And if it's the chocolate that drew you to this Chocolate Cookie Dough Cake recipe, check out this Dark Chocolate Oreo Pie and Boozy Chocolate Mousse.