Looking for a fruity sweet treat? This Blackberry Lemon Bread strikes the perfect balance of sweet and tart using fresh fruit and tangy Greek yogurt to bake into a moist bread.
Biting into it is like biting into a delicious cake, but one that you can have for breakfast because, well, it's technically a "bread" and theres fruit in it, so it's only natural to pair it with your coffee or tea!
Blackberry Lemon Bread Tips and Tricks
Gather Your Ingredients First
As an environmental scientist, I'm always looking for ways to integrate seasonal ingredients into my recipes. And let me tell you, blackberry season is my favorite! Blackberries have the perfect amount of tartness to work with the sour lemon to balance out the sweetness in this bread.
This recipe calls for 1/2 cup of lemon juice, which you should be able to easily squeeze out of two large lemons. If you're opting to make the lemon glaze, grab a third lemon.
I recommend squeezing your lemons into a separate bowl ahead of time instead of squeezing them directly into your batter. That way you can pick out any seeds that may sneak out of your lemons and ensure you don't get a seedy surprise in your bread.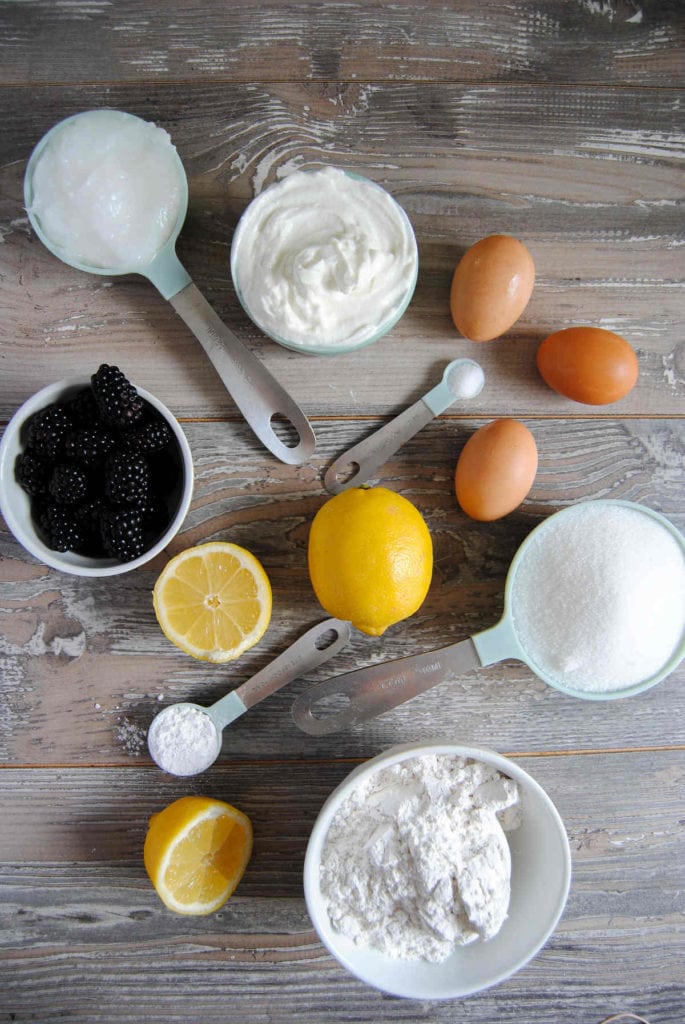 Coat Your Blackberries
I highly recommend slicing your blackberries into 3 or 4 parts before adding them to your mixture. Keeping them whole means they'll be too heavy for the batter, and sink right to the bottom. It's better to have them sprinkled throughout.
Toss your sliced blackberries in 1 teaspoon of flour just so they don't bleed into your bread. I like to keep about 8-10 pieces of blackberry out of the mix so I can place them on top of the bread. It just looks so much more fun!
Green tip: Eating seasonally is one of the best (and most delicious) ways to support local and decrease your carbon footprint. Local foods have less associated transportation costs and fuel emissions.

Simply put, eating seasonally = less environmental impact. Check when blackberries are in season in your area with this Seasonal Food Guide.
Tested Substitutions
This recipe calls for Greek Yogurt. Both plain and vanilla flavors work great! You can also opt for dairy-free yogurt! Just make sure it's not too sweet.
If you want to make this refined-sugar free, use a sugar-free yogurt and substitute coconut sugar for granulated sugar.
Whole wheat flour works in place of all-purpose flour in this recipe, but will give you a dryer texture. If you're using whole wheat flour, I recommend using 1 & 1/4 cups instead of 1 & 1/2 cups.
You can also opt to swap out vegetable oil for coconut oil.
Green tip: This bread is the perfect coffee accompaniment! Coffee plants require a lot of water to grow, so coffee beans can come with a high eco-footprint.

Make sure your coffee is sustainably sourced by looking for a UTZ certification.
Should You Have Leftovers
This bread will keep fresh for about 1 week after baking it. Just make sure to cover it and store it in the fridge. You can also freeze it for up to a month. Just thaw overnight and enjoy within a week of defrosting.
If you have leftover blackberries that you bought for this bread, try using them for this Blackberry Margarita or Mixed Berry Smoothie.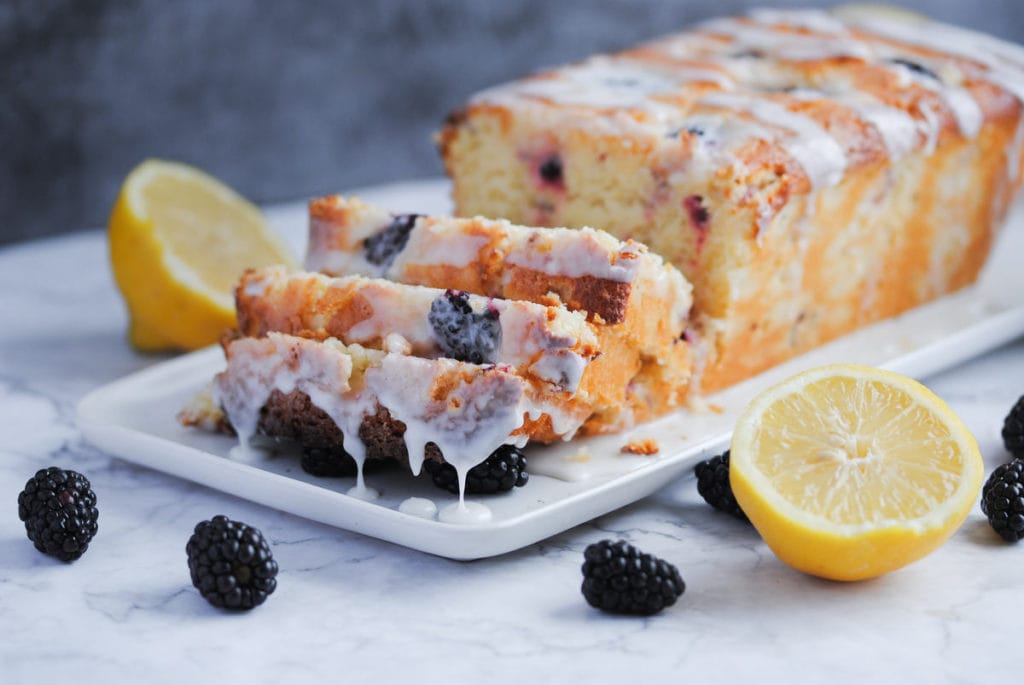 Why You Should Make this Blackberry Lemon Bread
It's balanced. The perfect amount of sweet and tart.
It's fresh. The fresh blackberries and lemon juice give it such a fresh taste.
It's moist. The greek yogurt gives this the best consistency.
Loving this Blackberry Lemon Bread and looking for more dessert/breakfast crossovers? Check out this Vegan Blender Banana Bread and these Chocolate Chip Muffins.