Looking for a fruity sweet treat? This Blackberry Lemon Bread strikes the perfect balance of sweet and tart using fresh fruit and tangy Greek yogurt to bake into moist bread.
Biting into it is like biting into a delicious cake, but one that you can have for breakfast because, well, it's technically a "bread" and there's fruit in it, so it's only natural to pair it with your coffee or tea!
As an environmental scientist, I'm always looking for ways to integrate seasonal ingredients into my recipes. And let me tell you, blackberry season is my favorite!
I absolutely love baking with blackberries (like in this Vegan Blackberry Muffin recipe!) because they provide such a great texture and tart contrast to otherwise sweet desserts.
Blackberries have the perfect amount of tartness to work with the sour lemon to balance out the sweetness in this delicious loaf recipe.
Green tip: Eating seasonally is one of the best ways to support local farms and decrease your carbon footprint. Local foods have less associated transportation costs and fuel emissions. Check when blackberries are in season in your area with this Seasonal Food Guide.
Blackberry Lemon Bread with Glaze Ingredients
---
Blackberry Lemon Bread Ingredients
Here's everything you need:
Blackberries. The vibrant star of your dish.
Lemon Juice. For tang. You should be able to get enough lemon juice out of 2-3 large lemons.
Granulated Sugar. For sweetness.
All-purpose flour. For the base.
Baking Powder. For rising.
Salt. For flavor.
Greek Yogurt. For moisture.
Eggs. To bind and to help leaven the loaf.
Coconut Oil. To lock in moisture.
Optional Lemon Glaze Ingredients
Here's everything you need:
An extra lemon. You'll need just about 1 tablespoon of lemon juice.
Powdered sugar. To balance the tartness of the lemon and to thicken the glaze into a nice consistency.
Blackberry Lemon Bread Tips and Tricks
---
Coat Your Blackberries
I highly recommend slicing your blackberries into 3 or 4 parts before adding them to your mixture. Keeping them whole means they'll be too heavy for the batter, and sink right to the bottom. It's better to have them sprinkled throughout.
Toss your sliced blackberries in 1 teaspoon of flour just so they don't bleed into your bread. I like to keep about 8-10 pieces of blackberry out of the mix so I can place them on top of the bread. It just looks so much more fun!
Green tip: Organic farms rely on biodiversity to generate rich soil, avoiding the use of pesticides and fertilizers, which means no toxic runoff. Consider organic ingredients for this recipe if you can.
How to Get Moist Lemon Blackberry Bread
The secret to a super-moist loaf is using a whisk or hand mixer to stir the Greek yogurt and granulated sugar together. Not only does this make combining all your ingredients together easier, but it also makes a base for a lighter, airier batter.
You'll want to get the yogurt and sugar nice and smooth, ensuring no lumps, before you start adding the rest of your ingredients.
Green tip: This bread is the perfect coffee accompaniment! Coffee plants require a lot of water to grow, so coffee beans can come with a high eco-footprint.

Make sure your coffee is sustainably sourced by looking for a UTZ certification.
Crack Your Eggs into a Separate Bowl
For this recipe and really any recipe, it's always best to crack your eggs into a separate bowl.
This just ensures you can identify and remove any little pieces of shell that may accidentally fall into your batter.
It also allows you to avoid the rare but awful bloody egg.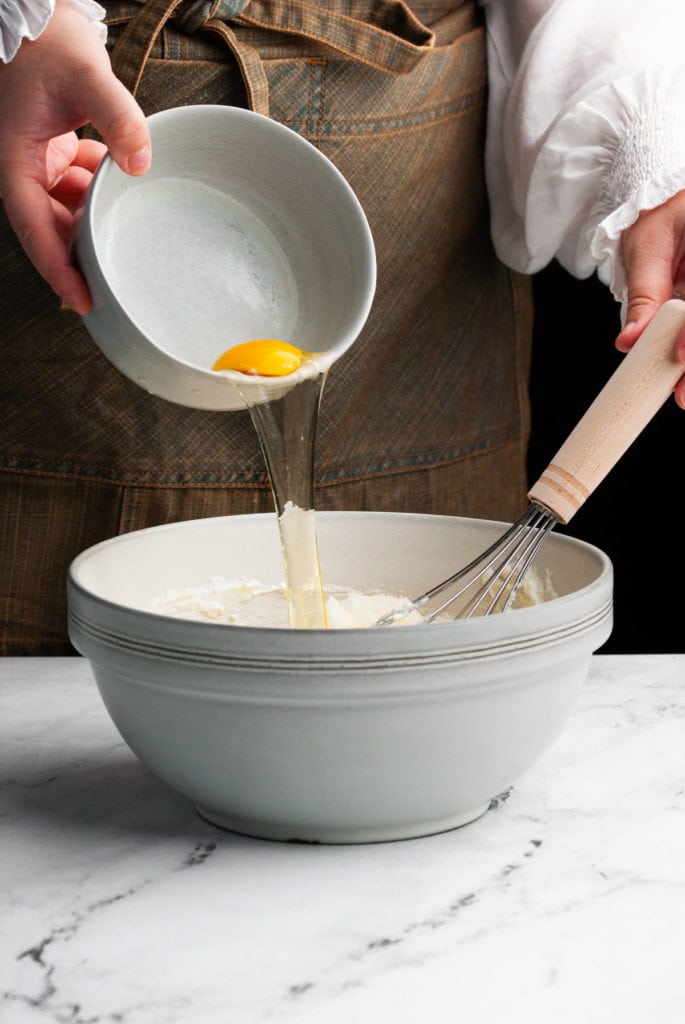 Use Fresh Lemons in this Loaf Cake
Usually, you can get 1/2 cup of juice out of just 2 large lemons, but sometimes it takes up to 3.
Squeeze your lemon juice into a measuring cup to make sure you get a full 1/2 cup. This also means you can remove any seeds that may accidentally fall into the lemon juice and avoid getting any into your Lemon Blackberry Bread.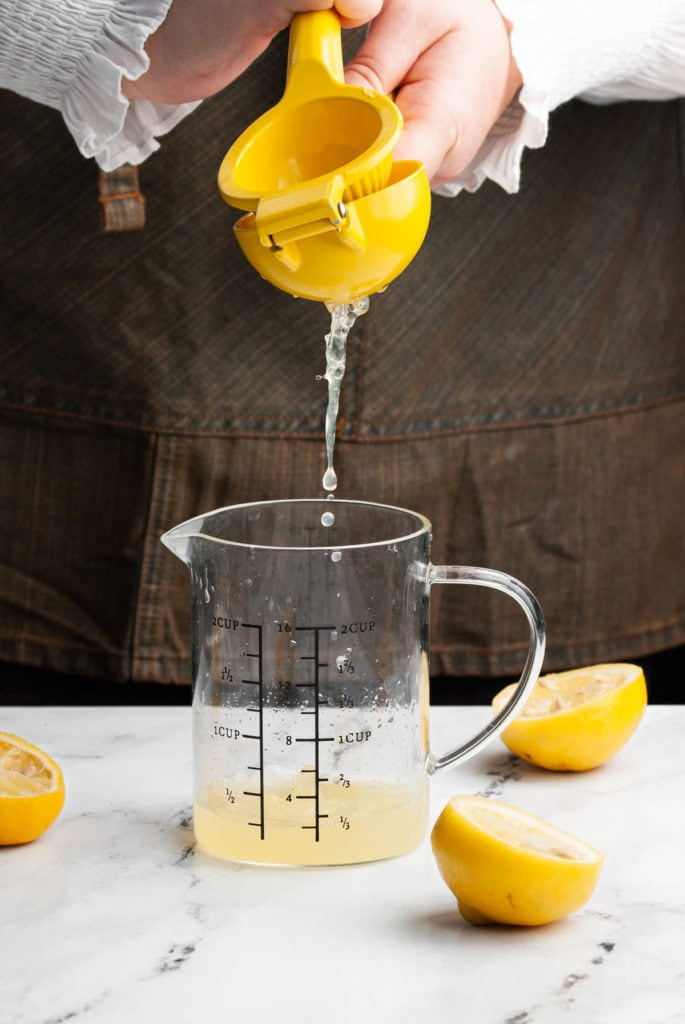 Allow Your Blackberry Lemon Loaf to Cool Before Glazing
This loaf is super moist! Allow it to cool as much as you can before diving in. As it cools, it sets.
If you opt to add the Lemon Glaze, wait until it cools to add that, too! Otherwise, the hot loaf will sop up your glaze (still delicious, but a little messy)!
Tested Ingredient Substitutions
This recipe calls for Greek Yogurt. Both plain and vanilla flavors work great! You can also opt for dairy-free yogurt! Just make sure it's not too sweet.
If you want to make this refined-sugar free, use a sugar-free yogurt and substitute coconut sugar for granulated sugar.
Whole wheat flour works in place of all-purpose flour in this recipe but will give you a dryer texture. If you're using whole wheat flour, I recommend using 1 & 1/4 cups instead of 1 & 1/2 cups.
You can also opt to swap out vegetable oil for coconut oil.
How to Properly Store Your Blackberry Lemon Bread
This bread will keep fresh for about 1 week after baking it. Just make sure to cover it and store it in the fridge. You can also freeze it for up to a month. Just thaw overnight and enjoy within a week of defrosting.
If you have leftover blackberries that you bought for this bread, try using them for this Blackberry Margarita or Mixed Berry Smoothie.
Blackberry Lemon Bread Frequently Asked Questions
---
How do you keep lemon loaf fresh?
To keep your blackberry lemon loaf fresh, wrap it tightly or store it in an airtight container. At room temperature, it will last 2-3 days. In the refrigerator, it will last a week, and in the freezer, a month.
What is lemon bread made of?
Lemon bread is a basic loaf cake comprised of Greek yogurt, sugar, eggs, oil, lemon juice, all-purpose flour, baking powder, and salt. In this Lemon Blackberry Bread, the addition of blackberries adds extra texture, flavor, and visual interest.
Want to sharpen your kitchen skills?
Why You Should Make This Blackberry Lemon Bread
It's balanced. The perfect amount of sweet and tart.
It's fresh. The fresh blackberries and lemon juice give it such a fresh taste.
It's moist. The Greek yogurt gives this the best consistency.
Loving this Blackberry Lemon Bread and looking for more dessert/breakfast crossovers? Check out this Vegan Blender Banana Bread and these Chocolate Chip Muffins.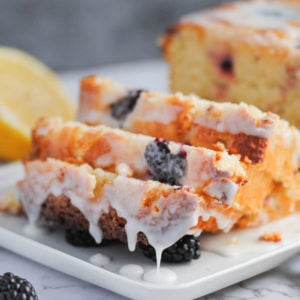 Moist Blackberry Lemon Bread with Glaze
PRINT
PIN
RATE
This Moist Blackberry Lemon Bread with Lemon Glaze is the perfect balance of sweet and tart. It's fresh, tangy, and the perfect accompaniment to your coffee or tea.
Ingredients
4

ounces

blackberries

(plus a couple extra for decorative top!)

1

teaspoon

all-purpose flour (to coat blackberries)

1

cup

plain greek yogurt

1

cup

granulated sugar

1

teaspoon

granulated sugar (for the top)

3

large

eggs

½

cup

oil

(vegetable, canola or coconut)

½

cup

lemon juice

(½ cup lemon juice usually = juice of 2-3 lemons)

1.5

cup

all-purpose flour

2

teaspoons

baking powder

¼

teaspoon

salt
Lemon Glaze (optional)
1

tablespoon

lemon juice

(1 tbsp lemon juice usually = juice of ¼ lemon)

½

cup

powdered sugar
Instructions
Preheat your oven to 350°F and spray or line a 9-inch loaf pan.

Dice your blackberries and add them to a small bowl. Pour 1 teaspoon of flour on top and toss to coat the blackberries in the flour. Set aside.

Add Greek yogurt and 1 cup sugar to a large mixing bowl and whisk until combined.

Next, add your eggs, coconut oil, and lemon juice and whisk again until smooth.

Add 1.5 cups flour, baking powder, and salt, and give your mixture a final whisk.

Fold in your flour-coated blackberries and transfer to prepped 9-inch loaf pan. Add an extra sprinkle of sugar and a couple more blackberries on top for gorgeous color and decorative finish!

Bake for 50-55 minutes, or until a toothpick comes out clean. Allow your sweet bread to cool before removing from pan and slicing.
Lemon Glaze (optional)
Add lemon juice and about 1/4 cup of powdered sugar to a large mixing bowl and use a whisk or hand-mixer to combine. Test the consistency. It should drip slowly off of your whisk. If it's too thin, add more powdered sugar, about 1 tablespoon at a time until desired consistency is achieved.

Once your blackberry lemon bread is cooled, pour glaze on top and enjoy!
Pro Tips
If your loaf isn't cooking in the middle, tent it with aluminum foil and cook it for an extra 5-10 minutes. This will allow the center to cook without burning the top. 
For another moist loaf bread, check out this Chocolate Chip Loaf Cake. 
Did you make this recipe?
Let me know by leaving a recipe rating below, or by tagging @marleysmenu on Instagram.