Looking for a quick and easy yet flavorful way to prepare your fish? This 20-Minute Blackened Cod recipe uses a homemade blackening spice blend to form a crispy exterior around the otherwise soft and flaky fish.
The blackening seasoning can easily be tailored to your spice level to make this easy cod recipe your own! But regardless of how spicy you make it; the result is always perfectly cooked and well-seasoned cod.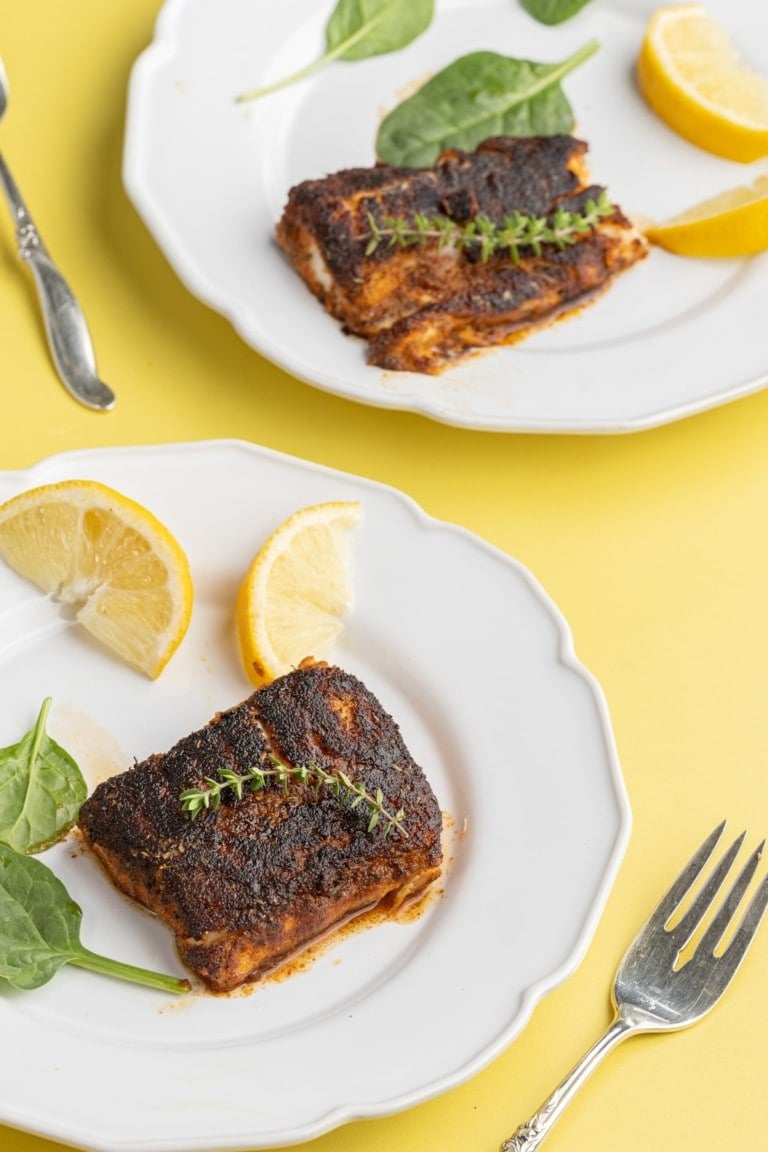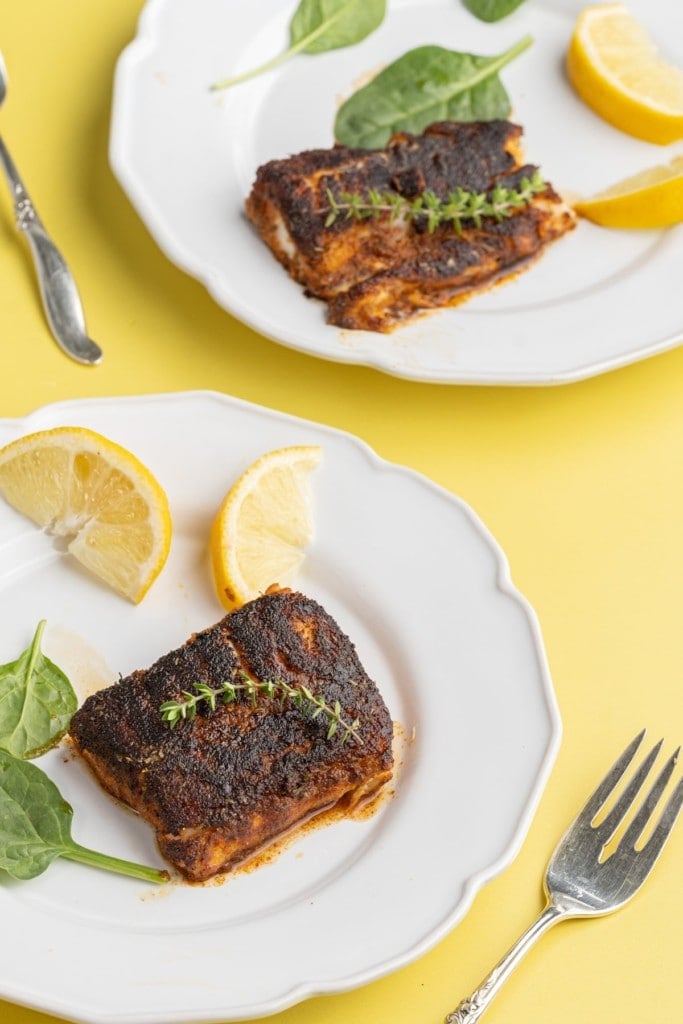 Crispy Blackened Cod Ingredients
---
Here's everything you need:
Cod. This recipe is intended for individual portions of fresh skinless cod, about 4 ounces per portion. If you're using frozen cod, make sure to thaw it before following this recipe.
Olive Oil. To fry the cod in.
Paprika. For a very subtle sweetness to enhance the other savory spices.
Onion Powder. To add umami from the oniony taste.
Garlic Powder. This adds a touch of nuttiness to your blackening seasoning.
Ground Black Pepper. For a little spice.
Salt. To enhance all of the other flavors.
Cayenne Pepper. To kick it up a notch.
Oregano. To add some herbaceous freshness.
Thyme. This adds earthiness to your seasoning.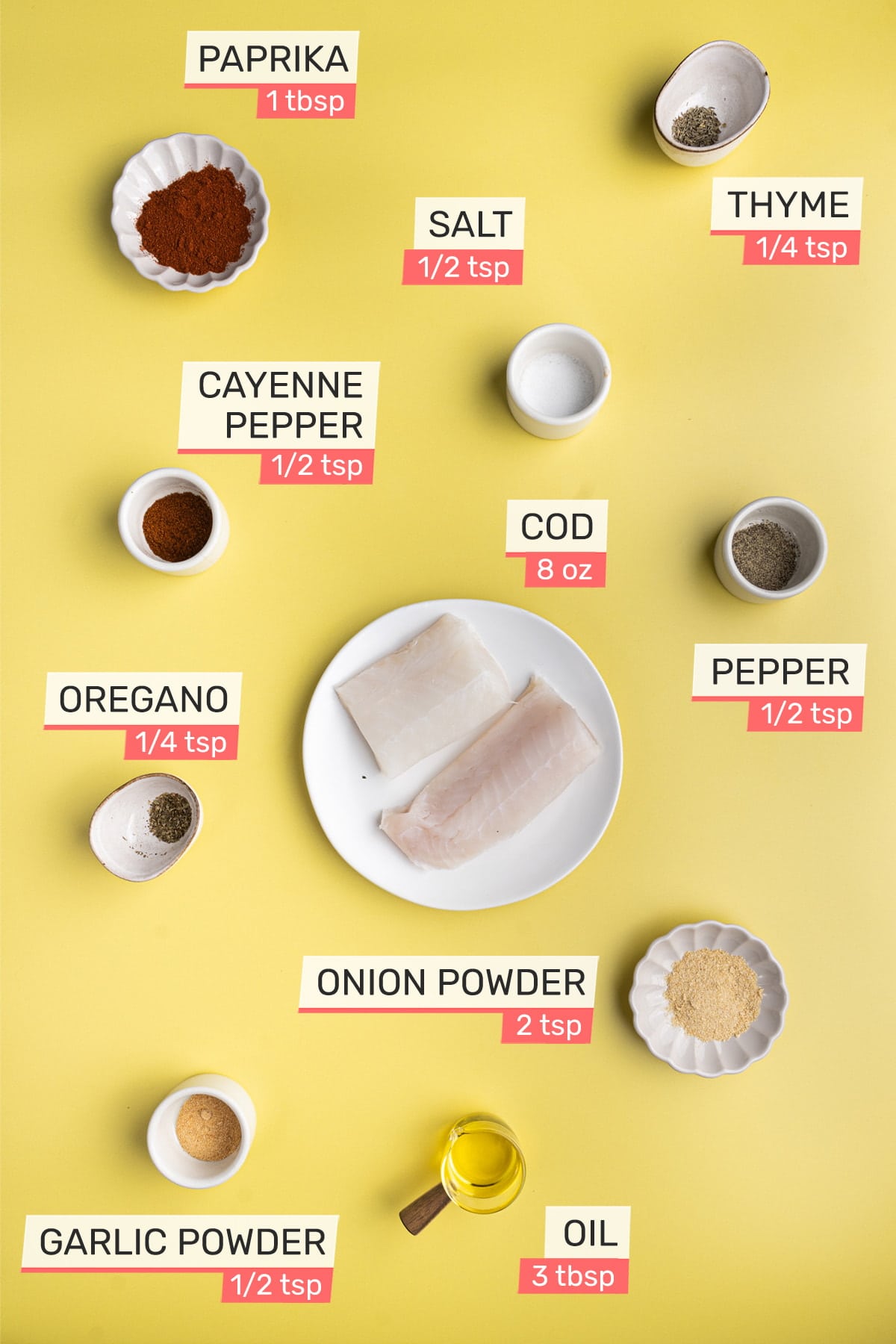 Sustainable Seafood
As an environmental scientist, I always try my best to source my seafood in a responsible way to protect our fragile marine ecosystems.
When it comes to cod, if you are in the U.S., look for wild caught Atlantic cod with a blue Marine Stewardship Council certification to make sure you are sourcing your fish sustainably.
Green tip: Look for Marine Stewardship Council and Friend of the Sea labels on your fish to ensure they were harvested sustainably.
Blackened Cod Tips and Tricks
---
Pat Dry Your Fish
Whether you're using fresh or frozen cod, make sure to completely dry off your fish with a paper towel before coating it in the spice blend.
Green tip: Paper products contribute to deforestation. Consider these bamboo paper towels! Bamboo naturally regenerates every few months, whereas trees cannot regrow once harvested.
The easiest way to do so is by placing your fish filets in between two paper towels and pressing down. By drying the fish, you are ensuring your seasoning blend sticks. It also helps to avoid any extra hot oil splatter from additional moisture on the fish.
This recipe is written for fresh cod, but that doesn't mean you can't also easily use frozen! Just thaw the fish overnight in the refrigerator or add it to a plastic or reusable storage bag and submerge the bag in cold water for about 45 minutes to defrost.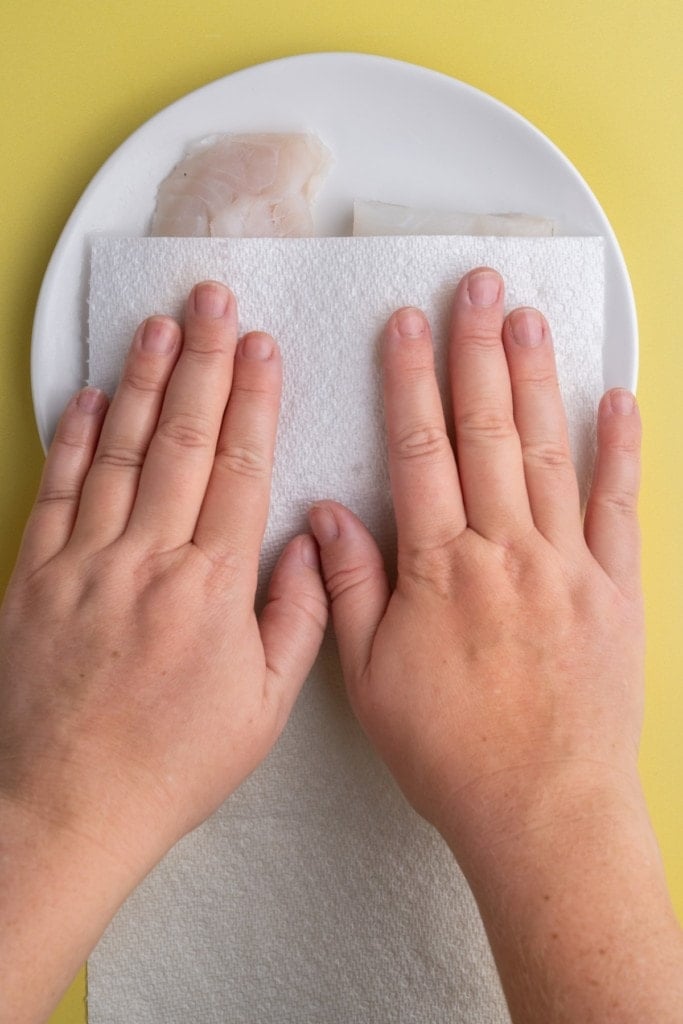 The Blackening Seasoning
The blackening seasoning blend in this recipe is made up of 8 spices and herbs that combined bring an intense depth of flavor. And the best part? You can customize it to your liking!
As written, this seasoning has a little bit of a kick—I would call it moderately spicy. If you like a lot of spice, kick your cayenne up a notch. If you're here for the smoky, but not so much the spicy, you can choose to leave the cayenne pepper out altogether.
The spice blend utilizes all dried spices, but you are welcome to use fresh herbs like oregano and thyme if you prefer. Just make sure you dice them up very finely.
This is the same exact seasoning and cooking technique I use in this Blackened Mahi-Mahi recipe.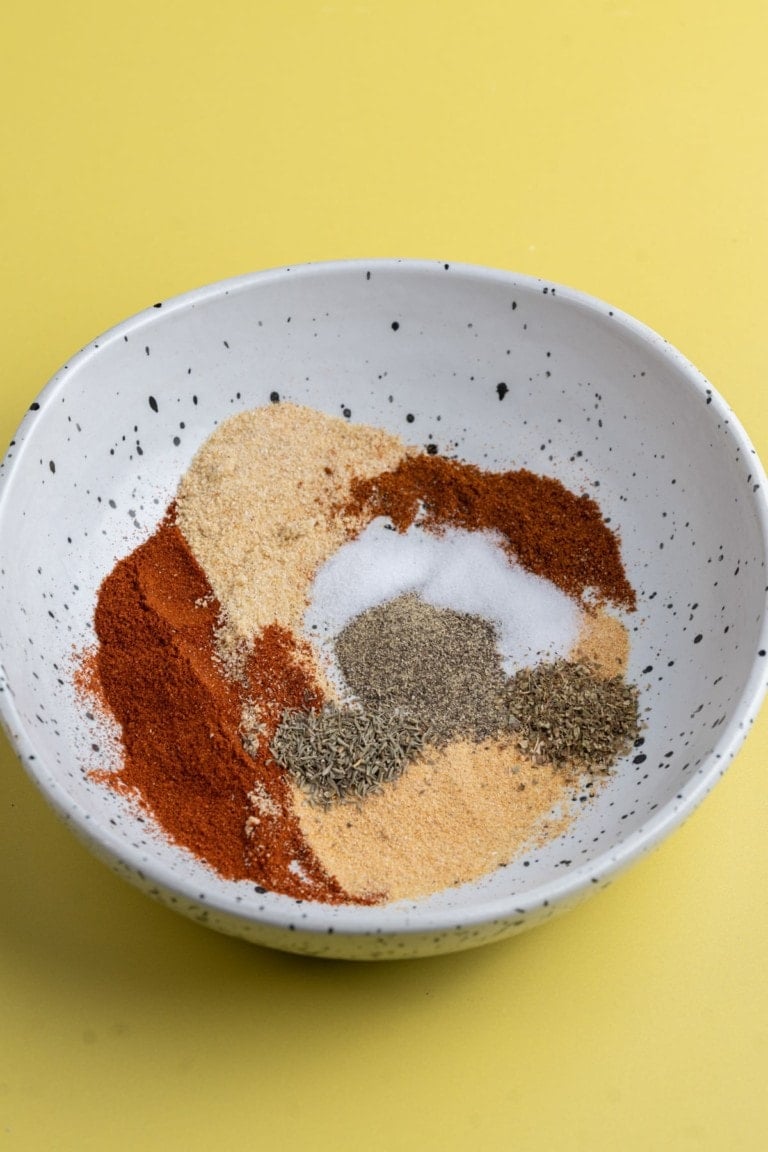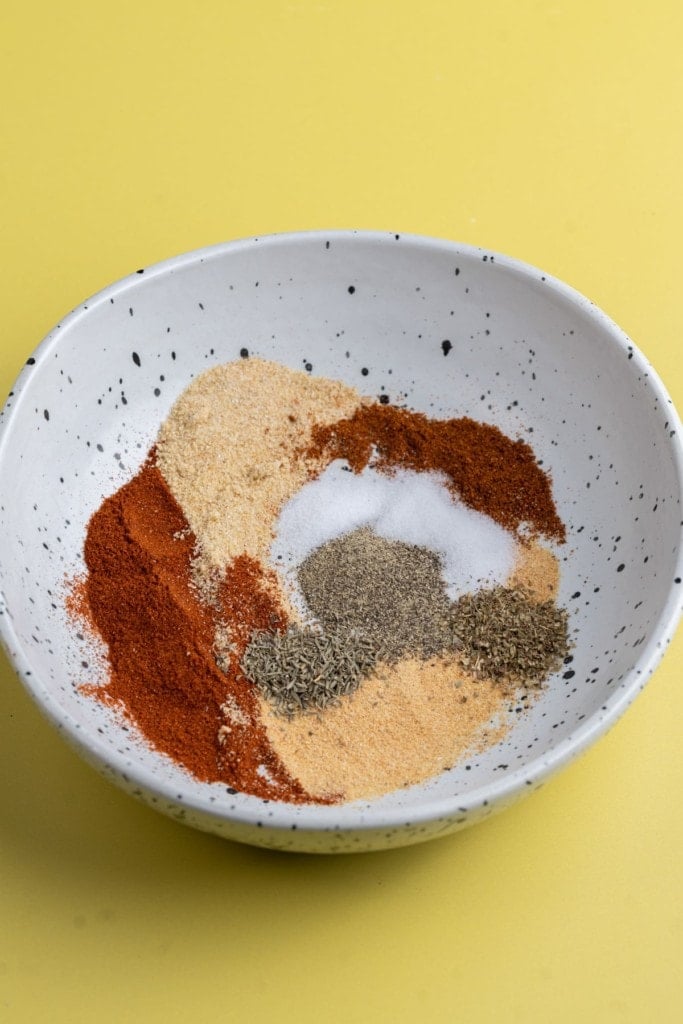 Get a Thick Coat
Stir together your blackening seasoning ingredients in a shallow bowl. Once you've dried your cod filets, add them to the shallow bowl with your seasoning.
Use tongs or clean hands to move the cod around in the seasoning, flipping the fish and making sure to completely coat both sides. It should readily stick to the fish.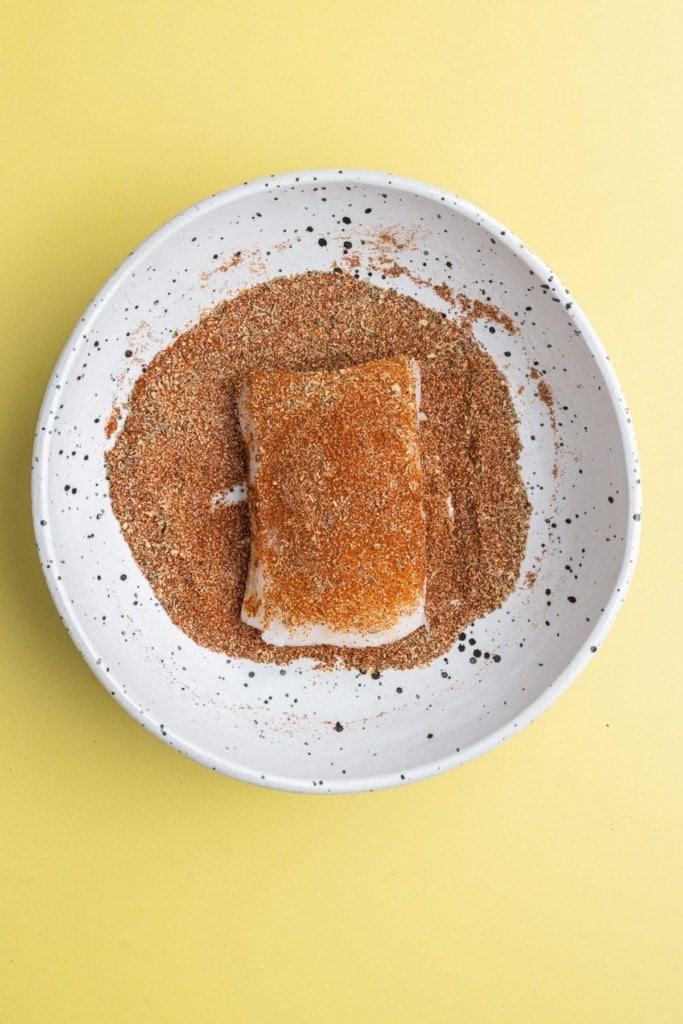 Get Your Oil Hot
You can use either a cast iron skillet (preferred) or nonstick frying pan to blacken your cod in. It's best to use a skillet or pan with a lid.
We will be covering the pan while the fish is frying to trap heat for a more even cook and to stop any oil from splattering out and burning you.
Coat the bottom of your pan with oil and turn your stove up to medium heat and wait a minute or so for your oil to heat up.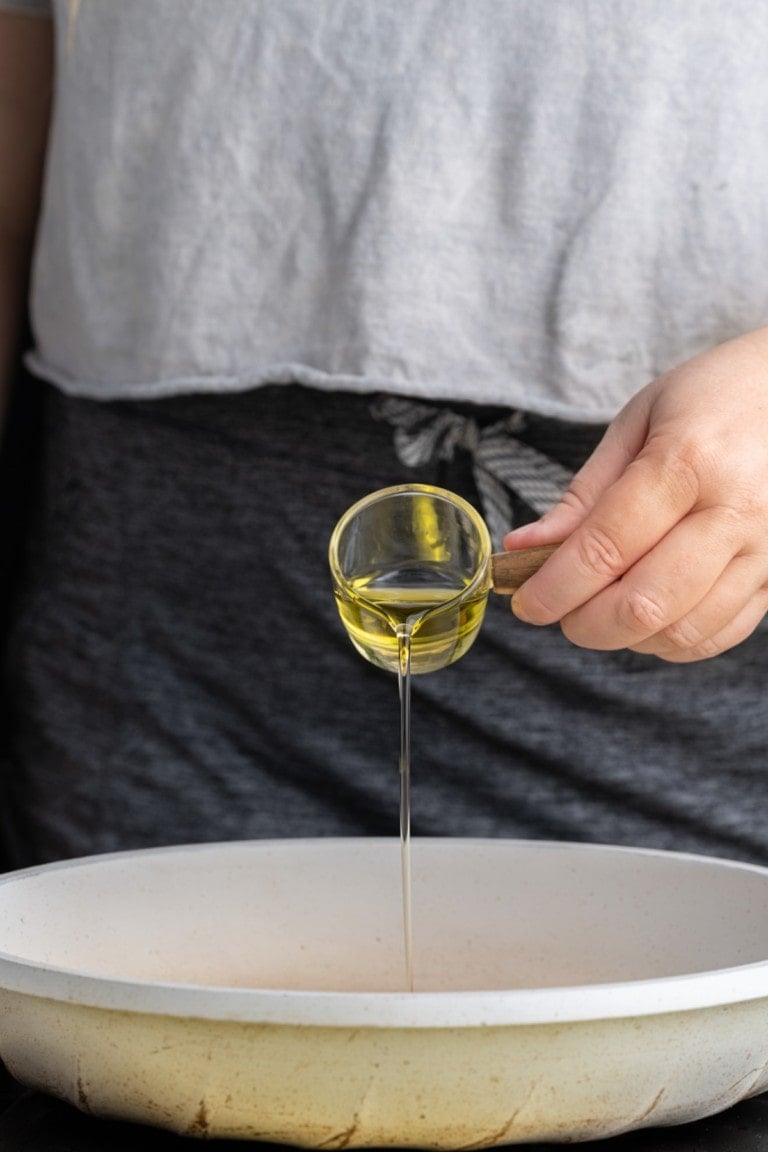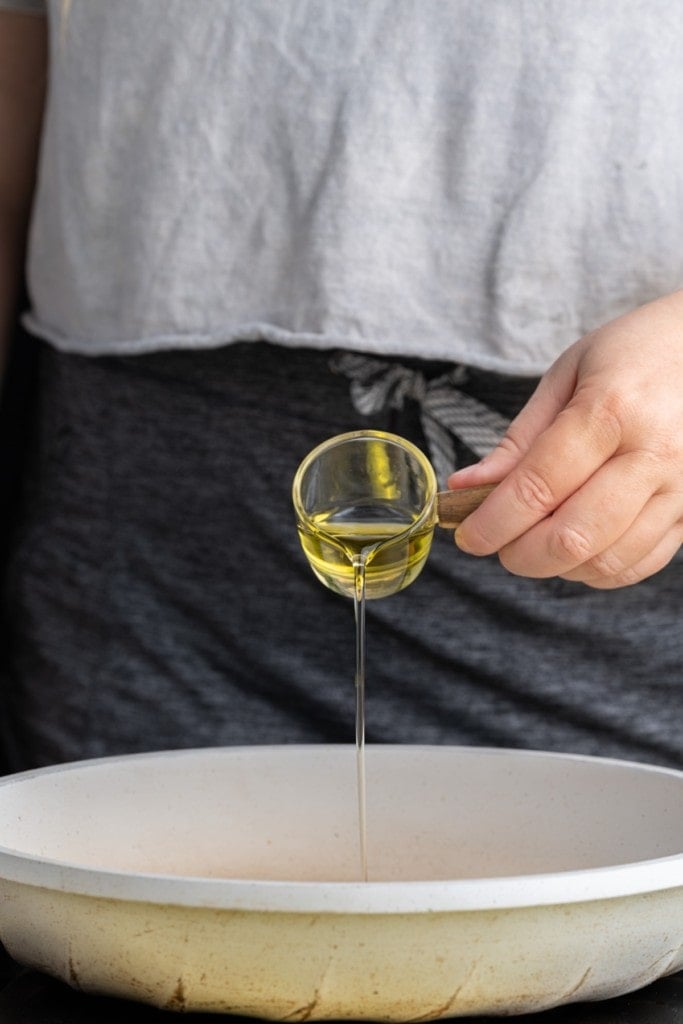 Add Your Cod to the Pan
Once your oil is hot, add your cod to the pan—you should hear a sizzling sound when you drop your fish in! Immediately cover with a lid to avoid any hot oil splatter.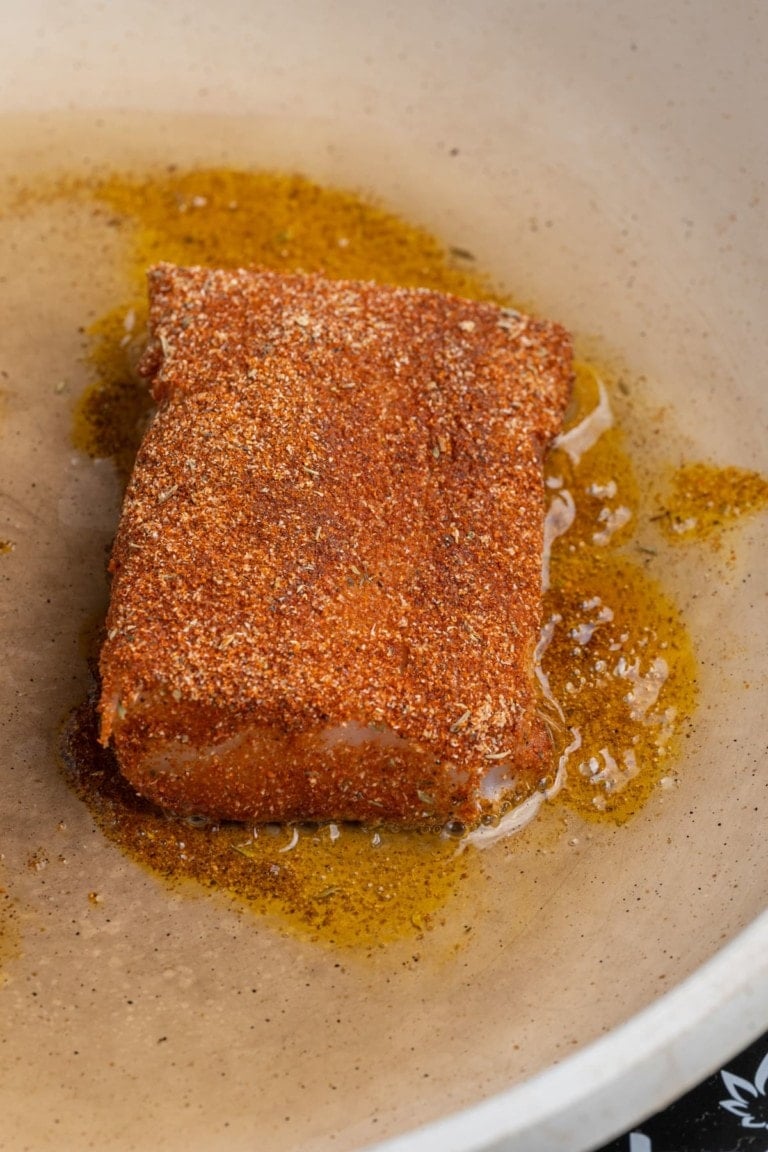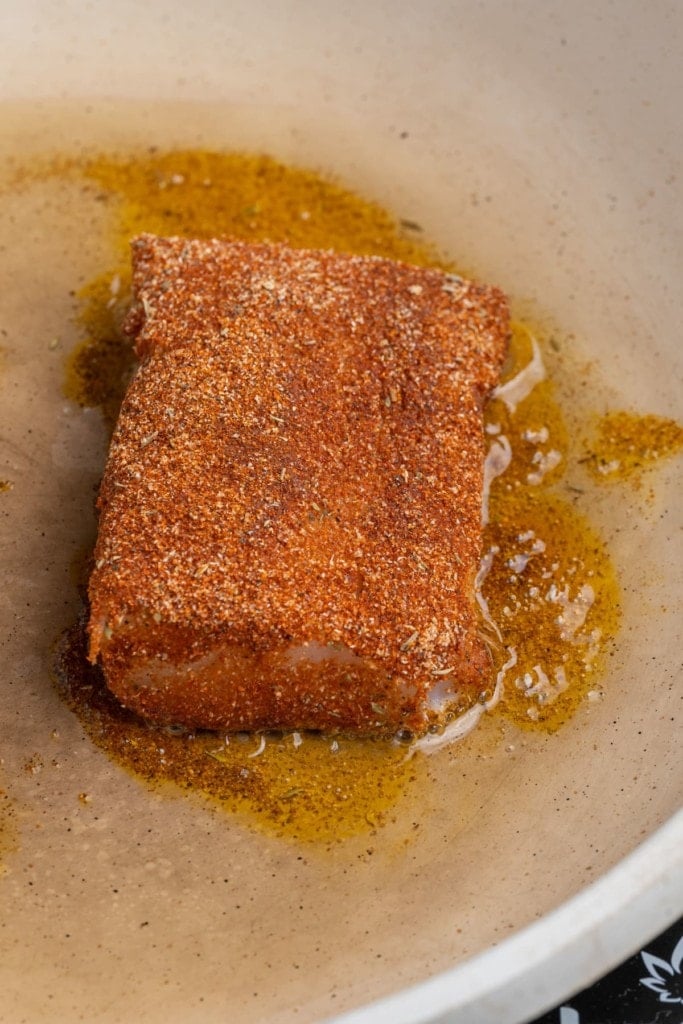 Flip it
Cook your cod for 5 minutes before flipping. Your cod should be easy to flip. If it's sticking to the pan at all, don't force it!
When it's fully blackened, it easily lifts off the pan as the seasonings for an outer crust. If it's stuck, give it another minute over medium heat before trying to flip again.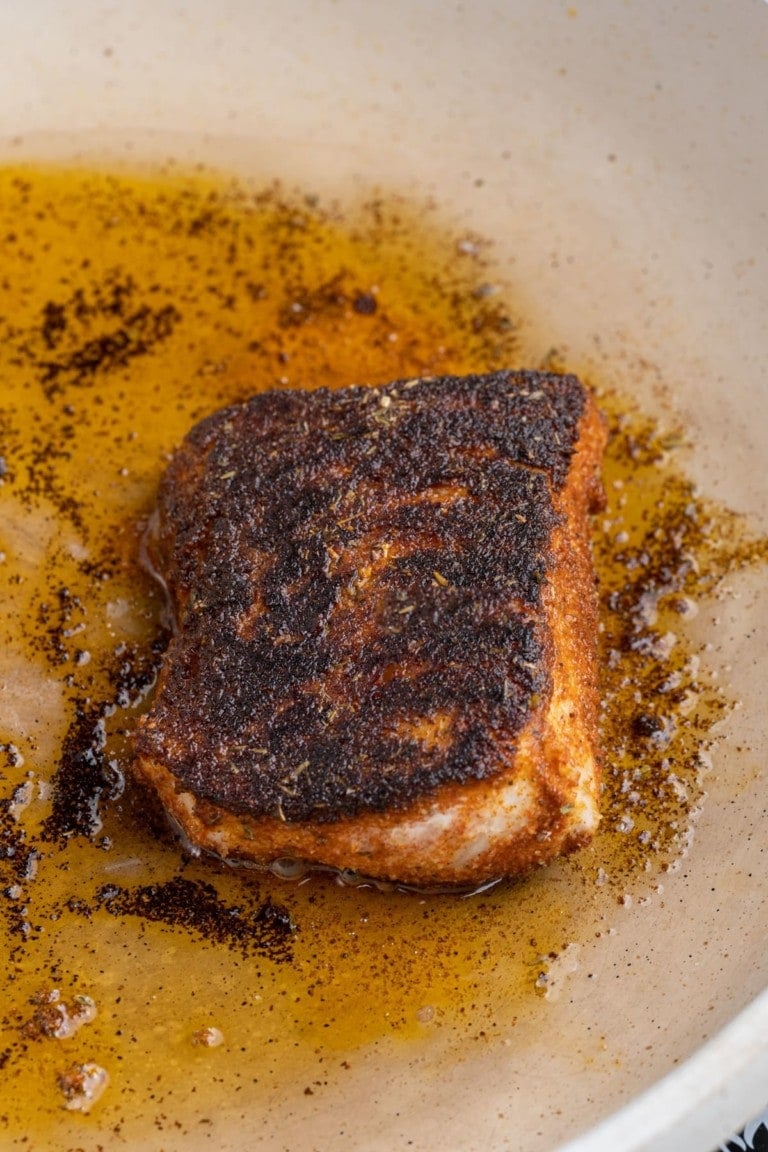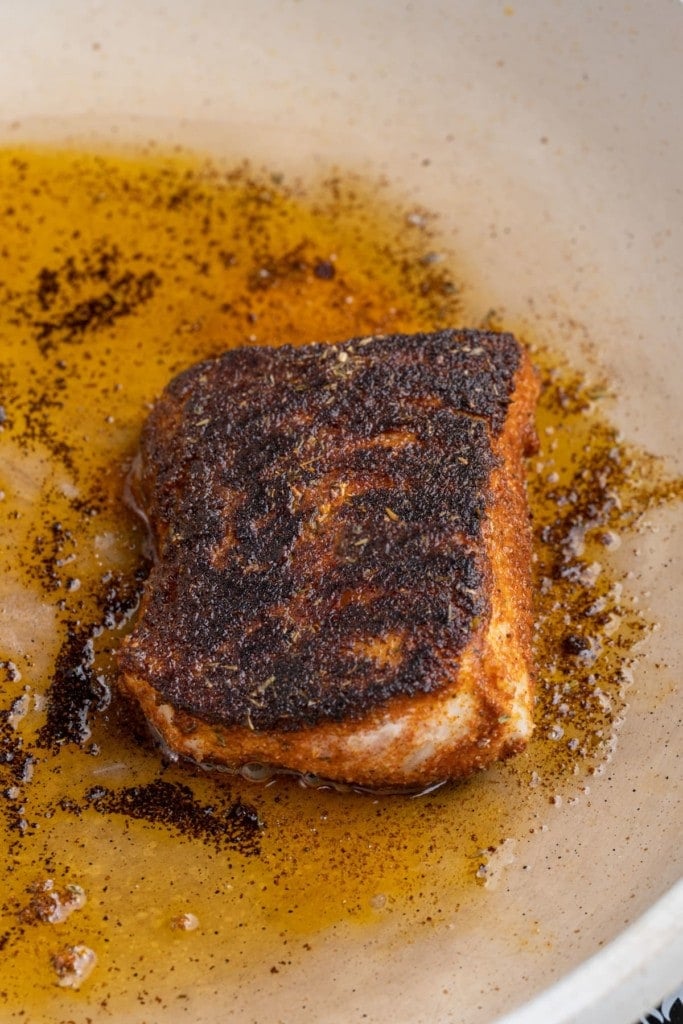 Storing and Reheating Leftover Blackened Cod
Blackened cod will be safe to eat if covered and stored in the refrigerator for another 3-4 days after preparing. The best way to reheat it is to cover it and place it in your preheated oven at 275 °F, for about 15 minutes or until the internal temperature reaches 125°F.
You can also opt to freeze your cod for up to 3 months. Just allow it to thaw overnight in the refrigerator before following the reheating directions above.
Green tip: 50% of food waste happens in our homes. It's always best to avoid food waste as much as you can! That means storing your leftovers properly so you can eat them later!
Serving Your Blackened Cod
This Blackened cod has a lot of spicy, savory, and smoky flavor and goes best with milder side dishes. It's delicious over coconut rice or Saffron rice.
It's also great over pasta, orzo, or Couscous or with these Simple 4-Ingredient Potatoes. You can also serve it up over a salad or with any roasted vegetables.
Additionally, this blackened cod is incredible between a bun as a sandwich!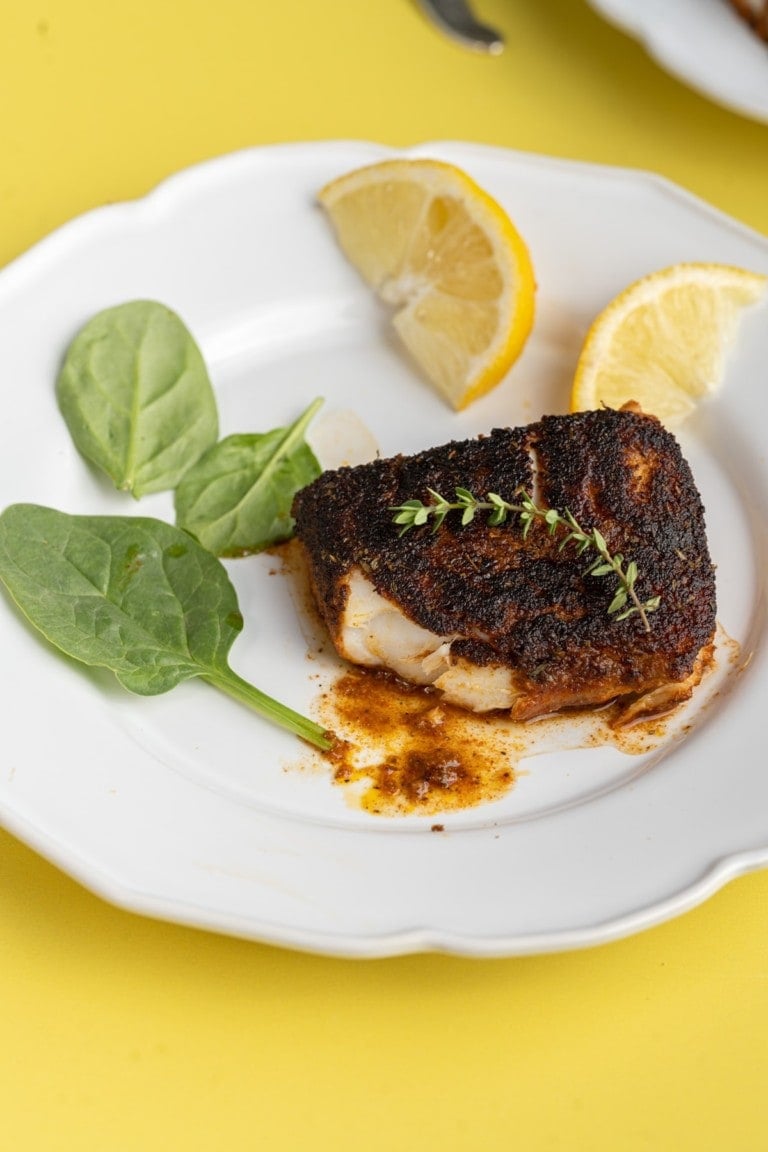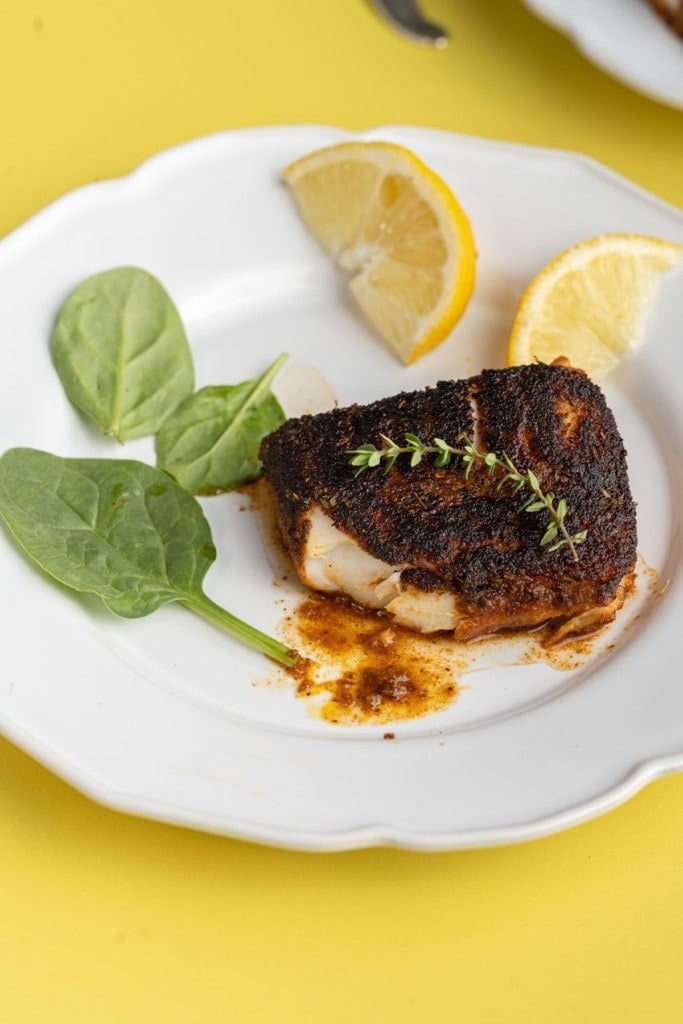 Blackened Cod Frequently Asked Questions
---
What does blackened cod taste like?
Cod itself has a very mild flavor and soft, flaky texture, making it the perfect blank canvas for your blackening seasoning.
The blackening seasoning is a combo of herbaceous, spicy, and salty. The blackening infuses smokiness, too.
What makes fish blackened?
Though blackened fish look burnt, it's not! The blackening spice blend turns into a crispy outer layer on the fish as it heats in the pan, turning a dark brown or black color.
This results in a crispy, flavorful outer layer of seasoning on the cod.
Want to sharpen your kitchen skills?
Why You Should Make this Crispy Blackened Cod
---
The texture! Flaky and moist on the inside and crispy on the outside.
It has so much flavor. The blackening seasoning and techniques brings savory, spice, and smoky at once!
It's quick! Ready in 20 minutes or less with only 10 minutes cooking time.
If you're loving this Blackened Cod and are looking for more delicious and easy ways to cook fish, check out this Almond Crusted Salmon and Beer Battered Halibut.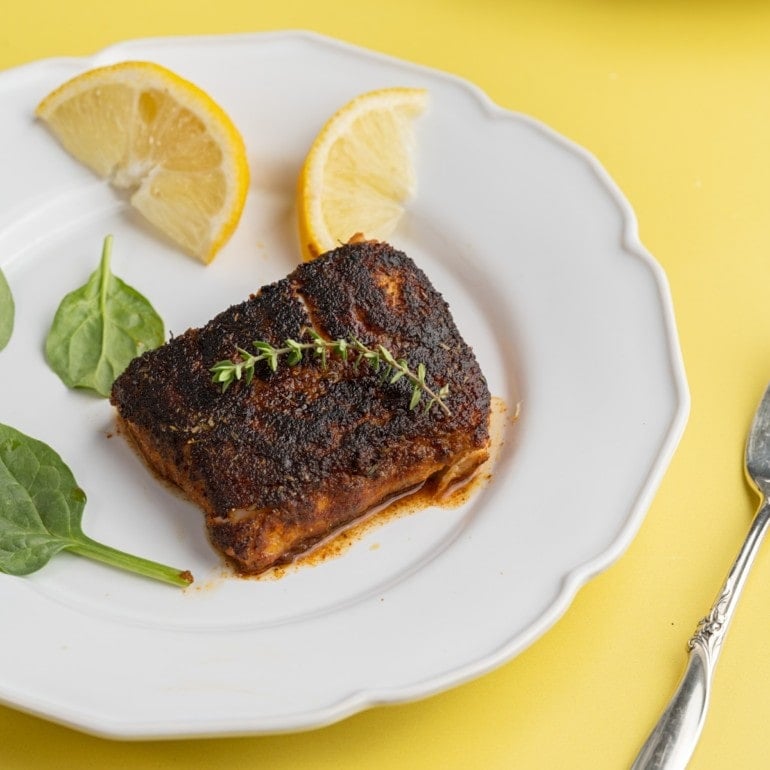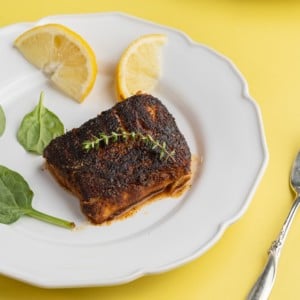 20-Minute Crispy Blackened Cod
PRINT
PIN
RATE
This Blackened Cod recipe uses a flavorful spice blend to form a crispy outer layer on the soft and flaky fish, all in 20 minutes or less!
Ingredients
8

ounces

cod

(in individual 4 ounce portions)

1

tablespoon

paprika

2

teaspoons

onion powder

½

teaspoon

garlic powder

½

teaspoon

ground black pepper

½

teaspoon

salt

½

teaspoon

cayenne pepper

¼

teaspoon

dried oregano

¼

teaspoon

dried thyme

3

tablespoons

extra virgin olive oil or coconut oil
Instructions
Pat dry your cod with paper towels (use these bamboo paper towels for a more sustainable option!) and set aside.

Discard the paper towels and wash your hands.

In a shallow bowl, mix together paprika, onion powder, garlic powder, ground black pepper, salt, cayenne pepper, oregano, and thyme.

Press cod into seasoning and flip, coating the fish completely with blackening seasoning on both sides.

Add the oil to a cast-iron skillet (preferred) or nonstick pan and turn the stove on to medium heat to get the oil nice and hot.

Once your oil is hot, carefully drop the season-coated cod into the pan one at a time, leaving about an inch of space in between. Cover to avoid hot oil splatter.

Cook for about 5 minutes on each side. You'll know your fish is ready to flip if it easily peels off your pan.

If it's stuck, let it cook for another minute or so until it releases from the pan.

The internal temperature of cod should reach 125°F when it is fully cooked. It will be white in color and flaky.
Pro Tips
Make sure you dry off your fish with a paper towel so the seasoning sticks, and to avoid too much hot oil splatter from the pan.
Adjust your spice level with the amount of cayenne. 1/2 teaspoon makes it moderately spicy.
Did you make this recipe?
Let me know by leaving a recipe rating below, or by tagging @marleysmenu on Instagram.