Looking for a quick and flavorful way to prepare your fish? This Blackened Mahi-Mahi recipe teaches you how to make your own blackening seasoning and how to fry it up to get that crispy outer layer of smoky and spicy perfection!
The best thing is, you can use this same spice blend and technique for any white fish! Blackening is one of my favorite ways to prepare my fish along with roasting it.
Blackened Mahi-Mahi Ingredients
---
Here's everything you need:
Mahi-Mahi. This recipe is intended for individual portions of fresh skinless mahi-mahi, about 4-6 ounces per portion. If you're using frozen mahi-mahi, make sure to thaw it before following this recipe.
Olive Oil. To fry the mahi-mahi in.
Paprika. For a very subtle sweetness to enhance the other savory spices.
Garlic Powder. This adds a touch of nuttiness to your blackening seasoning.
Onion Powder. To add umami from the oniony taste.
Ground Black Pepper. For a little spice.
Salt. To enhance all of the other flavors.
Cayenne Pepper. To kick the spice up a notch. Adjust the amount according to your spice level!
Oregano. To add some herbaceous freshness.
Thyme. This adds earthiness to your seasoning.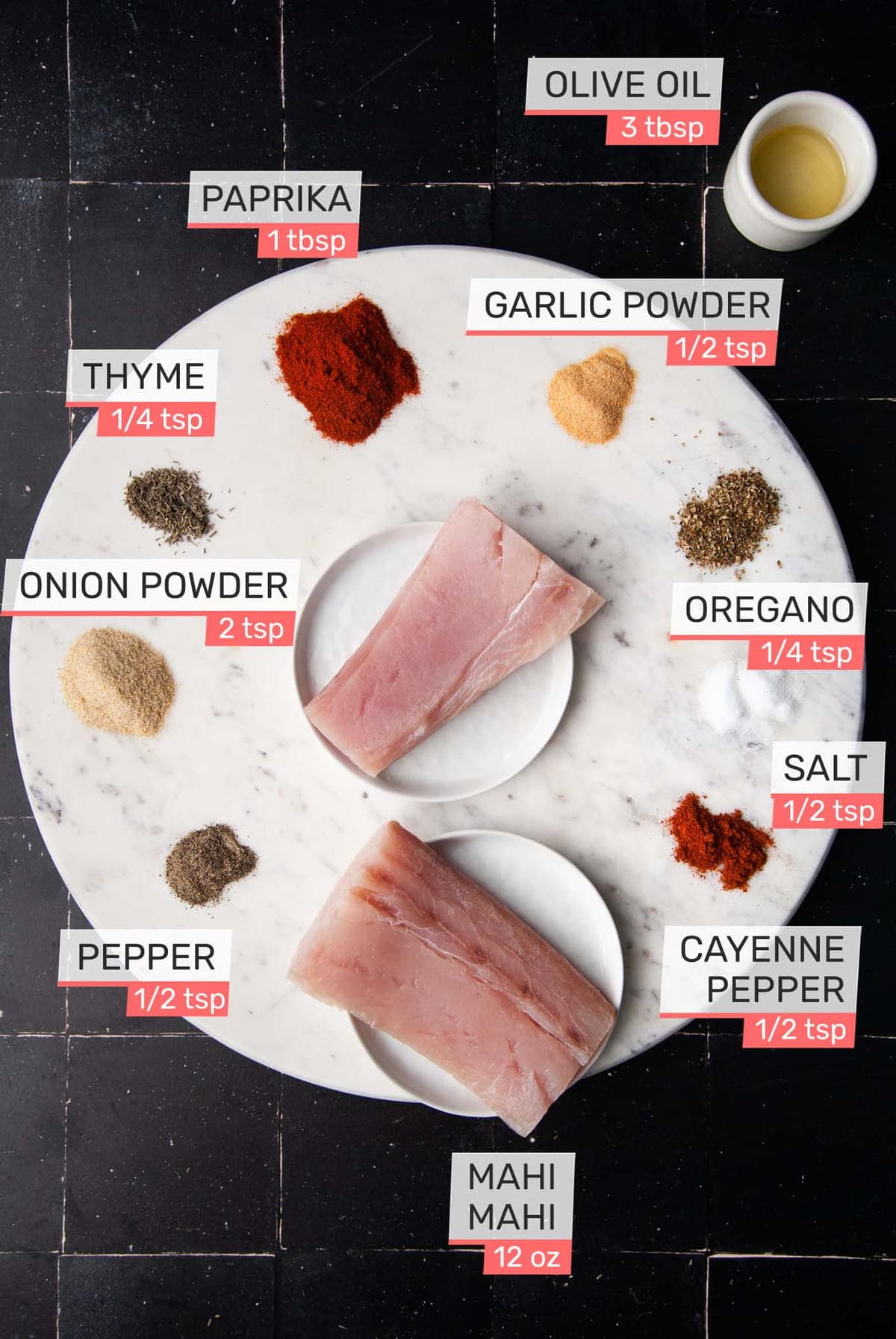 Sustainable Seafood
Mahi-Mahi is generally considered a sustainable fish to eat as it is fast-growing and has a short life cycle. They are generally caught from marine fisheries (not fish farms) utilizing longlines which means little to no bycatch!
Green tip: The most sustainable way to eat Mahi-Mahi is to look for U.S. Atlantic Mahi-Mahi.
Blackened Mahi-Mahi Tips and Tricks
---
The Blackening Seasoning
This blackening seasoning blend is designed to have a little bit of a kick—I would call it moderately spicy. If you like a lot of spice, kick your cayenne up a notch. If you're here for the smoky, but not so much the spicy, you can choose to leave the cayenne pepper out altogether.
The spice blend utilizes all dried spices, but you are welcome to use fresh herbs like oregano and thyme if you prefer. Just make sure you dice them up very finely.
This is the same exact seasoning used for my Blackened Cod recipe.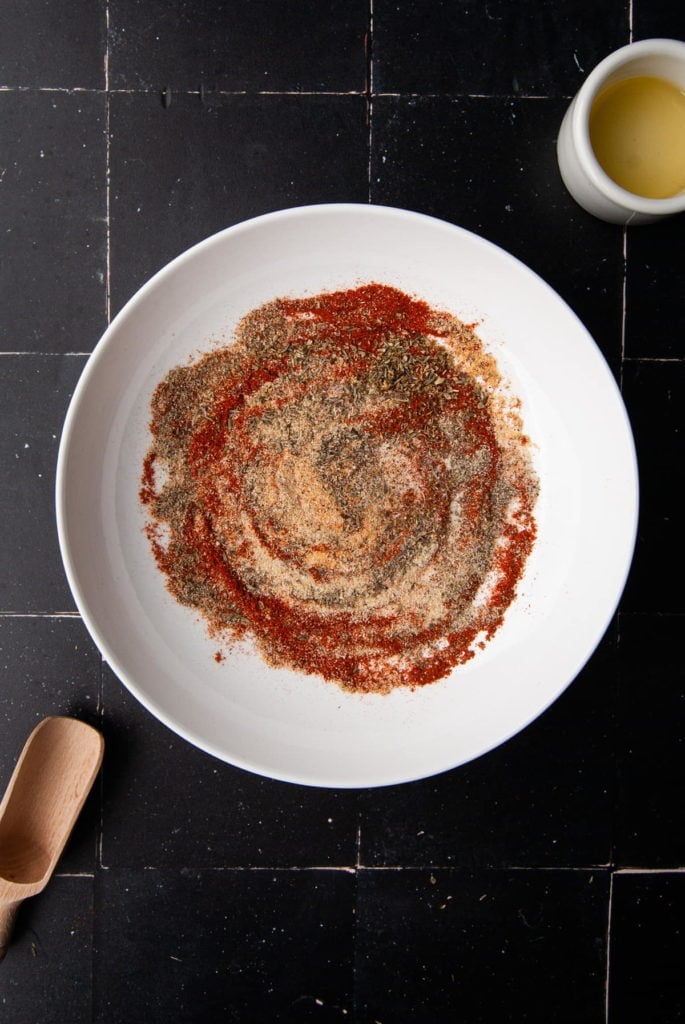 Fresh or Frozen
This recipe works great for either fresh or frozen fish, so long as it's thawed properly. The best way to thaw out frozen fish is to transfer it from the freezer to the refrigerator the night before you're ready to eat it.
If you need to thaw it more quickly, you can seal it completely in a plastic bag, and soak it in room-temperature water for about 15 minutes.
This spice blend and technique will also work for almost any white fish including cod, flounder, halibut, and sole! The blackening technique is also incredible to use for Blackened Ahi Tuna.
Green tip: Despite recycling efforts, the sad truth is that only about 9% of plastics are recycled, leaving the rest to become microplastics. Reduce your contribution to plastic waste by using these reusable plastic bags (affiliate link).
Make Sure to Dry Your Mahi-Mahi
Whether you're using fresh or frozen, it's best to completely dry off your fish before coating it in the spice blend.
The easiest way to do this is by placing your fish filets in between two paper towels and pressing down. Drying the fish will ensure your seasoning blend sticks and will avoid any extra hot oil splatter from additional water on the fish.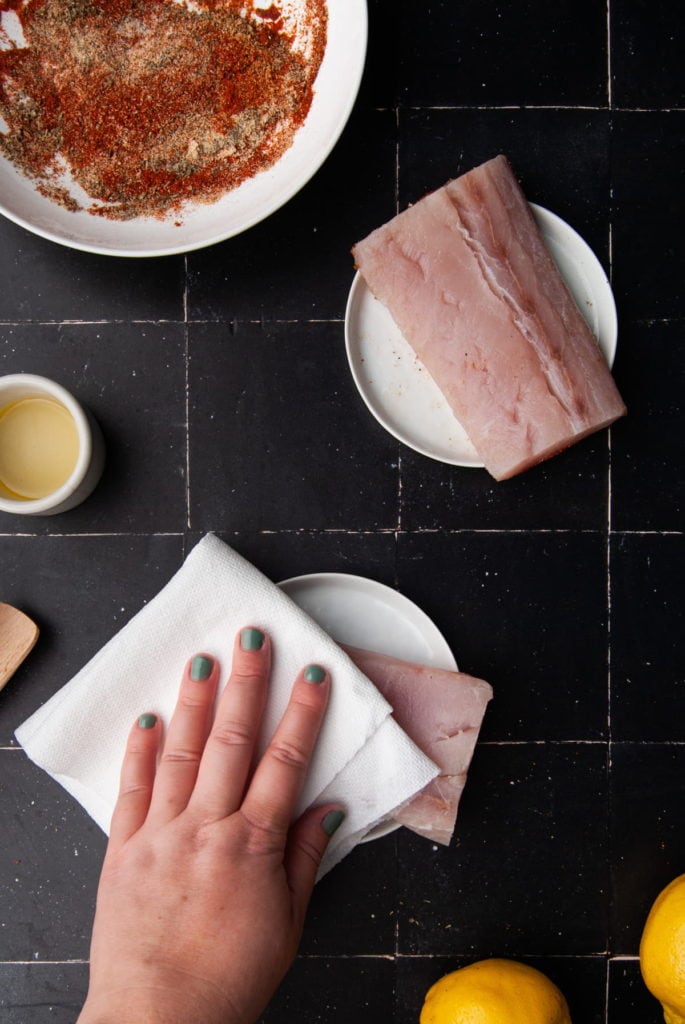 Get a Thick Coat
Once you've dried your fish filets, add them to a shallow bowl with your blackening seasoning. Make sure to completely coat both sides of the fish with the seasoning.
Think of it almost as a breading. The seasoning will actually blacken and give you the crispy exterior with tons of smoky, complex flavor.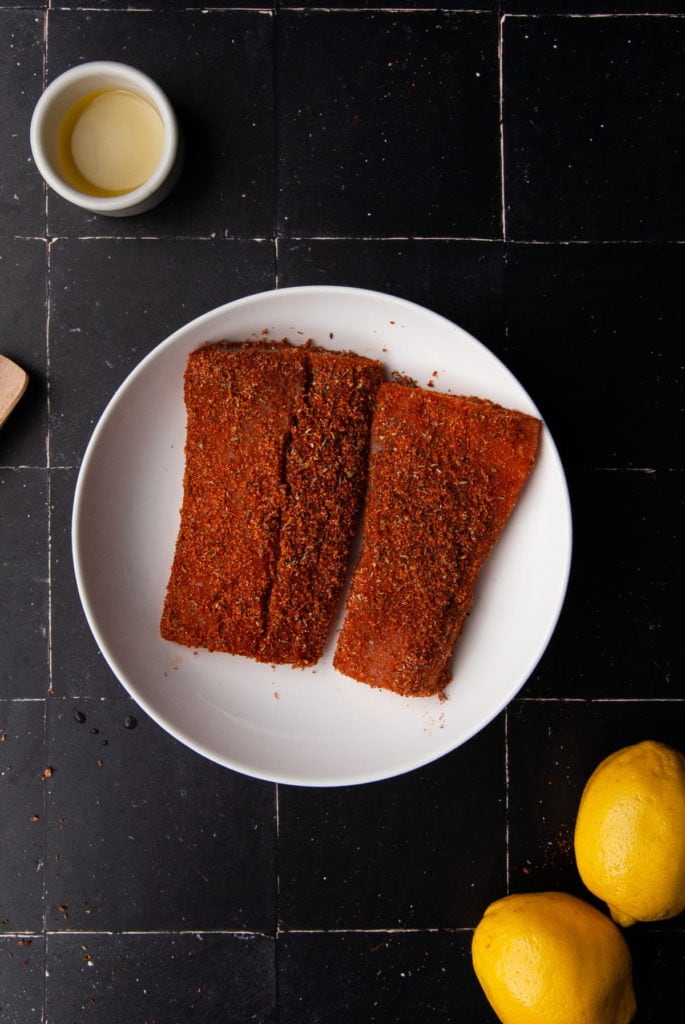 Get Your Oil Hot
I highly recommend using a cast-iron skillet to get your Mahi-Mahi perfectly blackened. I use this cast-iron skillet and get that crispy blackened exterior every single time!
If you don't have a cast iron skillet, a frying pan will do! Make sure you have a cover handy to stop any oil from splattering out and burning you.
Add your coconut or olive oil to the pan—you should have enough to coat the pan completely. Turn your stove up to medium heat and wait a minute or so for your oil to heat up.
Quick note: While handling raw fish, it's important to make sure you wash your hands frequently and use a clean plate to transfer your cooked fish to (never re-use the plate the raw fish was resting on without washing with soap and water first).
You should hear a sizzling sound when you drop your fish into the oil. Immediately cover to avoid any hot oil splatter. Cook for 5 minutes and then check if it's ready to flip.
You'll know your fish is ready on that side because it will easily peel away from the skillet. If it's stuck, it's not quite ready. Give it another minute over medium before checking again.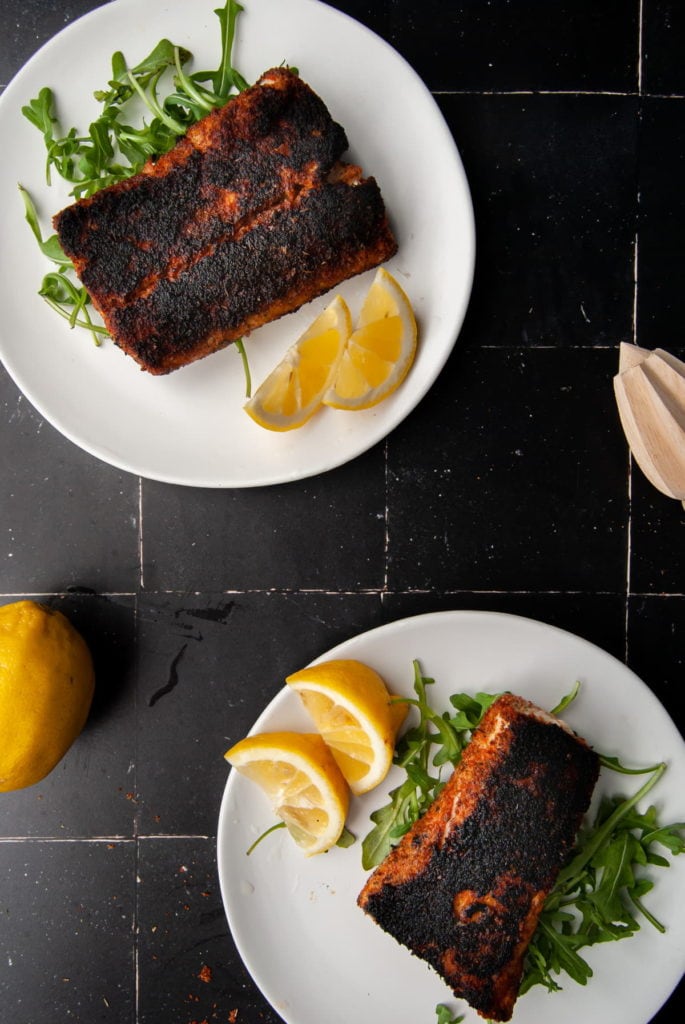 Should You Have Leftovers
Cooked Mahi-Mahi will be safe to eat if covered and stored in the refrigerator for another 3-4 days after preparation. The best way to reheat it is to cover it and place it in your preheated oven at 275 °F, for about 15 minutes or until the internal temperature reaches 145°F.
You can also opt to freeze your Blackened Mahi-Mahi for up to 3 months. Just make sure to allow it to thaw overnight in the refrigerator before following the reheating directions above.
Green tip: Did you know that of the billions of pounds of food wasted annually, it is estimated that 50% of it happens in our homes. It's always best to avoid food waste as much as you can! That means storing your leftovers properly so you can eat them later!
Doubling the Recipe
The seasoning should fully coat two 6-ounce servings of Mahi-Mahi, with little to no leftover seasoning.
You can choose to double or even triple the seasoning recipe if you want to have more blackening seasoning on hand to make another time. If you seal the seasoning, it can last for months, or even years, depending on the age of the ingredients you use.
If you're cooking more than two servings of fish, go ahead and double the seasoning recipe, and pour it over the fish, instead of dunking the fish into it. Once the seasoning has touched the raw fish, it is no longer saveable.
Serving Your Blackened Mahi-Mahi
This Blackened Mahi-Mahi carries a lot of strong flavors and is best with milder sides like these Simple Roasted Potatoes or these Creamy Mashed Potatoes.
It's also delicious with roasted veggies, over rice, or between two buns in a sandwich!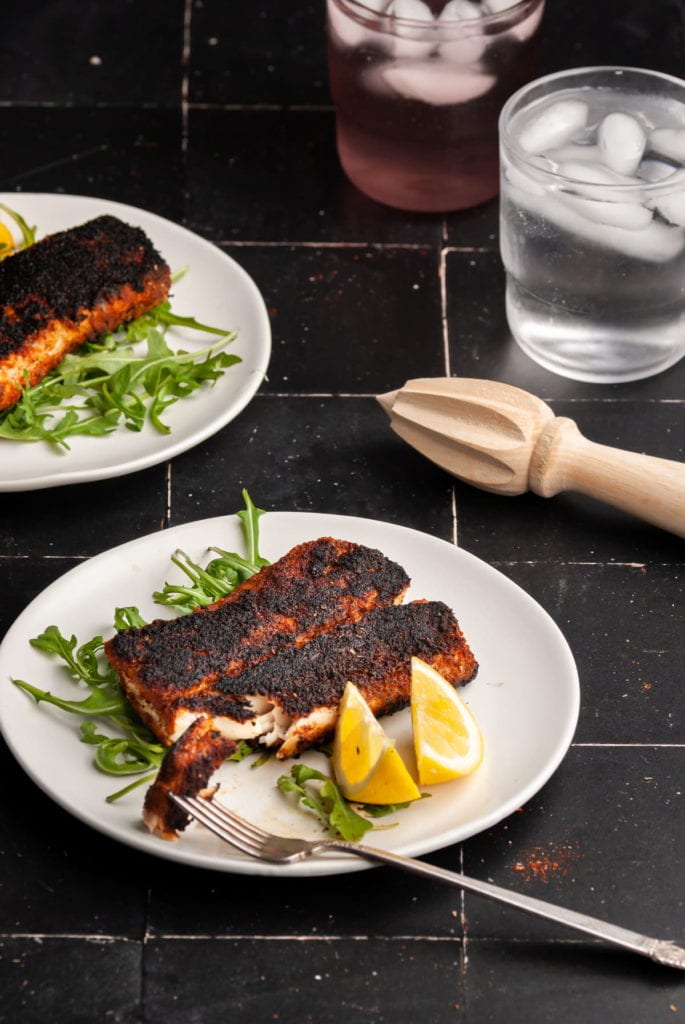 Blackened Mahi-Mahi Frequently Asked Questions
---
What does Blackened Mahi-Mahi taste like?
Mahi-mahi itself has a very mild flavor and meaty texture, making it the perfect blank canvas for your blackening seasoning.
The seasoning is a combo of herbaceous, spicy, and salty. Blackening infuses smokiness, too.
What is meant by "blackened" fish?
Blackened fish refers to any fish cooked using a blackening technique. The blackening technique is when you coat your food with a blend of spices and then cook it on a very hot pan (typically cast iron) until the spices turn black and form a crust.
Want to sharpen your kitchen skills?
Why You Should Make this Blackened Mahi-Mahi
---
It's quick! Less than 20 minutes will have this on the plate!
It's flavorful. The punch of flavor from the seasoning and the smoky blackened exterior is incredible.
It's healthy! Mahi-Mahi is a great source of lean protein and a number of vitamins and minerals.
Looking for more delicious fish recipes? Check out this Beer Battered Halibut and Almond Crusted Salmon.
Crispy Blackened Mahi-Mahi (20 Minutes!)
PRINT
PIN
RATE
This quick and healthy Blackened Mahi-Mahi strikes the perfect balance of herbaceous, smoky, and a little bit of spice to get you a nutritious dinner in just 20 minutes!
Ingredients
12

ounces

Mahi-Mahi

1

tablespoon

paprika

2

teaspoons

onion powder

½

teaspoon

garlic powder

½

teaspoon

ground black pepper

½

teaspoon

salt

½

teaspoon

cayenne pepper

¼

teaspoon

dried oregano

¼

teaspoon

dried thyme

3

tablespoons

extra virgin olive oil or coconut oil
Instructions
Pat dry your Mahi-Mahi with paper towels (use these bamboo paper towels for a more sustainable option!) and set aside. Discard the paper towels and wash your hands.

Mix together paprika, onion powder, garlic powder, ground black pepper, salt, cayenne pepper, oregano, and thyme in a shallow bowl.

Press Mahi-Mahi into seasoning and flip, coating the fish completely with blackening seasoning on both sides.

Add your oil to a cast-iron skillet (preferred) or nonstick pan, and turn the stove on to medium heat to get the oil nice and hot.

Once your oil is hot, carefully drop both season-coated Mahi-Mahi into the pan one at a time, leaving about an inch of space in between.

Cover to avoid hot oil splatter. Cook for about 5 minutes on each side. You'll know your fish is ready to flip if it easily peels off your pan.

If it's stuck, let it cook for another minute or so until it releases from the pan.

The internal temperature of Mahi-Mahi should reach 145°F when it is fully cooked. It will be white in color.
Pro Tips
Make sure you dry off your fish with a paper towel so the seasoning sticks, and avoid too much hot oil splatter from the pan.
Adjust your spice level with the amount of cayenne. 1/2 teaspoon makes it moderately spicy.

There's not much better than a quick fish dinner! Check out my collection of

fish recipes ready in 30 minutes or less

!
Did you make this recipe?
Let me know by leaving a recipe rating below, or by tagging @marleysmenu on Instagram.