Looking for a hearty and flavorsome way to eat your salmon? This Blackened Salmon Pasta consists of crispy blackened salmon atop creamy, saucy pasta, bringing you tons of complex flavor to fill you up.
Ready in under an hour, this quick blackened fish dinner uses crispy, spicy salmon to contrast the creamy al dente pasta, hitting all the right textures. Plus, the addition of mushrooms, tomatoes, and green onions brings this salmon pasta dish to the next level!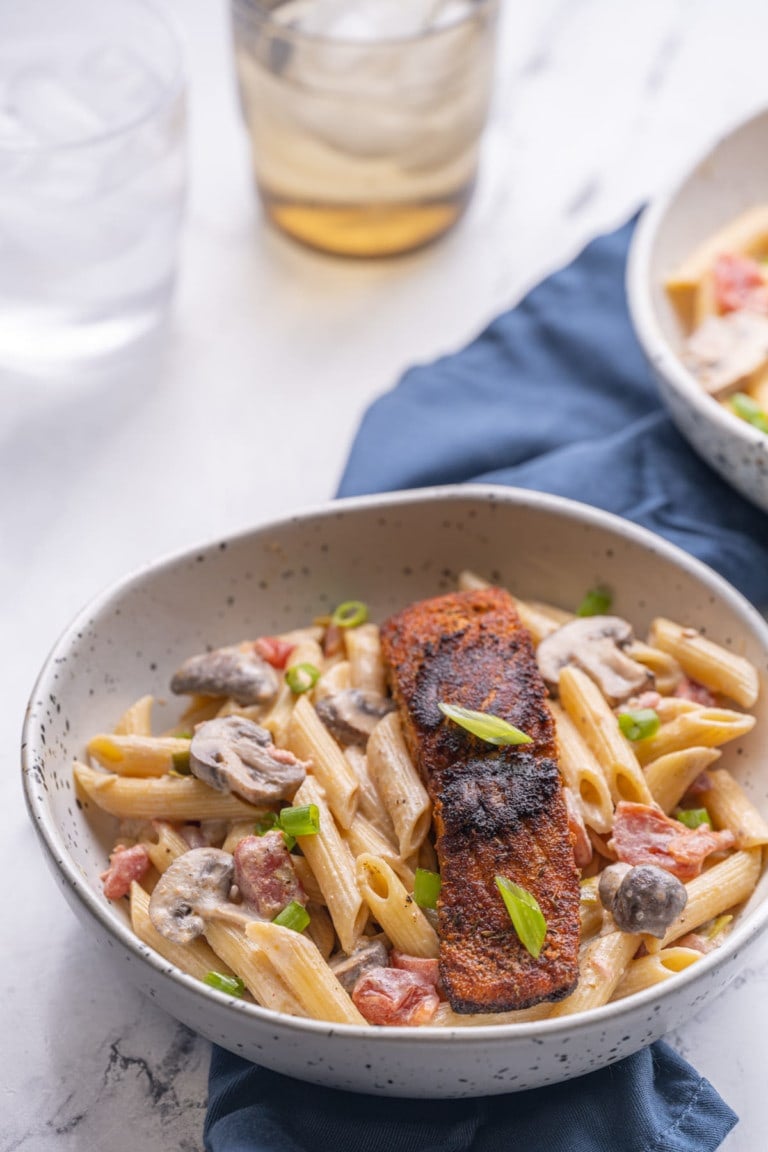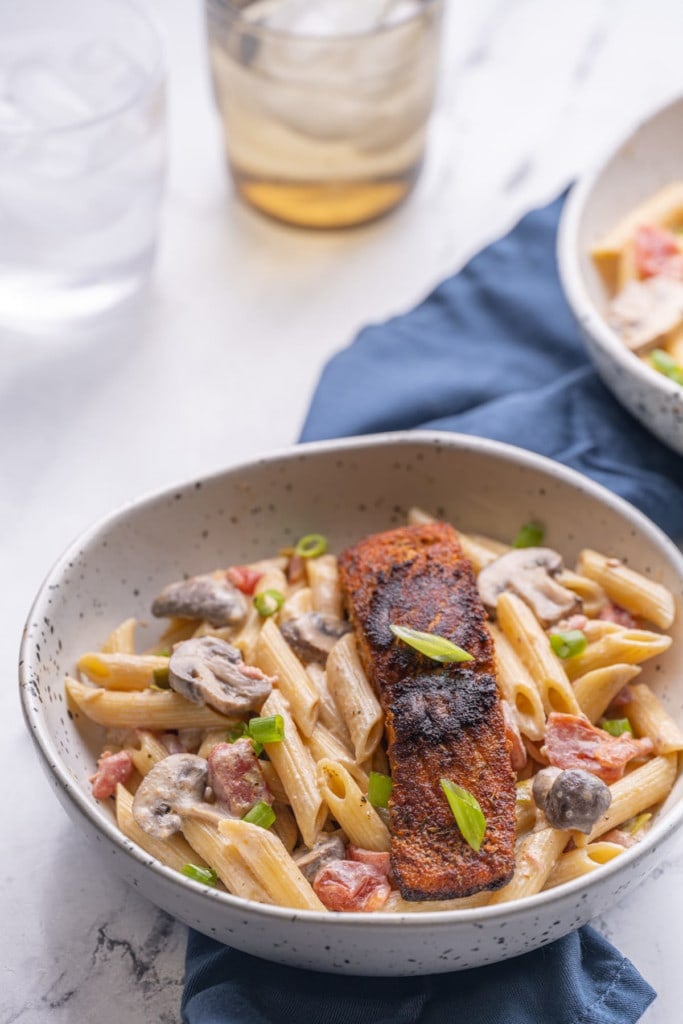 As an environmental scientist, I love highlighting more sustainable ingredients. Lucky for me, pasta is a great meal option carbon footprint-wise!
Green tip: Manufacturing pasta is a relatively less intensive process, using less energy and other natural resources to produce than most other starches. Plus, its long shelf-life means you're less likely to waste it!
Blackened Salmon Pasta Ingredients
---
---
Here's everything you need for the blackening seasoning:
Thyme. To add earthiness to your seasoning.
Paprika. For subtle sweetness to balance out the other savory spices.
Ground Black Pepper. For just a little spice.
Cayenne Pepper. To kick it up a notch.
Salt. To enhance all of the other flavors.
Garlic Powder. To add a touch of nuttiness to your seasoning.
Oregano.

To add some herbaceous freshness.

Onion Powder. To add umami from the oniony taste.
Here's everything you need for the pasta:
Short pasta. Like Cavatappi, Fusilli, Rotini, Farfalle, Penne, Rigatoni, and Ziti. I used Penne in the dish pictured, but I also often make it with Rotini.
Oil. To fry your salmon in.
Diced tomatoes. I just used the canned kind! It's something I always have on hand because it has such a long shelf life and aluminum cans are 100% recyclable.
Half & half. Or cream if you're feeling like a treat. Use unsweetened oat milk for a lighter version.
Garlic. Using fresh garlic goes a long way in this recipe.
Parmesan. Grated Parmesan works great! You could also opt to substitute nutritional yeast for a lighter version.
Green onions. Aka scallions. This adds extra flavor, texture, and freshness.
Mushrooms. Baby Bella or white button works.
Salmon. 2 portions, 3 to 4 ounces each or one larger, 6 to 8-ounce portion that you'll slice in half.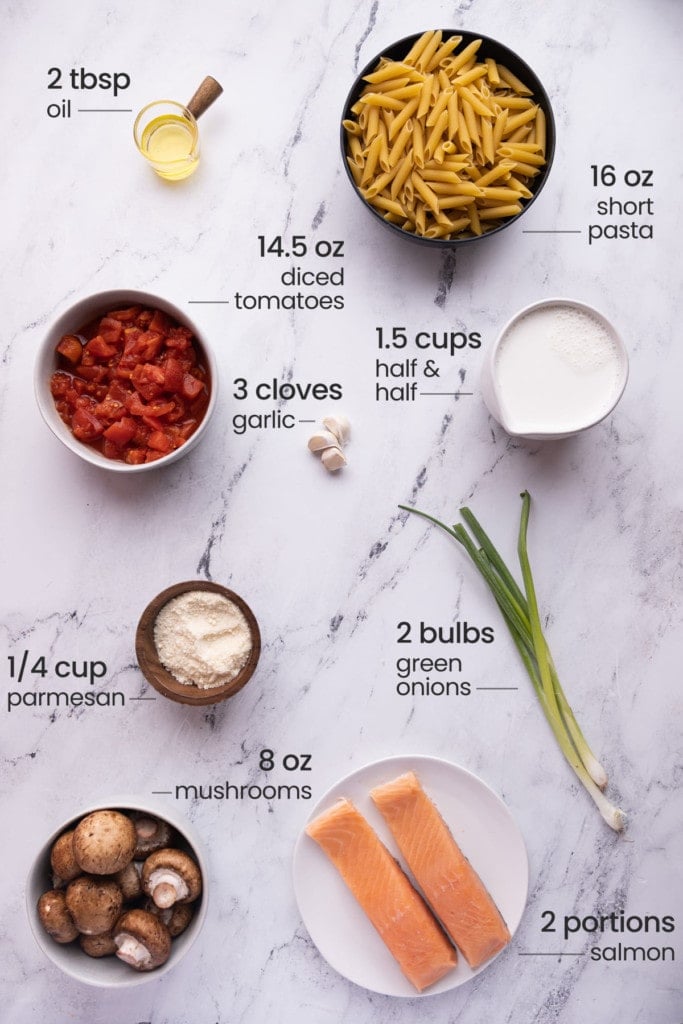 Sustainable Seafood
Without proper care, salmon farming can often pose risks to our environment, especially because of the antibiotics used by salmon farms that can then leach into the surrounding environment and the depletion of other wild fish harvested to feed the salmon.
On the other hand, wild-caught salmon can pose different risks, including overfishing and bycatch. Plus, availability and access to wild caught salmon is not always attainable.
So how can we source salmon sustainably? Well, we have two great choices: sustainably farmed salmon, or wild-caught Alaskan salmon.
Green tip: Look for Marine Stewardship Council and Friend of the Sea labels on your fish to ensure they were harvested sustainably.
Blackened Salmon Pasta Tips and Tricks
---
---
Get Your Pasta Going First
Cook your pasta al dente according to the instructions on the box.
You'll want to get your boiling water going first in order to get this dinner dish in 30 minutes.
Green tip: Don't waste your pasta water, use it to water your plants! So long as it's not salty, the starchy water helps fertilize plants and help them grow.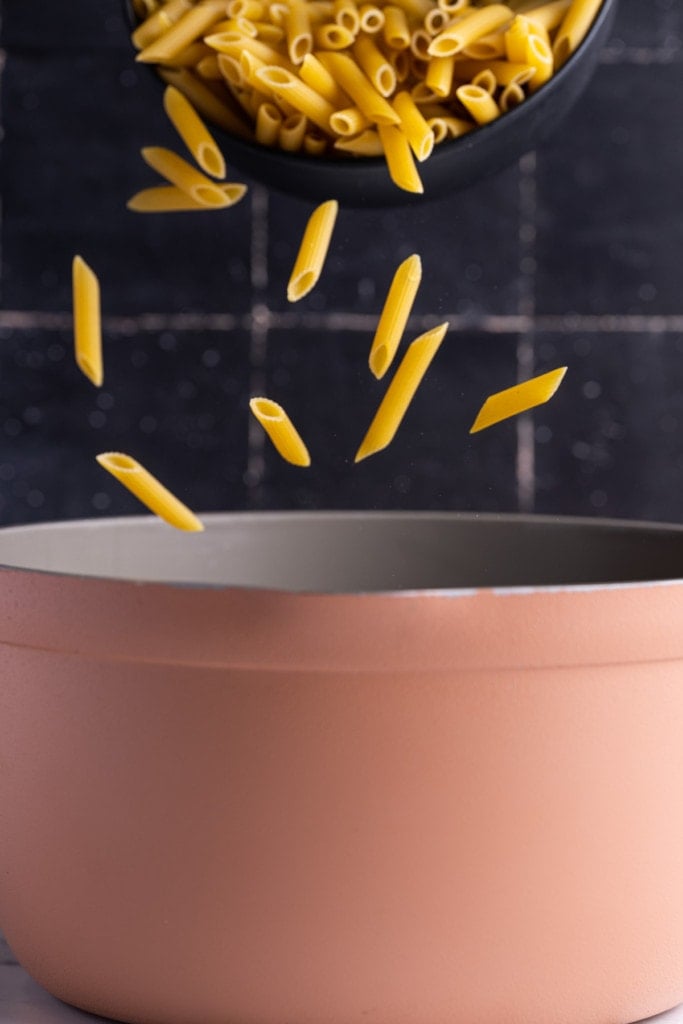 Pat Dry Your Salmon
Before we get to blackening it, we have to prep our salmon. The best way to get a crispy exterior on your salmon is to pat it dry!
Green tip: Paper products contribute to deforestation. Consider these bamboo paper towels! Bamboo naturally regenerates every few months, whereas trees cannot regrow once harvested.
Place your salmon filets in between two paper towels and press down lightly to pat it dry. Removing extra moisture from the fish will ensure you avoid a mushy texture. This same technique is used to make this Pesto Butter Salmon as well.
This recipe was created with fresh salmon, but you can also easily use frozen! Just make sure to defrost this fish first.
You can do so by thawing it overnight in the refrigerator or adding it to a plastic or reusable storage bag and submerging the bag in cold water for about 45 minutes.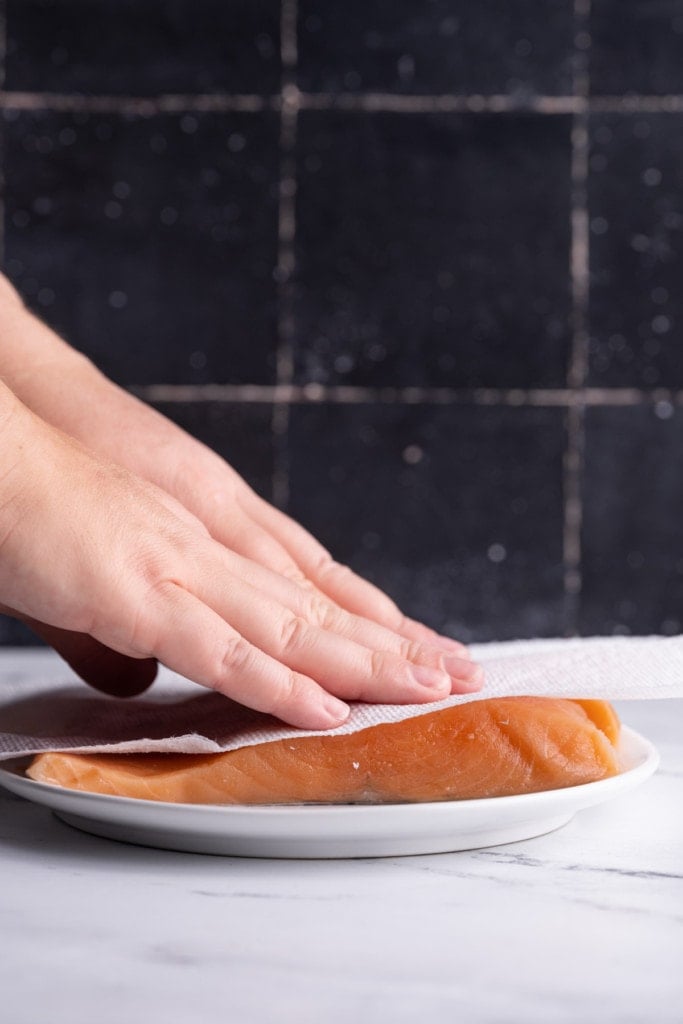 Make Your Blackening Seasoning
This is the same exact seasoning used for my Blackened Cod recipe and Blackened Mahi-Mahi recipe.
The blackening seasoning blend is meant to have just a little bit of a kick—I would probably classify it as moderately spicy.
If your spice tolerance is high and you want a lot of spice, add a little extra cayenne pepper. If you're here for the smokiness, but not really into spicy, you can choose to leave the cayenne pepper out altogether or reduce the amount you add.
The spice blend utilizes all dried spices, but you are more than welcome to use fresh oregano and thyme if you prefer. In that case, just make sure you dice them up very finely.
Mix the blackening seasoning in a shallow bowl, so you can easily dip your salmon in it.
Green tip: Growing your own herbs is a delicious way to reduce your environmental footprint. Homegrown herbs have zero associated food miles, no pesky plastic packaging, and are free of damaging fertilizers and chemicals. Plus, they are just so fresh and flavorful.
Set Some Seasoning Aside
Once you've mixed your seasoning together, set 1 tablespoon aside to add to your pasta. Spread the rest out in a thin, even layer across the shallow bowl.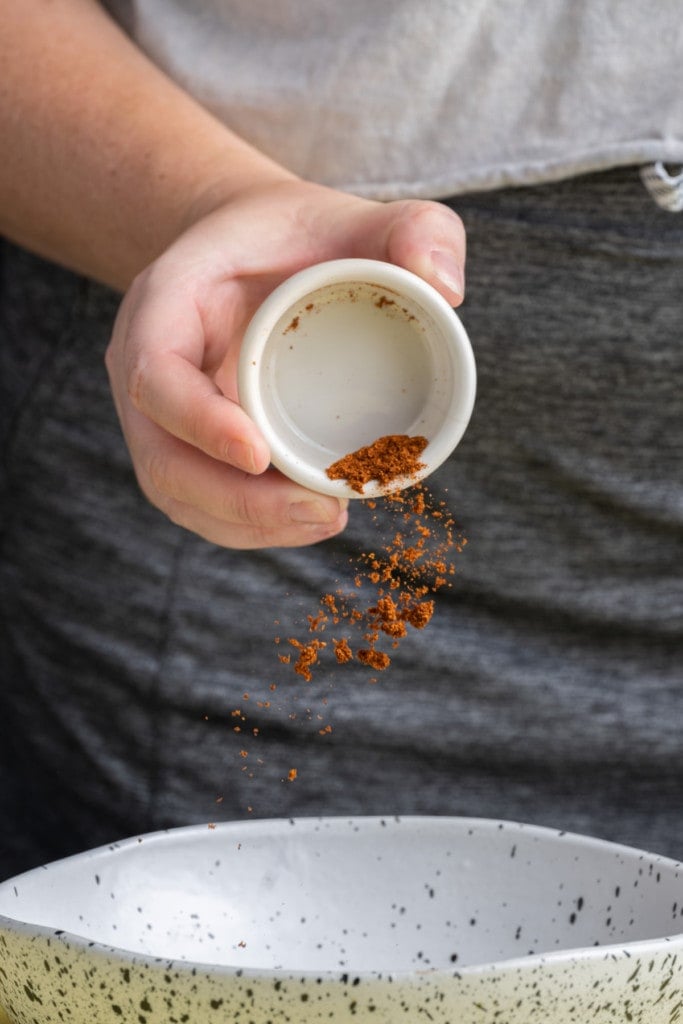 Blacken the Salmon
Once you've mixed your blackening seasoning together, use tongs or two forks to rub all sides of the salmon in the blackening seasoning to coat it in a thin layer of seasoning.
Get it as even as possible. The seasoning will actually act as an outer crust and get nice and crispy. As the seasoning cooks and crisps on the pan, it will turn a dark brown or black color, which gives this technique its name of "blackened".
Carefully lower the salmon into a hot pan with olive oil. Cover and cook for about 5 minutes on each side, flipping once the seasoning forms that crispy blackened crust.
Then, remove the salmon and set it aside for later.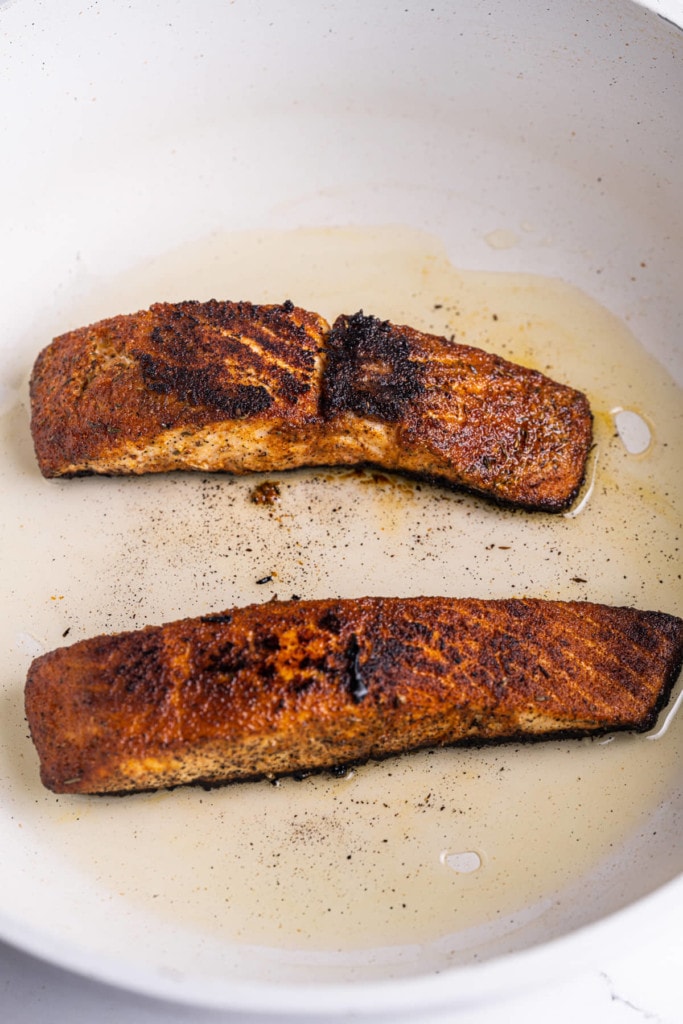 Sauté Your Veggies
Add the mushrooms, garlic, green onions, and diced tomatoes to the pan with the oil. Cook it down for about 5 minutes until a lot of the liquid releases from the mushrooms.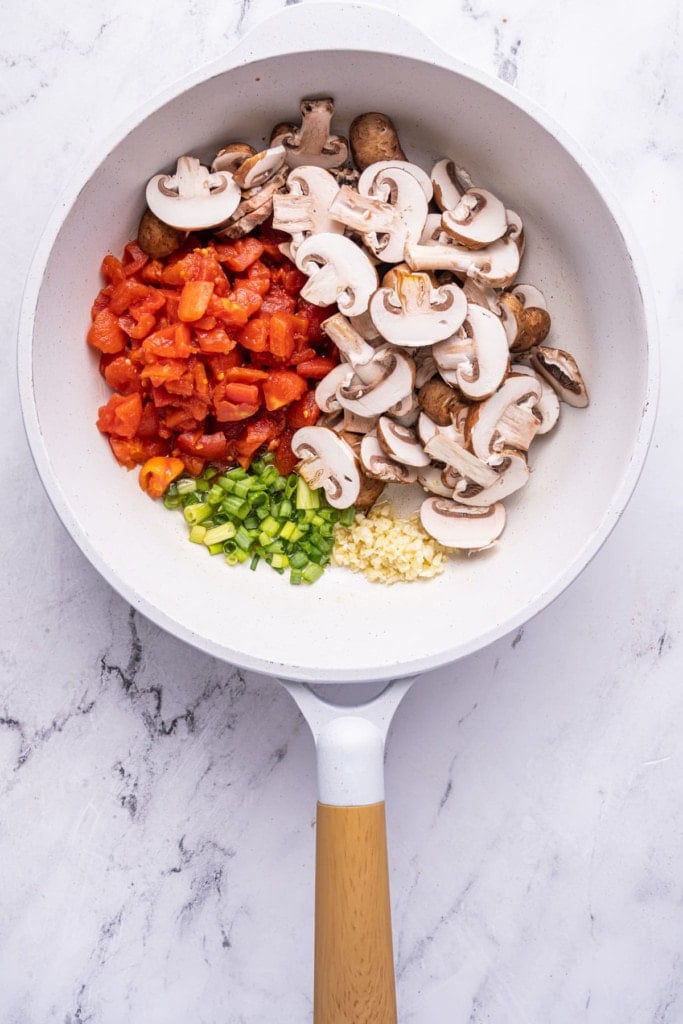 Add Your Pasta and Half & Half
Turn the heat all the way down to low. Add the cooked pasta, conserved blackening seasoning and the half & half to your pan next.
Stir to coat the pasta in the half & half, seasoning, and vegetables and simmer on low for about 3 minutes to thicken slightly.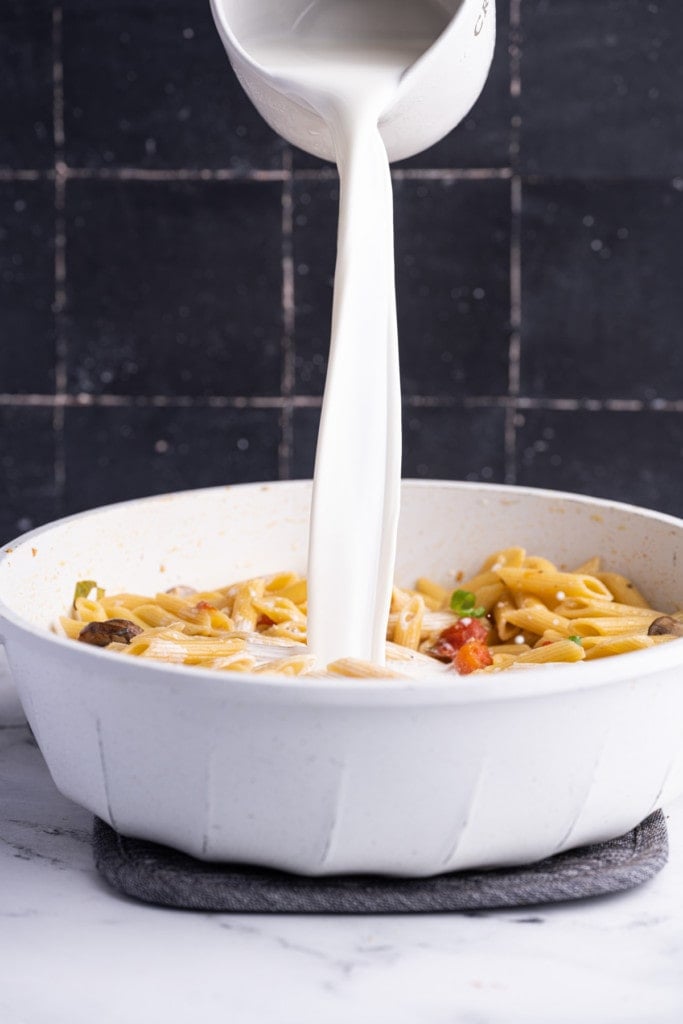 Add the Parmesan
The last thing you'll add to your pasta is the grated Parmesan. Stir the Parmesan in to thicken and coat the pasta.
Serve the creamy pasta hot with the Blackened Salmon.
Should You Have Leftovers
This Blackened Salmon Pasta will last for up to 4 days in the refrigerator in an airtight container. This is not the best dish to freeze because the cream sauce will separate, so it's best to enjoy it within those 4 days.
The preferred way to re-heat this creamy pasta is by adding your leftovers to a baking dish and covering it completely with aluminum foil. The cover will trap moisture and heat the pasta and salmon in the oven at 375°F for 20-25 minutes or until thoroughly heated.
If the sauce seems too thick before reheating, add a little extra dash of milk or half & half.
In a pinch, you can safely reheat leftovers in the microwave covered and on high for about 3 minutes. Please keep in mind, the microwave tends to dry out both the salmon and the cream sauce. So, if you have the time, it's best to use the oven!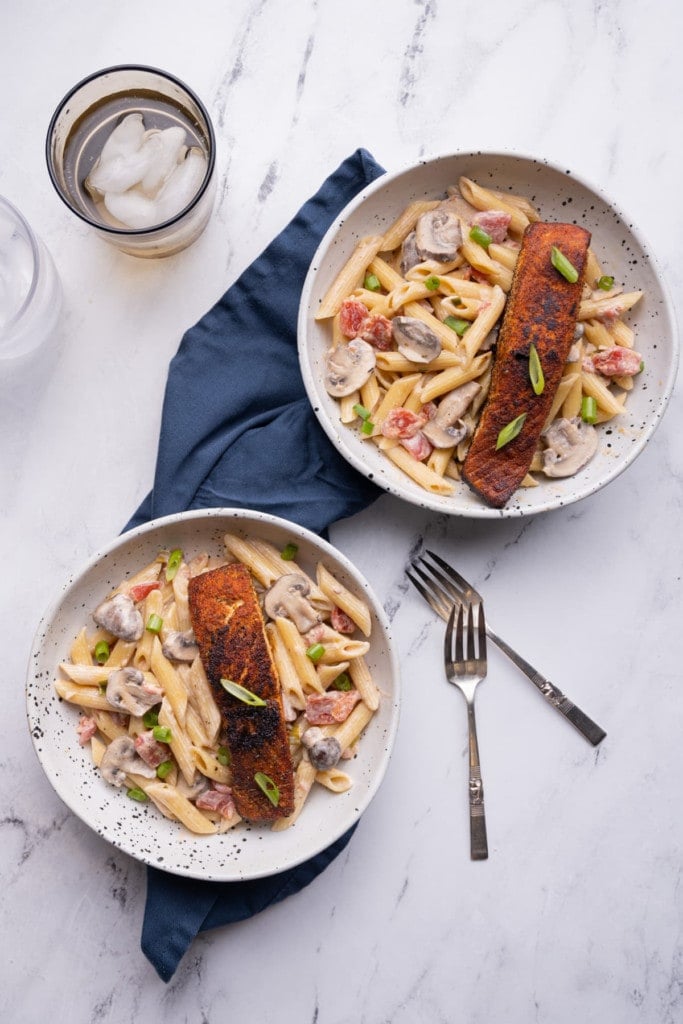 Blackened Salmon Pasta Frequently Asked Questions
---
---
What makes fish blackened?
Fish is blackened when the blackening spice blend turns into a crispy outer layer on the fish. This process happens as it heats in the pan, turning a dark brown or black color. Though blackened fish looks burnt, it does not have that charred taste.
Mostly smoky and a little bit spicy. And absolutely crispy!
Sign-up for the Meatless Monday Challenge
Get access to the 4-week-long Meatless Monday Challenge, with accompanying meal plans, grocery shopping lists, and more, sent right to your inbox!
Why You Should Make this Blackened Salmon Pasta
---
---
The textures! Between the crispy blackened salmon and creamy pasta, you get all the best textures in one dish!
It's flavorful. Tons of flavor in both the pasta and in the salmon alone.
It's quick! Dinner is ready on the table in less than an hour.
If you're loving this Blackened Salmon Pasta, I think you will also love this Blackened Cod and this One-Dish Baked Goat Cheese Pasta.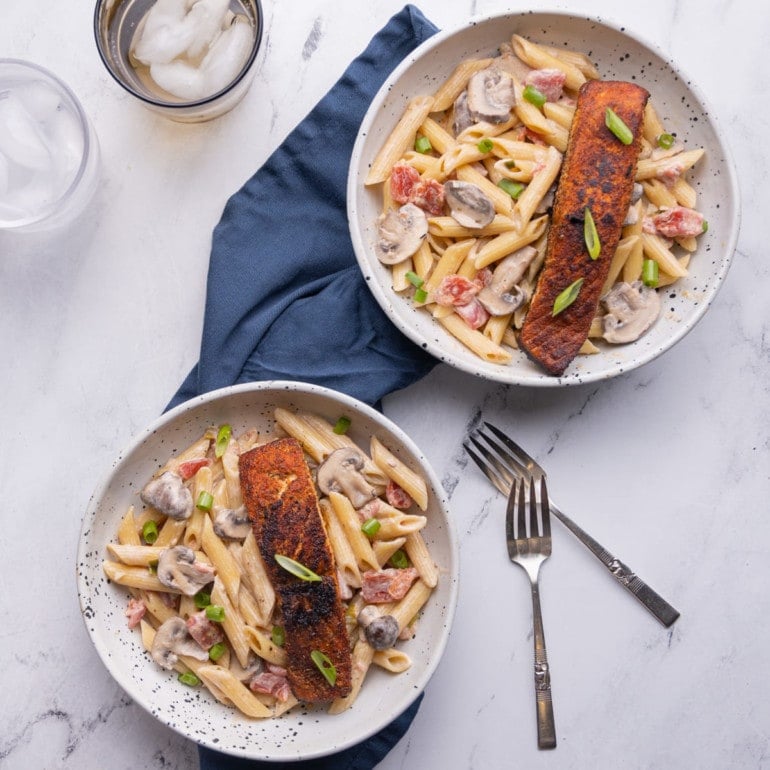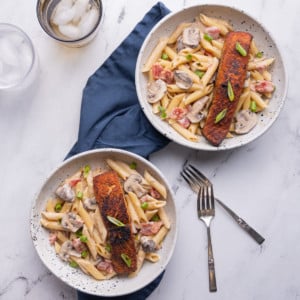 Creamy Blackened Salmon Pasta
PRINT
PIN
RATE
This Blackened Salmon Pasta consists of crispy, flavorful salmon atop creamy, well-seasoned pasta accompanied by tasty veggies.
Ingredients
Blackening Seasoning
1

tablespoon

paprika

2

teaspoons

onion powder

½

teaspoon

garlic powder

½

teaspoon

ground black pepper

½

teaspoon

salt

½

teaspoon

cayenne pepper

¼

teaspoon

dried oregano

¼

teaspoon

dried thyme
Blackened Salmon Pasta
16

ounces

short pasta

(like penne)

2

portions

skinless salmon

(1 portion = 3-5 ounces)

2

tablespoons

blackening seasoning

2

tablespoons

olive oil

3

cloves

garlic

(minced)

8

ounces

white or baby bella mushrooms

(sliced)

2

bulbs

green onion

(diced)

14.5

ounces

diced tomatoes

(14.5 ounces = 1 can)

1 ½

cups

half and half

¼

cup

grated Parmesan
Instructions
Blackening Seasoning
Add the paprika, onion powder, garlic powder, black pepper, salt, cayenne pepper, dried oregano, and dried thyme to a shallow bowl and mix to combine.

Remove 1 tablespoon of the blackening seasoning and set aside to add to the pasta later.
Blackened Salmon Pasta
Cook the pasta al dente according to the instructions on the box. Strain and set aside.

Meanwhile, get oil hot in a large saucepan over medium heat.

Pat dry your salmon with paper towels (use these bamboo paper towels for a more sustainable option!).

Use tongs or two forks to lift the salmon into the blackening seasoning, rubbing it in the seasoning on both sides to coat it in a thin layer.

Carefully lower the coated salmon into the hot oil, cover, and cook for about 5 minutes on each side, until the spices cook to form a crispy coating, dark brown or black in color. Then, remove the salmon and set aside.

Add the minced garlic, diced tomatoes and green onions, and sliced mushrooms and cook until liquid releases from the mushrooms, about 5 minutes.

Turn heat all the way down to low. Add the cooked pasta, conserved blackening seasoning and Half & half and stir to coat. Simmer for about 2 minutes to thicken before adding the Parmesan.

Serve hot with the blackened salmon.
Did you make this recipe?
Let me know by leaving a recipe rating below, or by tagging @marleysmenu on Instagram.