Sick of having the same dinners over and over? Spice it up tonight with this Blackened Shrimp & Old Bay-Seasoned Mashed Potatoes dish.
Crispy blackened shrimp is the perfect pairing over this recipe for mashed potatoes with Old Bay seasoning. This recipe uses russet potatoes for a potato base with a fluffy, velvety texture. Simple and comforting, dinner is ready in just 35 minutes!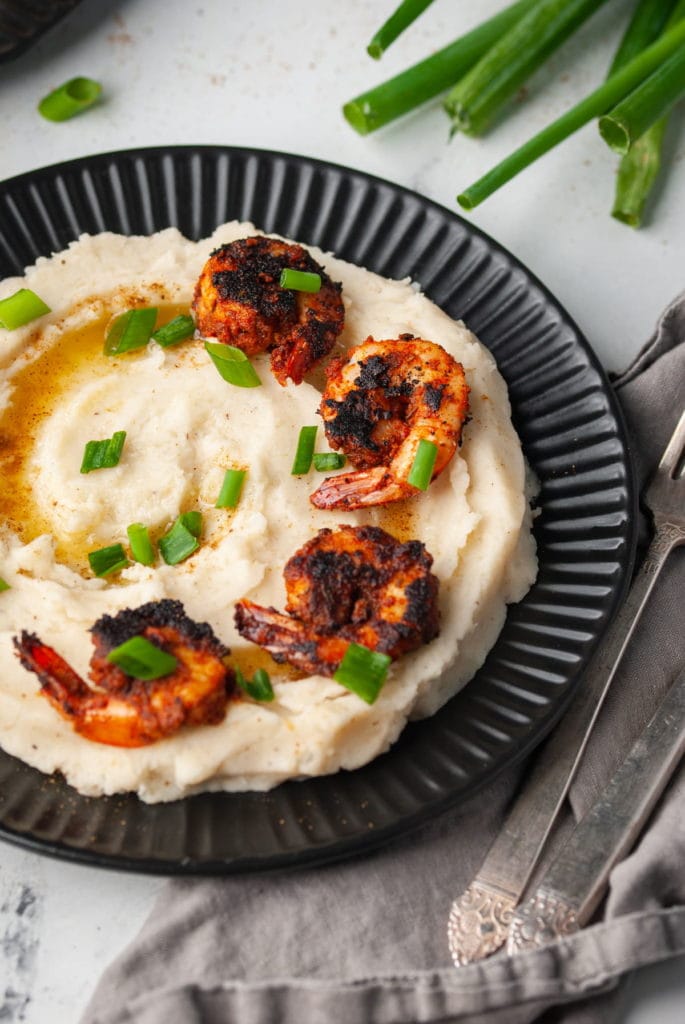 Growing up in Maryland, Old Bay Seasoning was such a staple in my house. I have the best memories of big family crab feasts on the back porch.
Every summer we would lay down the newspaper, dig out our mallets and crackers, and spend hours fishing for crab meat to dunk in melted butter and Old Bay Seasoning.
I'm always looking for reasons to integrate this awesome seasoning into my meals, as just the smell of it is nostalgic for me. And the taste!! Well, Marylander or not, it's undeniably delicious.
And if you've never tried this seasoning before? Well, this Blackened Shrimp & Old Bay-Seasoned Mashed Potatoes recipe is a great intro to it! It easily makes this flavorful mash one of my favorite delicious potato recipes!
Blackened Shrimp & Old Bay-Seasoned Mashed Potatoes Ingredients
---
---
Here is everything you need:
Old Bay Seasoning. You'll use this both in the blackening seasoning and in the mashed potatoes.
Paprika. For earthiness and subtle sweetness.
Onion Powder. For umami.
Cayenne Pepper. For a little spice. I like a kick, so I add a full teaspoon, but if you're sensitive to spice add less.
Thyme. For herbaceousness.
Black Pepper. To bolden the flavor.
Shrimp. Large is best, but any size works. Peeled and de-veined.
Potatoes. Russet or Idaho.
Oil. Coconut or olive are my two favorites, but truly any oil will work in this dish.
Milk. Cows or unsweetened nondairy. My favorite non-dairy milk to use for this is full-fat coconut milk.
Butter. Unsalted is best to help you control the salinity.
Scallions. For fresh garnish and added texture.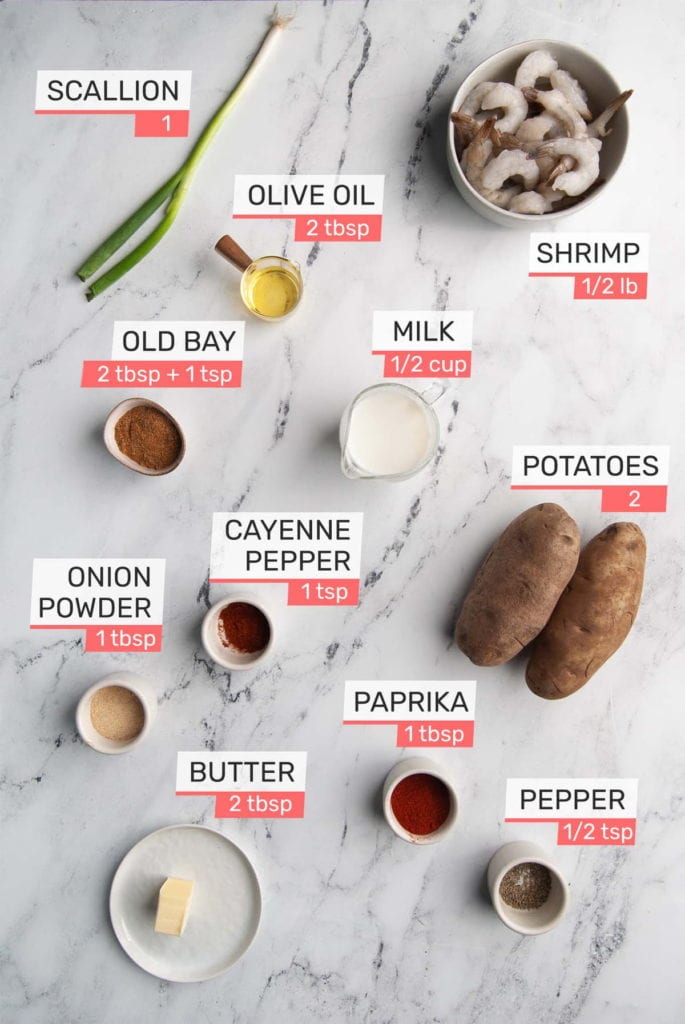 Blackened Shrimp & Old Bay-Seasoned Mashed Potatoes Tips and Tricks
---
---
Prep Your Shrimp
Always peel your shrimp before adding the seasoning. Some restaurants leave the tails on for aesthetic reasons, and it's nice to have the tails for a shrimp cocktail, so you have something sturdy to hold on to.
However, in this case, it's just one more barrier to diving into the amazing combo of the shrimp and the mash. I peel them completely, tail and all.
If you want to prepare your shrimp ahead of time. Peel them and throw them in a large freezer bag with the blackening seasoning to marinate. They can sit there for up to 2 days.
If you're making this dish all at once, just make sure your shrimp is completely covered in seasoning before adding it to your pan.
As far as which shrimp to buy, try to avoid imported shrimp entirely. Imported farmed shrimp is often produced in ways that are detrimental to mangrove forests and emits a high amount of pollutants.
It also has to travel a long way to get to you. The most sustainable way to eat shrimp is by seeking domestic farmed shrimp.
Green tip: Shrimp is seafood we should enjoy in moderation, as it is not the most sustainable. The best way to source your shrimp is from domestic shrimp farms (avoid imported).
For the Spice Blend
We can't very well have Blackened Shrimp & Old Bay-Seasoned Mashed Potatoes without blackening seasoning! In order for your shrimp to be considered "blackened", they have to be coated in seasoning and fried in hot oil to form a dark crust.
The seasoning used can be comprised of a variety of different spices, but usually includes onion powder, cayenne pepper, and thyme.
Since we are already using the Old Bay for our mashed potatoes (and because let's face it, I'm a huge fan of this stuff), we will use the Old Bay Seasoning as our base to concoct our spice blend.
Start with 2 tablespoons of Old Bay, and mix in 1 tablespoon of paprika, 1 tablespoon of onion powder, 1 teaspoon of cayenne pepper, and 1/2 teaspoon of thyme. This should yield enough seasoning to cover 1/2 pound of shrimp.
If you don't have Old Bay Seasoning, you can easily blacken shrimp by following the recipe for blackening seasoning in this Blackened Mahi Mahi recipe!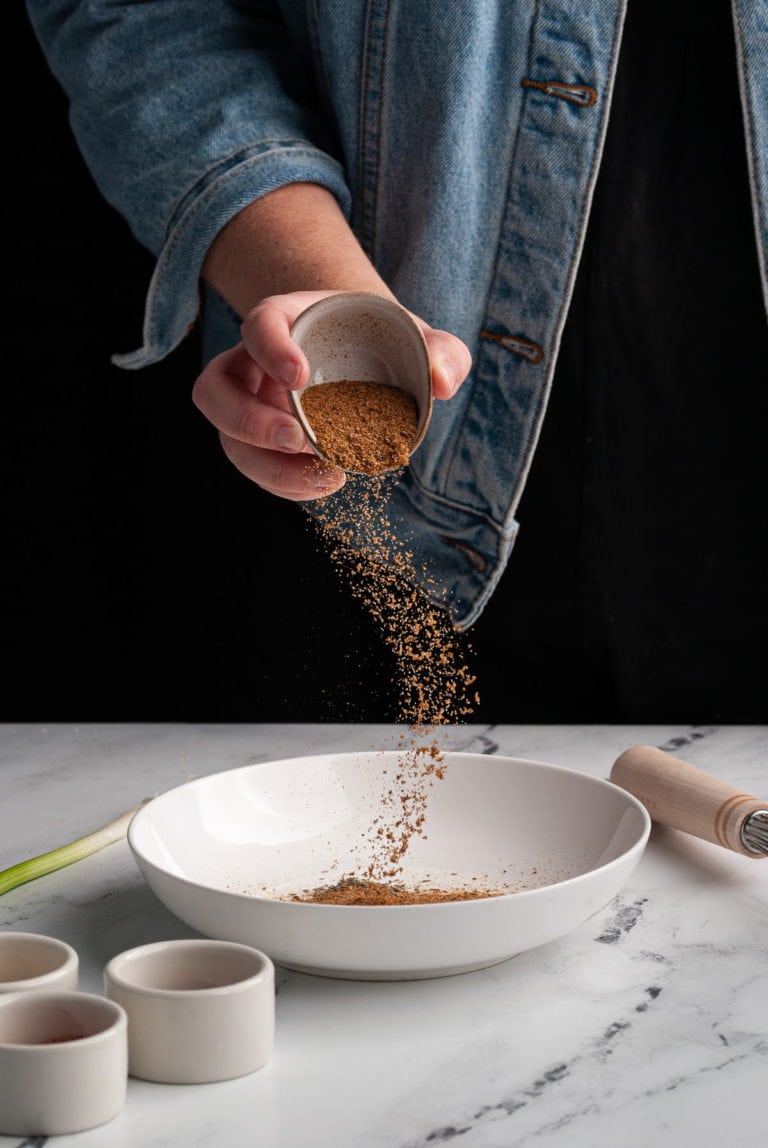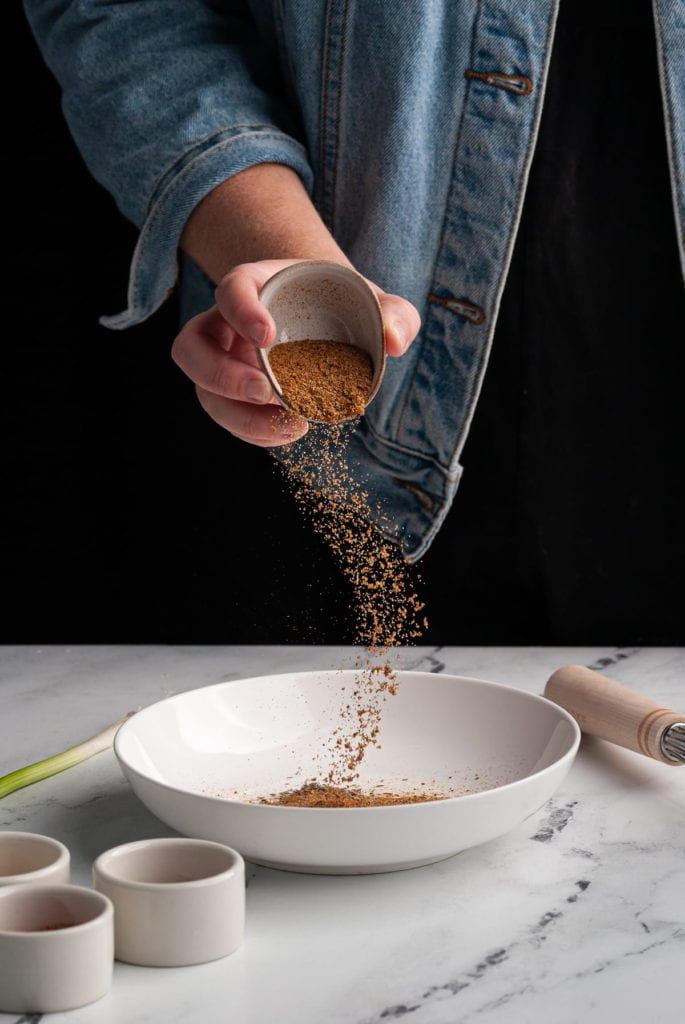 Get Your Oil Hot
In order to get that crispy blackened shrimp, it's important to get your oil hot before adding them to your nonstick pan or cast-iron skillet. I usually leave it on medium heat for about 2 minutes before adding my shrimp.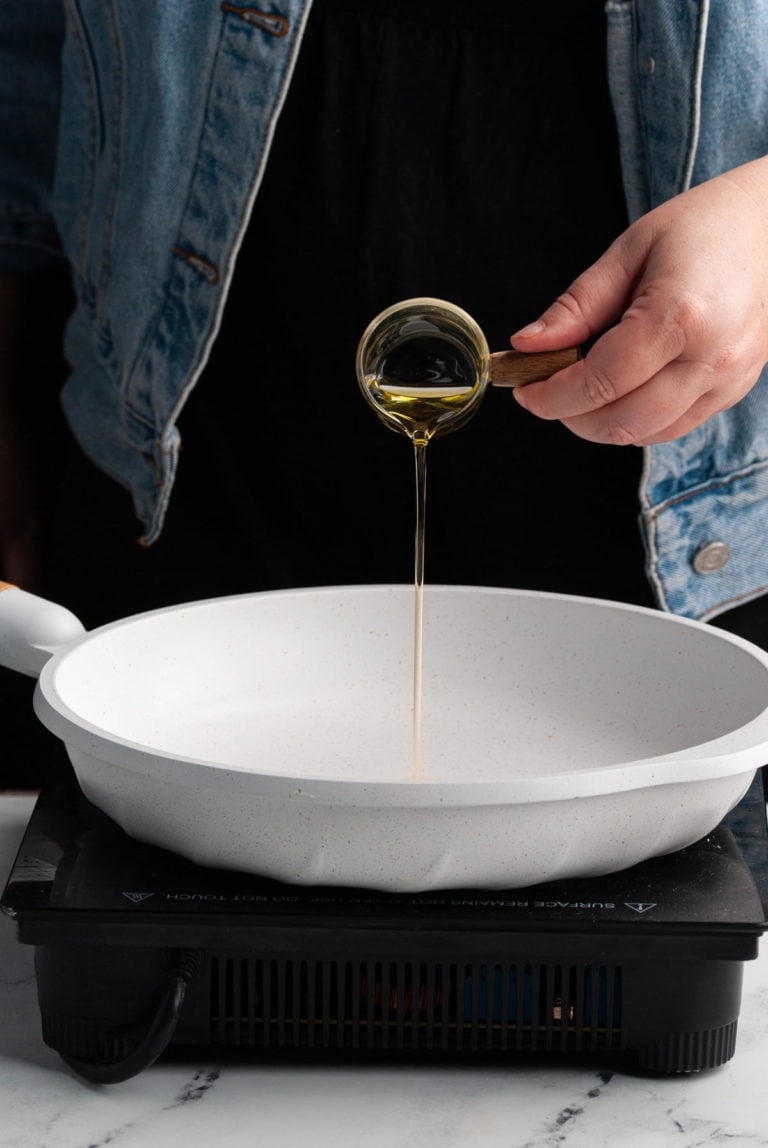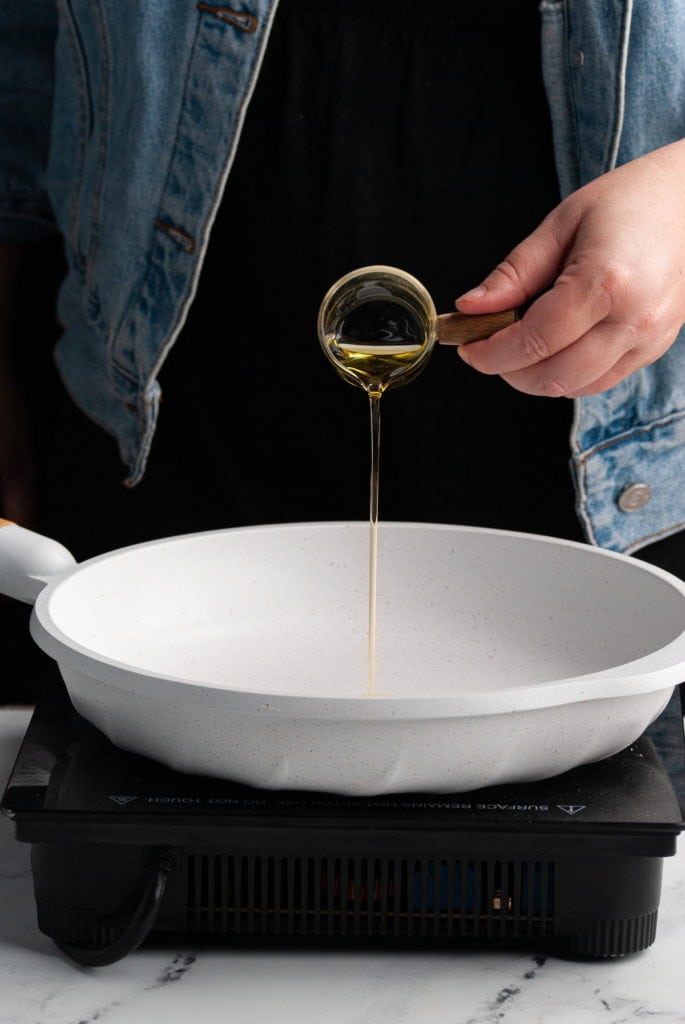 Time Yourself
Because the shrimp is completely covered in seasoning, it's hard to tell when they are done. For large shrimp, you should be able to cook them fully with just 2 minutes on each side, if the oil in your skillet is pre-heated.
You'll know they are ready to flip because the blackening seasoning will form a crust and release from the pan. If the shrimp is stuck to the pan, do not try to peel it off! Give it a little more time and it should lift on its own, making it easy for you to flip.
Green tip: If you have an electric range, use a pot that both sits flat on and matches the size of your burner to make sure you are not wasting energy.
Getting Perfect Potatoes
In order to get the smoothest potatoes, make sure you leave no skin on the potatoes, and cut out any bruises or bumps. I use a potato masher to break down the potatoes and then a hand mixer to whip them up. This always gives me that fluffy, velvety texture.
Steer clear of food processors or blenders. This makes your mashed potatoes a texture I can really only describe as gluey, which is not very appetizing.
Also, make sure you add milk just a little at a time. Depending on the size of your potatoes, you may not need the entire 1/2 cup of milk.
Start with 1/4 cup and whip. Asses whether or not you need more milk, and then just add slowly until you reach your desired consistency.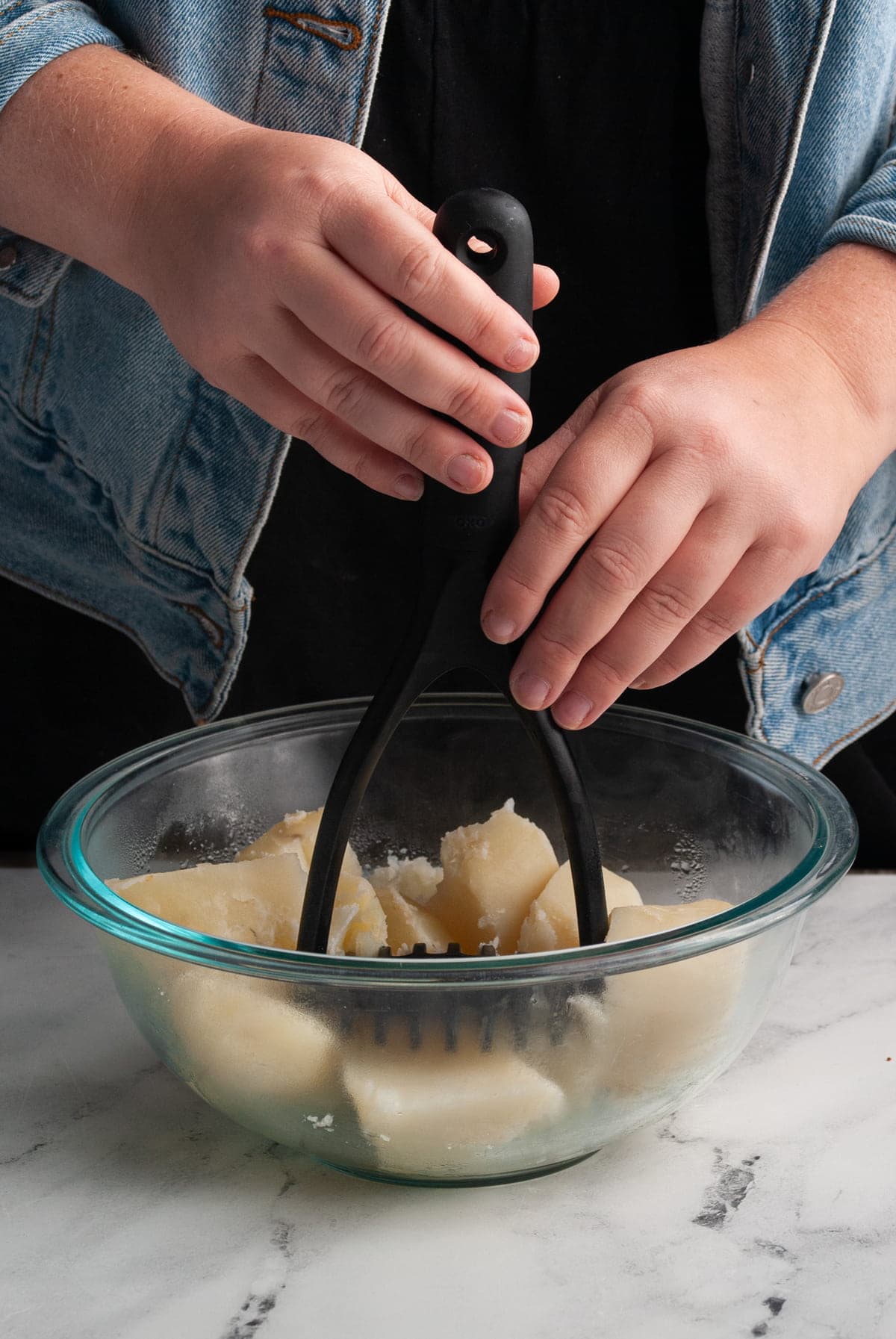 Doubling The Recipe
This Blackened Shrimp & Old Bay-Seasoned Mashed Potatoes recipe, as written, is intended to feed two. You can easily double it to feed your family.
If you end up having extra blackening seasoning, save it! It's great on firm fish, roasted veggies, and other meat. Just make sure you discard any seasoning that touched the raw shrimp.
Pro tip: As with handling any raw meat, make sure you wash your hand after peeling the shrimp and disinfect any surfaces that the shrimp or shells rested on before they were cooked.
Making This Dairy Free
Since we are blackening the shrimp in oil (I use coconut oil, but olive oil works, too), all we have to do here is make the mashed potatoes dairy-free.
When making dairy-free mashed potatoes, I recommend using full-fat coconut milk and Earth Balance buttery spread in place of the milk and butter in the recipe below.
Since this Blackened Shrimp & Old Bay-Seasoned Mashed Potatoes dish has so much flavor from the seasoning, it's a great recipe to make lighter by cutting back on the butter.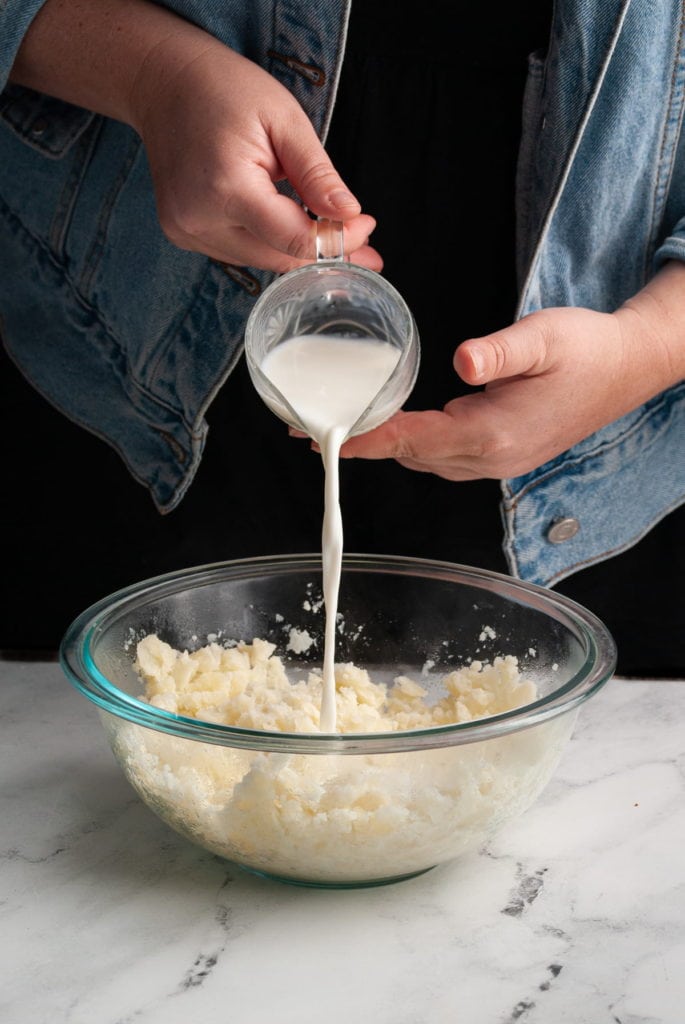 Should You Have Leftovers
This meal will last up to 3 days after cooking it covered in the refrigerator. If you only have extra mashed potatoes, those may last up to 5 days.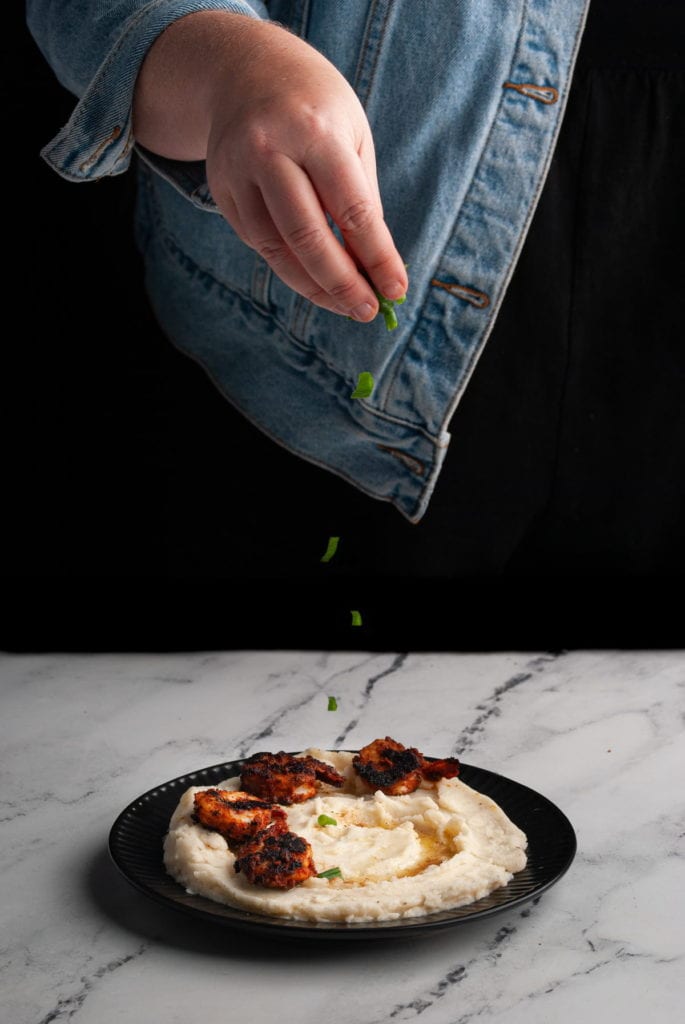 Blackened Shrimp & Old Bay-Seasoned Mashed Potatoes Frequently Asked Questions
---
---
How do you blacken shrimp?
To blacken shrimp, you must first peel and dry your shrimp. You can easily dry it by blotting both sides with a paper towel. This will help your blackening seasoning adhere to your shrimp.
Then, you coat your shrimp completely in blackening seasoning, and carefully lower it into a hot pan with a thin layer of oil. It only takes about 2 minutes on each side for the seasoning to blacken and form a crust around the shrimp.
What do you serve with blackened shrimp?
Blackened shrimp is so flavorful, that it does really well with hearty, starchy sides like rice, mashed potatoes, or even pasta.
Best potatoes for mashed potatoes?
Easily the best potatoes for mashed potatoes are russet and Idaho, mainly because of their high starch content. That said, you can also use Yukon gold, and even sweet potatoes to make mashed potatoes, too.
Want to sharpen your kitchen skills?
Why You Should Make This Blackened Shrimp & Old Bay-Seasoned Mashed Potatoes
---
---
It's got a kick. The spice from that cayenne in the blackening seasoning is just enough to give you a little kick!
It uses the best seasoning. Maybe that's just my opinion. But I'm confident you'll agree.
The textures. The crispy little shrimps over those light and airy mashed potatoes are a winner of a combo.
It's filling. Meat and potatoes are always dinner-worthy!
Looking for other excuses to use this stellar seasoning? Check out this Grilled Street Corn with Old Bay. And for more pescatarian dinner inspiration, check out these Creamy Fish and Grits.