Looking for a delicious way to sneak more fruits and healthy grains into your diet? These Blueberry Banana Oatmeal Muffins are the most delicious way to up your fruity fiber and oats intake!
They're incredibly moist, bursting with flavor, and have a cakey texture that will keep you coming back for more. Plus, they're ready in less than 30 minutes!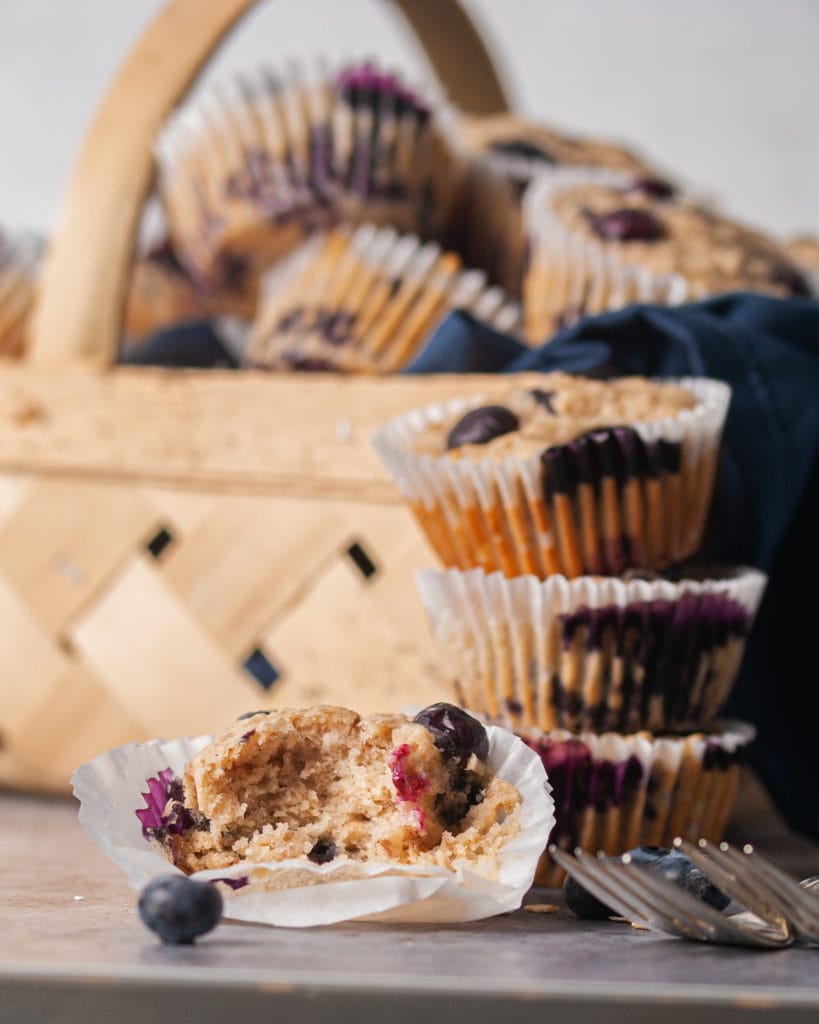 As an environmental scientist, I am always looking for ways to reduce food waste. Bananas are one of those produce items that go from perfect to entirely overripe seemingly overnight.
So, I'm always looking for fun ways to use up overripe bananas, and this muffin recipe is undoubtedly one of my favorites!
Green tip: It is estimated that 50% of food waste happens at home. Instead of tossing overripe bananas, use them to make this delicious vegan blender banana bread!
Blueberry Banana Oatmeal Muffins Tips and Tricks
---
---
Soak Your Oats
The first step to making these blueberry banana muffins is soaking your oats.
You want the oats to absorb the moisture so they don't produce a dry muffin. Pour your milk over your oats in a small bowl first and set it aside to absorb while you mash your bananas.
Use Your Overripe Bananas
As your banana ripens, it actually gets a bolder, more fruity flavor. So in order to get this bread, well, banana-y, it's best to use riper bananas.
In fact, if they are overripe and the peel is showing brown spots, they're perfect for this recipe! They'll be packed with flavor, and a little bit softer, which makes them easier to mash.
The bananas in this recipe infuse fruity and sweet flavor. They also provide moisture to these muffins and works as a binder, making this recipe eggless and vegan friendly!
Green tip: Save the eggs and dairy for when it really counts! Animal agriculture has a huge impact on the environment, especially because of the amount of land it takes to sustain and its high amount of greenhouse gas emissions. Vegan baking is a great way to reducing your dairy consumption to reduce your ecological footprint.
Mash That Nanner
For the oatmeal muffins, we want to infuse banana flavor right into the batter by mashing the bananas first. With ripe bananas, you should easily be able to mash them up with a fork.
Just press the fork down on the bananas and press them into the bottom of your mixing bowl until the bananas are completely mashed.
Add Your Wet Ingredients First
Once your banana is mashed, add the soaked oats, coconut oil, and vanilla extract to it and use a fork or whisk to combine.
If your milk was extra cold, you may find it solidifies the coconut oil, making it clumpy. Just make sure to utilize that fork or whisk to eliminate any unwanted clumps.
If the banana stays a little bit chunky, that's totally fine!
Then Your Dry
Next, you'll mix in your sugar, flour, baking powder, and salt. If you are adding cinnamon, add it now, too!
I love the addition of the cinnamon as an extra flavor note, but these vegan oatmeal muffins pack plenty of punch even without it, so it's up to you!
You should be able to easily combine the dry ingredients into the wet with a fork or whisk. I would not recommend using a stand or hand mixer here. It's unnecessary and may risk the batter getting overbeaten.
Add Your Blueberries Last
Add about 1 cup of blueberries to the batter and gently fold them in. We want them to stay whole.
Some will end up oozing into the muffin in the oven, and some will remain intact to give you a burst of juicy blueberry flavor when you bite into them.
And Save Some For The Top
Keep the remaining 1/2 cup of blueberries aside.
Line your muffin tin and fill each one almost to the top. These muffins will only end up rising about an inch, so you can fill them without fear of too much spillover.
Then add the rest of the blueberries you set aside to the top. For more sweet blueberry recipes, check out these Vegan Lemon Blueberry Muffins, this Gluten-Free Blueberry Crisp, and this Lemon Blueberry Bread with Lemon Glaze.
Storing Your Blueberry Banana Oatmeal Muffins
These muffins will stay delicious for 2 days covered at room temperature or about a week covered in the refrigerator.
If you want to freeze some for later, put them in an airtight container and store them in the freezer for up to 3 months. Just allow them to thaw naturally before enjoying.
I don't recommend storing the batter in the refrigerator or freezer to bake later as the mashed bananas may start to brown.
Why You Should Make These Blueberry Banana Oatmeal Muffins
---
---
They're packed with nutrients and fiber. Between the fruit and the oats, you're covered!
They're bursting with flavor. The bluberries literally burst in your mouth as you bite into them.
They're super moist. The soaked oats and bananas add so much moisture to each little muffin.
They're resourceful. Don't throw out those overripe bananas! Use them to make these delicious vegan oatmeal muffins!
If you're loving these Blueberry Banana Oatmeal Muffins and want more fun ways to use up your ripe bananas, check this list of Ripened Banana Recipes. And if you're here for the muffins check these One-Bowl Chocolate Chip Muffins