In a world full of choices, sometimes ya just don't want to choose between blueberry and chocolate chip muffins. These Moist Blueberry Chocolate Chip Muffins mean you can have the best of both!
With a soft and moist muffin chock-full of gooey chocolate chips and fresh and slightly tart blueberries, this easy and delicious muffin recipe hits all the right notes with one bowl and in under 30 minutes!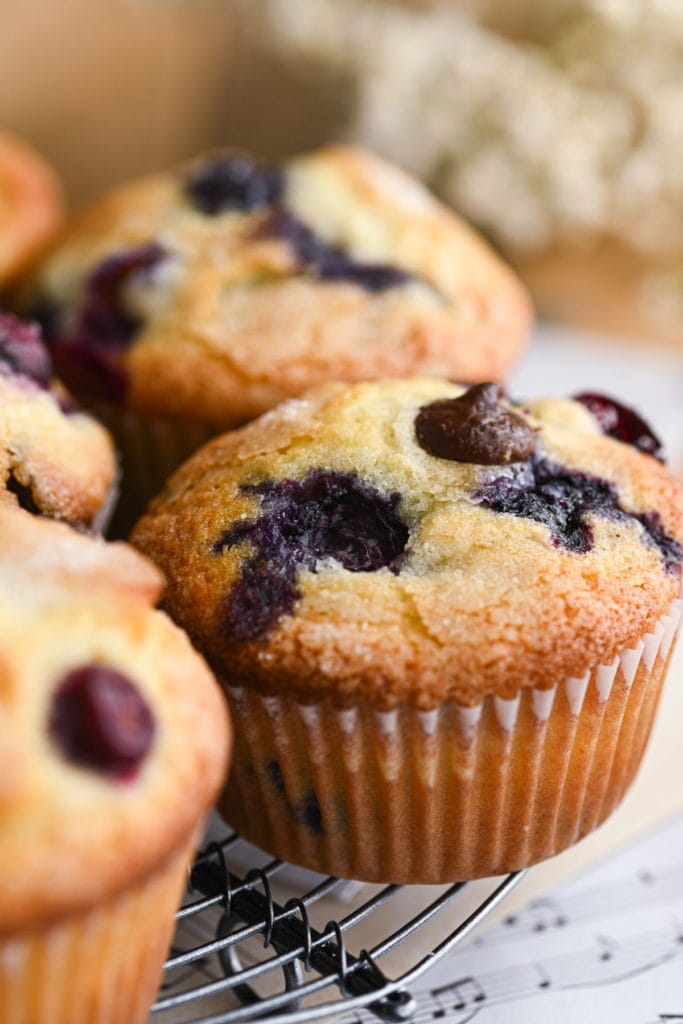 As an environmental scientist, I always try to incorporate seasonal ingredients! These muffins are one of my very favorite treats to whip up during the blueberry season, along with this Blueberry Gin Fizz!
Green tip: Eating seasonally is one of the best (and most delicious) ways to support local and improve your carbon footprint. Check when blueberries are in season in your area with this Seasonal Food Guide.
Blueberry Chocolate Chip Muffins Ingredients
---
---
Here's everything you need:
All-purpose flour. This acts as the base of your batter.
Granulated sugar. For sweetness.
Chocolate chips. My preference is dark chocolate chips but you can also use milk or semi-sweet.
Egg. Or a flax egg. It acts primarily as a binder in this recipe.
Blueberries. For moisture, tang, and freshness.
Baking Powder. For rising.
Salt. To enhance the other flavors.
Oil. Coconut, vegetable, or canola preferred.
Milk. Cows or unsweetened nondairy.
Vanilla extract. For extra flavor.
Blueberry Chocolate Chip Muffins Tips and Tricks
---
---
Cream Your Oil and Sugar First
Creaming your fat (in this case your oil) and the granulated sugar together doesn't just combine these ingredients together smoothly, it also intentionally aerates them.
Adding these little air pockets to the batter is an effective way to ensure you get that soft and chewy texture you expect from a moist blueberry chocolate chip muffin.
You can use a hand mixer on high to get the butter and sugar mixture nice and smooth, or just simply whisk the sugar and oil together for about 2 minutes.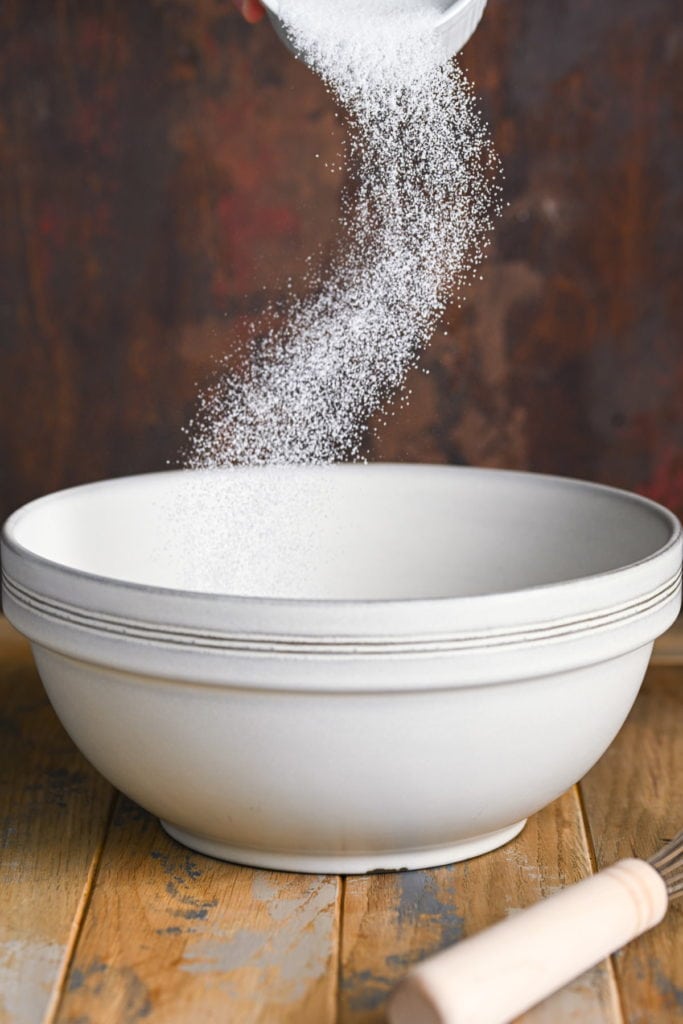 Add Your Eggs and Vanilla Extract Next
Once you've creamed together your oil and sugar, it's time to add your eggs and vanilla extract.
It's always safest to crack your eggs in a separate bowl before adding them to your batter to avoid eggshells or a bloody egg, but that's totally up to you!
Use your hand mixer or whisk again to combine until your batter is once again smooth. Try not to over-beat here, only mix until just combined.
Add Your Dry Ingredients Next
This includes flour, salt, and baking powder! It's always best practice to sift in flour and baking powder to avoid lumps, but these muffins are pretty foolproof.
If you're not sifting, just make sure to use a whisk to ensure there are no lumps.
Add the Milk Last
This just allows you to make sure you aren't leaving any lumps of flour or baking powder in your batter! Once the batter is smooth, add your milk and whisk to combine.
The milk will add moisture to your muffins! You can use any type of milk, just make sure if it's nondairy milk that it is unsweetened.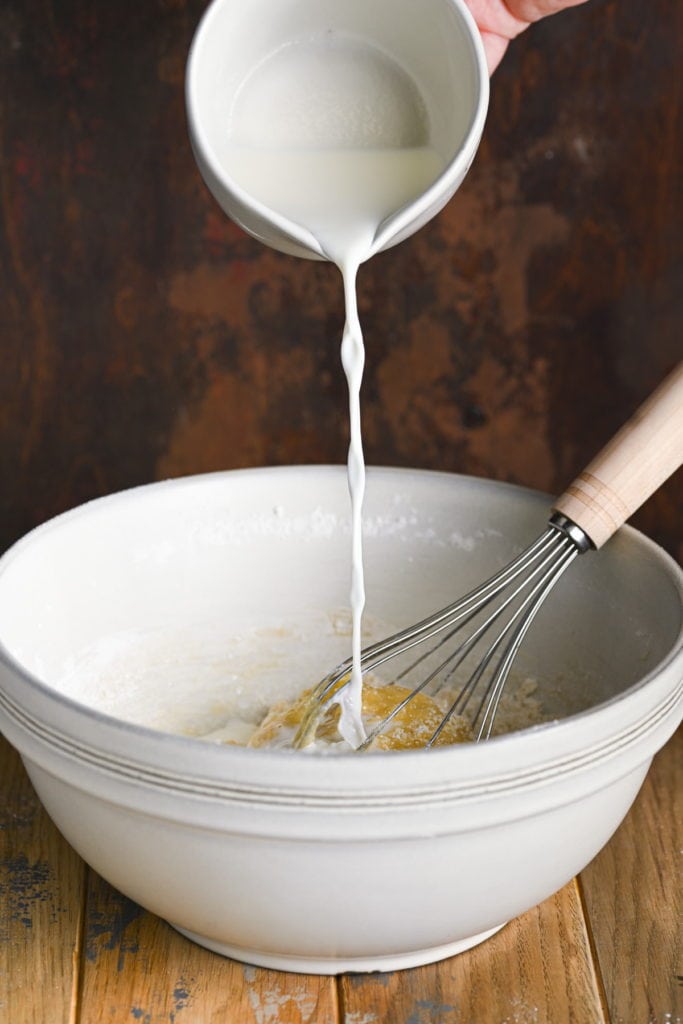 Coat Your Blueberries in Flour
Toss your blueberries in 1 tablespoon of flour before adding them to your batter.
This just ensures that they don't bleed too much into your muffins or sink to the bottom of the muffin tin.
I like to keep a couple of blueberries out of the mix so I can place them on top of the muffins. It just looks so much more fun!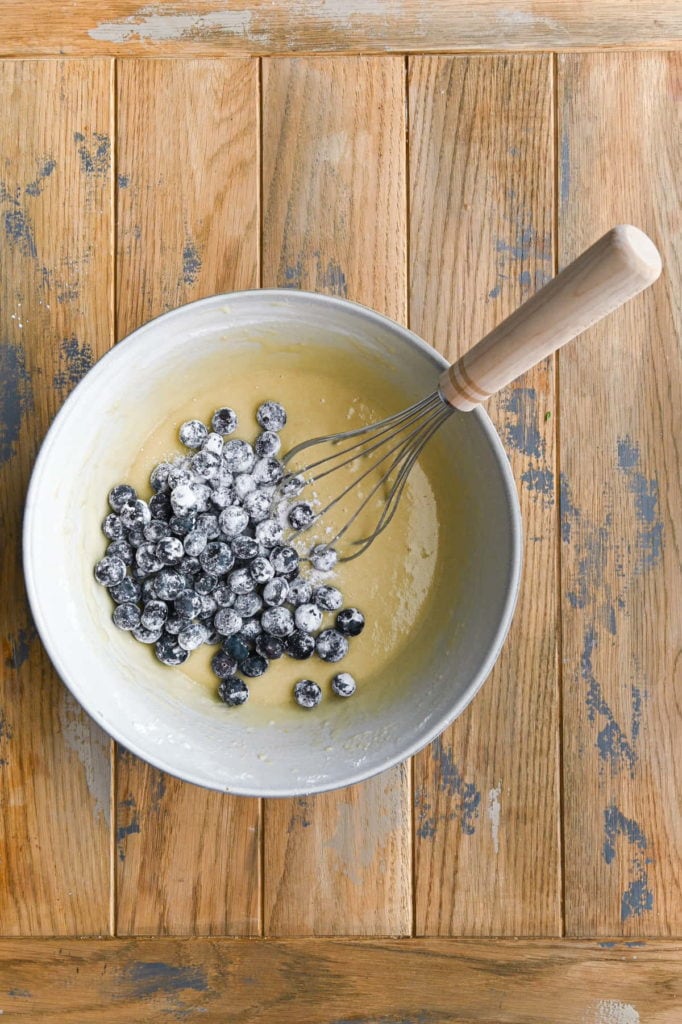 Fold in the Chocolate Chips
Add your chocolate chips to the batter, too, and use a spatula to fold in the blueberries and chocolate chips.
Do your best not to overmix. Just gently move the batter around until you are confident that blueberries and chocolate chips are evenly dispersed.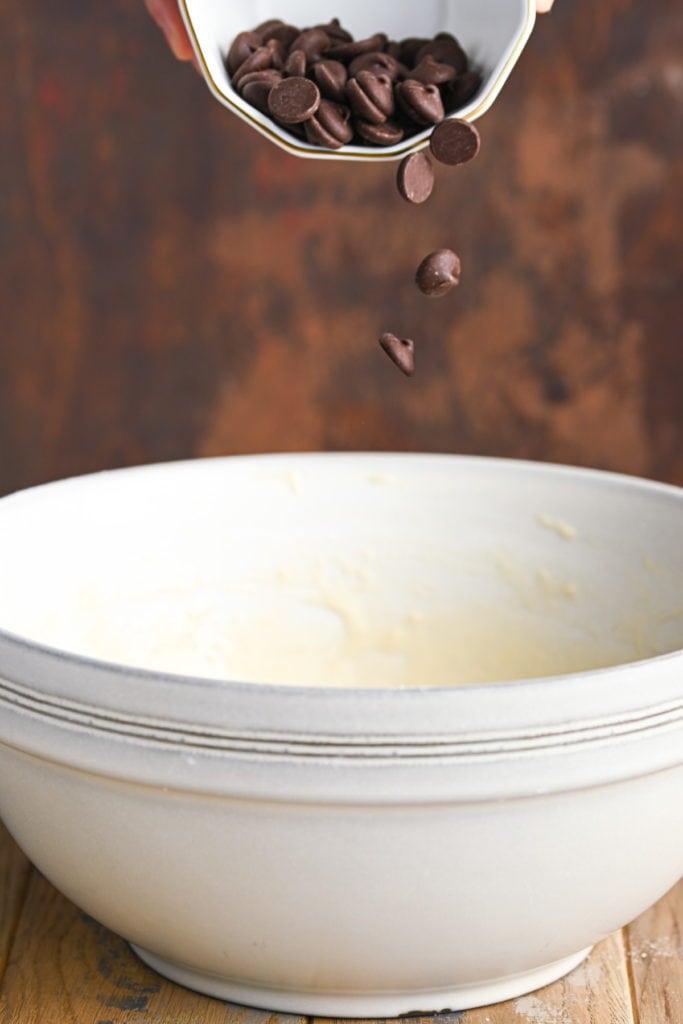 Line or Spray Your Muffin Tin
To avoid your muffins sticking to the muffin tin, it's best to line or spray each cup first.
You can use little pre-cut muffin liners, shape your own muffin liners, or use cooking spray or oil to add a nonstick layer to your muffin tin cups.
Green tip: Consider filling your own reusable oil sprayer to avoid extra pesky aerosol cans, that aren't always recyclable.
Fill 'Em Up
These muffins will rise slightly, so fill each cup most of the way.
While most of your rise will happen outside the muffin tin, in the form of a delicious muffin top, you don't want any batter spilling over. So leave about 1/2-inch space in each little muffin tin cup.
I find the easiest way to transfer the batter into the muffin tin is by using a cookie scoop!
You can also opt to sprinkle a little extra sugar on top for a crispy, crunchy muffin top!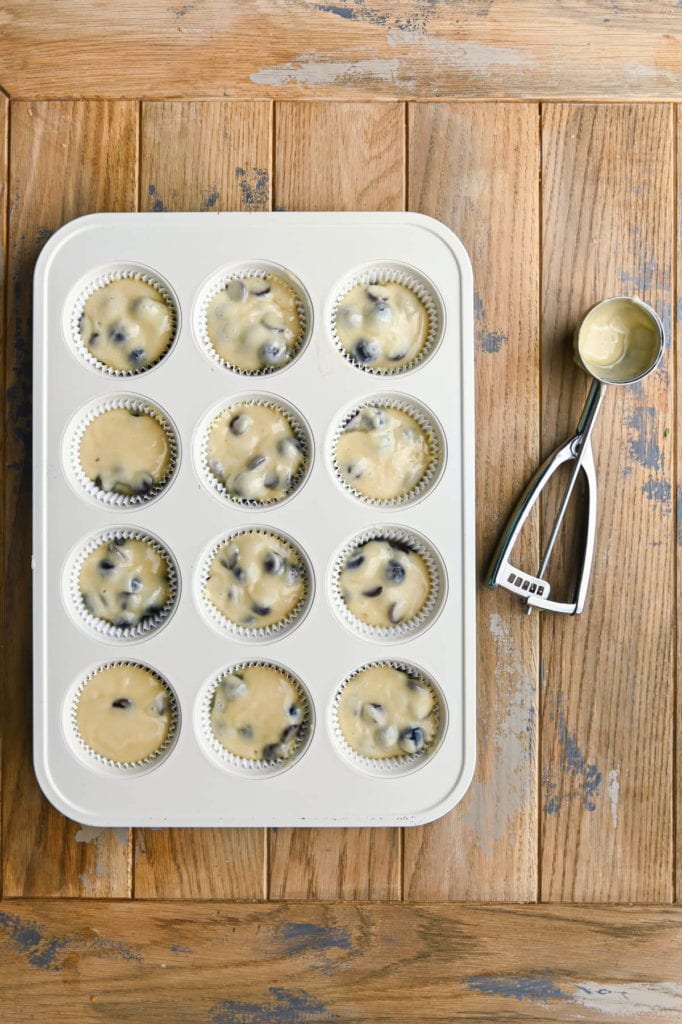 Storing Your Blueberry Chocolate Chip Muffins
These blueberry chocolate chip muffins should be covered or stored in an airtight container to keep them fresh longest. They will stay moist and delicious at room temperature for 3-4 days before they start to dry out.
You can also opt to freeze these muffins for up to 6 months. Just allow them to thaw out overnight.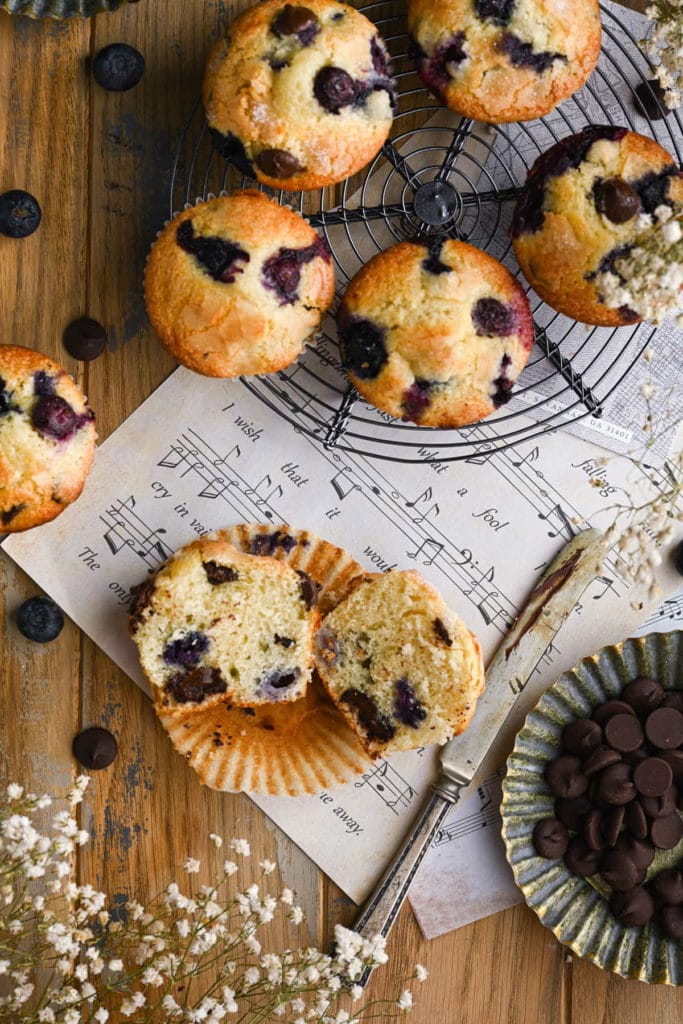 Blueberry Chocolate Chip Muffins Frequently Asked Questions
---
---
Are frozen or fresh blueberries better for muffins?
You can successfully use either fresh or frozen blueberries in muffins with great success!
Buying blueberries from the freezer aisle usually means they are frozen at peak freshness, so they tend to have a bold flavor. It's also more economical and can prevent food waste!
Fresh blueberries tend to retain more water meaning they will be even juicier when you bite into one in your muffin.
What is the secret to making moist muffins?
The best way to ensure your muffins are moist is by baking them at a higher temperature, but for a shorter amount of time. Muffins should never be baked for more than 20 minutes!
Want to sharpen your kitchen skills?
Why You Should Make these Blueberry Chocolate Chip Muffins
---
---
They're chocolatey. Loaded with chocolate chips.
They're fruity. Brimming with fresh blueberries.
They're balanced. The perfect combo of sweet and tart!
If you're loving these Blueberry Chocolate Chip Muffins, check out these Moist Banana Carrot Muffins and Vegan Blackberry Muffins, too!