Attention fellow chocolate lovers! Are you obsessed with chocolate mousse, but too intimidated to try to make it at home?

This recipe is the answer to all your home-cook kitchen nightmares. Mousse is doable in your kitchen! And this Boozy Chocolate Mousse is the perfect intro to at-home mousse-ing (it's a verb now, go with it).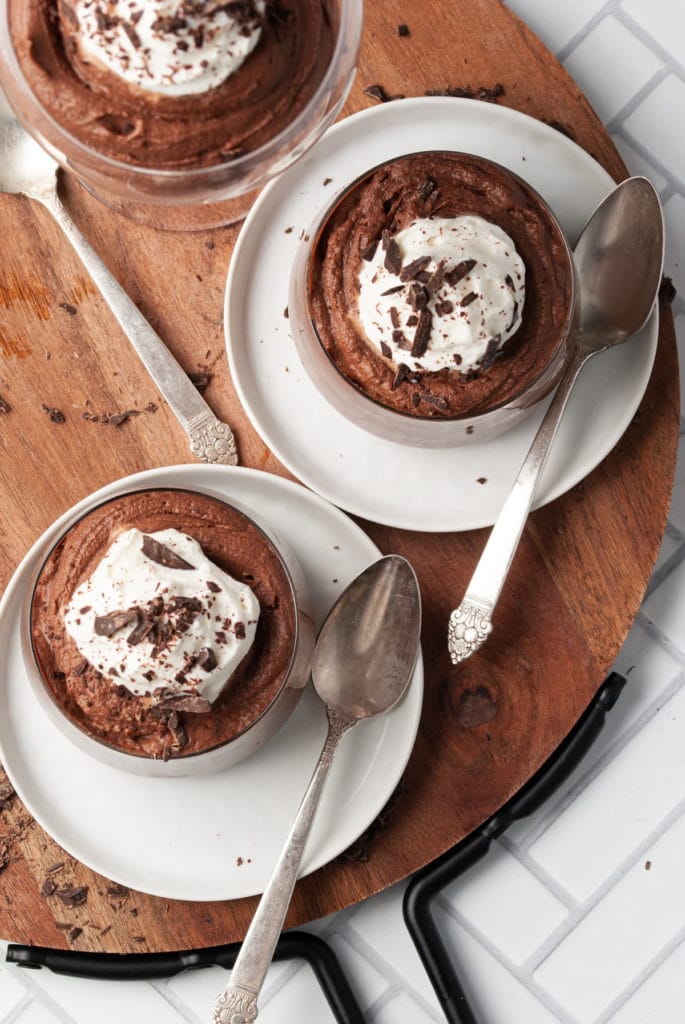 I wasted YEARS of my life being too scared to try to make mousse on my own. But now here I am adding Brandy to it and convincing you to try! There are a couple of important lessons I learned while experimenting and gaining this mousse-making confidence.
So kick back, "taste test" some of that Brandy, and let's get to it! Because there is no time like the present to make a boozy chocolate recipe!
Boozy Chocolate Mousse Ingredients
---
Here's everything you need:
Dark chocolate chips. You can also use a chopped, high-quality dark chocolate bar!
Heavy whipping cream. Make sure it's the real deal—lighter cream or milk will not give you the right consistency in this mousse.
Egg whites. Just the whites for this recipe but continue reading for ideas for what to do with the yolks!
Granulated sugar. Super fine white granulated sugar is preferred.
Brandy. Or any other booze you prefer.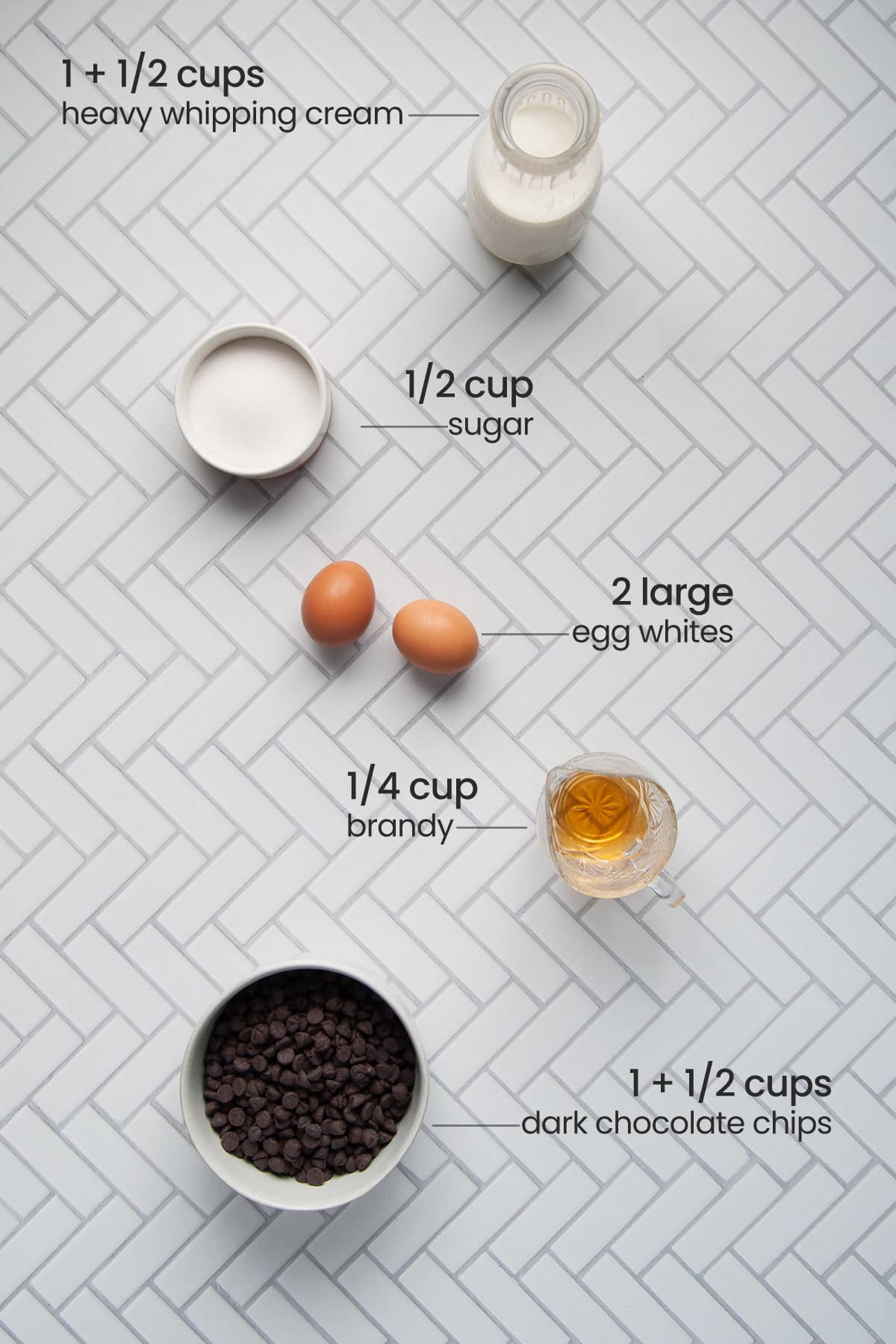 Boozy Chocolate Mousse Tips and Tricks
The base of this Boozy Chocolate Mousse is a mixture of egg whites, sugar, cream, and chocolate. It's a balancing act to make sure your egg doesn't scramble, sugar doesn't crystallize, the cream doesn't curdle, and the chocolate melts completely.
I know. Just a casual 4-point list of things that can go wrong. But no worries. All this means is that the order in which and temperature at which you add these ingredients together matters. Let's break it down.
Green tip: Make sure your chocolate is sustainably sourced. Look for Fair Trade, Rainforest Alliance, or UTZ certifications as opposed to self-proclaimed sustainability labels that sometimes falsely advertise "sustainably sourced".
Separating Yolks From Whites
Separating the egg white from the yolk is easily achieved by cracking your eggshell in half over a bowl and transferring the egg yolk back and forth between either half of the shell, allowing the egg white to fall into the bowl.
You are now left with the egg whites in the bowl and the egg yolks in the shell. And voila! Just like that, your eggs are separated.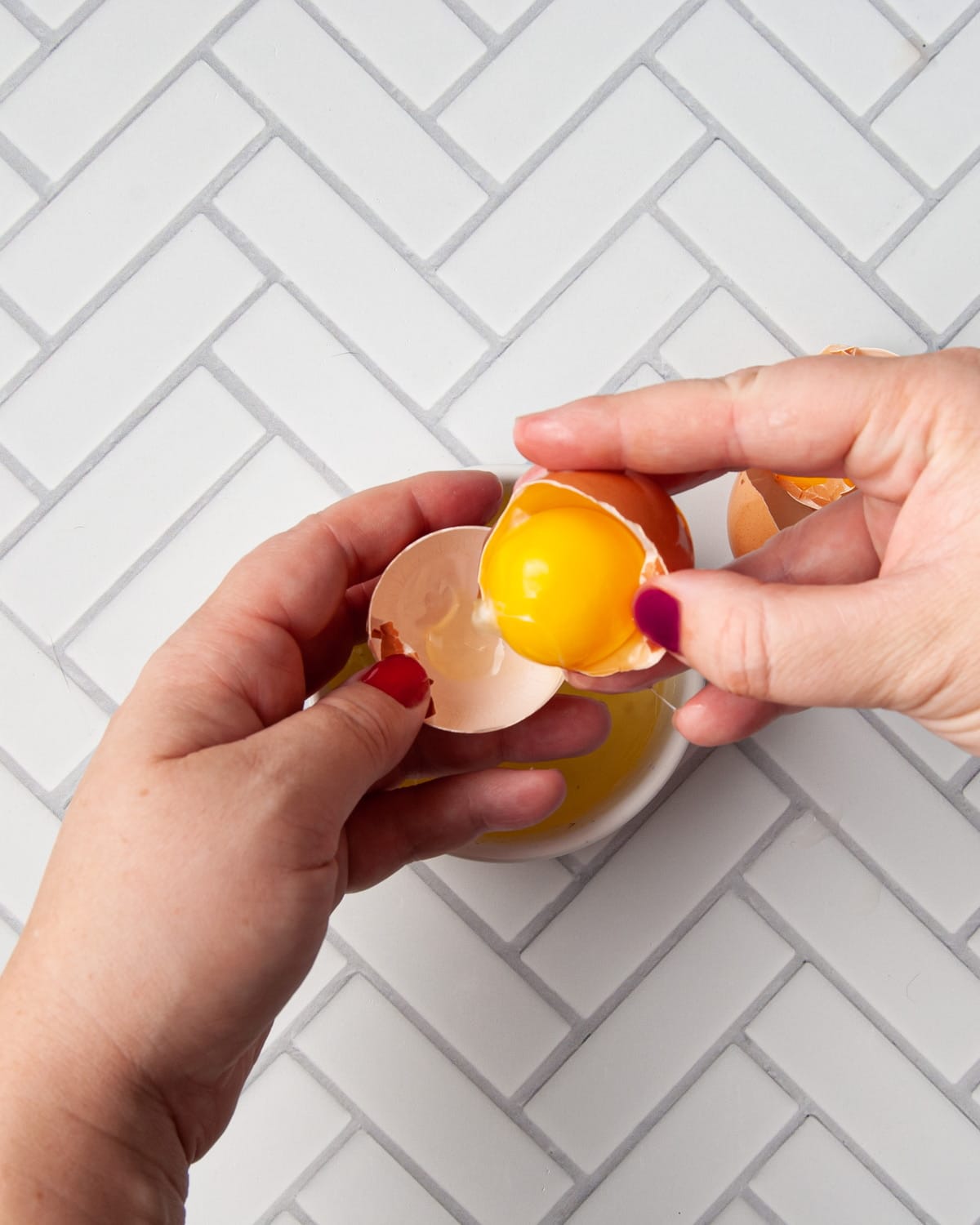 Don't Toss The Yolks!
Did you know that of the billions of pounds of food wasted annually, it is estimated that 50% of it happens in our homes? So don't toss those yolks!
Put them to good use to reduce your personal contribution to food waste. These Margarita Cookies and Rosemary Shortbread Cookies use just the yolk, and so does the Hollandaise Sauce in this Smoked Salmon Eggs Benedict.
Green tip: Look for pasture-raised eggs (over free-range or cage-free) to support agriculture that is less reliant on chemicals and fossil fuels.
The Melting Pot Approach
The first thing you'll need to do is melt your chocolate. The safest way to do this is with a double boiler. Nothing fancy! I just use a heat-safe glass bowl over a boiling pot of water on the stove.
Heat it and stir until almost all the chocolate is melted. Then, remove it from the heat and continue to stir until smooth.
Now, set your melted chocolate aside to cool. You should be able to comfortably dip your finger in for a taste without it feeling too hot.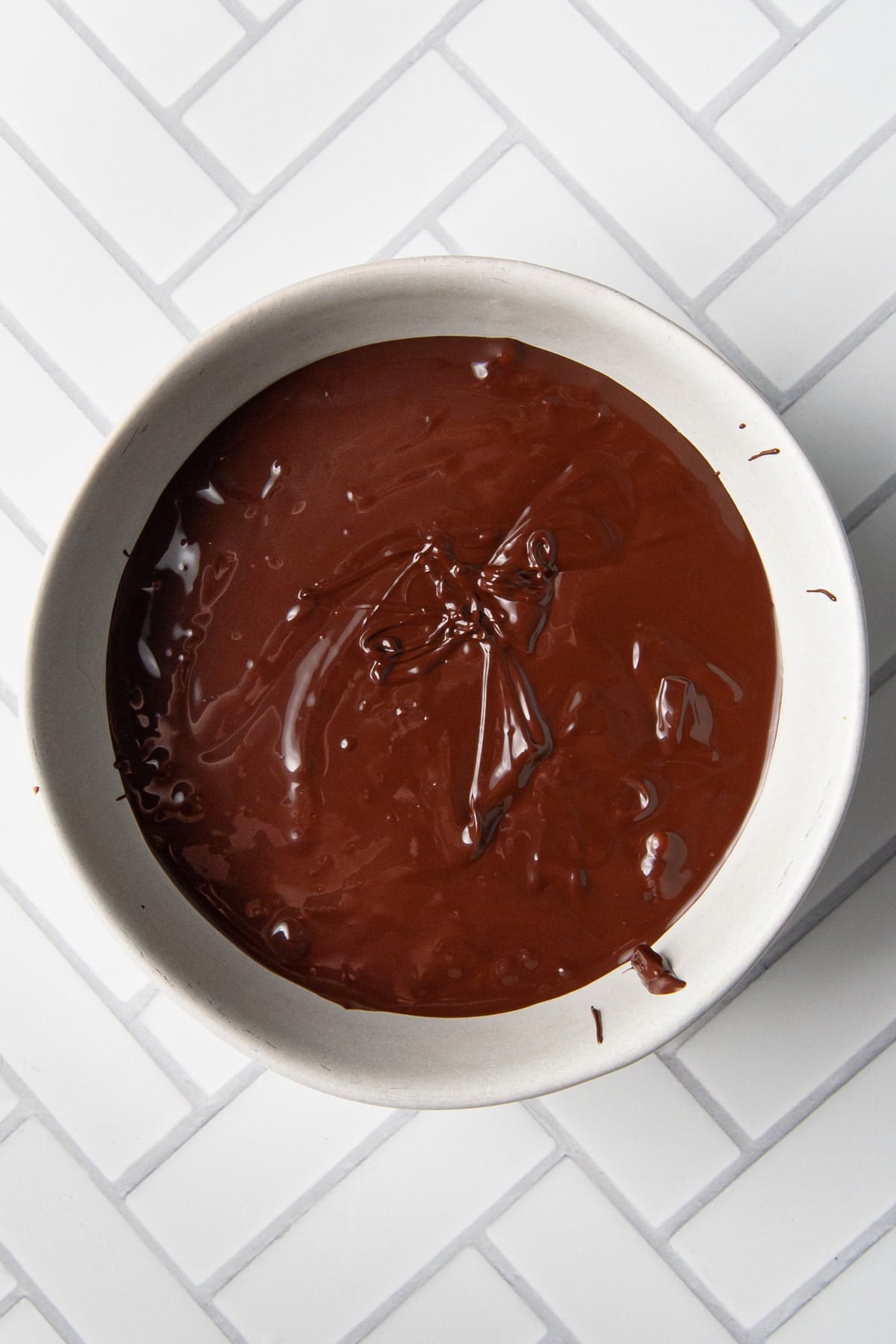 Whip It Up
While your chocolate is cooling, use your hand or stand mixer to whip your cream until stiff peaks form. This is quicker and easier if the cream is really cold.
It should be thick enough to hold on to a whisk when you turn it upside down.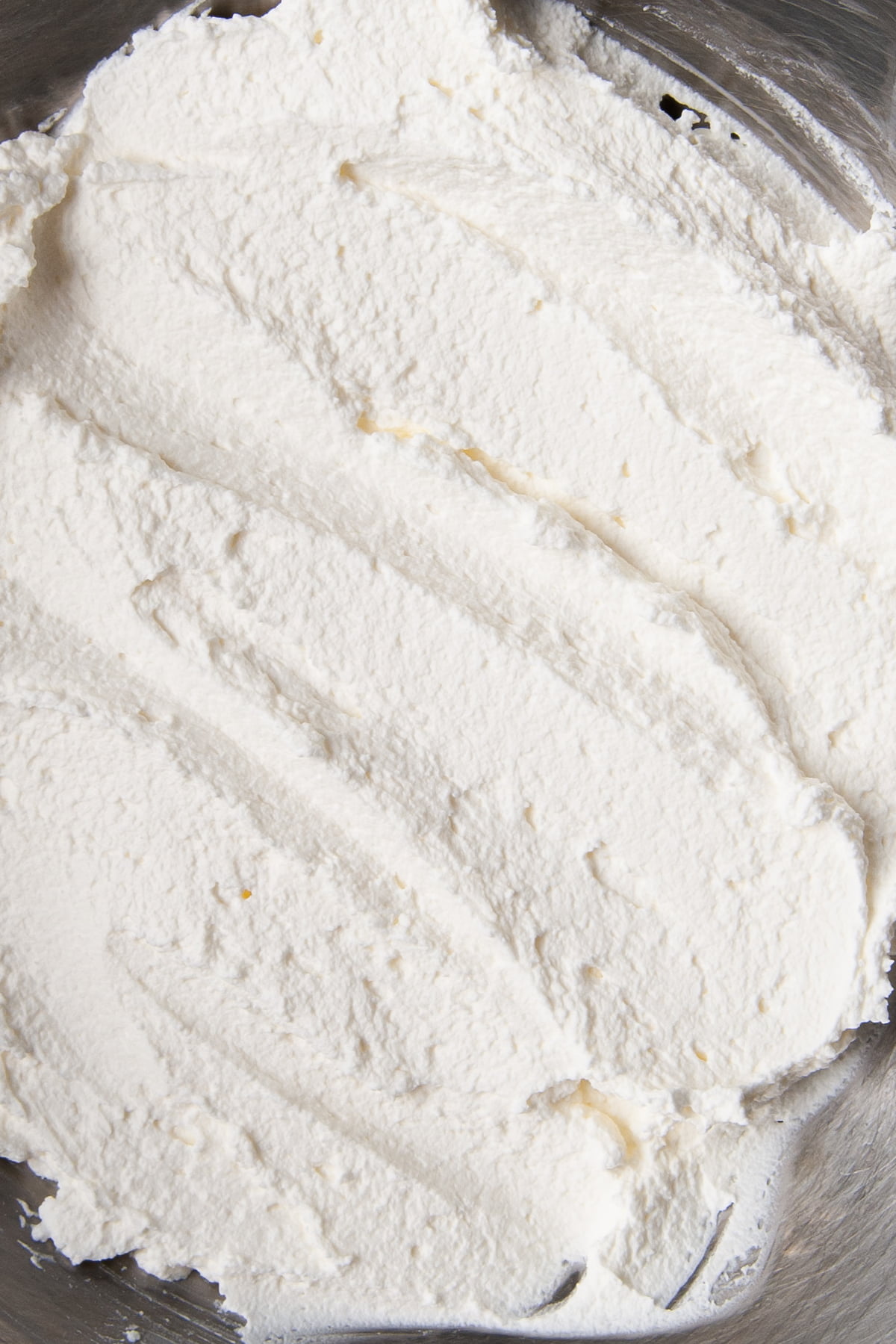 Keep It Cool
Once your whipped cream forms, add your melted chocolate and beat with your hand mixer. At this point, the consistency should be nice and thick. Stick your mixture in the fridge to keep it cool.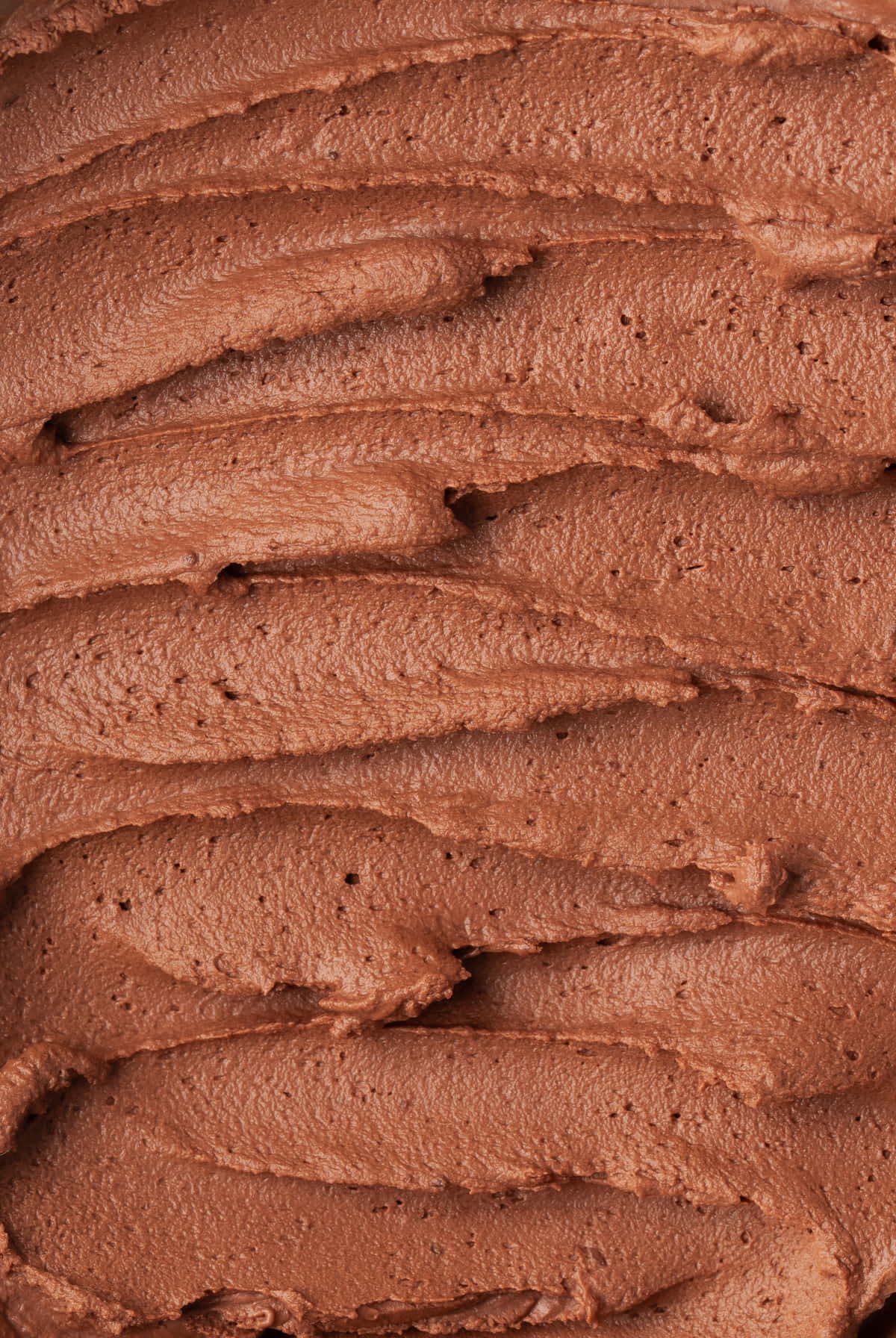 Just Beat It
In a separate bowl, use a hand or stand mixer to beat your egg whites and sugar together until thick and sticky. It almost looks like thinner marshmallow fluff. This usually takes about 3 minutes.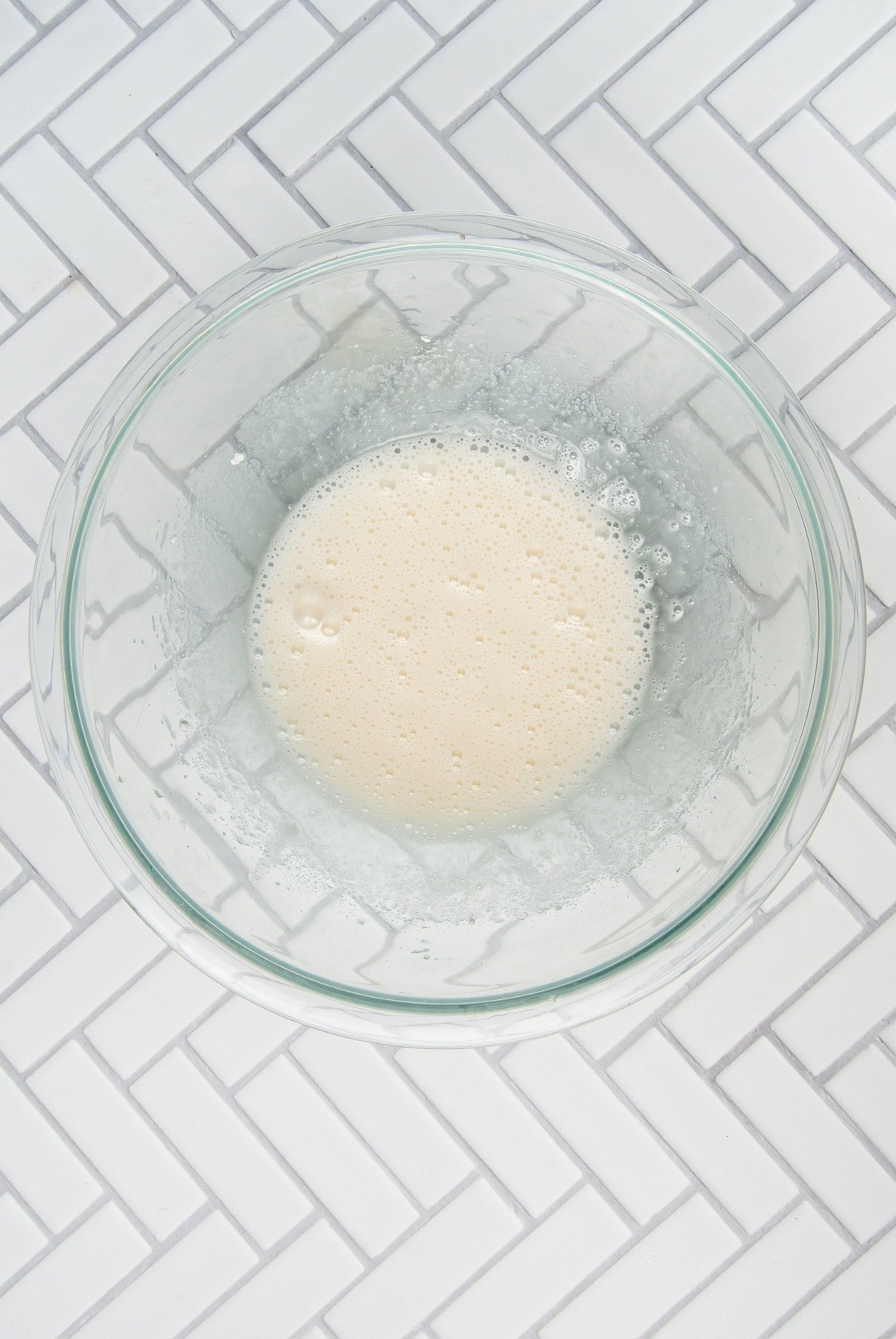 Time To Combine Forces
Keep your hand mixer on high and add your egg white/sugar mixture to your chocolate/cream mixture. The consistency should remain mousse-like at this point.
Your Boozy Chocolate Mousse is really starting to come together!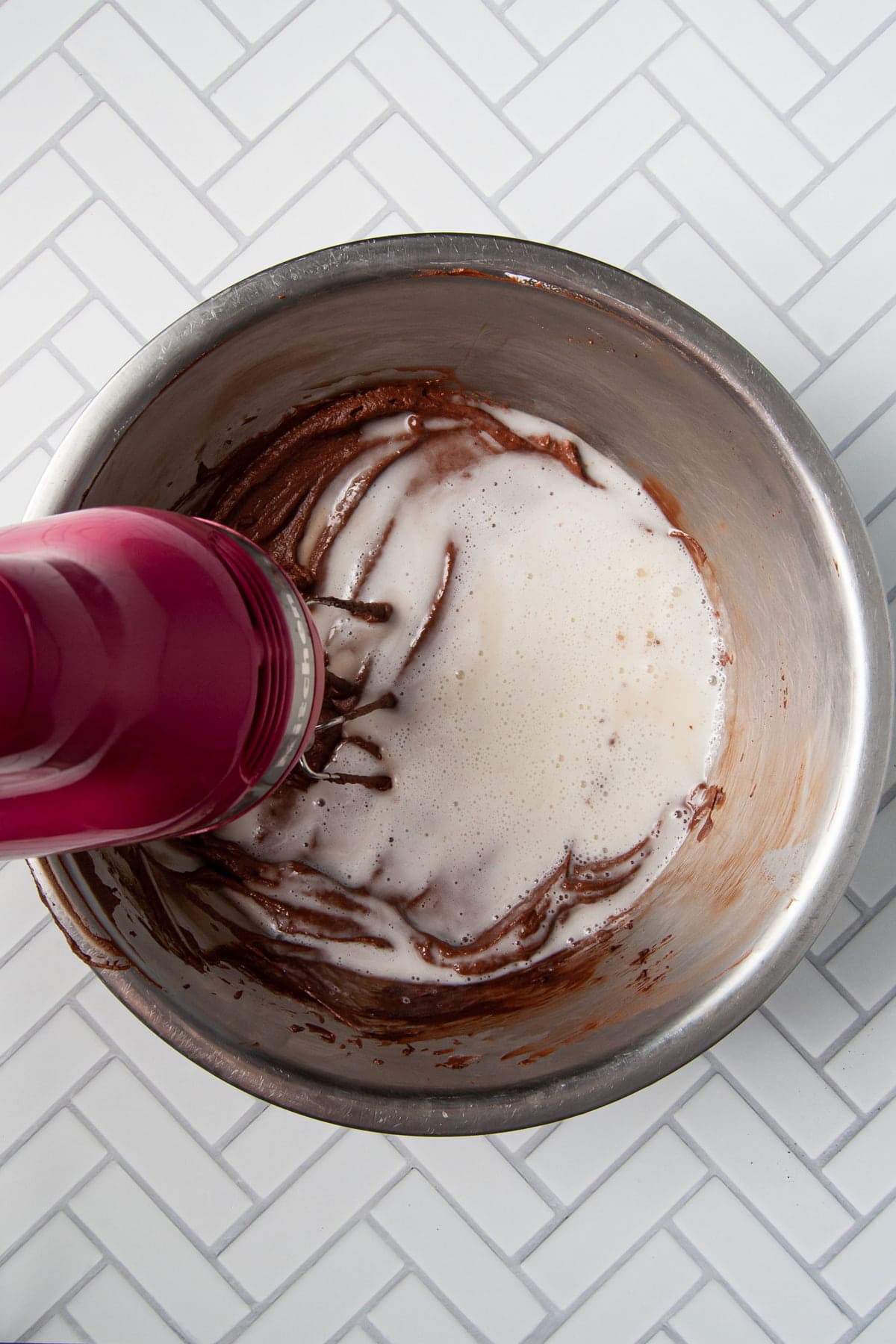 It's Five O'Clock Somewhere
I promised you boozy! And now you're ready to add your brandy. With the mixer still on high, add your brandy directly into your mousse.
You may notice that it loosens the mousse a little bit, but that's okay! We will give it time to set.
1/4 cup of brandy is the maximum you can add without compromising the consistency of your mousse, so don't try to add more!
If you want your mousse even boozier, try using dark rum or whiskey instead. It lends a stronger taste to this dessert. Whiskey and rum are also great substitutes if you don't have brandy on hand!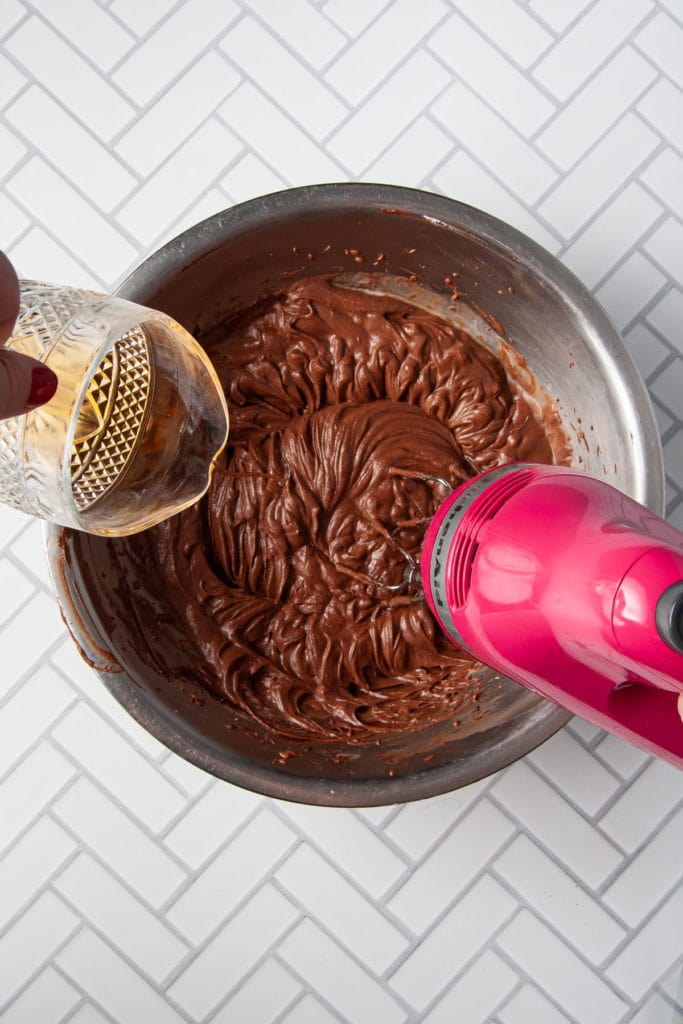 Don't Be Hasty If You Want It Tasty
Welp, you may think the hard part is over. You've done your melting, beating, and combining. But now it's time to wait.
And between the chocolatey smell in your kitchen and the temptation of the big bowl of velvety chocolate mousse in the fridge, waiting can be hard.
But giving your mousse an extra hour to set after adding your alcohol is worth it! If you like your mousse a little lighter and airier, whip it one more time after setting in the refrigerator. This will aerate more pockets into your mousse.
I like to get fancy and use a piping bag to serve it in layers with whipped cream and top it with shaved chocolate. But even if you slap it onto a plastic plate like a lunch lady, this Boozy Chocolate Mousse will impress with its velvety smooth chocolate and brandy taste.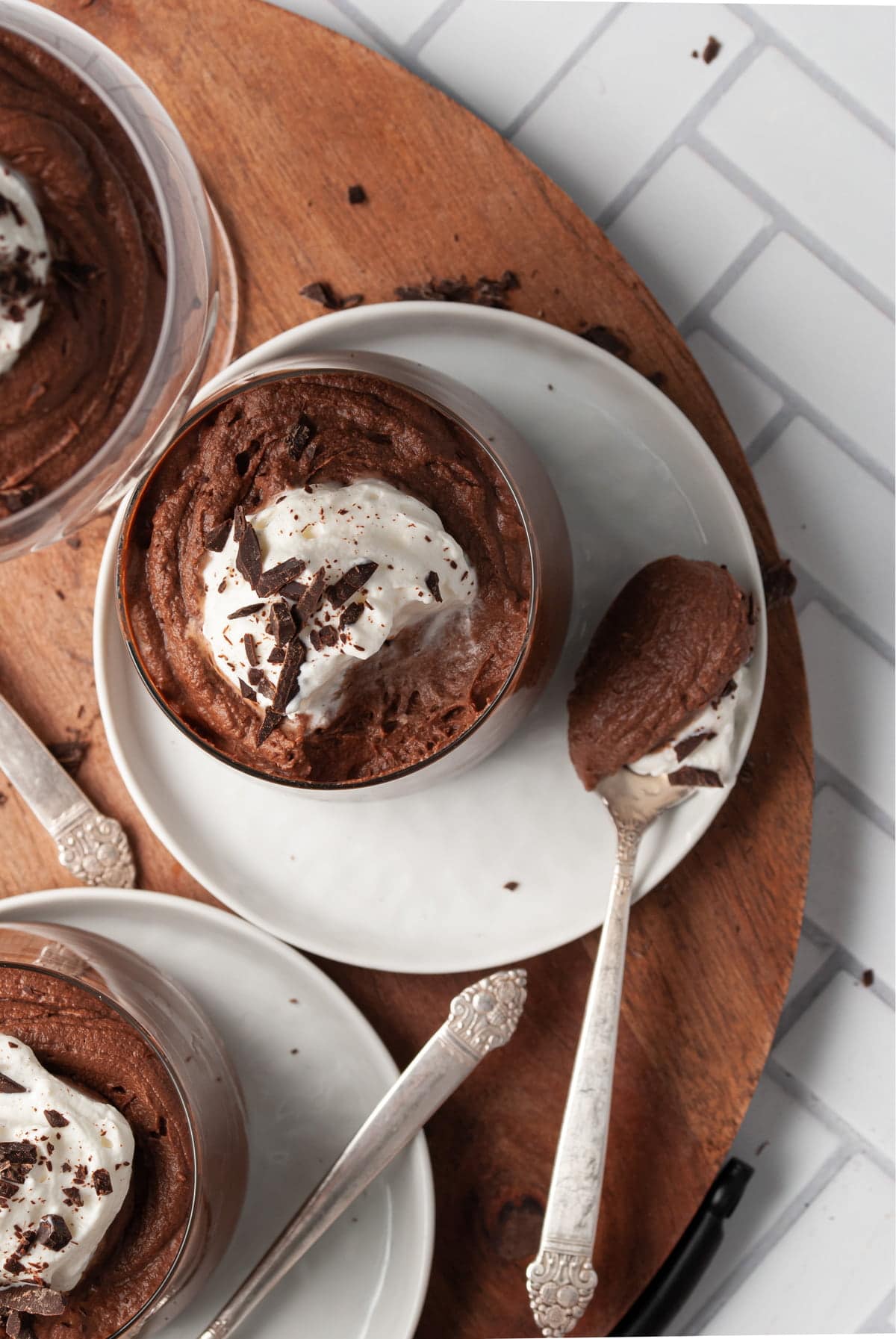 Should You Have Leftovers
This boozy chocolate mousse will stay fresh covered in the fridge for up to 5 days.
There is a chance the consistency may change. You can always whip it again to get that airy, fluffy texture back.
Tested Substitutions
This recipe is designed for dark chocolate chips, That being said, I tested it with semi-sweet, and it was still delicious! Just a little less chocolatey and a little sweeter. I recommend subbing rum for brandy if you are using semi-sweet chocolate chips to balance out the extra sweetness.
Speaking of rum, you can totally sub another spirit if you don't have brandy on hand. I've made this with dark rum and bourbon and enjoyed both. Brandy is just the smoothest final flavor.
You can substitute monkfruit sweetener for a less sugar option, but you will definitely taste the difference. The consistency and texture will stay intact.
Lastly, if you just want chocolate mousse, and you don't want it boozy, simply leave out the brandy for a kid-friendly version.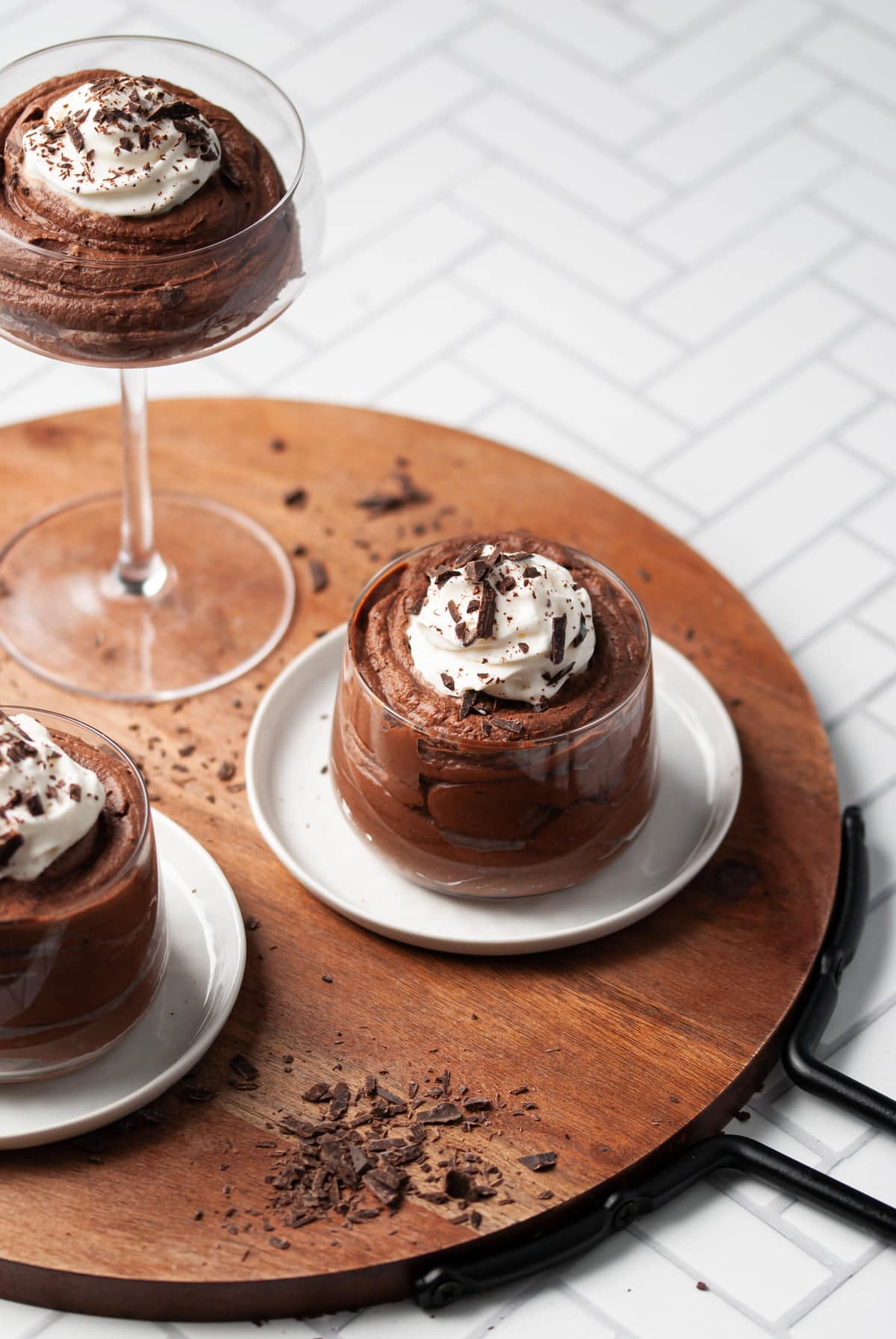 Boozy Chocolate Mousse Frequently Asked Questions
---
How do you add alcohol to chocolate mousse?
The alcohol should be the very last thing you add to your mousse. Add it in two or three separate pours, with your hand mixer on. Between each pour give your mousse some time to stir and thicken.
What alcohol goes well with chocolate mousse?
My favorite alcohol to add to chocolate mousse is Brandy. It has just enough sweetness and booze to be the perfect complement to the rich chocolate.
Dark rum and whiskey are also great in chocolate mousse if you're not a brandy fan.
Want to sharpen your kitchen skills?
Why You Should Make This Boozy Chocolate Mousse
---
The consistency. Light and airy, melt-in-your-mouth mousse.
It's chocolatey. Just the right amount of sugar to bring out the sweetness in the dark chocolate.
That boozy bliss. Brandy is the perfect complement to this fluffy chocolate delight.
If you're loving this Boozy Chocolate Mousse and want more boozy & chocolatey delicacies, check out these Bailey's Hot Chocolate Bombs and Whiskey Chocolate Truffles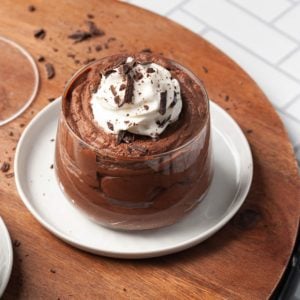 Sinful Boozy Chocolate Mousse
PRINT
PIN
RATE
This Boozy Chocolate Mousse is velvety smooth with a rich, chocolaty flavor and a subtle hint of Brandy. Super delicious and extra romantic.
Ingredients
1 ½

cups

dark chocolate chips

1 ½

cups

heavy whipping cream

2

large

egg whites

½

cup

granulated sugar

¼

cup

brandy
Instructions
Melt your chocolate chips over a double boiler and then set aside to cool.

Use a hand mixer to whip your heavy cream until stiff peaks form.

Once the chocolate is at room temperature, fold it into the heavy cream and then whip on high until thick and creamy.

In a separate bowl, beat egg whites and sugar together until thick and sticky- about 3 minutes.

With your mixer on high, add egg white/sugar mixture into your chocolate cream.

Keep your mixer on and slowly add brandy, in about 3 separate pours.

Cover and refrigerate for at least 1 hour.

Whip one more time to aerate. Serve as is, or whip up some extra cream for on top and add shaved chocolate for garnish.
Pro Tips
Don't waste your egg yolks! Use them in these Margarita Cookies, Rosemary Shortbread Cookies, or the Hollandaise in this Smoked Salmon Eggs Benedict.
I use my own crafty makeshift double boiler by boiling water in a large pot and then resting a medium-sized pot on top of the water.
1/4 cup brandy is the maximum amount you can add before compromising the consistency. If you want a boozier mousse, substitute whiskey or dark rum for the brandy.
For a kid-friendly version, just leave out the alcohol altogether.
Chocolate lover? Me too! You'll love the collection of my best chocolate recipes!
Did you make this recipe?
Let me know by leaving a recipe rating below, or by tagging @marleysmenu on Instagram.