Sick of the canned stuff and ready to make your own Cranberry Sauce this year? This Easy Brandy Cranberry Sauce is super simple to make while boasting complex flavors.
Sweet and tangy with a hint of brandy and orange, this perfectly balanced cranberry sauce will tie your Holiday meal together with a vibrant zing of flavor!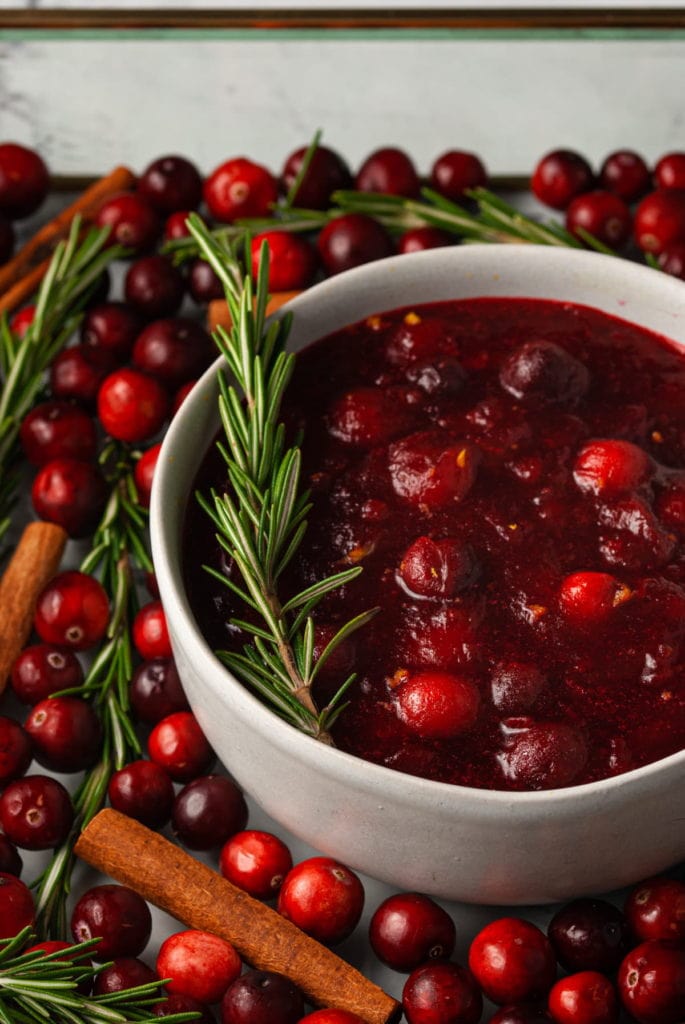 Eating seasonally is a great way to decrease your carbon footprint.
In-season produce puts less strain on the environment in the form of food miles (it generally has to travel less to get to you), and oftentimes less polluting crop-enhancers have to be used for them to thrive.
In the United States, cranberries are mostly grown in just 5 states and are at their peak from September through December.
As an environmental scientist, I am always focused on making seasonal crops shine, which means Cranberry Sauce is abundant throughout the Fall and Winter.
Green tip: Eating seasonally is one of the best (and most delicious) ways to support local and decrease your carbon footprint. Local foods have less associated transportation costs and fuel emissions.
Brandy Cranberry Sauce Tips and Tricks
---
---
Gather Your Ingredients
Aside from fresh cranberries and sugar, this sauce uses a couple of flavor enhancers to give you tons of flavor. Here's everything you'll need: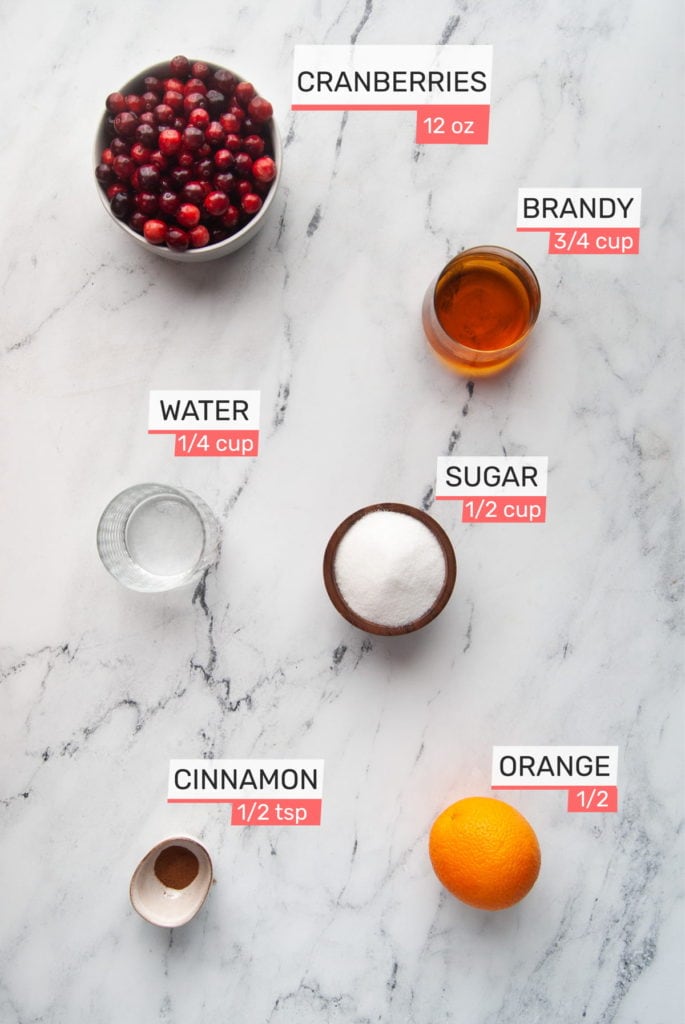 Rinse Your Cranberries First
It's always best practice to rinse your produce before cooking it. I recommend using fresh cranberries for this sauce, but you can also opt to use frozen in a pinch.
I love to conserve 1/2 cup of fresh cranberries to add last so that there are some whole cranberries remaining in your sauce. After rinsing your cranberries, you can separate out 1/2 cup and set them aside for later.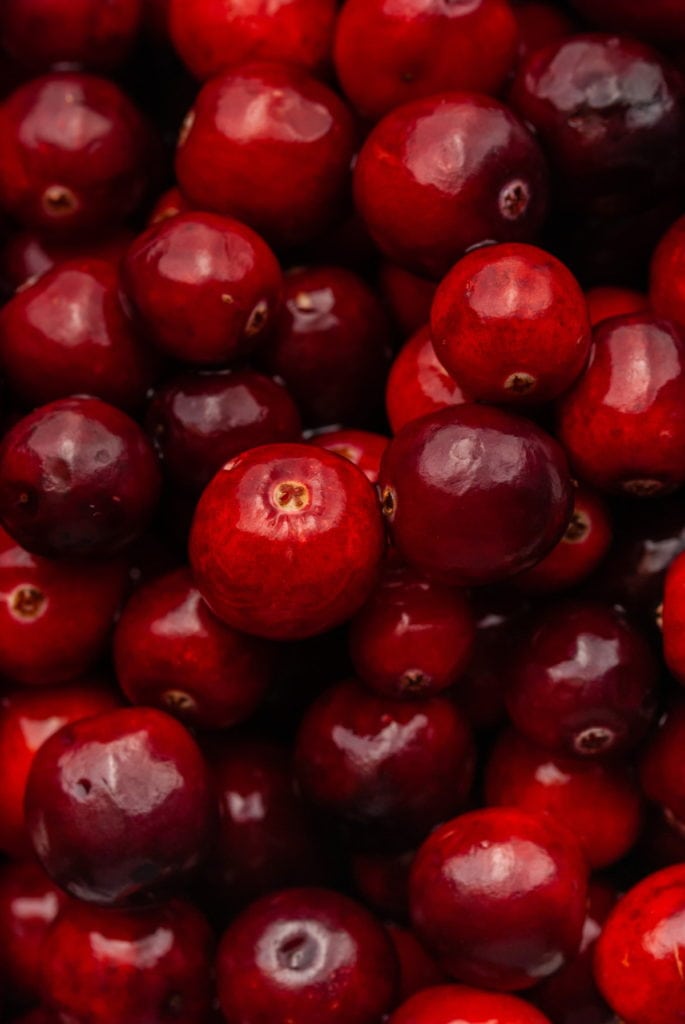 Use a Fresh Orange
The fresh citrus in this recipe actually enhances the flavor and adds a much-needed freshness. You'll be using both the juice and the zest from 1/2 an orange.
It's best to use an orange rather than orange juice, so you can avoid any added sugars and preservatives.
I zest my orange with a cheese grater. Don't forget to rinse your orange first!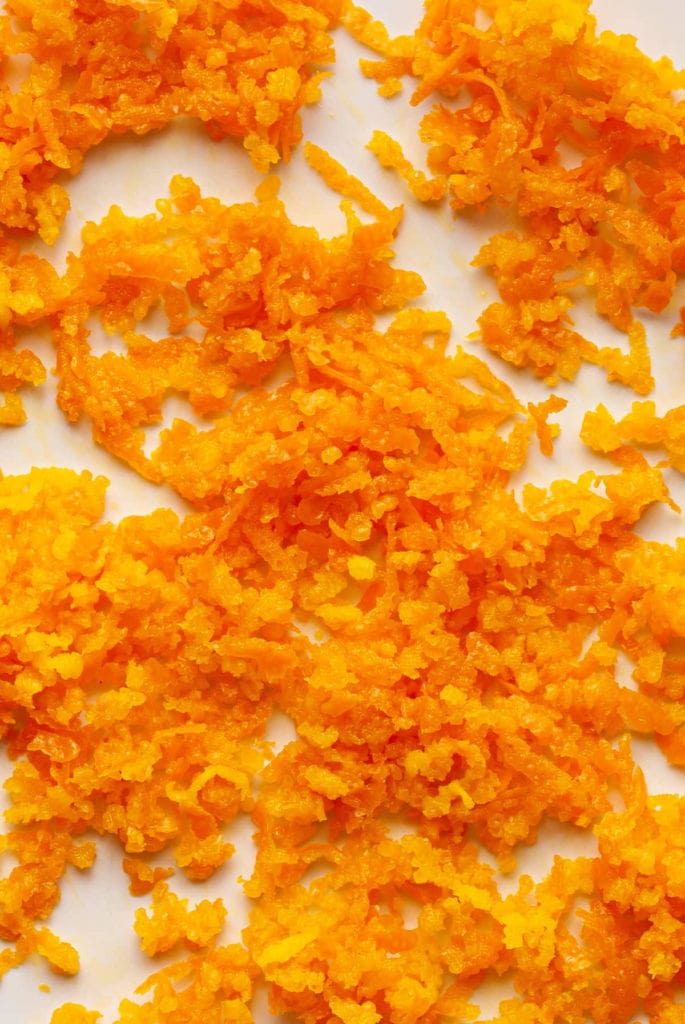 Dissolve the Sugar First
The first step is to make a simple syrup by dissolving the sugar in your liquids. Bring the brandy, water, orange juice, and sugar to a boil. Stir occasionally until the sugar is dissolved completely. This usually takes about 5 minutes.
If you like your cranberry sauce on the tangier side, add 1/2 cup of sugar.
If you like your cranberry sauce on the sweeter side, use 3/4 cup sugar.
I opt for 1/2 cup of sugar because I like a little tartness in my cranberry sauce. I find the subtle sweetness from the brandy and orange juice is enough.
However, I have tested this thoroughly both ways and confirm it's not too sweet with 3/4 cup sugar. If you are used to the canned stuff, use 3/4 cup sugar to achieve that same level of sweetness.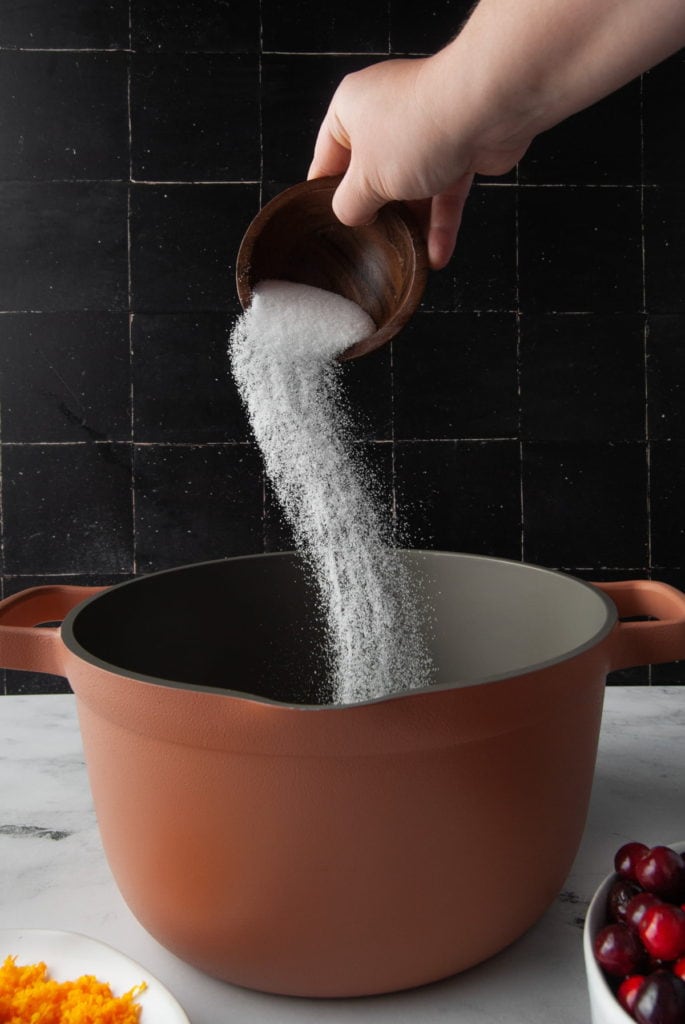 Allow Your Cranberries to Burst
Once your sugar is dissolved, keep your heat up high and drop your cranberries, orange zest, and cinnamon in.
Keep your pot uncovered and allow the cranberries to bubble in the water until they burst. You will see them and sometimes even hear them burst open within about ten minutes.
Once they burst, turn your heat off, but keep the pot on the still-hot burner. Use a potato masher or wooden spoon to crush the cranberries further until you get a thick sauce.
Green tip: Organic farms rely on biodiversity to generate rich soil, avoiding the use of pesticides and fertilizers, which means no toxic runoff. Consider organic cranberries and oranges for this recipe.
Keeping Some Whole
Once your sauce has formed, add the cranberries you conserved, give it a stir, and cover the pot. Keep the pot on the still-hot burner and leave it covered for about 5 minutes.
This will keep the cranberries whole, but soften them. These whole berries lend a little extra texture to your cranberry sauce.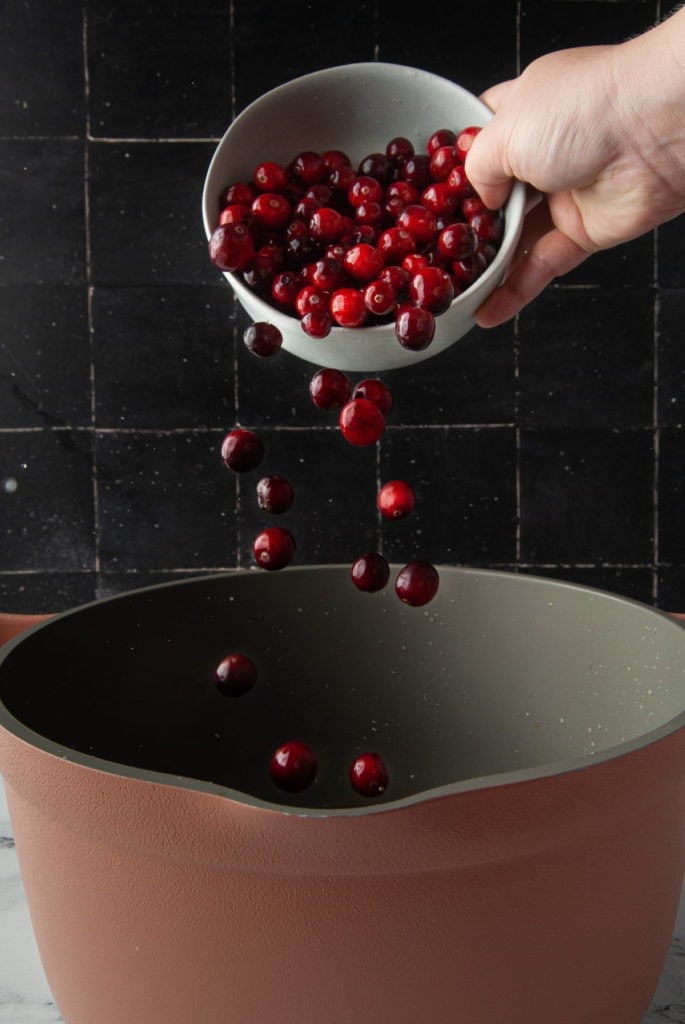 Should You Have Leftovers
This Brandy Cranberry Sauce will last about two weeks in an airtight container in the refrigerator. Enjoy it cold right out of the fridge.
You can also opt to freeze it for about two months. Just thaw before enjoying.
This long shelf life makes this cranberry sauce a good contender for things you can prep ahead of time.
And once you are ready to reinvent this cranberry sauce into something new, use it for this Leftover Cranberry Sauce Cosmo or this Leftover Cranberry Sauce Coffee Cake.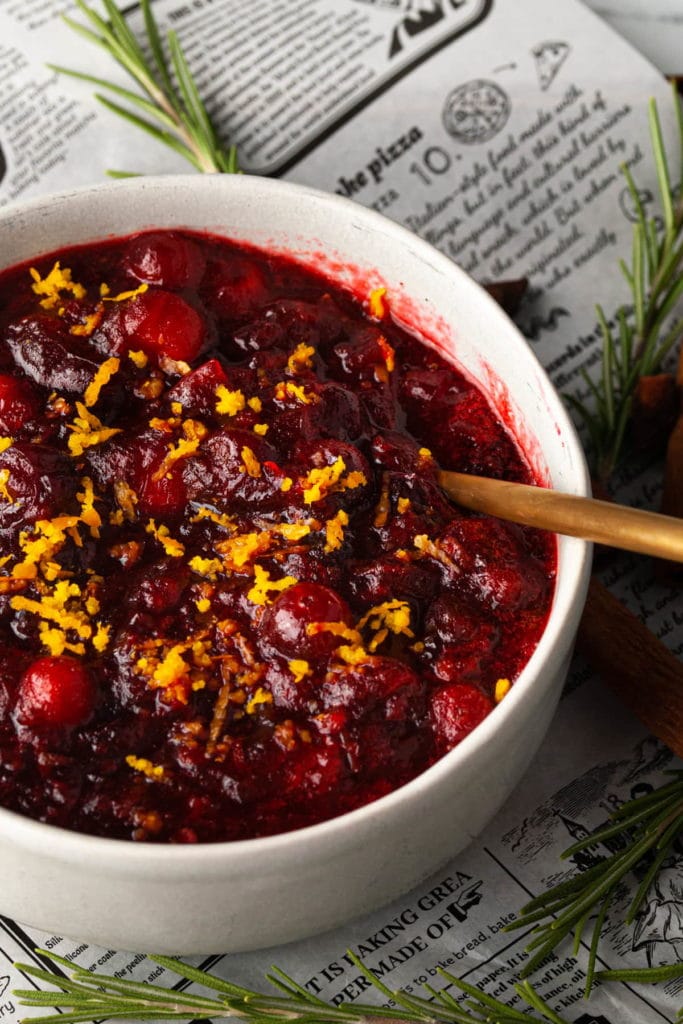 Why You Should Make this Brandy Cranberry Sauce
---
---
It's unique. The addition of Brandy adds a unique flavor to this awesome sauce.
It's simple. Minimal ingredients, no fancy gadgets. Easy peasy.
It's balanced. Sweet, tangy, and citrus all come through for a complex yet balanced bite.
If you are loving this Cranberry Sauce and need more fun Thanksgiving sides, check out this list of Exciting Thanksgiving Recipes.