Looking for a fun way to amp up your regular old bread pudding? Why not make it boozy and indulge in this Bread Pudding with Bourbon Sauce?
The easy bread pudding base is the perfect vessel for the bourbon cinnamon sauce, culminating in a tender, sweet, and caramel flavored dessert.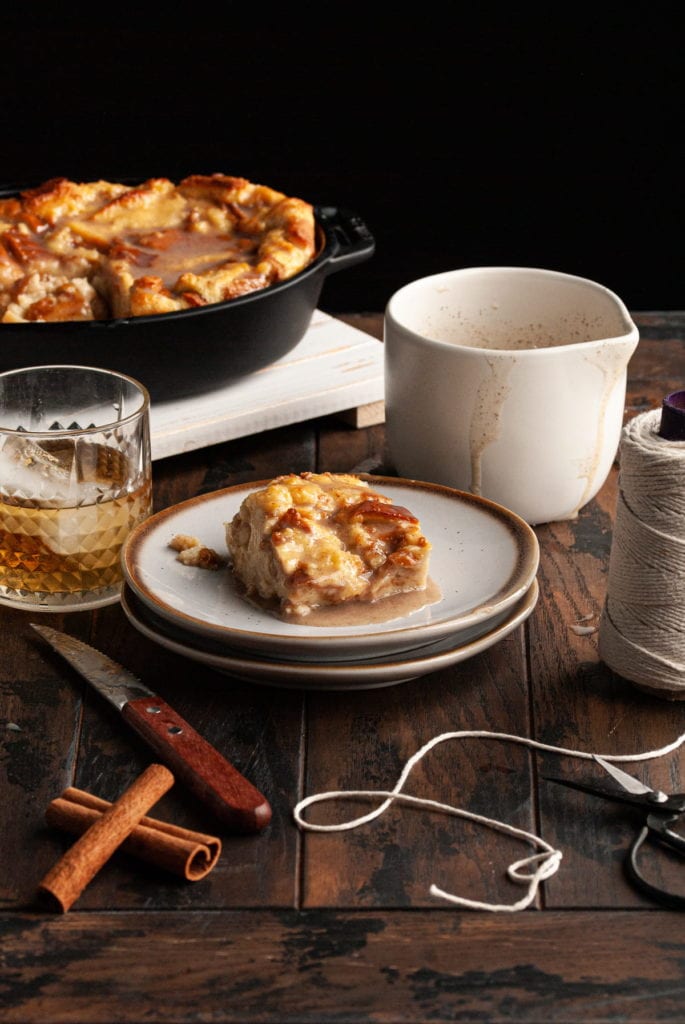 This recipe includes a full bread pudding recipe as well as the bourbon sauce recipe. If you have a favorite go-to bread pudding recipe you love already, feel free to use that and smother it in this incredible sauce.
And if you want to make this recipe vegan, opt for coconut milk and coconut cream in the bourbon sauce, and use this base recipe for Vegan Bread Pudding.
As an environmental scientist, I'm always trying to keep the issue of food waste front of mind. And when avoiding food waste tastes this delicious, I think it's something we can all easily get behind.
Green tip: Bread is one of the most wasted food products in the U.S. because of our tendency to throw it out as soon as it's stale. Reduce your contribution to food waste by re-vamping your stale bread with this Bread Pudding with Bourbon Sauce!
Ingredients
---
---
Bread Pudding Ingredients
Here's everything you need:
Eggs. For binding and leavening.
Milk. For moisture.
Unsalted butter. Melted, for flavor.
Vanilla extract. For more flavor.
Granulated sugar. For sweetness.
Stale bread. Any bread will do, but preferably white, challah, brioche, or french bread.
Bourbon Sauce Ingredients
Here's what you'll need:
Milk. Cows or coconut.
Heavy cream. Or coconut cream.
Sugar. Granulated works best.
Cinnamon. For flavor.
Corn starch. For thickening.
Bourbon. I used Maker's Mark, but any will do!
Bread Puddings with Bourbon Sauce Tips and Tricks
---
---
Melt Your Butter First
It's best to melt your butter first so it has some time to cool before you add it to your mixture. Adding it while it's too hot means your risking scrambling your eggs or curdling your milk.
You can melt your butter over the stove, in the oven, or if you're lazy like me, just melt it quickly in the microwave!
Add your butter to a microwave-safe bowl (I just use my glass measuring cup) and microwave on high in 20-second intervals. Stir in between, and just keep heating until the butter completely liquefies. Easy, peasy.
Green tip: Look for organic and palm oil-free vegan butter if you can. Buying organic means you are supporting farms that do not use damaging pesticides and fertilizers, and palm oil production is a huge driver behind deforestation.
Once your butter is melted, set it aside to cool while you mix the rest of your ingredients.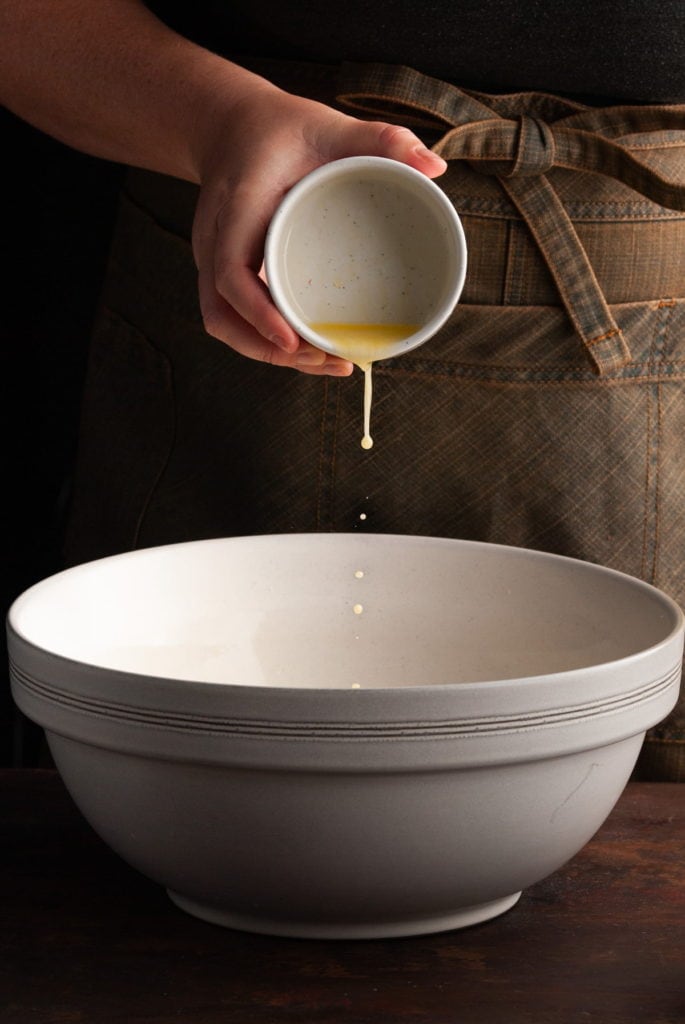 Mix up Your Wet Ingredients
In a large mixing bowl, whisk together your milk, eggs, vanilla extract, sugar, and once it's cooled, the melted butter.
Whisk until your mixture is well combined before adding your bread.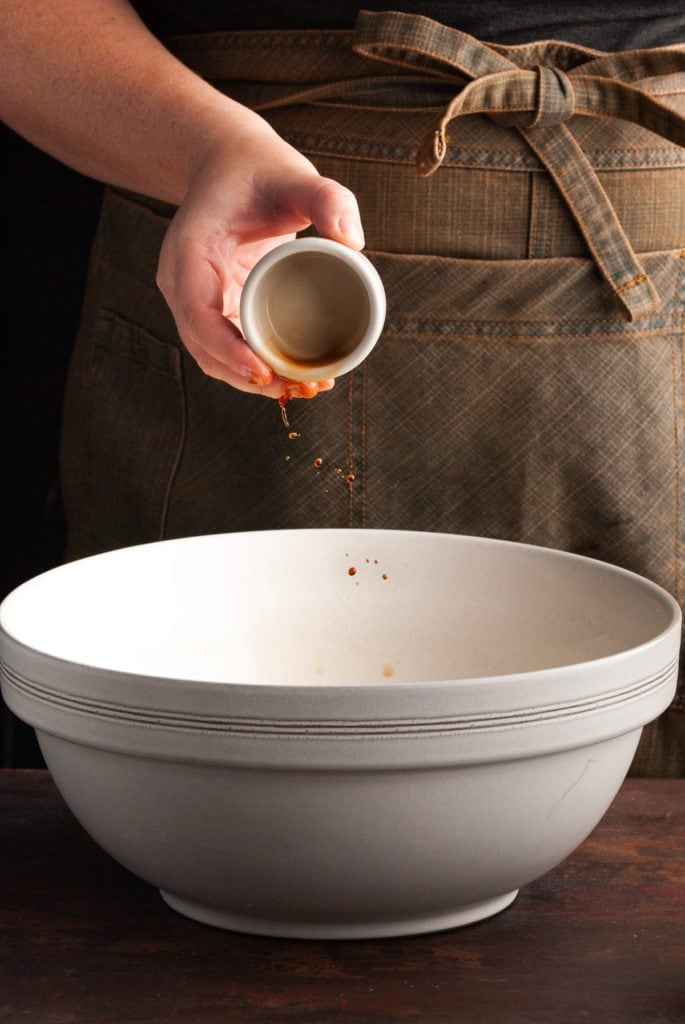 Fold in Your Bread
Cut your bread into small cubes. This will allow each piece to absorb more of your mixture, giving it that melt-in-your-mouth consistency and ensuring every bite is full of flavor.
Though any bread can be used for bread pudding, white bread, challah, brioche, or French bread are preferred. This is because these types of bread are milder and subtly sweet in flavor, making them perfect for a bread dessert!
No matter what type of bread you use, it's actually preferred that it's at least a day old if not stale. This will make it the right consistency even after soaking up all of your liquid.
Fresh bread may get a little too soggy.
Cubing your bread is easy! If your loaf is whole, cut it into slices about 1-inch thick.
If your bread is already sliced, it's as easy as cutting it into 4 parts vertically, then rotating it and slicing it roughly into thirds to form little bread cubes.
You can stack your bread to slice it more quickly, but wouldn't recommend tackling more than 4 slices at once.
Once your bread is cubed, you can add it to your liquid mixture and use a spatula to fold your bread into your mixture. Make sure every cube is completely coated.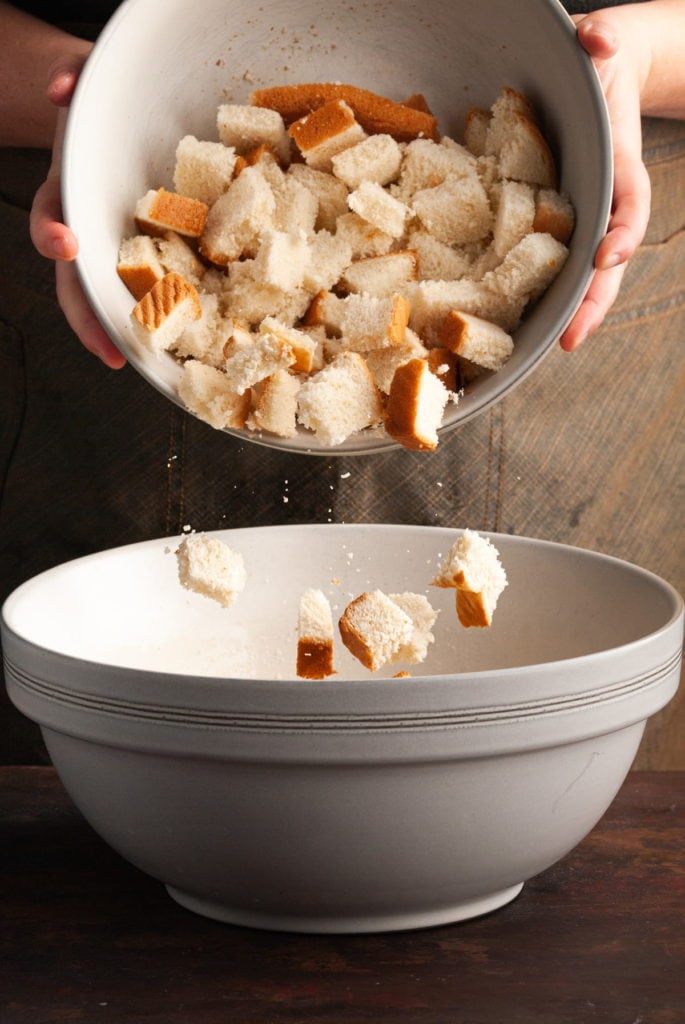 Transfer to Casserole Dish
Once your bread is coated in your bread pudding mixture, transfer it to a casserole dish.
I used a 13.5″ long oval baking dish in the bread pudding pictured. You can also use an 11.5″ x 11.5″ square or a 13″ x 9″ baking dish.
No need to spray, line, or butter your dish. The small amount of butter and fat from the milk will make it so your bread pudding does not stick to your casserole dish.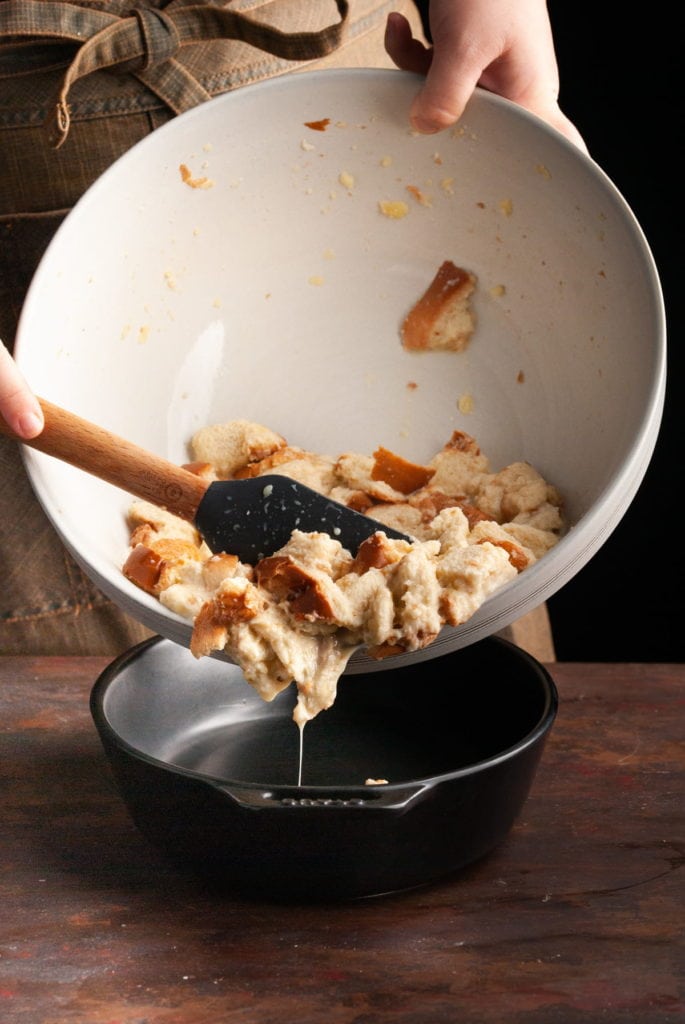 Mix Up Your Sauce
The best thing about this sauce (besides the bourbon, of course) is the consistency is customizable. I like my sauce a little bit thinner because I pour it over the bread pudding fresh out of the oven.
This allows the bread pudding to soak up all the moisture and flavor of the sauce. I also like to conserve a little and add extra sauce to each piece.
But if you want your sauce a little bit thicker, it's as simple as leaving it on your burner longer.
To make the bourbon sauce, add your milk, cream, sugar, cinnamon, and cornstarch to a saucepan over medium heat. Whisk and heat your sauce until the cornstarch is completely integrated and there are no visible lumps.
Then, allow the sauce to heat, stirring frequently until it thickens. I usually heat it until it resembled the consistency of glue. For a thicker sauce, continue to heat until it's even thicker.
Keep in mind, you'll be adding more liquid once you remove it from heat and add the bourbon, so heat it until it's a tad thicker than you want your final sauce to be.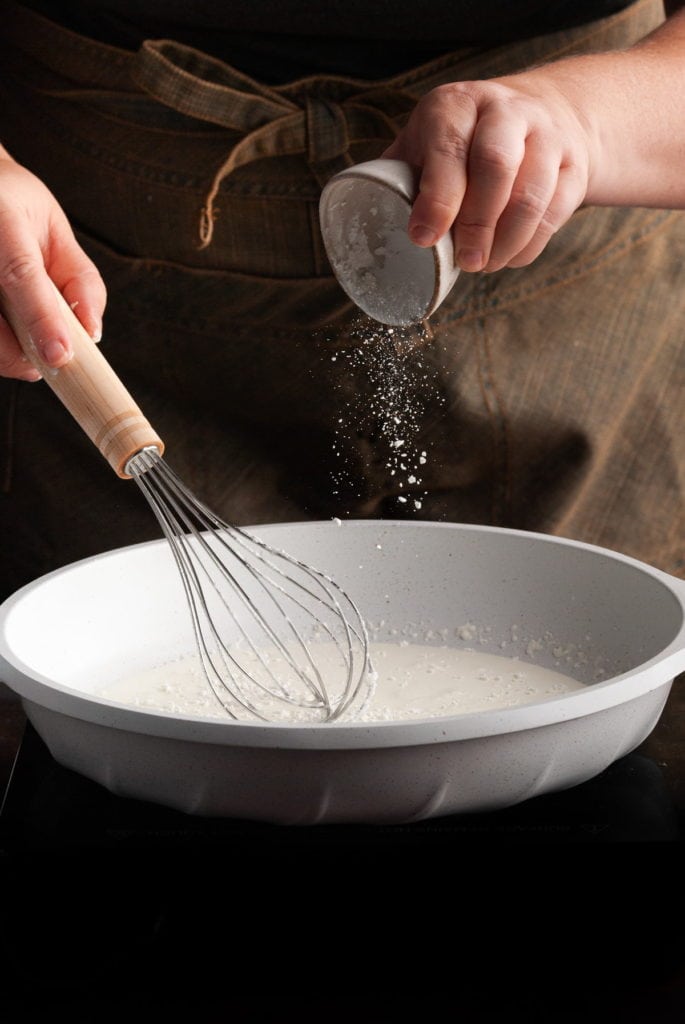 Add Your Bourbon Last
Once your sauce thickens, remove it from heat. Add the bourbon and stir well.
Adding the bourbon after removing the sauce from the heat means the alcohol in the bourbon won't cook off, making this bread pudding boozy, and this sauce taste strongly of bourbon.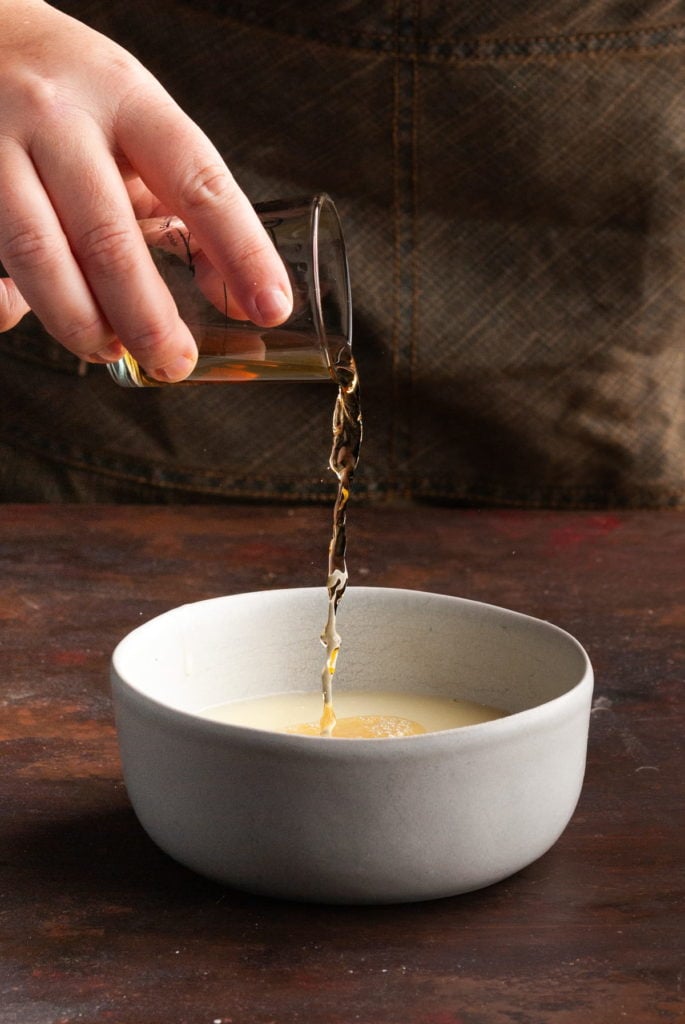 Smother It in Sauce
Once your bread pudding is done baking, smother it in the bourbon sauce. Pouring the sauce over the bread pudding while it's still warm means the bread pudding will soak up the moisture and flavor from the sauce.
Conserve some extra sauce to serve with each slice once your bread pudding with bourbon sauce has cooled.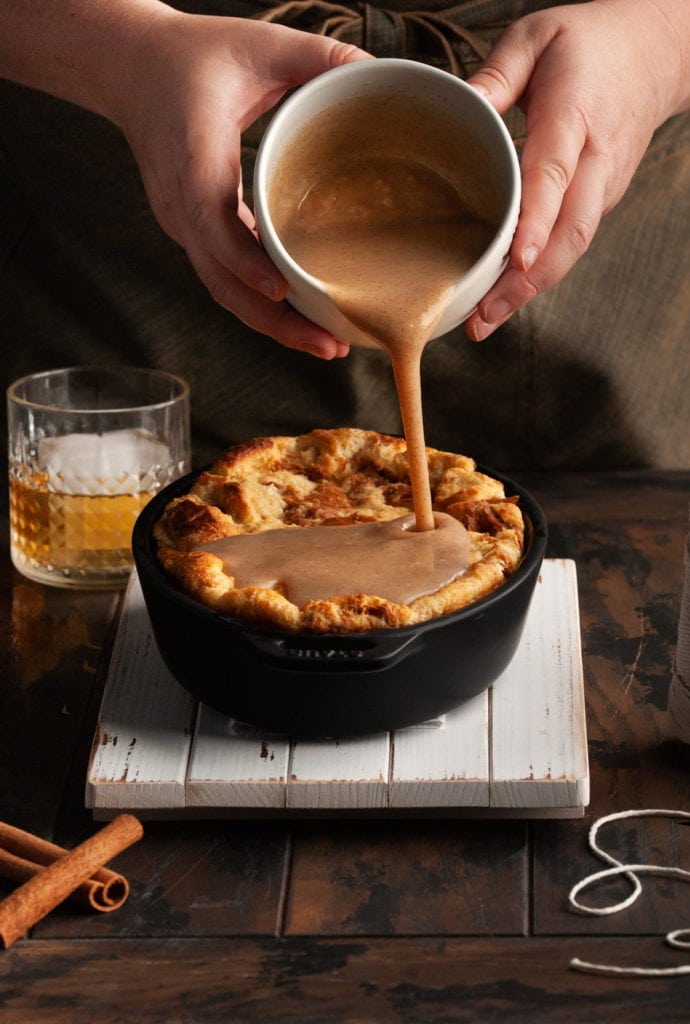 Bread Pudding with Bourbon Sauce Frequently Asked Questions
---
---
What is Bourbon sauce made of?
As you may have guessed, bourbon is the star of bourbon sauce! The rest of the ingredients are just to compliment and sweeten the bourbon.
The milk and cream form a silky base, and the vanilla and sugar sweeten it. The cornstarch thickens it and the cinnamon brings out the caramel flavors of your bourbon.
How do you moisten bread pudding?
The easiest way to moisten your bread pudding is by adding a sauce!
This Bread Pudding is accompanied by a Bourbon Sauce to not only moisten, but add extra fun flavor!
What nationality is bread pudding?
Bread pudding was first made over two centuries ago in England. It is now a popular dish worldwide because of its relative ease to throw together, and because it's such a great way to use up your stale bread!
Want to sharpen your kitchen skills?
Why You Should Make this Bread Pudding with Bourbon Sauce
---
---
It's boozy. Just an ounce of bourbon in the sauce goes a long way to give this bread pudding a deep flavor.
It's decadent. Sweet, tender bread pudding is delicious enough on its own, but when you smother it in bourbon sauce, we are talking next level here, folks!
It absolutely melts in your mouth. The consistency simply can't be beaten.
If you're loving this Bread Pudding with Bourbon Sauce, and want more boozy desserts, check out this Drunken Apple Pie and these Whiskey Chocolate Truffles!