Looking to elevate your grilled cheese? This Brie and Apple Grilled Cheese takes the classic sandwich to the next level with the addition of crisp tart apples, sweet honey, and ooey-gooey brie cheese.
With all of those incredible fillings sandwiched between two golden-brown buttery slices of toasted sourdough bread, this Fall favorite has quickly become one of my go-to vegetarian lunch options.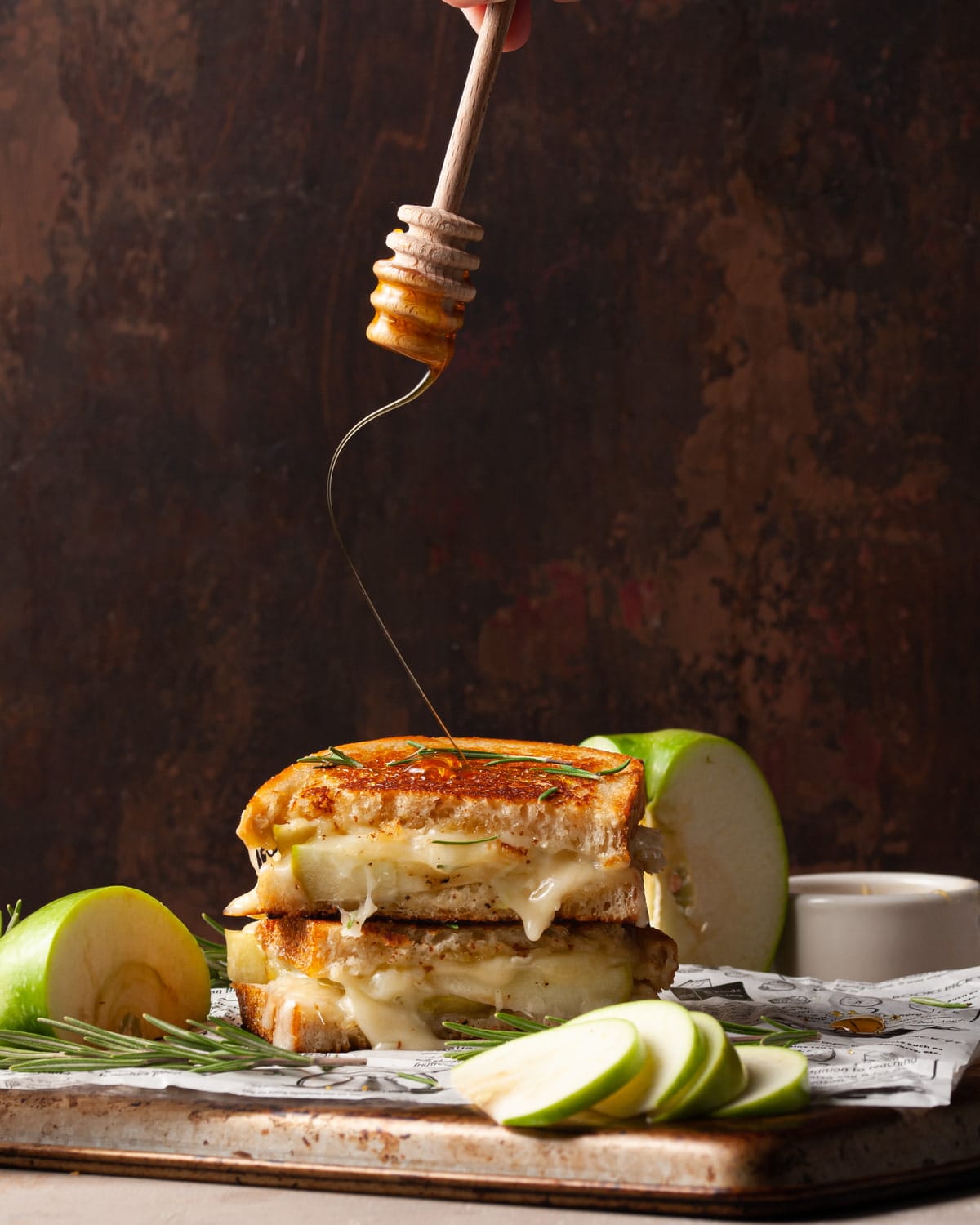 As an environmental scientist, I am always trying to highlight seasonal ingredients.
Apples are not actually grown in Florida, which means when we visit my parents in Georgia we stock up, and have all kinds of apple-forward desserts, breakfast dishes, and now, even sandwiches in our house.
Check when apples are in season in your area with this Seasonal Food Guide.
Green tip: Organic farms rely on biodiversity to generate rich soil, avoiding the use of pesticides and fertilizers, which means no toxic runoff. Consider an organic apple for this recipe.
Brie and Apple Grilled Cheese Tips and Tricks
---
---
Gather Your Ingredients
Grab and prep your ingredients first for easy sandwich making!
Here's everything you need:
Butter Your Bread
Add a generous amount! The butter will caramelize on the bread in the pan, giving you that golden brown that you want with any grilled cheese.
You only need to butter one side on each slice. The buttered side will touch the pan directly.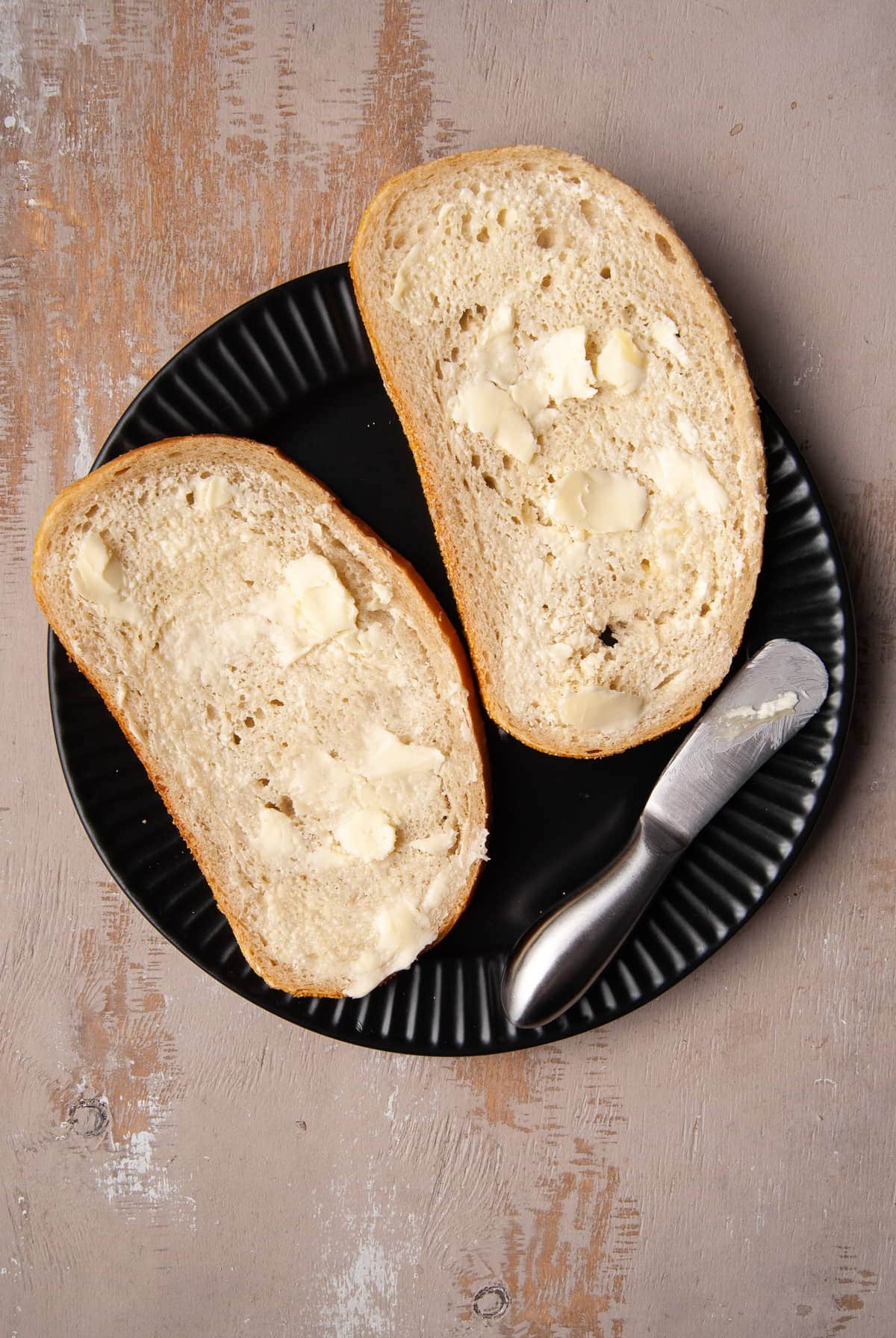 Say Cheese!
Once you've buttered one side of the bread, take one slice and flip it over, so the buttered side is down. We will be stacking our sandwich ingredients on top of the side that is not buttered.
Start with the brie. Remove the rind and slice it thin. Then, use a knife or clean hands to evenly spread the cheese across the bread.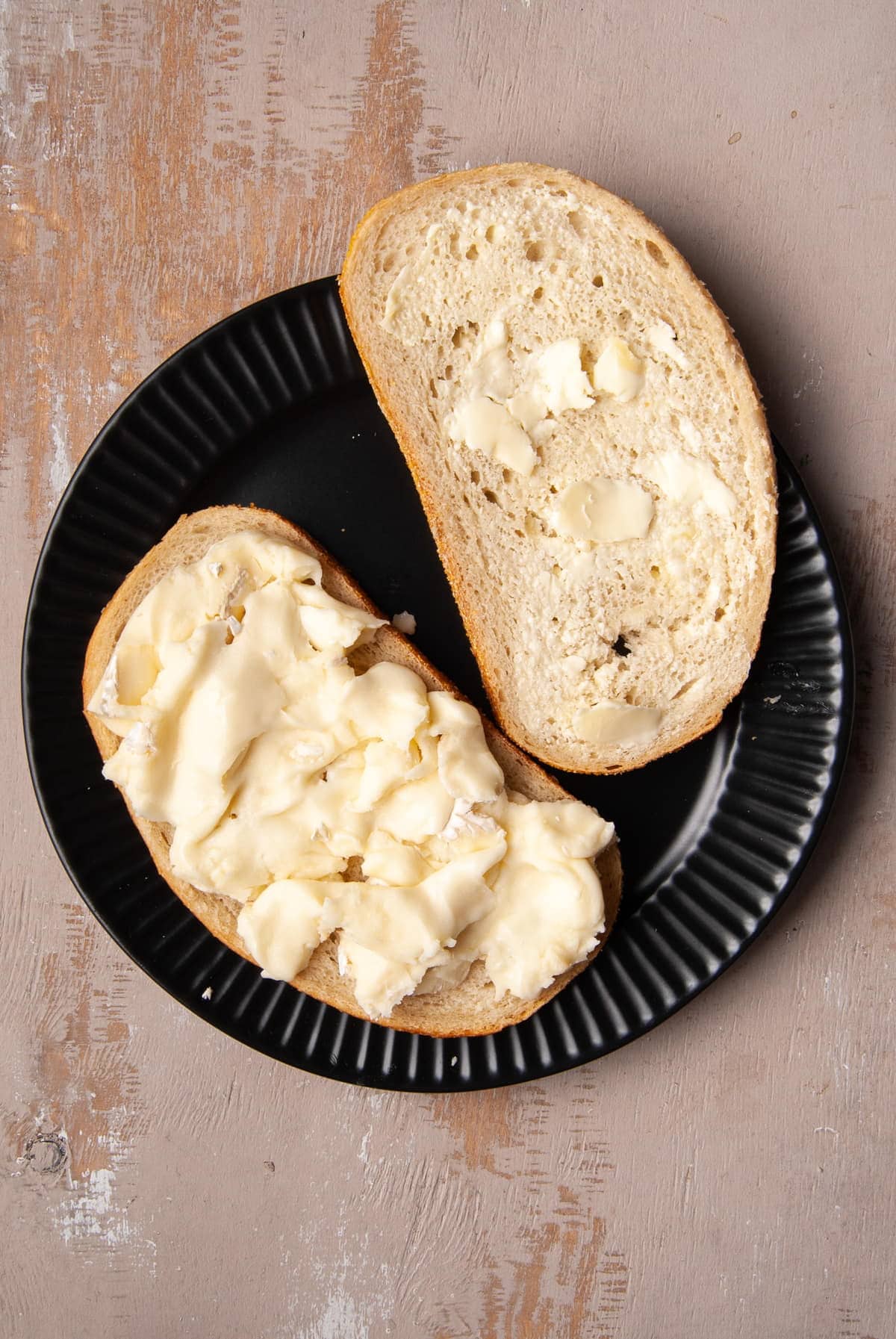 Add Your Honey Next
After you've loaded on your brie cheese, it's time for the honey layer!
Green tip: try buying raw, locally sourced honey. Generally, smaller-scale honeybee operations harvest honey in the fall, when the bees produce it in excess.
Add a generous amount. It's the perfect way to tie together the tartness of the apple with the distinct flavor of the brie.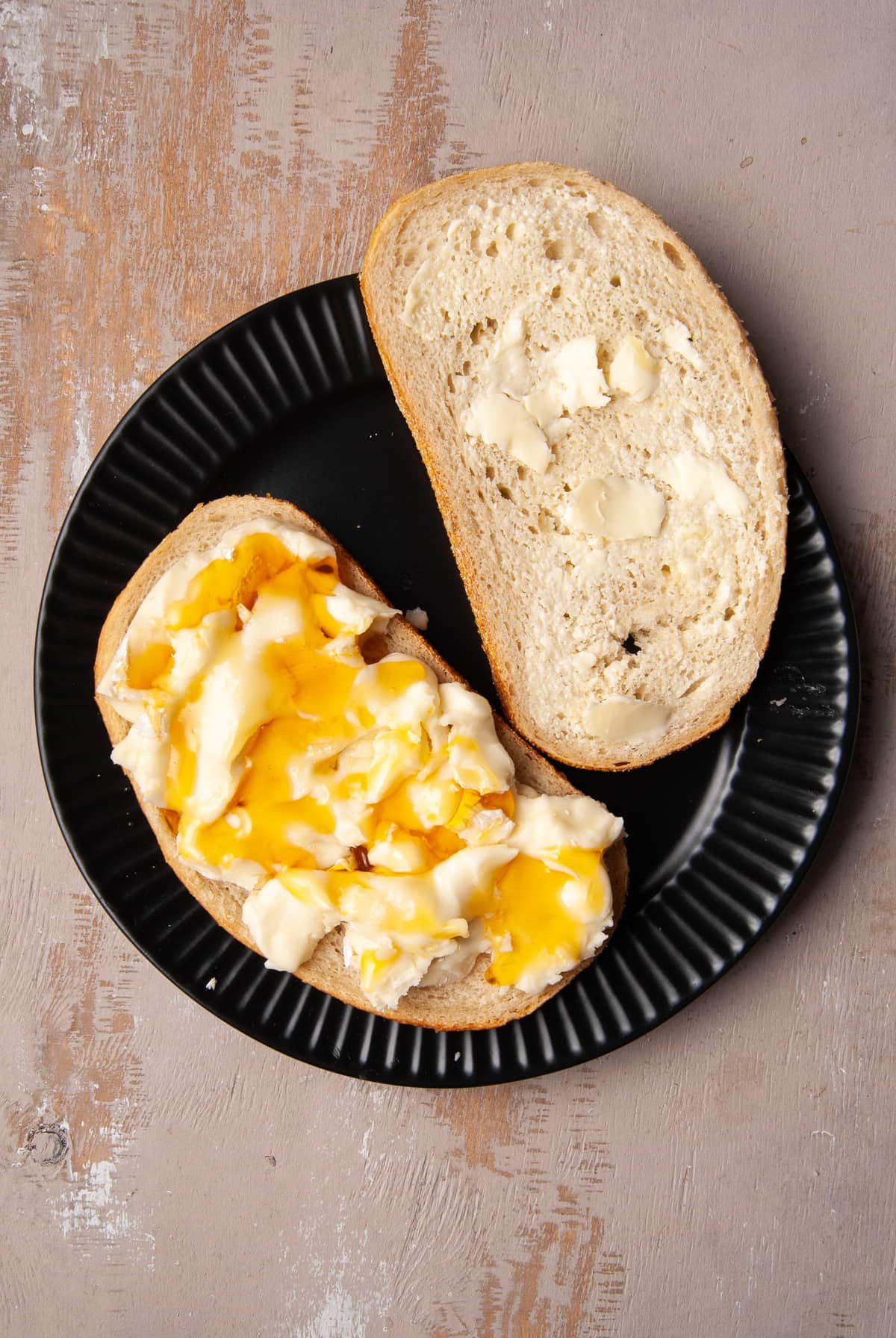 An Apple A Day…
Next, it's time for that layer of crisp tart apples to complete this unique grilled cheese sandwich.
You'll only need half of an apple for this sandwich. I usually just core my apple, cut it in half, and eat the other half on the side (let's commit to reducing food waste!).
For the half you are using for the sandwich, slice it into thin slices, about 1/4 of an inch wide. Then, lay them down evenly across the brie and honey as pictured below.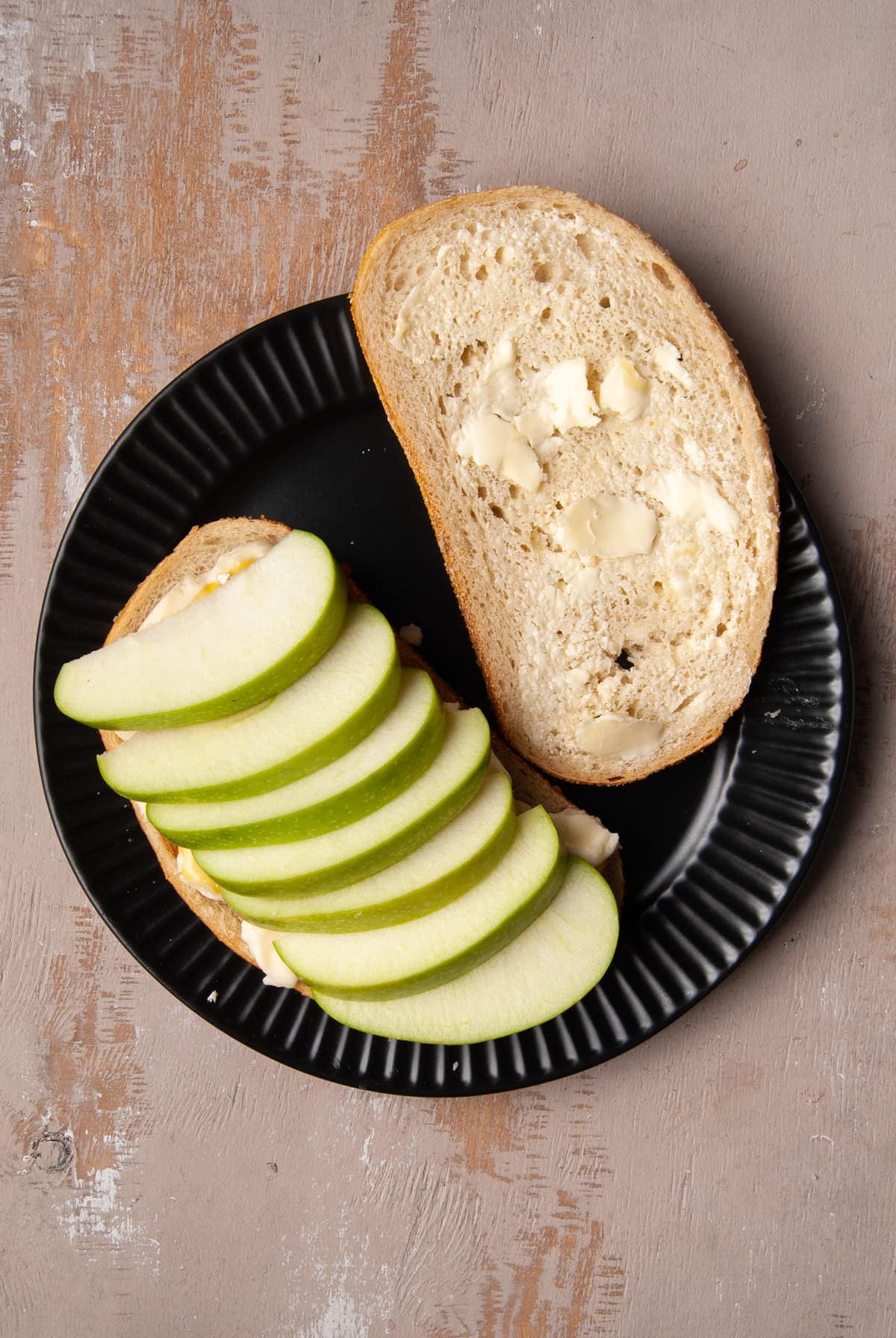 Get Your Pan Hot
Before placing your sandwich on your pan, get the pan nice and hot over medium heat.
Use a pan fitted with a lid to trap the heat and get your brie super melty. Cook for about 2-3 minutes on each side covered. You'll know it's ready when both sides are golden brown and the cheese is melted and oozing.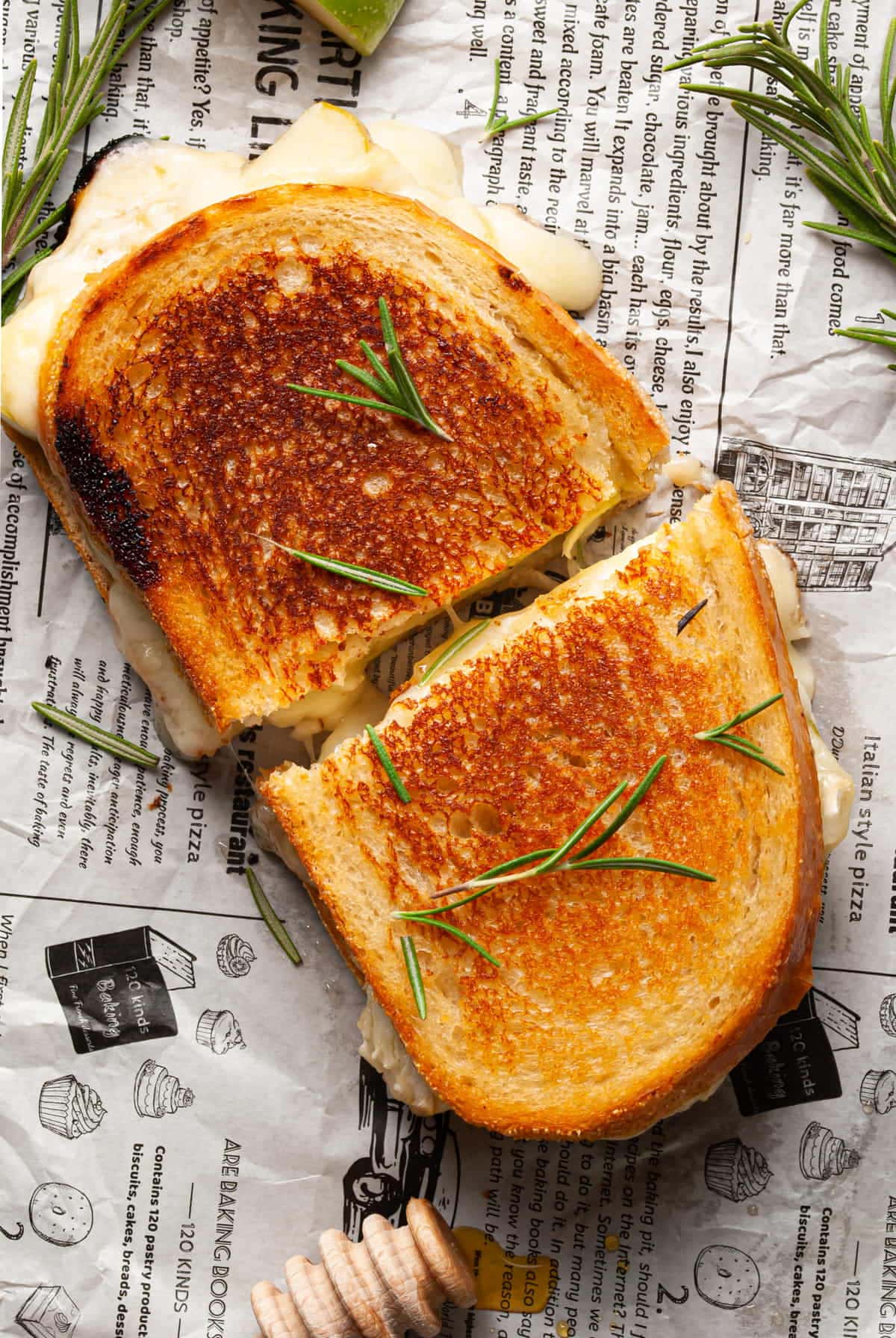 What To Serve This Sandwich With
Aside from the other half of the apple, of course, there are plenty of yummy sides that work well with this sandwich.
I love serving this up with Baked Old Bay Fries, Fresh Avocado Salad, or Pumpkin Tahini Salad.
Why You Should Make this Brie and Apple Grilled Cheese
---
---
It's balanced. Swet honey, tart apple, ooey gooey cheese, and a subtle hint of sour from the bread.
It's cheesy. That ooey gooey brie says it all.
The textures! Crunchy apples, ooey gooey cheese, and crispy buttery bread.
If you're loving this Brie and Apple Grilled Cheese and are looking for more delicious lunch options, check out this Sweet Potato Quesadilla and Buffalo Ranch Tempeh Bowl.