Looking for a healthy dairy-free dip option that's absolutely bursting with flavor? This Buffalo Ranch Hummus is spicy, herbaceous, and super quick to make!
Coming together in less than 10 minutes, it's as easy as throwing all the ingredients into a food processor or blender and serving it up! But just because it's easy, does not mean this homemade hummus recipe skimps on flavor.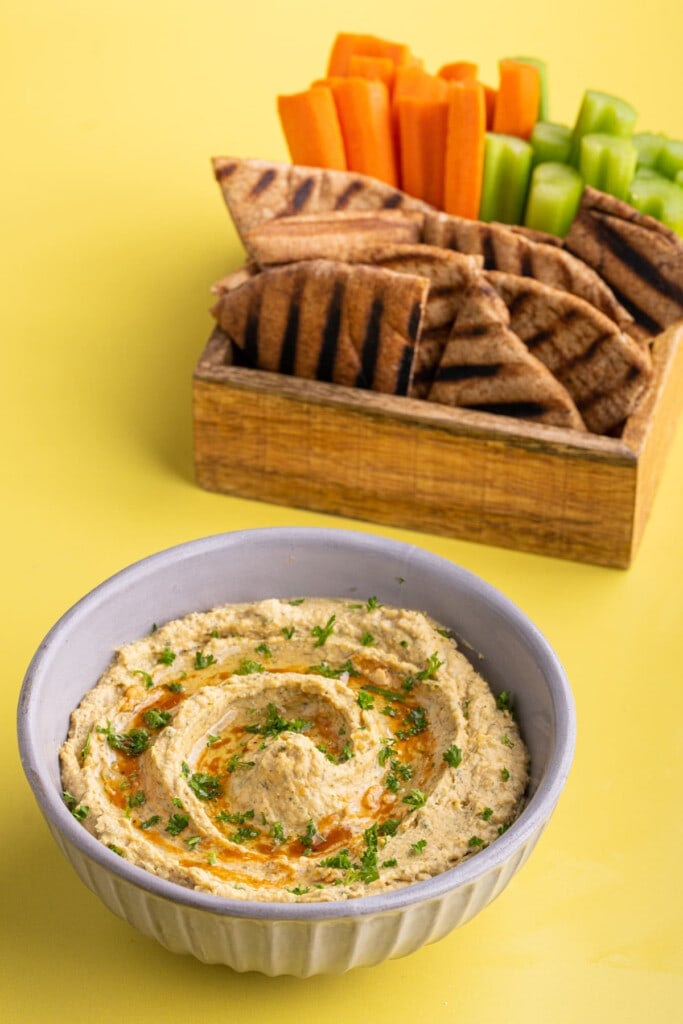 As an environmental scientist, I'm always trying to minimize my contribution to plastic waste. Making your own hummus does not only taste better and save you money, it's also a great way to avoid extra plastic.
Green tip: Making homemade spreads is a great way to avoid extra plastic packaging that eventually ends up in landfills or makes its way into the environment and becomes microplastics.
Buffalo Ranch Hummus Ingredients
---
Here's everything you need:
Chickpeas. The star of this dish! You'll need a can of chickpeas, and you'll end up using all of the chickpeas and some of the liquid they are floating in.
Tahini. For creaminess and nuttiness, to give you that classic hummus taste.
Olive oil. The fat in the oil cuts into the chickpeas to give you an even creamier dip.
Lemon juice. Fresh lemon goes a long way in this recipe. 1/2 lemon should give you just enough juice.
Garlic. It brings strong umami flavor to the hummus. You can leave it whole, just make sure you peel it.
Hot Sauce.
Dried dill, dried parsley, and onion powder.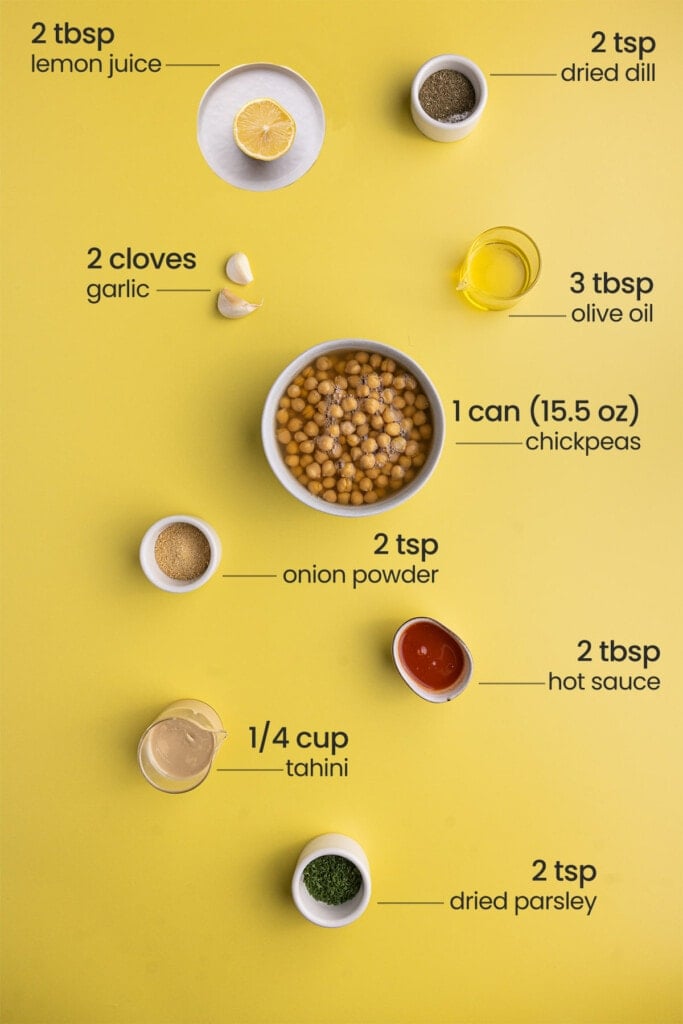 Buffalo Ranch Hummus Tips and Tricks
---
What Gives this Hummus a Buffalo Ranch Flavor?
So how do we get this unique homemade hummus recipe to taste like buffalo ranch without any buffalo sauce or ranch dressing?
It's as simple as adding key flavor components from both, to bring out those bold flavors in your dip.
Buffalo sauce is typically made up of mostly hot sauce and butter. Adding a good amount of hot sauce to this hummus lends a strong buffalo flavor.
I like to add two whole tablespoons of hot sauce for a good amount of heat. If you're sensitive to spice, start with a little less and taste as you go, adjusting accordingly.
Green tip: Organic farms rely on biodiversity to generate rich soil, avoiding the use of pesticides and fertilizers, which means no toxic runoff. Consider organic ingredients for this recipe if you can.
As for the ranch aspect, garlic, dill, parsley, and onion powder bring those classic ranch flavors to this vegan buffalo ranch dip.
I highly recommend using fresh garlic cloves to cut through the flavor of the hot sauce and make sure the garlic comes through.
Dill, parsley, and onion powder are also important elements of ranch-style flavoring. I like to use dried dill and parsley because it does not add excess moisture to the hummus and it extends the shelf life of the hummus, but you can absolutely use fresh if you prefer.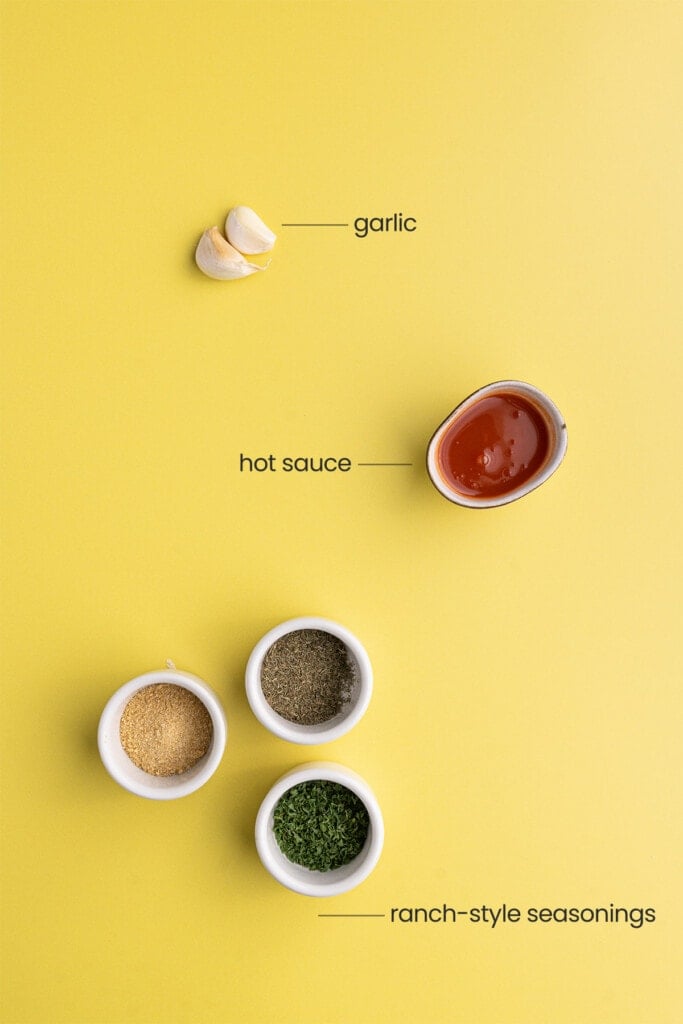 Save Your Chickpea Water
The first step to making your Buffalo Ranch Hummus is to separate the canned chickpeas from the liquid they are soaking in. This chickpea liquid is called aquafaba and you may want to use a tablespoon or two in your hummus to get the right consistency.
But don't throw away the rest! Aquafaba is a great ingredient that can be used in other delicious recipes. My favorite is this Rich Vegan Dark Chocolate Oreo Pie.
Green Tip: Always avoid food waste when you can! Instead of throwing away your chickpea water, use some to make your hummus creamier, or use it in another recipe altogether!
To separate the chickpeas from the liquid, I simply use a sieve. You can also use a pasta strainer. Hold or place the sieve/strainer over a large bowl and pour in the contents of your canned chickpeas.
The chickpeas will remain in the sieve and your aquafaba will fall through into the bowl.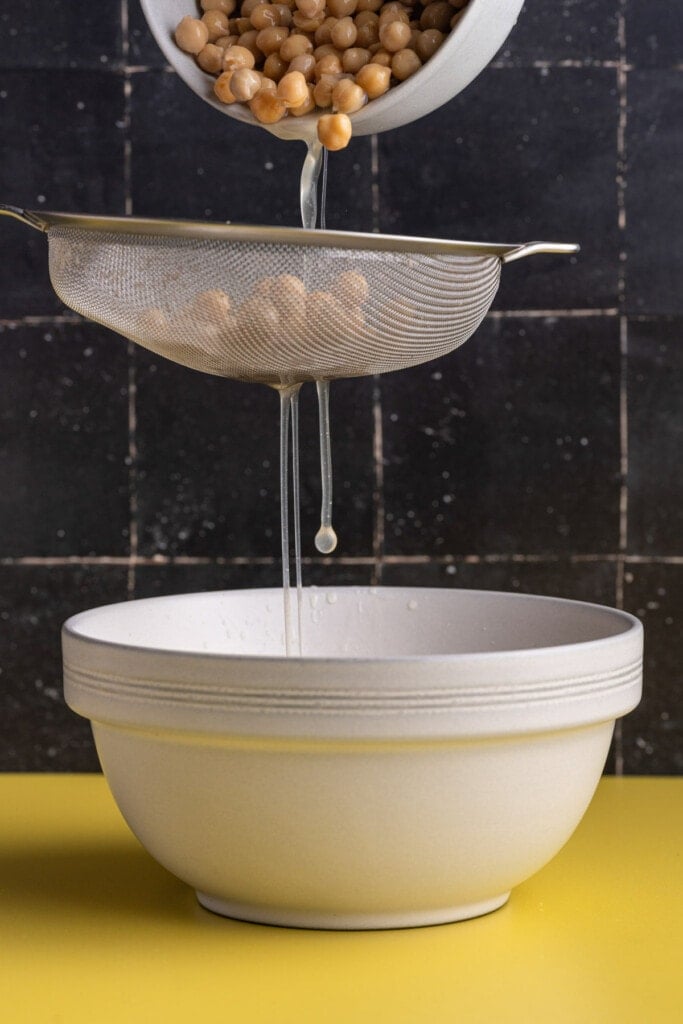 Use Fresh Lemon in Your Hummus
In addition to fresh garlic, fresh lemon also goes a long way in this recipe!
It's always best practice to squeeze your lemon juice into a separate bowl rather than adding it directly to your hummus. That way, you can more easily extract any lemon seeds that may accidentally come out when you squeeze the juice out.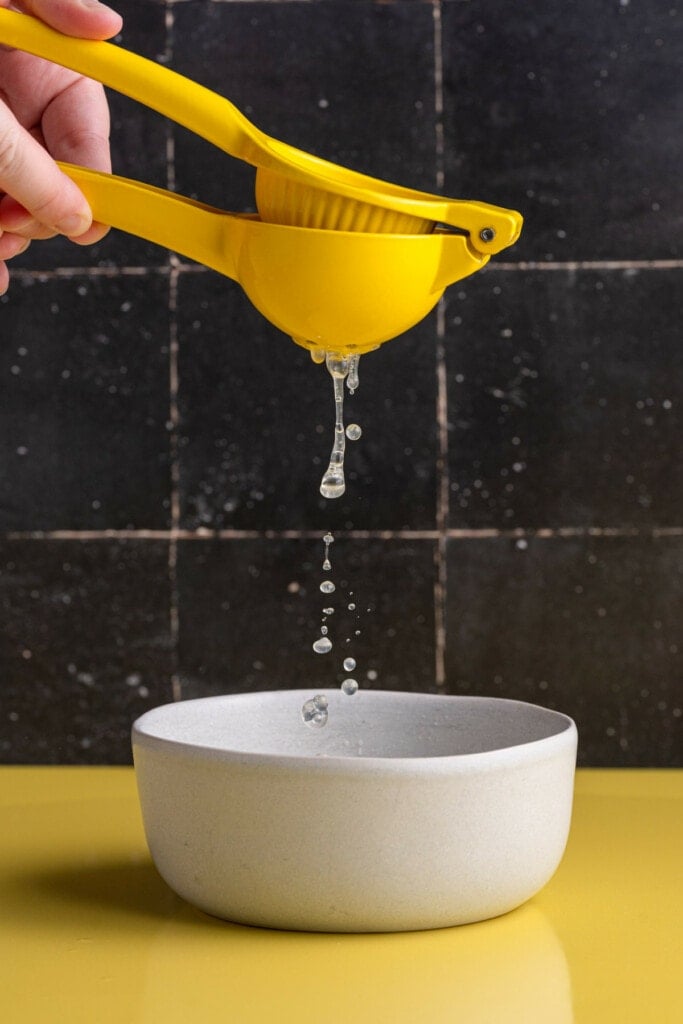 How to Easily Peel Garlic
The way I easily peel the outer layer off my garlic is by crushing the whole clove first. Lay the garlic cloves flat on your cutting board and use the flat end of your knife to press down on the garlic. You'll hear a distinct crunch when it crushes and the outer peel cracks.
Once the outer layer of the garlic cracks, it makes it much easier for you to peel back. Then, you can just add the garlic cloves to the food processor or blender whole.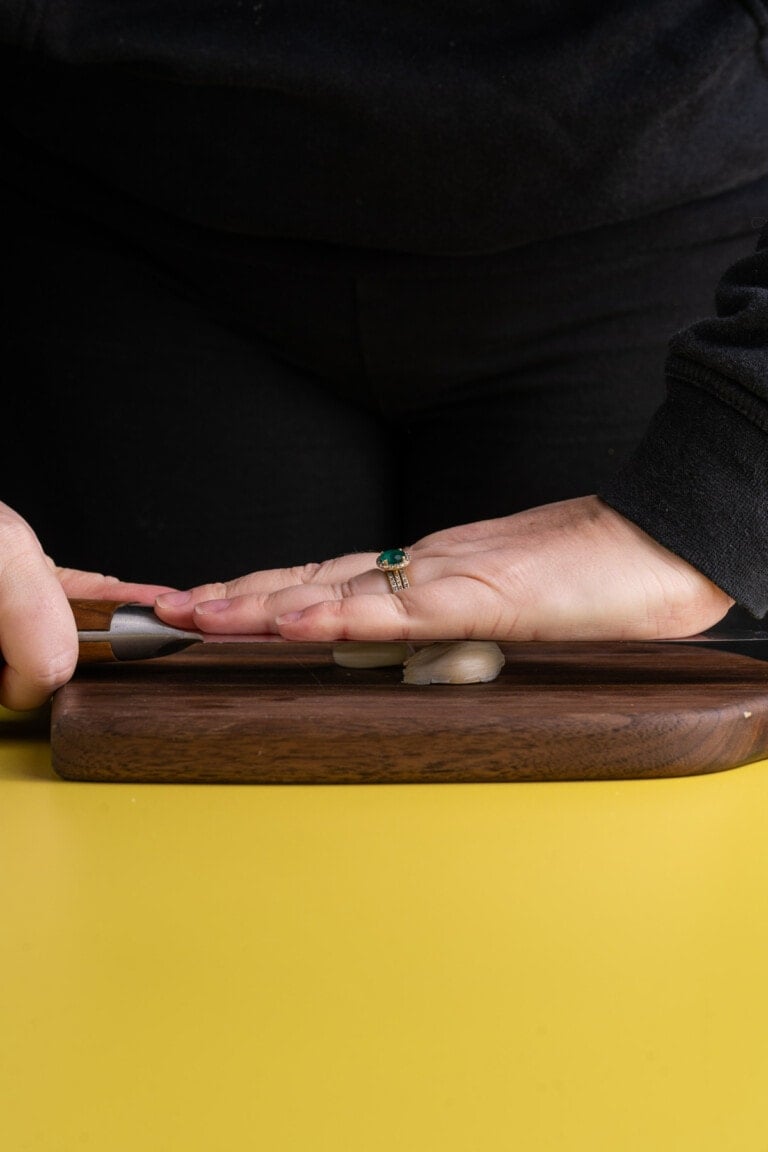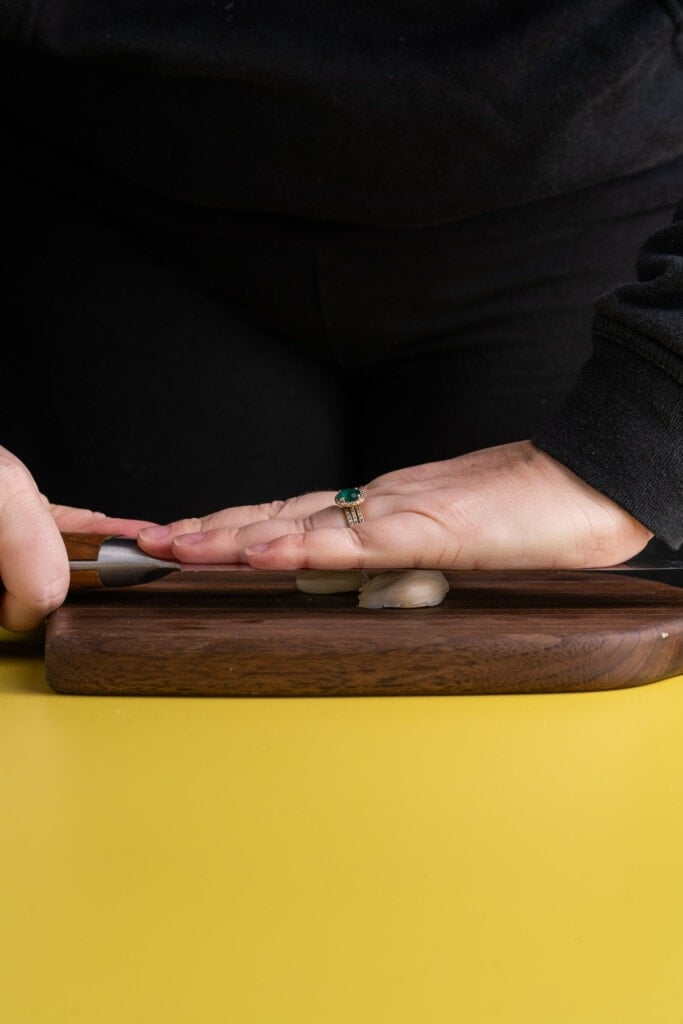 Make the Hummus in the Food Processor or Blender
This hummus comes together in under 10 minutes! Once you separate the chickpeas from the aquafaba and peel the garlic, you basically just throw everything in the blender or food processor and blend.
Add the chickpeas, Tahini, olive oil, lemon juice, garlic, hot sauce, dill, parsley, and onion powder. Blend on high until all the chickpeas are broken down and the hummus is smooth.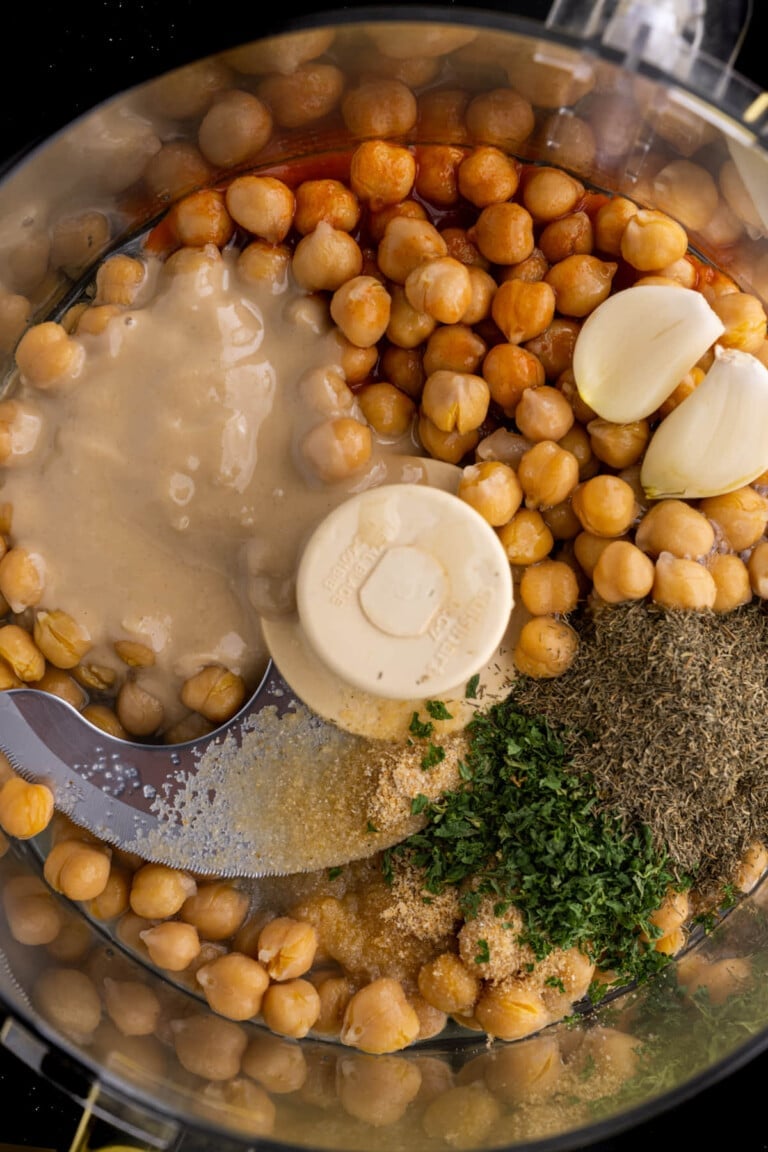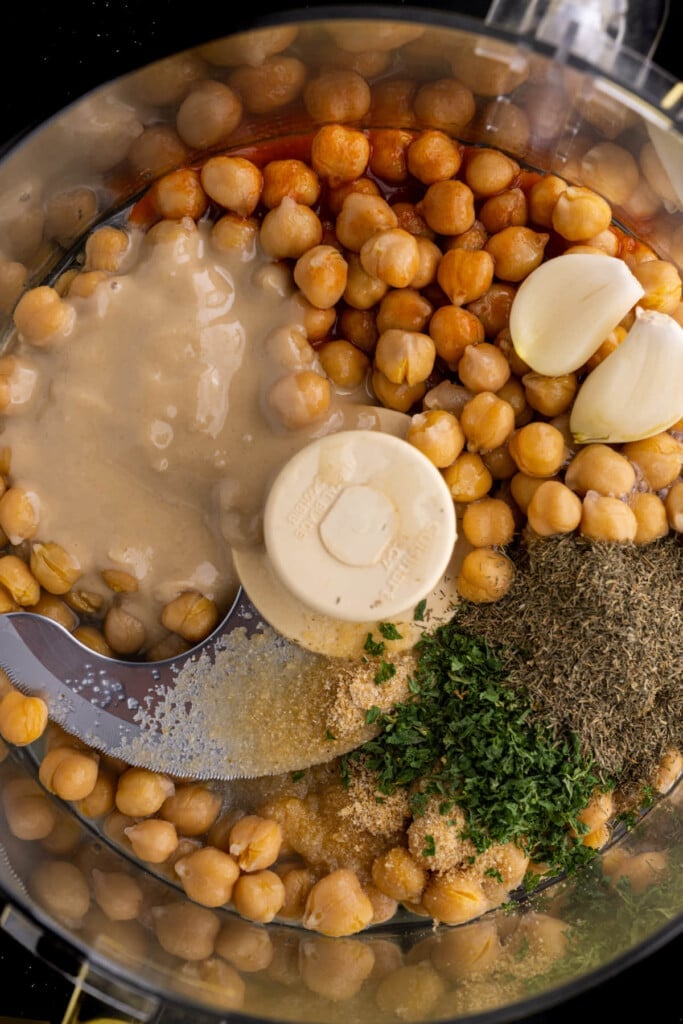 Assess the Consistency of the Hummus
Next, assess the consistency of your hummus. I actually like my hummus thick and a little bit grainy, so I don't always add any aquafaba to mine.
However, for a creamier, smoother hummus, you'll need to add up to 2 tablespoons of aquafaba. It's best to add it while your blender or food processor in on.
With the food processor on, slowly add the aquafaba, checking the consistency as you go. Start with 1 tablespoon and add another if need be.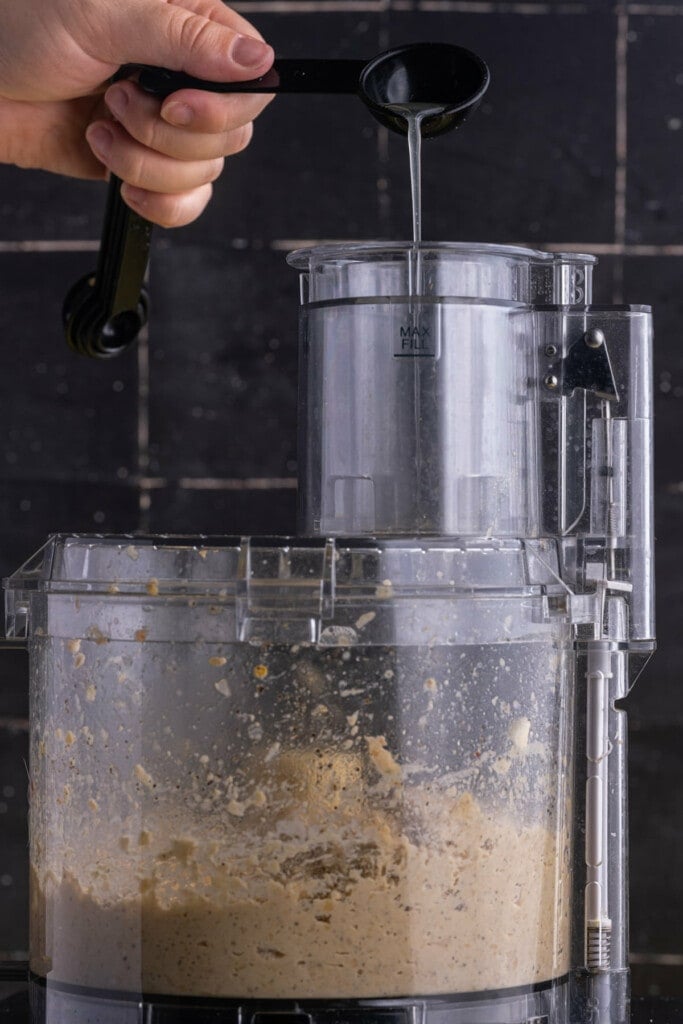 How to Serve Buffalo Ranch Hummus
Hummus is not only one of my favorite dips, but it can also be used as a spread to add protein, flavor, and creamy texture to tons of meals!
Here are some of my favorite ways to serve this Buffalo Ranch Hummus:
As a dip with pita, chips, pretzels, carrots, celery, and/or cucumbers
As a super flavorful base for sauce in this Hummus Pasta
On toast with Caramelized Onions and Mushrooms
As a flavor-boosting spread on your favorite sandwich or wrap
As a flavor-enhancer on a quinoa bowl or salad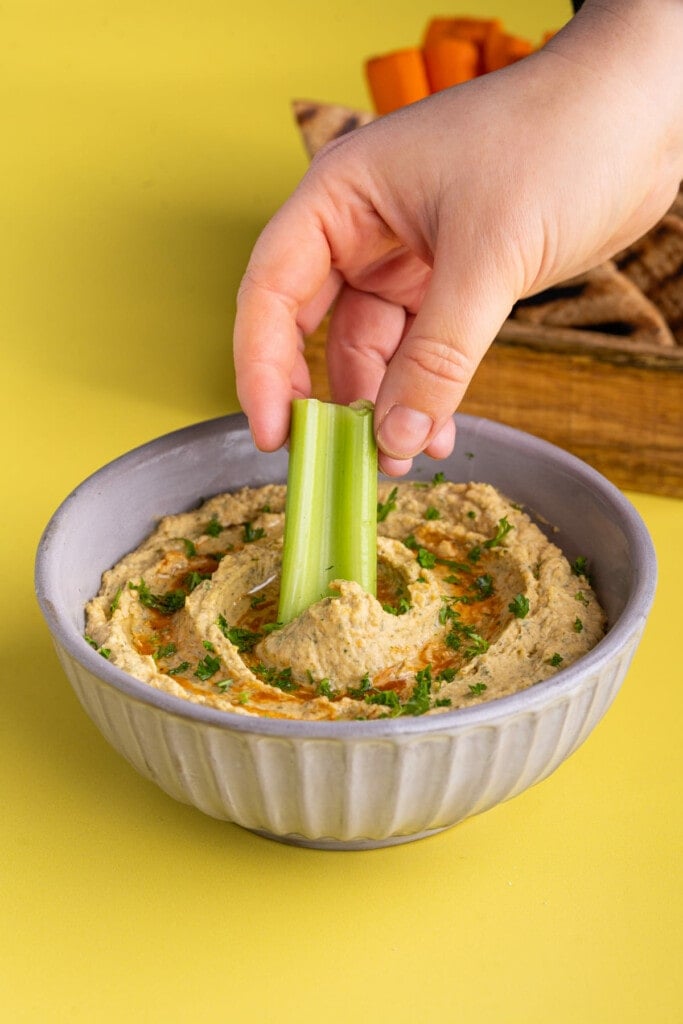 How to Store Leftover Hummus
This Buffalo Ranch Hummus stays fresh in an airtight container in the refrigerator for about 1 week.
To extend the life of your hummus, you can freeze it for up to 6 months. Thaw it in the refrigerator and then eat it within 5-7 days after thawing.
Want to sharpen your kitchen skills?
Why You Should Make this 10-Minute Buffalo Ranch Hummus
---
It's quick. this vegan dip comes together in just 5-10 minutes.
It's easy. Throw it in the food processor and blend! Simple as that.
It's bursting with flavor. Buffalo ranch is a classic combo, and it shines through in this hummus!
If you're loving this Buffalo Ranch Hummus and want more delicious homemade dips, check out this Vegan Spinach Artichoke Dip and this Sweet Potato Hummus.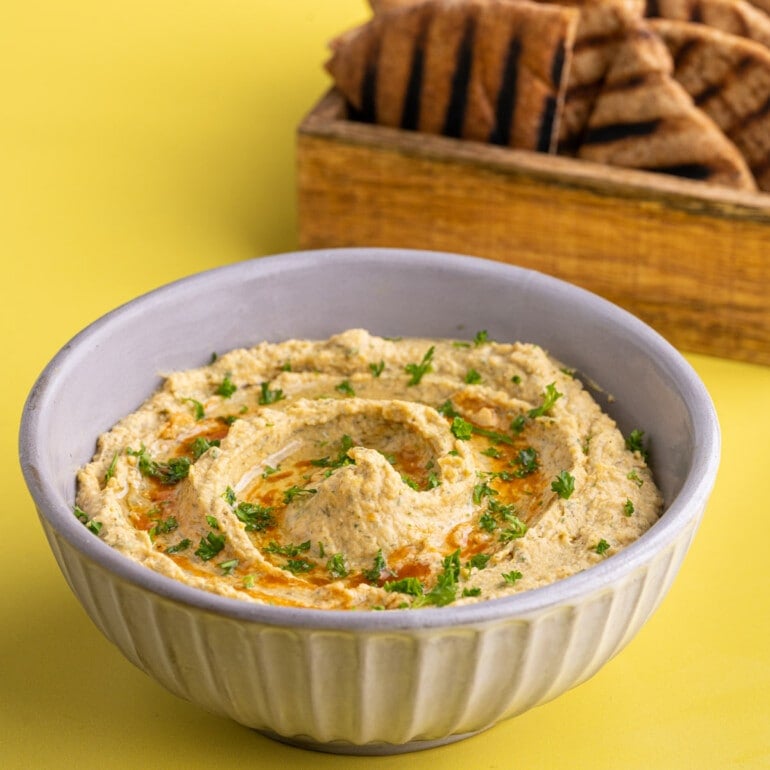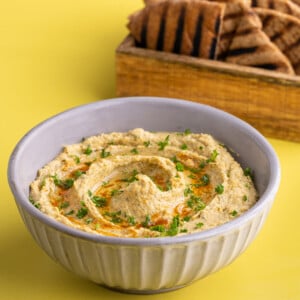 10-Minute Buffalo Ranch Hummus
PRINT
PIN
RATE
This healthy Buffalo Ranch Hummus is quick, easy, and bursting with flavor, making it the most delicious dip or spread.
Ingredients
1 (15.5 oz)

can

chickpeas aka garbanzo beans

(both beans and liquid)

¼

cup

Tahini

3

tablespoons

extra virgin olive oil

2

tablespoons

lemon juice

((1 lemon = approx. 4 tablespoons juice))

2

cloves

garlic, peeled

2

tablepsoons

hot sauce

2

teaspoons

dried parsley

2

teaspoons

dried dill

2

teaspoons

onion powder
Instructions
Over a large bowl, use a sieve to strain your chickpeas, to separate the beans from the liquid (this liquid is called aquafaba, and you may use some later, so make sure to save it!). Peel your garlic and discard the paper-thin outer layer.

Assess the consistency of your hummus. If it's too thick and chunky, add up to 2 tablespoons of aquafaba to loosen it. With the blender or food processor on high, add the aquafaba 1 tablespoon at a time until desired consistency is achieved.

Garnish with olive oil and extra fresh or dried parsley (optional) and serve as a healthy dip, spread, or sauce like in this Hummus Pasta.
Did you make this recipe?
Let me know by leaving a recipe rating below, or by tagging @marleysmenu on Instagram.