Looking for an impressive dish to please a crowd that's easy to whip up? This Burrata Pesto Pasta is vibrant in both taste and color and requires just 5 ingredients and 25 minutes to come together!
Plus, this cheesy vegetarian one-pot pasta dish pairs perfectly with Taittinger Prestige Rosé, a fresh and sophisticated champagne. This combination is one of my go-to's when it comes to elevated entertaining!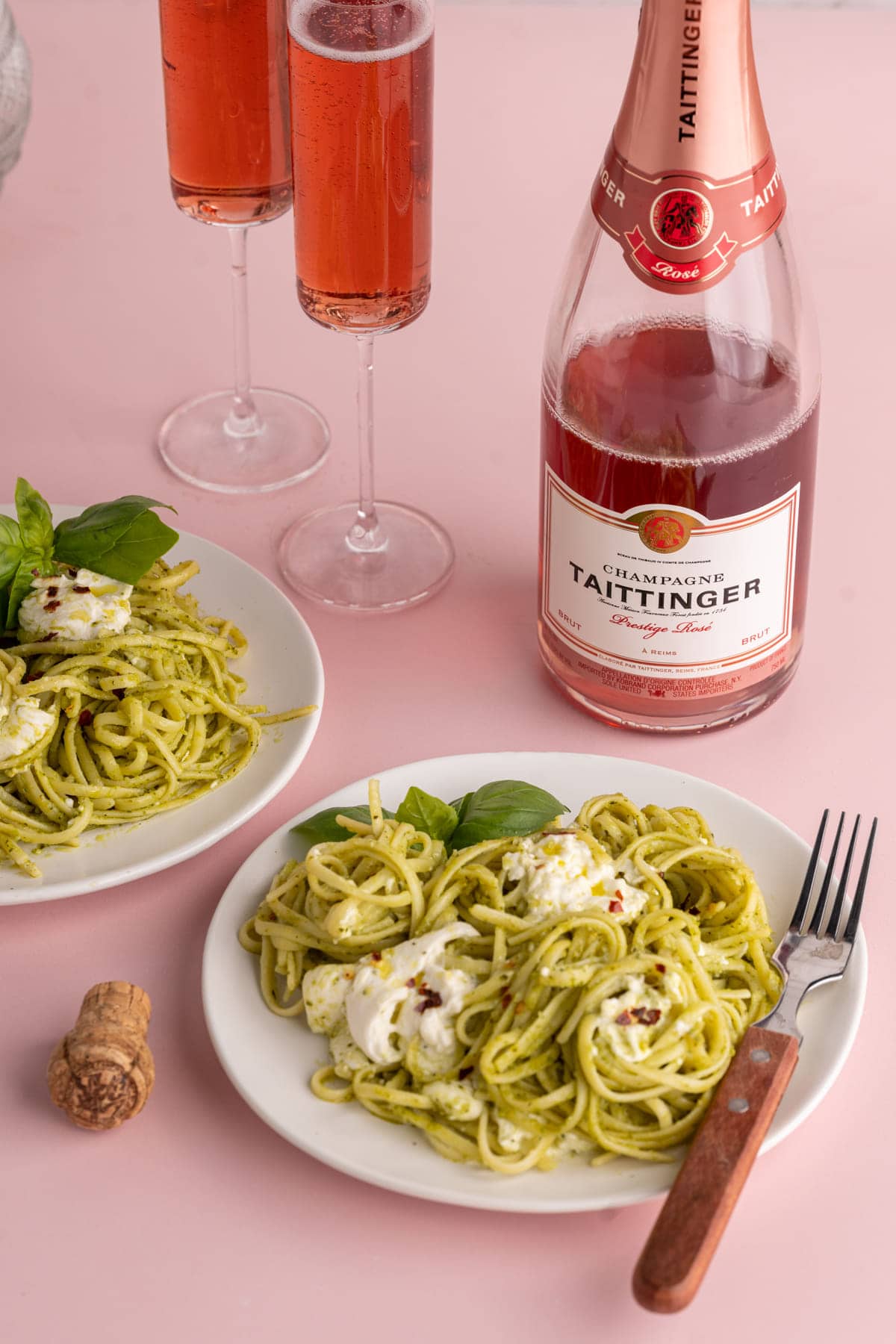 As a busy mom and environmental scientist, One-Pot recipes are my absolute favorite! Less clean-up means saving on both time and water! Win, win.
Green tip: Speaking of cleanup, if you have a dishwasher-use it! Comparing dishwashing to handwashing, using an efficient dishwasher uses 1/6th the amount of water to get your dishes clean!
Burrata Pesto Pasta Ingredients
---
Here's everything you need:
Linguine. Or any other pasta of choice. You will cook the pasta al dente and conserve some of the pasta water to use in the pesto sauce.
Pesto. You can buy it pre-made or make your own homemade pesto.
Burrata. A super-soft white Italian cheese that consists of mozzarella filled with cream.
Olive oil. To drizzle on top and add extra moisture and rich flavor to your pasta.
Crushed red pepper flakes. For a little spice.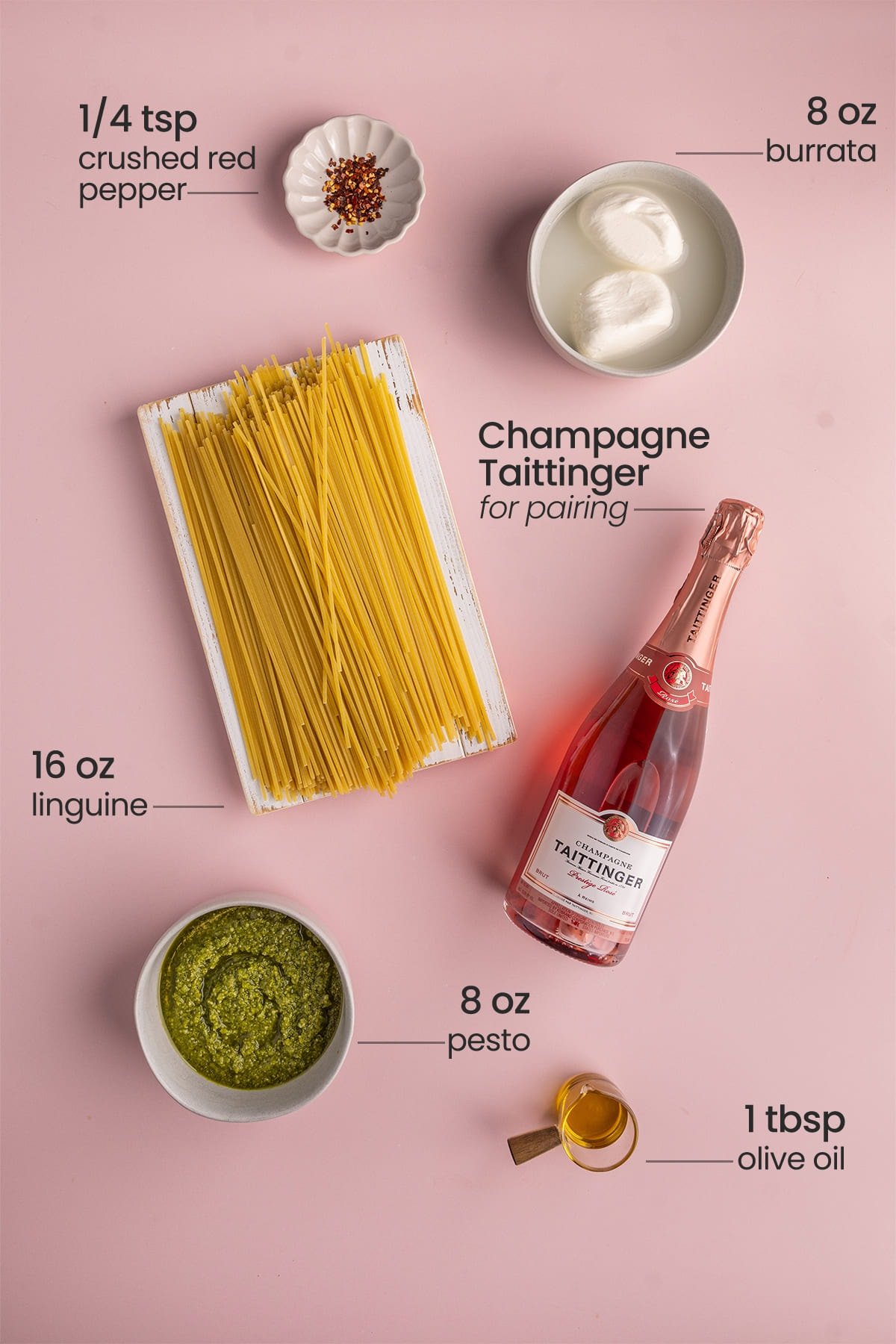 Pesto Burrata Pasta Tips and Tricks
---
Cook Your Pasta Al Dente
Bring ten cups of water to a rolling boil and cook the pasta al dente according to the instructions on the box. Depending on the pasta shape you choose, the cooking time will vary.
Green tip: Pasta is a great meal option carbon footprint-wise! Manufacturing pasta is a relatively less intensive process, using less energy and other natural resources to produce than most other starches. Plus, its long shelf-life means you're less likely to waste it!
This recipe really works with any pasta, whether it is short or long. Pictured here, I used Linguine, but I've also made this with anything from angel hair pasta to penne.
Whatever you have on hand or whichever is your favorite!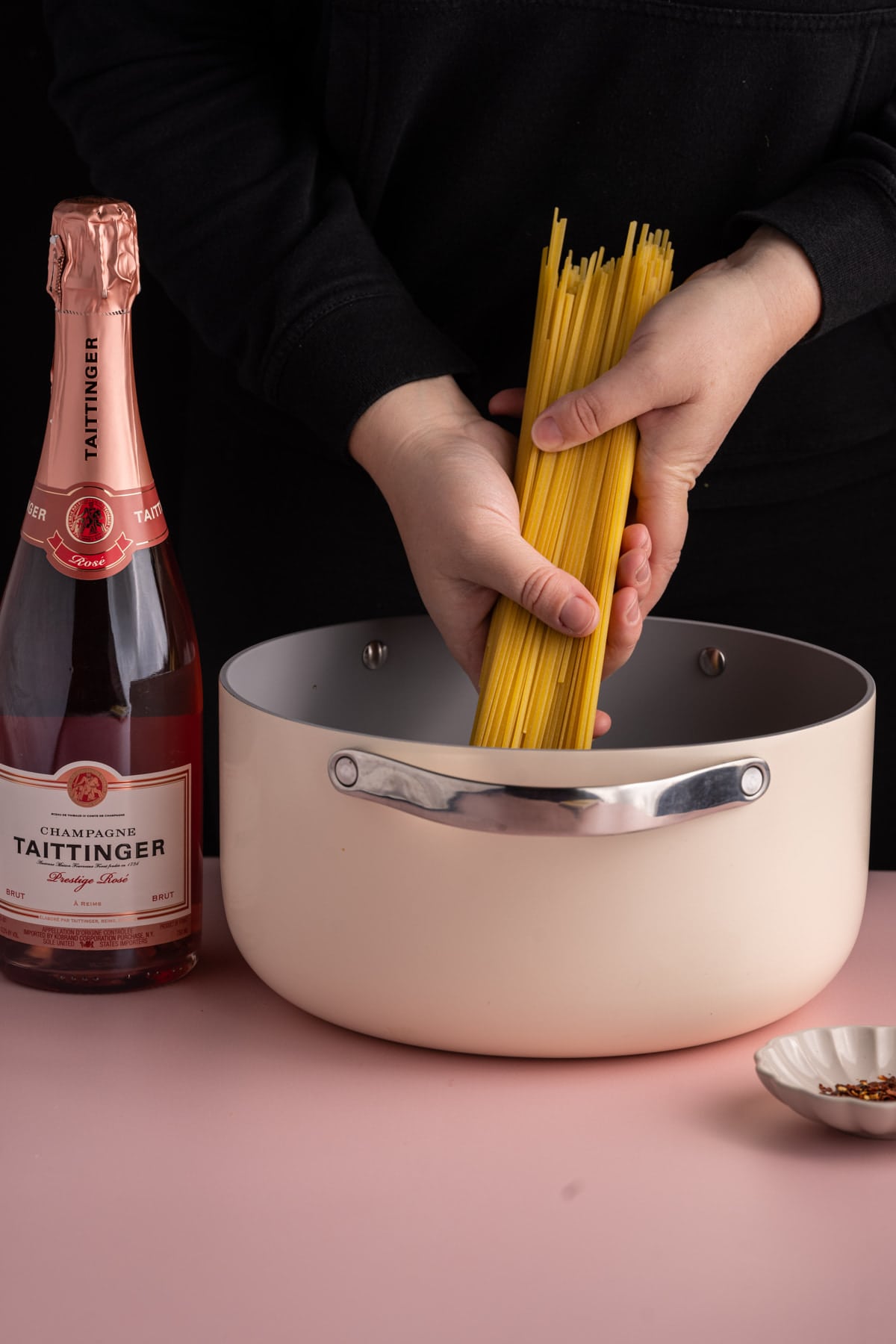 Make Sure to Conserve Some Pasta Water
Before draining your pasta, use a Pyrex measuring cup or any other heat-safe cup with a handle to carefully extract some of the water the pasta cooked in.
You will likely not need any more than 1/4 cup of pasta water, but I like to conserve about 1/2 cup just to be safe.
A small amount of this starchy water will be used to add back to the pesto pasta. It will actually loosen the pesto sauce to help to get the desired consistency.
Green tip: Don't waste your pasta water, use it to water your plants! So long as it's not salty, the starchy water helps fertilize plants and help them grow.
After reserving some pasta water, strain the linguine and add it back to the pot to toss with the pesto.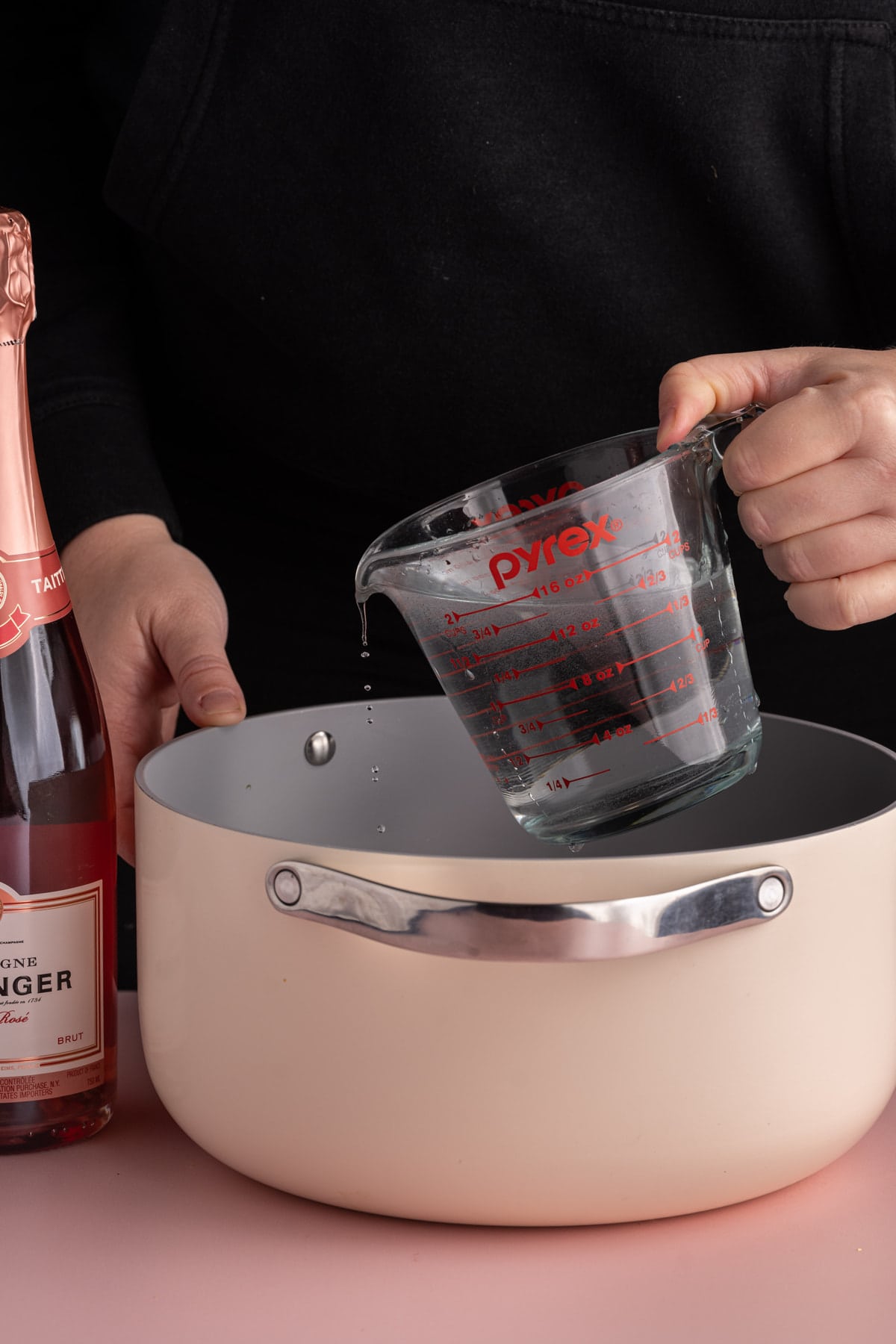 How to Get the Best Consistency for Your Pesto Pasta
Once you strain the linguine, add it back to the warm pot. Add the pesto and toss.
As you toss, slowly add the pasta water, about 1 tablespoon at a time. This will help loosen the pesto and coat the pasta with it more easily.
All in all, you will probably only need to add about 3-4 tablespoons of pasta water to get the right consistency but continue to assess as you toss.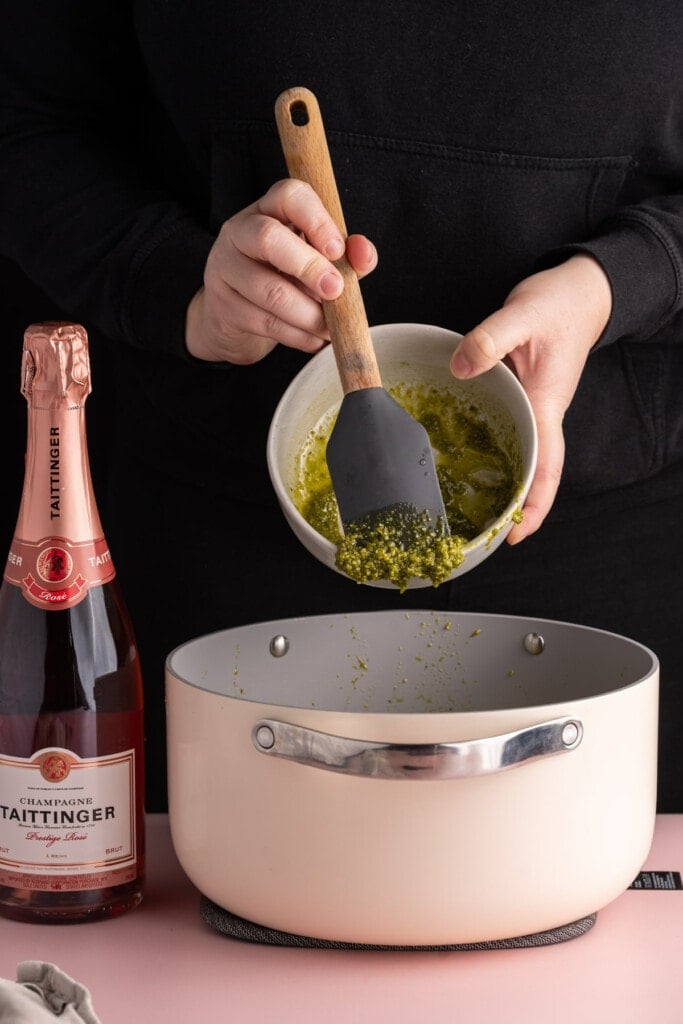 Break Apart the Burrata Before Adding It
Burrata is made up of mozzarella in cream, resulting in a solid outer casing, and soft, creamy center.
The soft creamy center will coat the pasta and add flavor and rich texture to the pesto pasta, but the outer solid part is best broken down into smaller bite-sized pieces.
I like to use clean hands to break apart the burrata cheese letting the inside fall into the pasta, and then adding chunks of the solid outer part sporadically throughout the pasta.
Then, generously drizzle on your olive oil and sprinkle the crushed red pepper flakes on top.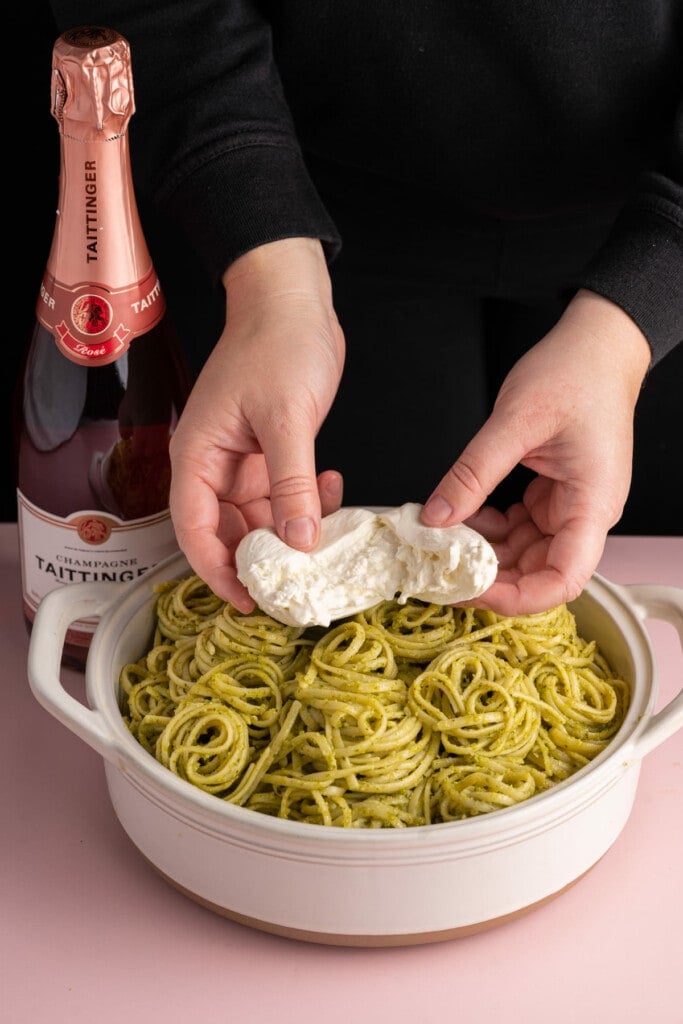 Serving Your Pesto Pasta with Burrata
The bright flavor and rich texture in this pesto pasta pairs perfectly with Taittinger Prestige Rosé. It's vibrant and fruity which plays well with the fresh citrus in the pesto, and the bubbles provide a crispness that elevates the fresh basil and garlic.
Taittinger is one of the few remaining family owned and operated Champagne houses. Distinguished for its extensive vineyard holdings of 752 acres, including prestigious Grand Cru vineyards, Taittinger has the highest quality, sustainable production.
Additionally, Taittinger is critically acclaimed for its consistently outstanding scores and worldwide recognition among connoisseurs.
If you want to add protein to this pasta, it's absolutely delicious with fish, especially this Pesto Butter Salmon!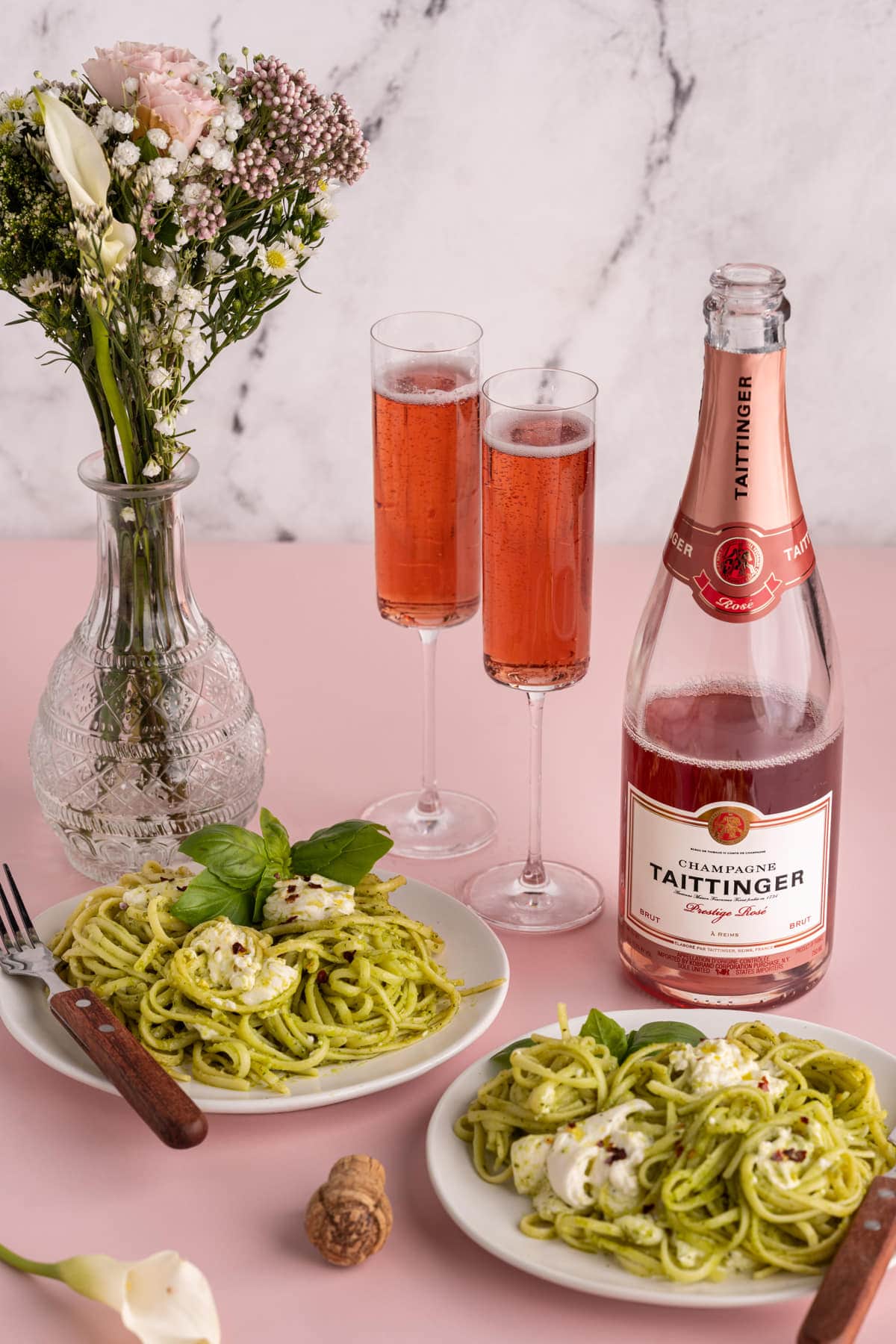 How to Store and Reheat Burrata Pesto Pasta
One of my favorite things about this one-pot pasta dish aside from its awesome taste and ease to make is its versatility. This recipe tastes equally delicious both warm and cold!
This Pesto Pasta with Burrata will last for about 5 days in an airtight container in the refrigerator. Sometimes I like to revamp it by adding a little more pesto and a squeeze of lemon juice before eating the leftovers.
If you do wish to reheat it, the best way to do so is in the oven. Preheat your oven to 350°F and add your leftovers to an oven-safe dish. Cover the dish with aluminum foil and bake for 15-20 minutes until heated through.
Of course, you can also microwave the leftovers in a pinch, but the pasta may get a little bit dry. You can always add more olive oil if need be.
Green tip: Did you know that of the billions of pounds of food wasted annually, it is estimated that 50% of it happens in our homes? It's always best to avoid food waste by properly storing and reheating leftovers!
Burrata Pesto Pasta Frequently Asked Questions
---
Can you melt burrata cheese?
While technically you can melt burrata, I don't recommend it. It looses it's distinct creamy texture in the center and ends up watery. It's best to break it open and serve it on top of your dish.
What cheese pairs best with pesto?
Pesto has a strong flavor and pairs beautifully with creamy, mild cheese like mozzarella and burrata.
Want to sharpen your kitchen skills?
Why You Should Make this 5-Ingredient Burrata Pesto Pasta
---
It pairs beautifully with Rosé Champagne. Who doesn't love the perfect pairing?
It's easy! Just 5 ingredients and one pot required to whip up this winner.
It's brimming with flavor. The pesto brings bold and fresh flavor which is only elevated by the creamy burrata and hit of spice from the crushed red pepper flakes.
If you're loving this Burrata Pesto Pasta and want more pesto dishes, check out this Fig and Goat Cheese Flatbread and this Salmon Pesto Pasta.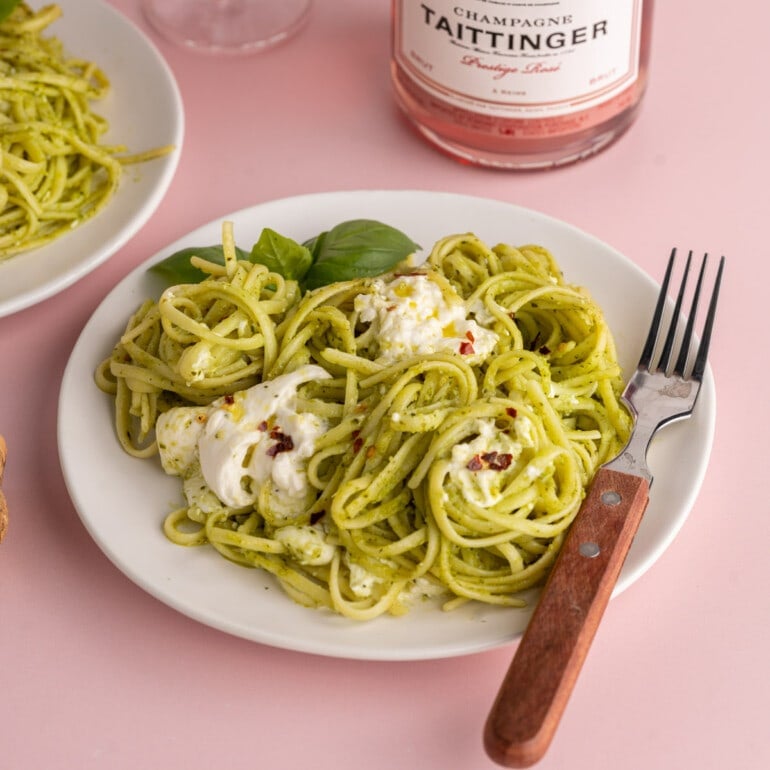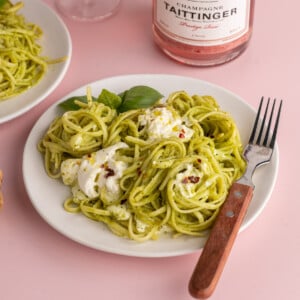 5-Ingredient Burrata Pesto Pasta
PRINT
PIN
RATE
This Burrata Pesto Pasta is filled with flavor and delicious texture and only requires 5 ingredients, one pot, and less than 30 minutes to make.
Ingredients
16

ounces

pasta of choice

(I used linguine)

8

ounces

pesto

(8 ounces pesto = approx. 1 cup)

8

ounces

burrata

¼

teaspoon

crushed red pepper

1

tablespoon

olive oil

(optional to drizzle on top)
Instructions
Cook the pasta al dente according to the directions on the box. Before straining, make sure to conserve at least 1/2 cup of the pasta water.

Add the pasta back to the pot with the pesto and toss to coat. If the pasta seems too stodgy, slowly add the pasta water, about 1 tablespoon at a time, to loosen it. Stop adding water when your desired consistency is achieved.

Use clean hands or a fork and knife to break open the burrata, exposing the soft center. Break it into bite-sized pieces and toss into the pasta. Drizzle with olive oil and sprinkle with crushed red pepper flakes. Serve hot and enjoy!
Did you make this recipe?
Let me know by leaving a recipe rating below, or by tagging @marleysmenu on Instagram.
This is a sponsored post by Taittinger Prestige Rosé.