Looking for the nostalgic taste of butterscotch in a creamy, sippable delicacy? This Butterscotch Milkshake is a trip down memory lane with a creamy vanilla base and a butterscotch sauce that tastes like Grandma's candy jar.
This butterscotch milkshake recipe will teach you how to make your own butterscotch sauce, but you can also choose to skip the hassle and buy some from the store and make this a three-ingredient wonder!
Either way, this homemade milkshake will bring you back in time to that nostalgic 50's diner-style taste that warms the soul while simultaneously cooling you down.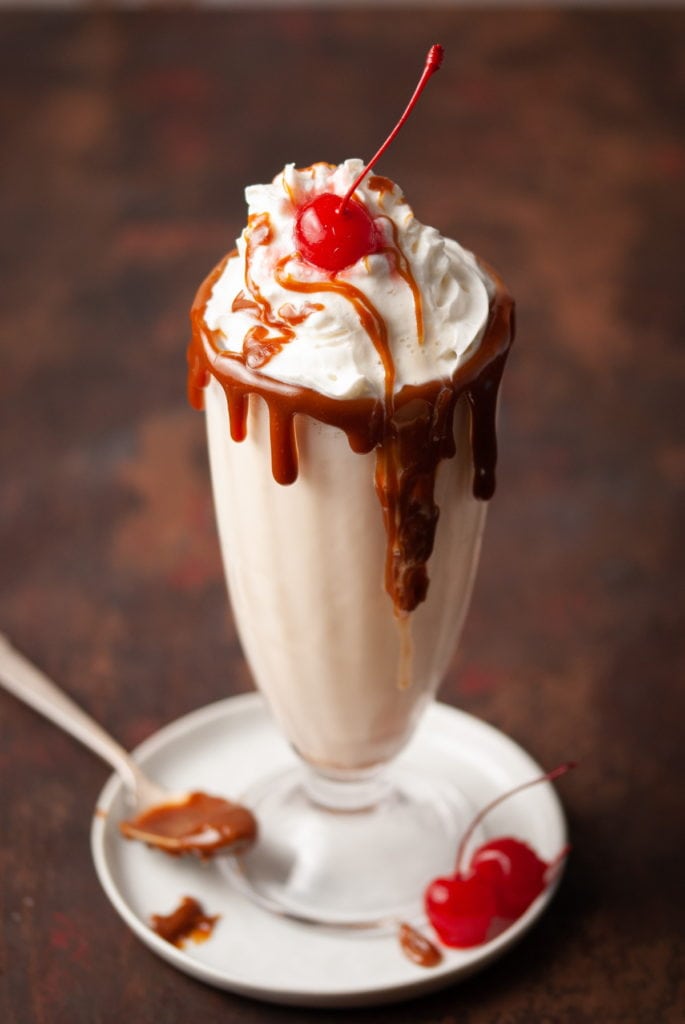 Butterscotch Milkshake Tips and Tricks
---
---
Make Your Butterscotch First
With just 4 ingredients, butterscotch is surprisingly easy to make. Think caramel, but with brown sugar instead of white granulated sugar.
Here's everything you'll need:
Keep your heat source on medium-low throughout the process to avoid burning the sauce. Start by heating the sugar on its own until it liquifies.
When you heat the sugar it will get a little clumpy at first. Not to worry, about a minute or two after it clumps up, it will be liquefied and perfectly smooth.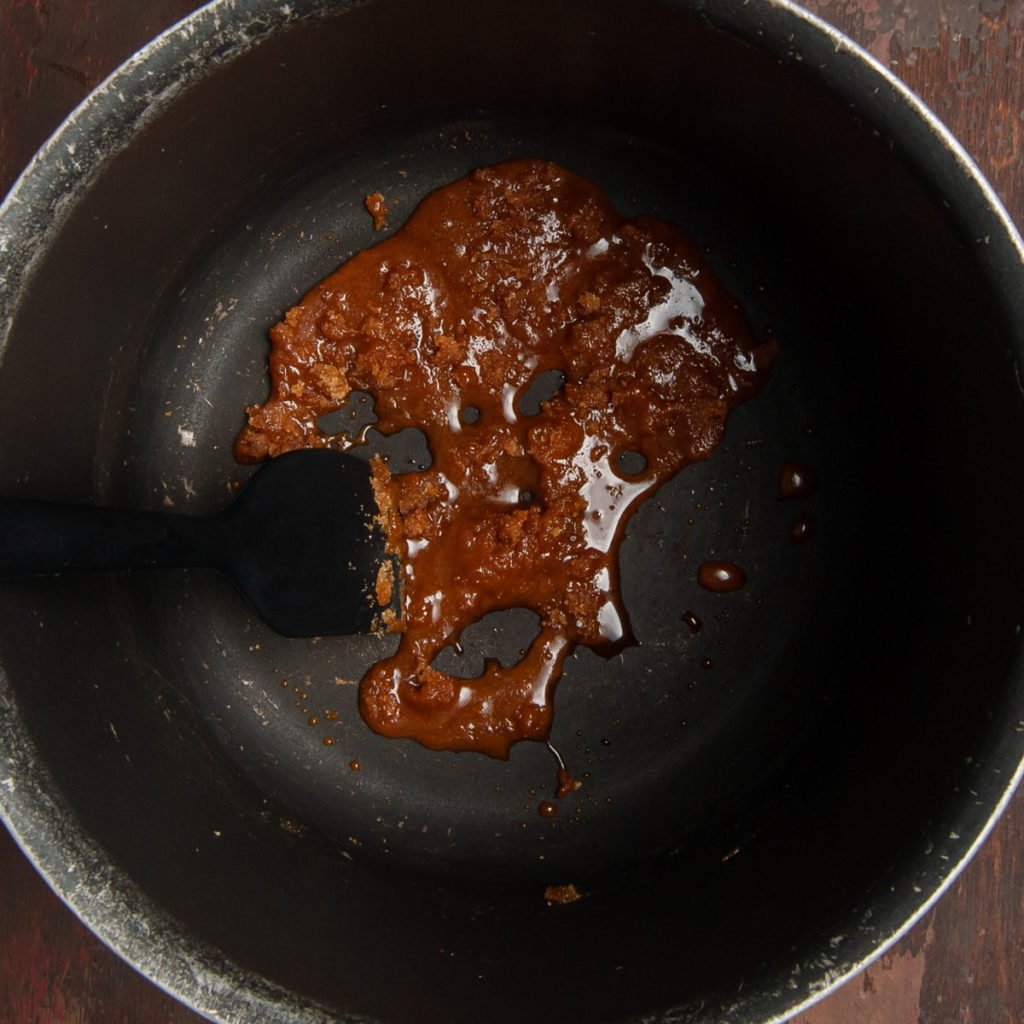 Next, you can add the butter. When you add the butter, your liquefied sugar will bubble and sizzle. Once it settles, you can start to add your cream.
Making sure your cream is at room temperature is key! The cream should be added slowly, whisking all the while to combine it with the butter and sugar.
After adding the cream, turn the heat source off, but keep the saucepan where it is, allowing the butterscotch to bubble for about a minute. Then, remove the sauce from heat before adding salt.
The yield for this butterscotch sauce recipe is just enough for your milkshake, so if you want extra to save for later or to drizzle on top, just double all of the ingredients to yield 1/2 cup of sauce.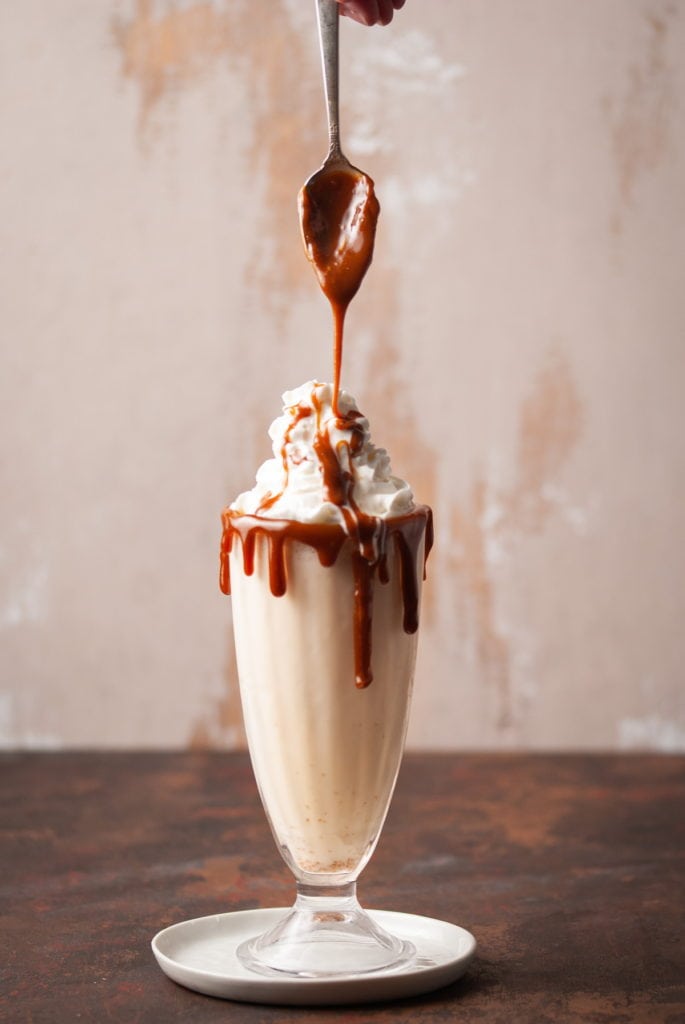 You'll Need A Blender or Food Processor
In addition to your two ingredients, you'll also need either a blender or a food processor, preferably a blender! I use this Ninja Blender for this milkshake and a lot of my sauces and vinaigrettes. It works like a charm!
Aside from your blender or food processor, you'll need your homemade (or store-bought!) butterscotch and two other key ingredients.
Here's everything you need:
The Blender Must Be On While Adding the Butterscotch
The only way to successfully integrate your butterscotch into your ice-cold creamy milkshake is to add the butterscotch while you are blending.
Add your ice cream and milk to the blender, turn it on high, and then add your butterscotch while you are blending. If you add all three together and then turn the blender on, the butterscotch is likely to stick to the inner side of the blender and not combine with your milk and ice cream.
Quick note: most modern blenders are designed with a little spout on the lid so you can add things to the blender while it's on, without things splattering all over the kitchen! Don't try to blend your milkshake with the top off—it will cause a huge mess!
If you do not have a spout on the lid of your blender, blend milk and ice cream first, then keep adding butterscotch a little at a time, blending in between until all ingredients are combined.
Getting the Right Consistency
I've found that 1/3 cup milk in this shake gets me a fantastic consistency. Just thick and creamy enough, but not too much to stop me from slurping it up through a straw.
Green tip: Consider investing in reusable straws! They are easy to clean and will reduce your contribution to plastic waste that eventually ends up in landfills or makes its way into the environment and becomes microplastics. These stainless steel straws are my favorite!
That being said, if you find that your milkshake is a little too thick, you can add an extra tablespoon or two of milk to your blender. Add them one at a time, blending in between, and checking your consistency as you go.
Remember, it's much easier to loosen it when it's too thick than to make it thicker. If your ice cream is a little melted, start with 1/4 cup of liquid instead of 1/3 cup. Then check your milkshake and add more liquid as needed.
Have Fun With It!
Add some garnish to give your milkshake some texture and a fun, classic diner milkshake feel!
Some options for garnish include sprinkles, nuts, whipped cream, extra butterscotch, and a cherry on top. But don't let me stifle your creativity—add all your fixin's!
Why You Should Make This Butterscotch Milkshake
---
---
It's nostalgic. The taste of butterscotch brings me back to having Werther's Original at my grandma's house as a kid.
It's creamy. The perfect thick, but sippable consistency.
It's scratch-made. Down to the sauce!
If you're loving this Butterscotch Milkshake and want more sippable delicacies, check out this Peanut Butter Milkshake and Coffee Milkshake.