Am I crazy or are the cookie "cakes" you buy just giant cookies disguised as cake by being covered in festive frosting?
I've dubbed this the Cakey Chocolate Chip Cookie Cake because it's NOT just a giant cookie. Think of it as a chocolate chip cookie-flavored cake.
A cross between a cookie, a cake, and a blondie—it doesn't get better than this!
I've always been frustrated by the term "cookie cake" because 9 times out of 10 when you get one it's just an enormous cookie with frosting on it and there's really no cake element to the actual base.
This is so much more than that.
But don't worry, you can still eat the "Cakey" with your hands 😉.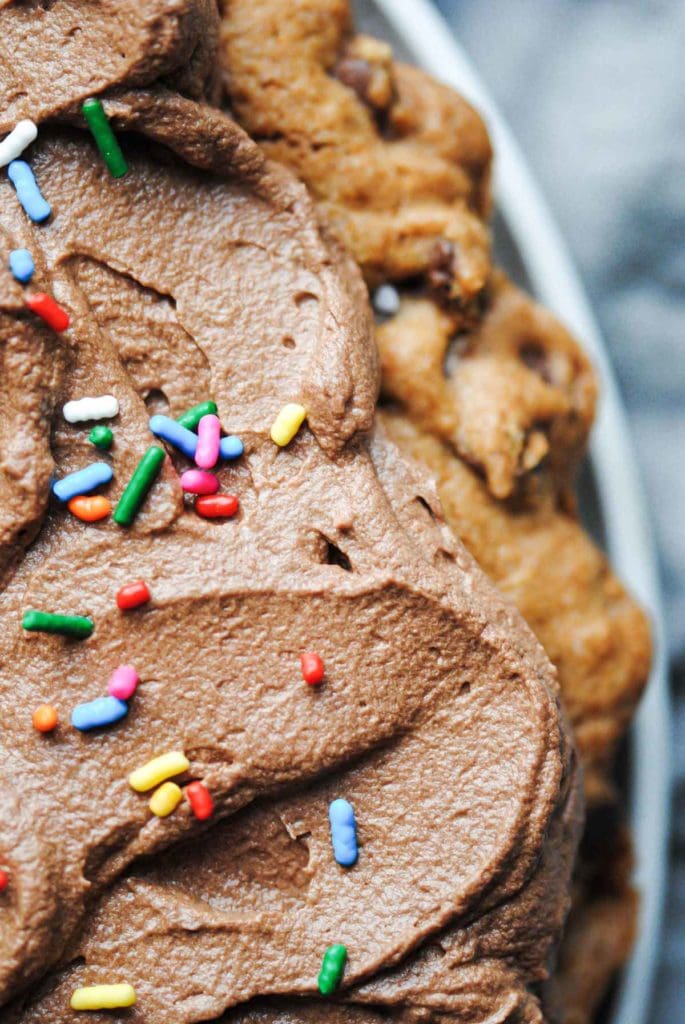 Cakey Chocolate Chip Cookie Cake Tips and Tricks
---
---
Softened Butter is Key
Butter is the hero in this cake—you may have guessed, since there is a whole stick and a half of it, after all! But it can only work its magic if it's softened.
Take it out of the refrigerator about 30 minutes before you start baking. You'll know it's perfectly softened if you poke it with your finger and it leaves an impression.
Of course, sometimes you want to make this on a whim on account of your chocolate cravings, and waiting an extra 30 minutes for your butter to soften sounds like a drag. Have no fear!
In a microwave safe bowl, heat your butter in 20-second intervals, doing the poke test in between. Remember, we want softened, not melted.
Green tip: Look for organic and palm oil-free butter if you can. Buying organic means you are supporting farms that do not use damaging pesticides and fertilizers, and palm oil production is a huge driver behind deforestation.
Grease It Up
Don't forget to grease your baking dish, so you can remove it easily! I use coconut oil spray, but more butter or any nonstick spray works.
Speaking of your baking dish, you have options for this! You want something with edges because the dough will spread while it's baking, making a baking sheet not an option.
I use an 11″ quiche dish but a pie or tart dish or cake pan will do as well. You could also make a square one in a 9 x 9 inch square dish.
The Toothpick Test
Everyone's oven is a little bit different, and you may want to use a different sized baking dish, so it's important we establish how to test if your cookie cake is done.
The best way is by doing the toothpick test! When you think your Cakey Cookie Cake is ready, take it out of the oven and stick a toothpick right in the center. If it comes out clean, your Cookie Cake is ready!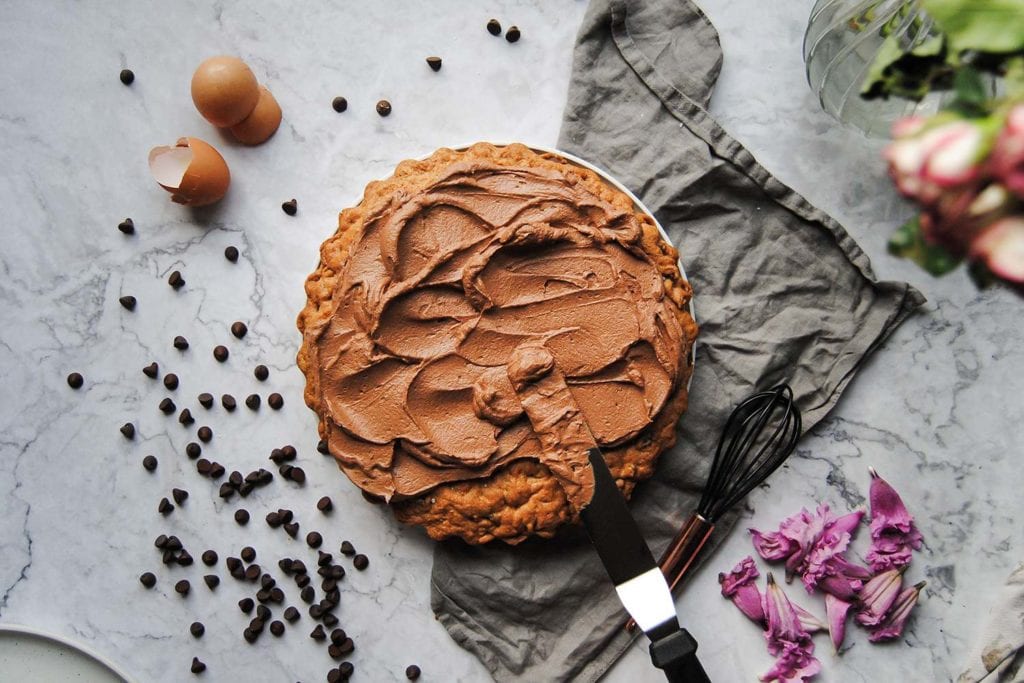 Getting Ganache Right
This Cookie Cake is darn delicious on it's own, but adding pillows of airy ganache takes it to the next level. Ganache is my go-to because of it's gorgeous texture and it's relative ease. It's two simple ingredients that pack a mean punch!
You'll heat your cream first. If you don't have a double boiler, simply boil a large pot of water and a place a large, heat-safe bowl or second, small pot on top of the water. Put your heavy cream in the top bowl or pot, so that is not getting direct heat from the burner. This just ensures you won't curdle it.
As soon as your cream starts to simmer, remove it from the heat and add your chocolate chips. Use a hand mixer to whip until the chocolate chips are completely melted and integrated into your cream. Stick your ganache mixture for about 30 minutes.
Once you ganache has cooled completely, you'll be able to whip it with a hand or stand mixer and watch it thicken. Keep whipping until you get a thick, airy ganache.
Green tip: Make sure your chocolate is sustainably sourced. Look for Fair Trade, Rainforest Alliance, or UTZ certifications as opposed to self-proclaimed sustainability labels that sometimes falsely advertise "sustainably sourced".
Play It Cool
I know it's tempting to frost and eat it right out of the oven, but your Cakey Chocolate Chip Cookie Cake needs to cool before you add the clouds of ganache. As thin as your patience is getting as the smell of this dangerously delicious Cookie Cake is wafting through your house, I promise you'll be glad you avoided the melty mess.
It'll cool quicker on a cooling rack, and if your chocolate craving is dire, stick it in the fridge to cool even quicker (you don't need permission to take a couple of shortcuts, this is judgement-free zone!).
Why You Should Make this Cakey Chocolate Chip Cookie Cake:
---
---
It's perfect for a celebration! Birthdays, graduations, retirement parties, average Friday nights. You know, all the best times to celebrate with cake.
No utensils needed. Sturdy enough to pick up with two hands and bite into like a big ole' sandwich…. oops I mean, you can easily eat a slice without a fork and knife.
It doesn't make you choose between a cookie and a cake. When in doubt. merge them!
The base only uses one bowl. Less clean up. You're welcome!
Are you a chocolate fiend? Try this Boozy Chocolate Mousse or these Fudgy Chocolate Brownies.