There is nothing that makes my kitchen smell more delicious than these Candied Cinnamon Sugar Walnuts. They are crunchy, sweet, aromatic, and EXTREMELY addictive. You can't say I didn't warn you!
You will not believe how simple they are to make. With just 5 ingredients and 35 minutes, you'll be snacking on these babies with satisfaction and seemingly no self-control. They are the definition of more-ish.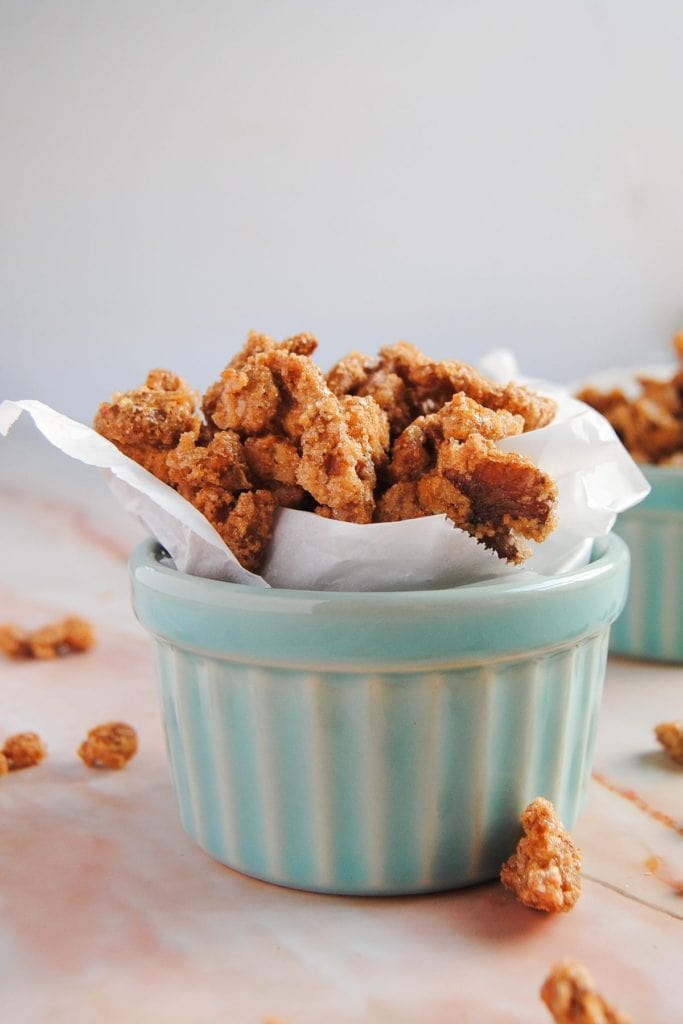 Cinnamon Sugar Walnuts Tips and Tricks
---
---
Line Your Baking Sheet
Once your delightful sugar and cinnamon mixture start baking and melting down into your finger-lickin' coating, it gets pretty sticky. It's important to line your baking sheet so you can easily remove your ooey-gooey goodness and allow it to get that perfect crunch. Parchment paper or a reusable baking mat is best!
Green tip: I recommend lining your baking sheet with a reusable baking mat for easy cleanup. They're perfectly nonstick and better for the environment!
Toss 'Em Half Way Through
In addition to lining your baking sheet to avoid them sticking, it's best to move them around a little. Tossing them half way through will help them to not get stuck, but it will also help them to bake more evenly, giving you a nice crunchy coating on both sides.
Make sure to remove them from the oven and shut the oven door while your tossing them. Leaving them inside the oven and reaching in to toss is dangerous, but it also let's out a lot of heat.
It's best to take them out, shut the oven door, toss them, and then put them back in the oven to finish baking.
Play Fair
The goal is for each walnut to be equally delicious, so make sure they are coated evenly. It's best to get them covered in the egg white first. Mix your sugar and cinnamon together in a separate bowl to create your delectable candied coating and then pour and toss with the egg-glazed walnuts.
You also want to make sure each walnut cooks evenly. Do your best to spread them out evenly on a baking sheet, ensuring they aren't on top of each other.
How to Serve 'Em
These are out-of-control good on their own. I love to snack on them. But they're also a game-changer in salads. Pair it with this Raspberry Vinaigrette for the ultimate flavor combination of fresh, zesty, tangy, and sweet!
Green Tip: Food waste is a huge detriment to our planet. Instead of throwing out your egg yolk, use it for these Rosemary Lemon Shortbread Cookies or this Hollandaise.
Candied Walnuts Frequently Asked Questions
---
---
Can I use a different type of nut?
Absolutely! I've used this simple cinnamon sugar coating technique for pecans, almonds, and cashews and they are all equally addictive!
How long do candied nuts last?
They'll stay fresh and delicious for up to two weeks in an airtight container.
Can I double the recipe for more cinnamon sugar nuts?
Easily! I've even done a triple batch of these! Just make sure you are not stacking them on your baking sheet–use more than one if necessary.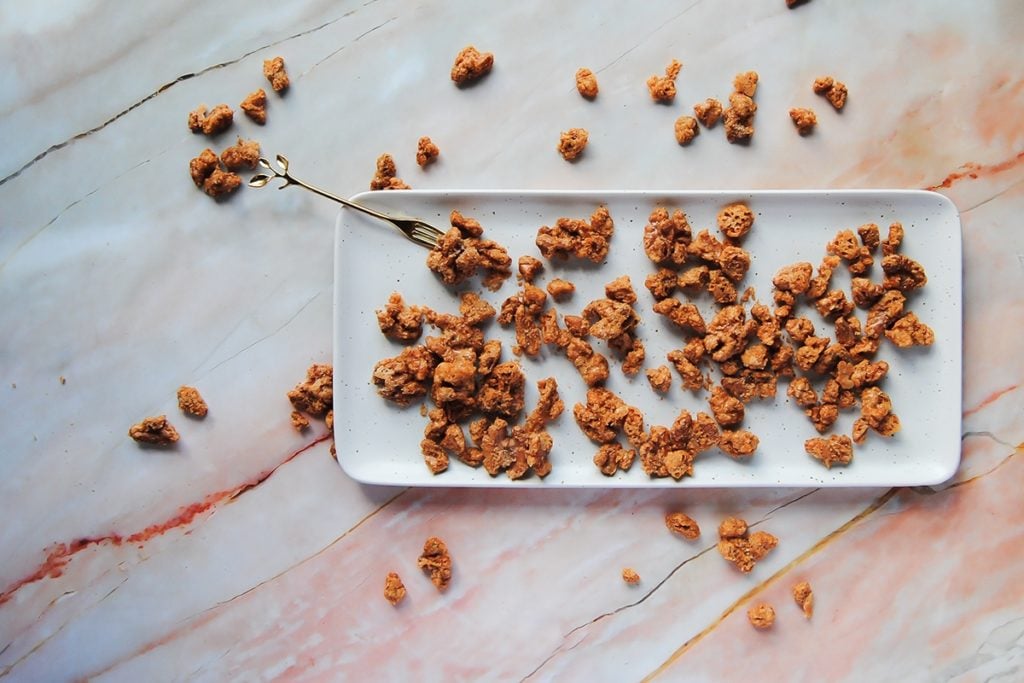 Why You Should Make these Candied Cinnamon Sugar Walnuts
---
---
They're the perfect snack. Pop 'em in your mouth for the perfect cinnamon sugar treat.
The SMELL. It will waft from your oven, through your kitchen, and all throughout your house. Don't be surprised if your family comes running, wondering what is producing that fragrant perfection!
They'll last a couple of weeks. That is if you don't eat them all.
They make a great gift! Nothing says "I love you" like a homemade treat.
If you ate these Candied Cinnamon Sugar Walnuts in under 5 minutes like I always do, and need more delicious snacks, check out these Coconut Covered Energy Balls or these Peanut Butter Biscuits.
Candied Cinnamon Sugar Walnuts
PRINT
PIN
RATE
These Candied Cinnamon Sugar Walnuts are the perfect pop-in-your-mouth snack to get your sweet fix in just 35 minutes.
Ingredients
1

cup

walnuts. shelled

1

large

egg white

(1 large egg white usually = 4 tbsp)

2

tablespoons

brown sugar, lightly packed

2

tablespoons

granulated sugar

¼

teaspoon

cinnamon
Instructions
Preheat your oven to 250°F and prep a large cookie sheet by lining it with parchment paper or a reusable baking mat.

Add your walnuts to a large mixing bowl. Separate your egg yolk from your egg white and set egg yolk aside (see notes below for uses for the egg yoke). Add egg white to walnuts and mix until walnuts are coated.

Whisk together both sugars and cinnamon in a medium-sized bowl.

Pour sugar and cinnamon mixture over walnuts and stir until nuts are evenly coated.

Spread your nuts out evenly onto your cookie sheet, making sure not to stack them on top of one another. Bake for 15 minutes, remove and toss, and then back for another 15 minutes.

Remove from the oven and let cool completely before enjoying them at room temperature.
Pro Tips
Make sure to toss the walnuts halfway through to ensure they bake evenly.
Your walnuts will not be crispy and crunchy until they cool. Let them cool completely before enjoying.
Don't waste the egg yolk! It can be used in the Hollandaise sauce on these Eggs Benedict, or in these Margarita Cookies, Candy Cookies or Rosemary Shortbread.
Did you make this recipe?
Let me know by leaving a recipe rating below, or by tagging @marleysmenu on Instagram.
The Inspiration Behind These Cinnamon Sugar Walnuts
The first place that my husband and I lived together was a high rise in downtown Orlando, just steps away from a cute little farmer's market. It quickly became a Sunday tradition to bring the dog (we only had one at the time!) to take in all the sights and smells of the farmer's market.
And even with all the vendors and endless options, the entire park was always overtaken by the sweet smell of cinnamon sugar from the candied nut stand. To this day it's one of my favorite treats. It brings me back to that sunny farmer's market every time I bake these in my oven.
I hope the fragrant smell of sweet cinnamon and sugar in your house creates a new aroma-inducing memory for you and your family, too.
Cheers!