Looking for more clever ways to incorporate your favorite festive peppermint treat into your life? These Candy Cane Shortbread Cookies have a buttery, melt-in-your-mouth base to showcase crunchy bits of peppermint bliss.
This recipe takes my go-to shortbread recipe and gives it a Christmas-time spin by incorporating the treat that is synonymous with Holiday cheer: the candy cane!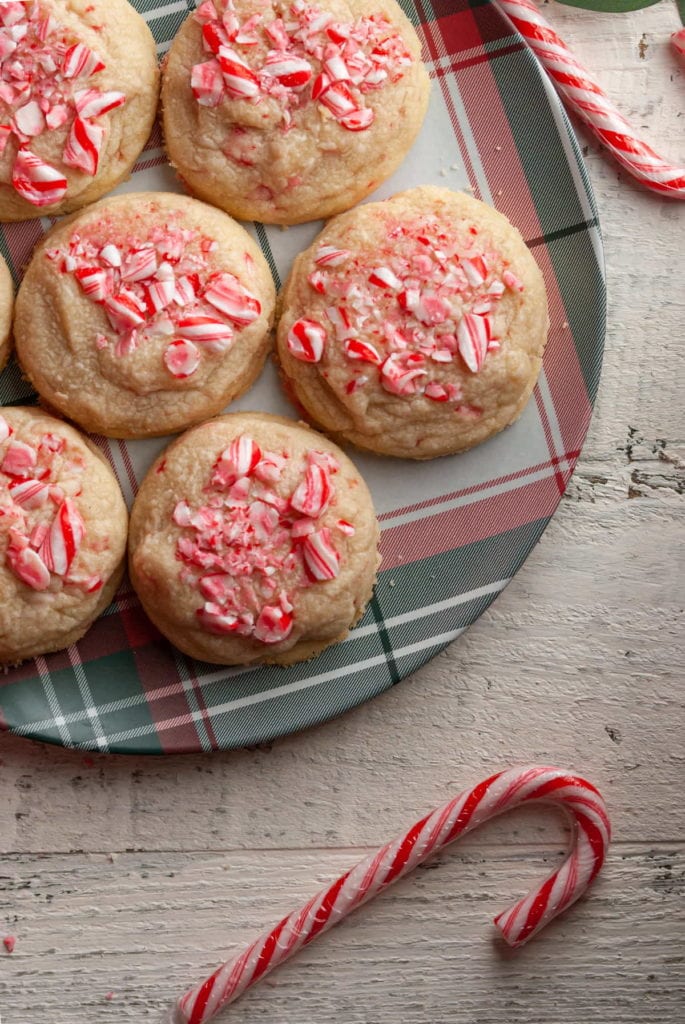 Candy Cane Shortbread Cookies Tips and Tricks
---
---
You'll Need A Hand Mixer
A hand mixer is the best tool to cream the sugar and butter together for the base of your cookies. It's also the easiest way to combine the rest of the ingredients and whip up your glaze.
I use this Cuisinart Hand Mixer for almost all of my baking and love it!
Aside from your hand mixer, here's everything else you'll need:
The Secret is In the Softening
The butter you use should be unsalted, so you can control the amount of salt you are adding to your cookies. You will also want to make sure your butter is nice and soft.
If you take the butter out of the fridge 15-20 minutes before you get started, that should be plenty of time for it to soften. If you forget to take it out—don't worry! Just microwave it in 15-second intervals until you get the right consistency.
Remember, we are striving for softened, not melted. You'll know your butter is softened when your finger leaves an imprint when you poke it.
Green tip: Look for organic and palm oil-free butter if you can. Buying organic means you are supporting farms that do not use damaging pesticides and fertilizers, and palm oil production is a huge driver behind deforestation.
Cream Your Butter and Sugar Together First
Use your hand mixer to combine your sugar and softened butter together first to form a base for your cookie dough.
This makes for a lighter, more buttery, melt-in-your-mouth cookie dough.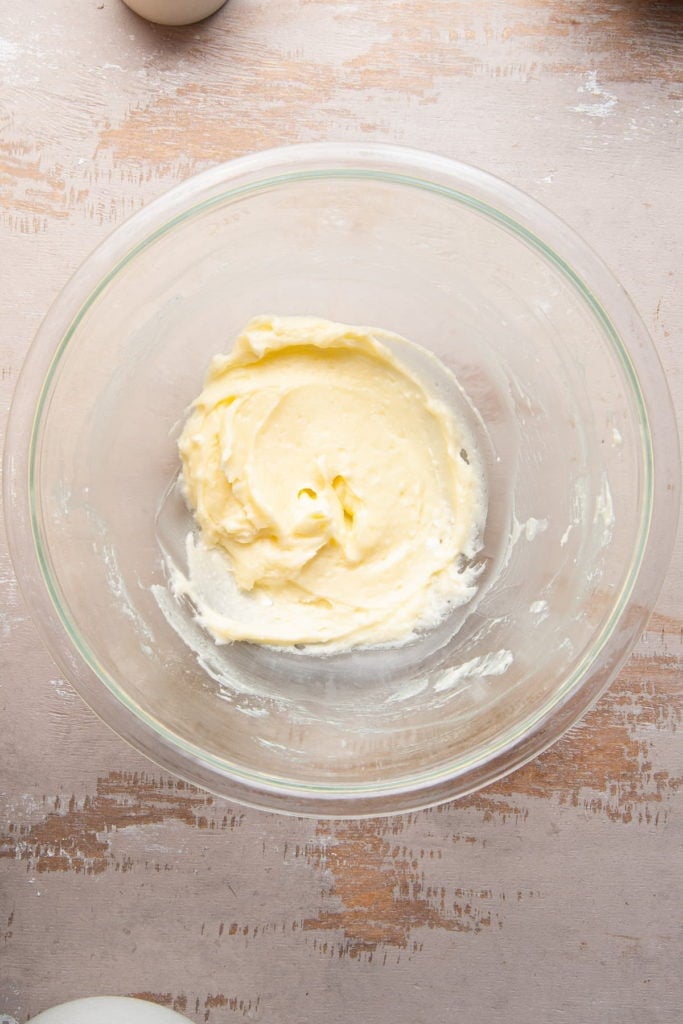 Use Powdered Sugar
Powdered sugar, or confectioners sugar, is aerated. It's already so light and fluffy and is the perfect hack to achieve a melt-in-your-mouth shortbread cookie every time.
While you can substitute granulated sugar 1:1 for the cookies in this recipe, I highly recommend using powdered for a flawless consistency.
If you don't have any on hand, you can easily turn your granulated sugar into powdered sugar by following this recipe.
Use Just The Yolk
Utilizing just the yolk of an egg gives us that super buttery texture. Using both the white and the yolk will give your candy cane shortbread cookies a more crumbly texture (I promised you melt-in-your-mouth, didn't I?).
But don't waste the egg white! Whip up an egg-white omelet or use it to make these Candied Nuts.
Green tip: Did you know that of the billions of pounds of food wasted annually, it is estimated that 50% of it happens in our homes? It's always best to avoid food waste as much as you can!
Separating the egg white from the yolk is easily achieved by cracking your eggshell in half over a bowl and transferring the egg yolk back and forth between either half of the shell, allowing the egg white to fall into the bowl.
You are now left with the egg whites in the bowl and the egg yolks in the shell. And voila! Just like that, your eggs are separated.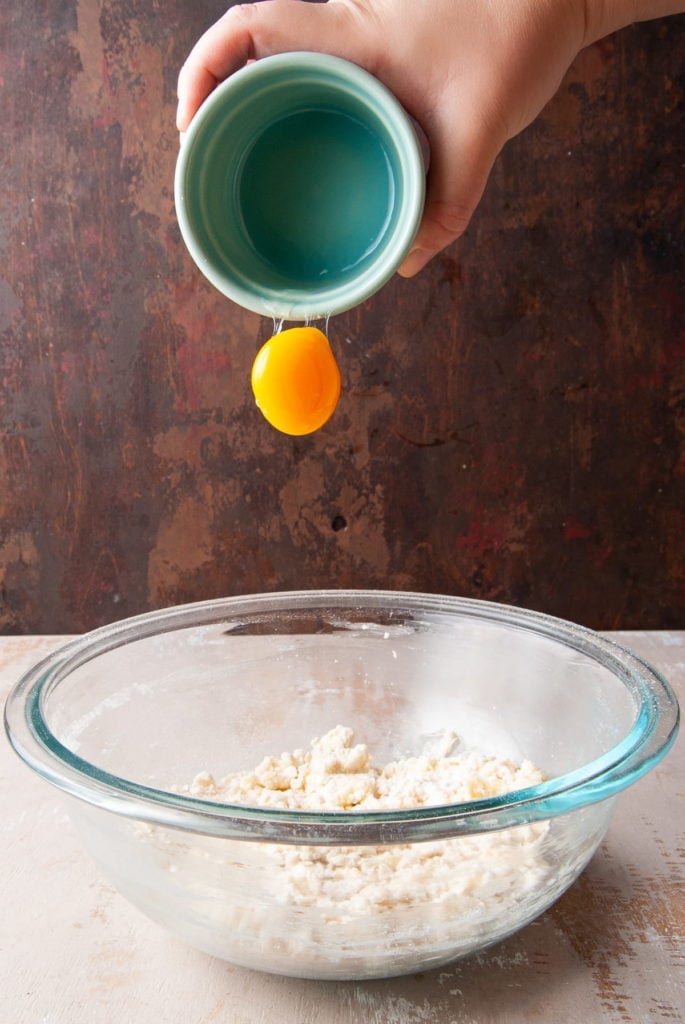 Crush Those Candy Canes
This is for mixing right into your dough! You'll crush 2-3 candy canes or 5-6 mini candy canes to yield 4 tablespoons of crushed candy cane.
I used a mortar and pestle, but you can also opt to put your candy cane in a storage bag and use a rolling pin to crush them.
Green tip: Reduce your plastic waste by using these Reusable Storage Bags!
I like to fold 2 tablespoons of the crushed candy cane into my dough and then leave the rest out to add on top.
Resting Your Dough
Once you make your dough, use a tablespoon to scoop out roughly even amounts of dough to form your cookies.
Use clean hands to roll the cookie dough into balls and place them on a lined baking sheet. You can use parchment paper, or for a less wasteful option, check out these reusable baking mats!
Then, set the shaped dough in the freezer to rest for about 30 minutes. This will just stop your cookies from spreading too much.
Storing Your Candy Cane Shortbread Cookies
If you store these delicious cookies in an airtight container, they will last about a week at room temperature, 10 days in the refrigerator, and up to 3 months in the freezer.
If you freeze them, allow them to thaw naturally before enjoying them.
You can also opt to freeze the dough for up to one month and bake them as you want to enjoy them. In this case, roll the dough into balls and store them in an airtight container in the freezer.
Why You Should Make these Candy Cane Shortbread Cookies
---
---
They're festive. The easiest way to a cute and cheery cookie!
The texture. A flaky, buttery cookie base with crunchy bits of candy cane make for the perfect mouthfeel.
They're foolproof. This go-to recipe tastes delicious every time.
If you're loving these Candy Cane Shortbread Cookies and are in search of more Holiday treats, check out this Christmas Cookie Cake and these Chocolate Peppermint Christmas Cookies.