Need a tasty app or side dish that's easy to whip up but still has tons of flavor? This Easy Sheet Pan Caprese Asparagus is packed with flavor and freshness, yet only requires 6 ingredients (plus salt, pepper, and oil) and just one sheet pan!
The fresh asparagus is roasted to bring out its natural earthy flavors, then topped with melty mozzarella and salty parmesan, bursting cherry tomatoes, and fresh basil, all rounded out by the sweet balsamic vinaigrette for a fresh take on Caprese.
As an environmental scientist, I am always trying to highlight sustainable ingredients like asparagus. When sourced locally and in season, asparagus is considered a sustainable crop because relative to most other vegetables, it has a lower water footprint.
Asparagus also has little to no pesticide residue. Plus, it's a resilient crop, making its energy requirements low.
Check when asparagus is in season in your area with this Seasonal Food Guide.
Green tip: Organic farms rely on biodiversity to generate rich soil, avoiding the use of pesticides and fertilizers, which means no toxic runoff. Consider organic purple asparagus for this recipe.
Caprese Asparagus Ingredients
---
Here's everything you need:
Asparagus. This recipe was created with green asparagus in mind, but you can also use white or purple asparagus. Just keep in mind the cooking time may vary if you're not using green.
Grape tomatoes. Or cherry. Of any color.
Olive Oil. To roast your veg in.
Salt and pepper. For flavor.
Mozzarella. Fresh is preferred, but you can also use shredded.
Parmesan. Grated is best. To add extra salt and flavor.
Balsamic Glaze. Make sure you are using balsamic glaze, not balsamic vinaigrette. You can easily make your own balsamic glaze out of balsamic vinaigrette—more details on that are below.
Fresh basil. For a fresh, herbaceous finish.
Caprese Asparagus Tips and Tricks
---
Storing Fresh Asparagus
Once you find your beautiful asparagus and take it home, it will stay fresh for about a week if you store it properly!
Place the asparagus in a jar, tips up, and fill it with about 2 inches of water, so that the ends are submerged.
You can then place a bag on top and store the whole jar in your refrigerator to keep it fresh. This goes for green asparagus, white asparagus, and purple asparagus!
Green tip: Reduce your plastic waste by using these Reusable Storage Bags!
Prep Your Veggies
Asparagus notoriously have rough or "woody" ends. It's best to take the ends off before roasting.
The easiest way to remove your woody ends is to hold the asparagus in two hands and snap it. This way, it will naturally break where the ends start to get tough.
You'll also want to rinse and slice your grape tomatoes in half at this point. I like to chop my basil while I have my cutting board and knife out, too, so it's prepped for later.
Assemble Your Baking Sheet
I love that this dish only requires one sheet pan! Use a large, 26 x 18-inch sheet pan for this Caprese Asparagus.
Line your asparagus up on one side, avoiding any stalks overlapping. On the other side of the pan, place your sliced tomatoes, as pictured below.
Season Your Veggies
At this point you can add salt and pepper to your asparagus and tomato, just to amp up their natural flavors and give them a little oomph.
Just 1/4 teaspoon of each should do, especially as we will be adding more salinity and flavor with the cheese, fresh herbs, and balsamic glaze later on.
Use Your Hands
Don't be scared to get your hands in there!
In order to perfectly roast your asparagus and tomatoes, it's important to make sure each piece has an even coat of olive oil. Once you've spread your veg on a baking sheet and seasoned it, add olive oil on top.
Then, use clean hands to toss the asparagus, tomatoes, salt and pepper, and olive oil, making sure each piece of asparagus and sliced tomato is completely coated.
Pre-Roast
Before adding our cheese, we want to jumpstart roasting our asparagus and tomatoes.
At 425°F, you should be able to kickstart your veggies with just 15 minutes of pre-roasting time.
Green tip: Don't waste those asparagus ends! Save them in an airtight container in the freezer with other veggie scraps to make your own vegetable broth.
Add Your Cheese
After 15 minutes in the oven, remove your sheet pan and add mozzarella and Parmesan.
You can use either fresh or shredded mozzarella with delicious results, but my favorite is fresh high-moisture mozzarella. Just crumble it in your hands and coat the asparagus with it as evenly as possible.
Then, sprinkle 1/4 cup of grated Parmesan on top.
Roast Again
Now that you've added your cheese, roast your asparagus and tomatoes for another 10-15 minutes until the cheese just starts to bubble and brown.
If after 15 minutes the cheese is not browning, turn your oven up to broil (500°F), and watch it closely. Remove it from the oven as soon as you see it browning.
Assemble and Top
Serve your cheesy asparagus with the roasted tomatoes on top. Add the fresh basil and finish with the balsamic glaze.
Making Your Own Balsamic Glaze
Balsamic glaze is just balsamic vinegar that is reduced down, minimizing the water content until it's nice and thick.
You can easily make your own balsamic glaze by reducing your balsamic vinaigrette on the stove. Just bring about 1 cup of balsamic vinegar to a gentle boil in a pot over medium heat, and allow it to reduce, occasionally stirring until it thickens (about 15-20 minutes).
Green tip: Making your own sauces and syrups is a great way to avoid extra plastic packaging that eventually ends up in landfills or makes its way into the environment and becomes microplastics.
Should You Have Leftover Caprese Asparagus
This asparagus can be enjoyed up to 3-5 days after prep if sealed in an airtight container and stored in the refrigerator.
To reheat, put it back on a baking sheet and roast in the oven at 400°F for about 15 minutes or until the cheese is melty and the asparagus and tomatoes are heated through.
Caprese Asparagus Frequently Asked Questions
---
What does alla Caprese mean?
Alla Caprese means served with tomato, basil, and mozzarella. You'll often see pasta alla Caprese, but can pair these ingredients with many things, including asparagus!
What type of dish is Caprese?
Traditionally, Caprese is a type of salad, consisting of fresh tomatoes, sliced mozzarella, and fresh basil.
Want to sharpen your kitchen skills?
Why You Should Make this Caprese Asparagus
---
It's quick. This fresh side dish comes together in just 30 minutes.
It's easy. All you need is one sheet pan! Easy to make, easy to clean.
It's cheesy! Need I say more?
If you're loving this Caprese Asparagus and want more fresh and fun side dishes, check out these Sweet and Salty Brussels Sprouts and this Grilled Corn on the Cob with Old Bay Seasoning.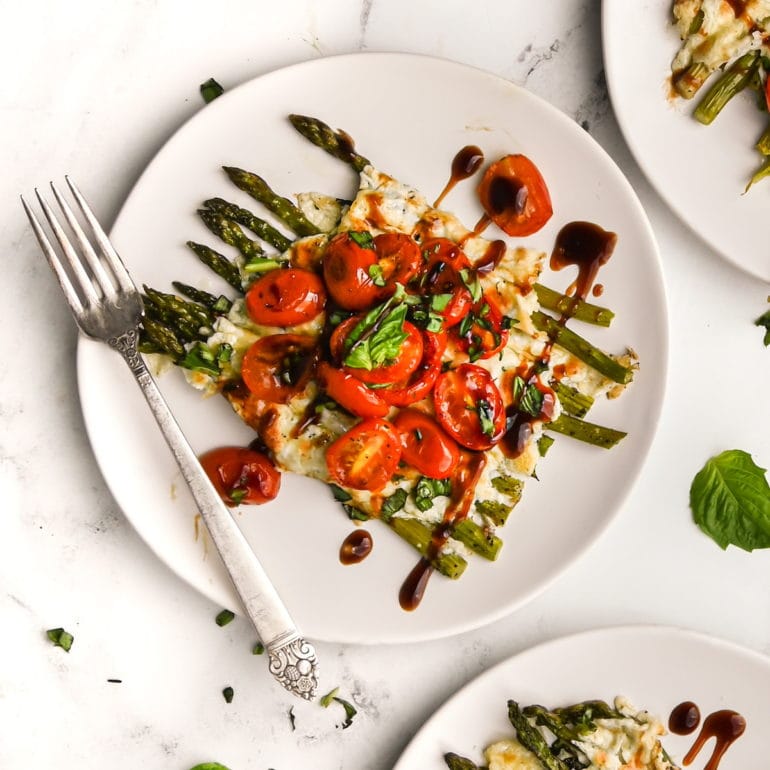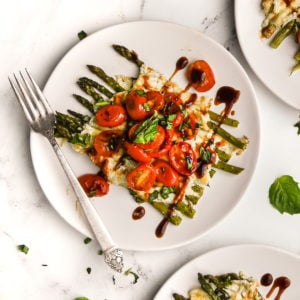 Easy Sheet Pan Caprese Asparagus
PRINT
PIN
RATE
This Easy Sheet Pan Caprese Asparagus brings roasted asparagus to the next level by topping it with melted cheese, bursting cherry tomatoes, fresh basil, and sweet balsamic vinaigrette.
Ingredients
1

bunch

fresh asparagus

1

pint

cherry tomatoes

2

tablespoons

olive oil

¼

teaspoon

salt

¼

teaspoon

black pepper

4

ounces

fresh or shredded mozzarella

(4 oz usually = 1 cup)

¼

cup

grated Parmesan

2

sprigs

fresh basil, chopped

¼

cup

balsamic glaze
Instructions
Preheat your oven to 425°F.

Rinse your asparagus and cherry tomatoes. Use two hands to snap the asparagus, so the rough ends break off (you can use these for homemade vegetable broth!), slice your tomatoes in half, and chop the basil.

On one side of a large 26 x 18 inch baking sheet, spread the asparagus out in a single layer, avoiding any stalks overlapping one another. On the other side of the baking sheet, place the tomatoes, sliced side up, again in a single layer.

Add salt, pepper, and olive oil to your asparagus and tomatoes, then use clean hands to toss, ensuring they are evenly coated with oil and seasoning.

Roast your asparagus and tomatoes on the top rack for 15 minutes.

Remove your baking sheet from the oven and add the mozzarella cheese in an even layer on top of the asparagus only (leave the tomatoes as they are). Then, add a layer of Parmesan cheese on top of the mozzarella.

Place your baking sheet back in the oven for another 10-15 minutes, until the cheese starts to bubble and brown.*

Assemble your Caprese Asprasgus on a serving plate with cheesy asparagus on the bottom, and roasted tomatoes, basil, and balsamic glaze on top. Enjoy hot or at room temperature.
Pro Tips
*If after 10-15 minutes the cheese isn't browning, turn your oven up to broil (or 500°F) and watch closely. It should only take about 1 more minute for your cheese to brown. Remove immediately when you notice the color change.
Asparagus tips can be composted or used to make your own vegetable broth. 
If you want more healthy veggie side dishes, check out this list of Best Roasted Vegetables.
For more delicious asparagus recipes, check out this list of Best Asparagus Recipes.
Did you make this recipe?
Let me know by leaving a recipe rating below, or by tagging @marleysmenu on Instagram.