Hey non-meat eaters, are you ready to fire up the grill? These Vegan Carrot Dogs are designed for the grill because, well. you don't have to eat meat to enjoy a smoky, grill-fired dinner.
Marinated in deep flavors and pre-boiled to tender, these carrot dogs are beyond flavorful and the perfect vessel for all of your favorite toppings!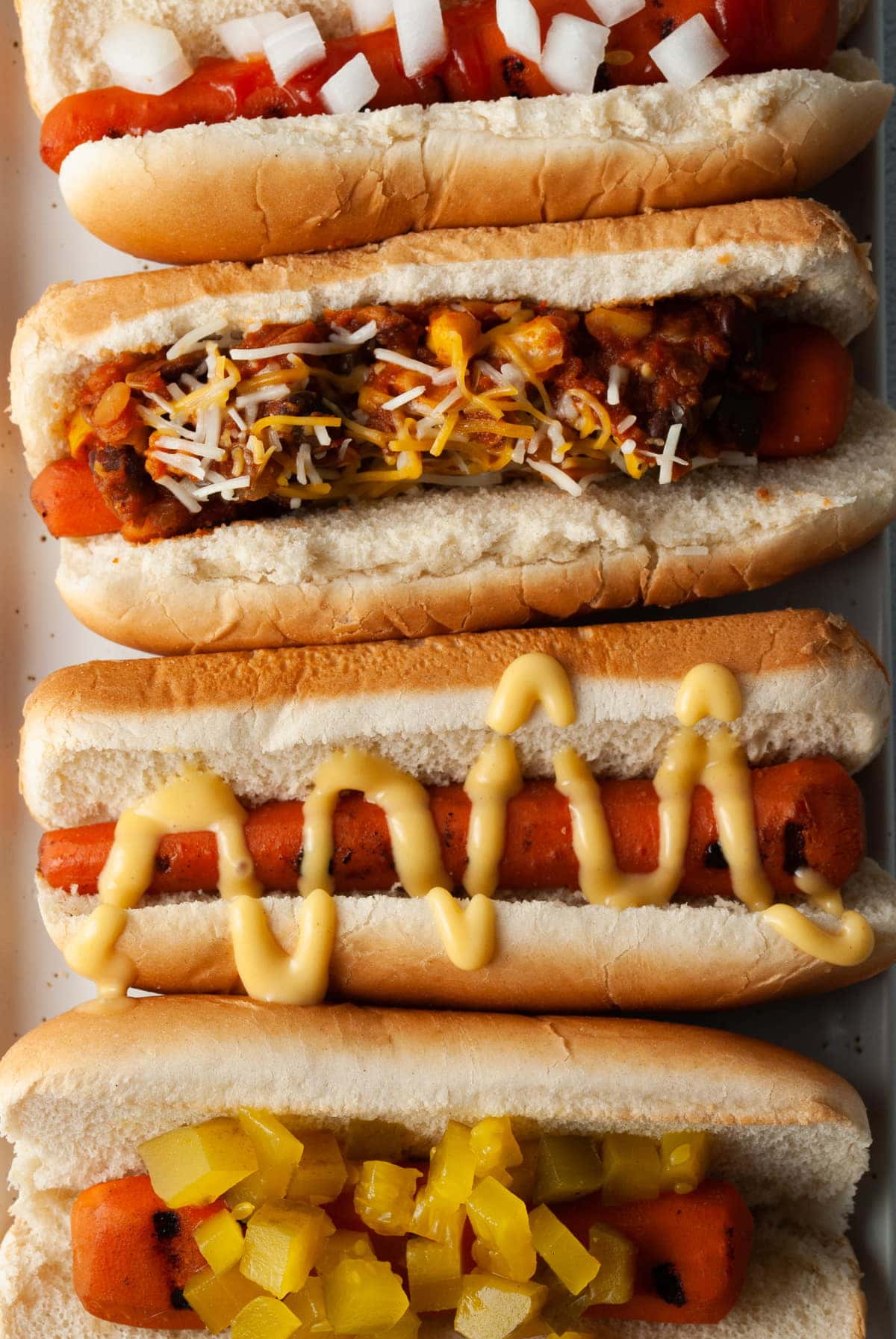 As an environmental scientist, I'm always looking for delicious meat alternatives to help me lower my ecological footprint, and these Vegan Carrot Dogs for the Grill are an incredible replacement for hot dogs!
The "meaty" texture and flavor of the marinated carrots allow them to be grilled just like a regular dog, giving you the full BBQ experience!
Green tip: Industrial meat production has a huge impact on the environment, especially because of the amount of land it takes to sustain and its high amount of greenhouse gas emissions. Reducing your meat consumption is one great way to reduce your ecological footprint.
Carrot Dogs Tips and Tricks
---
---
Gather Your Ingredients
This recipe consists of boiled carrots, a simple marinade, and hot dog buns. The rest is up to you! Make this one your own by adding your favorite toppings! Here's everything you need for the vegan carrot dogs:
Prep Your Carrots
Rinse and peel your carrots to remove the rough and wrinkly outer layer. This will help get your carrot dog nice and tender.
Then, you can use the peeler or a knife to shape the carrot into a cylinder, about the length of your hot dog bun.
Boil And Prep Your Marinade
We want to boil the carrots so that they are fork-tender before adding them to the marinade. The marinade used is a simple combination of salty, sweet, acid, and smoke, giving it a "meaty" taste!
That combined with the fresh-grilled flavor makes these carrot dogs the perfect meatless option for your backyard BBQ.
Bring about 6 cups of water to a boil and drop your carrots in, allowing them to cook until they are fork-tender.
After about 8 minutes, poke the largest carrot in the center with a fork. If it easily pierces the carrot, they're ready!
It may need a little more time. Continue to boil and check again every couple of minutes until they are tender.
Then, you can add your marinade ingredients to a kitchen storage bag.
Green tip: Reduce your plastic waste by using these Reusable Storage Bags!
Let It Sit
After boiling your carrots, carefully add them to the storage bag with your marinade. I like to use tongs. Keep in mind the carrots will be very hot!
Green Tip: The water the carrot is boiled in is actually super nutrient-rich, making it perfect for watering your plants!
The longer these carrots sit in the marinade, the better, but at least an hour in this secret sauce will get these carrot dogs super flavorful.
You can opt to make these ahead of time and marinate overnight as well!
Throw Them on The Grill
After the carrots get a chance to soak up all the flavors, they'll be ready for the grill!
They are already fully cooked at this point but just need warming. Of course, you can heat them in a frying pan with olive oil or stick them in the oven, but you really get the full effect on the grill or in a grill pan!
Cook them for about 3 minutes on each side, until you get those gorgeous grill marks, and your carrots are heated through.
Should You Have Leftovers
Leftover carrot dogs will last up to 5 days in an airtight container in the fridge.
You can reheat them with olive oil in a frying pan, in the oven at 350°F for about 10 minutes, or of course, on the grill or in the grill pan.
If you have leftover marinade, you can save that, too! The marinade will actually last for a couple of weeks, so keep it and make another round of these carrot dogs if you find yourself with excess!
Green tip: Did you know that of the billions of pounds of food wasted annually, it is estimated that 50% of it happens in our homes? It's always best to avoid food waste as much as you can!
What to Serve these Vegan Carrot Dogs With
My absolute favorite way to dress a hot dog is the Coney Island way, which is basically a chili cheese dog with onions. I love topping these carrot dogs with my Wholesome Vegan Chili.
Then there's the classics like relish, ketchup, or mustard. Here's a vegan honey mustard recipe if you want to play up the subtle sweetness in the carrot dog marinade.
But get creative with it! These carrot dogs can handle whatever you throw at them!
Why You Should Make These Carrot Dogs
---
---
They're the perfect meeat alternative! They grill so nicely-just like a hot dog!
They're healthy. Replacing a carrot for a hot dog is healthier for both you and the planet!
They are packed with flavor. A little bit of sweetness, saltiness, acid, and smoke!
If you're loving these Carrot Dogs and looking for more vegan junk food, check out these Crispy Fried Oyster Mushrooms.
Carrot Dogs for the Grill (Vegan)
PRINT
PIN
RATE
These Vegan Carrot Dogs strike a balance between sweet, smoky, and salty and boast a meaty texture that will make you want to fire up the grill even without the meat!
Ingredients
Carrot Dogs + Marinade
4 to 8

large

carrots, peeled

½

cup

soy sauce

1

tablespoon

liquid smoke

1

tablespoon

maple syrup

2

tablespoons

Dijon Mustard

4 to 8

hot dog buns
Carrot Dog Topping Ideas
1

tablespoon

relish

1

tablepsoon

ketchup

1

tablsepoon

mustard

2

tablespoons

diced white or red onion
Instructions
In a large pot, brings 6 cups of water to a boil. Rinse, peel, and cut your carrots about the size of your hot dog buns.

Boil the carrots until fork tender (about 8-12 minutes).

Prepare a storage bag with soy sauce, liquid smoke, maple syrup, and dijon mustard. Transfer cooked carrots to the bag with the marinade for at least one hour or up to overnight.

Remove the carrot dogs from the marinade and throw them on the grill for about 3 minutes on each side, until hot all the way through and grill marks are present.

Enjoy in a bun with your favorite toppings!
Pro Tips
If you don't feel like firing up the grill, your can heat your carrot dogs on a grill pan, in a frying pan with oil, or in the oven at 350°F for about 10 minutes.
Did you make this recipe?
Let me know by leaving a recipe rating below, or by tagging @marleysmenu on Instagram.