Looking for a quick fix for you sweet tooth? This Carrot Mug Cake comes together in just 5 minutes from start to finish, culminating in a delicious, moist, and airy single-serving carrot cake without having to turn on the oven.
With less than ten ingredients, just one mug, and only 5 minutes required, this outrageously delicious easy mug dessert will become your new favorite! Plus, single serving means less food waste—such a win!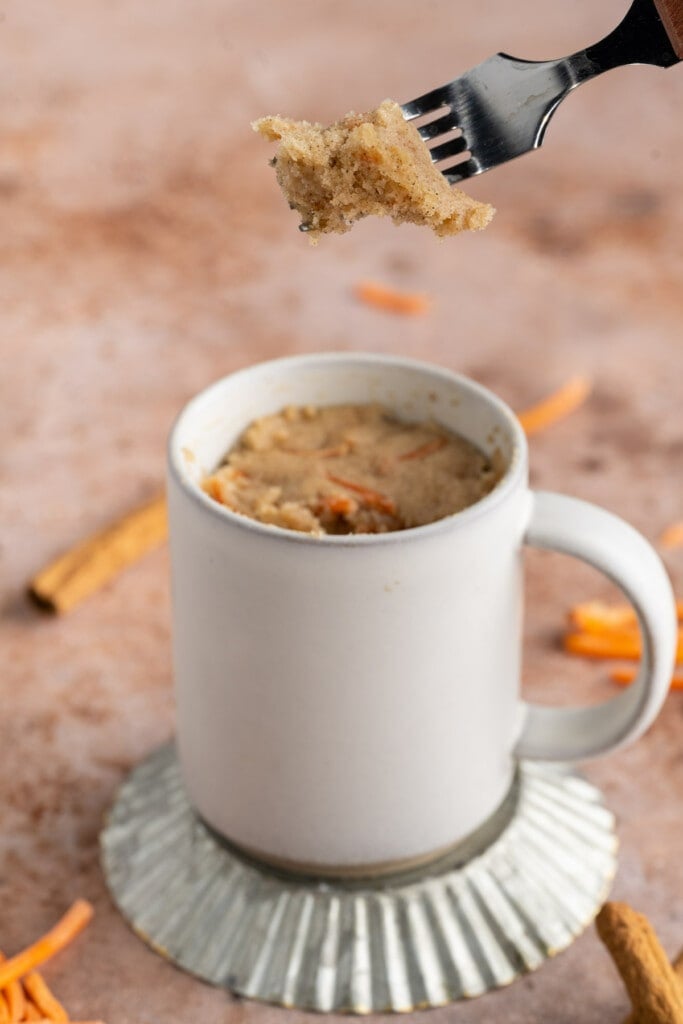 As an environmental scientist, I always try to stick to seasonal eating! It's one of the easiest (and most delicious!) ways to support local farmers and improve your carbon footprint.
Green tip: Seasonal and local foods have less associated transportation costs and fuel emissions. Check when carrots are in season in your area with this Seasonal Food Guide.
Carrot Mug Cake Ingredients
---
---
Here's everything you need:
Unsalted butter. You can use any butter, margarine or dairy-free substitute. It's best if it's unsalted so you can control the amount of salt added, but if you only have salted butter, just skip adding the salt later.
All-purpose flour. This will act as the base of your carrot cake batter.
Brown sugar. Light or dark, whichever you have on hand. I used light. Make sure it's tightly packed when you measure.
Baking powder. This will give you that light and airy texture by making it rise.
Cinnamon. For that classic carrot cake flavor.
Salt. To bring out all of the other flavors.
Milk. You can use dairy or unsweetened non-dairy milk.
Vanilla extract. For more flavor.
Matchstick carrots. What's carrot cake without real carrots?
Mug Carrot Cake Tips and Tricks
---
---
Melt Your Butter First
In a separate microwave-safe dish or ramekin, melt the butter in the microwave. Start with 30 seconds and stir. If it's not melted after 30 seconds, continue to heat in 15-second increments, stirring in between until completely melted.
Then, set the melted butter aside until it's time to add it to your carrot mug cake.
You can use any butter or margarine here, dairy or nondairy. I do recommend you use unsalted butter. You'll be adding salt to the batter and you don't want your mug cake to be too salty!
Green tip: Look for organic and palm oil-free butter if you can. Buying organic means you are supporting farms that do not use damaging pesticides and fertilizers, and palm oil production is a huge driver behind deforestation.
Add Your Dry Ingredients
To a microwave-safe mug, add the flour, sugar, salt, cinnamon, and baking powder. Use a fork to stir the dry ingredients together.
Make sure to mix well, sometimes when you're stirring the ingredients in a mug, they can get stuck to the sides.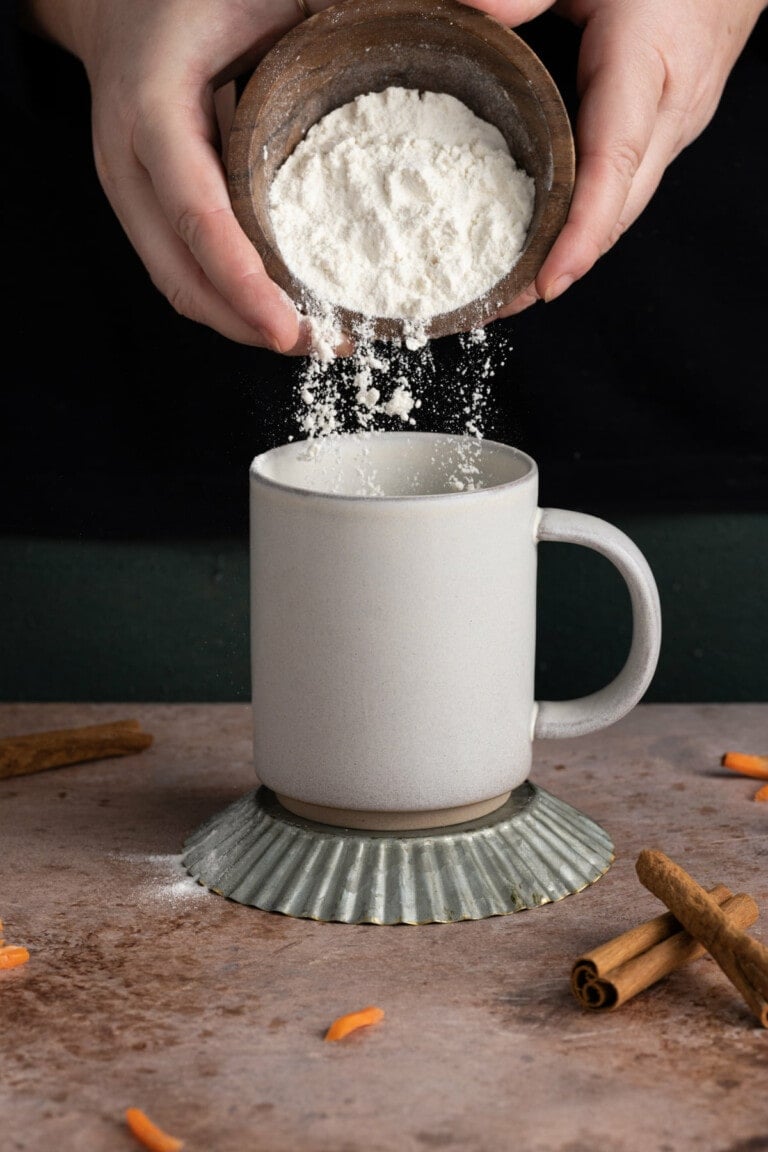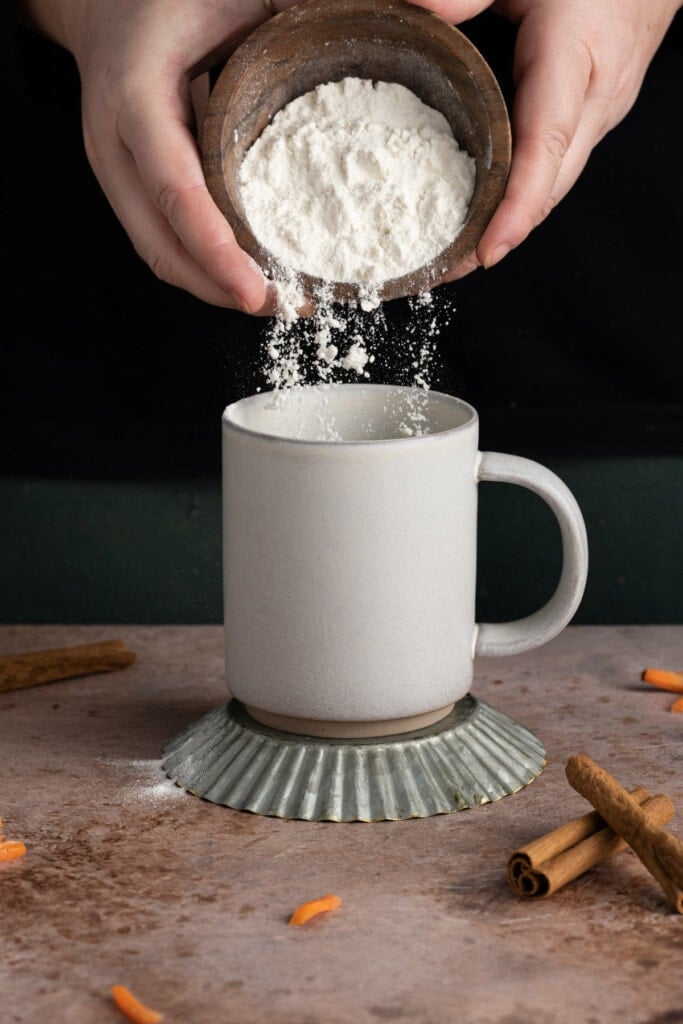 Stir in Your Wet Ingredients
Once your butter has had a few minutes to cool, add the melted butter, vanilla extract, and milk to the mug with the dry ingredients.
Use the fork again to mix, ensuring that you get any flour that may be stuck to the sides or the bottom of the mug.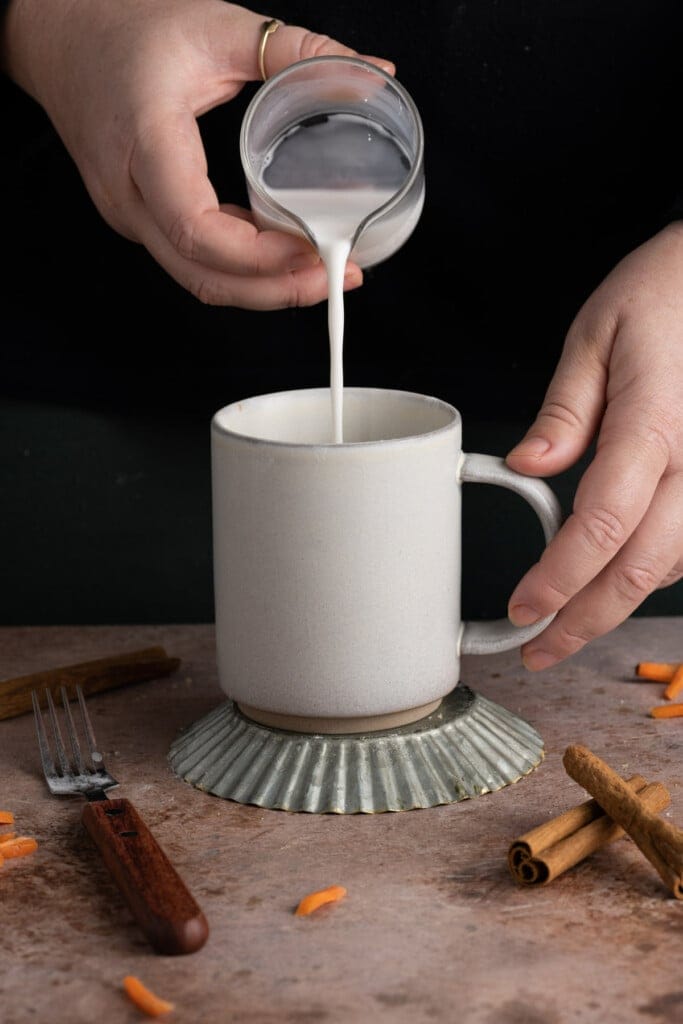 The Carrot Comes Next
Lastly, add the carrot and fold in with your fork.
I find it easiest to buy matchstick carrots, but you can also opt to julienne your carrots on your own or cut it into super thin slices.
The carrots will mostly get tender in the microwave, but some pieces will retain a slight crunch, lending an awesome textural element to your mug cake.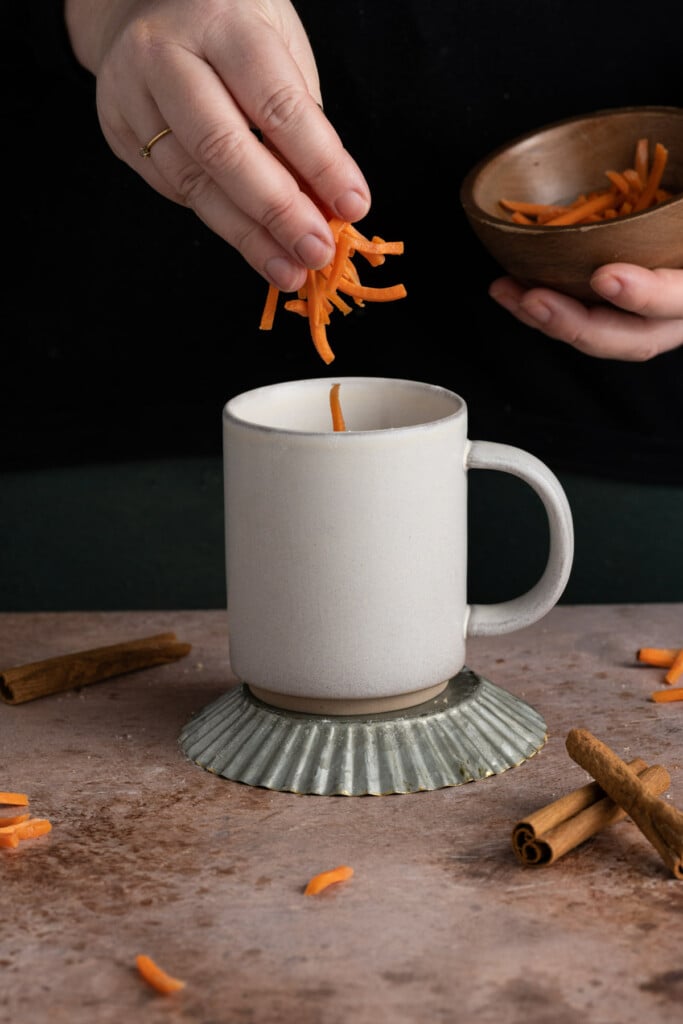 Microwave and Let it Sit
Microwave your single-serving carrot cake on high for 2 minutes. Then, leave it in the microwave for another minute.
It will continue to cook slightly for that extra minute, leaving you with a warm, light, and airy mini carrot cake!
If you take it out of the microwave and notice it looks a little underdone in the center, you can heat it for an additional 15-25 seconds on high. Or you can leave it slightly underdone for a super moist texture.
Green tip: Organic farms rely on biodiversity to generate rich soil, avoiding the use of pesticides and fertilizers, which means no toxic runoff. Consider organic ingredients for this mug carrot cake.
Microwaving Time May Vary
Everyone's microwave is a little bit different. My microwave is 900 watts, and on high, this carrot mug cake is perfect after 2 minutes of heating and 1 minute of sitting.
The average microwave is between 600-1200 watts. If you know your microwave is 600 watts, you will probably need an extra 10 seconds. If your microwave is 1200 watts, start with 110 seconds.
But if you're not sure, stick with 2 minutes. It will be safe to eat and delicious either way, but just make yourself a note for next time if you feel it was slightly over or under cooked.
If you're doubling this recipe, start with 3 minutes and 30 seconds and dip your spoon in to check if it needs any more time.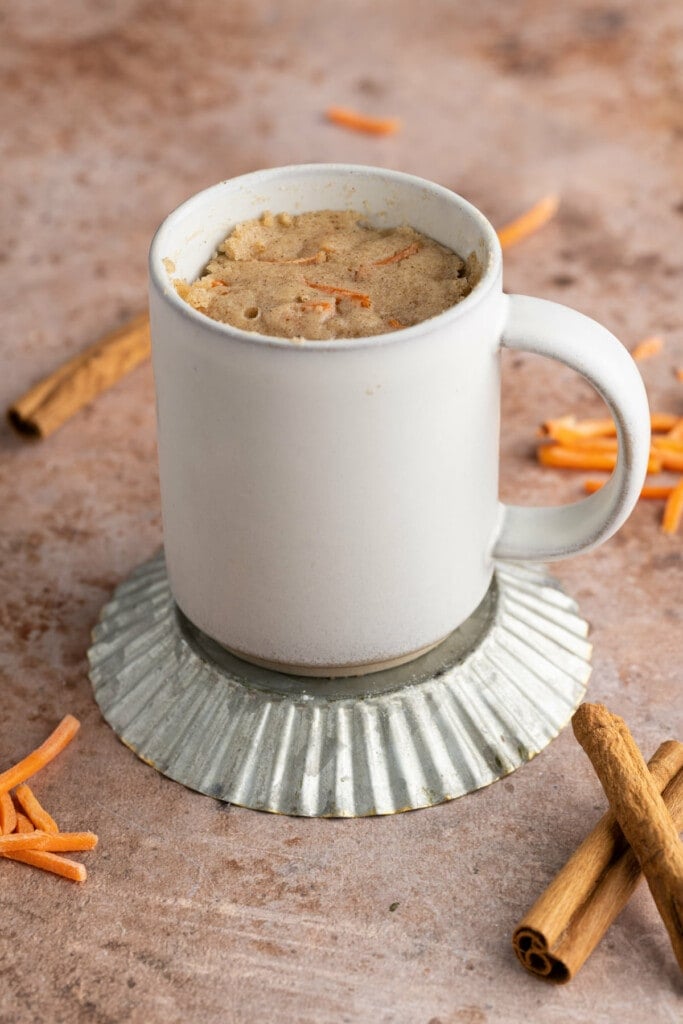 Carrot Mug Cake Frequently Asked Questions
---
---
Do You Put Egg in Mug Cake?
You will not find eggs as an ingredient in mug cakes, simply because they are single serving. A whole egg is too much for the small amount of batter, and it's hard to divide an egg into multiple parts.
Luckily, an egg isn't needed! Eggs are typically used in cakes for two main reasons: to bind them together and to help with leavening.
The baking powder takes care of the leavening in the mug cake, and since the single-serving carrot cake is cooked and eaten out of the mug, we don't have to worry about the binding factor.
Why are mug cakes chewy?
This carrot mug cake should turn out light, airy, and moist. If your mug cake does turn out chewy, it could be because of two things: one, it could be overcooked or two, it could have too much liquid.
Make sure you measure both your dry ingredients carefully, tightly packing the brown sugar and leveling off your flour.
As for the cooking time, while microwaves do differ, 2 minutes microwaving and 1 minute sitting in the microwave is typically gives you a perfect single-serving carrot cake.
Sign-up for the Meatless Monday Challenge
Get access to the 4-week-long Meatless Monday Challenge, with accompanying meal plans, grocery shopping lists, and more, sent right to your inbox!
Why You Should Make this 5-Minute Carrot Mug Cake
---
---
It's quick. Five minutes from start to finish.
It's easy. Just add your ingredients to a mug, microwave it, and voila!
The texture! It's moist, light, and airy!
Made this 2-Minute Carrot Mug Cake and have leftover matchstick carrots? Check out these Banana Carrot Muffins.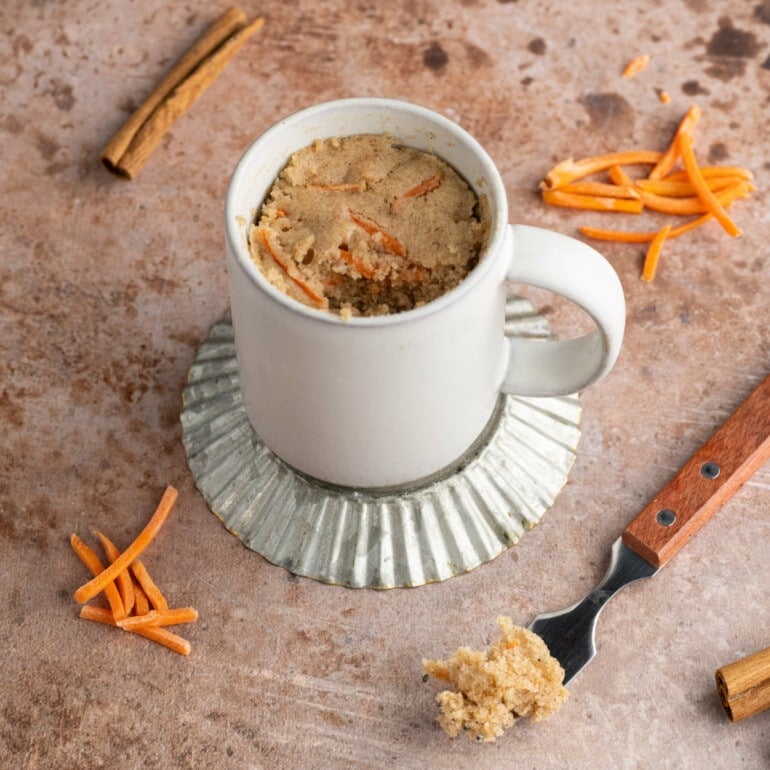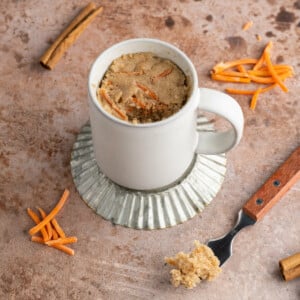 5-Minute Carrot Mug Cake
PRINT
PIN
RATE
This light and airy Carrot Mug Cake is the quickest way to satisfy your sweet tooth with real carrots and a touch of cinnamon. Five minutes from start to finish!
Ingredients
2

tablespoons

unsalted butter

(dairy or nondairy)

¼

cup

all-purpose flour

2

tablespoons

brown sugar, tightly packed

(light or dark)

¼

teaspoon

baking powder

¼

teaspoon

cinnamon

⅛

teaspoon

salt

3

tablespoons

milk

(dairy or unsweetened non-dairy)

½

teaspoon

vanilla extract

1

ounce

matchstick carrots

(1 ounce = approx. ¼ cup matchstick carrots, tightly packed)
Instructions
In a small microwave-safe bowl or ramekin, melt the butter in the microwave. Start with 30 seconds and stir. If it's not melted yet, continue to heat in 10-second increments, stirring in between until completely melted. Set aside to cool.

To a standard 8-ounce mug, add the flour, brown sugar, baking powder, cinnamon, and salt. Mix with a fork until well-combined and there are no visible lumps.

Add the milk, vanilla extract, and melted butter and stir again with the fork. Make sure to get any loose flour stuck to the sides or bottom of the mug.

Stir in the matchstick carrots.

Microwave on high for 2 minutes. Then, allow it to sit in the microwave for an additional 1 minute.
Pro Tips
If after microwaving for 2 minutes and letting it sit for 1 minute in the microwave your carrot mug cake still looks underdone, you can heat it for an additional 15-25 seconds. 
If you don't have matchstick carrots, you can julienne or slice carrots very thin to add to your mug cake. 
For more easy microwaveable treats check out this Chocolate Oreo Mug Cake and this Fudgy Vegan Mug Brownie. 
Did you make this recipe?
Let me know by leaving a recipe rating below, or by tagging @marleysmenu on Instagram.