Looking for a fresh and flavorful recipe to whip up in less than 30 minutes? This Chimichurri Salmon will excite your tastebuds, pair beautifully with almost any side, and comes together in less than 30 minutes!
In this recipe, you will learn how to make a quick and classic homemade Chimichurri Sauce, how to prepare, marinate, and bake your salmon, and some of my favorite ways to serve up this delicious and simple fish dish.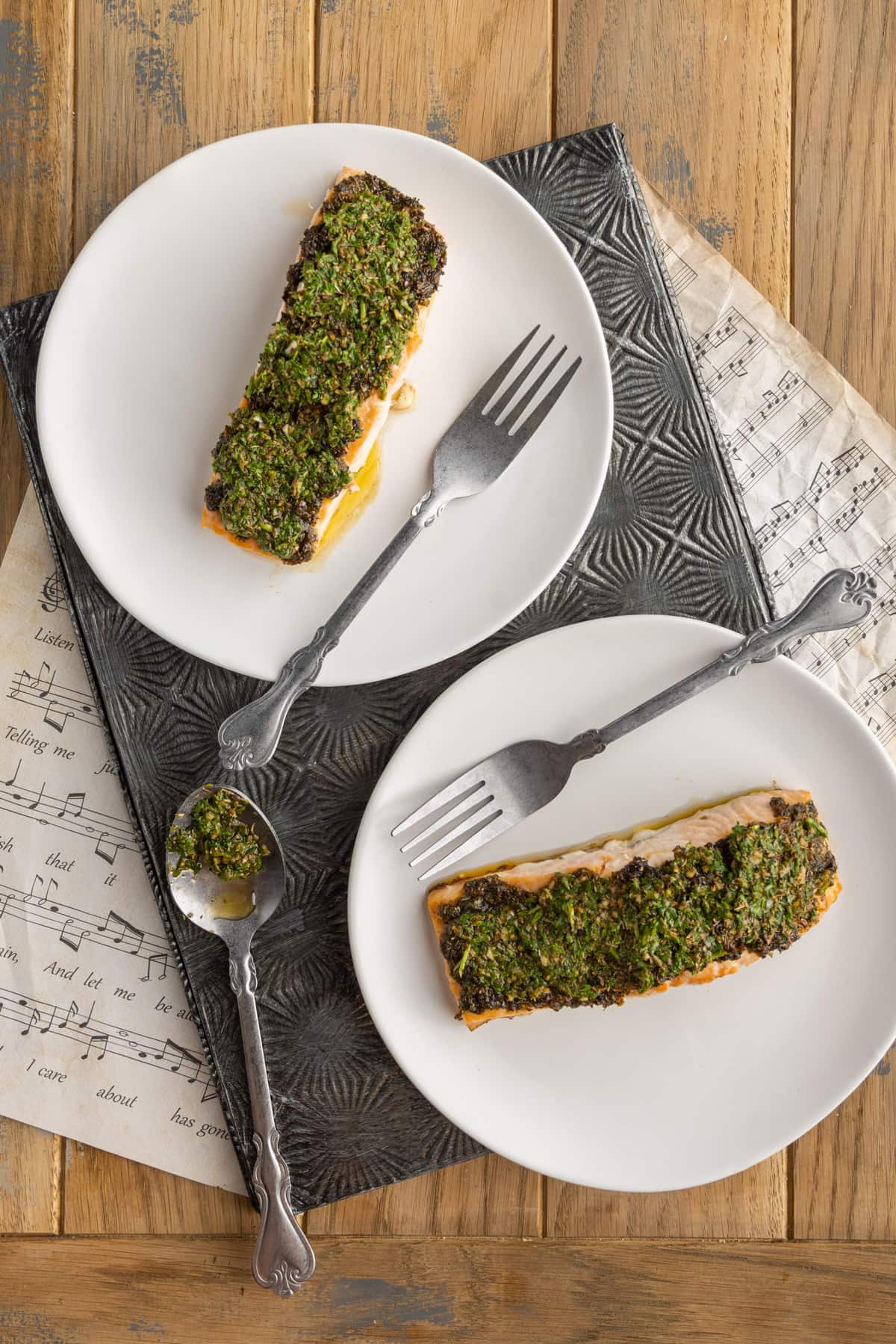 As an environmental scientist, I'm always thinking of ways to be more sustainable in the kitchen. Making my own sauces and dressings is one of my favorite ways to lower my contribution to environmentally-damaging microplastics.
Green tip: Making your own sauces and syrups is a great way to avoid extra plastic packaging that eventually ends up in landfills or makes its way into the environment and becomes microplastics.
Chimichurri Salmon Ingredients
---
Here's everything you need:
Fresh parsley. For a fresh, herbaceous flavor.
Oregano. You can use fresh or dried to add depth of flavor.
Garlic. Fresh garlic for a flavor punch.
Red wine vinegar. It's sharp and tangy, and the perfect addition to this quick chimichurri.
Salt, pepper, and paprika. To ramp up all the other flavors.
Extra-virgin olive oil. To get the right consistency.
Salmon. 2 portions, 3 to 4 ounces each or one larger, 6 to 8-ounce portion that you'll slice in half.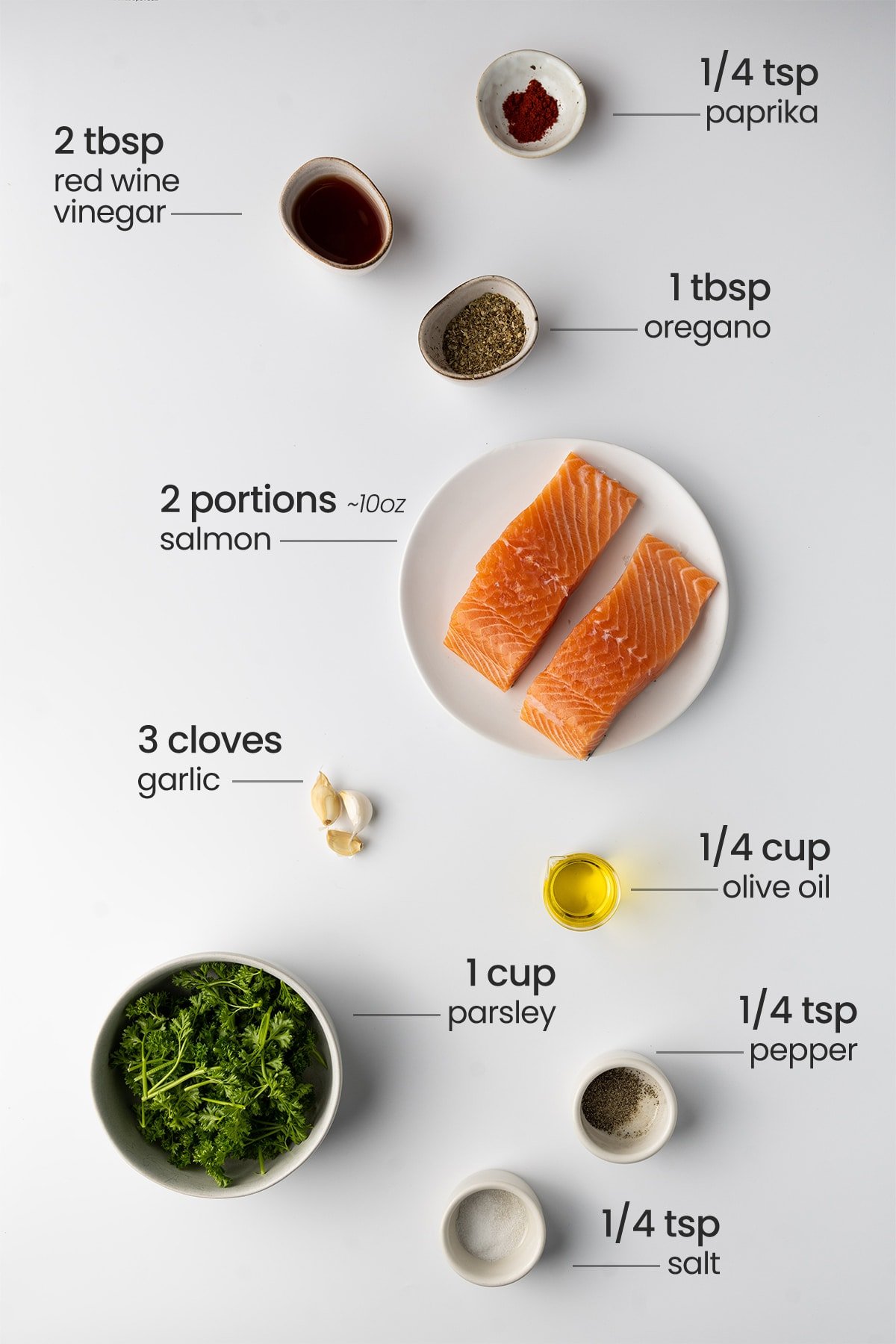 Note: If you want spicy Chimichurri Salmon, you can substitute the simple chimichurri in this recipe for this Serrano Pepper Chimichurri to really bring the heat!
Sourcing Sustainable Salmon
Salmon farming, unless done with extreme care, poses several risks to our environment. This is in part because the antibiotics used by salmon farms can leach into the surrounding environment.
Additionally, other wild fish has to be harvested at an excessive rate in order to feed the farmed salmon, leading to the depletion of those fish populations.
On the other hand, wild-caught salmon poses different, but equally as damaging risks, namely overfishing and bycatch. Moreover, there are often issues with access to and availability of wild caught salmon.
So then how can we source salmon sustainably? Well, in the U.S. we have two good options: sustainably farmed salmon, or wild-caught Alaskan salmon.
Green tip: Look for Marine Stewardship Council and Friend of the Sea labels on your fish to ensure they were harvested sustainably.
Salmon with Chimichurri Tips and Tricks
---
Fresh Vs. Dried Herbs
Fresh parsley is the only way to go here! Use both the leaves and the stems to get the most flavor out of it, and of course, to avoid waste.
Consider growing a parsley plant as a sustainable, economical, and delicious option. Fresh herbs are easy to grow and a parsley plant is the gift that keeps on giving for a homecook!
If you don't have a garden, you can keep them on your windowsill so they get access to daylight and keep them damp (but not too wet).
Homegrown herbs taste the freshest possible, avoid waste (once plucked from the plant, the herbs only stay fresh for a couple of days), and eliminates the need for any plastic packaging.
As for the oregano in this recipe, you can use either fresh or dried oregano.
Green Tip: Growing your own herbs at home is easy! Try picking up a parsley plant at the grocery store instead of the plastic packages of pre-harvested parsley. Set it on your windowsill so it gets plenty of natural light and water it once a week.
How to Peel Garlic for Chimichurri
The way that I like to peel the outer layer off my garlic is by crushing the garlic clove first. To do so, lay the garlic cloves flat on your cutting board and use the flat end of your knife to press down on the garlic until you hear a distinct crunch.
Crushing the garlic will crack open the outer layer, making it much easier for you to peel it back. Once you've completely peeled your garlic, you can add it whole to the food processor.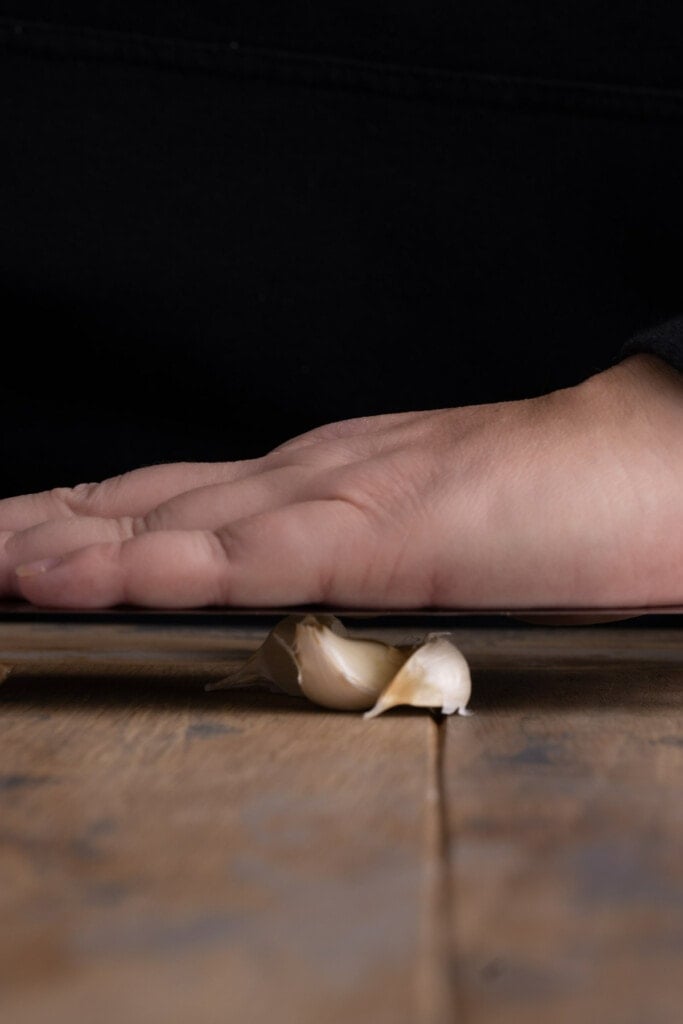 Use a Food Processor or High-Powered Blender
This homemade chimichurri marinade for salmon is best made in a food processor or high-powered blender.
Add the fresh parsley (stems and leaves), fresh or dried oregano, peeled garlic cloves, red wine vinegar, salt, pepper, and paprika to the food processor or blender. Note: you do not add the olive oil at this time.
I recommend using your pulse button to blend just until the garlic and pepper are broken down, instead of leaving it to blend on high power. It should really only take a couple of pushes to that pulse button.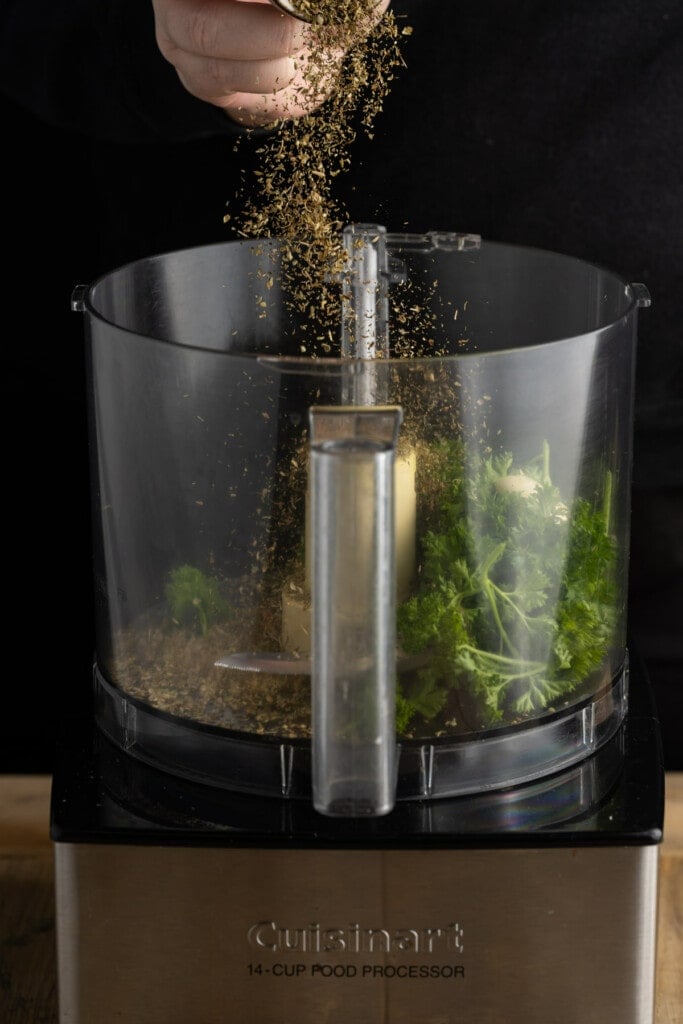 Add the Olive Oil Separately
There is enough liquid in the garlic, fresh parsley, and added red wine vinegar to break down your solids completely in the food processor or blender without adding your olive oil just yet.
Putting the olive oil in with the rest of the ingredients will actually cause the oil and vinegar to emulsify, completely changing the texture. It'll be more of a creamy sauce, which is not quite what we are going for here.
So once, you've blended the rest of your ingredients in the blender or food processor, remove the blade and either transfer the contents into a separate bowl to mix in the olive oil or add the oil directly to the food processor/blender and stir with a spoon.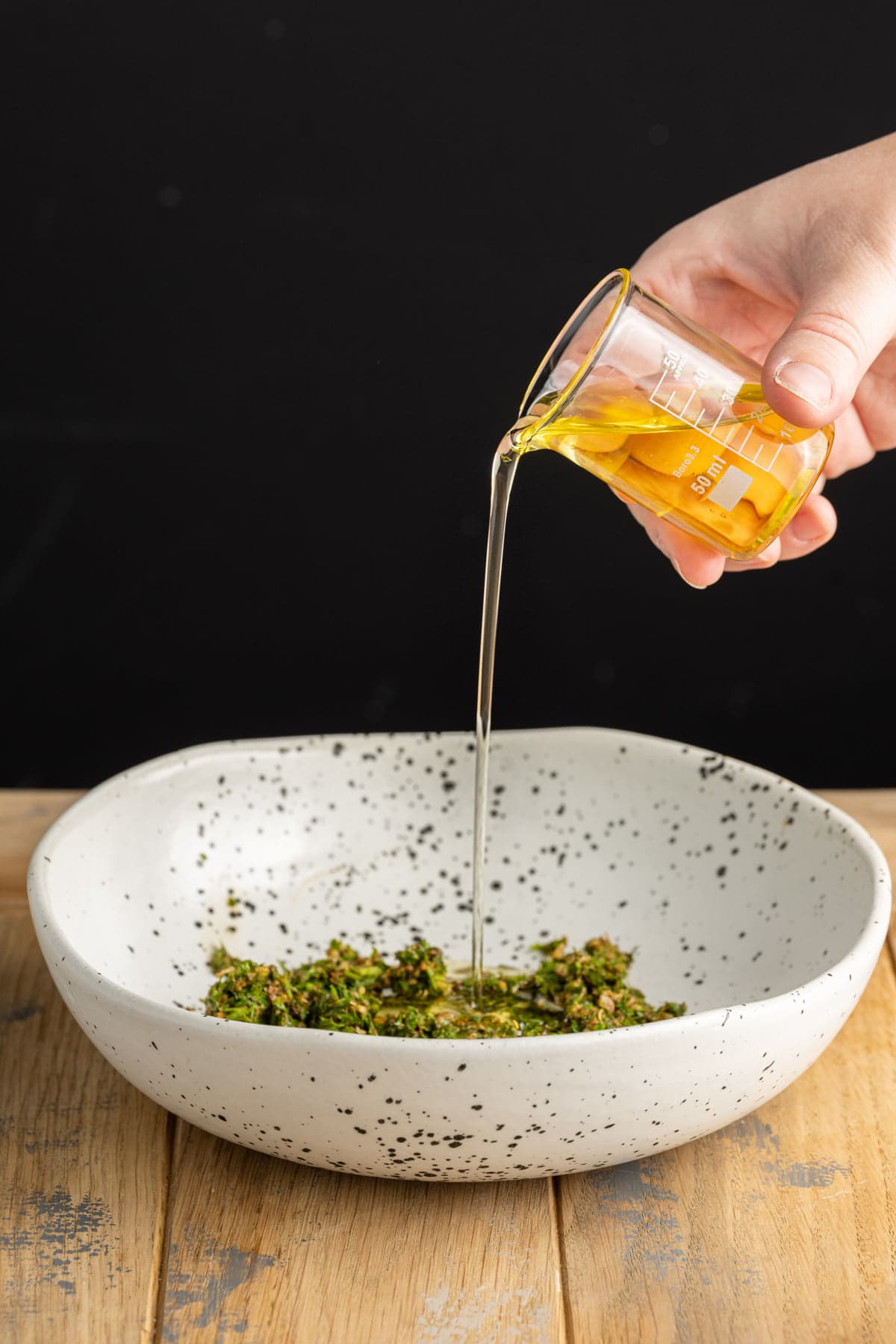 Blot Your Salmon Dry
Whether you're using fresh or frozen salmon, it's best to reduce the amount of moisture in your salmon to get the flakiest and crisp on the edges texture. If you are using frozen, make sure it is thawed.
The easiest way to dry your salmon is by placing your fish filets in between two paper towels and pressing down lightly. Check out these bamboo paper towels for a more sustainable option.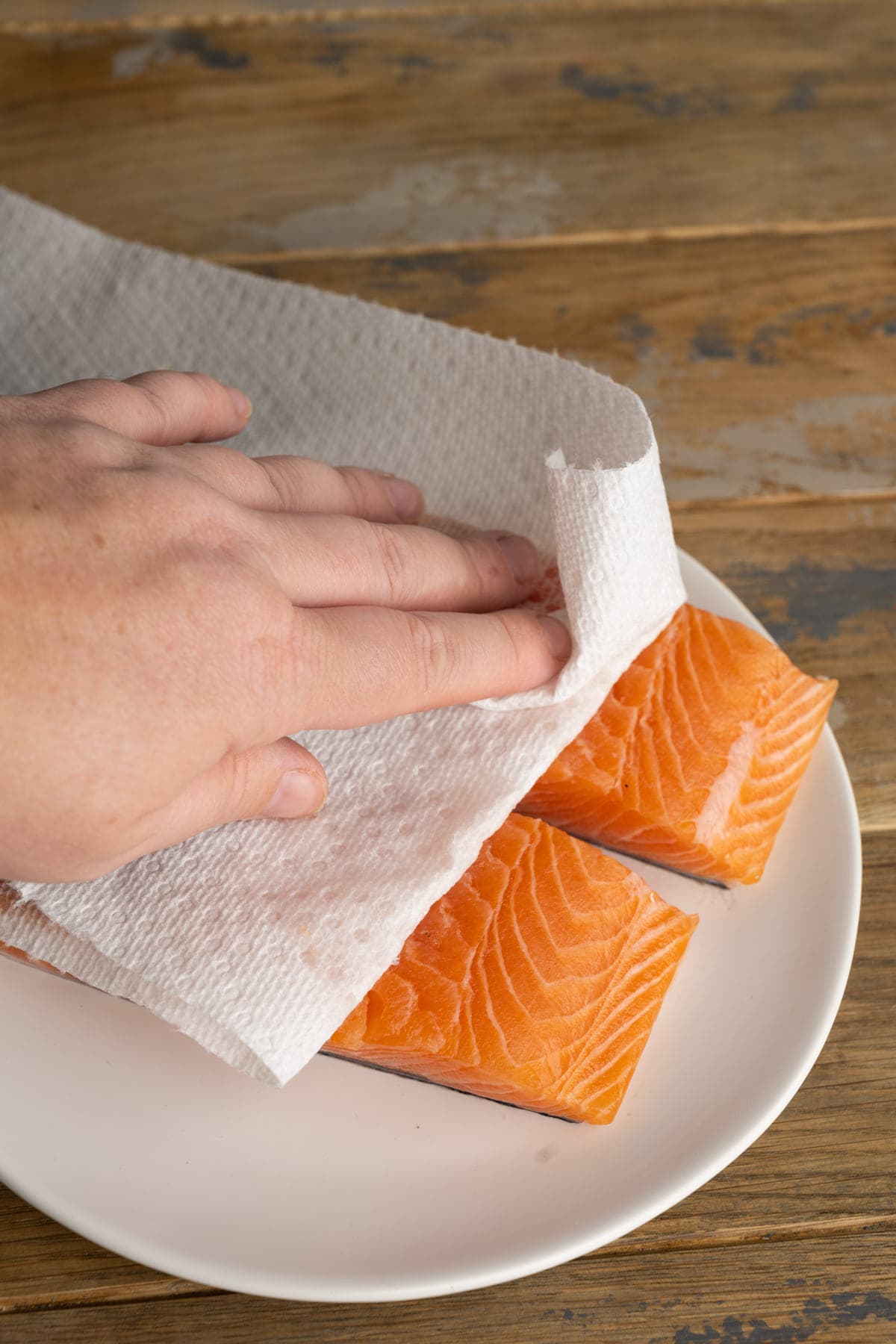 Coat Your Salmon with Chimichurri
In this recipe, we will use chimichurri as both a marinade and finishing sauce. Grab a small, 7 x 11-inch baking dish, and place your salmon inside, skin side down.
Add a generous amount of chimichurri on top of each portion to fully coat it. Then, bake your salmon at 475°F for 10-12 minutes until the internal temperature reaches 125°F.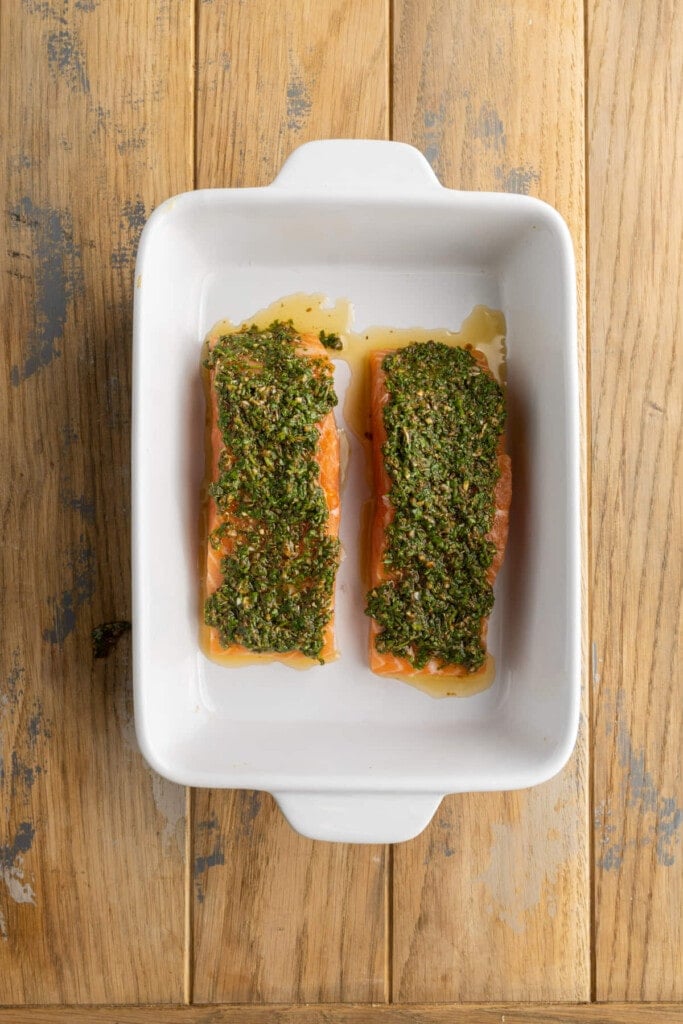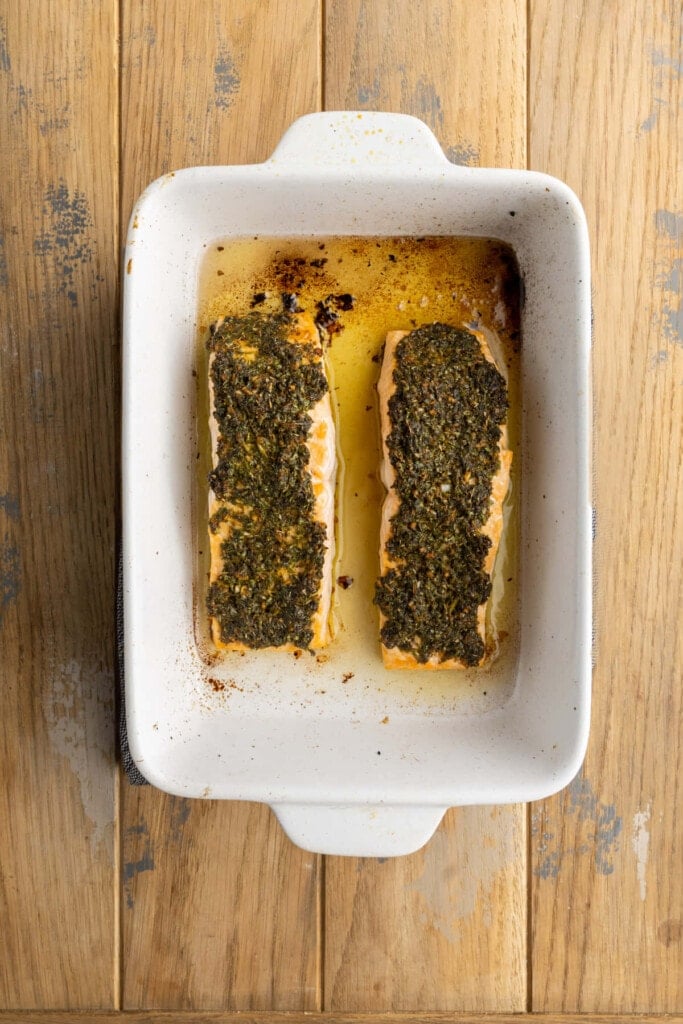 Serving Your Chimichurri Salmon
Once your chimichurri-marinated salmon is out of the oven, you can serve it as is or you can add some fresh chimichurri on top. I highly recommend the latter.
While marinating the salmon in the Chimichurri gives your salmon a lot of zest, cooking the Chimichurri mellows the flavors of both the garlic and the fresh parsley. Adding fresh Chimichurri on top gives you an extra boost of freshness.
This Chimichurri Salmon brings so much flavor to your dinner plate, making it a great main dish. It pairs with a wide variety of different sides. Here are some of my favorites: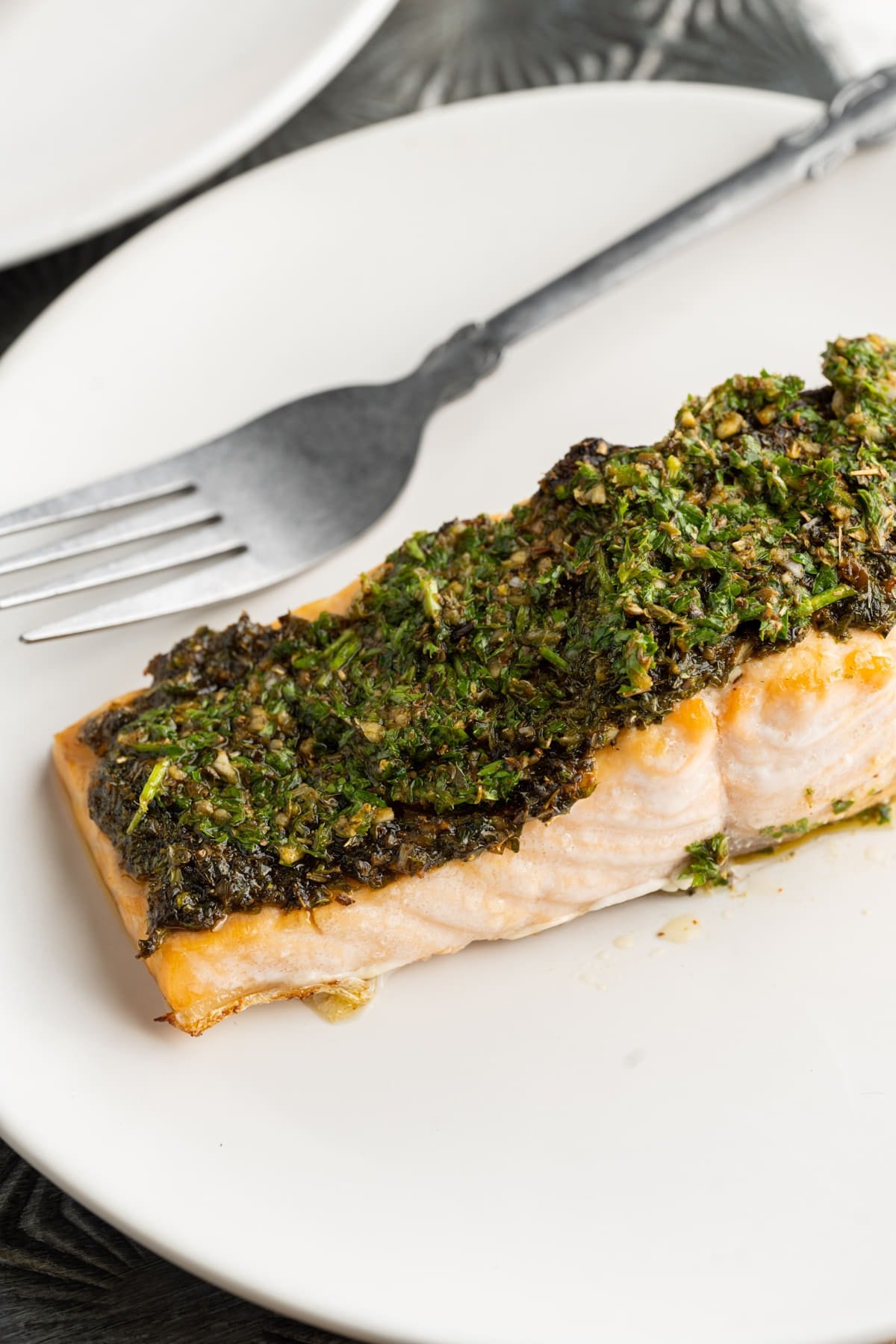 Storing and Reheating Leftover Salmon with Chimichurri
This Chimichurri Salmon will last up to 4 days in the refrigerator in a sealed, airtight container.
To reheat your salmon, preheat your oven to 400°F and add the salmon to a baking dish. Cover the dish with aluminum foil and bake for 15-20 minutes until the internal temperature of the salmon reaches 145°F.
You can also freeze cooked salmon for up to 6 months. Check out these detailed instructions for re-freezing cooked salmon. From frozen, thaw the Chimichurri Salmon in the refrigerator overnight and follow instructions above to reheat.
If you have leftover Chimichurri only this will last for about a week in the refrigerator in an airtight container or can be frozen for up to 3 weeks.
Leftover Chimichurri can also freeze it for up to 3 months. Just thaw it out in the refrigerator overnight and it will be as fresh as ever!
Green tip: Did you know that of the billions of pounds of food wasted annually, it is estimated that 50% of it happens in our homes? It's always best to avoid food waste as much as you can!
Chimichurri Salmon Frequently Asked Questions
---
What do you serve with chimichurri sauce?
Chimichurri is a super vibrant, fresh, and falvorful sauce and marinade that can be served with a variety of different meats and vegetables.
I love using Chimichurri to both marinate and finish the Chimichurri Salmon, and often use it as a marinade for grilled portobello mushrooms.
What wine goes with chimichurri salmon?
Since chimichurri is classically an Argentinian dish, I love to pair this Chimichurri Salmon with Argentinian wine. For red, consider a Malbec. For white, consider Chardonnay.
Want to sharpen your kitchen skills?
Why You Should Make this 20-Minute Chimichurri Salmon
---
It's brimming with flavor! Packed with complex flavor from marinading and finishing baked salmon with Chimichurri.
It's quick and easy. Ready in 20 minutes or less!
It's fresh! The fresh and vibrant flavor and color of this Chimichurri is so memorable.
If you're loving this Chimichurri Salmon and want more easy fish main dishes, check out his Pecan Crusted Halibut and Crispy Blackened Mahi-Mahi.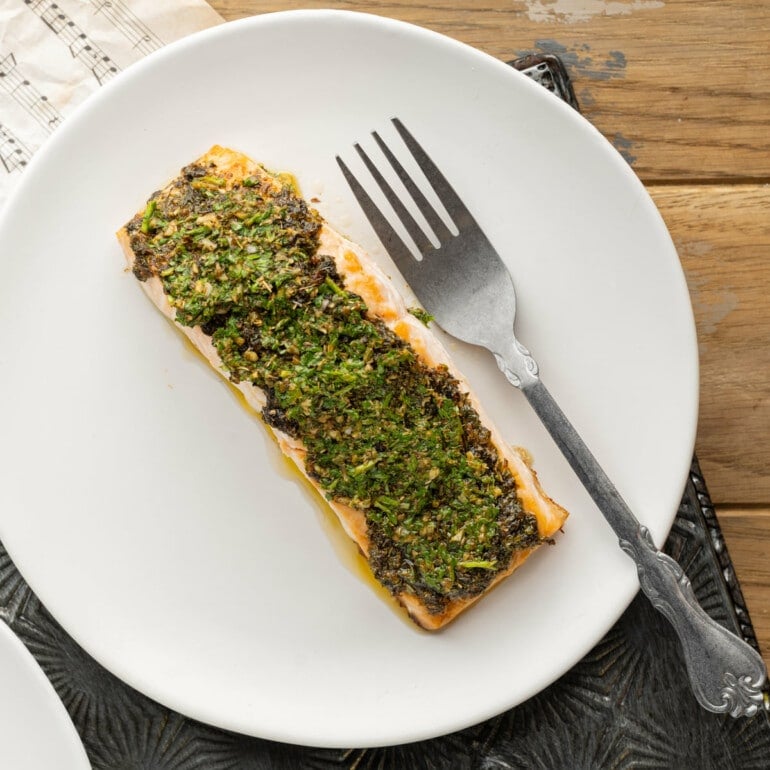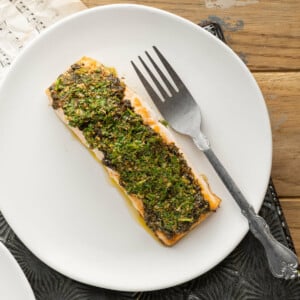 20-Minute Chimichurri Salmon
PRINT
PIN
RATE
This Chimichurri Salmon recipe teaches you how to make a quick, classic chimichurri to marinate your baked salmon with. Ready in 20 minutes!
Ingredients
3

cloves

garlic

1

cup

fresh parsley

1

tablespoon

fresh or dried oregano

2

tablespoon

red wine vinegar

¼

cup

extra-virgin olive oil

¼

teaspoon

salt

¼

teaspoon

black pepper

¼

teaspoon

paprika

2

portions

salmon

(each portion = approx. 3-5 ounces)
Instructions
Preheat your oven to 475°F.

Peel the garlic and add it to a high-powered blender or food processor with the parsley, oregano, red wine vinegar, salt, pepper, and paprika.

Use the pulse button on your food processor or blender a few times until everything is minced and there are not large chunks of garlic left. Use a spatula to scrape down the sides in between each pulse if need be.

Remove the blade and add olive oil. Use a wooden spoon to stir, or transfer contents into a separate bowl to mix in olive oil. Do not blend the olive oil into the other ingredients. This will emulsify the oil and vinegar and change the texture completely.

Prep your salmon by cutting into individual portions (about 3-5 ounces each) if necessary and patting dry with paper towels (try these bamboo paper towels for a more sustainable option!).

Add the salmon to a small casserole dish (preferred) or baking sheet, skin side down. Coat each piece of salmon with a generous amount of Chimichurri (you should use about ½ of the Chimichurri in this step).

Bake for 10-12 minutes until internal temperature reaches 125°F.

Finish with an extra spoonful of fresh Chimichurri and serve hot!
Pro Tips
If you want a spicy version of this, use this Serrano Pepper Chimichurri in place of the chimichurri in this recipe or add some crushed red pepper to the food processor or blender with your other ingredients. 
You can easily double or even triple this recipe, just note you may need a couple of extra minutes in the oven. 
For more recipes like this, check out this list of Simple Salmon Recipes. 
Did you make this recipe?
Let me know by leaving a recipe rating below, or by tagging @marleysmenu on Instagram.