Looking for an over-the-top delicious way to revamp your stale bread? This Moist Chocolate Chip Bread Pudding will have you actually hoping your bread gets stale so you can make it again and again!
If you're a chocolate fiend like me, this may quickly become one of your favorite desserts! Moist, sticky and sweet bread pudding with copious amount of melty chocolate. It's easy to make, only requires 8 common ingredients, and is totally foolproof.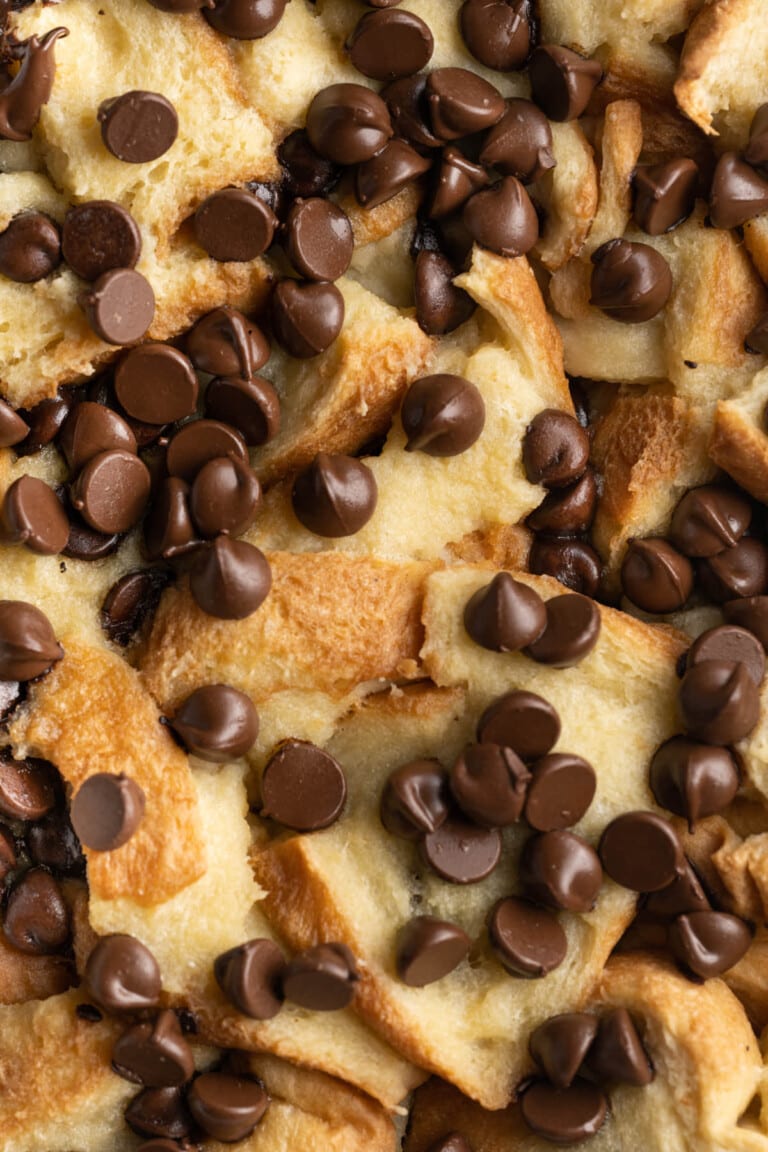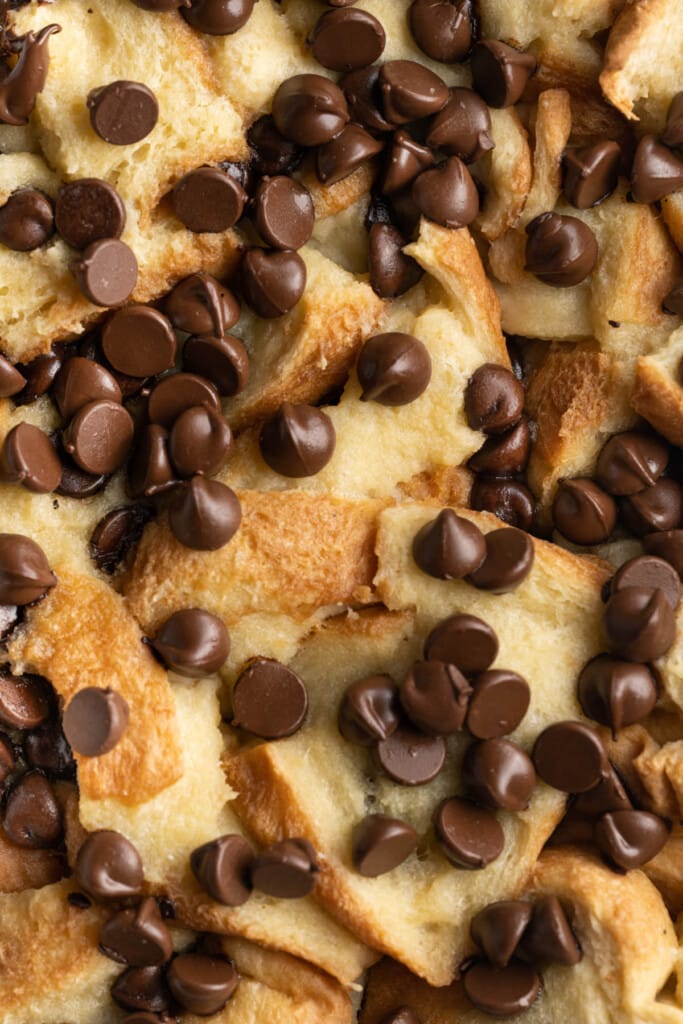 As an environmental scientist, I always keep the issue of food waste front of mind. And when avoiding food waste tastes this outrageously delicious, I think it's something we can all easily get behind.
Green tip: Bread is one of the most wasted food products in the U.S. because of our tendency to throw it out as soon as it's stale. Reduce your contribution to food waste by re-vamping your stale bread with Chocolate Chip Bread Pudding!
Chocolate Chip Bread Pudding Ingredients
---
---
Here's everything you need:
Stale bread. Really any kind of bread will do, but preferably white bread, challah, brioche, or French bread.
Butter. Unsalted butter is best. It will be completely melted to add to your mixture.
Eggs. For binding and leavening. For an egg-free or vegan version, you can add dairy-free chocolate chips to this Vegan Bread Pudding.
Milk. For moisture. Any unsweetened milk works here, dairy or not.
Granulated sugar. For sweetness.
Vanilla extract. For flavor.
Chocolate chips. Dark chocolate chips are my favorite, but semi-sweet work, too!
Salt. This elevates the other natural flavors and tastes so delicious with the chocolate!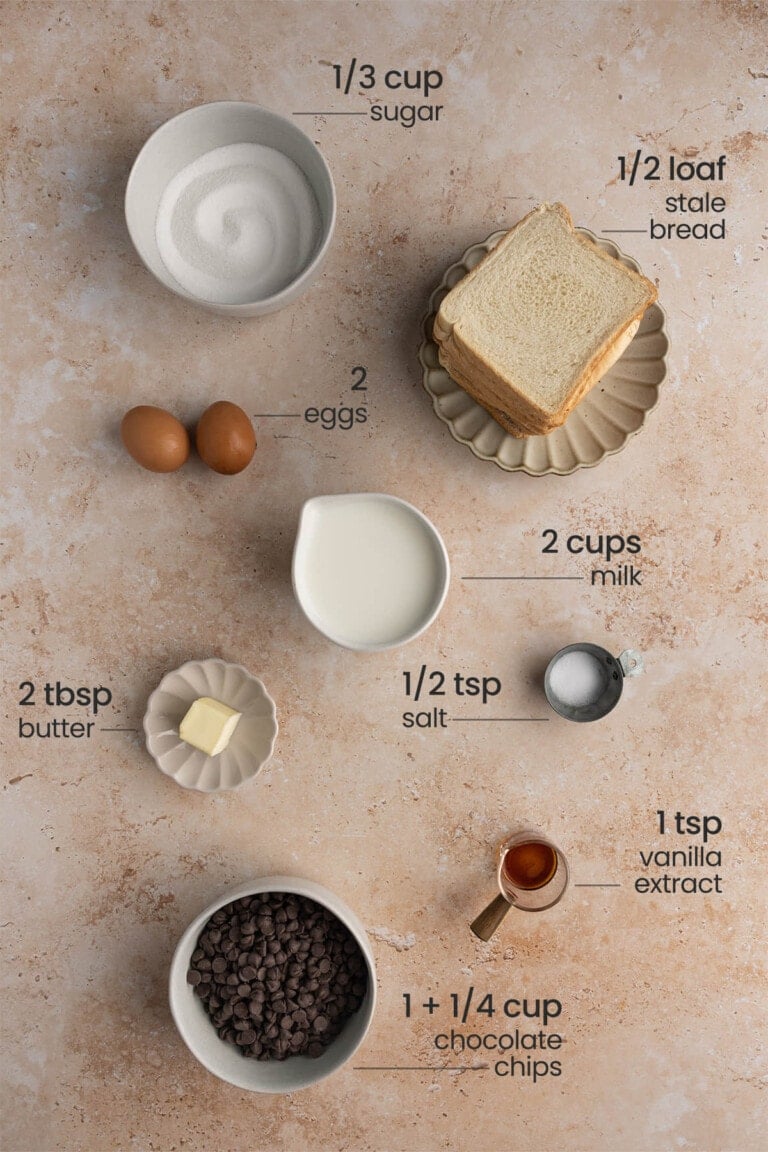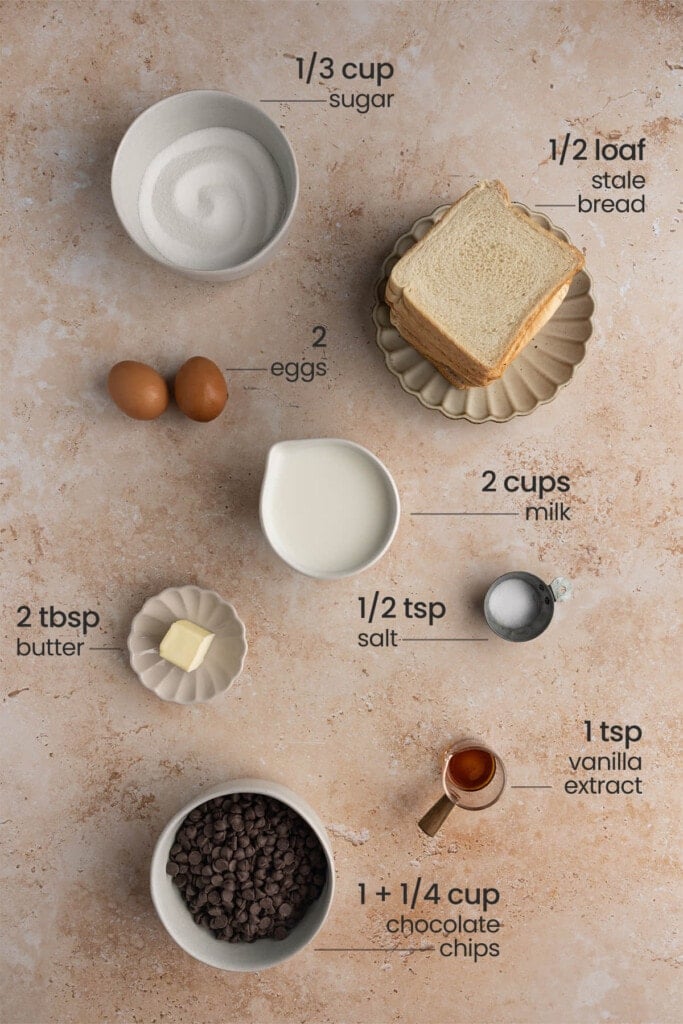 Bread Pudding with Chocolate Chips Tips and Tricks
---
---
Melt Your Butter First
Make sure to melt your butter first so it has time to cool before you add it to your mixture. If you add it while it's too hot, you risk scrambling your eggs or curdling your milk.
You can melt your butter over the stove, in the oven, or if you're lazy like me, just quickly melt it in the microwave!
Add your butter to a microwave-safe bowl (you can even use your glass measuring cup) and microwave on high in 20-second intervals. Stir in between and continue to heat until the butter completely liquefies. Easy, peasy!
Once your butter is melted, set it aside to cool while you mix the rest of your ingredients.
Green tip: Look for organic and palm oil-free vegan butter if you can. Buying organic means you are supporting farms that do not use damaging pesticides and fertilizers, and palm oil production is a huge driver behind deforestation.
Cube Your Bread
Cut your bread into small cubes to allow each piece to absorb more of your mixture. This will give your bread pudding that melt-in-your-mouth consistency and ensuring every bite is full of flavor.
Though any kind bread can be used for bread pudding, I find that white bread, challah, brioche, or French bread are best. These types of bread are milder and subtly sweet in flavor, making them perfect for a carbo-licious dessert!
No matter what type of bread you use, it's best that your bread is stale. This will give you the right consistency even after soaking up all of your liquid. Fresh bread may get a little too soggy.
Cutting your bread into cubes is easy! If your loaf of bread is whole (not pre-sliced), cut it into slices about 1-inch thick.
If your bread is already sliced, it's as easy as cutting it into 4 parts vertically, then rotating it 90 degrees and slicing it roughly into thirds to form little bread cubes.
For quicker cubing, stack your bread and cut up to 4 slices at one time.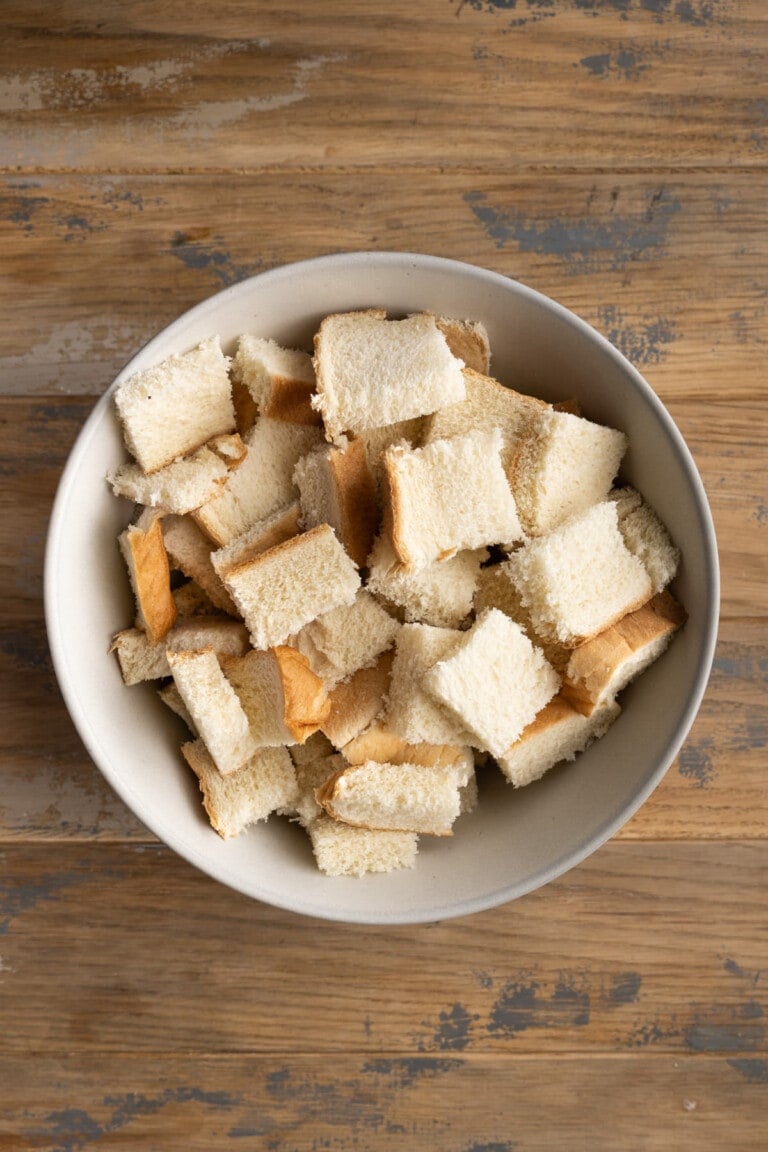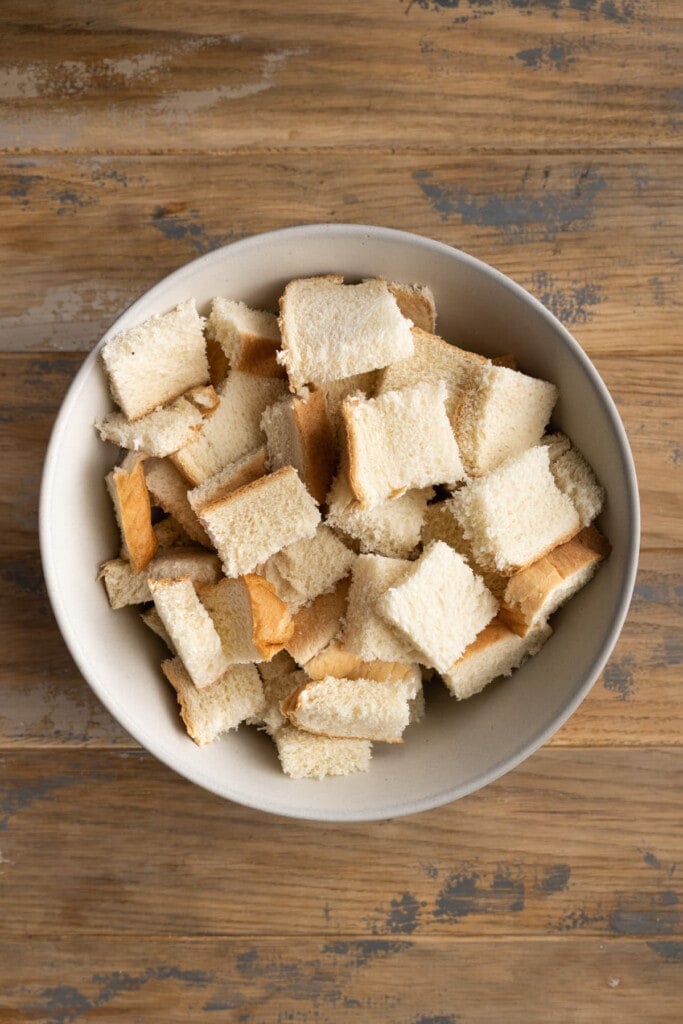 Mix Up Your Ingredients
Whisk together the milk, eggs, vanilla extract, sugar, and salt. Make sure the butter has had time to come down to room temperature and once it has, add that, too.
Whisk until smooth.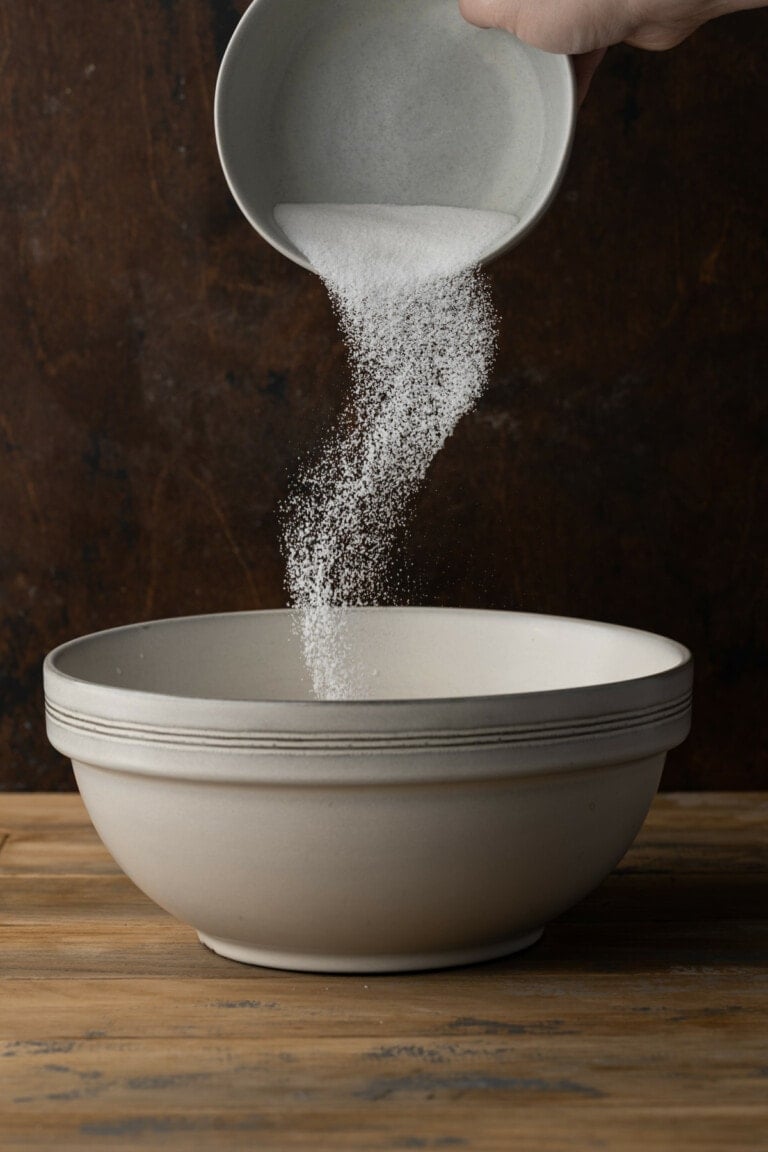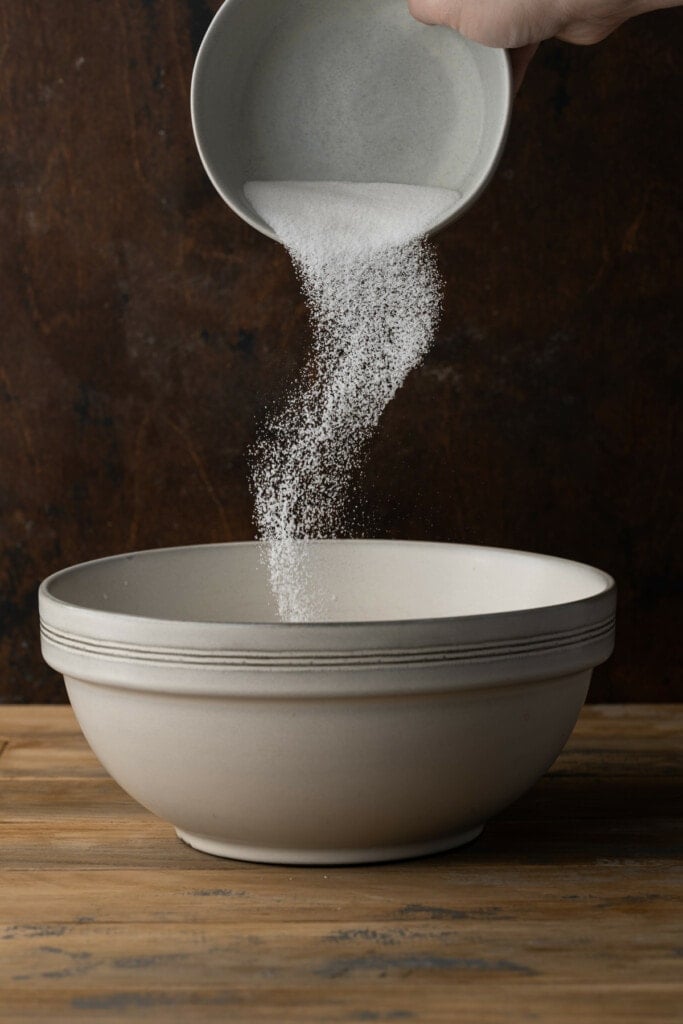 Fold in Your Cubed Bread
Add your cubed bread to the milky mixture and use a spatula to gently fold, avoiding crumbling the bread. Continue to fold until the bread soaks up the liquid.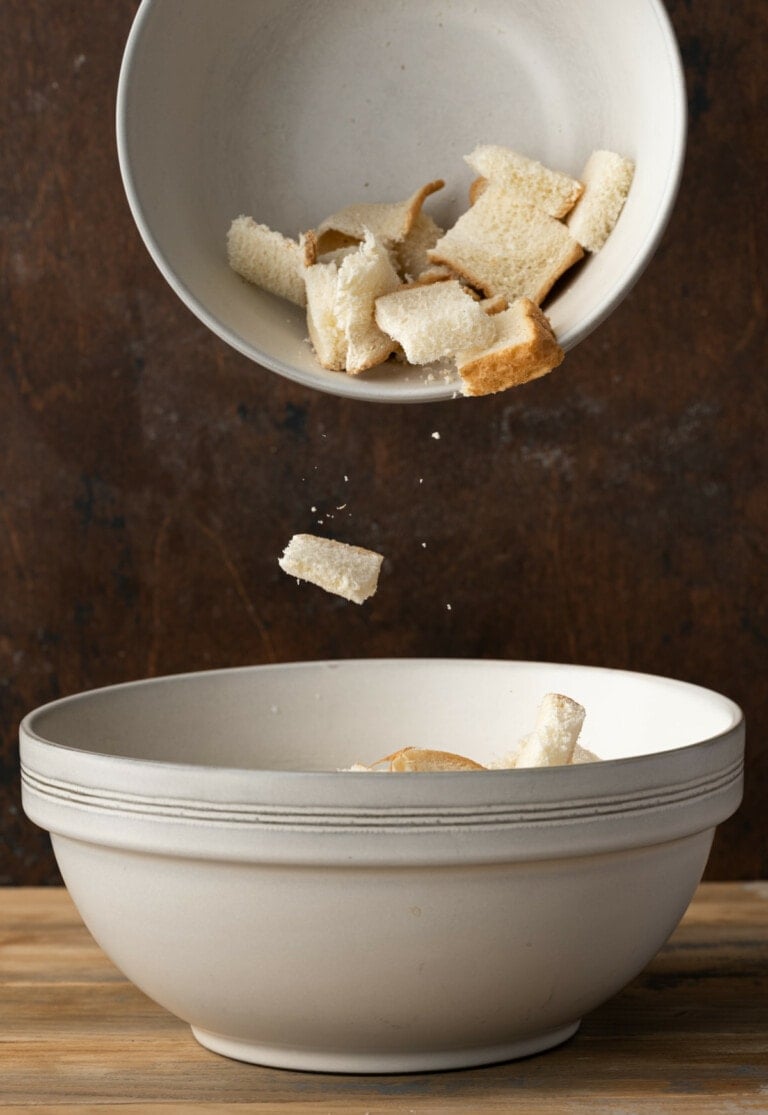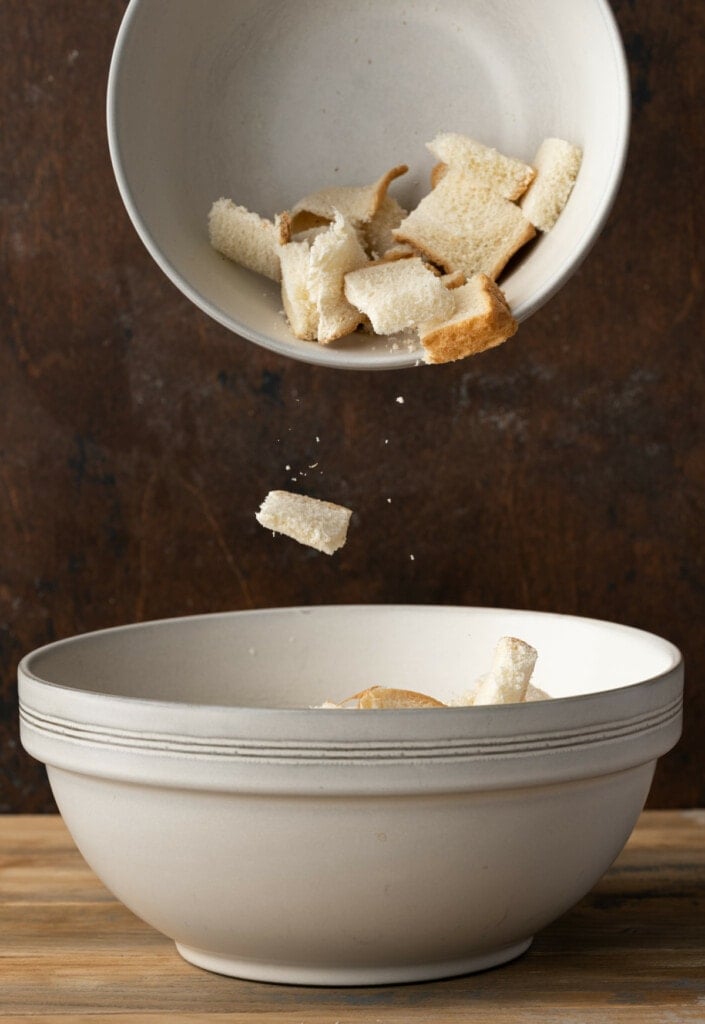 Add Some Chocolate Chips
Use your spatula again to fold in 1 cup of chocolate chips, again being careful not to break down the bread too much. Save the remaining 1/4 cup of chocolate chips for later.
Continue to fold until the chocolate chips are evenly distributed throughout your bread pudding mixture.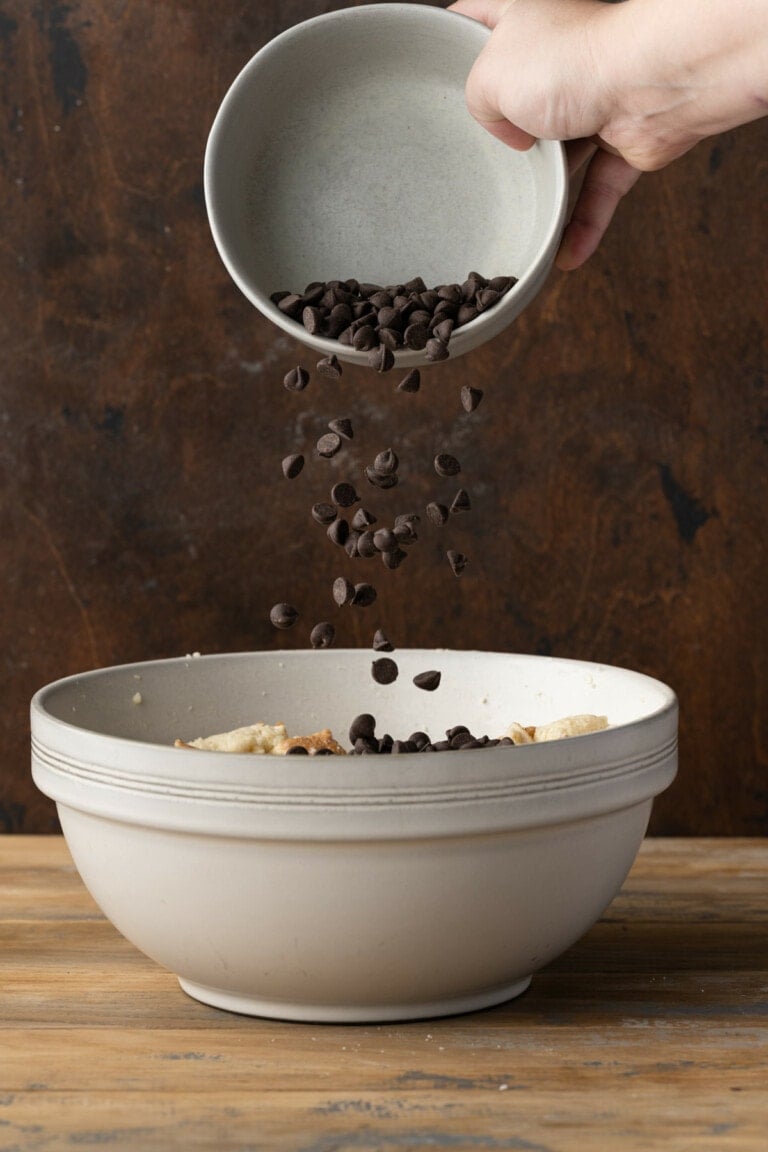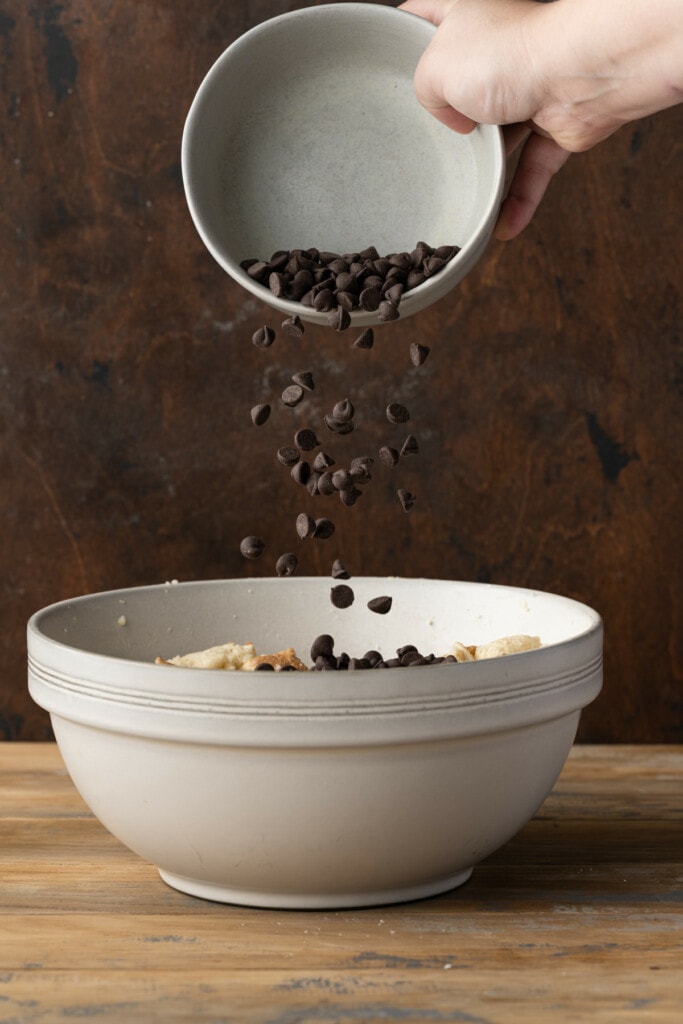 Transfer to a Baking Dish
Once your chocolate chips are mixed in and bread is coated in your bread pudding mixture, transfer it to a casserole dish.
I used a 13″ x 9″ baking dish in the bread pudding pictured. You can also use an 11.5″ x 11.5″ square or a 13.5″ long oval baking dish.
There is no need to spray, line, or butter your dish. The small amount of butter and the fat from the milk will make your bread pudding naturally nonstick, so you'll be able to easily lift your bread pudding out of the casserole dish even without lining or spraying it.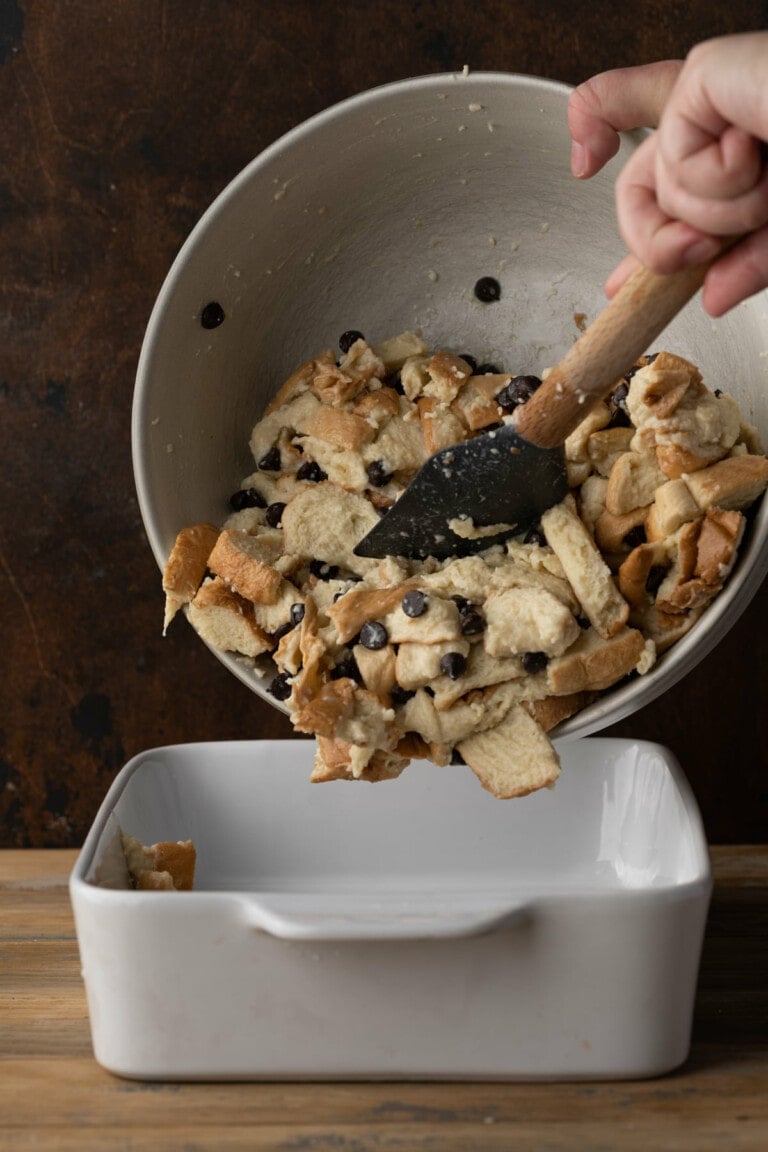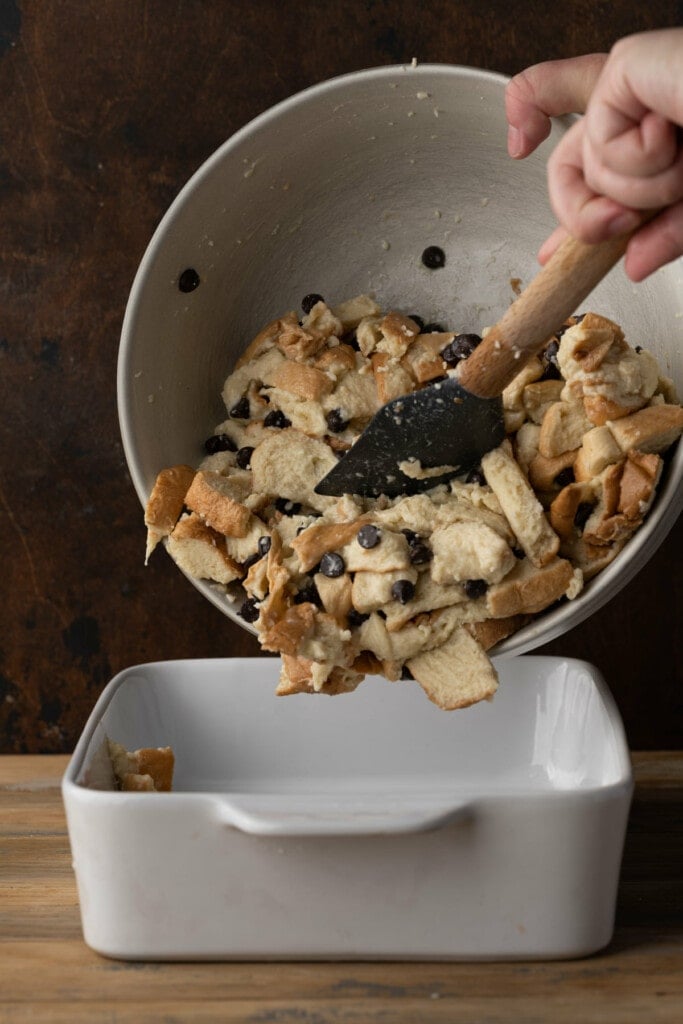 Top with More Chocolate Chips & Bake
Once your mixture is in the dish, use your spatula to spread it out, pressing down lightly to evenly distribute the bread pudding throughout the dish.
Then, take the chocolate chips you set aside and sprinkle them on top. Now, it's ready to bake!
Bake your Bread Pudding with Chocolate Chips for 40-45 minutes, until you see some slight browning on top.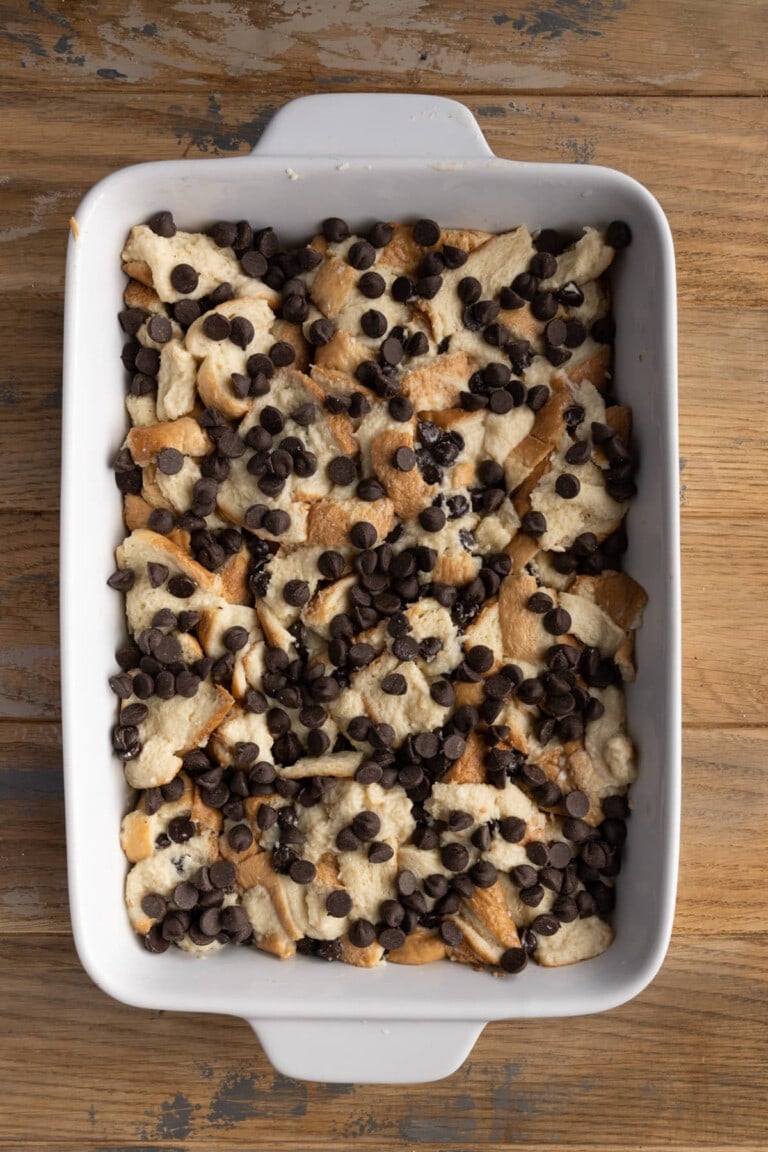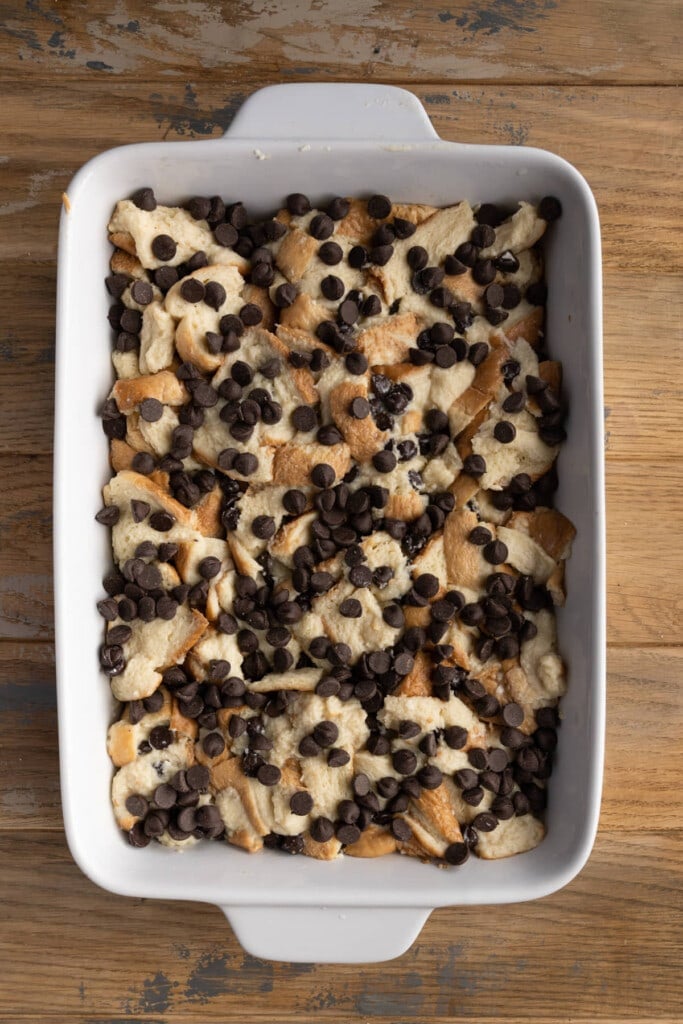 Storing Your Chocolate Chip Bread Pudding
This Chocolate Chip Bread Pudding will last up to 5 days in a sealed airtight container in the refrigerator. It can be eaten cold, at room temperature, or you can reheat it in the oven.
Reheat at 350°F for 10-15 minutes until nice and warm.
You can also opt to freeze this bread pudding for up to two months. Allow it to thaw overnight in the fridge to defrost.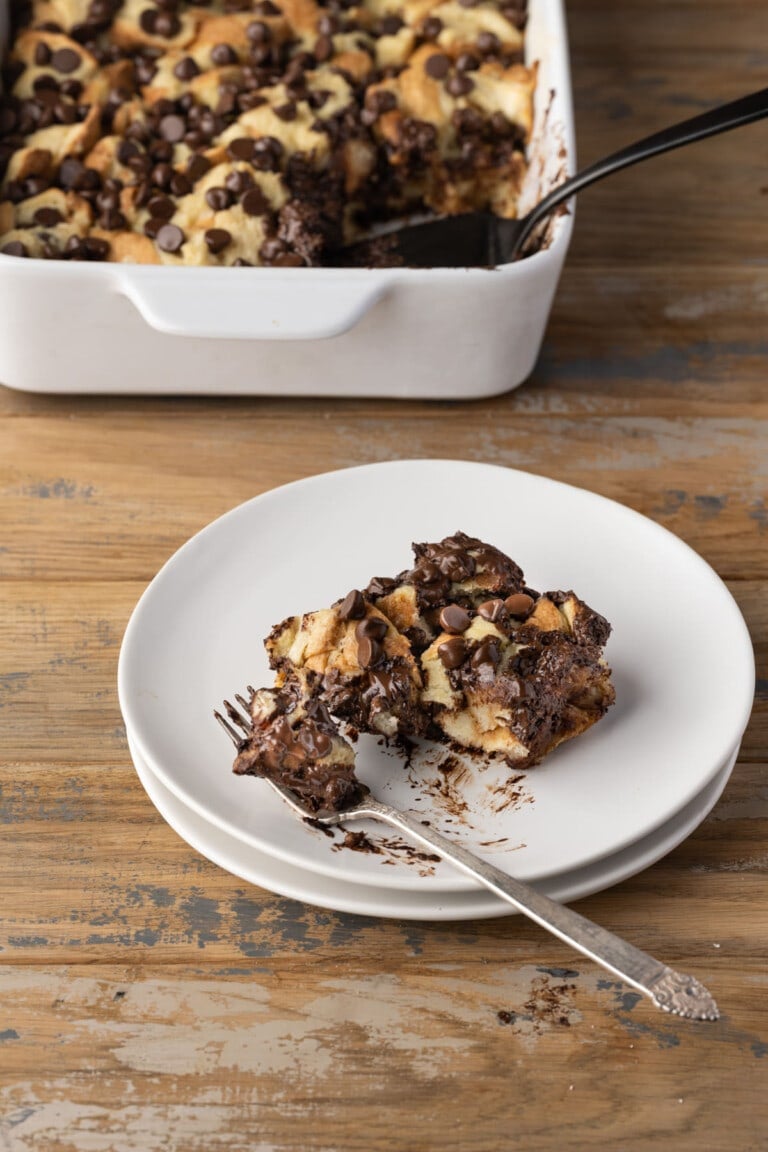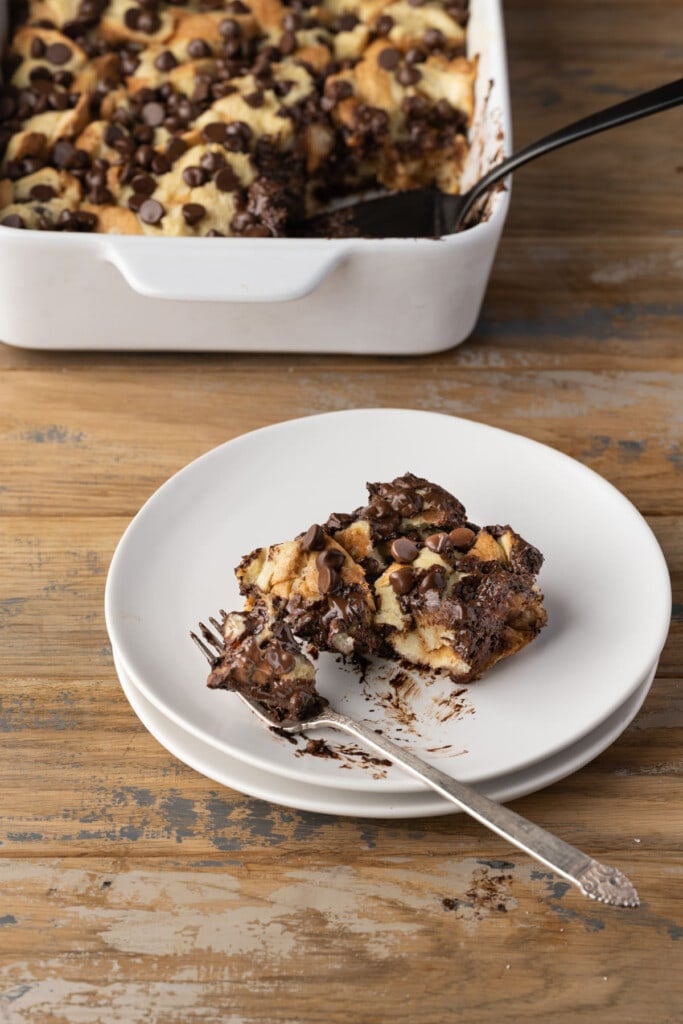 Chocolate Chip Bread Pudding Frequently Asked Questions
---
---
Should Bread Pudding be served warm or cold?
Bread pudding is super versatile and can be served cold, room temperature, or warm. When it comes to this Chocolate Chip Bread Pudding, I highly recommend serving it warm, so your chocolate gets ooey-gooey!
Can bread pudding sit out overnight?
Since bread pudding a super moist dessert, it is imperative that it is kept in the refrigerator. After baking, make sure to place it in the refrigerator within two hours to avoid any bacterial growth.
Sign-up for the Meatless Monday Challenge
Get access to the 4-week-long Meatless Monday Challenge, with accompanying meal plans, grocery shopping lists, and more, sent right to your inbox!
Why You Should Make this Moist Chocolate Chip Bread Pudding
---
---
It's easy. It's as simple as mixing your ingredients together, spreading them out in a casserole dish, and baking!
It's resourceful. Don't throw away stale bread, breathe new life into it with bread pudding!
It's a chocolate lovers dream. The generous amount of chocolate in each bite will have you swooning.
If you want to add even more flavor and moisture to this Chocolate Chip bread Pudding, check out this Vanilla Sauce for Bread Pudding or Brandy Sauce for Bread Pudding!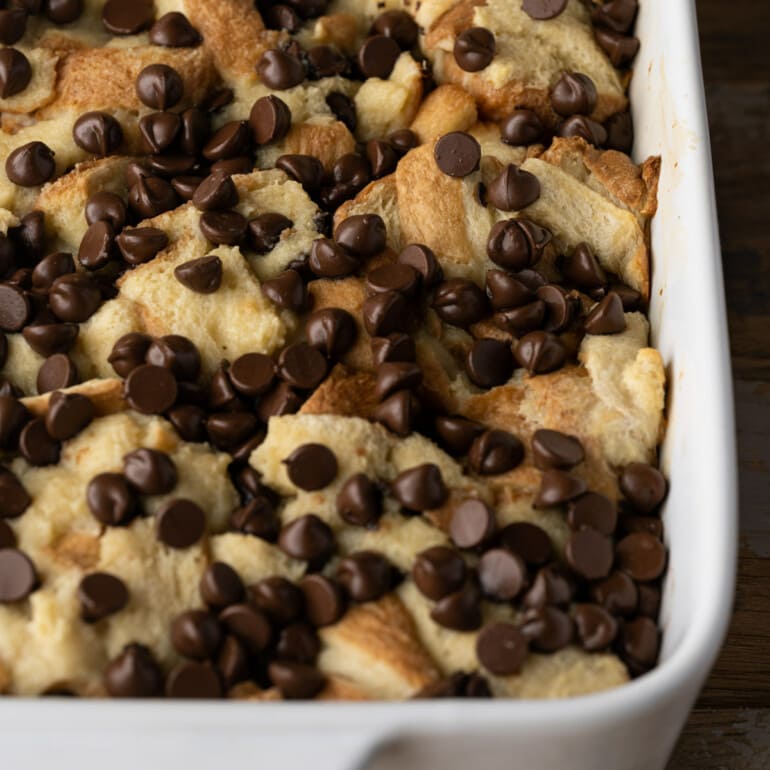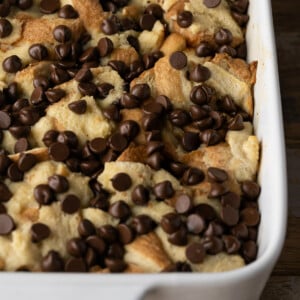 Moist Chocolate Chip Bread Pudding
PRINT
PIN
RATE
This easy, moist, and decadent Chocolate Chip Bread Pudding is the most delicious way to revamp your stale bread!
Ingredients
2

tablespoons

unsalted butter

(melted)

½

loaf

stale bread, preferably white, challah, brioche, or French

(½ loaf = approx. 10-12 slices)

2

cups

milk

(cows or unsweetened nondairy)

2

large

eggs

(room temperature)

⅓

cup

granulated sugar

1

teaspoon

vanilla extract

½

teaspoon

salt

1 ¼

cup

chocolate chips

(dark chocolate or semi-sweet)
Instructions
Preheat your oven to 350°F. Melt your butter on the stove or in the microwave by heating on high in 20-second intervals, stirring in between until completely liquefied. Set melted butter aside to cool.

Cut your bread into cubes, about 1-inch long on each side, and set aside.

In a large mixing bowl, whisk together milk, eggs, sugar, vanilla extract, salt and your cooled melted butter. Fold in your cubed bread and stir to coat.

Fold in 1 cup of chocolate chips and transfer the mixture to a baking dish. You can use a 13.5-inch oval, an 11.5-inch square, or a 13 x 9-inch rectangular casserole dish.

Sprinkle the remaining chocolate chips on top and bake for 40-45 minutes until the top starts to turn golden brown.
Pro Tips
This Chocolate Chip Bread Pudding will last up to 5 days in an airtight container in the refrigerator. 
It can be frozen for up to two months. 
If you want to add extra moisture and flavor to this bread pudding, check out this Vanilla Sauce and Brandy Sauce.
For more delicious ideas for how to breathe new life into stale bread, check out these amazing stale bread recipes!
Did you make this recipe?
Let me know by leaving a recipe rating below, or by tagging @marleysmenu on Instagram.