Need a chocolate fix and fast? This 5 Minute Chocolate Chip Mug Cake will bring you all the taste in texture of a freshly baked loaf cake in just 5 minutes from start to finish!
With just 8 ingredients, 80 seconds of cooking time, and only one mug required, this chocolatey mug treat is as easy as it gets. Plus, it's fluffy with subtle vanilla and caramel flavors and lots of chocolate in each bite!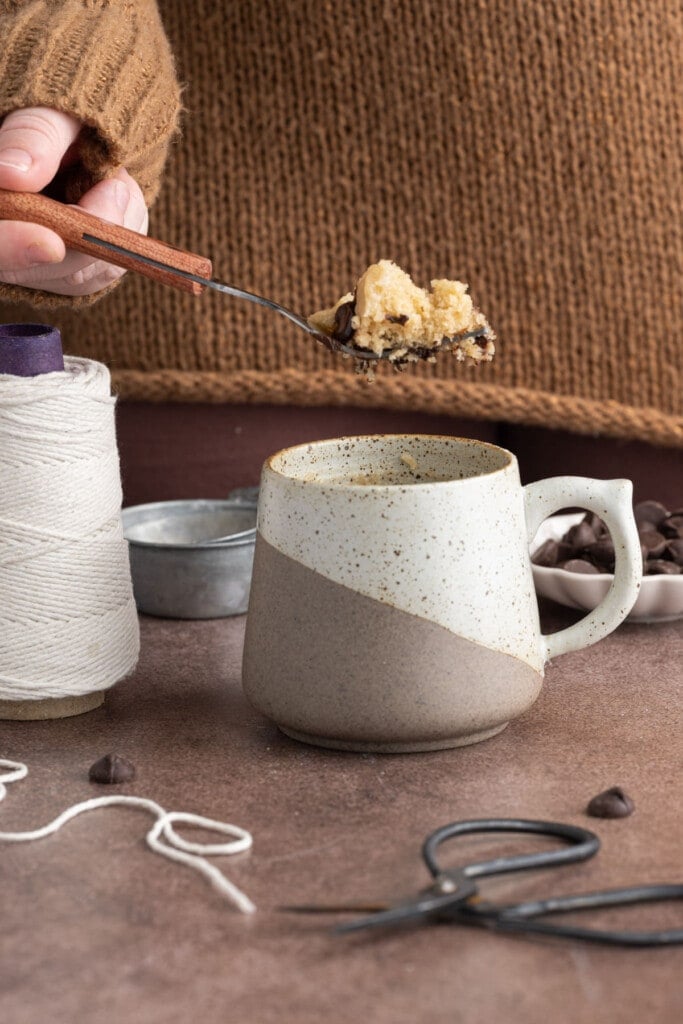 As an environmental scientist, I'm always looking for ways to reduce my contribution to food waste, and single-serving desserts are a great place to start!
Green tip: Did you know that of the billions of pounds of food wasted annually, it is estimated that 50% of it happens in our homes? It's always best to avoid food waste as much as you can!
Chocolate Chip Mug Cake Ingredients
---
Here's everything you need:
Unsalted butter. Melted. If you only have salted on hand, skip adding the extra salt. You can also use plant-based butter or margarine instead.
All-purpose flour. This will act as the base of your cake batter
Light brown sugar. You can also use dark brown sugar or granulated sugar, but I find that light brown sugar adds just enough extra caramel flavor for the best chocolate chip mug cake.
Baking powder. To help it rise.
Salt. To amplify all the other flavors.
Milk. Dairy or unsweetened non-dairy.
Vanilla extract. To add flavor.
Chocolate chips. Dark chocolate or semi-sweet. You can also chop up your favorite chocolate bar and add chocolate chunks.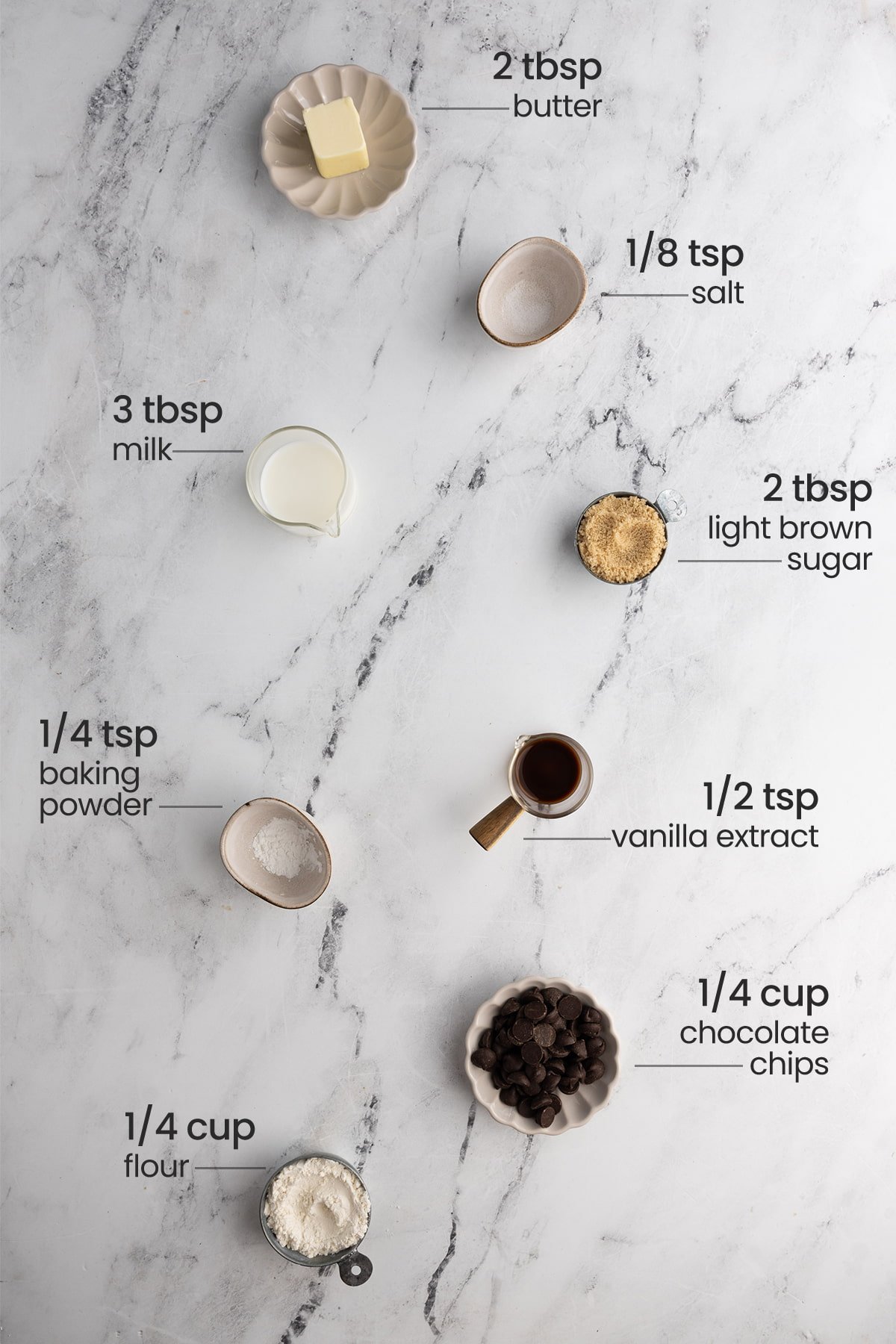 Mug Cake with Chocolate Chips Tips and Tricks
---
Melt Your Butter First
Start by adding your butter to a microwave-safe mug. Microwave on high in 30-second increments, stirring in between until the butter is completely melted and liquefied.
Green tip: Look for organic and palm oil-free butter if you can. Buying organic means you are supporting farms that do not use damaging pesticides and fertilizers, and palm oil production is a huge driver behind deforestation.
Add the Sugar Next
Add the brown sugar to your mug with the melted butter and use a fork or mini whisk to combine until there are no lumps.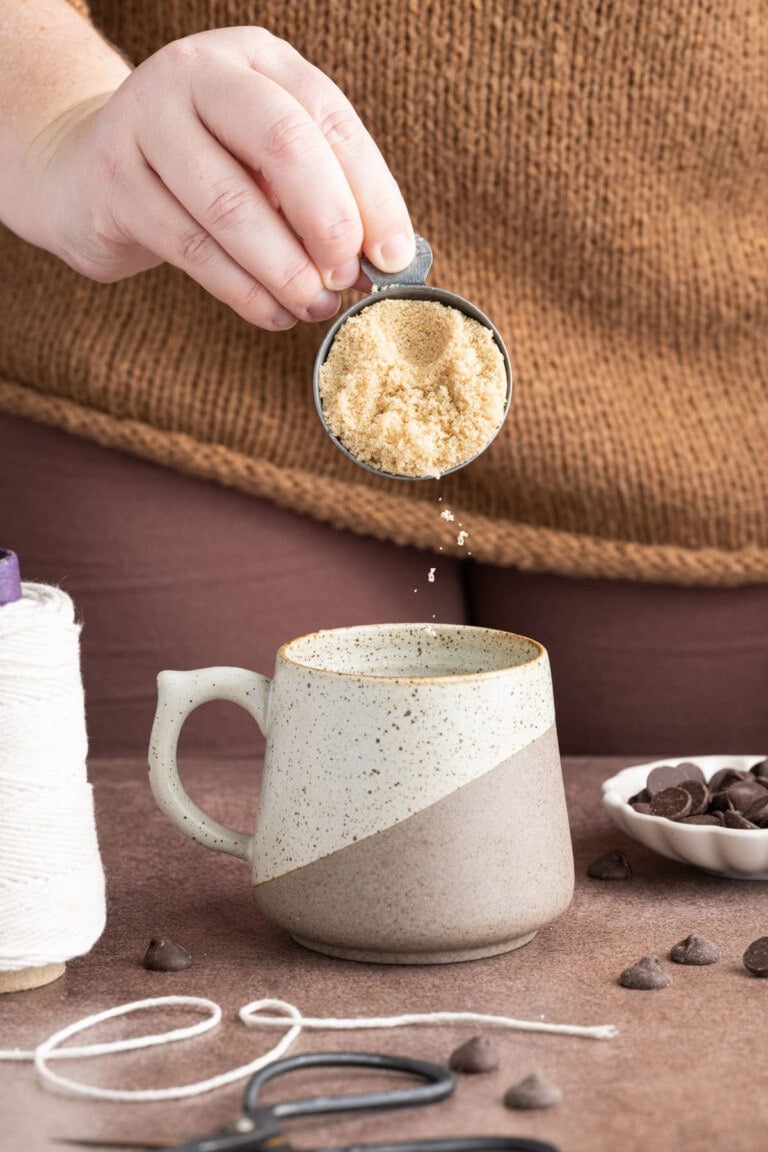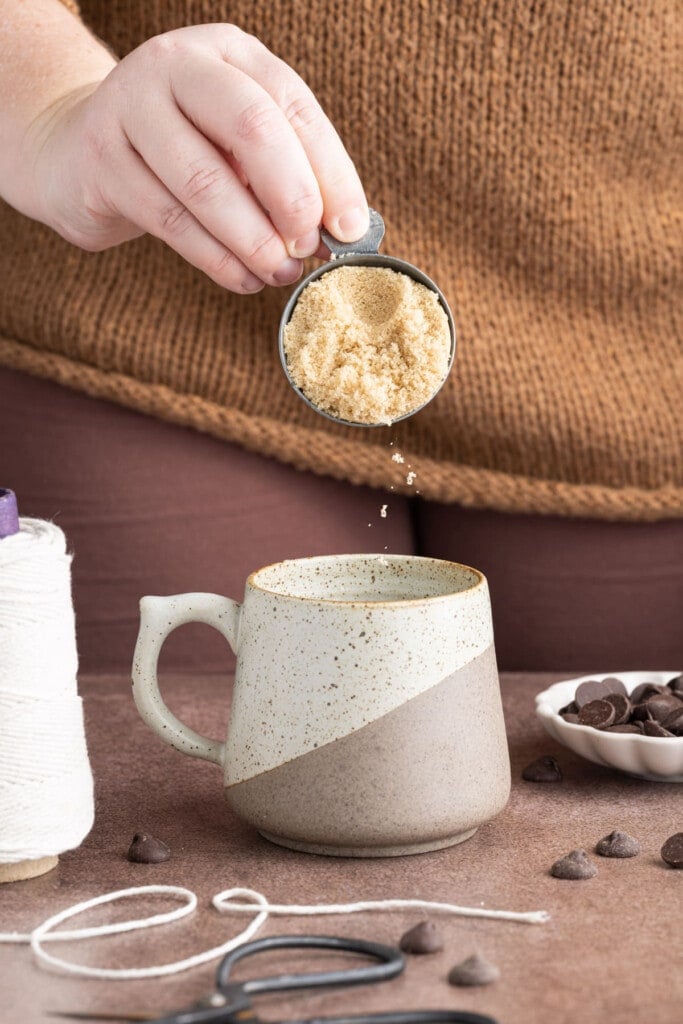 Add the Rest and Assess the Consistency
Add your flour, baking powder, salt, milk, and vanilla extract. It's best if the milk is at room temperature so that it doesn't make the melted butter seize up.
Use a fork to mix, making sure you are left with a smooth batter. Use the fork to scrape and dry ingredients that may have stuck to the inside corners of the mug and ensure all of the ingredients are incorporated into the mug cake batter.
At this point, assess the consistency of your batter. It should be pretty thin, but still thick enough for the chocolate chips to sit on top. Think pancake batter.
If it's too thin, you can add up to 2 teaspoons extra flour until you achieve the desired consistency.
Conserve Some Chocolate Chips for the Top
Next stir in about 3/4 of the chocolate chips, leaving some behind to add on top. The chocolate chips are heavy and tend to want to sink to the bottom as your mug cake cooks.
Adding some chocolate chips on top will help to distribute your chocolate chips more evenly through every bite.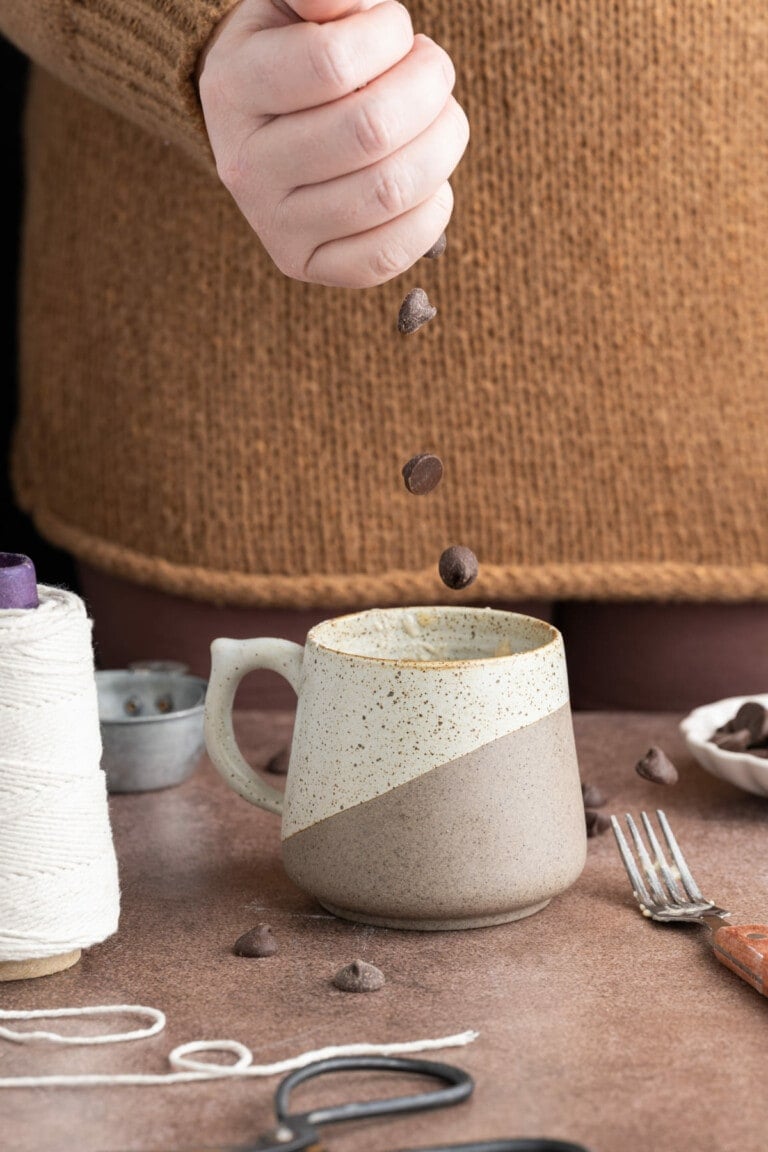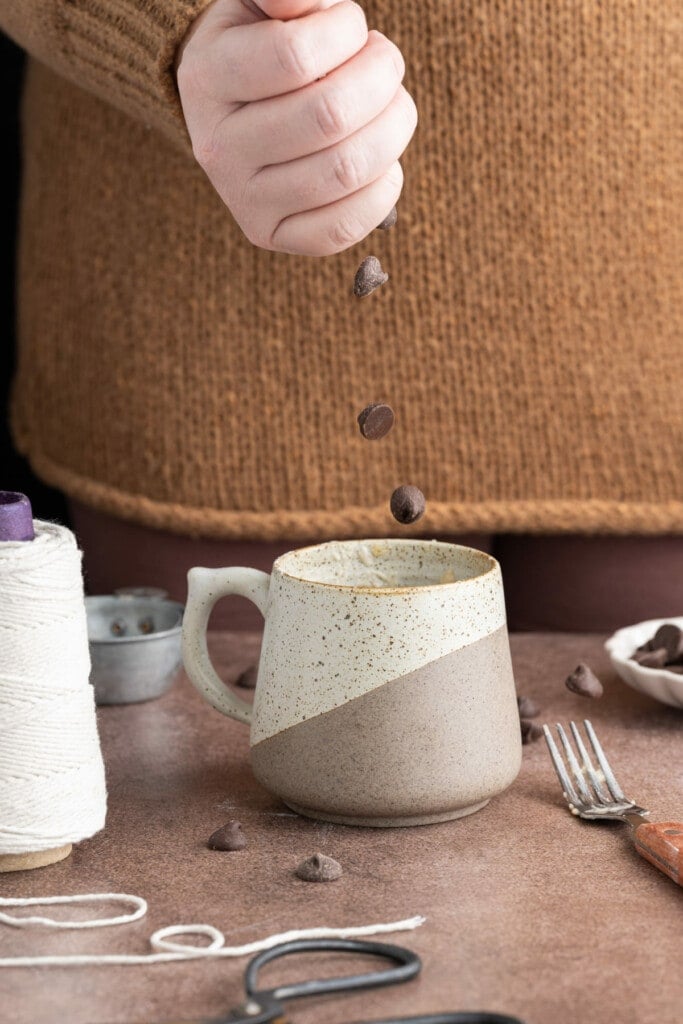 Microwave and Let it Sit
Microwave your single-serving chocolate chip cake on high for 80 seconds. Then, leave it in the microwave for another minute to continue to cook.
If you take it out of the microwave and notice it looks a little underdone in the center, you can microwave it again for an additional 10-20 seconds on high. Or you can leave it slightly underdone for a super moist texture.
It's better to undercook than overcook it. Overcooking the mug cake may make it an almost "spongey" texture.
Green tip: Organic farms rely on biodiversity to generate rich soil, avoiding the use of pesticides and fertilizers, which means no toxic runoff. Consider organic ingredients for this mug cake.
Microwave Time May Vary
Every microwave is just a little bit different. My microwave is 900 watts, and on high, this chocolate chip mug cake is perfect after 80 seconds of heating and 1 minute of sitting.
The average microwave is between 600-1200 watts. If you know your microwave is 600 watts, you will probably need an extra 10 seconds. However, if your microwave is 1200 watts, start with 70 seconds.
If you're not sure about your microwave wattage (and who would blame you?), stick with 80 seconds. Regardless, it will be safe to eat and delicious either way. Just make yourself a note for next time if you feel it was slightly over or undercooked.
If you're making more than one mug cake, it's best to microwave them separately.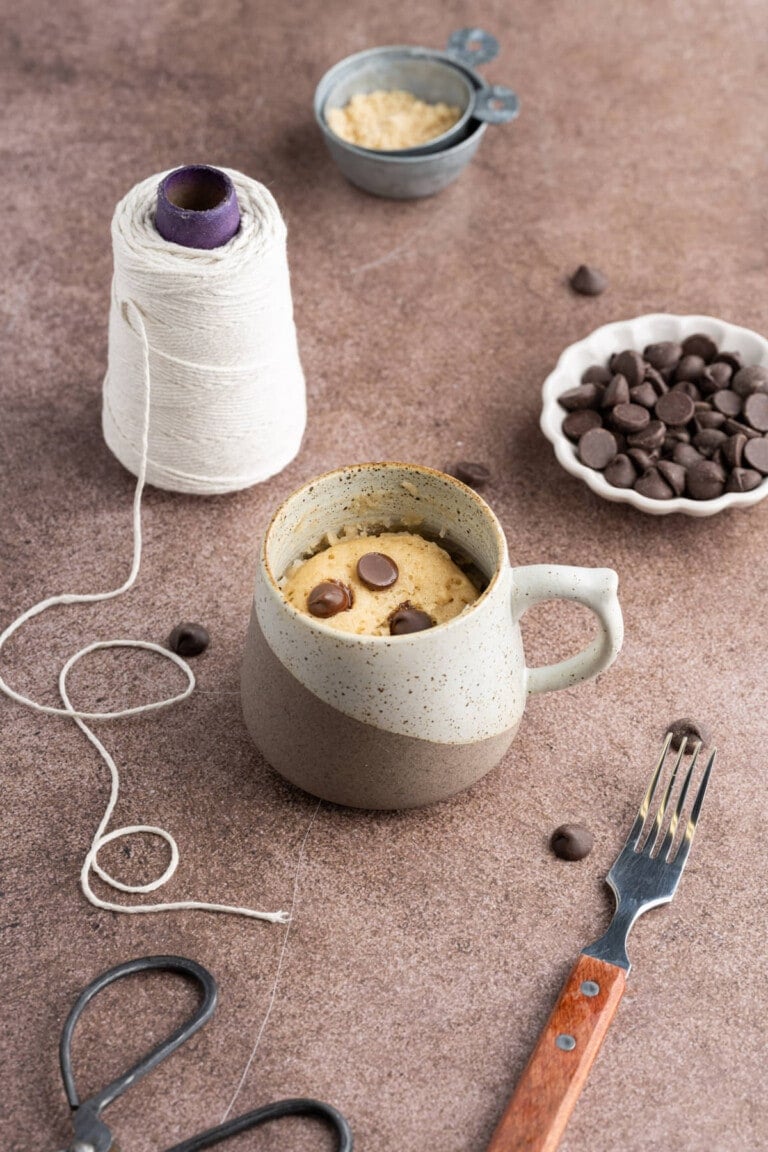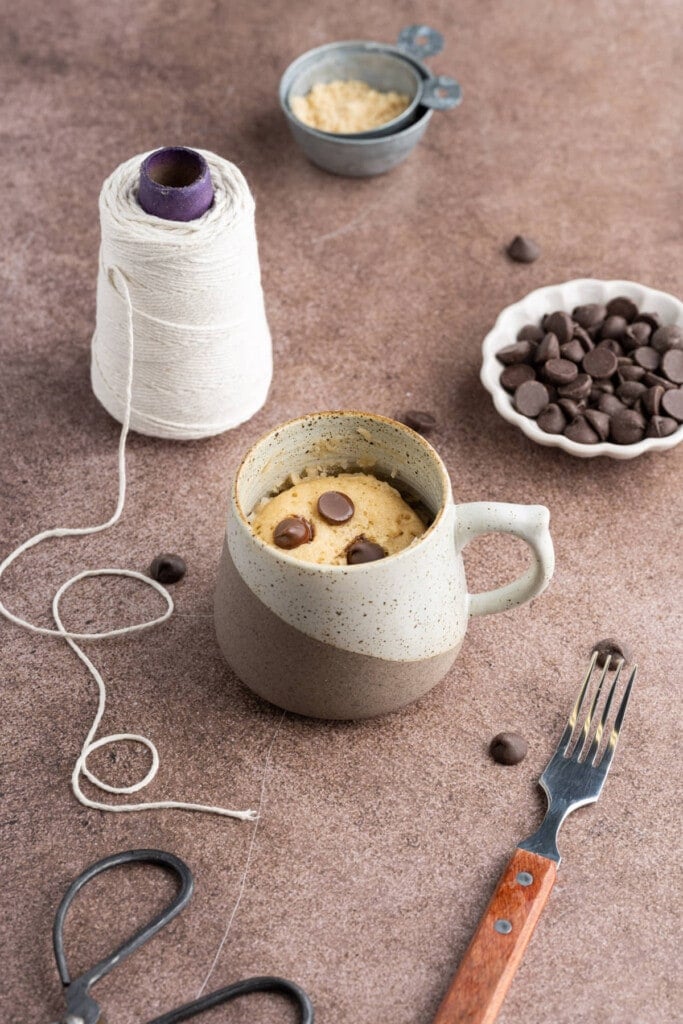 Chocolate Chip Mug Cake Frequently Asked Questions
---
Can I bake a mug cake in the oven instead of the microwave?
Yes, so long as your mug is safe for the oven, then you can! It takes much longer, but is still easy to throw together, and makes a single serving.
Place your oven-safe mug on a baking sheet and bake it at 350°F on the top rack for 20-25 minutes until a toothpick comes out clean.
Are mug cakes supposed to be dry?
If your mug cake is dry and spongey, it is probably overcooked. While microwaves do differ, the average microwave will cook this mug cake in just 80 seconds. It's better to undercook it than overcook it.
Want to sharpen your kitchen skills?
Why You Should Make This Chocolate Chip Mug Cake
---
It's quick. Only 80 seconds in the microwave and 5 minutes total.
It's easy. Only one mug and 8 ingredients are required.
It's delicious! Super chocolatey and light!
If you're loving this Chocolate Chip Mug Cake and want more quick and easy mug desserts, check out this 90-Second Chocolate Oreo Mug Cake.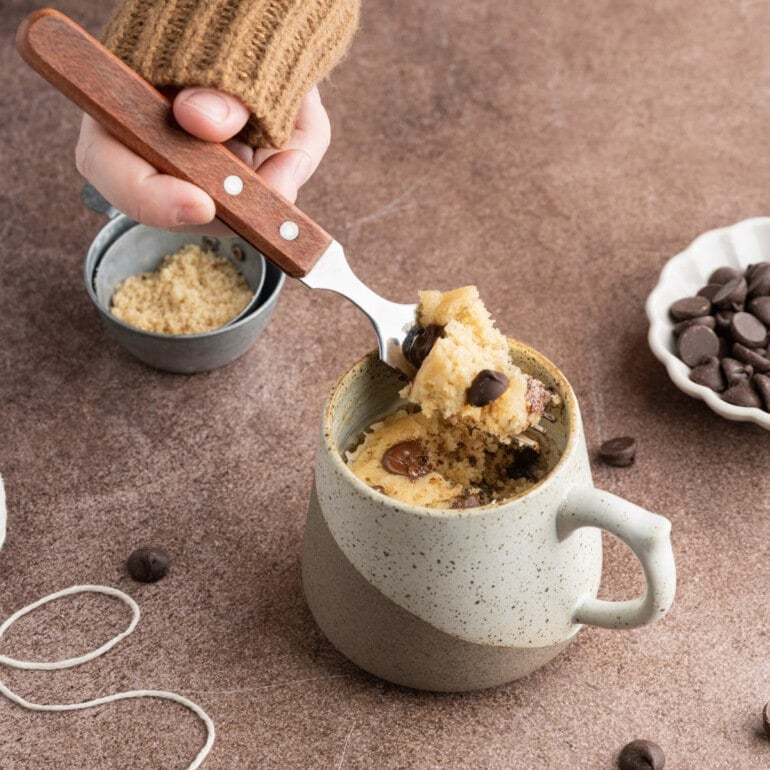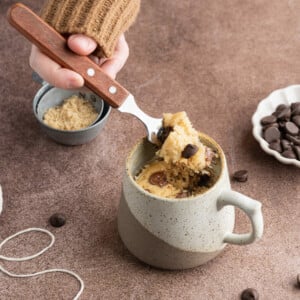 5-Minute Chocolate Chip Mug Cake
PRINT
PIN
RATE
This light and airy Chocolate Chip Mug Cake is the quickest & easiest way to satisfy your chocolate craving with delicious flavor & melty chocolate chips. Five minutes from start to finish!
Ingredients
2

tablespoons

unsalted butter

(non-dairy works!)

2

tablespoons

light brown sugar

(tightly packed)

¼

cup

all-purpose flour

¼

teaspoon

baking powder

⅛

teaspoon

salt

3

tablespoons

milk (preferably at room temperature)

(dairy or unsweetened non-dairy)

½

teaspoon

vanilla extract

¼

cup

chocolate chips

(dark or semi-sweet chocolate)
Instructions
Melt the butter to a microwave-safe mug and melt in 30-second increments, stirring in between, until completely liquefied.

Add the sugar and stir with a fork until well combined.

Add the flour, baking powder, salt, milk, vanilla extract and use your fork to stir until the batter is smooth and free from lumps. Make sure you integrate any dry ingredients that may have gotten stuck to the sides or corners of the mug.

Asses the consistency of your batter. Ideally, it should be like pancake batter—not too thick, but thick enough so that the chocolate chips can float on top. If the batter is too thin, you can add up to 2 more teaspoons of flour if needed.

Stir in about 3/4 of the chocolate chips, then sprinkle the remaining chocolate chips on top.

Microwave for 80 seconds, then allow the mug cake to sit in the microwave for an additional 1 minute. Enjoy!
Pro Tips
If after microwaving for 80 seconds and letting it sit for 1 minute in the microwave your chocolate chip mug cake still looks underdone, you can heat it for an additional 10-20 seconds. 
For more single-serve, microwaveable desserts, check out this list of Easy Mug Cake Recipes!
Did you make this recipe?
Let me know by leaving a recipe rating below, or by tagging @marleysmenu on Instagram.