Looking for a new way to enjoy your favorite combo of chocolate and mint? This chocolate mint pie is fudgy with a crunchy crust, and just the right amount of fresh minty flavor!
Think thin mint cookies, but make it a fudgy pie. With a flaky, crunchy, Oreo crust, and a gooey minty filling, this chocolate pie is dangerously delicious.
Chocolate Mint Pie Tips and Tricks
Use Your Hands
Once you've blended your Oreos and your melted butter together, just pour the crust mixture directly into your pie dish, and use your hands to press the crust mixture into the dish.
Quick note: Blind baking is just baking the crust without the filling to ensure that it's nice and crunchy.
Use your pointer finger and your thumb to pinch the crust mixture up the sides of the dish and blind bake it for 10 minutes.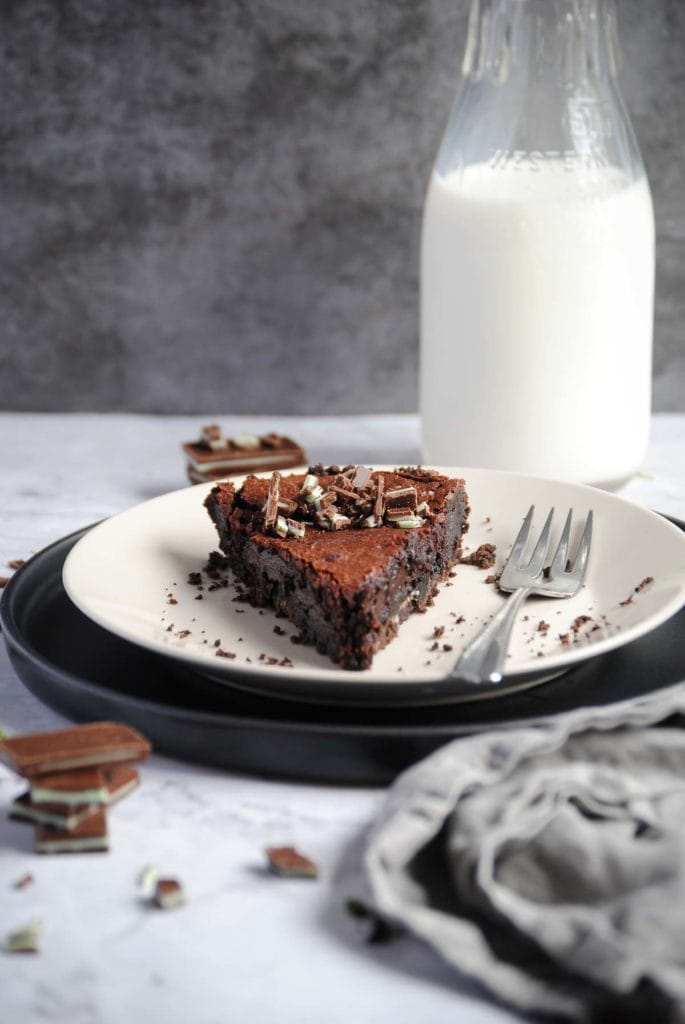 The Melting Pot Approach
The first thing you'll need to do for your chocolate mint pie filling is to heat your cream. The safest way to do this is with a double boiler. Nothing fancy! I just use a heat-safe glass bowl over a boiling pot of water on the stove. You could also use a second, smaller pot, or a stainless steel bowl.
The idea is just to not put the cream directly on the heat source, to avoid over-heating it.
Heat it until it starts to simmer, and a thick skin starts to appear on top. Then, remove it from the heat and add it to a bowl with your chocolate chips.
Continue to stir until your chocolate chips melt. I's okay if it's not perfectly smooth. You may still have some little bits of chocolate and that's just fine. It will continue to melt in the oven.
Green tip: Make sure your chocolate is sustainably sourced. Look for Fair Trade, Rainforest Alliance, or UTZ certifications as opposed to self-proclaimed sustainability labels that sometimes falsely advertise "sustainably sourced".
Let The Chocolate/Cream Mixture Cool Off
After stirring your chocolate and cream together, stick it in the freezer for about ten minutes, just so it is able to cool down a bit. Once it's cooled, it will thicken more easily.
Use a hand-mixer (affiliate link) to whip the chocolate/cream mixture first until it starts to bubble. Then you can add your sugar and cocoa powder with the hand mixer on low. You'll notice it thickening up a bit.
Green tip: Organic farms rely on biodiversity to generate rich soil, avoiding the use of pesticides and fertilizers, which means no toxic runoff. Consider organic cream and butter for this recipe.
Fold In Your Extract and Egg
Go ahead and put away that hand mixer! It's time for the spatula. Use the spatula to fold in your extract and egg, as to not over-beat your egg.
Voila! You're ready to pour your chocolate mint pie filling into your Oreo crust!
Double Baked
Notice that you are using your oven twice—once to blind bake the pie crust, and again with your filling. Note that the temperature should be at 350 degrees Fahrenheit for the blind bake, but only 325 degrees Fahrenheit for baking the whole pie.
It may take a little time for your oven temperature to come down, so it's best to change the temperature on your oven setting as soon as you take the pie crust out of the oven after blind baking.
Should You Have Leftovers
This pie serves 12, but it's… well, it's really, really good. And 1 serving may turn into 2 or 3.
But should you have leftovers (you certainly have more willpower than me), you can cover this pie and store it in the refrigerator for up to a week.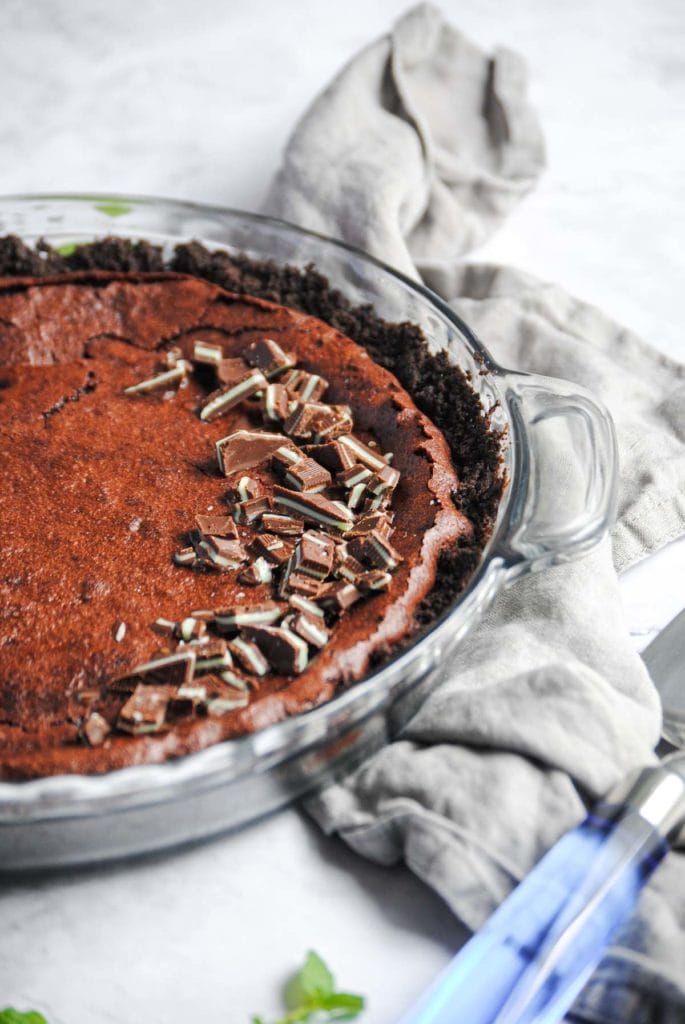 Why You Should Make this Chocolate Mint Pie
It has the crunchiest base. That 2-ingredient Oreo base is easy to whip up and even easier to eat.
It's so dang chocolatey. That gooey, fudgy, chocolate filling will make this your new favorite dessert.
It has the BEST flavor combo. There's a reason chocolate and mint are such a popular pair.
Loving this Chocolate Mint Pie and looking for more pie inspiration? Check out this Pineapple Pie and this Dark Chocolate Oreo Pie.