Looking to up-level your cinnamon rolls? These Cinnamon Roll with Apple Pie filling add that fresh element to take your cinnamon rolls from delicious to outrageously delicious!
The only thing that can elevate ooey-gooey, fluffy cinnamon rolls is adding crisp and fresh cinnamon-coated apples for some extra flavor and crunch.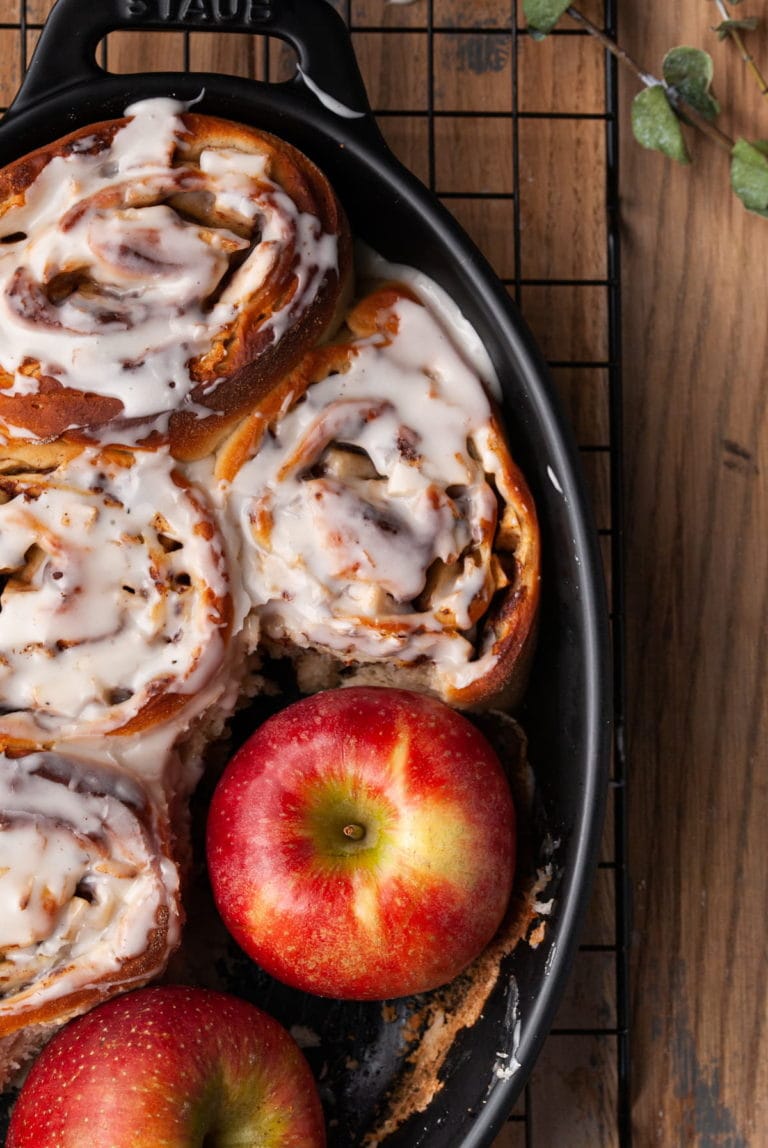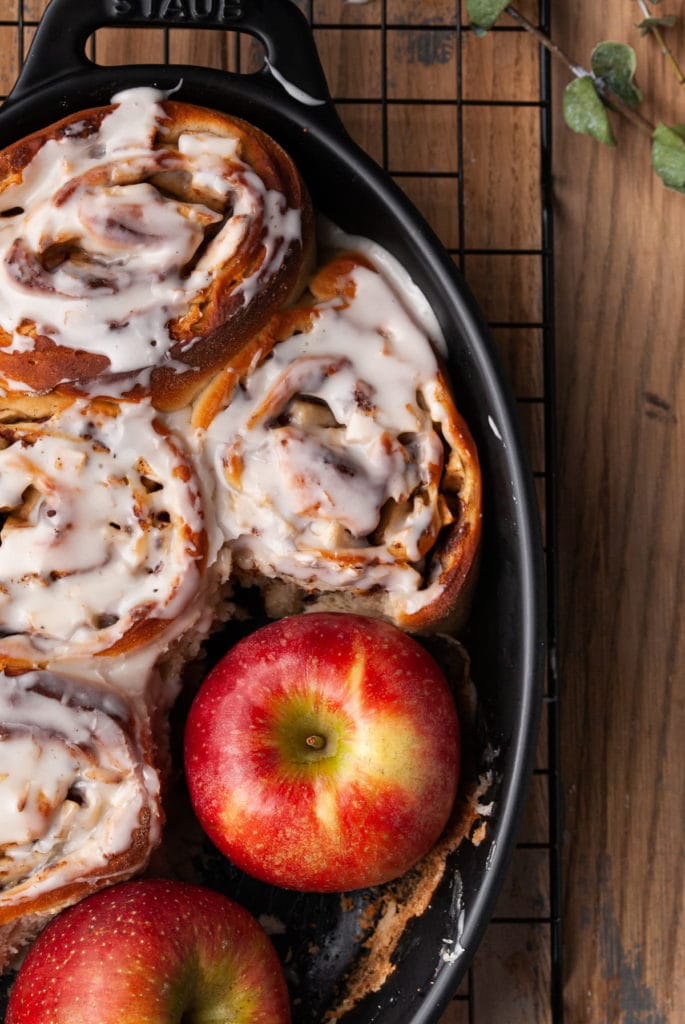 Arguably the best thing about cinnamon rolls is it's a sweet treat worthy of dessert disguised as breakfast. And fusing delicious apple pie with classic cinnamon rolls only brings MORE deliciousness to your morning.
Cinnamon Rolls with Apple Pie Filling Ingredients
---
---
Cinnamon Roll Ingredients
Here's everything you'll need:
Warm water. To jumpstart the activation of your yeast. It doesn't have to be piping hot, warm from the tap will do!
Brown sugar. To work with the yeast.
Instant yeast. This will give you more fluffiness than active-dry yeast in a shorter amount of time.
All-purpose flour. For the base of your dough.
Granulated sugar. For some sweetness.
Salt. To amp up the flavor in your dough.
Unsalted butter. For moisture. It's best for the dough if your butter is melted.
Milk. For more moisture.
Egg. To act as a binder and help with leavening.
Apple Pie Filling Ingredients
Here's what you need:
Apples. To add some crunch and freshness to your rolls.
Unsalted butter. For that ooey-gooey center. It's easiest to work with in this filling when it's softened.
Brown sugar. To add flavor and sweetness to your apples.
Cinnamon. What are cinnamon rolls without it?
Simple Icing Ingredients
Here is everything you'll need to pull off that perfect finishing touch:
Powdered sugar. aka confectioner's sugar or icing sugar.
Vanilla extract. For flavor.
Milk. To get that perfect consistency.
Cinnamon Rolls with Apple Pie Filling Tips and Tricks
---
---
Start With Your Yeast
The first step to a fluffy cinnamon roll dough is activating your yeast. This is as simple as mixing it with warm water and sugar and covering it.
After about 5 minutes, you should see bubbles on the surface of the mixture, which will indicate to you that your yeast is activated.
Add your warm water, sugar, and yeast to a bowl and cover it first, then set it aside to activate while you mix the rest of your ingredients.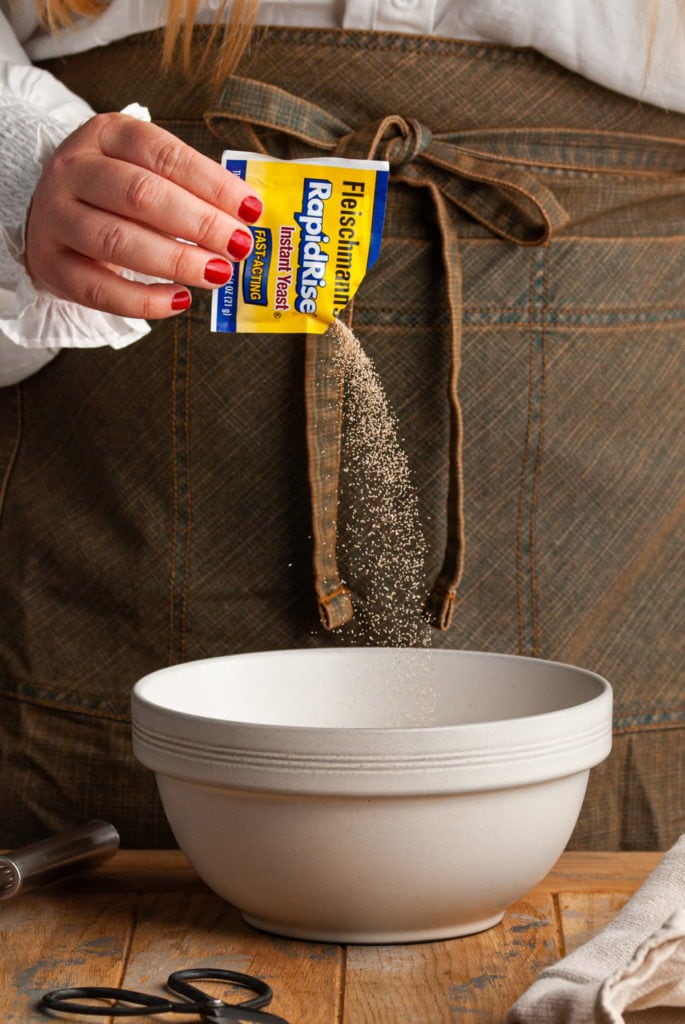 Use a Separate Bowl
While your yeast is activating, use a second, larger mixing bowl to bring the rest of your ingredients together.
Add the flour, granulated sugar, salt, melted butter, milk, and egg to the bowl. It's best to make sure the butter isn't too hot when you add it to the mixture. This can risk you curdling the milk or scrambling the egg.
Melt your butter first and then allow it to cool for a couple of minutes before adding it to your dough mixture.
You can melt the butter in the microwave starting with 20 seconds, stirring, and then heating in ten-second intervals, stirring in between until completely melted.
Otherwise, you can melt it in a small pot on the stove over low heat.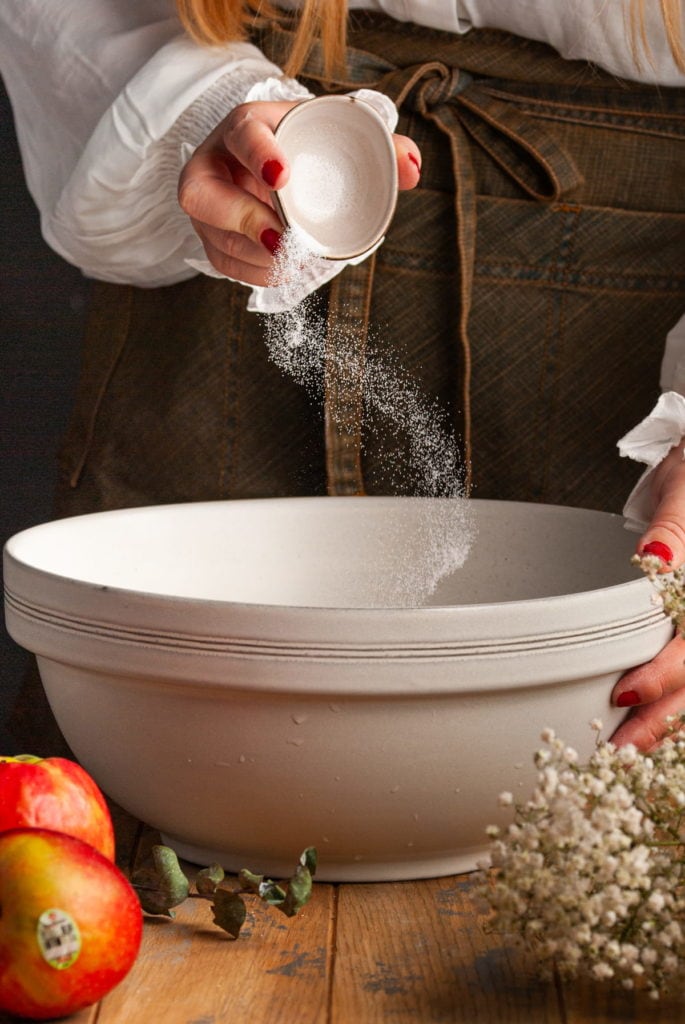 Add in the Yeast Mixture
Once the yeast is activated, add it to the rest of your ingredients and use a whisk or wooden spoon to stir. Your dough will be thick and sticky, so you may even need to use your hands to bring it together.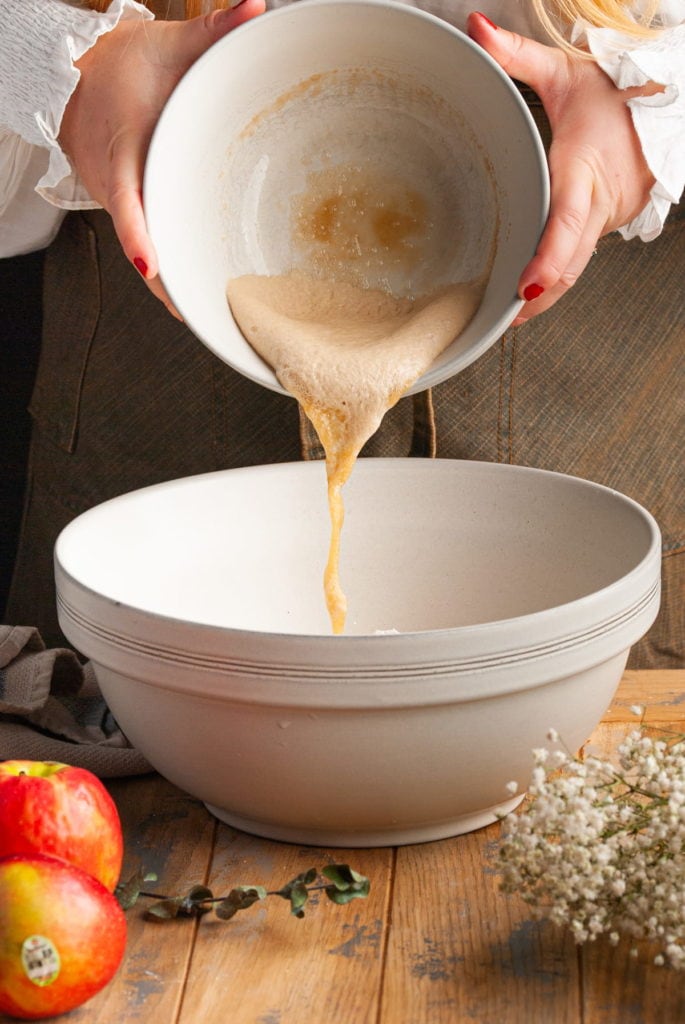 Generously Flour Your Surface
Next, generously flour a clean, flat surface, and add some flour to your hands to avoid too much dough sticking to them when you knead. I like to use a large cutting board for easier clean-up.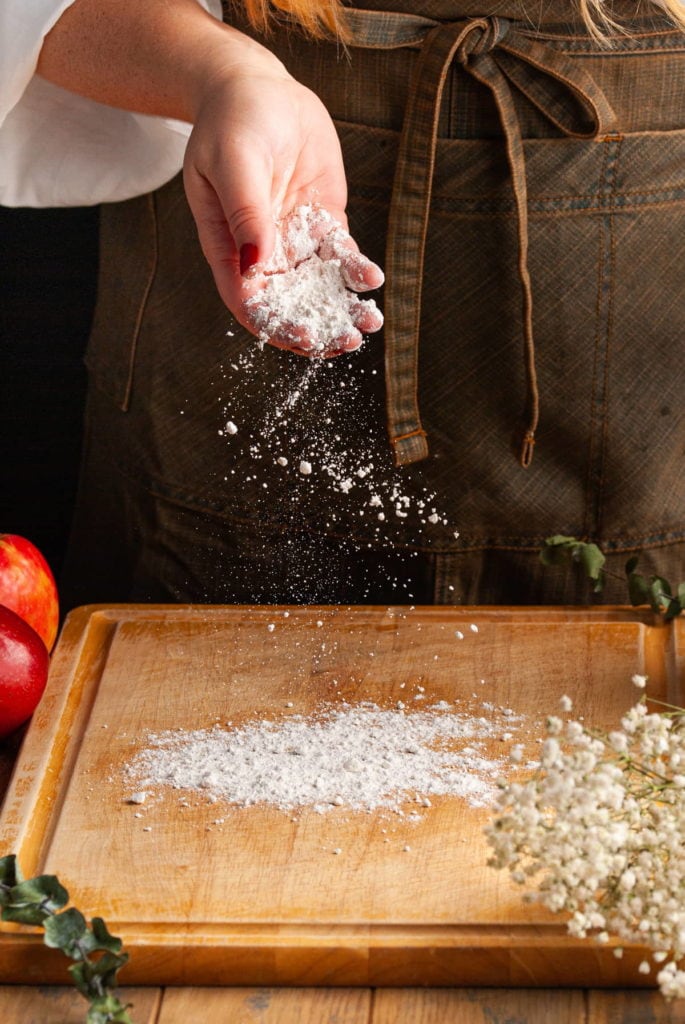 Time Yourself
The dough should be kneaded for about 3 minutes. I know 3 minutes doesn't sound like a lot, but kneading is a workout!
Time yourself to ensure you are giving the dough the full 3 minutes it requires. As you are kneading, you may find that your surface needs more flour.
Continue to add flour at your discretion, to avoid the dough sticking to your surface.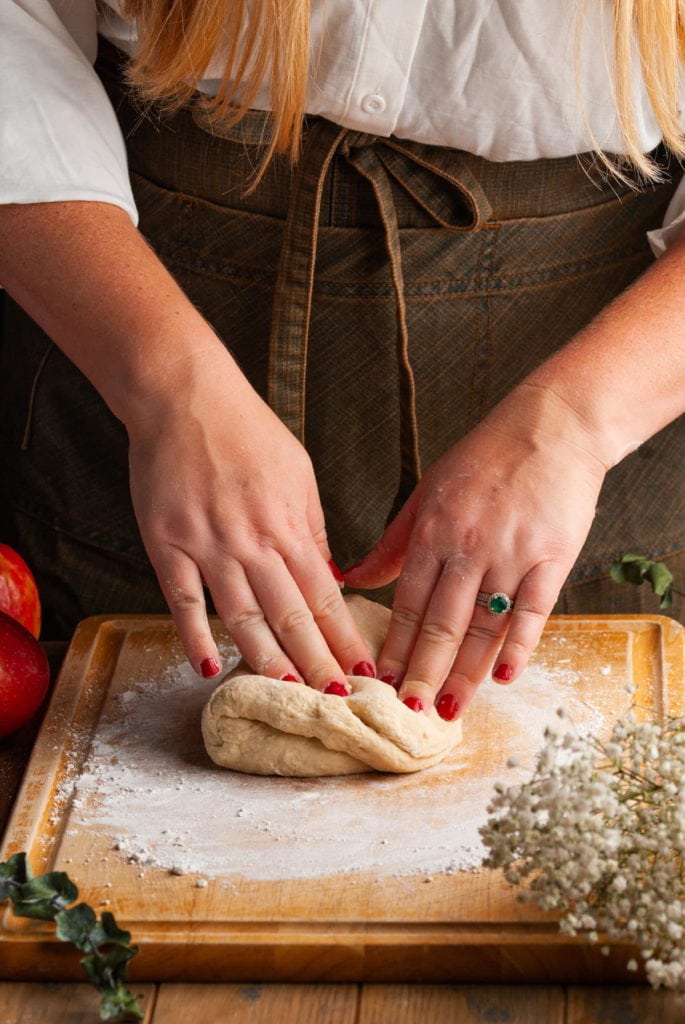 Allow it to Rise
Next, it's time to place your kneaded dough back into the bowl and cover it with a clean kitchen towel.
With instant yeast, you'll get a rise pretty quickly! You will allow the dough to rise more later, once the cinnamon rolls are formed, but for now, we are just looking for some height.
Set the dough aside to rise, covered, for just about 10 minutes while you prepare your filling.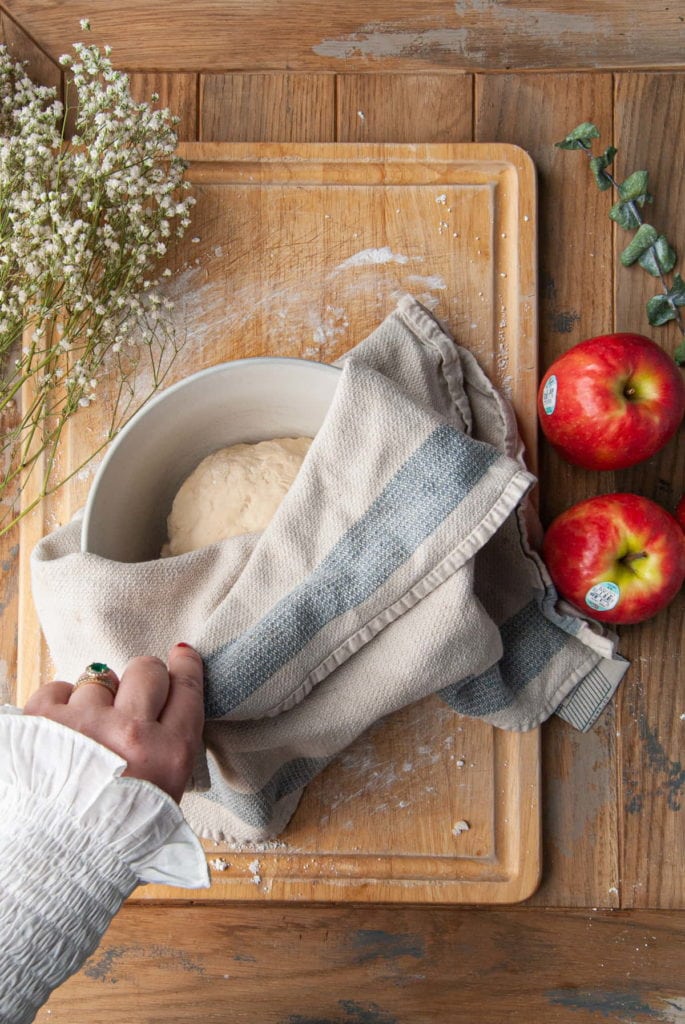 Cream Together the Butter, Sugar, and Cinnamon
The first step to making your filling is to add your softened butter, brown sugar, and cinnamon to a mixing bowl.
Use a hand mixer or whisk to combine. At this point, the filling will be thick, almost resembling a paste.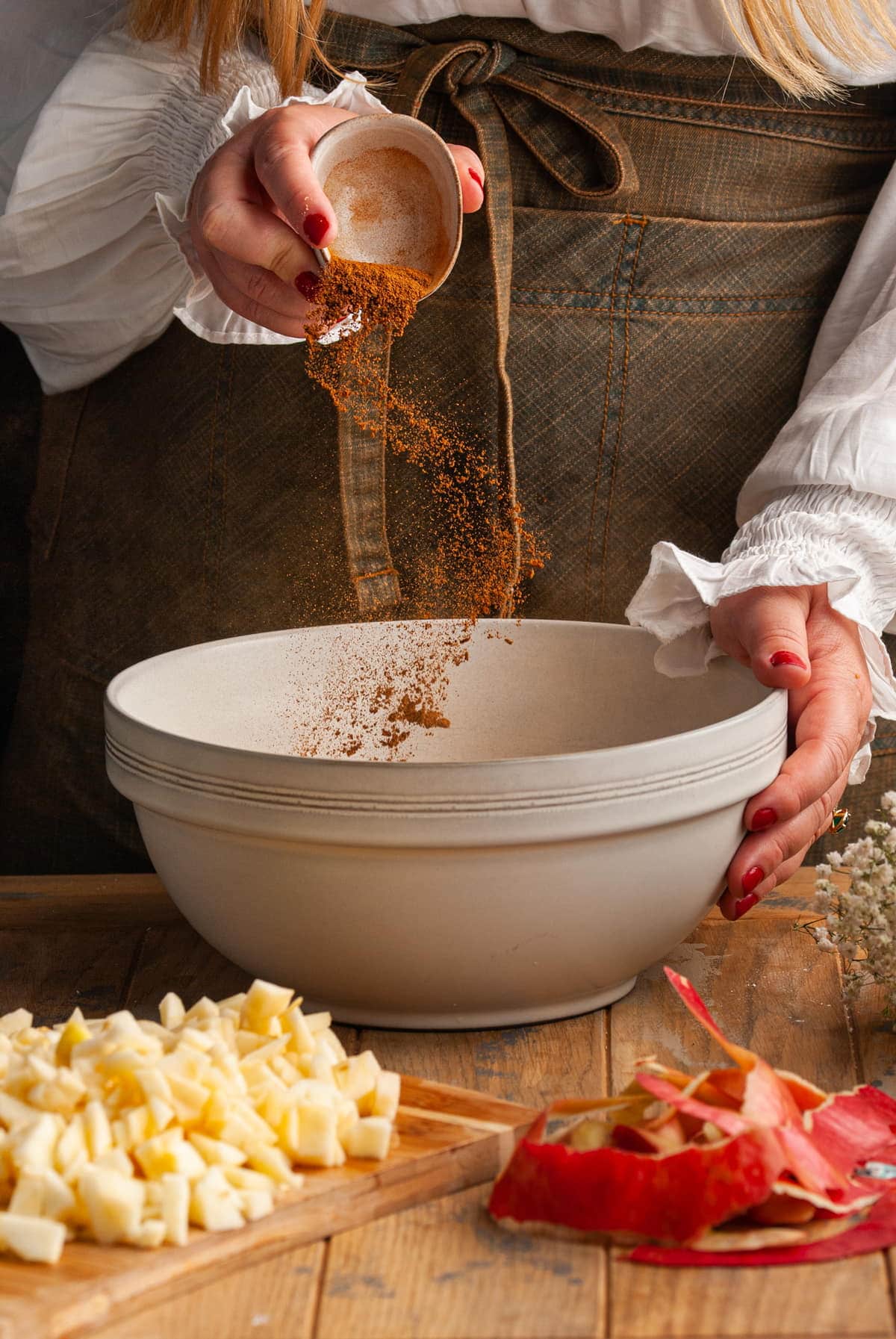 Prep Your Apples
Peel your apples and cut them around the core. Then, dice them into small pieces.
Truly, any apples will work in this recipe, but I find any apple that has some tartness is preferred. It adds some contrast to the otherwise very sweet treat.
Avoid super-sweet apples like Fuji if you can. I usually make these with green apples or Pink Ladies.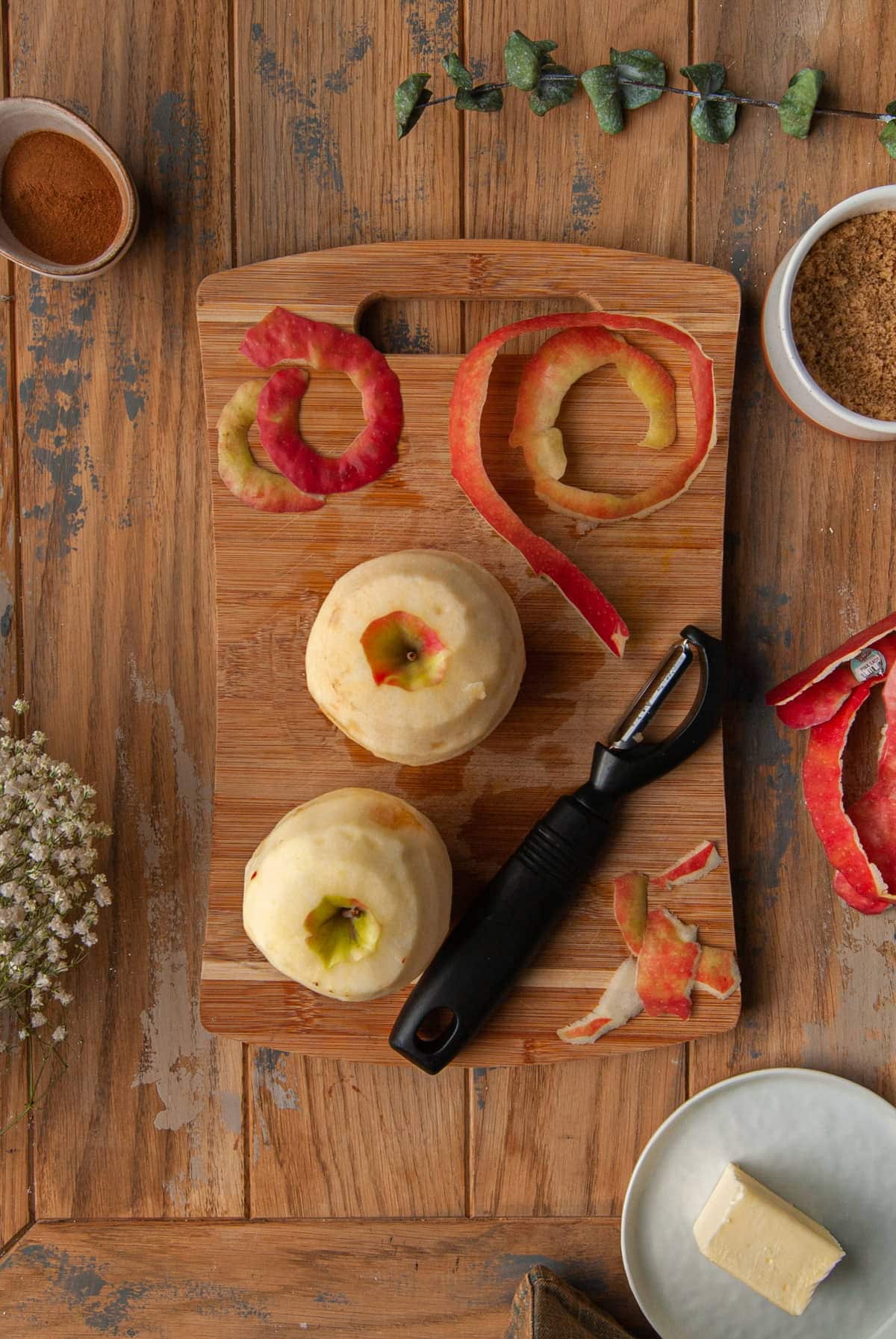 Add Your Apple
Once your apples are peeled and diced, add them to the butter/sugar/cinnamon mixture.
Use a spatula to fold the diced apple into the butter spread, coating each piece.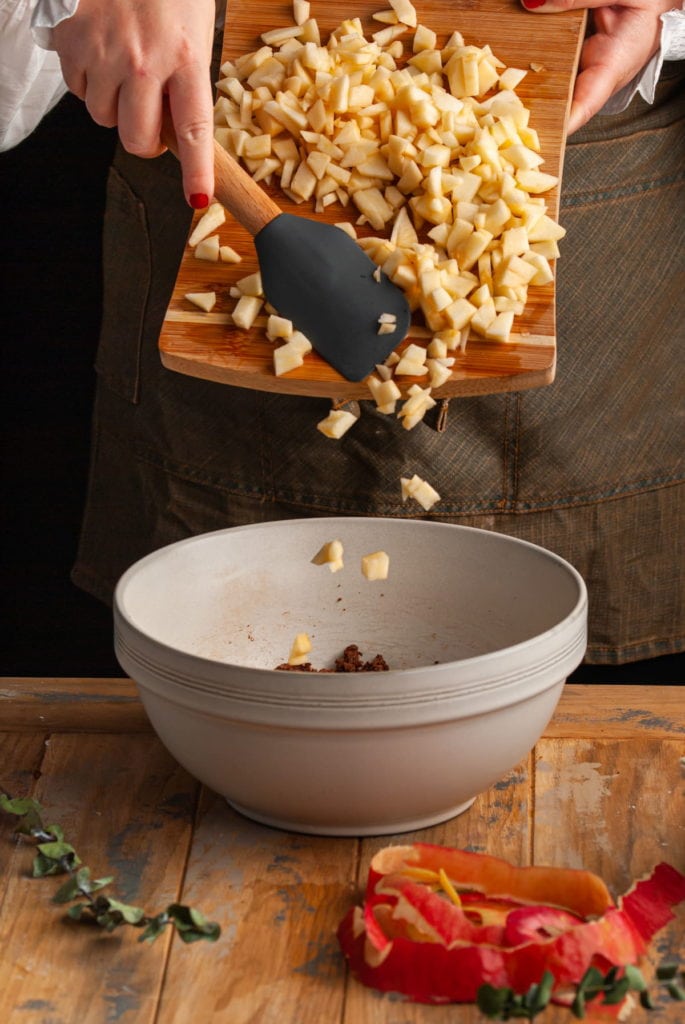 Roll Out Your Dough
Once your dough has had some time to rise, add more flour to your surface. Turn the dough out onto your floured surface and add some flour to your rolling pin.
Use your rolling pin to roll out your dough into a rectangle shape, roughly 9″ by 12″. It doesn't have to be perfect, but it's best to keep the dough as even in thickness as possible for the best filling distribution in your rolls.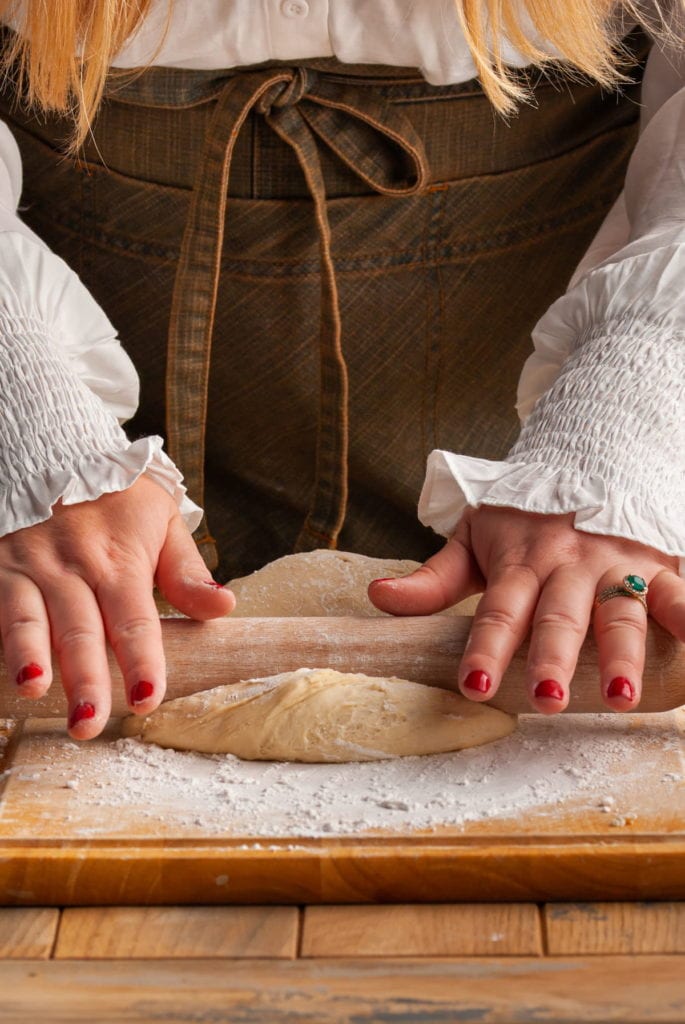 Add Your Apple Pie Filling
Once your dough is rolled flat, pour your filling on top.
Use a spatula to spread out the coated apples, leaving about a 1/2-inch margin on all sides. Again, try your best to get the layer of filling as even as possible on the dough.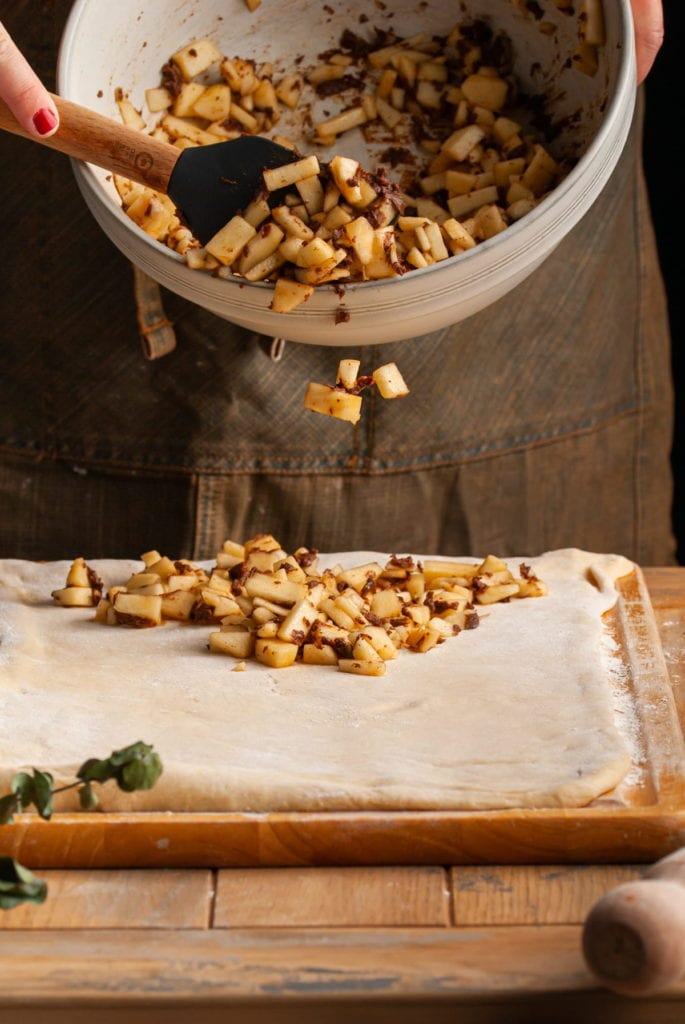 Roll it Up!
Face the rectangle so that the short side is closest to you. Then, carefully roll the dough away from you, as tight as you can, until you are left with a cylinder, about 12″ long.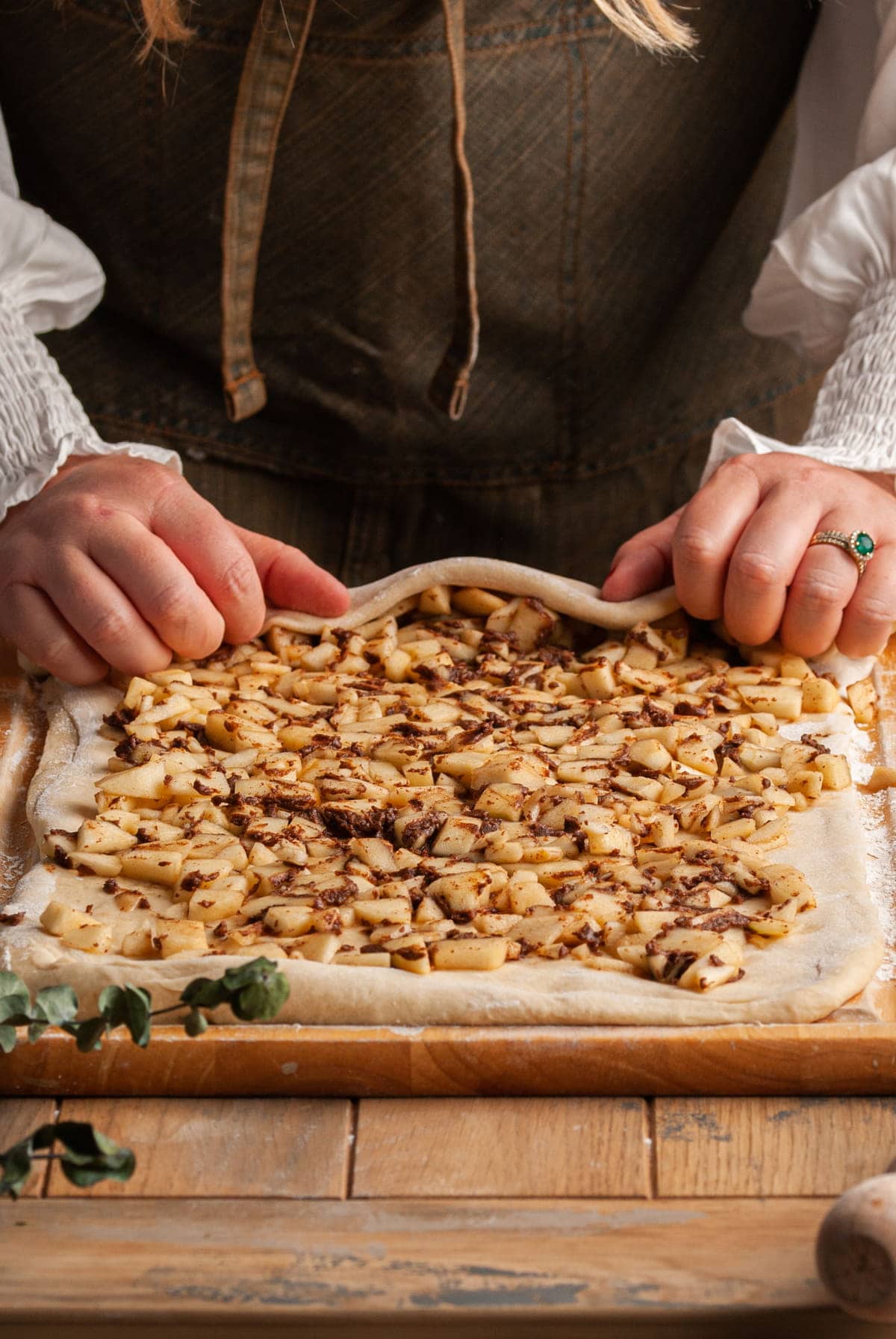 Slice 'Em Up
Slice your cylinder into 6 even pieces, about 2″ wide. You should now be left with 6 individual cinnamon rolls.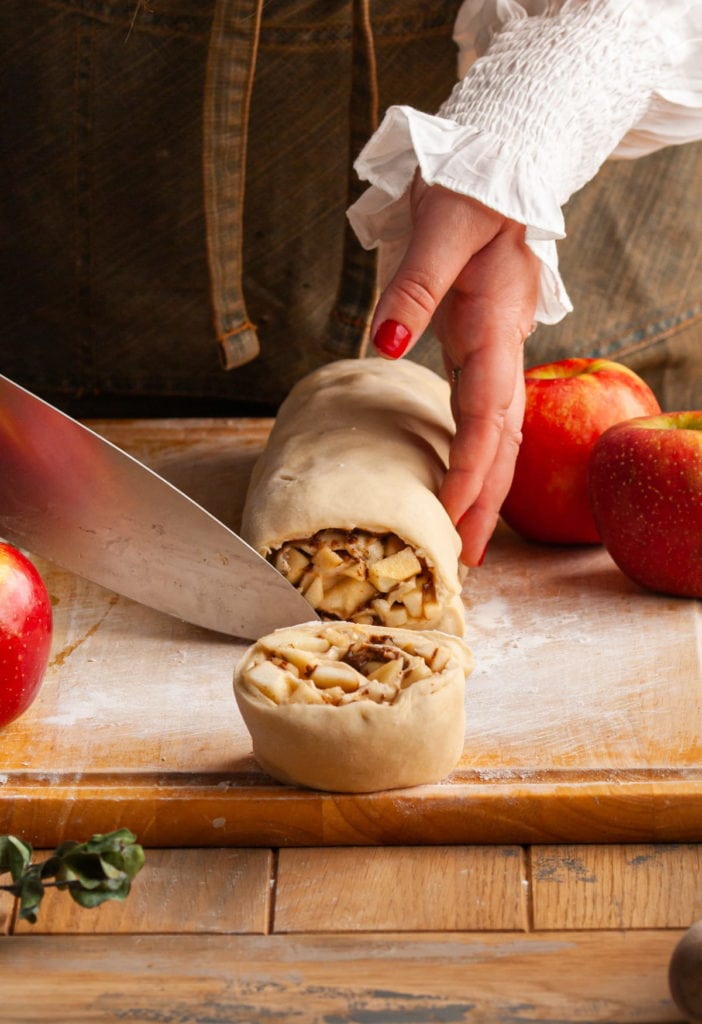 Add To Your Dish and Cover
For these rolls, I used a 13.5″ long oval baking dish, but you can also use an 11.5″ x 11.5″ square or 13″ x 9″ baking dish.
Add your rolls to your baking dish, with the prettiest swirl side up. Leave at least an inch of space in between each roll, to allow them space to spread.
Cover your rolls with a clean kitchen towel and allow them to rise for an hour and a half before baking.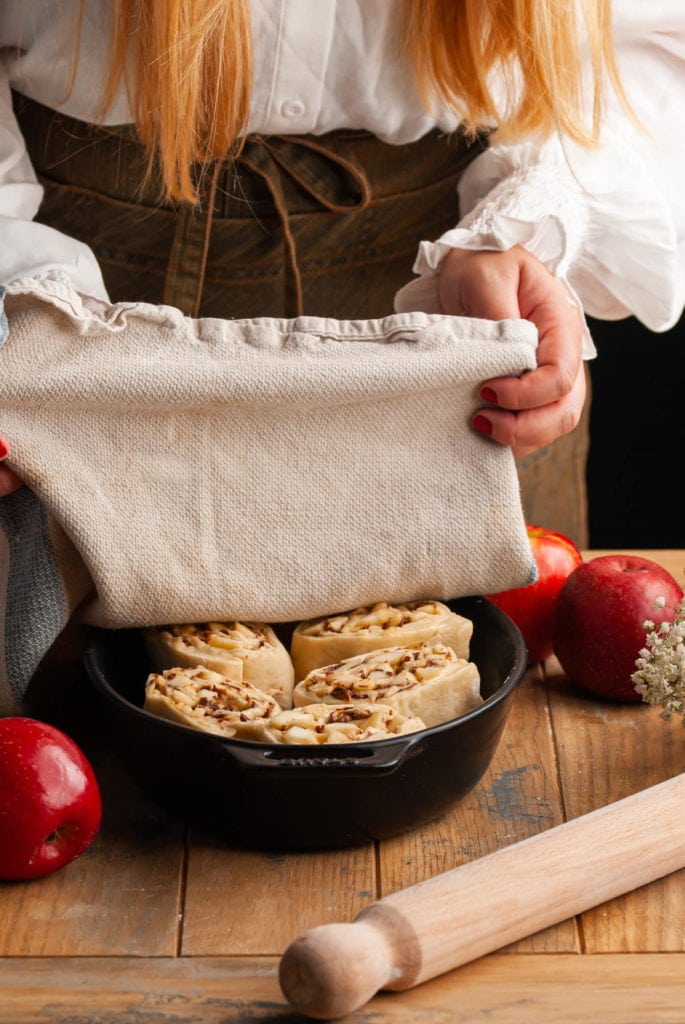 The Rolls Will Rise To Fill In Any Extra Space
Once covered, the rolls will continue to rise to fill the extra space in the baking dish.
If after 90 minutes you don't feel the cinnamon rolls have enlarged enough, preheat your oven and set the rolls on top.
The heat from the oven should speed up the rising process.
Once your rolls are nice and fluffy, bake them until the top starts to turn golden brown. At 375°F, this should only take 25-30 minutes.
Please note that you may notice some liquid at the bottom of your baking pan—leave it. This is just moisture from the apples. They will bake into your rolls in the oven and actually add moisture.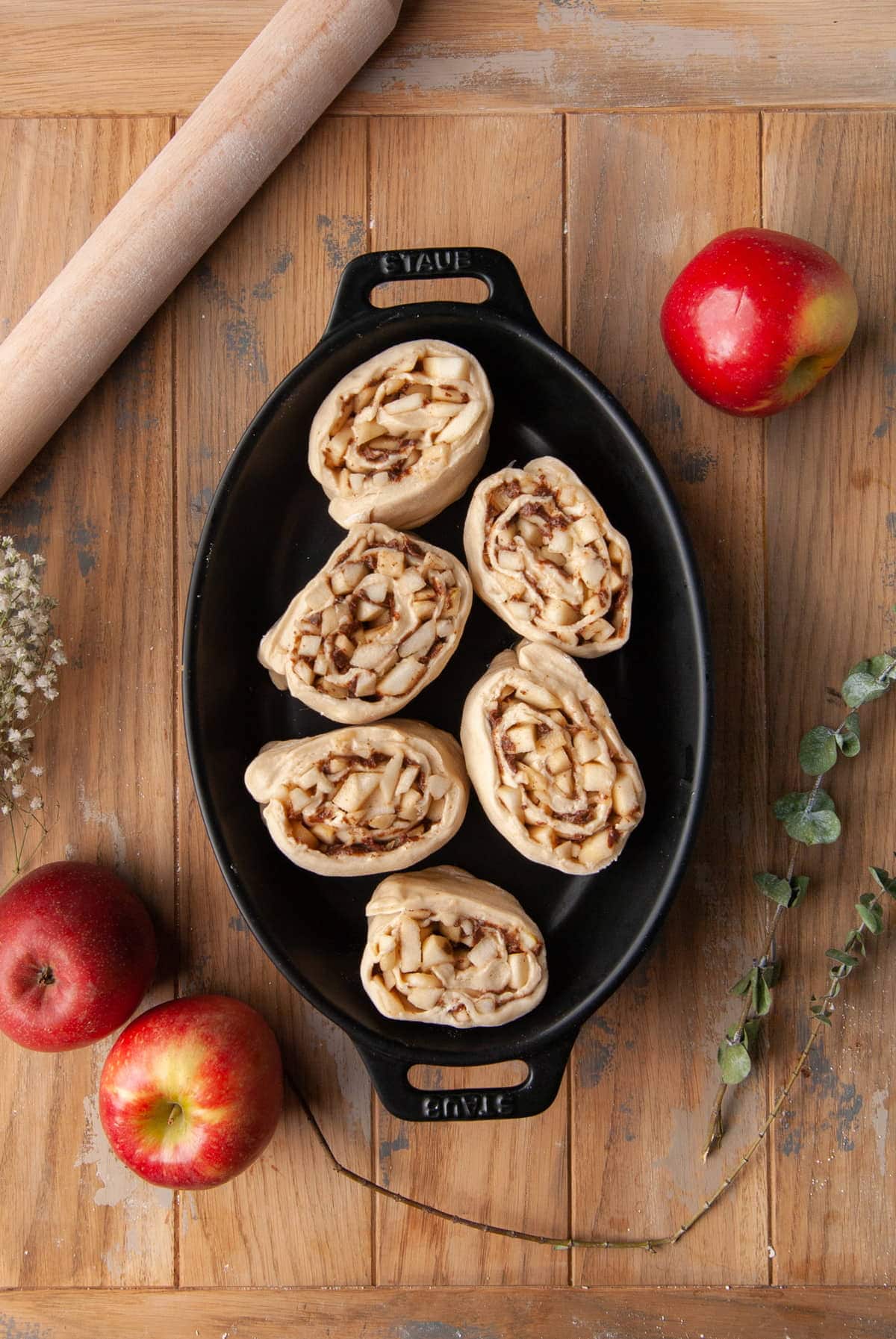 Make Your Icing
While your cinnamon rolls are baking, whip up your icing!
Start by adding the powdered sugar and vanilla extract to a large mixing bowl. Use your hand mixer on high or a whisk to combine.
While continually mixing, start to slowly add your milk. Please note you may not need all three tablespoons to get the consistency you want.
Ideally, you want a smooth icing that is still thick but easily runs off of your whisk.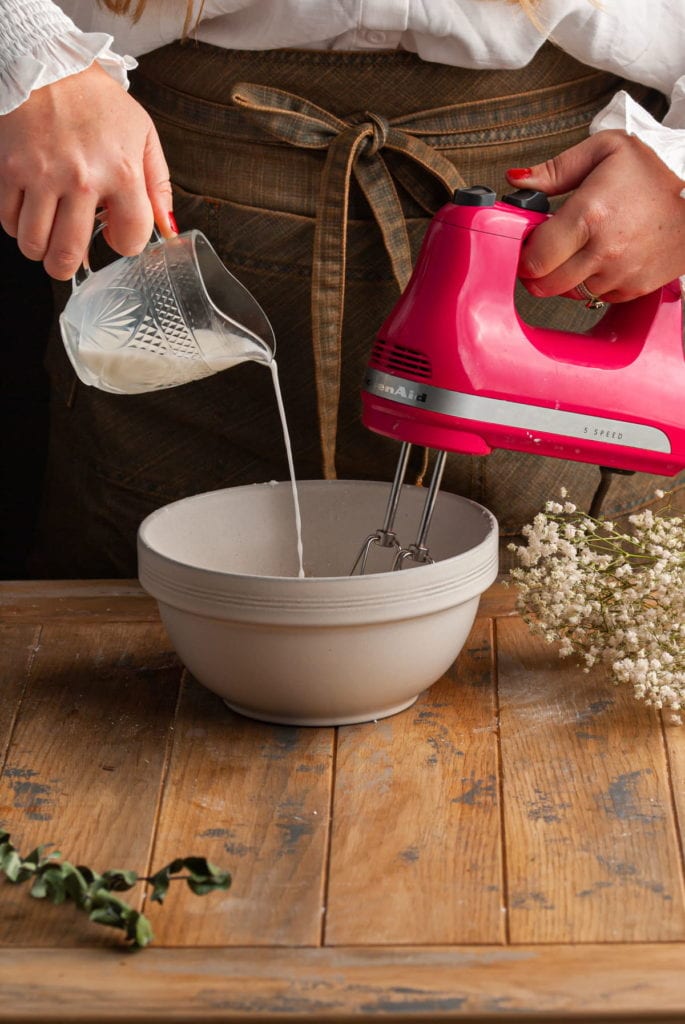 Add the Icing
Once your cinnamon rolls are golden brown, remove them from the oven and place them on a cooling rack. Allow them to cool for about ten minutes before adding your icing.
Ideally, you will add the icing when the rolls are still warm, so some of that delicious, sticky icing is soaked up by the roll.
However, you don't want to add the icing when the rolls are piping hot because it will completely melt into the rolls.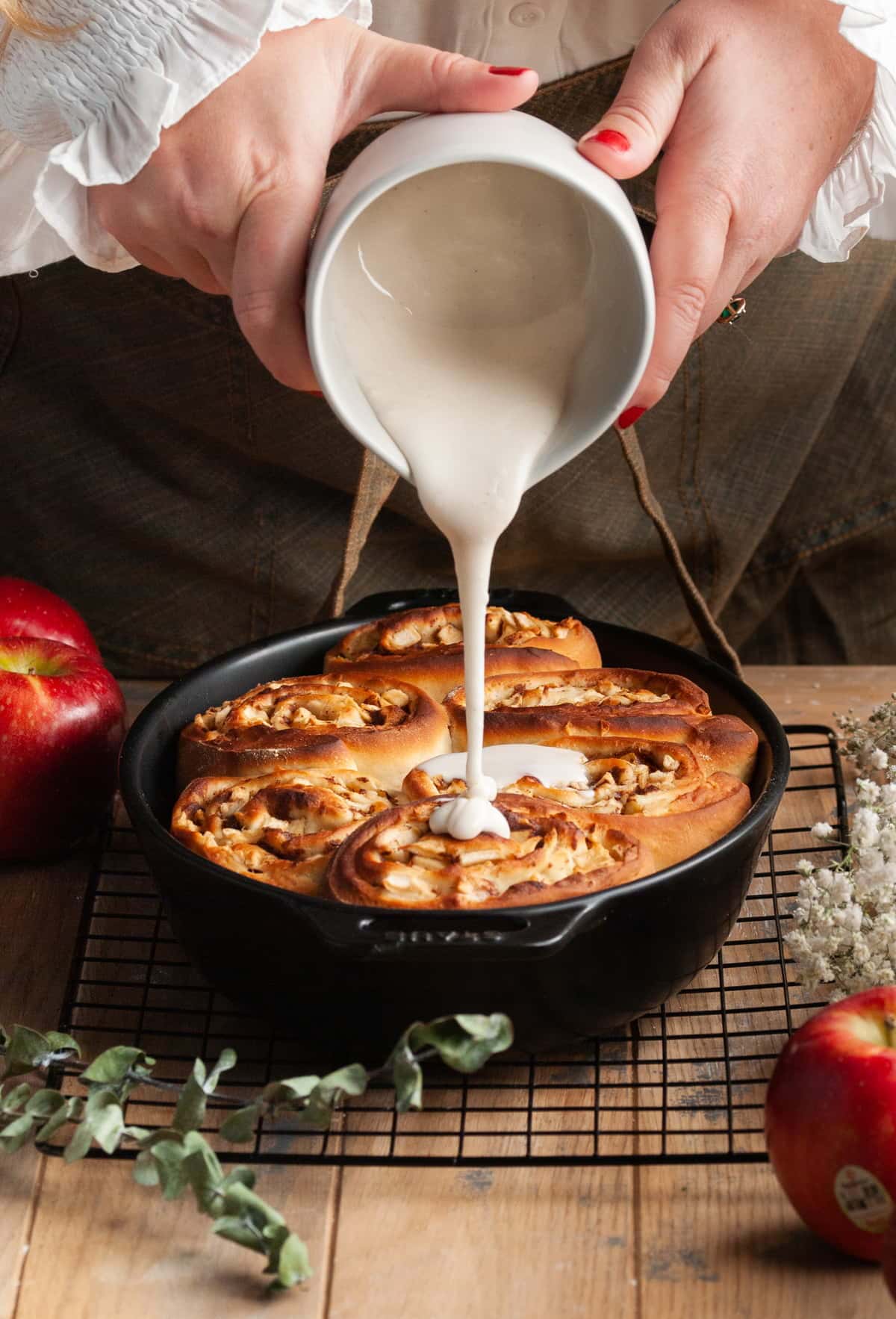 Storing Your Cinnamon Rolls with Apple Pie Filling
These Cinnamon Rolls with Apple Pie Filling will stay fresh at room temperature covered for two days.
In an airtight container in the refrigerator, they will last up to a week. If you want to extend their life even further, you can freeze them for up to two months!
From the freezer, thaw overnight before you dig in. If you want to enjoy one warm from room temperature or out of the fridge, you can microwave them on high for 25-35 seconds.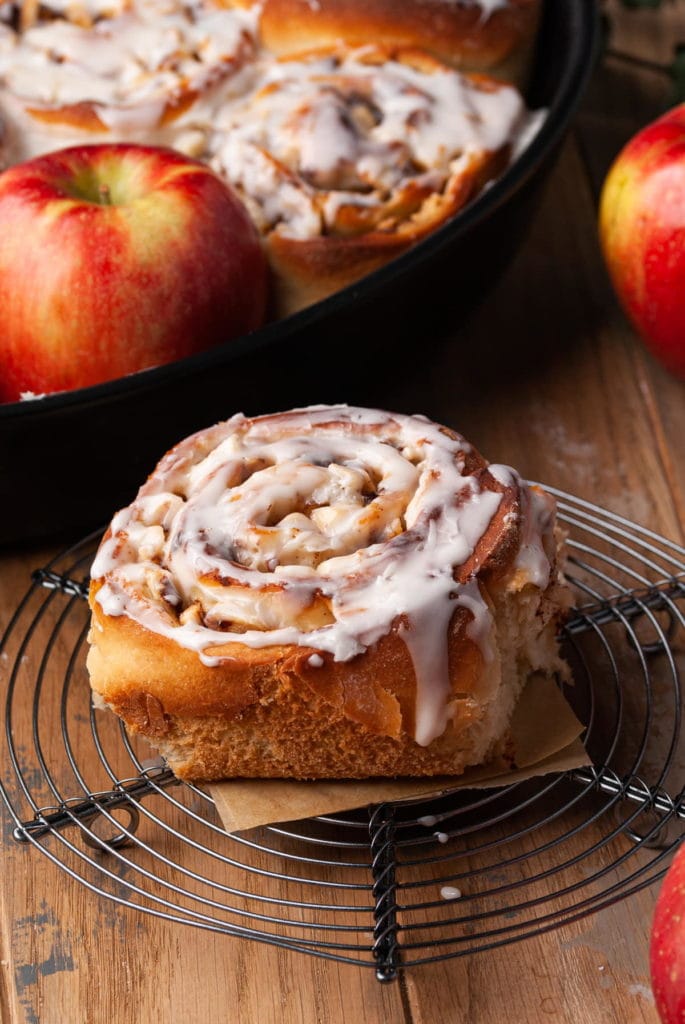 Cinnamon Rolls with Apple Pie Filling Frequently Asked Questions
---
---
Should you cook apple pie filling before baking?
Many apple pie recipes require you to cook the filling before baking it in a crust. This is a great way to cook off excess moisture to keep your pie crust nice and crispy.
In this case, you do not need to cook the apple pie filling before adding it to your cinnamon rolls. The liquid will mostly be evaporated by your dough, adding some moisture.
Any excess liquid will evaporate in the oven.
Do you put eggs in cinnamon rolls?
Most cinnamon roll recipes, including this one, use an egg to bind the dough and to help with leavening.
Why You Should Make these Cinnamon Rolls with Apple Pie Filling
---
---
The texture. Light and fluffy dough with an ooey-gooey cinnamon center and sticky and sweet, smooth icing.
The extra element. The addition of apples to the traditional cinnamon roll makes these something special!
The aroma! These are such a delight to ALL of your senses. This recipe makes your kitchen smell absolutely heavenly!
If you're loving these Cinnamon Rolls with Apple Pie Filling and want more delicious brunch ideas incorporating apples, check out this Sweet & Savory Apple and Cheddar Quiche and these Vegan Breakfast Sausage Patties with Apple and Sage.