Ever dreamed of combining your favorite breakfast cereal with your favorite decadent dessert? This Cinnamon Toast Crunch Cheesecake is here to make your childhood dessert dreams come true!
With a crunchy, buttery, Cinnamon Toast Crunch crust and creamy, cinnamon-forward cheesecake filling, this foolproof recipe will be your new go-to!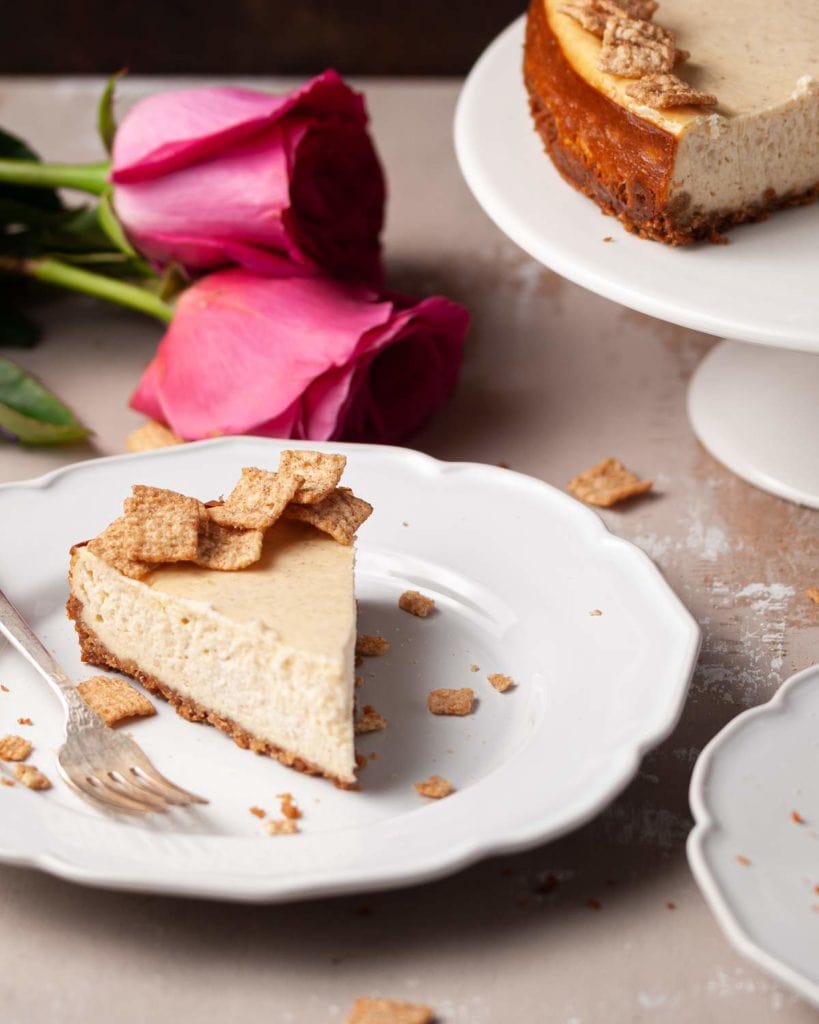 As an environmental scientist, I am always trying to find ways to combat food waste, and cereal is one of those things I buy on sale, thinking they'll be a great solution to busy mornings, but then forget about the box in the back of the pantry.
But when you use it as a base for a creamy cheesecake, you better believe no one in my family is letting that go to waste!
Cinnamon Toast Crunch Cheesecake Tips and Tricks
---
---
You'll Need A Blender or A Bag
The easiest way to crush the cereal for your base is in a blender. I actually just throw all 3 of my crust ingredients together and it comes together so easily.
But if you don't feel like blending, you can also opt to put your cereal in a bag and crush it with a rolling pin, a hammer, or even your hands!
Green tip: Reduce your plastic waste by using these Reusable Storage Bags!
Outside of a blender, here's everything you'll need:
Blind Bake Your Crust
We want to keep our Cinnamon Toast Crunch well, crunchy! And the best way to do that is by blind baking your crust.
Quick note: Blind baking is just baking the crust without the filling to ensure that it's nice and crunchy.
Once you've blended your crust ingredients together, transfer the mixture to a 9-inch cake pan.
Use clean hands to press the mixture down flat into the pan—no need to line or grease it, the crust is buttery enough to release from the pan on its own.
The Cream Cheese Has To Be Softened
The only way to ensure a smooth, creamy filling is to make sure the cream cheese is softened before starting to mix your filling. I find the best way to mix it together is an electric hand mixer.
Green tip: Look for block cream cheese packaged in paper to reduce your plastic waste contribution.
If you don't have time to allow the cream cheese to come to room temperature naturally, you can put it in a large mixing bowl and microwave it for 20 seconds.
You'll know your cream cheese is softened if your finger leaves an imprint in it when you poke it. If 20 seconds isn't enough, keep heating in ten second intervals, checking in between.
How To Avoid Cracks
To get that perfect cheesecake without any cracks, we have to bring our temperature down slowly.
The most foolproof way is to bake it, then turn your oven off, but leave it in, allowing the temperature to come down slowly.
It's important to note that the crust is baked at a higher temperature than the cheesecake, so make sure to allow your oven temperature to come down after baking the crust and before adding the cheesecake back in with the cinnamon filling.
Green tip: Look for pasture-raised eggs for the lowest environmental impact.
Should You Have Leftovers
Cheesecake will last 5-7 days covered in the refrigerator! You can also freeze it for up to 6 months! Just allow it to thaw out by transferring it to the refrigerator the day before you are ready to enjoy.
Why You Should Make This Cinnamon Toast Crunch Cheesecake
---
---
It's nostalgic! Your fave breakfast cereal baked into a cheesecake? C'mon now.
It's foolproof. Perfect silky cheesecake every time!
It's cinnamon sugar perfection. The addition of cinnamon really makes this cheesecake special.
If you're loving this Cinnamon Toast Crunch Cheesecake and are looking for more ways to level up your cereal, check out this Captain Crunch French Toast and Peanut Butter Rice Krispie Treats.