Looking for a fun dessert-style shooter to wet your whistle? This Cinnamon Toast Crunch Shooter is the perfect combo of sweet Cinnamon Whisky and creamy Rum Chata, mixed together to give you a shot of nostalgia that will bring you back to your childhood kitchen table with a bowl full of Cinnamon Toast Crunch cereal.
This simple shooter relies on a strong-tasting whisky and a creamy liqueur to bring bold flavor with just two ingredients.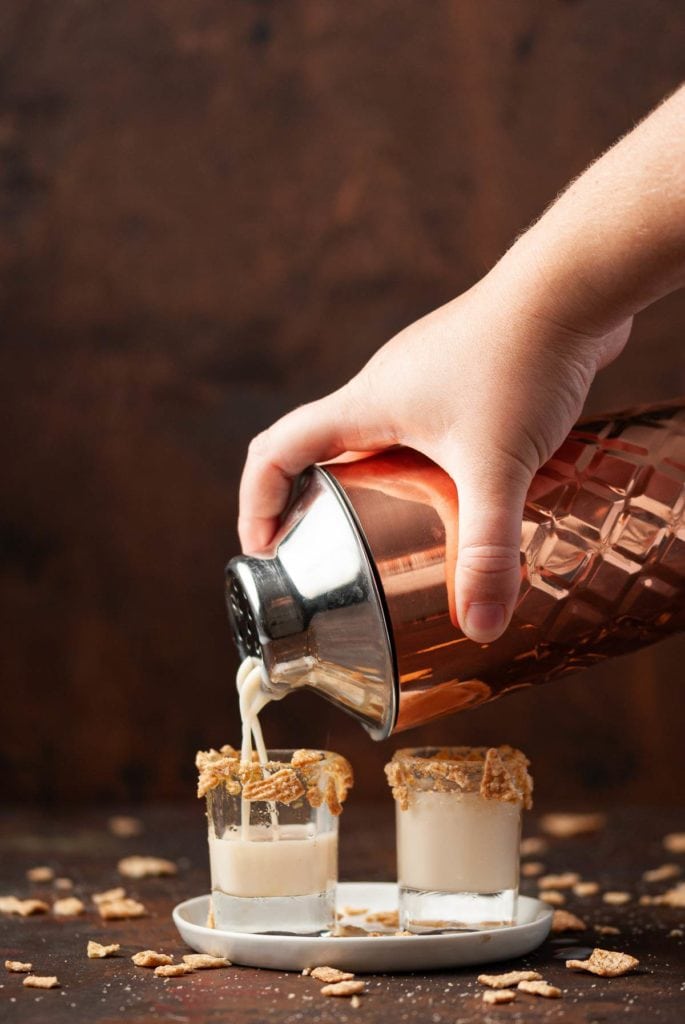 Cinnamon Toast Crunch Shooter Tips and Tricks
---
---
Grab Your Ingredients
All we need is Fireball Cinnamon Whisky, Rum Chata liqueur, and some ice.
So what is Fireball anyway? Well, it's Canadian Whisky mixed with sweetener and strong cinnamon flavor to bring you a concoction that tastes like Big Red Gum. Super cinnamon forward with a little bit of spice.
As for Rum Chata, it is a creamy rum-based liqueur with notes of cinnamon, sugar, and vanilla.
As you can guess, these two come together deliciously!
Green tip: Consider buying your alcohol in glass bottles to avoid extra plastic packaging, and always recycle your liquor bottles!
Shake it Up!
Use a cocktail shaker to mix up your Fireball, Rum Chata, and ice to really make sure it combines together and to make it ice cold.
If you don't have a cocktail shaker, just mix the two ingredients with ice in a separate cup, and strain them into your shot glasses. This shooter tastes much better cold.
Don't Forget the Garnish
The garnish completes this shooter! I love to garnish it with crushed cinnamon toast crunch cereal, but you can also garnish with cinnamon sugar.
If you're mixing your own cinnamon sugar use 4 teaspoons sugar to 1 teaspoon cinnamon.
Wet the rim of your shot glasses and dip them in either your crushed cereal or your cinnamon sugar. It's that easy!
Make sure your shot glass can hold 3 ounces of liquid if you want the full shot at once.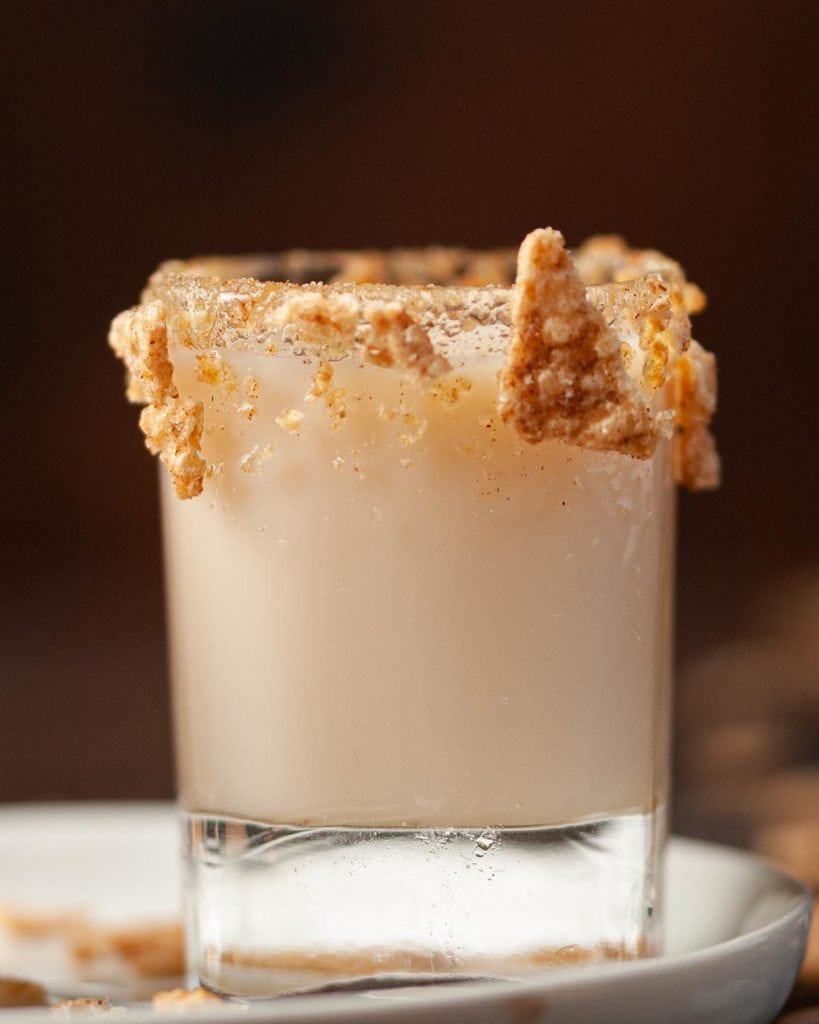 Why You Should Make this Cinnamon Toast Crunch Shooter
---
---
It's nostalgic. Nothing like a big bowl of sweet cereal but in adult form.
It's sweet. Be prepared for a cinnamon sugar high.
It's simple. Two ingredients? Done and done.
If you're loving this Cinnamon Toast Crunch Shooter and are on the hunt for more fun drinks check out these Mixology Cocktails to Try at Home and these Best Sangria Recipes.