Searching for that perfect pasta salad side dish to bring to a potluck or eat with your sandwich? This Sweet & Salty Rainbow Orzo Salad is delicious, beautiful, and adaptable.
Without a doubt one of my all-time favorite vegetarian pasta recipes, it hits ALL the right notes. Fragrant and colorful. Sweet and salty. Crunchy and chewy. Check, check, check!
This recipe is a refreshing and vibrant take on pasta salad, pairing sweet peas and raisins with salty olives and red onion for a bright burst of flavor. All mixed with orzo, which makes the pasta to dressing ratio next-level delicious!
As an environmental scientist, I am always trying to make more eco-conscious food choices. One simple way to improve your ecological footprint is by finding ways to enjoy more meatless meals.
This Rainbow Orzo Pasta Salad brings tons of vibrant flavor, texture, color, and nutrients, ensuring you won't miss the meat!
Green tip: Industrial meat production has a huge impact on the environment, especially because of the amount of land it takes to sustain and its high amount of greenhouse gas emissions.
Rainbow Orzo Salad Ingredients
---
Here's everything you need:
Orzo pasta. The perfect tiny pasta that makes the add-in and vinaigrette to pasta ratio extra delicious in this cold pasta salad.
Peas. I usually use frozen peas, as I always have them in my freezer, but you can also use canned peas.
Butter and sugar. To cook the peas in to bring out all their natural sweetness.
Carrot. For color and crunch.
Red onion. For even more crunch and earthy, savory flavor that ties the salty and sweet together seamlessly.
Olives. For that saltiness in every single bite.
Golden raisins. I use Golden Raisins because they are just slightly less sweet than regular raisins, and I find they play a little nicer with savory ingredients, but you can also use regular raisins or even craisins.
Greek vinaigrette. You can buy it at the store or make your own homemade Greek Vinaigrette.
Feta cheese. This is optional, but I find it does bring tons of extra flavor to this fun orzo pasta salad.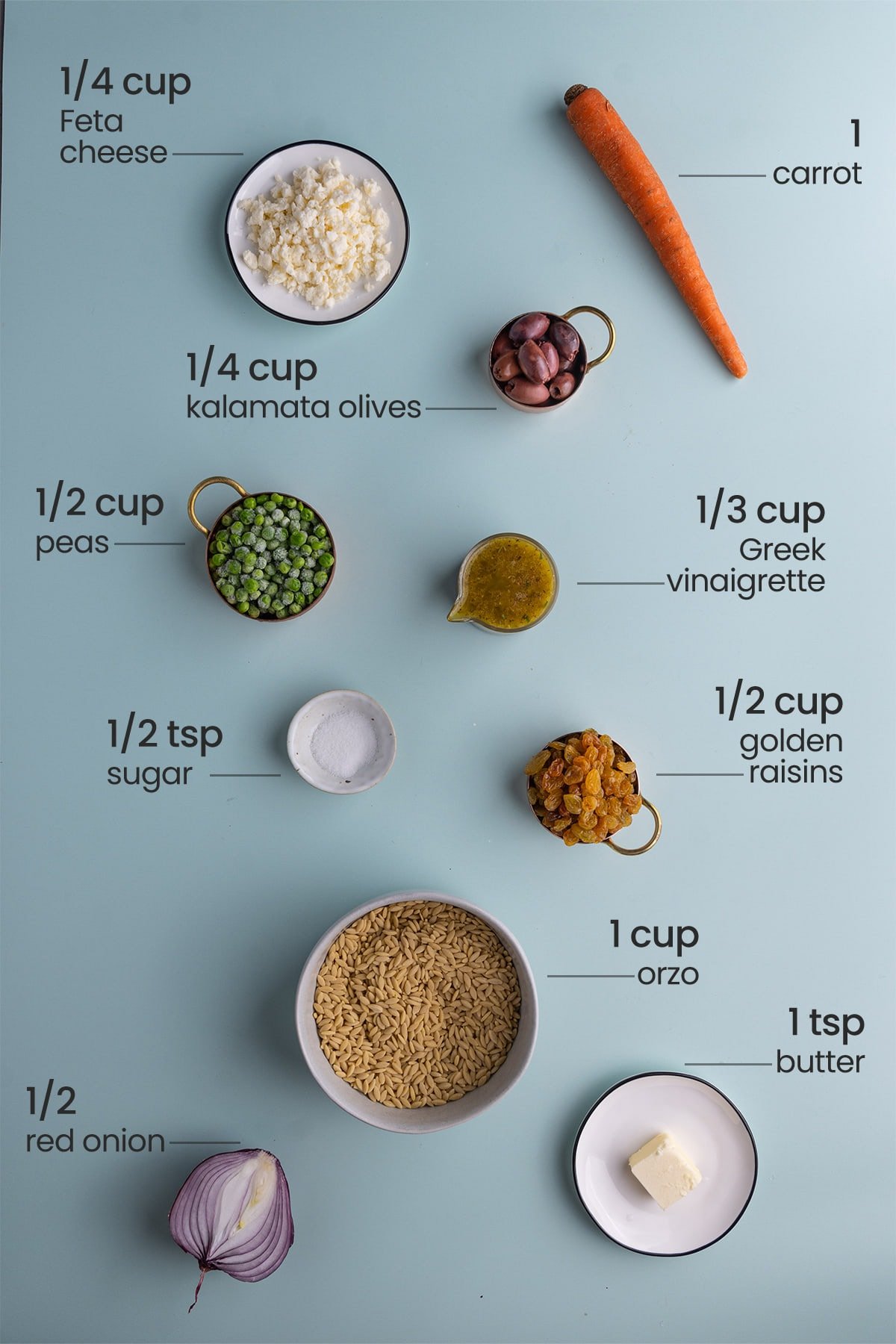 Green tip: This is an everything-but-the-kitchen-sink recipe! Reduce your food waste by using up veggies that are about to expire in this recipe!
Rainbow Orzo Salad Tips and Tricks
---
What is orzo?
Orzo is a type of pasta that is very small and shaped like rice. They are tiny grains of oval-shaped pasta that cooks quickly in boiled water, and is delicious with a number of different sauces and in pasta salad.
The advantages to using orzo in place of other pasta shapes is that it completely soaks in the sauce, giving your a better sauce to pasta ratio. Aside from in this pasta salad and in this Orzo soup, I love smothering orzo in meatless spaghetti sauce.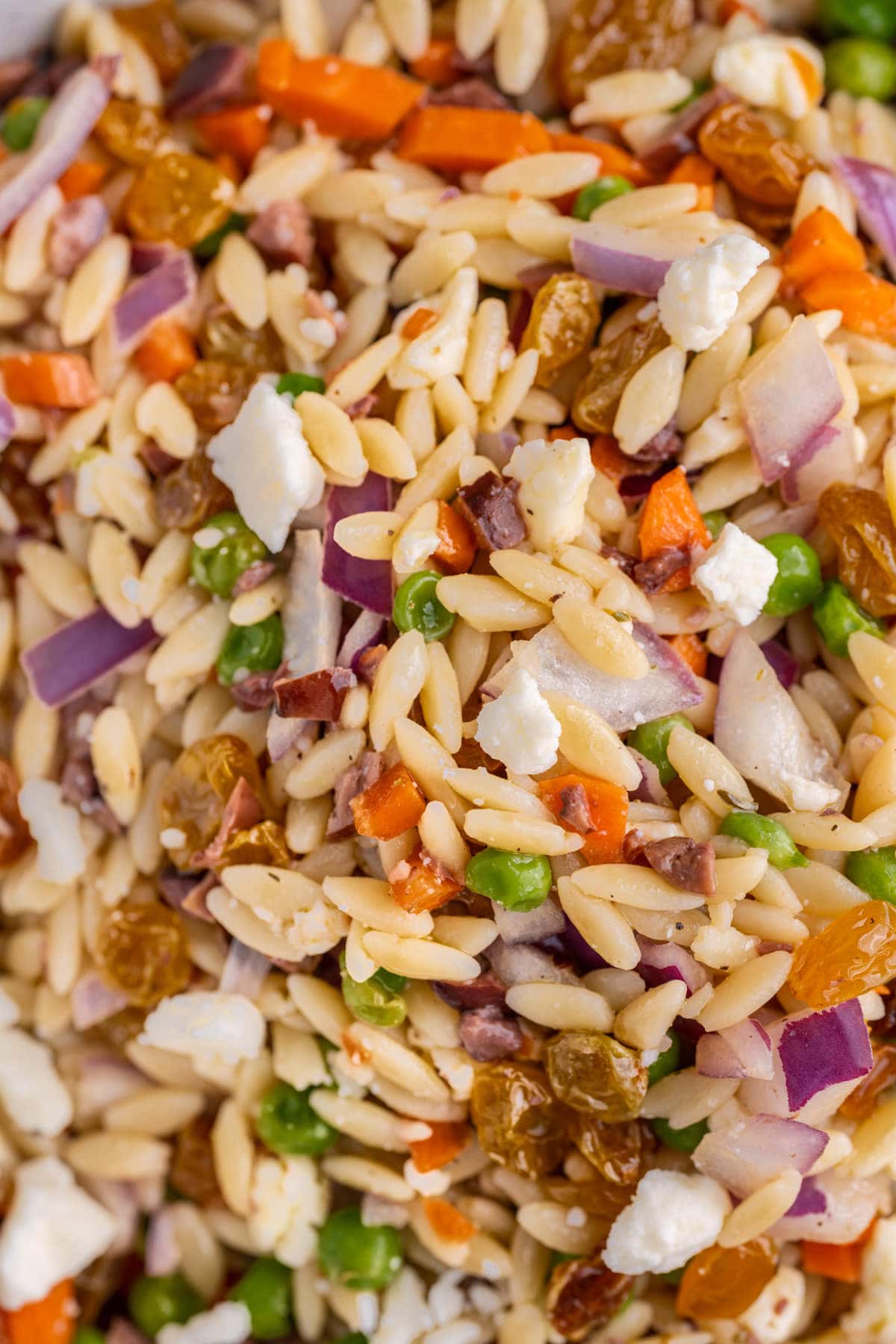 How to Cook Perfect Orzo
Orzo is cooked just like pasta and should be made al dente for the perfect bite. For perfect orzo, bring about 3 cups of water to a rolling boil before adding one cup of uncooked orzo.
Boil for 8-10 minutes, stirring occasionally so that the orzo does not stick together. After 8 minutes, strain the orzo. It's best to dress the orzo within ten minutes, before it has a chance to stick together. This recipe comes together quickly, so this won't be an issue here.
Bear in mind the orzo is small, so make sure the holes in your colander are small enough to contain the orzo. You may want to use a sieve.
In this recipe, you'll be dressing the orzo with Greek Vinaigrette.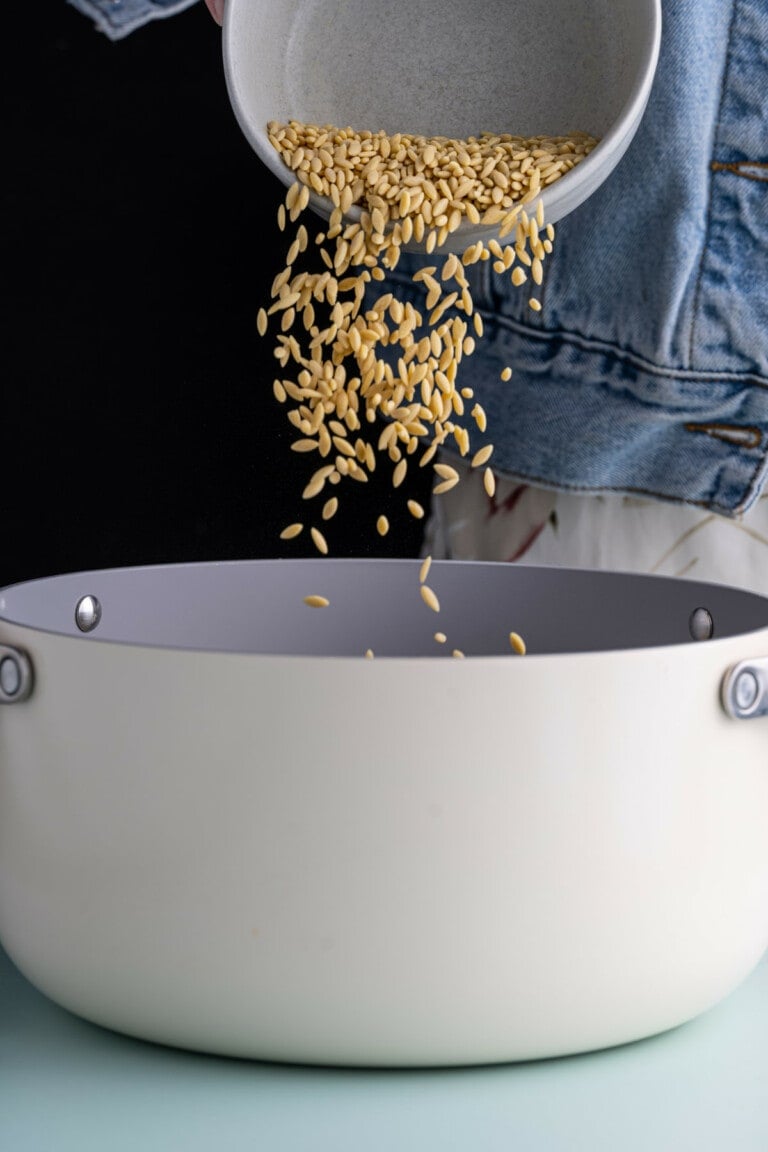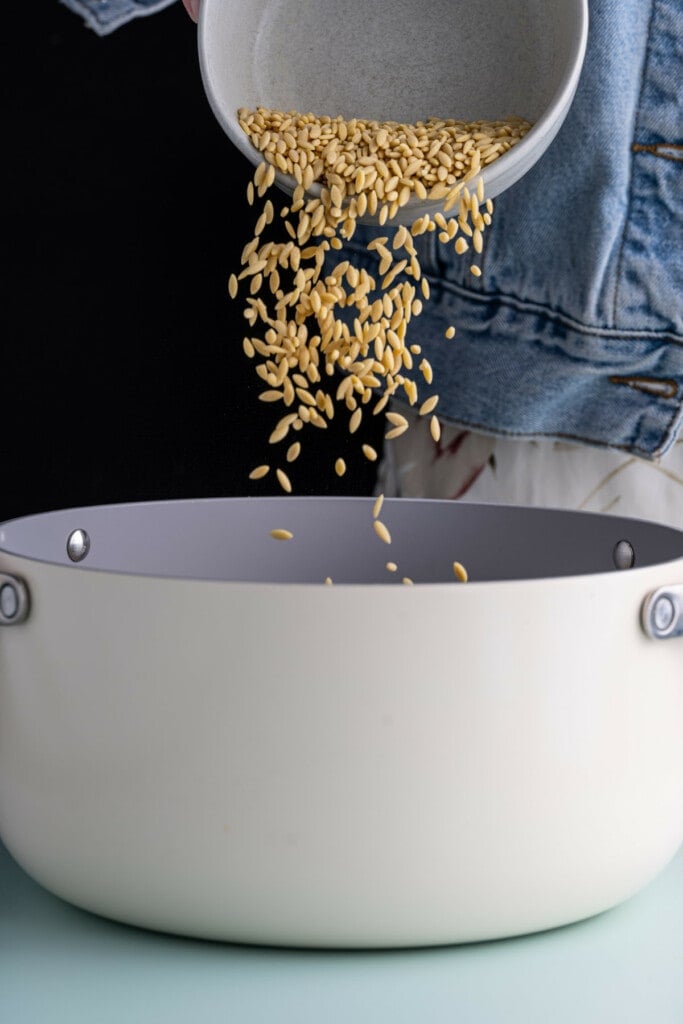 How to Easily Dice Carrots
While you are bringing your water to a boil to cook your orzo, you can get started on prepping all of your ingredients.
For the carrots, you'll want to dice them into tiny, pieces to add crunch to every bite.
Start by peeling the carrot. The outermost layer of the carrot is rough and wrinkly and can even taste bitter. Removing it will give you the best bite.
Green tip: Store and save your carrot peels in the freezer in a freezer-safe bag for up to 12 months to make your own vegetable broth from veggie scraps, or make these carrot chips.
One peeled, chop your carrot into little coins as pictured below. From there, you can easily lay each coin flat to dice that carrot into tiny pieces,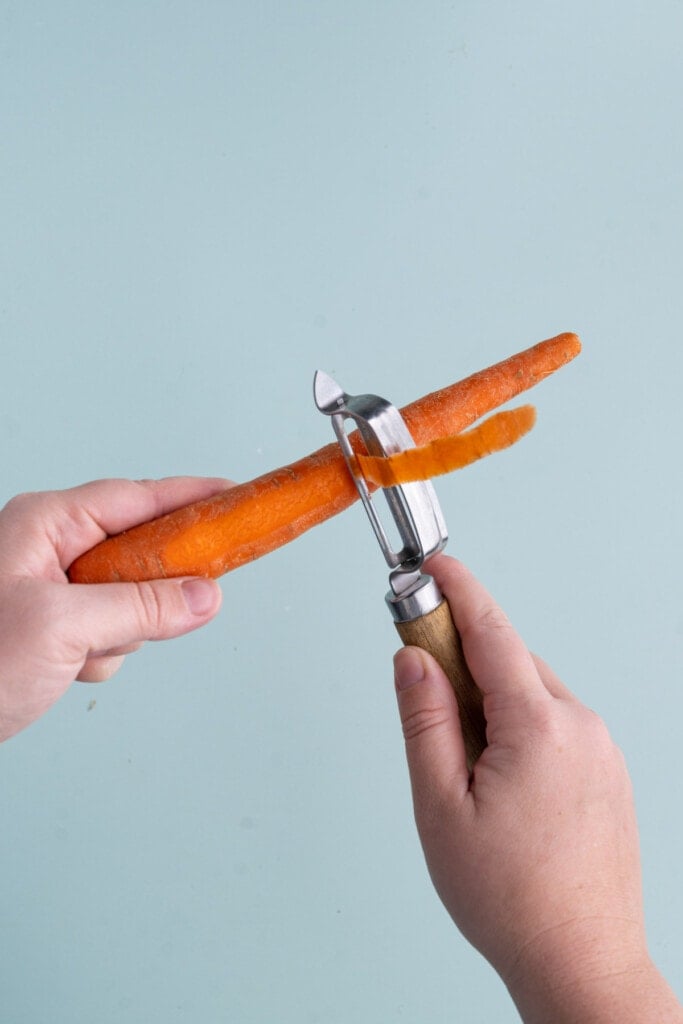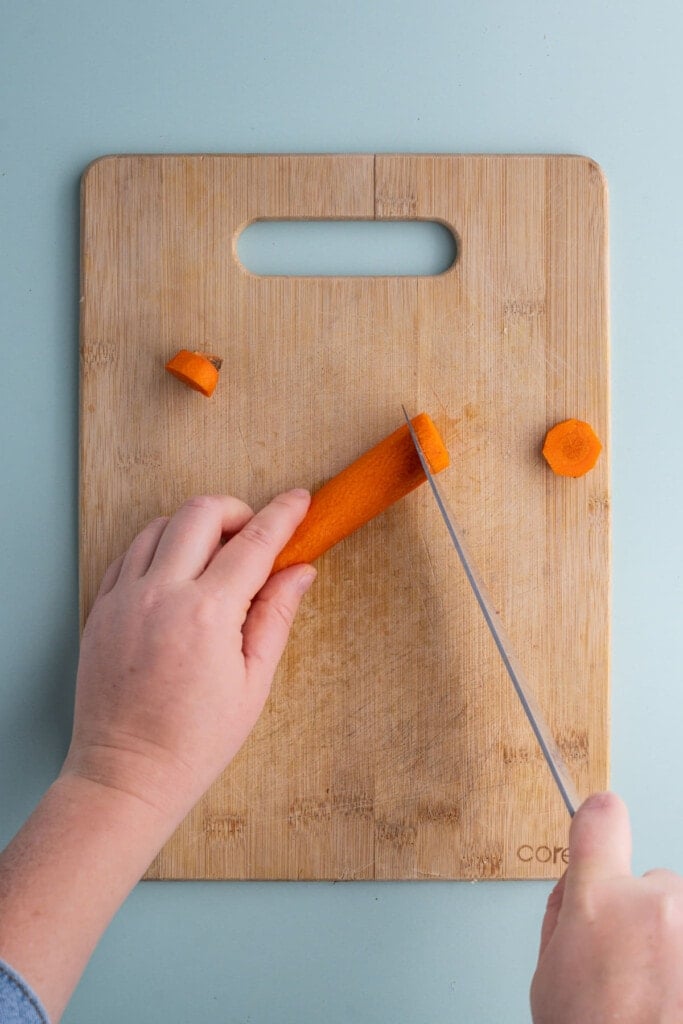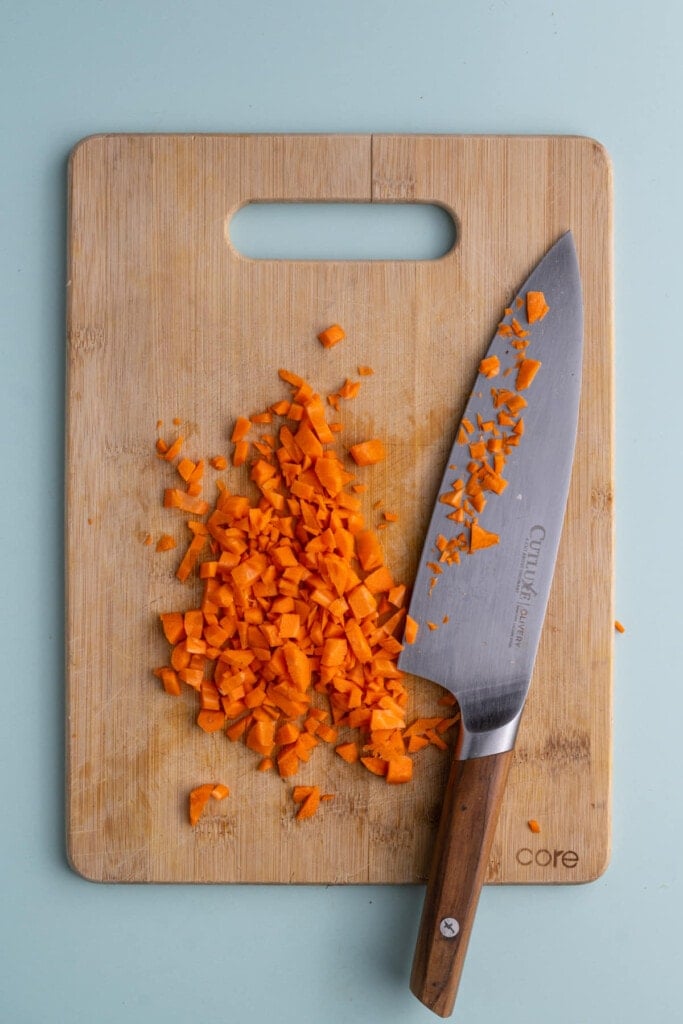 How to Easily Dice Red Onion
Start by cutting your red onion in half. This recipe only requires half an onion, so you can save one half of your red onion wrapped in the refrigerator for about one week.
Chop both ends off of the half of red onion you are using in this orzo pasta salad. After halving the onion and chopping off the ends, the outermost layers should be very easy to peel away and discard.
Green tip: Onion skins and scraps can easily be composted.
Then, lay the halved onion flat on your chopping board and slice into thin strips. Finally, dice the onion slices and peel apart any layers that are stuck together.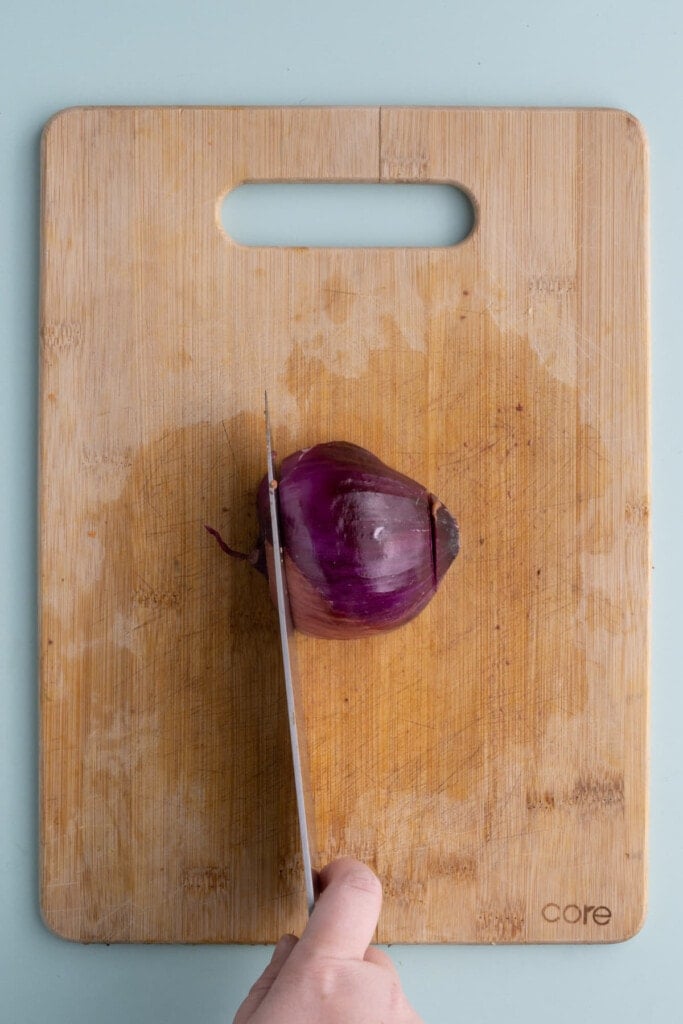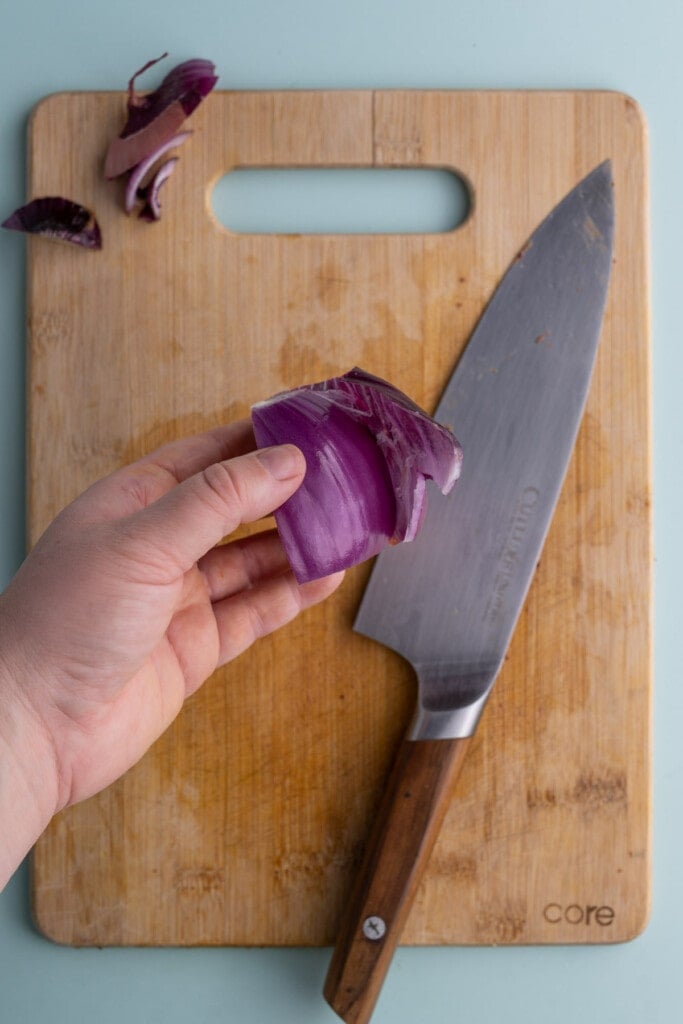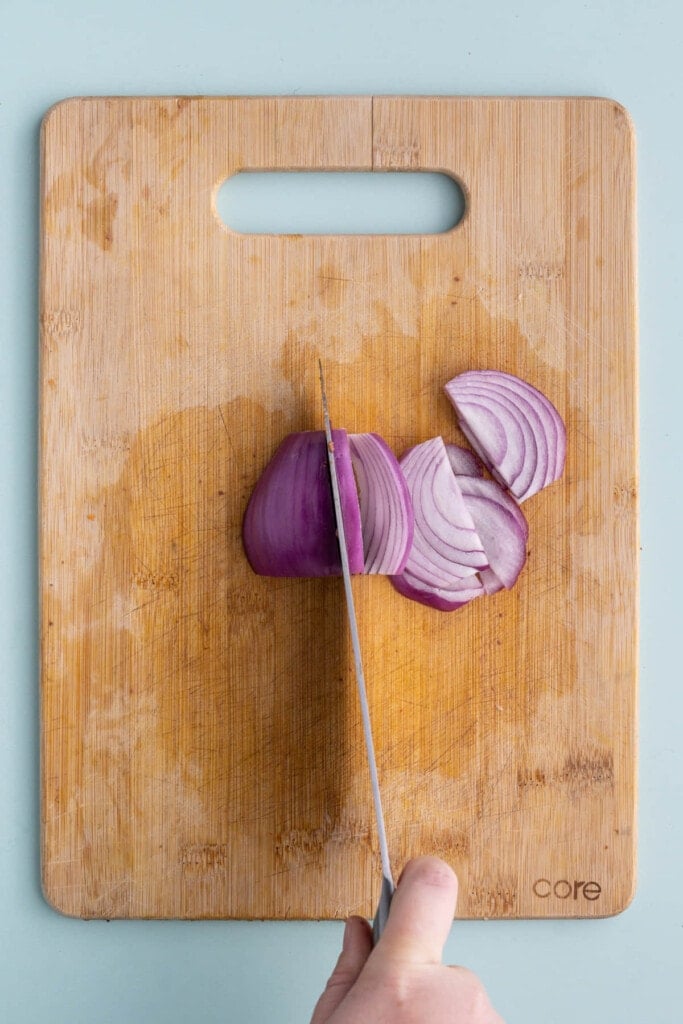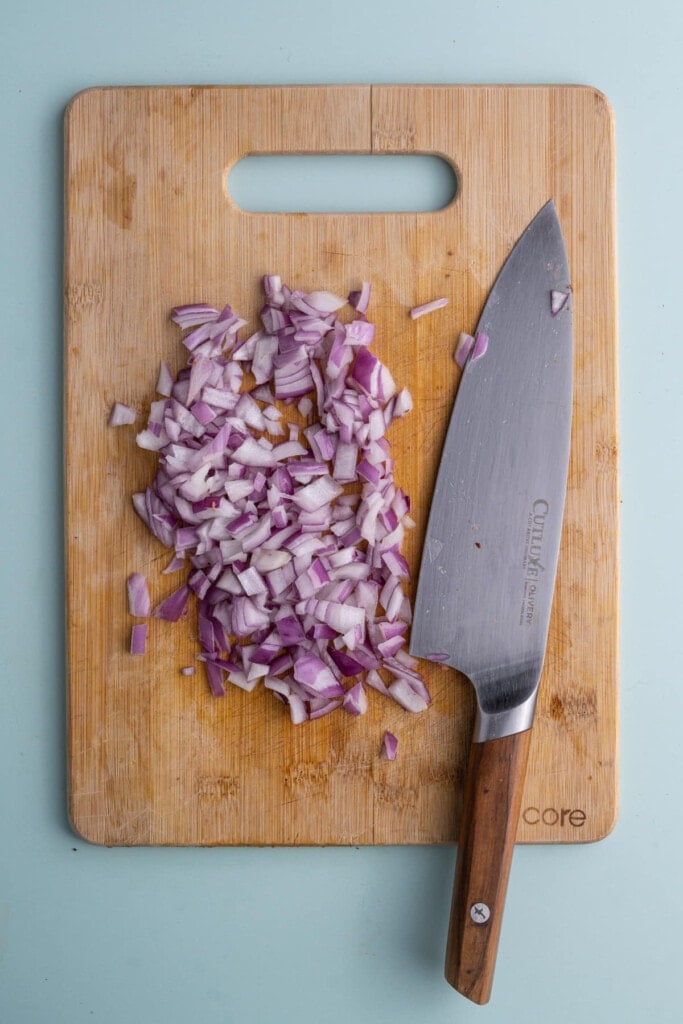 How to Prep Kalamata Olives for Pasta Salad
I usually buy pitted Kalamata olives, simply because they are easier to work with in this recipe.
If you have pitted olives, cut the olive in half longways around the pit and discard the pit before moving to the next step.
Remove the olives from the liquid they are suspended in and use a sharp knife to dice them into small pieces. Simple as that!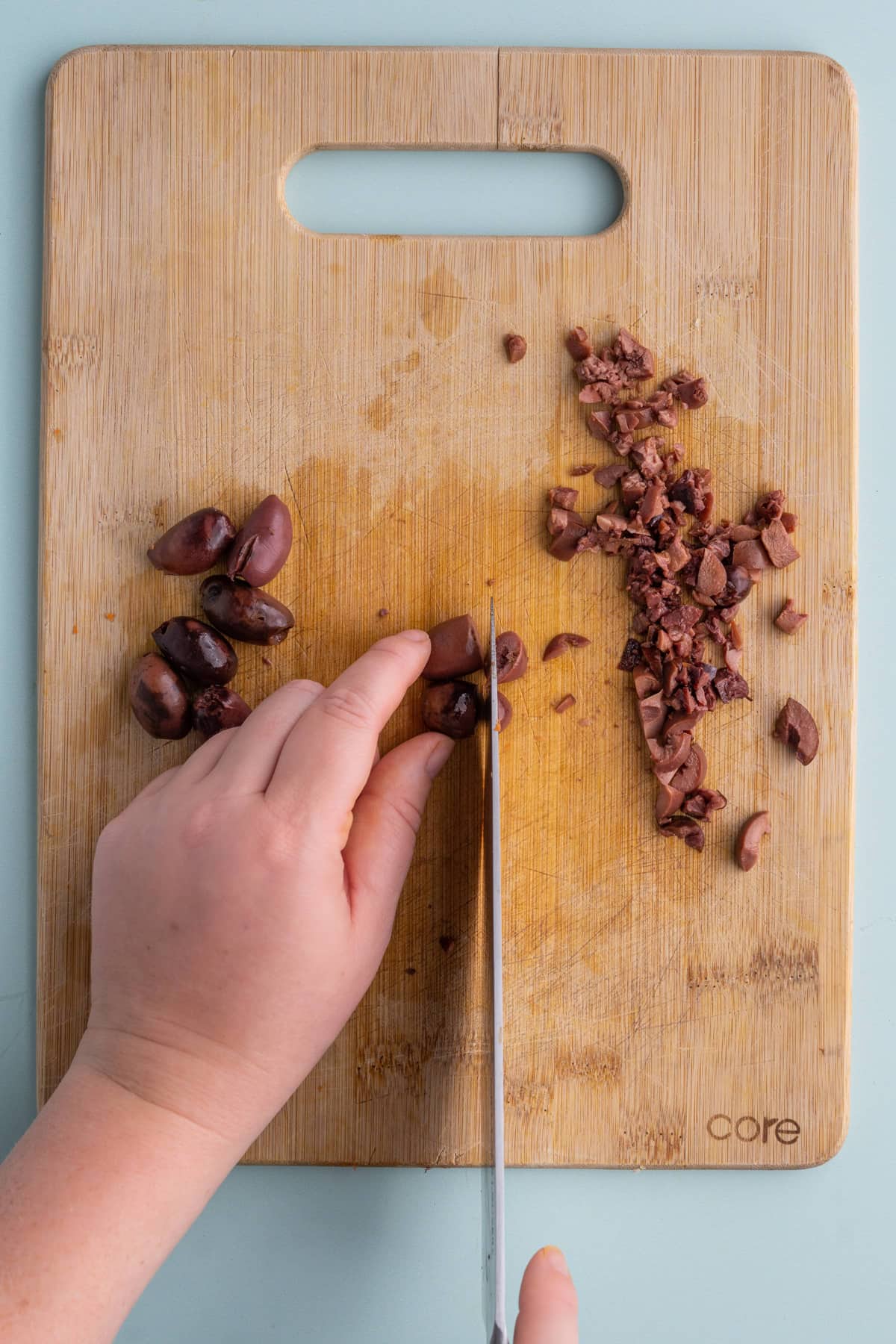 How to Bring Out the Natural Sweetness in Green Peas
While your orzo is boiling and after your carrots, onion, and olives are prepped, it's time to get going on your peas. I use frozen peas for this recipe, mostly because I always have them on hand, but you can also used canned or fresh peas.
If you are using canned peas, drain and rinse them before beginning the next step.
Add the butter, peas, and sugar to a large pan over medium heat. Stir until the peas are defrosted (if frozen) and coated in butter and sugar. This will bring out the natural sweetness in the peas. This should only take 2-3 minutes.
Once the peas are done, remove the pan from heat.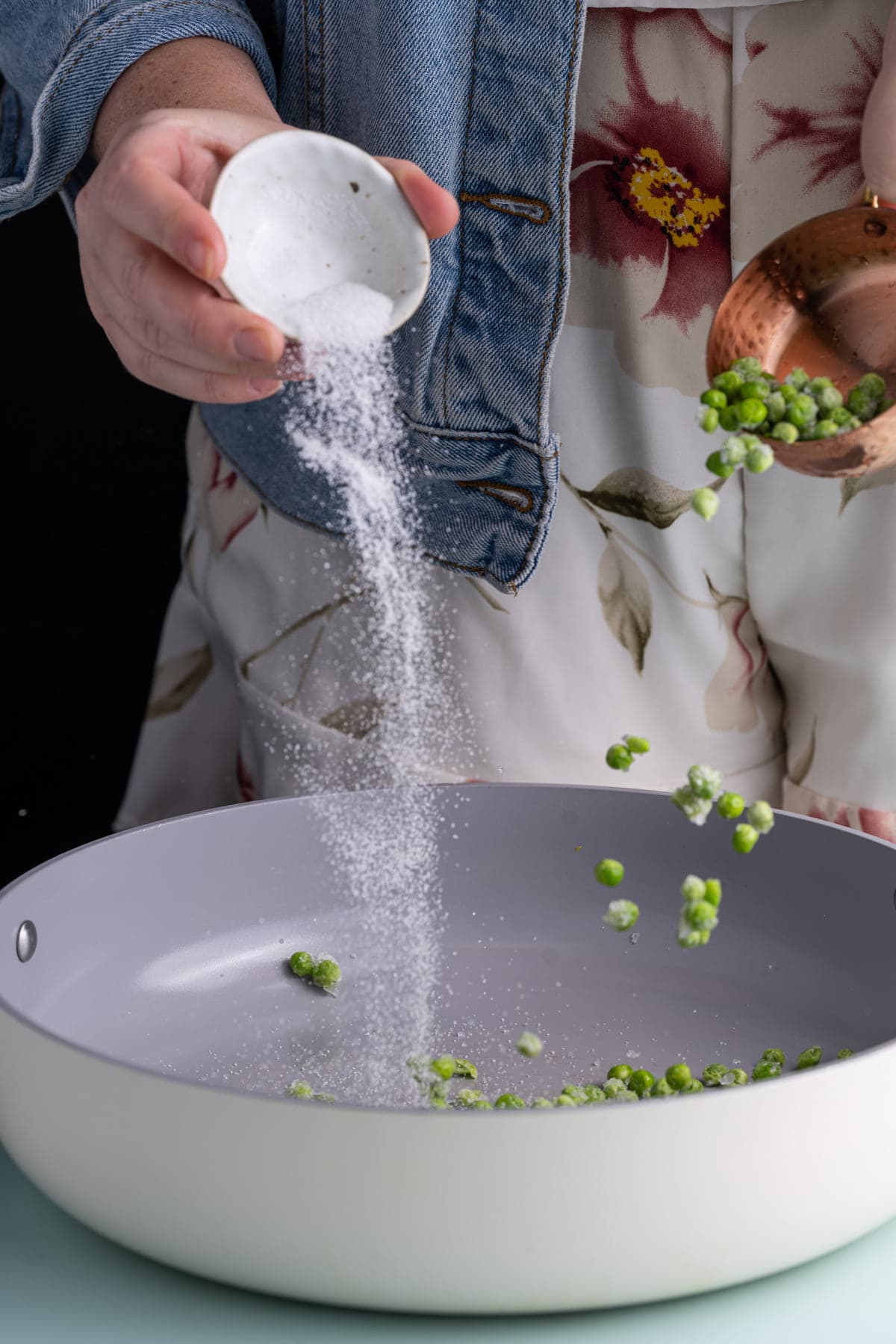 Assembling Your Rainbow Orzo Salad
I like to toss everything together right in my pan, so any leftover butter and sugar in the pan is added to the orzo.
Once the pan is removed from heat, throw in all your ingredients including the cooked orzo, prepped carrots, onions, olives, Greek Vinaigrette, and Feta cheese.
Then, toss it together until everything is coated in the vinaigrette and evenly distributed.
Serving Rainbow Orzo Salad
This orzo salad is super delicious at any temperature, making it a versatile side dish that's great for potlucks and picnics.
My favorite way to serve this orzo pasta salad is for lunch alongside a sandwich like this Havarti Grilled Cheese or Best Veggie Sandwich.
It's also extra delicious paired with this Pecan Crusted Halibut or Sticky Orange Tofu.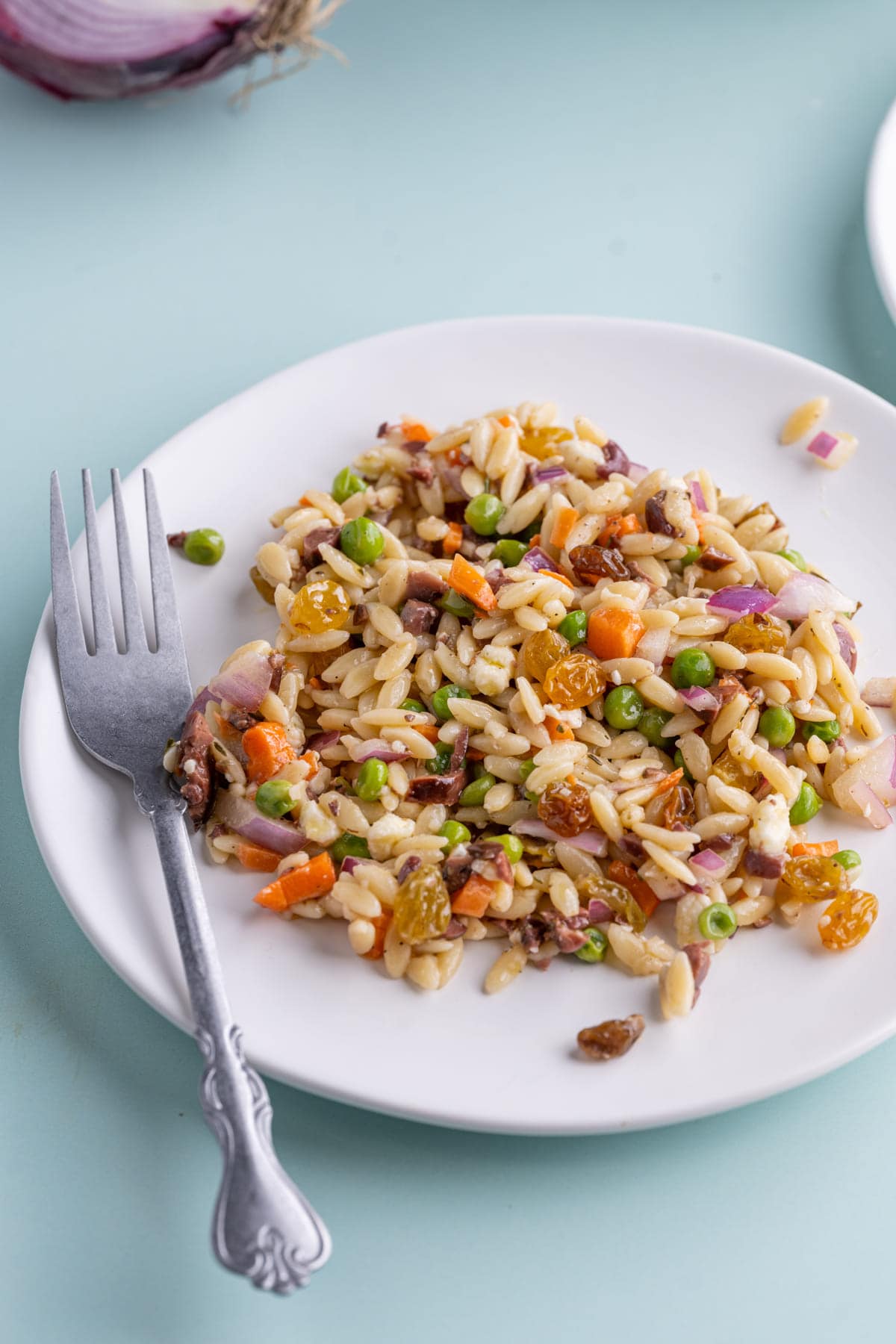 Storing Your Orzo Veggie Salad
Leftover Rainbow Orzo Salad will last up to 5 days in the refrigerator in an airtight container. It can also be frozen for up to 3 months.
If you do freeze leftovers, make sure to allow them to thaw overnight in the refrigerator before enjoying.
Green tip: Billions of tons of food is wasted annually. Combat food waste by reducing the amount of waste you produce in your own home by properly storing food and leaving little to no leftovers.
Orzo Pasta Salad Frequently Asked Questions
---
Is orzo rice or pasta?
Orzo is technically pasta, though it is rice-shaped! Each grain of pasta is small like a grain of rice, but cooks, tastes, and has the same bite as pasta.
Want to sharpen your kitchen skills?
Why You Should Make this Sweet & Salty Rainbow Orzo Salad
---
It's quick and easy! With only 5 minutes of prep and 20 minutes of cook time, you'll have this ready in under 30 minutes!
It's versatile. Make this your own by throwing in your favorite seasonal veggies, using a combination of savory and sweet.
It's fun! It's in the name! The vibrant colors and fresh taste make this Confetti Orzo a delight to eat.
If you're loving this Sweet & Salty Rainbow Orzo Salad and want more vibrant and fresh side dishes, check out this Caprese Asparagus and Vegan Couscous Salad.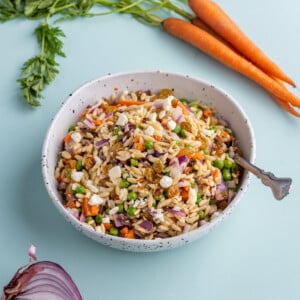 Sweet and Salty Rainbow Orzo Salad
PRINT
PIN
RATE
This Sweet and Salty Rainbow Orzo Salad is a refreshing and vibrant take on pasta salad, pairing sweet peas and raisins with salty olives and red onion for a bright burst of flavor.
Ingredients
1

cup

orzo

(uncooked)

1

large

carrot

½

large

red onion

¼

cup

kalamata olives

1

teaspoon

butter

(or olive oil)

½

cup

peas

(frozen, canned, or fresh)

½

teaspoon

sweetener like sugar, honey, or maple syrup

½

cup

golden raisins

⅓

cup

Greek Vinaigrette

¼

cup

crumbled Feta cheese

(optional)
Instructions
Cook and drain 1 cup of orzo according to the instructions on the packet. This should yield about 2 cups of cooked orzo. Set aside until ready to assemble.

Prep your ingredients by peeling and dicing the carrot and onion and dicing the olives.

In a large saucepan over medium heat, cook the peas in the butter and sugar until warm and coated.

Remove the pan from heat and add the cooked orzo, prepped carrots, onions, and olives, raisins, Greek Vinaigrette, and feta (optional) and toss to coat.

Serve warm or cold and enjoy!
Pro Tips
Carrot and onion peels can be composted or saved to make veggie scrap broth!
You can use regular raisins if you don't have golden. Golden raisins tend to be very slightly less sweet, which is my preference, but they both work.
Reducing your meat consumption significantly reduces your carbon footprint. Be kind to the planet (as well as your tastebuds!) with more of these delicious meatless pasta meals.
Did you make this recipe?
Let me know by leaving a recipe rating below, or by tagging @marleysmenu on Instagram.
Confetti Orzo Frequently Asked Questions
---
Can I make my own Greek Vinaigrette?
Absolutely! In fact, it's highly encouraged! Check out my easy, small-batch Greek Vinaigrette recipe.
Can I make this ahead of time?
Yes. This pasta salad stays fresh for 5-7 days and is delicious served cold.
Can I add different vegetables?
Of course! Make this your own! This Confetti Orzo pasta salad is the perfect catch-all for cleaning out the fridge!
Can I use frozen vegetables?
Yes. Both the peas and carrots can be either fresh or frozen for this recipe.