Searching for that perfect pasta salad side dish to bring to a potluck or eat with your sandwich? This Vibrant and Tasty Confetti Pasta Orzo Salad is delicious, beautiful, and adaptable.
It is one of my favorite vegetarian pasta recipes. It hits ALL the right notes.
Fragrant and colorful. Sweet and salty. Crunchy and chewy. Check, check, check!
This recipe is a refreshing and vibrant take on pasta salad, pairing sweet peas and raisins with salty olives and red onion for a bright burst of flavor.
Confetti Orzo Elements
Each element in this dish plays an important role in its overall cohesion.
Every ingredient works together to add sweetness, crunch, salinity, and acidity for the perfect blend of flavor and texture.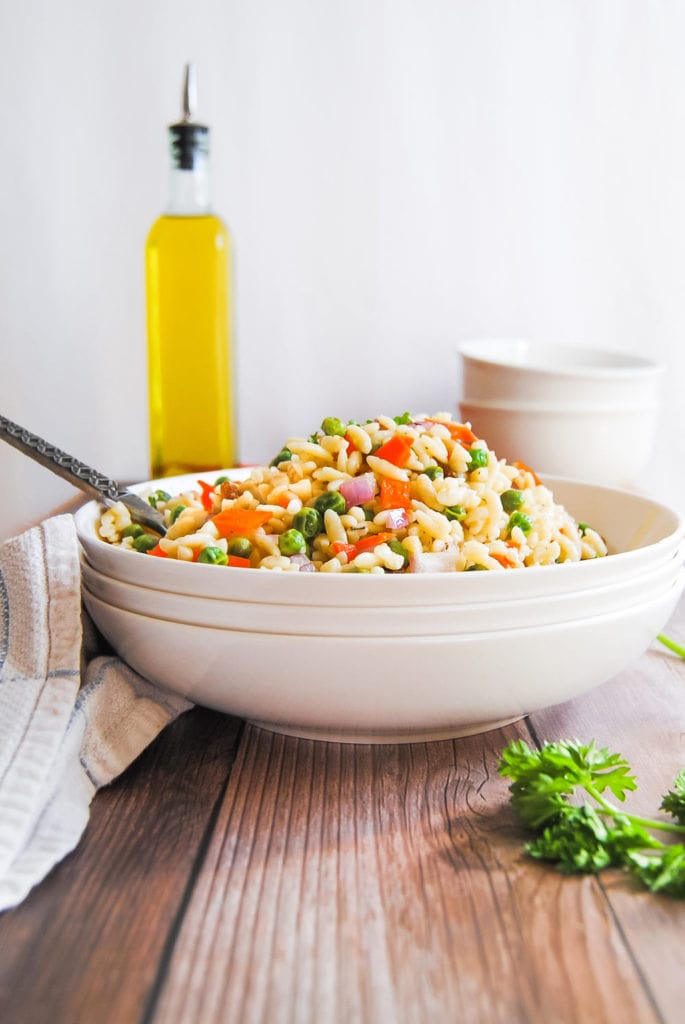 The peas and golden raisins are your sweet element. While cooking the peas, you really want to play up their natural sweetness.
I cook them with butter and a pinch of granulated sugar, but you can really use any sweetener you like—agave nectar, honey, and maple syrup all work!
Quick note: You can use either frozen or fresh peas. The same goes for the carrots! Frozen vegetables are often more eco-friendly, especially if they are out of season. Read more on fresh vs. frozen fruit and vegetables here.
I use Golden Raisins because they are just slightly less sweet than regular raisins, and I find they play a little nicer with savory ingredients.
The carrots and red onion add crunch to the dish, with the red onion really amping up the flavor and bite. Orzo is a little chewy on it's own and really benefits from the added texture.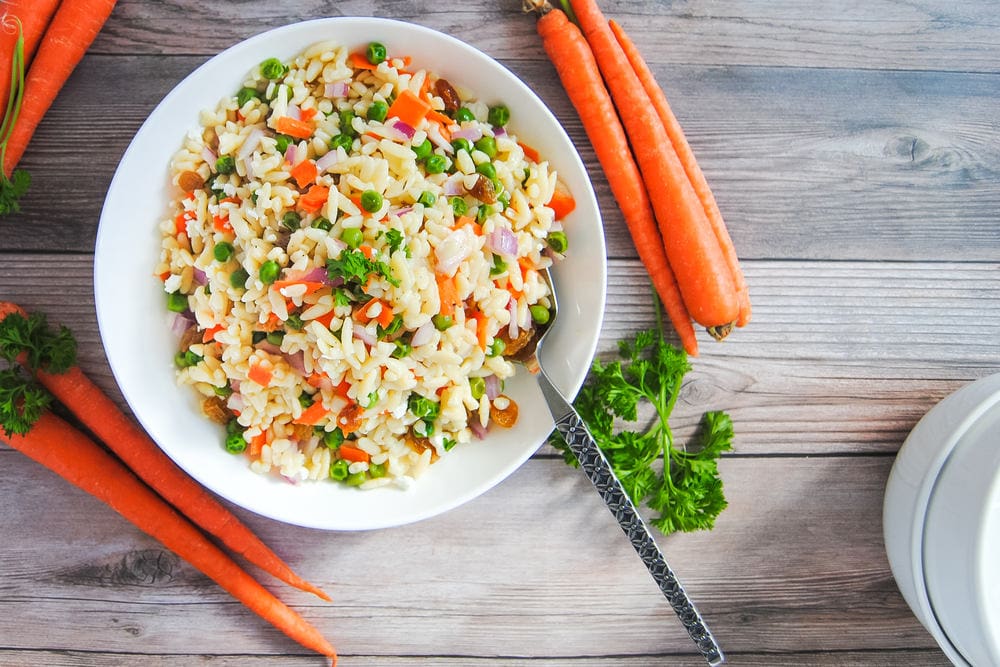 The olives will be your salty element. I like Kalamata olives in this recipe because they're both salty and a little bit smoky. You can easily substitute them with any other black olives.
Green tip: This is an everything-but-the-kitchen-sink recipe! Reduce your food waste by using up veggies that are about to expire in this recipe!
So we've hit sweet, salty, crunchy. We just need a little acidity to complete this dish. Let's add a vinaigrette! I highly recommend Greek Vinaigrette. It's such a natural pairing with those Kalamata Olives. And it's SO easy to make.
Try this Small Batch Greek Vinaigrette recipe for the perfect finish for your Confetti Orzo. Make sure to add it to your orzo while it's still hot. It will help to avoid the orzo sticking together and help evenly distribute the flavor.
Why You Should Make This Pasta Salad
---
---
It's quick and easy! With only 5 minutes of prep and 20 minutes of cook time, you'll have this ready in under 30 minutes!
It's versatile. Make this your own by throwing in your favorite seasonal veggies, using a combination of savory and sweet.
It lasts for up to a week. Make it ahead or eat it for days- this is such a great little vegetarian pasta salad to have in your refrigerator.
It's fun! It's in the name! The vibrant colors and fresh taste make this Confetti Orzo a delight to eat.
For other side dish options, check out this Aromatic Yellow Saffron Rice and this Quick Garlic Lemon Asparagus.
Vibrant and Tasty Confetti Orzo Pasta Salad
PRINT
PIN
RATE
This Confetti Orzo Pasta Salad is a refreshing and vibrant take on pasta salad, pairing sweet peas and raisins with salty olives and red onion for a bright burst of flavor.
Ingredients
1

cup

orzo

(uncooked)

¼

cup

greek vinaigrette

½

cup

peas, fresh or frozen

1

tablespoon

butter

(dairy or nondairy)

1

teaspoon

sugar

½

cup

diced red onion

½

cup

golden raisins

¼

cup

kalamata olives, diced

¼

cup

carrots, diced

(fresh or frozen)

1

tablespoon

crumbled feta

(optional)

1

pinch

of finely chopped parsley for garnish

(optional)

salt and pepper to taste
Instructions
Cook and drain 1 cup of orzo according to the instructions on the packet. This should yield 2 cups of cooked orzo.

While it's still hot, add Greek vinaigrette about 1 tablespoon at a time, until orzo is coated. You may not need all 1/4 cups. Pour slowly, you don't want it to be overdressed.

In the meantime, cook your peas in the butter and sugar until they are soft, heated thoroughly, and bright green.

Prep your other ingredients by dicing everything finely—you can leave the raisins whole!

Mix all your ingredients and add salt and pepper to taste. Garnish with parsley for freshness and more color.
Pro Tips
You can use any type of sugar or sweetener with the peas—agave, maple syrup, honey. They all work! You just want to enhance the natural sweetness of the peas while you're cooking them.
You can use regular raisins if you don't have golden. Golden raisins tend to be very slightly less sweet, which is my preference, but they both work.
Reducing your meat consumption significantly reduces your carbon footprint. Be kind to the planet (as well as your tastebuds!) with more of these delicious meatless pasta meals.
Did you make this recipe?
Let me know by leaving a recipe rating below, or by tagging @marleysmenu on Instagram.
Confetti Orzo Frequently Asked Questions
---
Can I make my own Greek Vinaigrette?
Absolutely! In fact, it's highly encouraged! Check out my easy, small-batch Greek Vinaigrette recipe.
Can I make this ahead of time?
Yes. This pasta salad stays fresh for 5-7 days and is delicious served cold.
Can I add different vegetables?
Of course! Make this your own! This Confetti Orzo pasta salad is the perfect catch-all for cleaning out the fridge!
Can I use frozen vegetables?
Yes. Both the peas and carrots can be either fresh or frozen for this recipe.