Looking for the perfect savory pumpkin dish to celebrate Fall flavors? This Creamy Pumpkin and Mushroom Risotto is the most gourmet way to enjoy subtly sweet pumpkin on your dinner plate.
The subtle sweetness of the pumpkin is complemented by the creamy coconut milk and balanced by earthy mushrooms and savory garlic and shallots. And like any delicious mushroom risotto, you can truly taste the love and care that goes into making this one-pot dinner dish.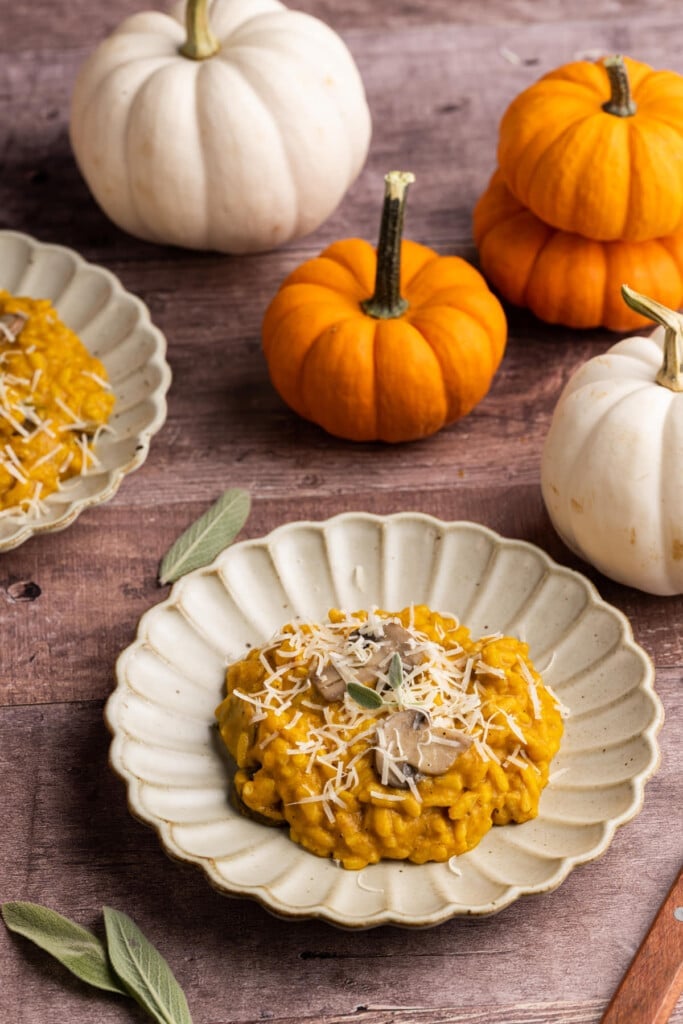 As an environmental scientist, I love highlighting sustainable ingredients like mushrooms! This is one of two of my all-time favorite recipes with mushrooms.
Green tip: Mushrooms are not only delicious but considered sustainable food. They have a relatively small environmental footprint as they take little water and energy to grow and emit little CO2.
Pumpkin and Mushroom Risotto Ingredients
---
Here's everything you need:
Garlic and Shallot. To balance out the sweetness by adding deep savory flavors.
Baby Bella mushrooms. To add a "meaty" texture and an earthy taste.
Olive oil. To fry the mushrooms, garlic, and shallot in.
Salt & pepper. To elevate the natural flavors and to add a little heat.
Arborio rice. The best rice for any risotto!
Vegetable broth. You can buy it at the store or make your own veggie broth.
Pumpkin Puree. The easiest way to get that deep pumpkin flavor.
Coconut milk. To add extra creaminess and bring out the subtle sweetness of the pumpkin.
Parmesan cheese. Or nutritional yeast to make this vegan. It just adds extra salt and flavor and successfully thickens the texture.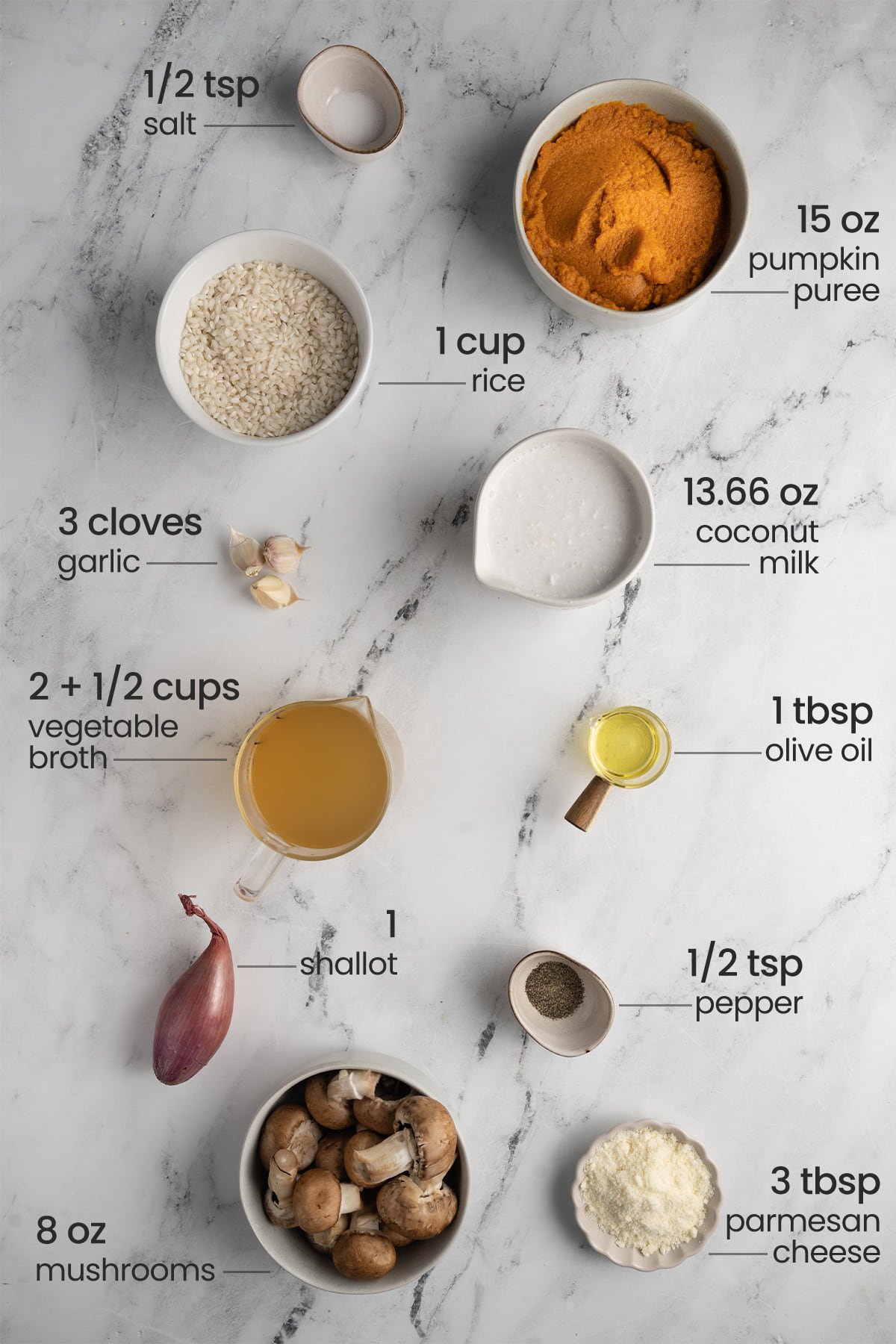 Pumpkin Mushroom Risotto Tips and Tricks
---
Cook Down the Veggies
Start by peeling and mincing your garlic, peeling and dicing your shallots, and washing and slicing your mushrooms.
Add them to a large saucepan or shallow pot with olive oil, salt, and pepper over medium heat. Sauté until the liquid has released from the mushrooms and the shallot and garlic are fragrant.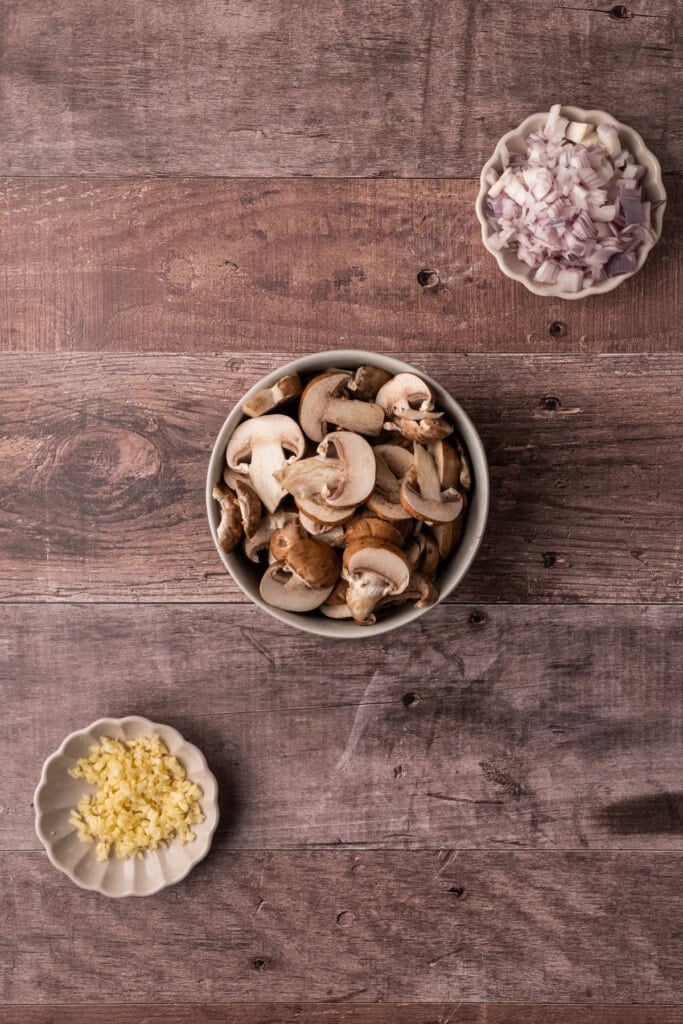 The Rice Comes Next
Add the arborio rice to the pan with your cooked veggies.
The best rice for risotto is arborio rice because it is not as starchy as other types of rice. This makes for a softer risotto and means you don't have to rinse the rice before getting started.
Plus, by continuously stirring in liquid for the rice to absorb as opposed to covering and letting it cook, the rice won't expand as much as it typically does. Thankfully, arborio rice is already a longer and wider grain, so this isn't an issue.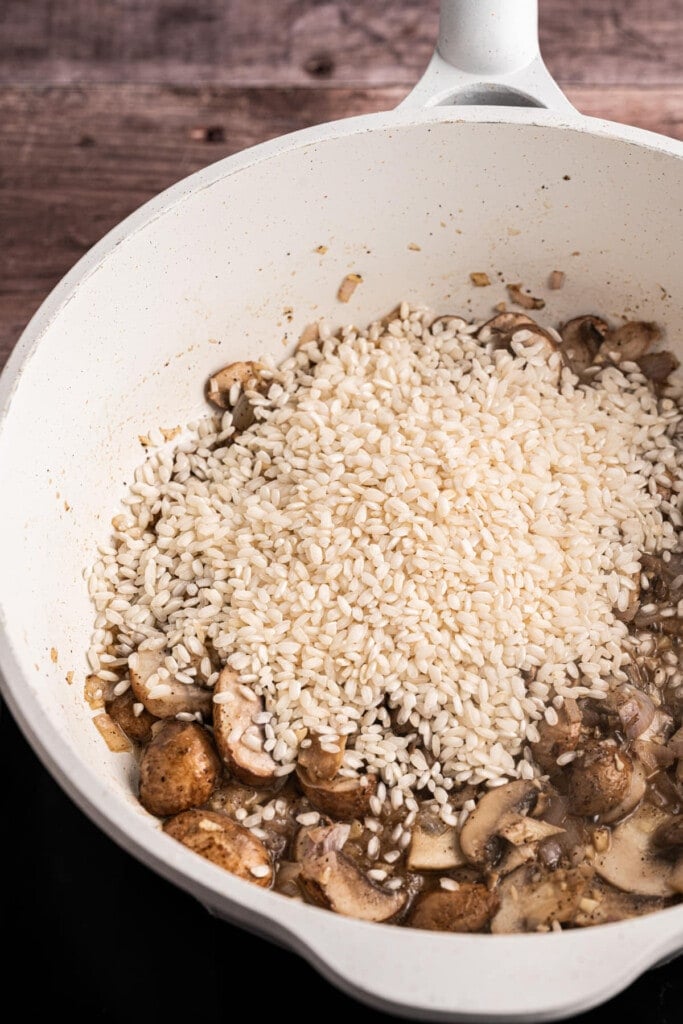 Slowly Add the Broth
As with any risotto, the preparation of this dish takes a little time and care. It's not a "set it and forget it" type of meal. More like a pour yourself a glass of wine, turn on your favorite tunes, and enjoy every step of the process kind of cooking.
That being said, once the rice is in your pan, it's time to slowly add the vegetable broth. Add it about 3/4 cup at a time, continuously heating and stirring.
Continue to stir the rice over medium heat until most of the liquid is absorbed before adding another 3/4 cup of broth. Continue this process until the liquid is absorbed yet again.
Then, add the remainder of the broth and heat and stir until the liquid is once again absorbed. By now, your rice should be almost cooked.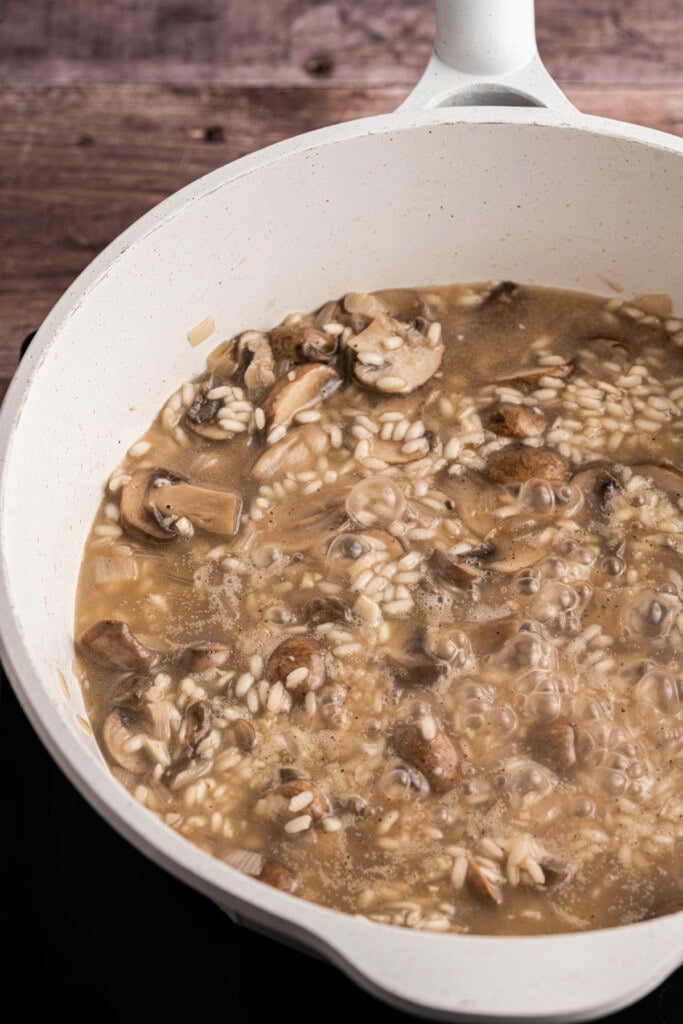 Add the Pumpkin Puree
Keep your heat source on medium and add your pumpkin puree. Use a spatula or wooden spoon to fold the puree into the rice, making sure its distributed evenly throughout.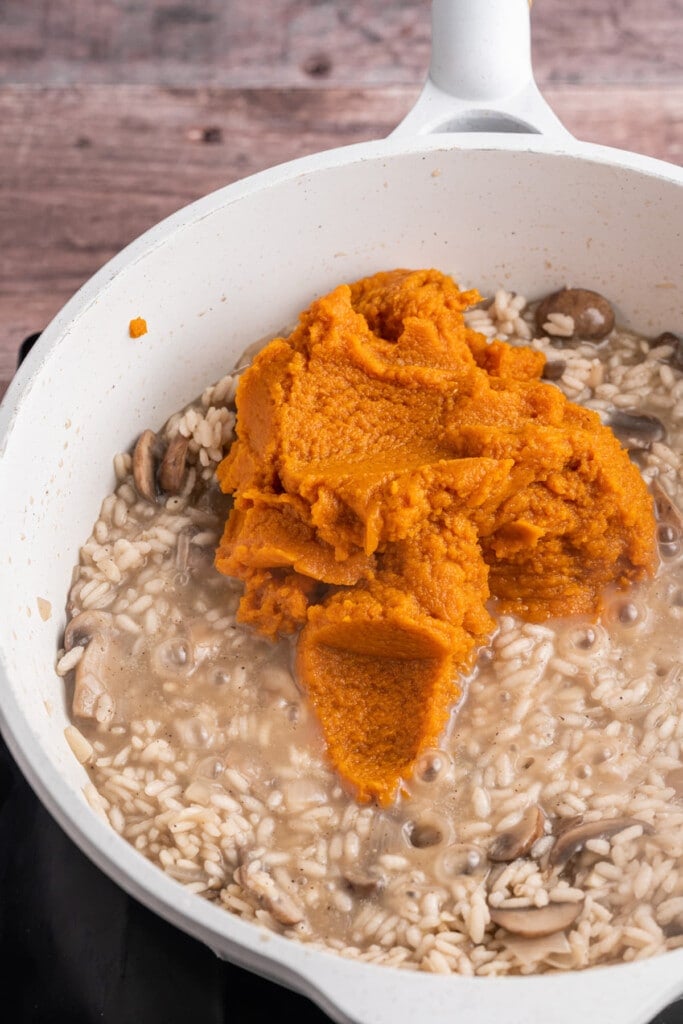 Add the Coconut Milk
Now, add the coconut milk and stir again. You should have a super creamy, light orange mixture resembling a creamy pumpkin soup with rice.
Green tip: Coconut milk is one of the lowest impact milk choices when it comes to our environmental footprint. Coconut trees use little land, little water, and the production of coconuts requires no deforestation.
Heat and Stir
One last time! Keep your heat on medium and stir continuously until the rice is tender and about half of the liquid has evaporated (about 8-10 minutes).
You should be left with a still-creamy, but less soup-y consistency.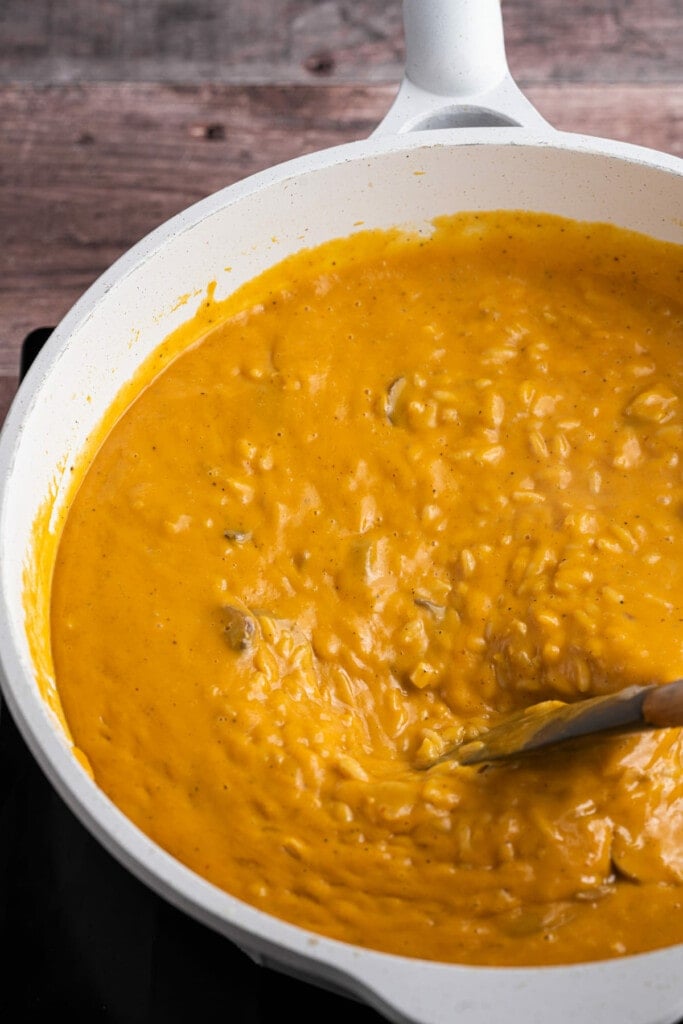 Add the Parmesan Last
Lastly, add the grated Parmesan cheese and fold it in. This will add some extra savory flavor and thicken the creamy risotto just the right amount.
You can easily use nutritional yeast in place of Parmesan cheese here with a similar outcome.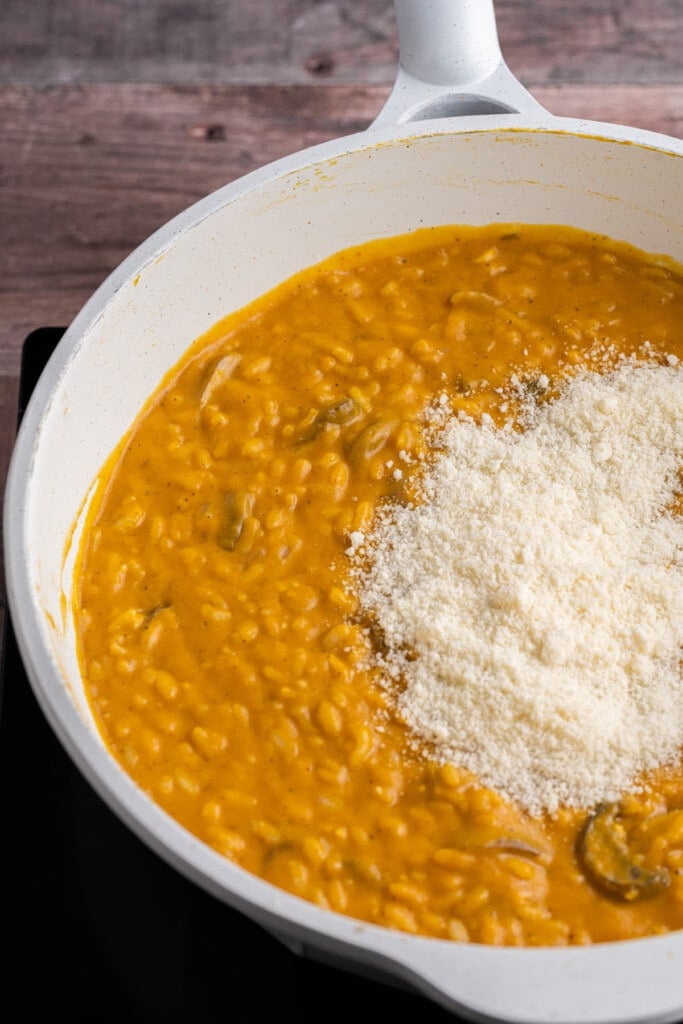 Serving your Pumpkin Risotto with Mushrooms
Serve it up warm! I like to add a little extra Parm and a couple of fresh sage leaves for garnish.
This pumpkin risotto with mushrooms is hearty enough to stand on its own as a vegetarian dinner option, but also makes for a great side dish!
You can serve it as a side to this Baked Cod with Panko with a sweet and salty vegetable like these Brussels sprouts.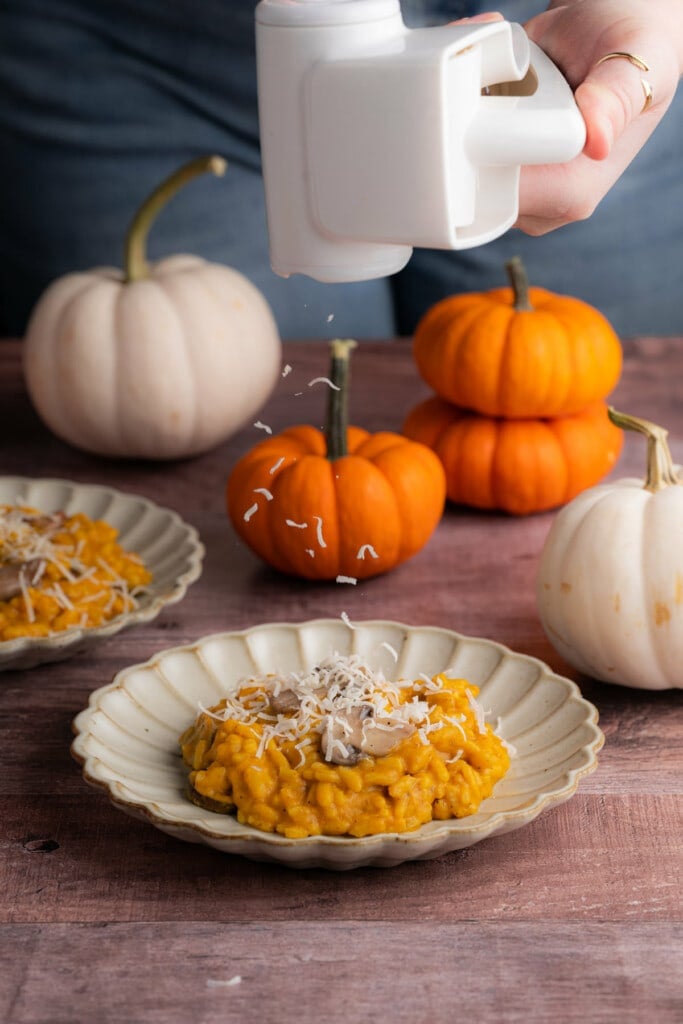 Should You Have Leftovers
This Pumpkin Mushroom Risotto will last in an airtight container in the refrigerator for up to 5 days. It's best not to freeze risotto.
Green tip: Did you know that of the billions of pounds of food wasted annually, it is estimated that 50% of it happens in our homes? Minimize your contribution to food waste by properly storing, reheating, and enjoying your leftovers.
To reheat risotto, add 1/4 cup vegetable broth for every 1 cup of leftovers. Add the risotto and the broth to a pot fit with a lid and heat over medium until thoroughly warmed, stirring occasionally (about 10 minutes). If it seems too thick, you can always add an extra splash or two of veggie broth.
Don't have broth on hand? Water can be used in a pinch, but you may have to add a crack of salt and pepper to bring the flavor back to life.
Pumpkin and Mushroom Risotto Frequently Asked Questions
---
What is the secret to creamy risotto?
It's all about the constant stirring! There's a reason risotto is so labor intensive, and that's because the constant stirring of the rice adds little air pockets to your risotto, fluffing it and giving it a light and airy texture.
The coconut milk in this Pumpkin Mushroom Risotto recipe adds extra creaminess to an already creme de la creme dish.
What can be made from canned pumpkin?
Canned pumpkin is a vastly versatile ingredient with a long shelf life, making it one of my favorites! Outside of this delicious Pumpkin Mushroom Risotto, canned pumpkin puree can be used in a variety of delicious recipes.
This includes this Pasta with Pumpkin Sauce, a number of Fall cocktails like this Pumpkin Spice Mule, and baked goods like these Vegan Pumpkin Chocolate Chip Cookies and these Pumpkin Muffins with Spiced Cream Cheese Frosting.
Want to sharpen your kitchen skills?
Why You Should Make this Creamy Pumpkin Mushroom Risotto
---
It's festive! Celebrating Fall flavors.
The texture. Super creamy with light and airy rice and richness from the pumpkin puree and coconut milk.
It's balanced. Subtle sweetness from the pumpkin and coconut milk is balanced out by the savory garlic and shallot and earthy mushrooms.
If you're loving this Pumpkin and Mushroom Risotto and want more meatless meals with less clean up, check out this list of Vegetarian One Pot Meals.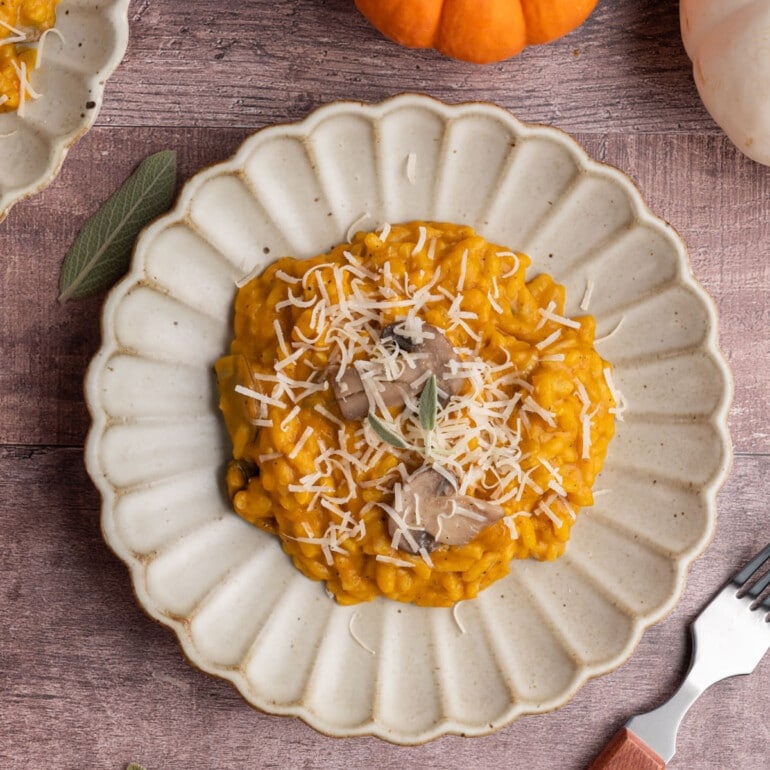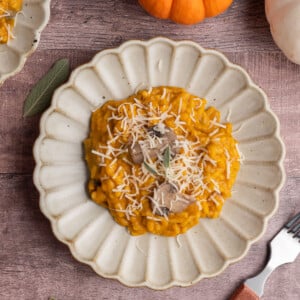 Creamy Pumpkin and Mushroom Risotto
PRINT
PIN
RATE
This Pumpkin and Mushroom Risotto is perfectly creamy, balancing the subtle sweetness of pumpkin with earthy mushrooms and other savory flavors.
Ingredients
1

tablespoon

olive oil

3

cloves

garlic

(minced)

1

large

shallot

(diced)

8

ounces

Baby Bella mushrooms

(sliced)

½

teaspoon

salt

½

teaspoon

black pepper

1

cup

Arborio rice

2 ½

cups

vegetable broth

15

ounces

pumpkin puree

(15 oz = 1 can, approx. 1 ¾ cups)

13.66

ounces

coconut milk

(13.66 oz = 1 can, approx. 1 ¾ cups)

3

tablespoons

Parmesan cheese

(grated)
Instructions
In a large saucepan over medium heat, sauté the garlic, shallot and baby Bella mushrooms in olive oil with salt and pepper until the juice from the mushrooms evaporates (about 5 minutes).

Add the rice and give it a couple of stirs to combine it with the sauteed veggies.

Add ¾ cup of vegetable broth over medium heat and stir continuously until all the liquid is absorbed by the rice. Then, add another ¾ of broth and repeat. Once the liquid is absorbed, repeat this step for a third time with the remainder of the vegetable broth. At this point, your rice should be al dente.

Fold in the pumpkin puree and pour in the coconut milk. Stir until creamy and smooth.

Continue to heat and stir until the rice is fluffy and tender, and about half of the liquid has evaporated (about 8-10 minutes).

Remove from heat and stir in your grated Parmesan cheese. Serve hot and enjoy (option to garnish with extra Parmesan and a fresh herb like sage or basil).
Pro Tips
Don't rinse your rice! In risotto, it's important to keep any starchiness to get the perfect creamy texture. 
Just keep stirring. This is not a "set it and forget it" type of meal. It requires constant stirring to be successful. 
For more meatless meals with less clean up, check out this list of One-Pot Vegetarian Meals. 
Did you make this recipe?
Let me know by leaving a recipe rating below, or by tagging @marleysmenu on Instagram.