Looking to spice up your spuds? These Crispy Potatoes with Spicy Sauce are the perfect appetizer or side dish to tickle your taste buds.
Derived from my favorite dish, Patatas Bravas, at a local Spanish tapas restaurant, these potatoes will transport you straight to Europe. The only thing that will be missing is the Sangria!
Okay, have I set the scene yet? Let's get to cooking!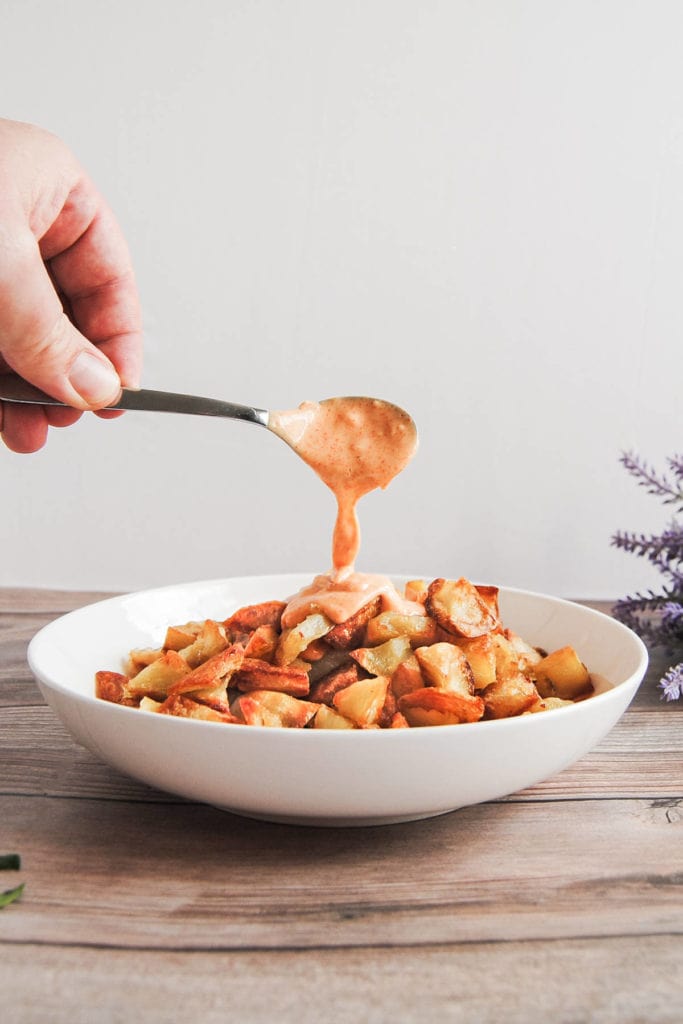 Potatoes are a whollleeeee food group in our house. We eat them MORE than often. They're damn delicious and what's more–they are actually one of the most sustainable starches you can consume!
Compared to pasta and rice, potato production has a significantly lower impact on the environment, with fewer greenhouse emissions and a much lower water footprint.
The crops themselves also require a relatively small amount of land to thrive, and since potatoes can be stored for a long time, they general lead to minimal waste.
Buying them locally and individually (with no packaging) is even better! Organic labels let you know that pesticides were not used in their production for the most sustainable choice.
Green tip: Potatoes are a great choice for a sustainable starch! They only require a small area to thrive and have a super long shelf life!
Crispy Potatoes with Spicy Sauce Tips and Tricks
---
---
Peel 'Em
Often, recipes for roasted potatoes instruct you to leave some skin on, but our goal here is to remove excess starch to achieve the crispiest potatoes! In order to remove the starch, we have to access the potato under the skin. Peel them fully and discard the skins.
Cut 'Em In Chunks
Cutting the potatoes comes next. Finding the balance between large enough to get a soft, pillow-y center and small enough to get all sides crispy is key.
I usually cut my potato in half first, then use my knife to cut each half into chunks about 1-2 inches long and 1/2 an inch wide. They don't have to be uniform, but roughly the same size so that cooking time is consistent for each piece.
Soak 'Em
Here's the process for removing the excess starch. Once your potatoes are peeled and chopped, throw them in a large bowl. Fill the bowl with water until all of the potatoes are completely covered and let it sit for at least two hours.
If it's easier to prep them the day before, they can sit overnight in the water and stay fresh.
Don't skip this step! Soaking your potato chunks is key to getting that crisp finish.
Get 'Em Golden Brown
You can't very well have Crispy Potatoes with Spicy Sauce without, well… crispy potatoes. So priority number one is getting those taters golden brown.
Your prepped potato chunks should be covered in an even coat of olive oil. I use clean hands to massage the potatoes with the oil to make sure every side is coated!
Sprinkle a little salt on top and throw them in the oven to roast. At 375 degrees Fahrenheit, the potatoes should be ready in about an hour and a half. You'll know they're ready when you get that beautiful color on all sides.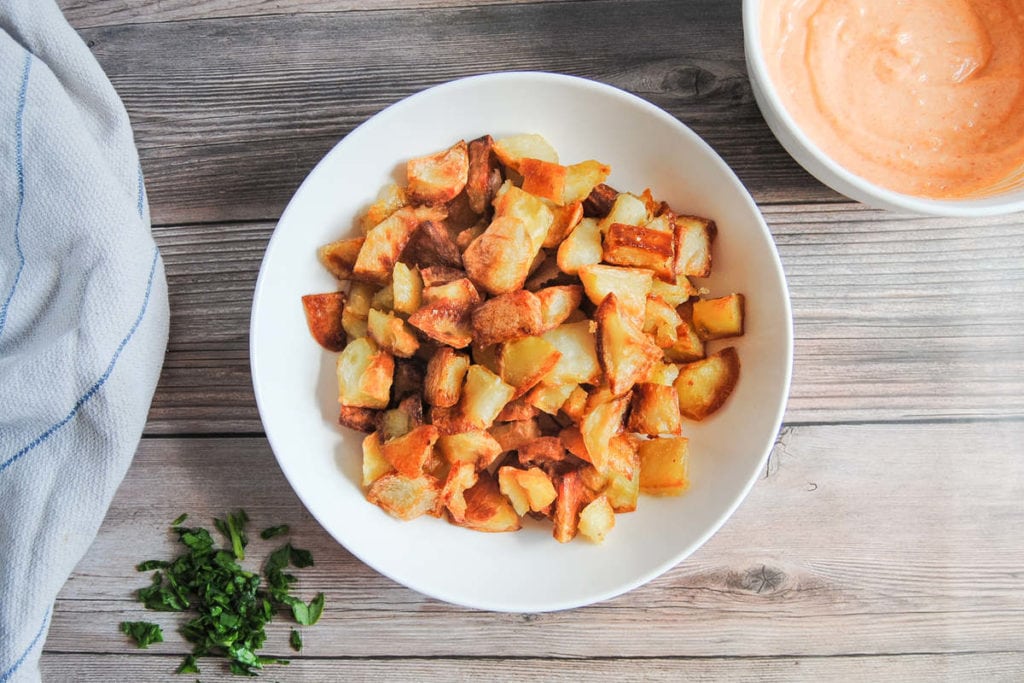 Toss 'Em
In order to get your Crispy Potatoes with Spicy Sauce perfectly roasted on all sides and to avoid your potatoes sticking to your baking dish, it's important to toss your potatoes every 30 minutes or so.
You can just use a serving spoon or a spatula to move them around, flipping them and turning them.
It's best to take them out of the oven to do so for two reasons. For one, it's safer. Burning the top of your hand on a scalding hot oven or your calf on the oven door is no picnic.
And two, it keeps your oven hot. Make sure to close your oven while you have the potatoes out to toss them. Opening your oven door for just 30 seconds can drop your oven temperature by over 100 degrees Fahrenheit! I know, it's shocking!!!
But we want those potatoes to crisp up quickly. So open, remove, shut, and toss.
Sauce 'Em
Okay we've got the crispy potato part of our Crispy Potatoes with Spicy Sauce down. Now for their better half—the spicy sauce. (If you're not pronouncing it SAWCE in your head, you're reading this all wrong 😂).
My best advice is to make the sauce and dress your potatoes just before serving. Mince your garlic as small as you can, and use a fresh lemon. When your potatoes are nice and hot and you're ready to eat, pour them over and enjoy!
The longer the sauce sits on the potatoes, the more at risk you are of them getting soggy.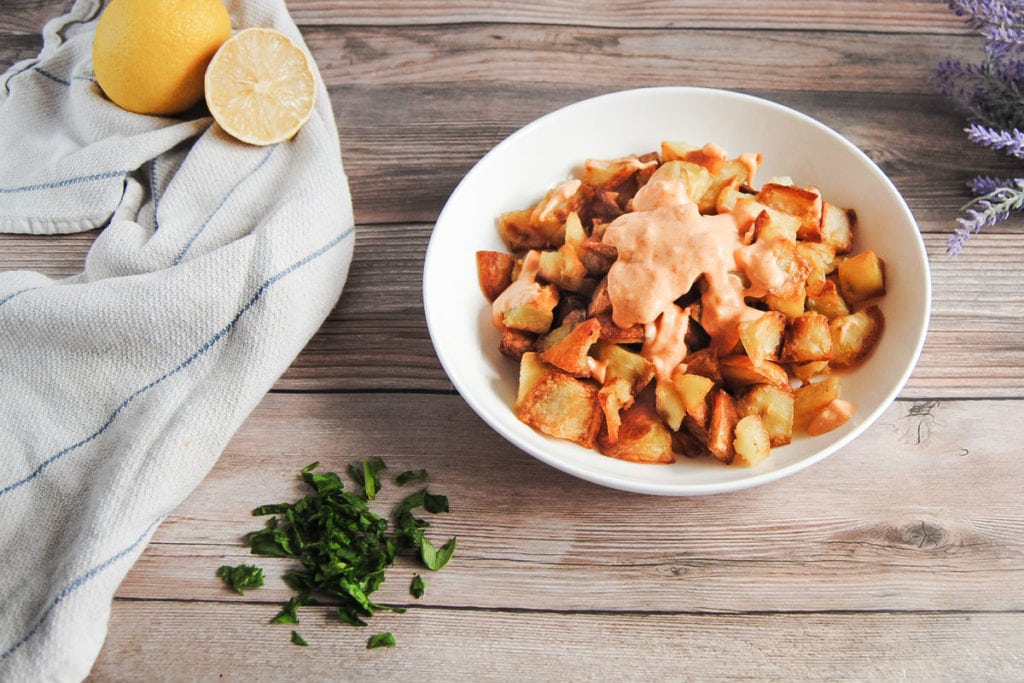 Why You Should Make these Crispy Potatoes with Spicy Sauce
---
---
The texture. The crunch of those potatoes under the creamy sauce is something to behold.
The sauce. Speaking of that creamy sauce, it's good enough to eat on its own with a spoon.
It's balanced. Acid from the lemon. Spice from the paprika and cayenne. Earthiness and subtle sweetness from the garlic. All seamlessly united through the creamy mayo.
It's popular. Patatas Bravas is by far one of the most recognizable and well-liked tapas dishes.
If you're looking for other ways to prepare your spuds, check out these Garlic and Feta Mashed Potatoes and these Simple 4-Ingredient Roasted Potatoes.