Ready to kick your apple pie up a notch this year? Why not add a boozy twist?! This Drunken Apple Pie with Bourbon Glaze plays off the natural oak, vanilla and caramel flavors of bourbon to add depth to your favorite classic.
The smell of apple pie is standard around the Holidays, but the comfort of that sweet, caramel and cinnamon flavor-filled fragrance is welcomed any time of year at my house.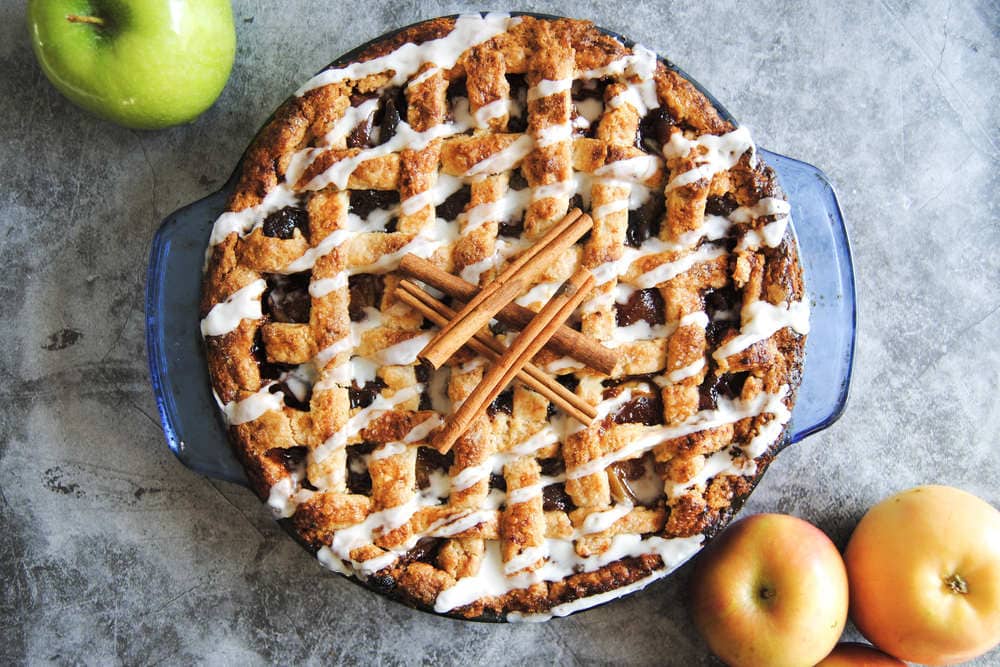 I will be the first to admit to you that pie is not easy. SO MANY THINGS CAN GO WRONG. The tastiest, flakiest, most crumbly of delicious crusts are super finicky to work with.
If the filling is overcooked or burnt at all you can get a really bitter taste. And as if that's not enough pressure, the slightest imperfection in timing and cook temperature can land you a dreaded soggy bottom.

I'm a home cook, and while I LOVE cooking and have plenty of practice in the kitchen, I struggle with a classic pie EVERY.SINGLE.TIME.
But what I can promise you is this—following this recipe will result in an absolutely delicious, while maybe somewhat rustic, (embrace it!) delightful dessert.
Drunken Apple Pie Tips and Tricks
---
---
Choosing The Right Apples
ALWAYS, ALWAYS, ALWAYS use half sweet, half tart. This combo is undeniably THE BEST. This recipe calls for six apples, so for me, that always means 3 granny smith and 3 of whatever red or pink apple is on sale.
In my opinion, granny smith is the perfect tart apple for baking, but you could also use Braeburn, Pink Lady, or McIntosh for your tart apples.

Sweet apples range from Fuji, Gala, and Honeycrisp, to Ambrosia, Golden Delicious, and Red Delicious. I've had success with a number of different combinations, but my all-time favorite is Granny Smith and Gala.
Achieving A Classic Lattice
I've been at it for years and mine is still a little wonky. I've grown to love the raw, homemade look of my Drunken Apple Pie. My advice is to not try to make it perfect. You can spend hours in the kitchen that way. It WILL taste good, and that's the point, right?
The recipe makes enough dough for both a top and bottom crust. You will split it in half, using some for the bottom and some for the lattice top. Make sure the crust you are using for the top is nice and cold.
For the easiest dough to work with, it's best to let it cool in the refrigerator for 1 & 1/2 – 2 hours before rolling it out to use for your lattice. If you're in a rush, you can use it immediately—the taste will still be amazing, but you'll find it harder to achieve that beautiful lattice!
Use a floured rolling pin to flatten it until it is about 1/2 inch thick. Make sure to flour your surface, or for an easier transfer, you can do it on parchment paper. It should be roughly circular when you are done rolling it out and flattening it with your fingers.
Next, slice your crust vertically into 14 even parts. I would find this task simply impossible without my handy dandy pastry cutter.
Once your drunken apple pie filling is cooled, you can add it to your pie dish, and you're ready to start your lattice!

Take every other strip of pie crust and place them vertically across your pie filling, leaving about an inch of space in between. Make sure to place them lightly, you'll need to lift them to weave your leftover strips over and under horizontally.
Use the remaining dough to place horizontally over your pie filling, alternating over and under the strips you have already placed vertically.

This part's fun! Weaving over and under, sweating next to your hot oven, over and under and over and under and—voila! All of a sudden your beautiful pie appears!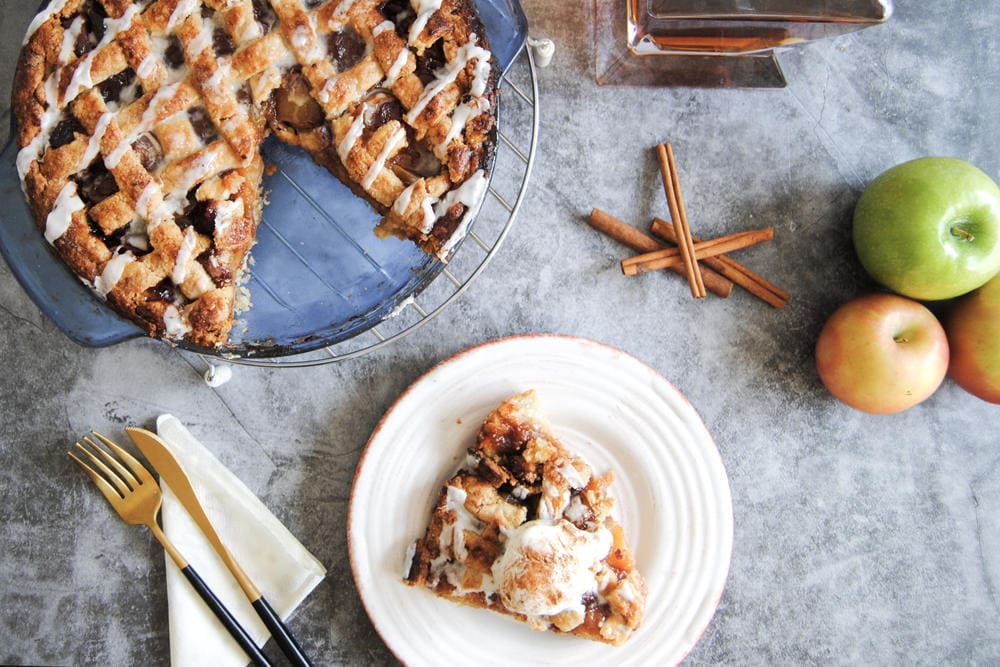 Patch any little messy bits that appeared when you got distracted by the doorbell ringing with your amazon package (just me?). Again we are going for tasty. Small imperfections in appearance can't take away from that.
Brush your crust with egg whites and sprinkle on granulated sugar to get that beautiful golden brown top crust.
---
---
Okay, you're ready! You have all the ingredients, tools, and info you need. A pinch of discipline and heaps of patience and this pie is YOURS. And remember, tasting the ingredients along the way is the best part.
So if you have to make yourself a Fresh and Minty Bourbon Smash, or Reinvented Classic: New Fashioned to sip on while meticulously weaving latticed pie crust, all you're doing is sampling a key ingredient.
I mean, it is called a Drunken Apple Pie for a reason 😉