Looking for an easy, filling family meal that creates a minimal mess and is done in less than 30 minutes? This Cheat Mushroom Stroganoff uses Cream of Mushroom Soup as the base to a quick, 4-ingredient sauce to showcase your mushrooms and noodles.
These noodles are creamy, earthy, and have no chance of leaving leftovers. With meaty mushrooms and caramelized onions, it's a complete dinner fit for a foodie family, and you won't even notice the soup "cheat".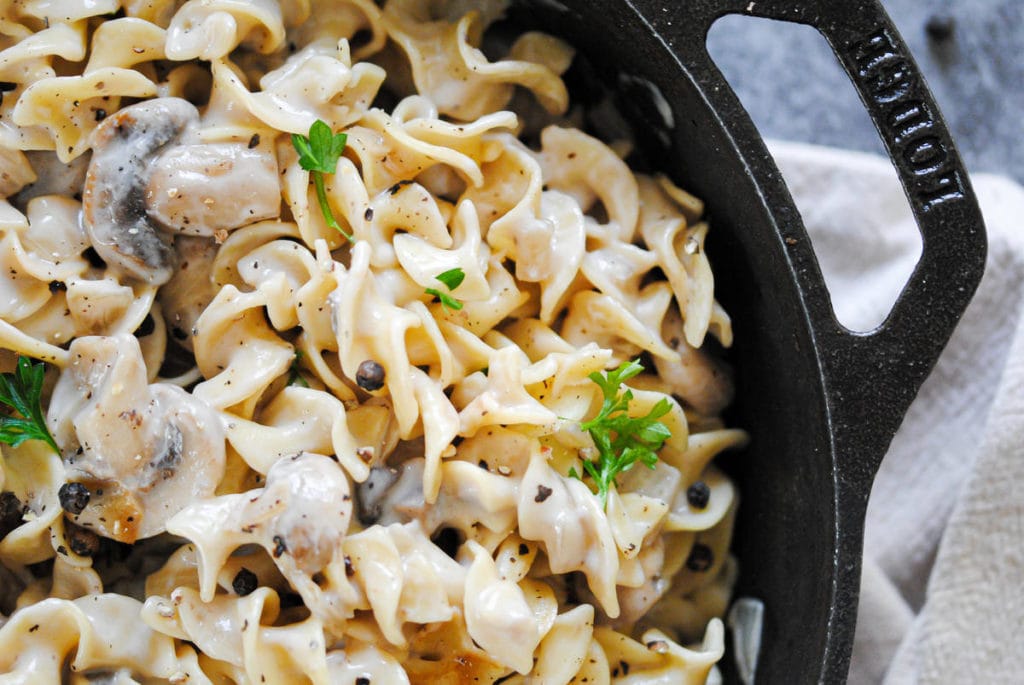 Cheat Mushroom Stroganoff FAQ's
---
---
What the heck is Stroganoff?
It's a simple, classic Russian noodle dish traditionally made with Beef, a variation of spices and sour cream.
Can I meat-ify these noods?
You sure can! Just add your meat to the pan with the onions after step 2. Once it is browned, continue to step 3. I would recommend ground beef.
What else can I add to Stroganoff?
As always, I encourage you to take this dish and run with it! You can add other veggies like peas, carrots, or broccoli.
Or add oyster mushrooms or even porcini mushrooms to really bring out the umami. Or maybe you want it to have a little kick. Crushed red pepper is a great way to add some heat.
Can I make a lighter version of Stroganoff?
Totally. Opt for a reduced fat soup and use oil instead of butter. Easy as that!
What noodles should I use for Stroganoff?
I love this dish with wide egg noodles. In my grocery store, they are actually found in both the regular pasta section as well as the international aisle in the Israeli section. You can also use regular egg noodles with a delicious outcome.
Green tip: Mushrooms are not only delicious but considered sustainable produce. They have a relatively small environmental footprint as they take little water and energy to grow and emit little CO2. Subbing them for beef here is a great way to reduce your ecological footprint.
Why You Should Make this Cheat Mushroom Stroganoff
---
---
It's quick and easy. Less than 30 minutes and less than ten ingredients.
It's a clean out the fridge meal. Throw whatever veggies you have in it! This dish is so versatile!
Its budget-friendly. You can get two cans of soup and a bag of egg noodles for around $3.00.
It'll feed a whole family. And they'll be happy and fulfilled.
Want more yummy dinner ideas? Peep this Creamy Fish and Grits recipe and these Exciting Thai Spicy Peanut Noodles.