Want delicious pancakes but don't feel like frying and flipping each individual one? Great news, you can bake a batch of pancakes all at once in the oven with these Sheet Pan Pancakes.
With the classic buttery taste and fluffy texture of homemade pan-fried pancakes, this easy baked pancake hack will change the way you look at the breakfast favorite!
In this recipe, you will learn how to make a homemade pancake batter to bake, how to alter a pancake mix to bake pancakes in the oven if you prefer to use a mix, and the time and temperature at which to make pancakes in the oven.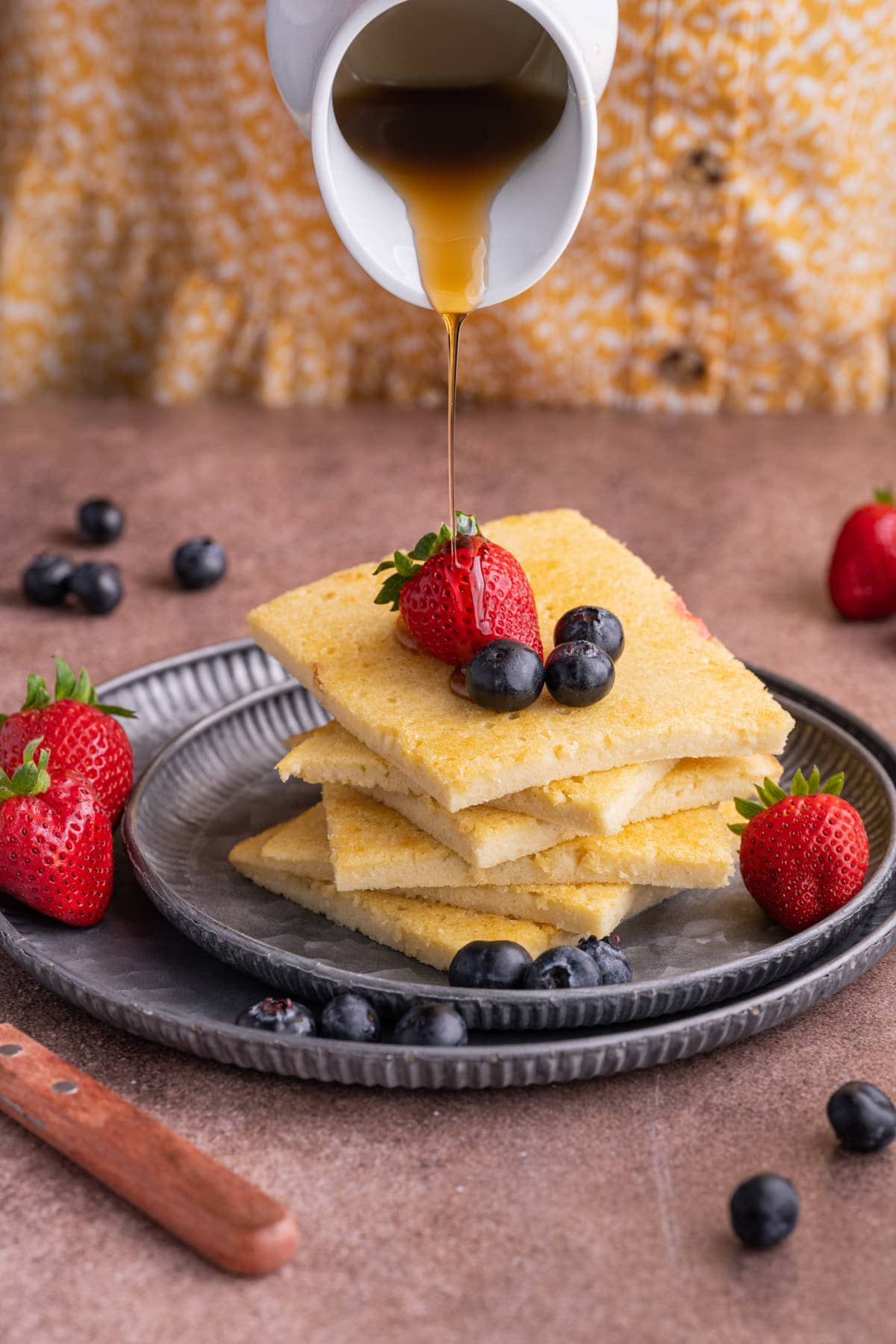 Sheet Pan Pancakes Ingredients
---
Here's everything you need:
All-purpose flour. The base of your pancake batter.
Light brown sugar. For a little sweetness and to help the edges caramelize.
Baking powder. For some lift for fluffier, airier pancakes.
Salt. To enhance all the other flavors.
Eggs. For binding and leavening the baked pancakes.
Milk. To get the right consistency.
Vanilla extract. For flavor.
Unsalted butter. Since we are baking the pancakes in the oven and not pan-frying them in the butter, we will be melting the butter and adding it to the batter to maintain that classic buttery pancake flavor.
Maple syrup for serving. This is optional of course, but highly recommended.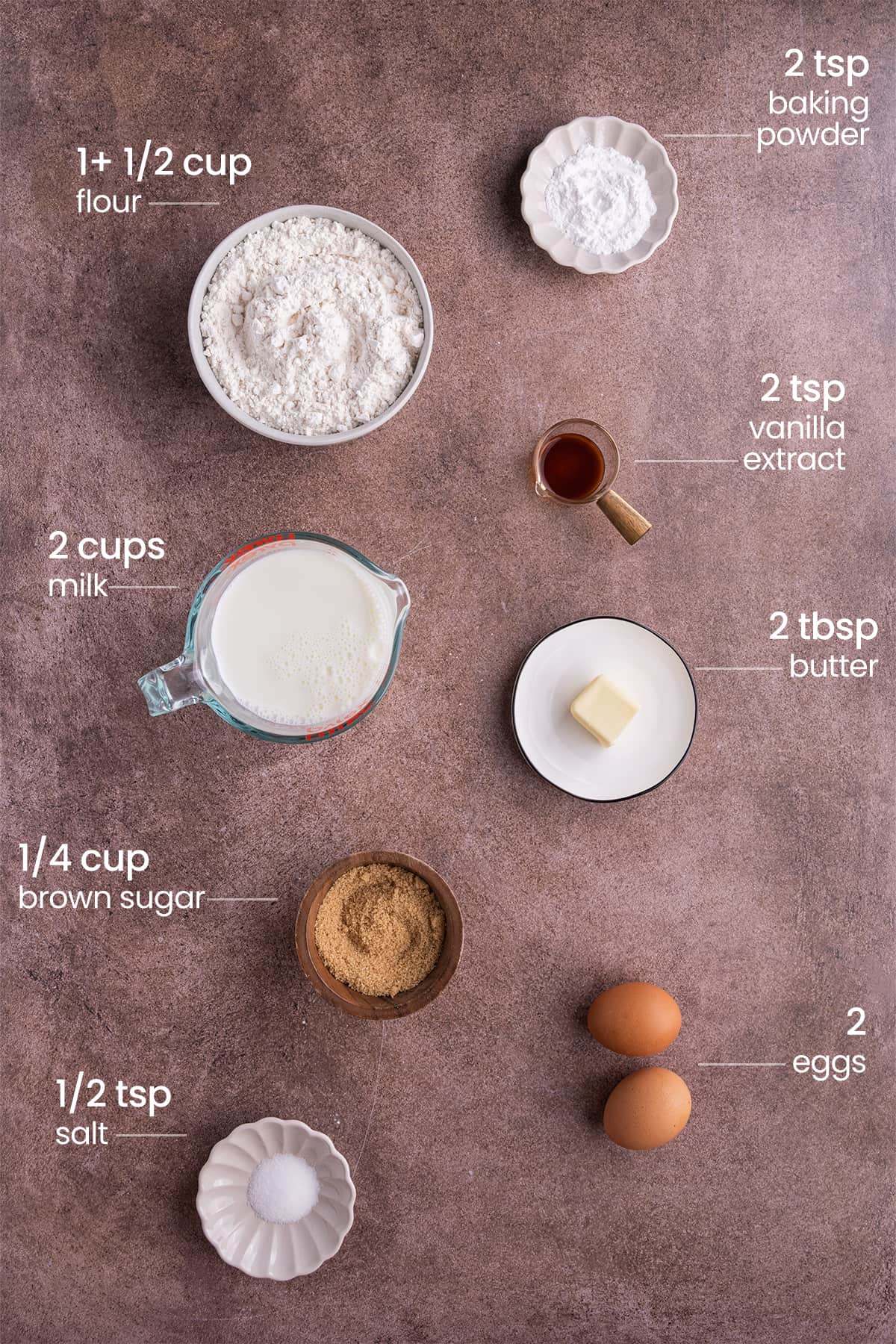 Optional Add-in Ideas:
Strawberries.
Blueberries.
Bananas.
Chocolate chips.
Peanut butter.
Nutella.
Pineapple chunks.
Pumpkin puree.
Matchstick carrots.
Baked Pancakes in a Sheet Pan Tips and Tricks
---
What are sheet pan pancakes?
As the name implies, sheet pan pancakes are pancakes that are baked in the oven on a baking sheet rather than fried in a pan.
The pancake batter used for baked pancakes is very similar to that of fried pancakes. As for the way they look, they're typically square instead of your typical round fried pancakes.
This is because they bake in a rectangular pan, and then are easily sliced into individual square-shaped pancakes. However, you can shape them however you want by hand slicing them into shapes or even using a cookie cutter to cut out shapes!
So why should you bake your pancakes instead of frying them?
It's a lot easier and more hands-off! Instead of frying and flipping each individual pancake, you simply pour your pancake batter onto the sheet pan and throw it in the oven.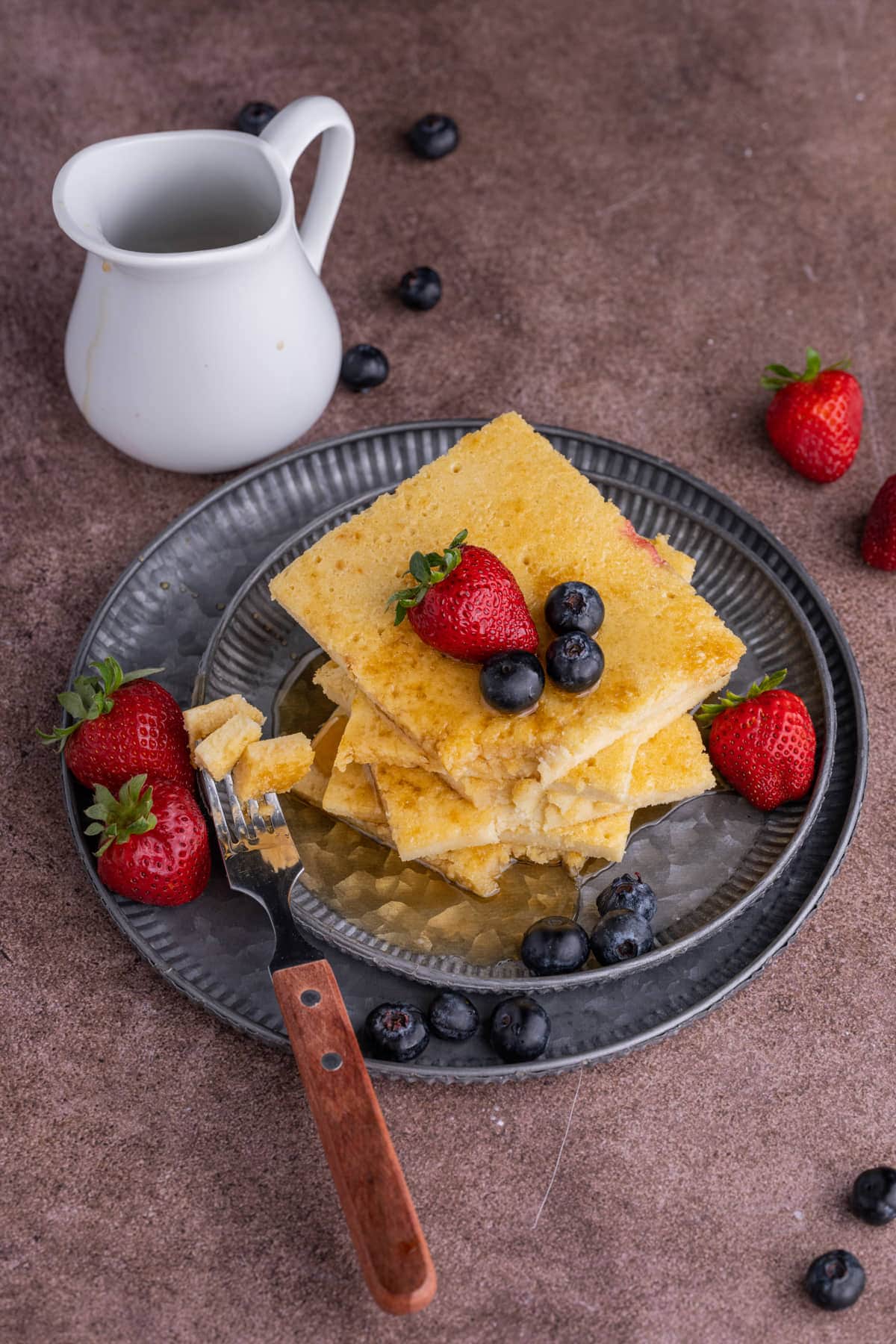 Melt the Butter First
Add the butter to a microwave-safe dish and microwave on high for 30 seconds to melt it. You want to melt the butter as your very first step so it has time to cool a bit before adding it to your pancake batter.
Adding the melted butter to the batter while it's too piping hot could curdle the milk or scramble the eggs, so it's best to give the butter at least 5 minutes to cool.
Green tip: Look for organic and palm oil-free butter if you can. Buying organic means you are supporting farms that do not use damaging pesticides and fertilizers, and palm oil production is a huge driver behind deforestation.
Whisk the Dry Ingredients Together
Add the all-purpose flour, brown sugar, baking powder, and salt to a large mixing bowl. Use a whisk to mix it together, ensuring there are no clumps in the dry ingredient mixture before moving on to the next step.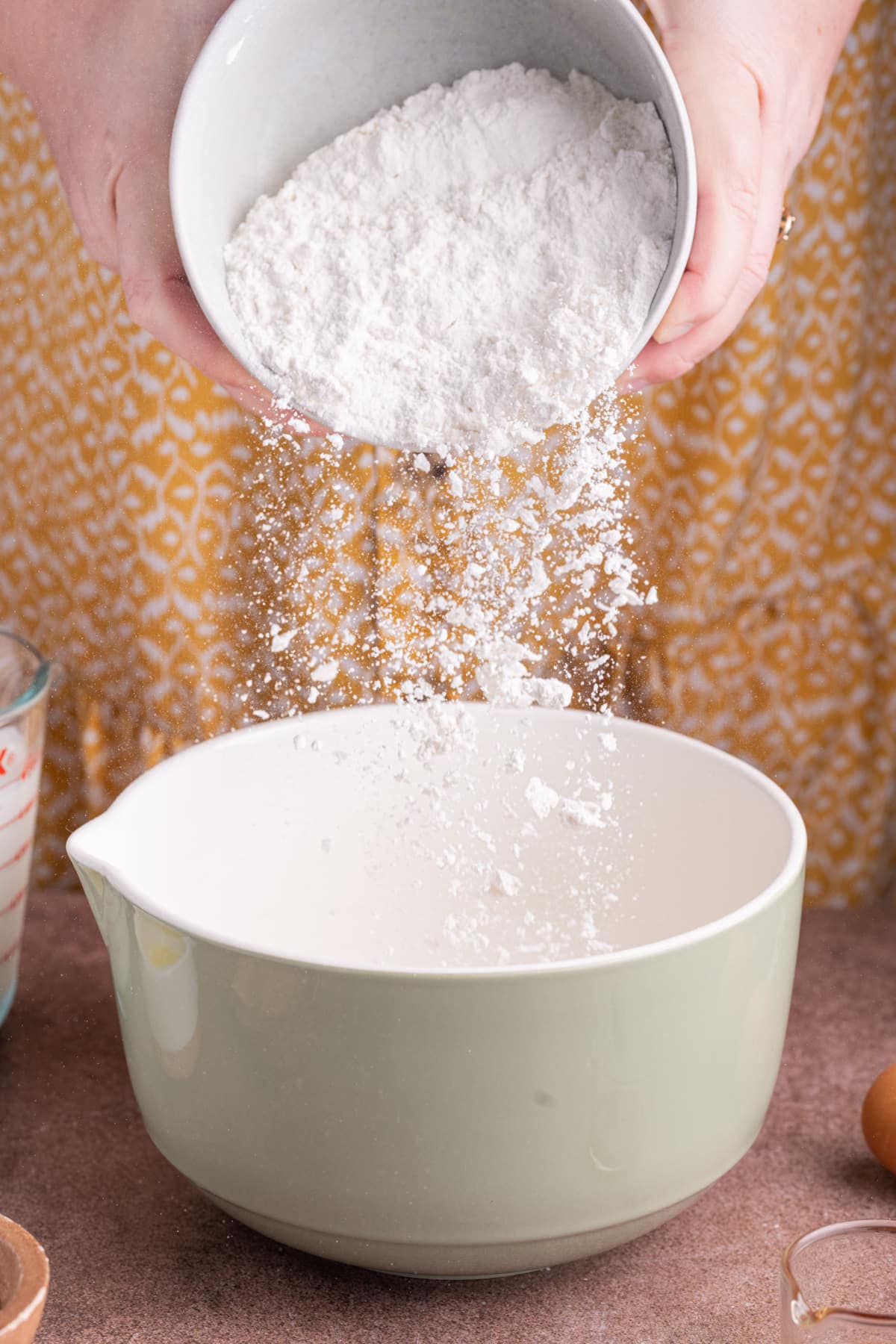 Add the Wet Ingredients
Next, it's time to add the milk, eggs, and vanilla extract. Whisk to break down the eggs and integrate the wet ingredients into the dry.
Once your mixture is smooth, continue to whisk and add the melted butter while you are whisking. Continue to whisk until the batter is smooth and free from any lumps.
You can expect a thin pancake batter.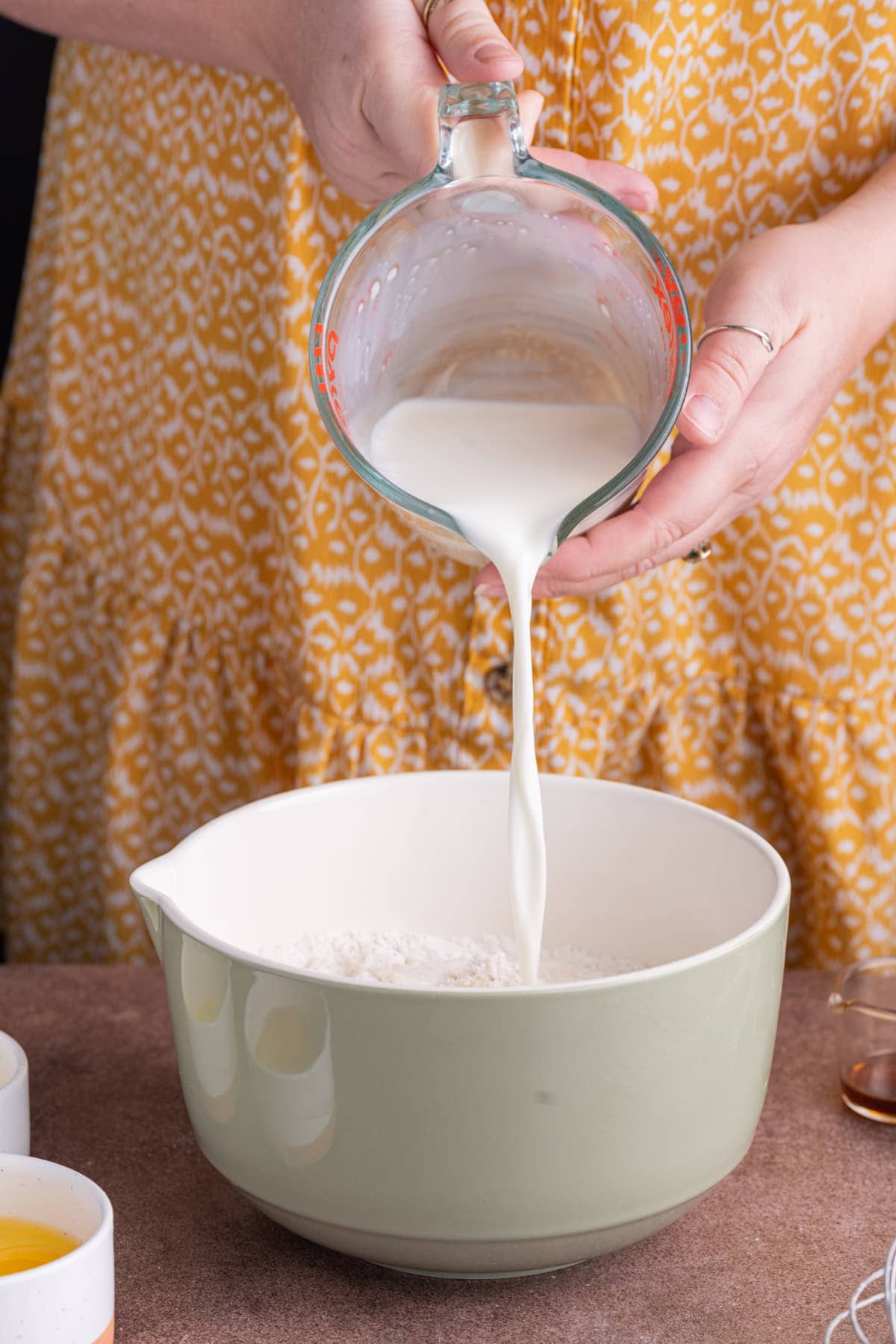 Choosing Your Sheet Pan Size for Baking Pancakes
I tested these pancakes on several different-sized baking sheets, and this simple homemade pancake batter will bake nicely on any size sheet. However, the size baking sheet you choose will dictate the thickness and texture of your pancakes.
My husband and I both agree that baking these Sheet Pan Pancakes on a large, 12 x 18-inch baking sheet yields the most authentic pancakes when it comes to thickness and texture. I grew up eating flat, buttery pancakes and this variation hits the spot for me.
The pancakes pictured were baked in the oven on a 12 x 18-inch baking sheet, and this is my preferred method.
However, if you like thicker, fluffier pancakes, you can use a smaller, 13 x 9-inch baking sheet for your oven-baked pancakes. These will yield pancakes that are about 1.5 inches thick, with a texture that is somewhere between pancake and cornbread.
The thicker pancakes are certainly still delicious, especially with maple syrup, but if you want pancakes that resemble pan-fried pancakes in the oven, you'll definitely want to use the larger baking sheet.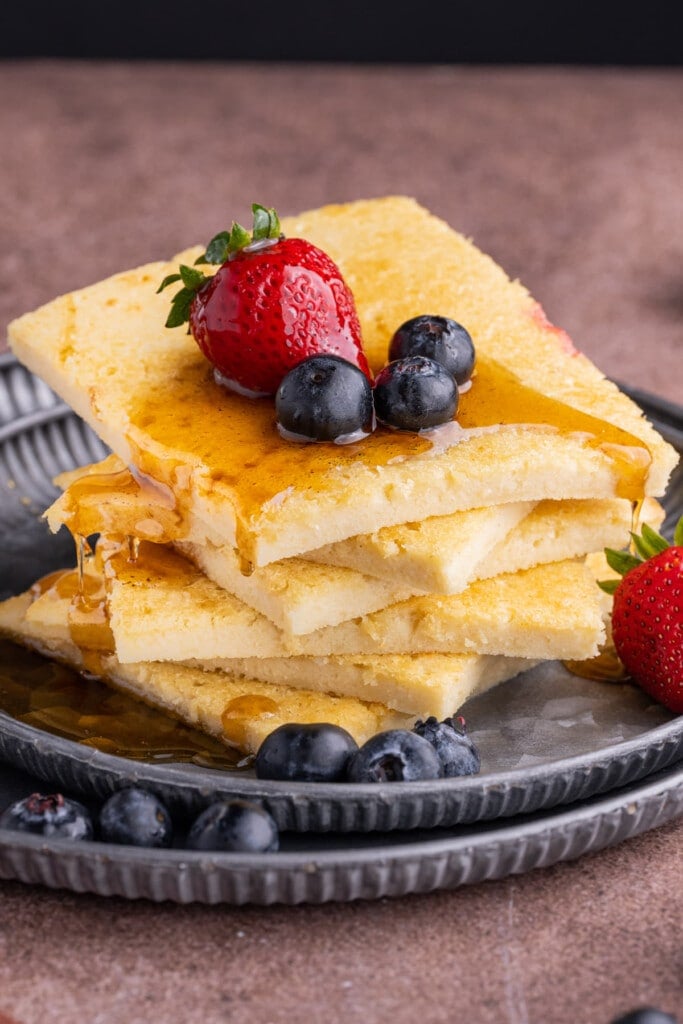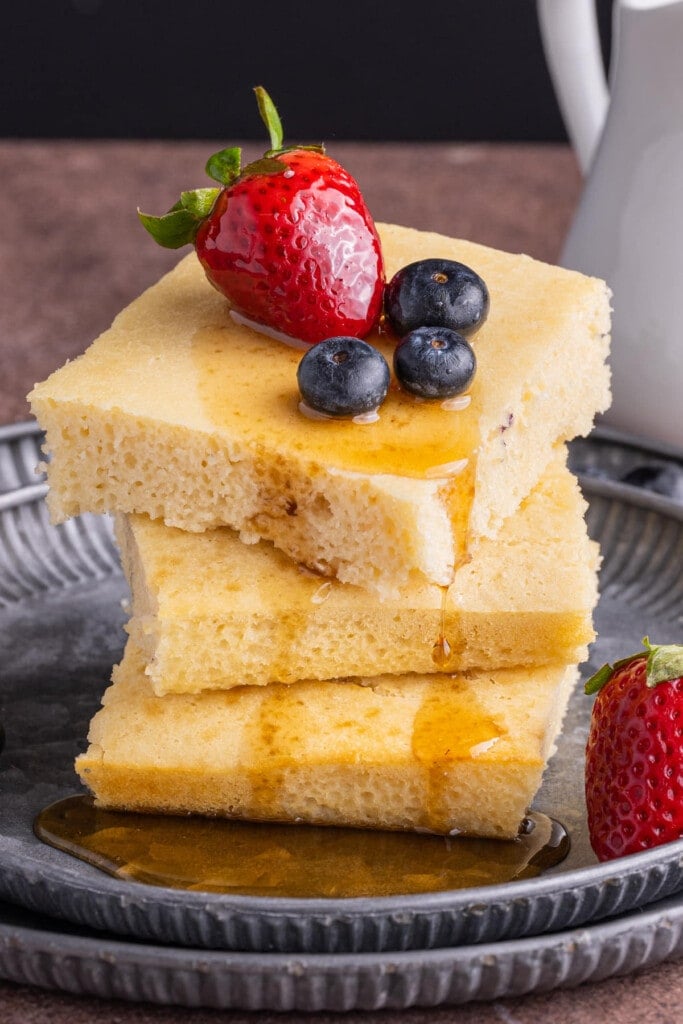 Add the Pancake Batter to Your Baking Sheet
Whichever sheet pan you choose, spray it generously with cooking spray. Then, pour the pancake batter into the center of the pan.
Lift and very subtly tilt the pan every which way so that the batter spreads out evenly, reaching all four corners.
If you are including any add-ins, drop them on top of your batter now. You can easily pile on as many add-ins as you want. You can even make half one flavor, and the other half another. Or keep half plain and add extras to half. You get the gist! Make it your own!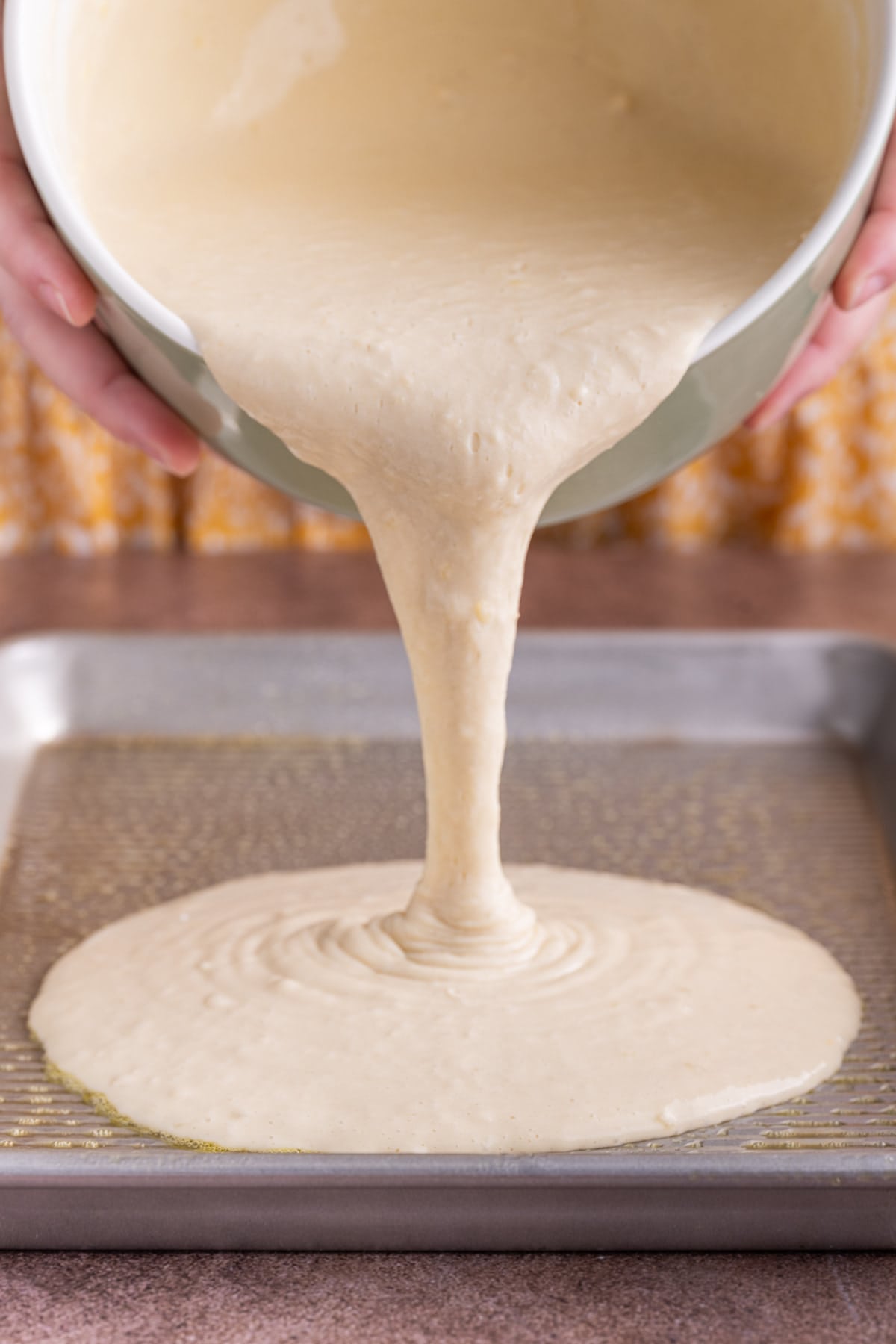 Can You Bake Pancake Mix?
Yes! You can substitute pancake mix for the dry ingredients and vanilla extract in this recipe. Use 2 cups of your pancake mix of choice, 2 cups milk, 2 eggs, and 2 tablespoons of butter.
Whisk to combine, spray your sheet pan, add the batter, and bake for 15 minutes at 425°F.
Green tip: Get to know your oven! Get an idea of how long it takes your oven to preheat. By not pre-heating the oven too early, you can save energy.
Serving Your Sheet Pan Pancakes
Once your giant pancake is baked, you can easily slice the one, large, rectangular into 9-12 individual square pancakes.
You can also opt to use a cookie cutter to cut out shapes for Holidays or special occasions.
I like to add flavor enhancers before baking the pancakes. A list of my favorite optional add-ins is included at the top of the post under the ingredients.
These are super delicious served with maple syrup, whipped cream, extra butter, or any combination of these.
For a complete meal, try serving them with these Over Hard Eggs and Vegan Breakfast Sausage.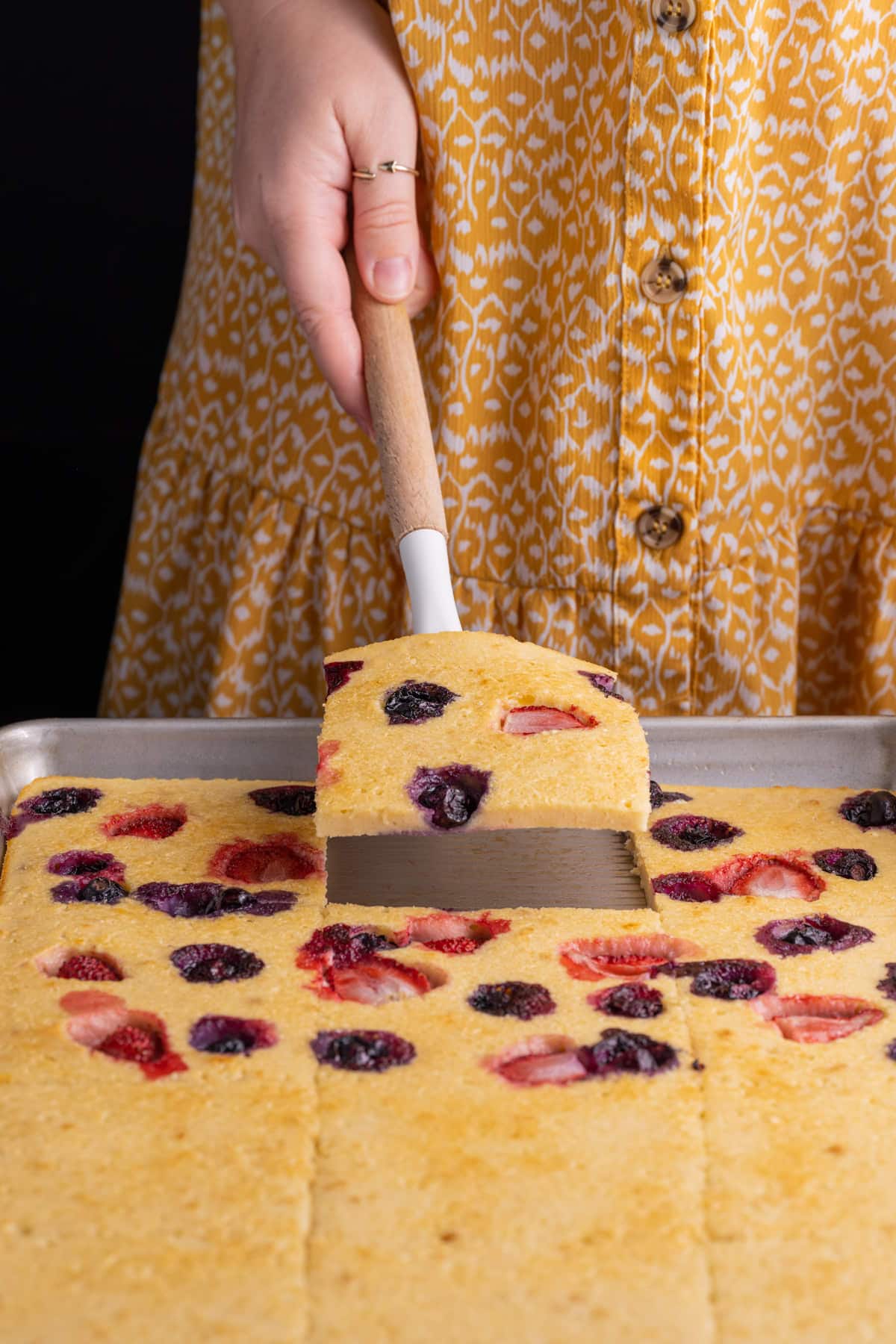 Storing and Reheating Your Baked Pancakes
These Sheet Pan Pancakes will last in an airtight container in the refrigerator for up to 5 days. You can also freeze leftover pancakes for up to 3 months.
There are two easy ways to reheat your pancakes while keeping the integrity of their delicious texture. You can fry them in a pan (no extra butter needed!) or reheat them in the oven at 350°F for about 8 minutes (or until heated thoroughly).
Note that when reheated, the surface may seem a little moist. That's just from the butter in that batter. They will still be absolutely delicious and won't taste soggy.
In a pinch, you can opt to microwave the leftover pancakes on high for 10-15 seconds per pancake. However, microwaving leftover pancakes may make them a little bit rubbery, especially if you overdo it.
If you do microwave them, don't stack the pancakes while you are microwaving them to ensure a more even heating throughout.
If you freeze your pancakes, it's best to allow them to thaw overnight in the fridge before reheating them using one of the methods listed above. Alternatively, you can just add extra time to your re-heating.
Green tip: Of the billions of tons of food wasted annually, 50% of food waste happens at home. Reduce your contribution to food waste by properly storing, reheating, and consuming leftovers.
Baked Sheet Pan Pancakes Frequently Asked Questions
---
How long do you keep pancakes in the oven?
At 425°F, pancakes baked on a sheet pan will take approximately 15 minutes. You'll know for sure they are ready when you see them browning around the edges and a slight browning on top.
Want to sharpen your kitchen skills?
Why You Should Make These Sheet Pan Pancakes
---
They're so easy! Baking them makes pancakes very hands up. Whip up the batter, pour 'em on a sheet pan, and stick 'em in the oven!
The taste. Buttery and sweet, like any pancake should be!
They're quick. They come together in less than 30 minutes.
If you're loving these Easy Baked Sheet Pan Pancakes and want more fun pancake recipes, check out these Fruity Pebbles Pancakes and Funfetti Pancakes.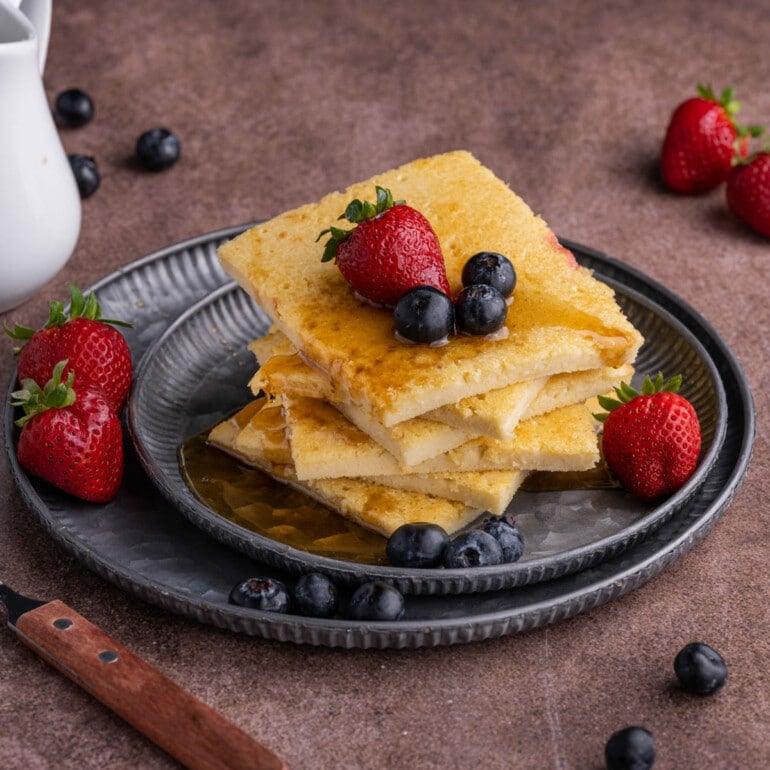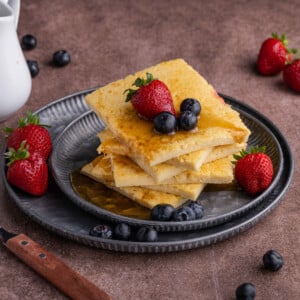 Easy Baked Sheet Pan Pancakes
PRINT
PIN
RATE
These Easy Baked Sheet Pan Pancakes give you all the delicious buttery taste and fluffy texture of classic pancakes without having to pan-fry each individual flapjack!
Ingredients
Sheet Pan Pancakes
2

tablespoons

unsalted butter

(melted)

1 ½

cups

all-purpose flour

¼

cup

light brown sugar

(tightly packed)

2

teaspoons

baking powder

½

teaspoon

salt

2

large

eggs

2

cups

milk

(dairy or unsweetened non-dairy)

2

teaspoon

vanilla extract

nonstick cooking spray

(as needed)

¼

cup

maple syrup for serving
Optional Add-ins
5

ounces

fresh fruit, cut into bite-sized pieces

(like berries, apples, bananas, mango, or pineapple)

¼

cup

chocolate chips

(semi-sweet or dark chocolate)

2

tablespoons

peanut butter, nutella, or pumpkin puree

(swirled on top)

2

tablespoons

sprinkles or fruity pebbles

½

teaspoon

pumpkin pie spice
Instructions
Preheat your oven to 425°F and prep a baking sheet with nonstick cooking spray of choice. For thinner, more authentic pancakes, use a 12 x 18-inch baking sheet (preferred). For thicker, fluffier pancakes, use a 13 x 9-inch baking sheet.

In a small microwave-safe dish, microwave the butter on high for 30 seconds until completely melted. Set aside to cool.

In a large mixing bowl, whisk together the flour, sugar, baking powder, and salt, ensuring there are no lumps.

Add the eggs, milk, and vanilla extract, and whisk again until smooth. Continue to whisk as you add the cooled melted butter, whisking until the butter is seamlessly integrated. You will have a very thin pancake batter.

Pour your batter onto your prepped baking sheet and carefully lift and tilt the pan back and forth, left and right to spread the batter around the baking sheet evenly. If you are using any optional add-ins, place those on top of your batter now.

Bake for 15 minutes until cooked through and top starts to bubble and turn golden brown. Enjoy hot with maple syrup!
Pro Tips
Have fun with the add-ins! After adding the batter to the pan, drop the extras on top. You can add some to half, do two different flavors, etc. 
If you're like me and love starting your day with pancakes, you're gonna need to check out the collection of my best pancake recipes!
Did you make this recipe?
Let me know by leaving a recipe rating below, or by tagging @marleysmenu on Instagram.